"A few days ago, I updated my iPhone, and after updating, I noticed that I lost all my contacts. That shocked me because I lost all my client's contact numbers, and it was hard for me to ask them again. That's why I tried to recover all deleted contact, but that was challenging. What should I do?"
How to solve the issue of iPhone contacts disappeared after iOS 16 update? I sure this happens to a lot of people. Don't worry. We will show you how to recover iPhone contacts disappeared in 2023. Just keep reading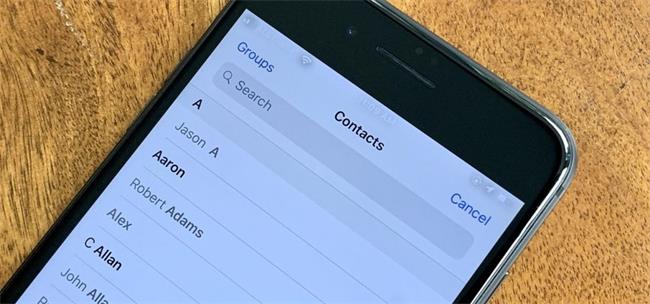 Part 1: How Does iPhone Save Your Contacts?
There are different mechanisms to save contacts on the iPhone. First, contacts are saved in internal space and the second in iCloud.
If you save the contact on your device, it will be stored in its internal memory. The information is saved in a database file on the iPhone, and this file is accessed whenever you open the Contacts app.
If you save the contact on iCloud, the information is stored on Apple's servers and synced across all your Apple devices signed in to the same iCloud Account. This means you can access your contacts from any device connected to the same iCloud Account.
Part 2: Why Did My Contacts Disappeared from My iPhone?
Why did my contacts disappeared from my iPhone? There could be different reasons if your contacts disappeared on iPhone.
1. iOS update
This is one major reason behind the iPhone contacts disappeared issue. When people usually update their iPhones, recently the iOS 16 update, it may cause all contacts disappears or text messges disappeared from iPhone. 
2. Mail account issue
Another reason is that if you have saved contact numbers in the mail, then deleting the mail account or logging out can cause the loss of contact numbers.
3. Force restart the iPhone
A few iPhone users lose their contact numbers because they force restart their cell phone, which can result to the loss of data, including contacts.
4. Jailbreaking the iPhone
Jailbreaking is a serious issue, because of it, people may lose data and have security problem, causing contacts disappearing on iPhone.
5. iCloud sync issue
When people forget to sync iCloud account after update they lose all the contacts.
Part 3: 7 Solutions for Contacts Disappearing on iPhone
Here are 7 best solution if your contacts disappeared from iPhone.
1

Use iCloud to Re-sync Contacts

The first and handy way to get back disappeared contacts on iPhone is to use iCloud to re-sync contacts. This process requires no tool or other helping material and tech knowledge. You can get all your contacts via this method if you have enough space in iCloud.

Your contacts will be saved in iCloud if you have enabled contacts in iCloud. Go to iCloud. Come and check if your contacts are saved on iCloud or not. If you see your contacts, then resync them to your phone by following these steps:

Go to settings, then tap on iCloud and then on your contacts. 

Turn off the Contacts.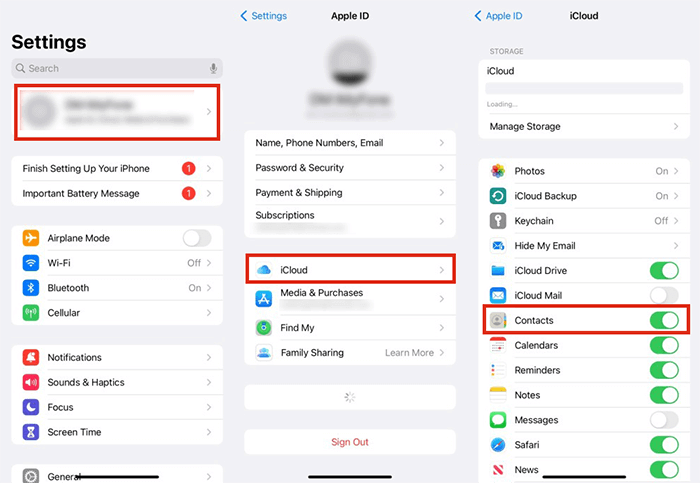 A window will appear. Select the "delete from my iPhone" option.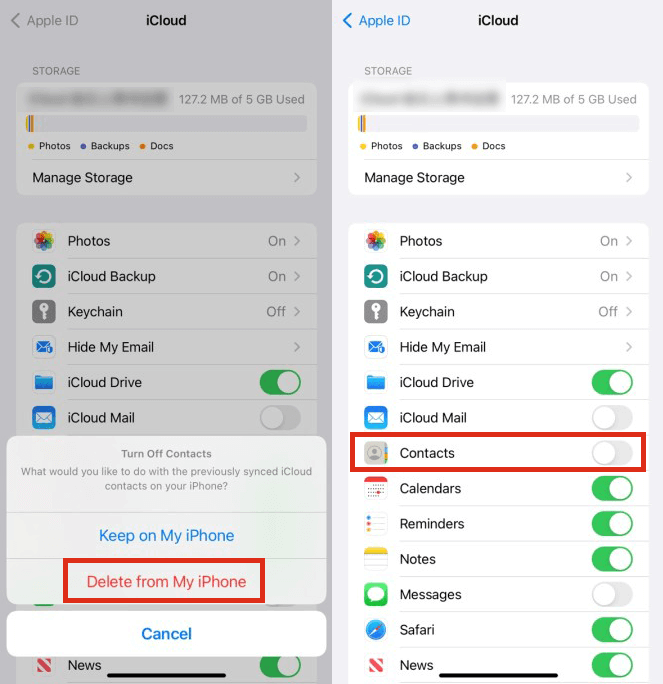 Now all your contacts which were previously restored on iCloud will resync to your phone.
2

Sign in and out of iCloud Account

If you are in a hurry, then the best hack to recover all deleted contacts is to use the sign-in and sign-out iCloud method. By signing in and out, your contact deleting issue will be resolved.

Here are quick steps to retrieve disappeared contacts:

Hold your iPhone, go to Settings, and tap on your Profile picture. 

After clicking on the profile picture, go down and click log out.

Now take a break for a few minutes, after that login into your iCloud account again.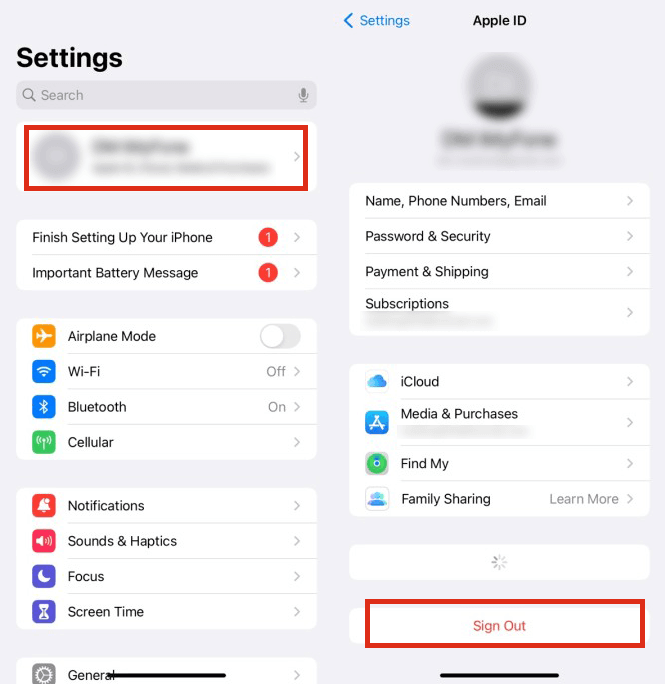 3

Change Contact Group Settings

The best way to get rid of contact disappearing on iPhone problems is to change contact group settings. By changing the group settings, you can easily recover your disappeared contacts.

You just have to follow these steps:

Go to your Phone app and tap on Contacts.

Next, click on the Group option, which is the available top right corner.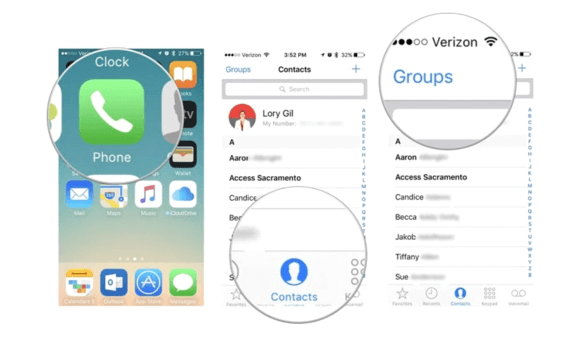 Here you see the All on My iPhone option; select that option and click on Done.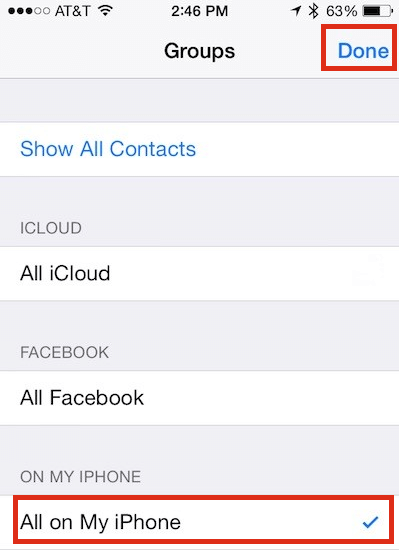 Now check all your contacts, check and find the ones which are missing and add them again. 
4

Use iSeeker to Recover Lost Contacts without Backup

iSeeker is exceptional iOS data recovery software that can not only helps you to recover contacts that disappeared on your iPhone, but also recover deleted files on iPhone, like photos, videos, WhatsApp data, messages, etc. This is the most reliable way to recover all your disappeared data without backup.

The recovery rate of the iSeeker is exceptional; it lets you bring back your contact numbers that were lost accidentally or deleted by your choice. The plus point of the iSeeker is that it also helps to recover documents, photos, WhatsApp chats, amd many more things.

Features:

Data preview: The iSeeker application allows its users to preview the data before recovery. It helps you recover only important data without wasting time on useless data.

Supports multiple data: The iSeeker supports 18 plus data types like video, photos, documents, messages, contacts, etc

Compatibility: The iSeeker plus point is that it is compatible with almost all iOS versions, including iOS 16.

Free scan and preview: The iSeeker offers free scanning and lets you set scanned content for free.
How to Recover iPhone Disappeared Contacts Using iSeeker?
The use of iSeeker is so easy, you don't need any technical skills to complete the installation. Here are steps: 
Step 1: Download and Connect
Firstly download iSeeker on your painfully load it; after loading the application, click on "Recover from iOS Device". after clicking with recover from iOS version option, connect your PC to your iPhone by using a USB cable and click on Next.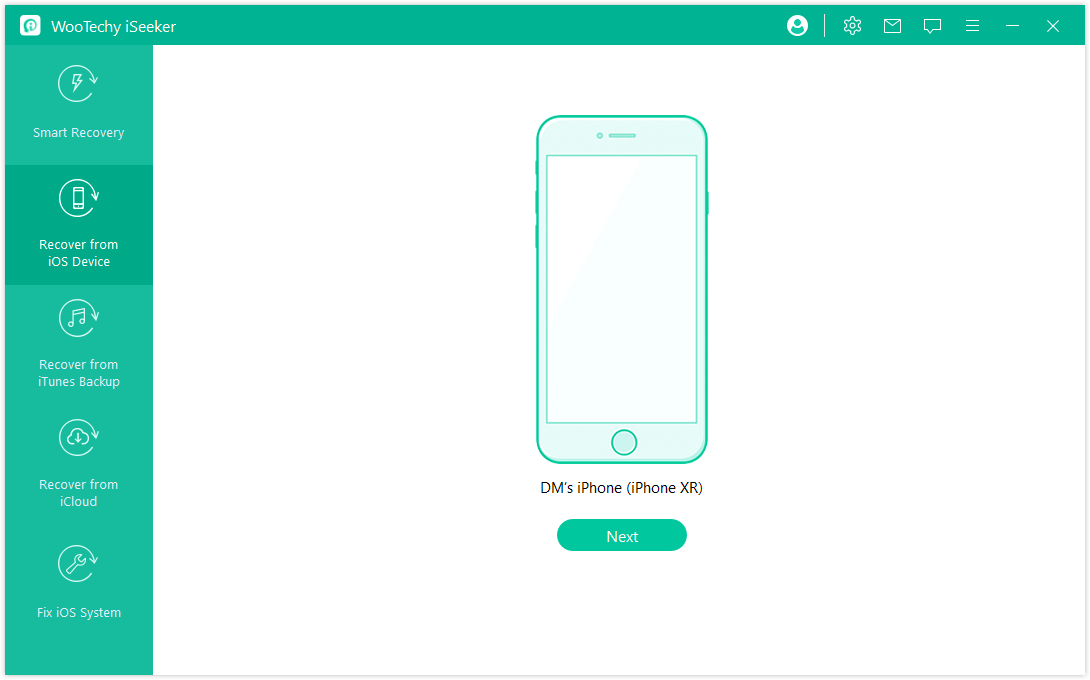 Step 2: Scan lost contacts
Now tap on contacts to recover from the iPhone, then click on the Scan option. this application will start collecting the disappeared contacts or data.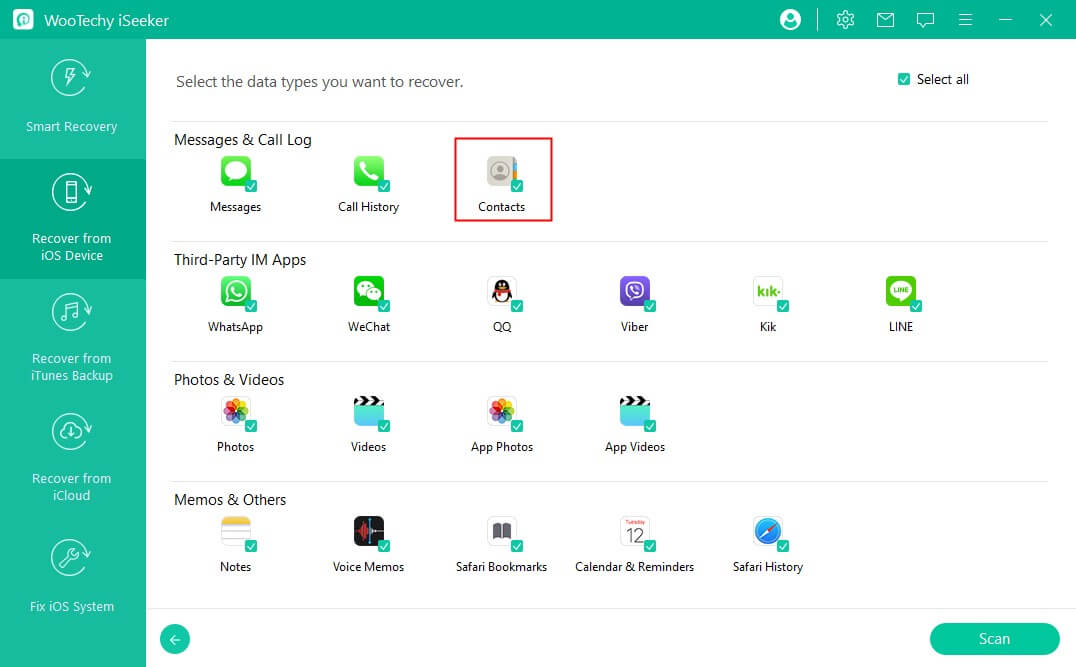 Step 3: Review and recover contacts
The screen will show you all recovered contacts; view all and tap on those which you want to recover; after clicking on the recover option, all disappeared contacts will be recovered .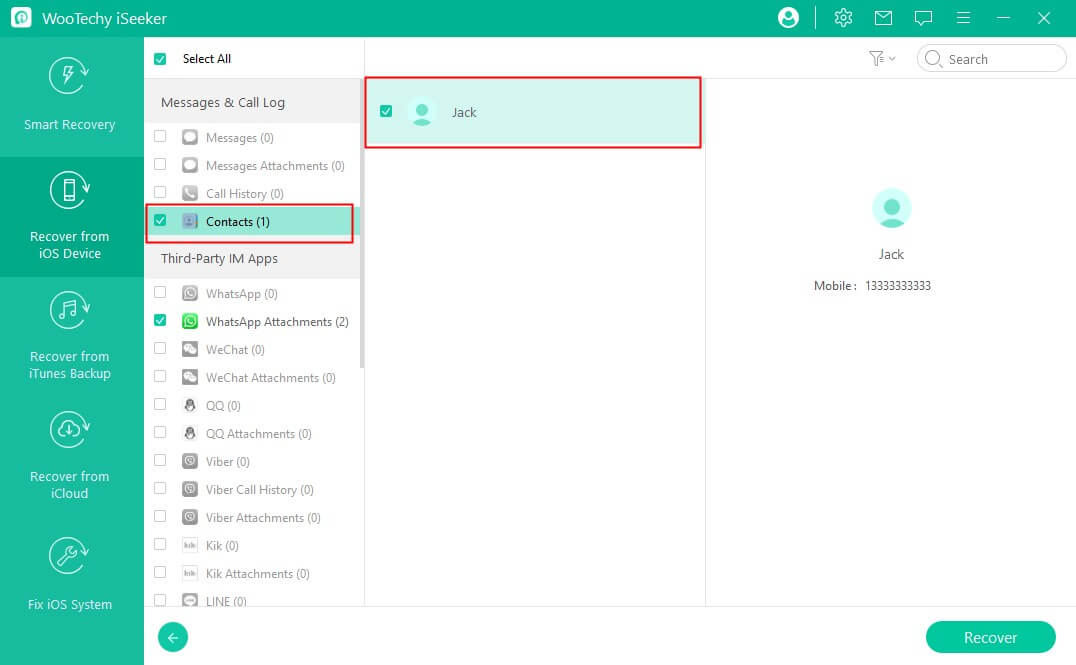 5

Import SIM Contacts

If you have your contacts saved on your SIM card, you can recover contacts from SIM card import them to your mobile, You can easily do this just by following the way

Go to Settings, then on Contacts, and tap on Import SIM Contacts.

All the contact will be imported to your iPhone devices.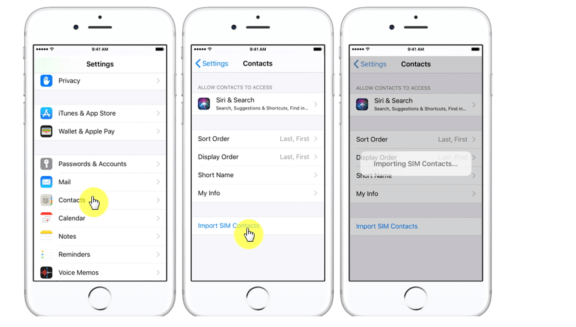 6

Use iTunes Backup to Recover Lost Contacts

You can retrieve your lost contacts by restoring your mobile from iTunes backup.

Connect your iPhone and the computer on which you have backed up your data using iTunes.

Tap on the iPhone icon shown.

Go to the summary page under the Settings menu.

Tap on the Restore Backup button.

Select the latest backup that has your lost contacts. 

Tap on the Restore Backup button.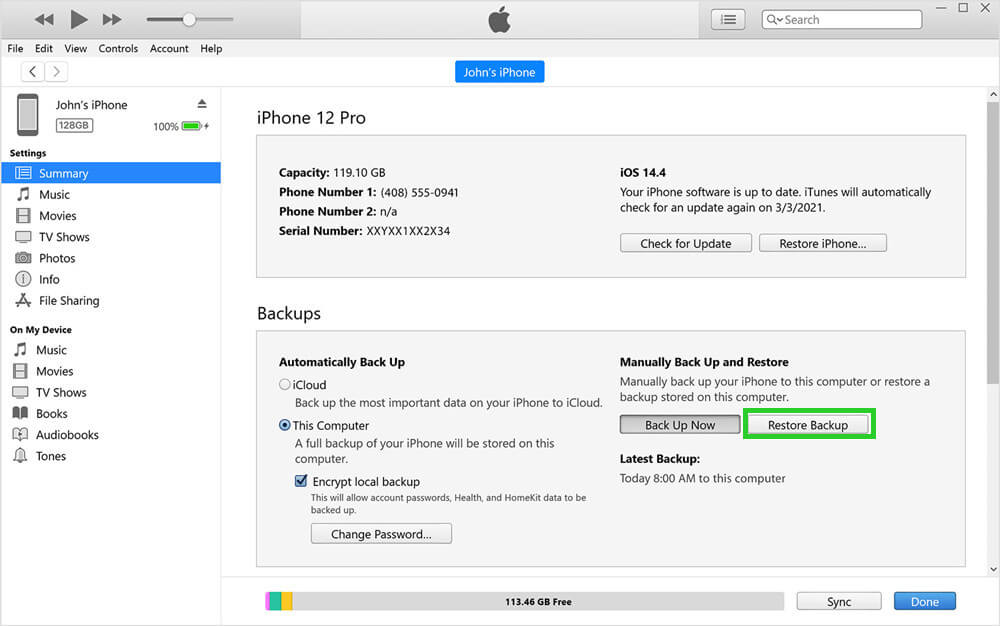 7

Use iCloud Backup to Recover Lost Contacts

If you have already backed up your contacts before updating your phone, then you can get back your lost contacts by using iCloud backup.

Go to Settings then tap on General, and then Reset.

Tap on Erase all content and settings.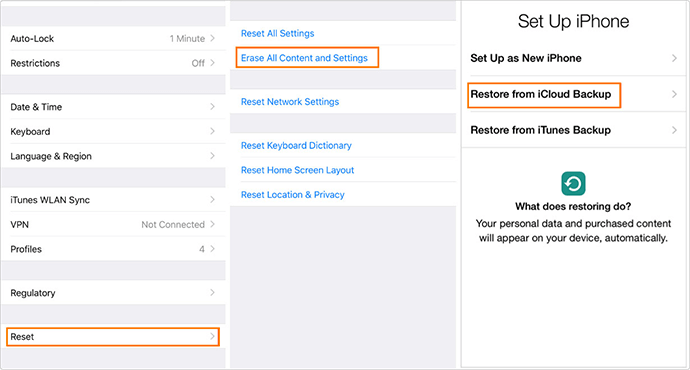 After erasing your iPhone, it will go back to the setup screen.
Select Restore from iCloud Backup.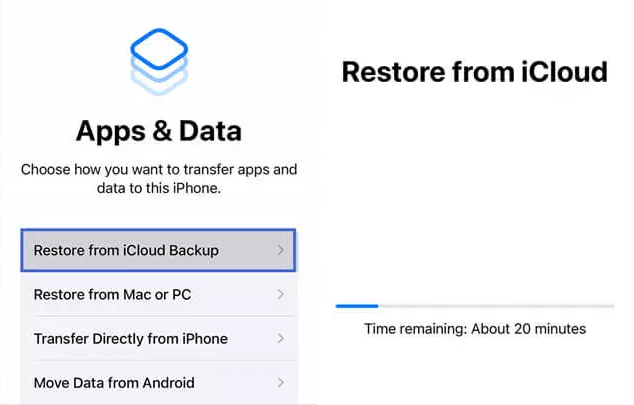 It is mandatory to check groups that store your on the contacts app. you can do this in the following way:
Launch this app on your iPhone and click on Groups.
Click on "All" or other groups. Do check it. In the upper right-hand corner, click on "Done".
Part 4: Why Did My Contact Names Disappear on iPhone?
Why did my contact names disappear from my iPhone? If your iPhone is only showing you the number instead of the caller or texter's name, this may happen because of different issues such as: 
Contacts may be deleted after any iOS update.
iCloud syncing errors.
Deleting or signing out email accounts. 
Automatically iPhone restarting issues. 
Is it possible to resolve this issue? Yes, you can fix contact name disappearance issue. Here are two ways to fix the contact name disappeared issue:
1 Reboot your phone
This is the easiest way to tackle the contact name disappearing issue. This method will prevent your name from disappearing and many other issues too.
2 Log out and log in to your iCloud account
The second easiest way to solve your iPhone contact name disappearance issue is to log out of your included Account and login it again.
If you are interested in solving this issue, follow the below-mentioned steps
Go to Settings, click on your name, choose to include. 
Next, go down, and tap on Sign out. Add your password and confirm it. 
Now, your iCloud will be locked out. 
After that; sign in to our iCloud account, and your name disappear issue will be resolved
Part 5: Why Does My Contact Keep Moving?
iCloud Syncing
If you have enabled iCloud syncing for your contacts, changes you make to your contacts on one device may sync to other devices linked to the same iCloud Account. This could cause contacts to move around as they get synced across different devices.
Third-Party Apps
Some third-party apps may have access to your iPhone contacts, and changes made within those apps can affect the order of your contacts.
Corrupted Database
If your iPhone's contact database is corrupted, it may cause issues with the way your contacts are displayed, such as contacts moving around or disappearing. In this case, you may need to reset your iPhone's contacts database by going to Settings > General > Reset > Reset All Settings.
Part 6: Why Do I Have Duplicate Contacts on My iPhone?
Sometimes the iPhone shows us duplicate contacts on the list, and it is a common issue. This situation is confusing, too, because while calling or texting someone's iPhone screen, you get the same contact number multiple times. This basically happens when you add a number multiple times. But sometimes iCloud does not sync completely, that's why devices show the error of duplicate content.  
In addition, errors in email syncing could cause duplicate content information issues. So the question is how to get rid of his issue? let me tell you there are a few simple ways, such as:
Manually delete duplicate contacts
The easiest method is to manually delete or merge the duplicate content; this process is a bit time taking but still reliable.
Open Phone app and switch to the Contacts tab.
Now open duplicate content, click on the Edit option.
After clicking on the edit option, scroll down and click on the Delete contact option. 
Your duplicate contact will be deleted.
Conclusion
As you know there are a lot of options to get back iPhone contacts disappeared. but the most reliable and powerful method is to use third party applications such as WooTechy iSeeker. Just give it a try, you won't be disappointed.