WhatsApp is a great messaging application where you can easily communicate with your friends, colleagues, and even customers. The app allows you to do video calls, exchange audio messages, and share files.
To avoiding losing important WhatsApp data, many iPhone users will back up WhatsApp to iCloud, either make a backup in the WhatsApp or include WhatsApp in the whole iPhone backup.
For this reason, it would be useful to learn how to access WhatsApp backup on iCloud so that you can use them in any way you want.
In this article, you will learn how to access iCloud WhatsApp backup on PC in an easy way.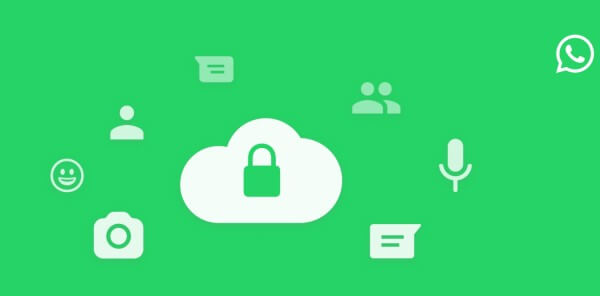 Part 1.  Access WhatsApp Backup on iCloud by Restoring
First of all, if you want to access WhatsApp backup on iCloud, you can restore the backup on your iPhone and access the data in your WhatsApp then. This is one of the most common ways to access WhatsApp backup on iCloyd.
However, there are a couple of prerequisites that you must be aware of before you try this method.
The first one is that your iOS device needs to be logged in to the Apple ID that you had used to create the iCloud backup. If you don't remember your Apple ID credentials, then you won't be able to successfully complete it.
Moreover, you have to use the same number that you have also used on your WhatsApp to back up your chat log and attachments. Keep in mind that you can keep several WhatsApp backups on the same iCloud account because you can have different WhatsApp account for your various phone numbers.
If you satisfy all these, then you can access WhatsApp backup from iCloud by following this process:
Go to WhatsApp > Settings > Chats > Chat Backup to make sure that you have an iCloud backup of your WhatsApp data.
Uninstall the app from your iOS device. Then, download and install WhatsApp once more.
Follow the process to verify your phone number. When asked, tap Restore Chat History and wait until your data gets downloaded from iCloud.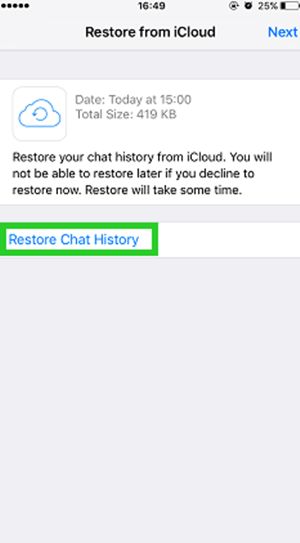 Cons
You must uninstall your WhatsApp. This will delete all your chat logs from your device, especially if you haven't backed them up.

There is no way of previewing the data while restoring them, which means that you won't be able to check whether the files you are looking for are in that specific backup.

You can't select the desired chats or files to restore. You have to restore the whole backup.
Part 2.  A Better Way to Access WhatsApp Backup on iCloud on PC
If you don't want to face the disadvantages of the first method, you can access iCloud WhatsApp backup on PC through WooTechy iSeeker. This iOS data recovery tool has several advantages that make it a great choice for everyone.
First of all, it allows previewing of the data so that you always know which files you are restoring. Moreover, it can save your data directly to your PC. This means that you won't need to uninstall your WhatsApp or overwrite your existing data.
The great thing about it is that you don't need any specialized knowledge to start using it. Its user application is very welcoming and will provide you with all the information you might need at each step.
Key Features of iSeeker
75.000.000+
Downloads
Wide range of data types: It can recover more than 18 types of lost data on iOS devices.

iOS 16 supported: It is compatible with almost all series of iPhone, iPad and iOS 16 system.

Preview and selective recovery: It allows you to preview the lost data before recovery and allows you to select needed data to recover.

Free scan and preview: It allows you to scan and preview the lost data for free.

Three recovery modes: It can recover lost data directly from device, iCloud backup, or iTunes backup.
Steps to access WhatsApp backup on iCloud using iSeeker:
Download iSeeker and launch the app. From the home screen, select the Recover from iCloud option. In this case, choose to restore from an iCloud Backup. It would be advisable to create a backup of your device before you proceed.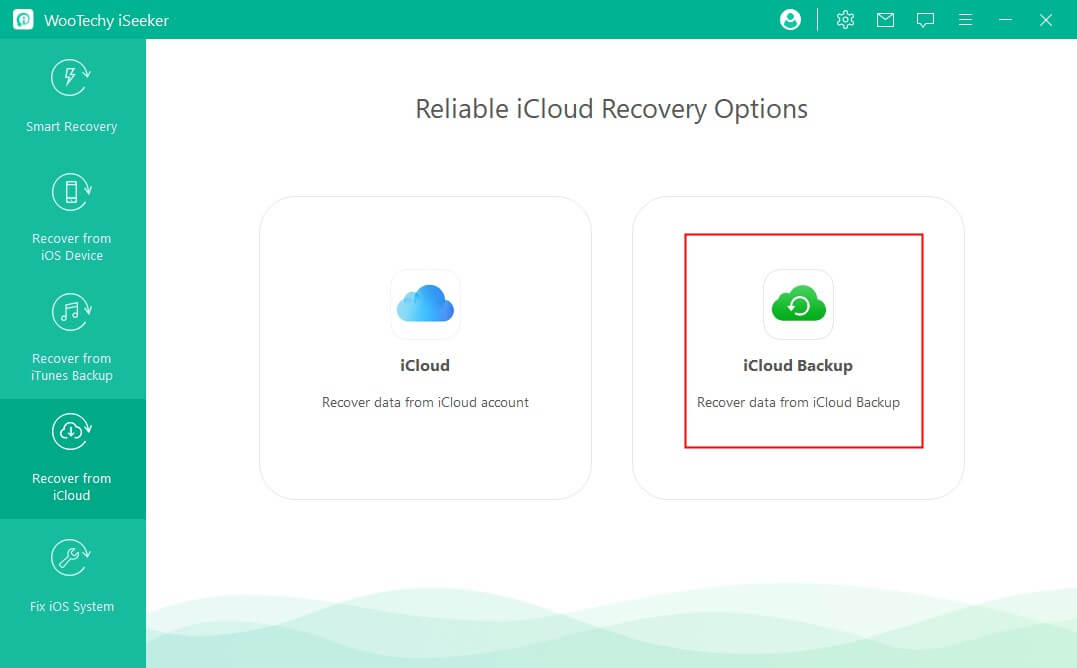 Prepare your iOS device accordingly. When you reach the Apps & Data screen, select the Restore from iCloud Backup option. Then, fill in your Apple ID credentials.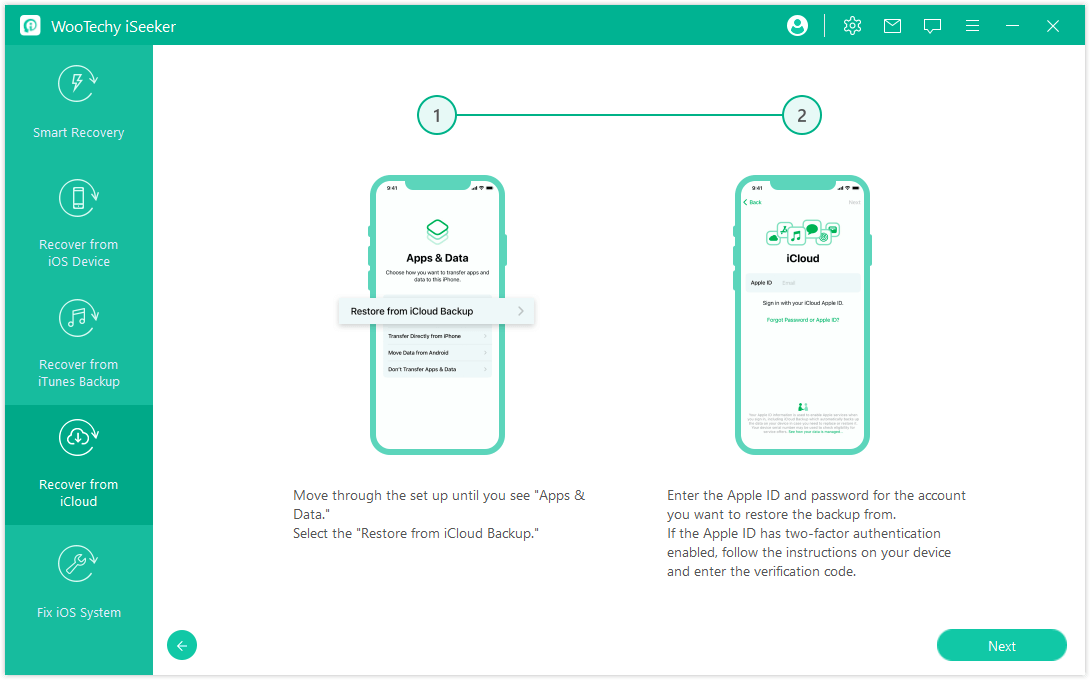 Select the iCloud backup you wish to install. Then choose WhatsApp from the data type list and click Scan. Select desired conversations and click Recover.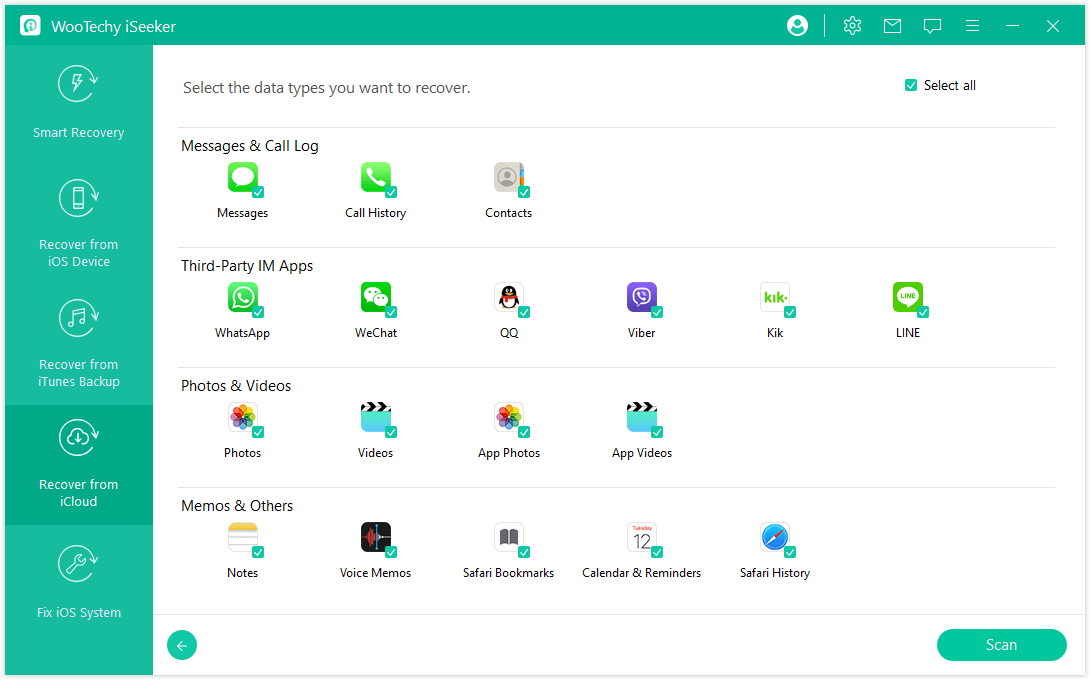 Also Know: iCloud WhatsApp Backup
1. How to Back Up WhatsApp to iCloud
You can easily create a backup of your WhatsApp data on iCloud. The first way is to back up only your WhatsApp data, and the second is to back up all the data on your iPhone, including WhatsApp history.
You can back up your WhatsApp data by doing this:
Open the WhatsApp app and go to Settings > Chats > Chat Backup > Back Up Now. This will create a manual backup of your data.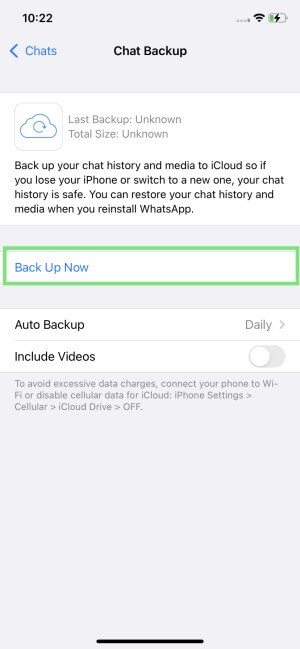 You can also enable Auto Backup from the same menu.
To back up all of your device's data to iCloud, you have to follow these steps:
On your phone, go to Settings > iCloud > Backup. Toggle the switch to enable the iCloud backup.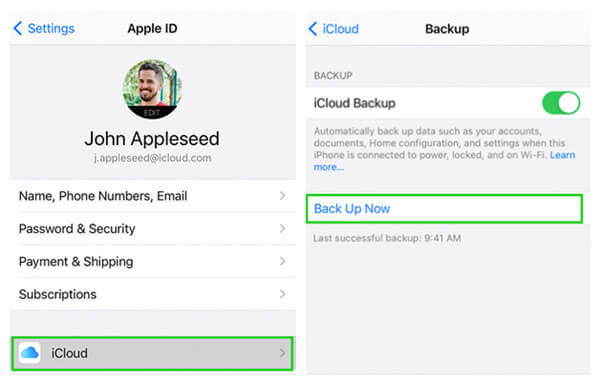 Then, you can select the apps whose data will be included in the backup. Make sure that you have selected WhatsApp.
2. Where is WhatsApp Backup Stored on iCloud
As we have already mentioned, many users don't know how to access iCloud WhatsApp backup on Mac because it is stored in a hidden folder. However, you can view it by typing the following commands in the Terminal:
cd ~/Library/Mobile\ Documents/WhatsApp
The Bottom Line
Now you know how to access WhatsApp backup on iCloud. However, restoring your WhatsApp backup comes with some inconveniences.
Instead, you can use WooTechy iSeeker to retrieve your files with ease. Download and start with the free trial right now.