Accidents can happen, even to the best of us. Especially when you're clearing out some storage space on your iPhone and realize you accidentally deleted that heartfelt text from your spouse or an urgent business text.
If you've gotten into such a situation and find yourself wondering how to retrieve deleted iMessages, don't fret! We'll walk you through 5 simple methods to recover all your precious data.
Top 5 Methods to Recover Deleted Messages on iPhone
Whatever the reason behind your lost data, your primary concern is retrieving your deleted text messages. And right now, time is money! Here are some of the ways you can try and get your data back.
1. iCloud Backup to the Rescue
One standard way to retrieve deleted iMessages from your iPhone that most people aren't aware of is by using iCloud. If you're someone who regularly backs up their data and has enabled the iMessage option in the iCloud settings, you're golden, and this method will work like a charm! Please note, though, that this will only work for iOS 11.4 or higher versions.
Each time you sync your mobile device with your computer or MacBook, iCloud automatically creates a backup, allowing you to access your iMessages from any other Apple device you own.
To check if you've enabled 'iMessages' in iCloud:
Go to Settings

Tap on Apple ID

Scroll down and click on iCloud

Scroll to find whether Messages has been toggled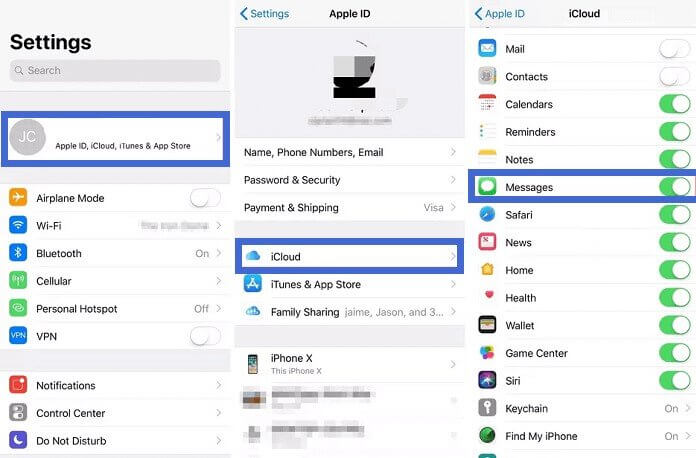 Once you've confirmed whether the 'Messages' option has been enabled, congratulations! You're one step closer to recovering your deleted text messages!
Follow the steps below:
Go to Settings

Tap on your Apple ID

Scroll down and tap on iCloud

Scroll down to find Messages and tap on it to turn it off

Select Keep on My iPhone

A hovering notification will appear on your screen. Tap on Disable and Download Messages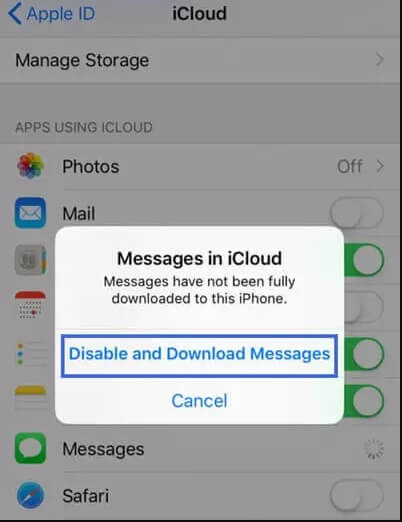 Next, turn Messages back on

Select the Merge option
This method is considerably less intrusive and allows messages stored in the iCloud backup to be downloaded onto your phone again.
2. iCloud Backup Method 2.0
You might want to consider this technique if the above-mentioned method doesn't cut it out. However, before diving into the process, we must highlight some things.
By the end of this technique, you'll have completely erased all your existing data on your iPhone, so we'd only recommend you do this if you're at a dead end.
Before we begin, though, we'd suggest backing up your data elsewhere, so you can still access it.
Follow the steps below:
Go to Settings

Tap on General

Find the Reset button

Choose the Erase All Content and Settings option

On the pop-up confirmation, tap on Erase Now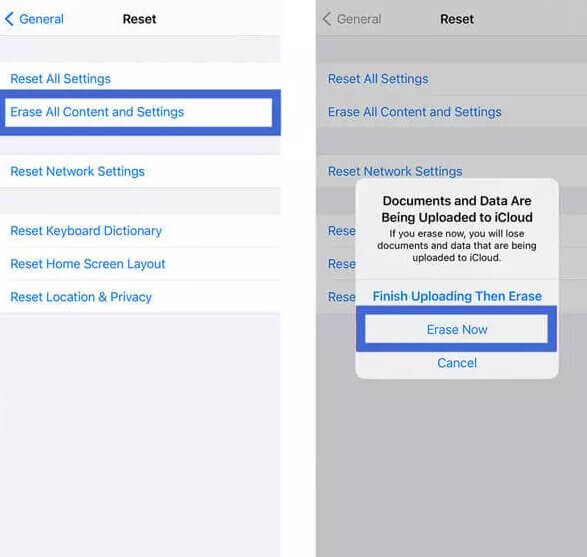 Once you have given your device the green flag to factory reset your phone, you'll need to follow the instructions in the prompt on your screen till you the Apps and Data option. Select the Restore from the iCloud Backup option and wait for the restoring to begin.
3. iTunes for the Win
If iCloud fails to recover your iMessages, iTunes is another excellent alternative way you can access your data. The method is relatively simple. However, it's important to note that, like in the case of iCloud, using iTunes backup overwrites your data. Therefore, it might be a good idea to save recent files and data separately so you don't lose them in the process.
To restore your iTunes backup on your iPhone:
Connect your iPhone to your computer using a USB cable

Launch iTunes

Select your device icon

On the left menu, click on Summary

Tap on Restore Backup. If your backup is encrypted, you'll be required to provide your backup encryption password first.

4. Contacting Your Carrier
If you've tried all the methods above and still haven't gotten any luck, there's another option that's worth a shot – reaching out to your phone carrier.
Cellphone providers stores generally store messages on their server for a set amount of time for law enforcement reasons, but the journey to them isn't the smoothest. You'll need to pass through a number of hoops in order to prove your identity.
To try this method, follow the steps mentioned:
Open Settings

Tap on General

Select About

Scroll down to Network and find your cell phone carrier
Once you know who your carrier is, you'll need to visit their website and find any contact information. Reach out to them and ask their chat operator whether they can help you recover your deleted iMessages. If they can, they'll assist you. If not, we've got one last resort for you.
5. WooTechy iSeeker – The Only Recovery Software You'll Need to Seek.
Instead of shooting in the dark, we highly recommend trying out WooTechy iSeeker, a professional iPhone data recovery software that helps retrieve data from iOS devices, iCloud, and iTunes backup.
No matter how you've lost your data, WooTechy iSeeker has got your back. With 3 simple steps, we help you retrieve your precious data in no time, ensuring complete data privacy and data overwrites. Choose the messages you need to recover with our user-friendly interface and detailed guides.
We've got 4 modes to choose from, 'Smart Recovery,' 'Recover Data from iOS Device,' 'Recover Data from iTunes Backup,' and 'Recover Data from iCloud.'
Let's begin!
Smart Recovery Mode
Download the WooTechy iSeeker application from Apple Store

Select the Smart Recovery option

Select your situation from a list of different options

Wait for the software to intelligently guide you on which mode is best suited to your situation
Recover Data from iOS Device
Select the Recover from iOS Device option

Connect your iPhone to your computer using a USB cable

Run for detection and click Next to continue

Select Messages

Click Scan

Allow for the program to scan your device and search for your lost messages.

Preview your recoverable files and select your desired data

Click Recover on the bottom right corner

Select a safe location for your data
And you're done! You'll have access to all your lost data in no time! WooTechy iSeeker works great call histories, contacts, third-party apps such as WhatsApp and Kik, photos, videos, and much more!
Final Word
There are multiple ways to recover deleted text messages; you just need to look in all the right places! In this article, we rounded up some of the top methods you can use to retrieve your data, so make sure you try them as soon as you realize your messages are missing. Remember, the quicker you act, the higher the chances of retrieving all your data!
It's important to bear in mind, though, that nothing beats a professional iOS data recovery tool. Mistakes happen all the time – that doesn't mean you can't undo them with WooTechy iSeeker!
From restoring your iMessages and other data without the need for backup to high recovery rates, WooTechy iSeeker will woo you away!
So, what are you waiting for? Install WooTechy iSeeker today and reunite with your text messages in no time!
What Makes iSeeker Stand Out
100.000+
Downloads
It provides the highest data recovery rate and can bring back over 18 types of data you want to restore.

It recovers data directly from iOS devices without the need for a backup file.

It offers an intuitive user interface with a simple click-based recovery process.

It allows you to preview and select recoverable LINE messages before you restore them.

It works well on all iOS models and iOS devices, including the newest iOS 16.