"It took 30 minutes to record a video but when I came home to upload, it was gone. It was recording and I didn't delete it; can anybody tell me how to find it?"
Losing data is one of the most annoying things that can happen at any time, even for reasons beyond your control. The situation can get even more frustrating when you realize that your memorable moments or the best video you have just recorded is no longer available on your iPhone. If you are also facing the fright of losing your recorded videos due to accidental deletion or any other reason that you may not be aware of, worry not because you're not alone.
Here, we are going to share everything you need to deal with recorded video on iPhone disappeared issue and discuss different solutions to get your videos back to your device.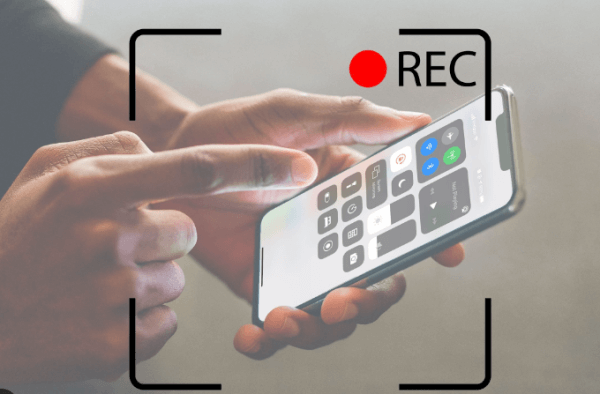 Part 1. Why Did a Video Disappeared from My iPhone?  
Recorded video on iPhone disappeared is a common issue that many iPhone users have come across. There are a number of reasons why this issue occurs and some are the following:
Accidental Deletion: You or your kids may have accidentally deleted a video. This can also happen when you are trying to delete multiple videos to clear up some space, and then, mistakenly select the one you might need in the future without any intention of deletion.
iOS 16 Updates: You haven't updated your iOS system to the latest version properly. Also, there will be glitches in the iOS system after the update at times, and these glitches can also result in videos missing from your device.
Virus Attacks: Some applications you download from unofficial platforms may carry malware or viruses, which can attack data on your phone and cause your videos to vanish.
Jailbreak Failure: Unauthorized modifications of an iOS system can cause device instability, security vulnerabilities, shortened battery life, and some other issues, including data loss. Therefore, jailbreaking your iPhone can sometimes delete or move your recorded videos to other folders without your knowing.
Several other reasons such as wrong camera roll settings, insufficient storage, changing iCloud sync settings, and factory resetting can also cause recorded videos to disappear from your iPhone.
Part 2. Simple Fixes for Recorded Video on iPhone Disappeared Issue
Irrespective of the reason you have lost your recorded video, trying to get it back can seem to be impossible or quite a frantic process. However, the good news is that you can easily get them back without any need to take your iPhone to the expert. Without any delay, let's trouble shoot the recorded videos disappeared problem and discuss ways to restore your missing videos.
1. Check Recently Deleted Folder
The first thing you need to do after your recorded videos disappeared from your iPhone is to check the "Recently Deleted" folder. As its name implies, the "Recently Deleted" folder keeps all your deleted videos and photos for 30 days before they get permanently deleted. So, if you have just deleted the video and haven't emptied the "Recently Deleted" folder, you can find and restore it there.
The following are the steps to recover disappeared recorded videos from the "Recently Deleted" folder:
Step 1. Open the Photos app on your iPhone and tap on the Albums tab.
Step 2. Now, head over to the Recently Deleted folder and select the videos that you want to get back.
Step 3. After getting done with the selection, hit Recover and confirm your action to restore the particular videos on your iPhone.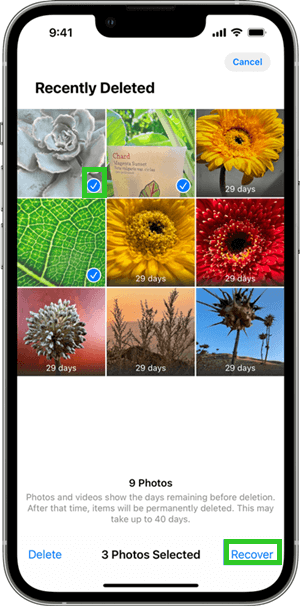 2. Restart iPhone
If you are unsuccessful in recovering the disappeared videos from the Recently Deleted folder, then the next step to resolve the problem would be to restart your iPhone. In many cases, when the videos are missing after updating the iPhone to the latest iOS version because of incompatibility, a simple restart will optimize the problem and get the missing videos back to your iPhone.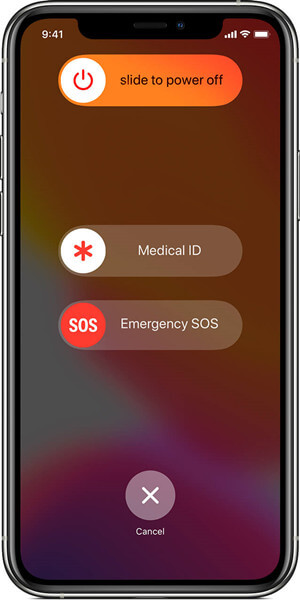 3. Check iCloud Settings
As most of us already know that iCloud Photos syncs all of your iPhone videos and photos to iCloud, which is an online cloud-based service from Apple. If you're trying to access videos on a different iOS device, you wouldn't be able to see them if the iCloud Photos feature is not turned on.
To see disappeared videos on iPhone through iCloud:
Step 1. Go to the Settings app from your iPhone and tap Your Name.
Step 2. Head over to the iCloud tab, press Photos, and turn on the iCloud Photos option.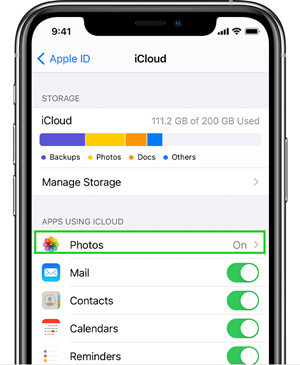 Part 3. How to Get Back Disappeared Recorded Videos to iPhone
If you are still unable to find your recorded video after trying all of the troubleshooting options given above, then the chances are that the particular video might have been unexpectedly removed from your device. For any such situation, we strongly recommend you to use a specialized recovery program to fix the recorded video on iPhone disappeared issue.
WooTechy iSeeker is a thoughtful creation allowing you to recover any kind of lost data from iOS devices. It lets you directly scan an iPhone's internal storage to recover disappeared videos and that means you don't need any backup. What's more, it is highly responsive and offers a one-spot solution for people who do not do very well with technology and have deleted their data accidentally.
Features Highlights
100.000+
Downloads
Supports recovering 18+ types of data files like videos, photos, contacts, SMS, and many more

Offers 3 dedicated modes to recover data directly from iOS devices, iTunes backup, and iCloud 

1-click operation for data recovery from iOS devices without backup

Restore lost data from a wide range of recoverable scenarios

Besides iPhone, it can also recover disappeared videos from all the iPad and iPod models
How to Recover Disappeared Videos from iPhone in 3 Easy Steps?
Here is a step-to-step guide to recovering lost or disappeared recorded videos from iOS devices using the WooTechy iSeeker Data Recovery:
Step 1. Launch Program and Connect Your iPhone
In the first step, you will need to select the Recover from iOS Device option from the main interface after you have launched the software on your computer. Then, connect your iPhone to the computer, and once your iOS device is connected, click on the Next button.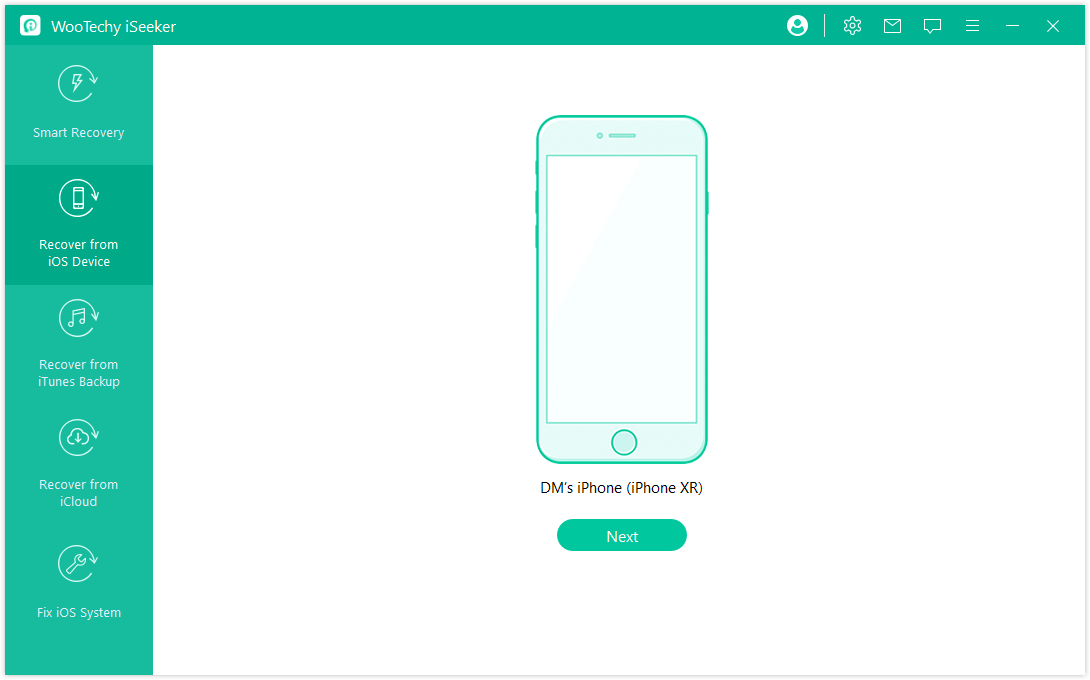 Step 2. Scan the Lost Videos
Now, select the data type, such as Videos in this case, and click on the Scan tab. It will start the program to scan deleted files on your device.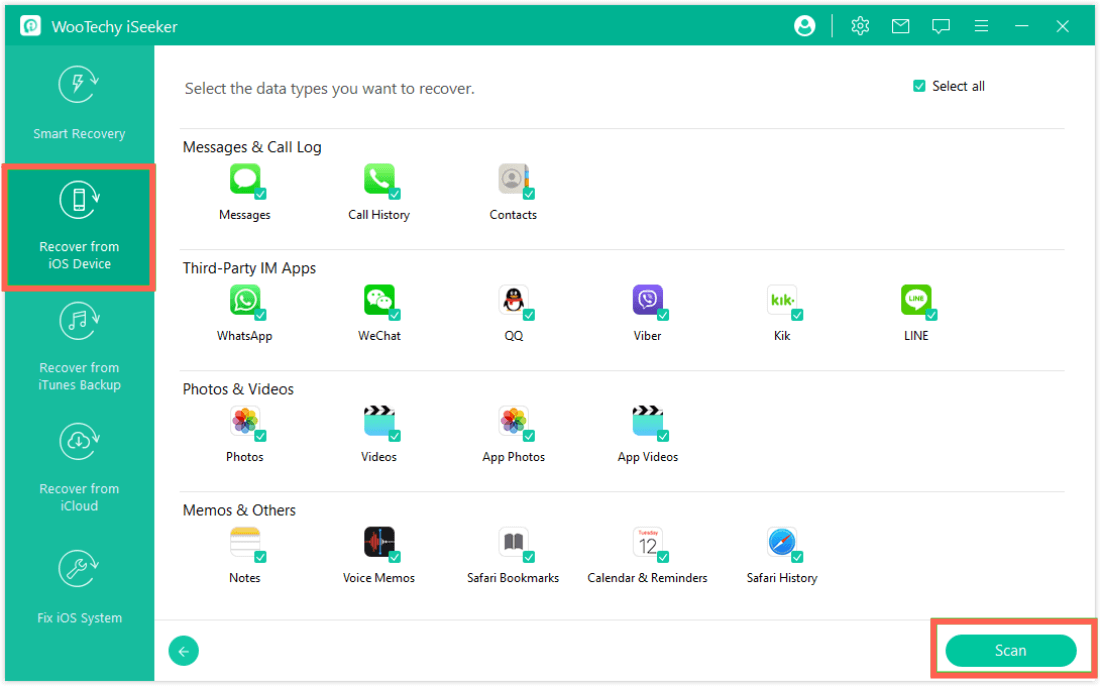 Step 3. Select and Recover Disappeared iPhone Videos
After the scanning process gets completed, you will be able to preview all recoverable files in a neatly categorized manner. You can simply select the videos that you want to retrieve and click on the Recover button located at the bottom right side of the screen.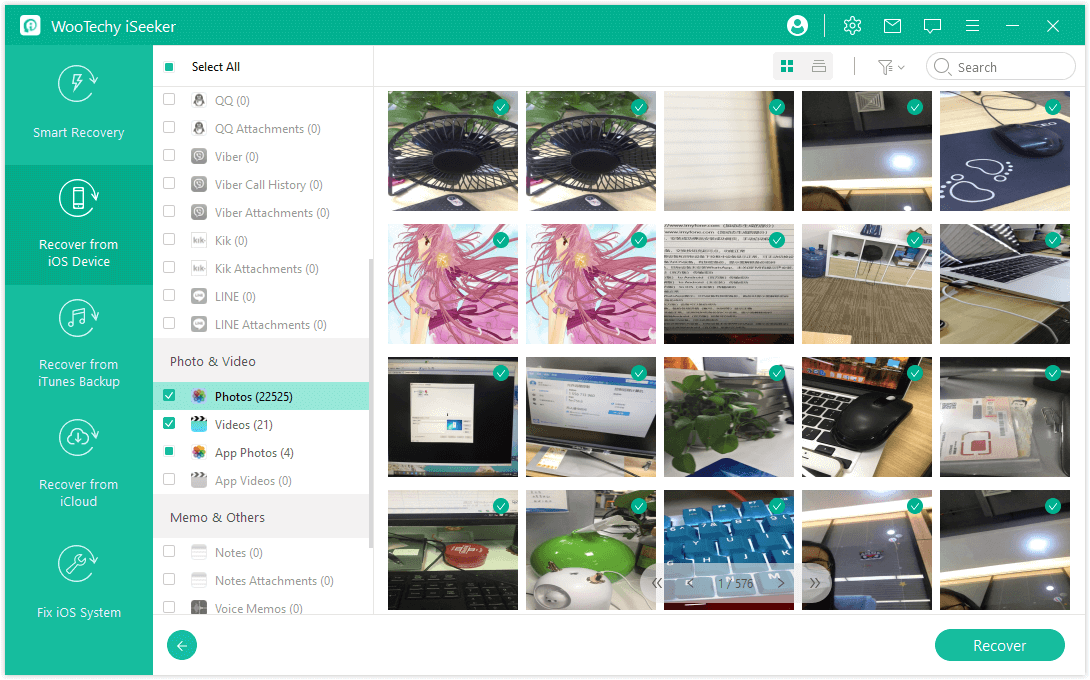 In Summary
Now, with the four methods we just shared, you must have gotten a clear idea about how to fix the recorded video on iPhone disappeared issue. You can try any of the options depending on your situation or how the video got disappeared from your device.
With all the amazing features that are steadier than the alternatives,
WooTechy iSeeker
provides the most suitable solution to get back your disappeared videos. Moreover, the program doesn't require prior backups and claims to have the highest percentage of success in the industry. Therefore, we can conclude that WooTechy iSeeker Data Recovery serves its purpose very well. Get the free trial right now!