Have your videos disappeared from iPhone after updating your iPhone to the newly released iOS 16 Beta? This is a very frustrating issue whenever it happens as you run the risk of losing valuable memories. Luckily, there are some things you can try for your videos and photos missing from iPhone.
In this article, we will explain five different methods with which you can retrieve disappeared videos and photos on iPhone. Try them out to get back your precious files.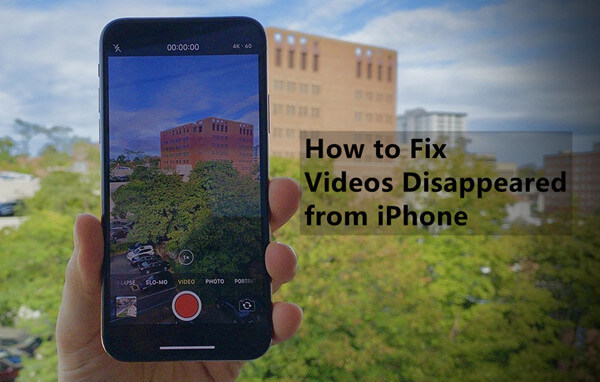 Part 1. Why Did My Videos Disappear from My iPhone?
There are many reasons why your files might disappear from your iOS device. A video missing on iPhone might be the result of an accident or software failure. For this reason, you need to find a reliable method to get your files back.
In more detail, when your photos disappeared from iPhone, it might mean that you have deleted them. Maybe you did so and then have forgotten about it. However, in some cases, you might have deleted some files by mistake. Either way, the videos and photos are no longer in your device's albums.
Another common cause is that you have hidden the files or folders by mistake, thus being unable to view them.
Moreover, the videos disappeared from iPhone issue can happen when the upgrade or downgrade of your iOS device has failed. This process can disrupt the way that your phone is normally working, and for this reason, it might hide some of your files.
Lastly, this issue might appear if you have recently performed a factory reset on your iPhone without keeping a backup. This process wipes your device clean, thus removing your files. 
Part 2. Can You Recover Lost Videos on iPhone?
No matter the reason why your videos disappeared from iPhone, there is a solution that you can try. Below, you will discover the most effective methods to retrieve your videos or photos
1. Recover Missing Videos/Photos from Recently Deleted Album
If you think that you might have deleted any video missing on iPhone, then you can try retrieving it from the Recently Deleted folder. Fortunately, your videos don't disappear immediately when you tap the delete button. Instead, they remain in the Recently Deleted folder for 30 days before they are removed permanently. The process for recovering your files from the recently deleted folder is very simple.
Tap and launch the Photos app.
Go to your Albums and scroll down until you find the Recently Deleted folder.
Select all the videos and photos you want to keep, and then tap the Recover button.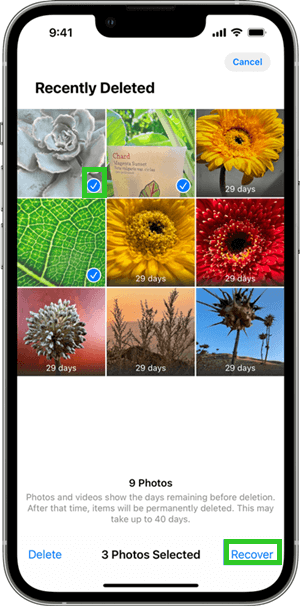 2. Recover Missing Videos/Photos from A Hidden Album
If you have hidden a photo or video, then you need to understand that it won't be shown in your regular album. Instead, it will move to a hidden folder. In this case, it is very easy to recover the lost video on iPhone by unhiding the video.
The step to find your hidden folder and get your disappeared videos back are the following:
Launch the Photos app and go to your Albums section.
Tap Utilities and then tap the option Hidden.
Browse the videos and photos then select the ones you wish to unhide. Then, tap the Share button and select the option Unhide.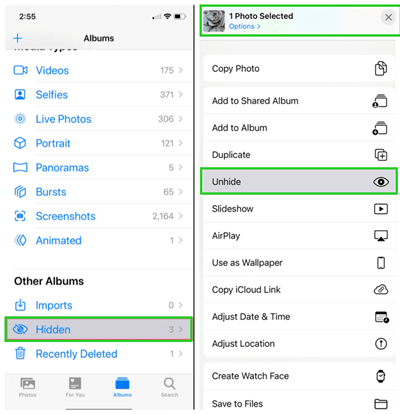 3. Recover Missing Videos/Photos from iCloud Web
If you have tried the previous two methods but you're still unable to spot the videos missing from iPhone, then you can check your iCloud. However, this method will only work if you have previously enabled syncing with iCloud.
To download your videos and photos from iCloud, you need to do the following:
Open your web browser and go to icloud.com. Log in with your Apple ID and password
Then, go to Photos and choose the files you want to download.
Click the Download button.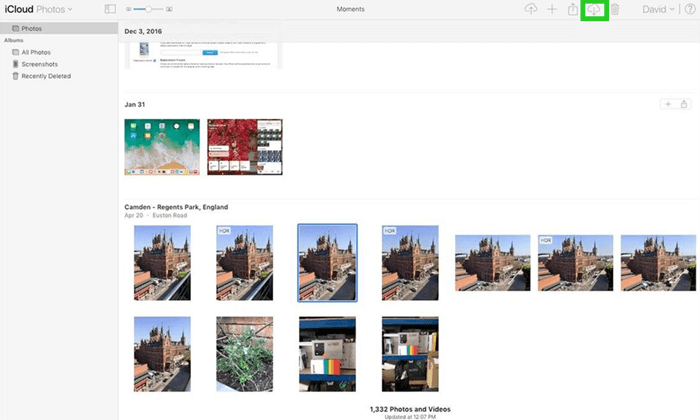 In addition to this, you also have access to a Recently Deleted folder on iCloud. Just as the Recently Deleted folder on your iPhone, in this folder, you might find the missing videos and easily recover them.
Go to Photos and spot the Recently Deleted album on the sidebar,
Choose the videos or photos you want to retrieve and click the Recover button.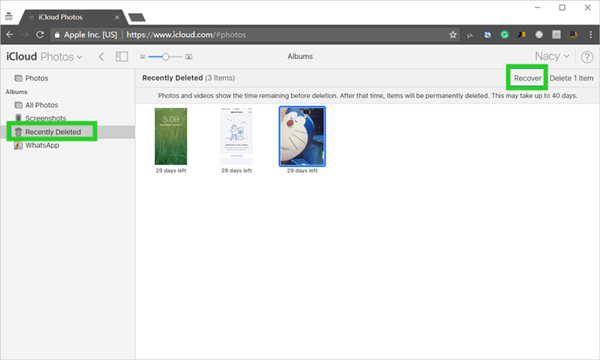 4. Recover Missing Videos/Photos with A Data Recovery Tool
There is a reliable method to get your photos and videos back, no matter why they have disappeared from your device. This method is to use a specialized iOS data recovery tool, WooTechy iSeeker.
This powerful tool has the highest success rate, being able to recover all the data you have been missing.  More importantly, it works even when you forgot to make any backup. And the whole recovery process will only take a few simple steps that you can complete in just a few minutes. And the free trial it provides can help you test the utility and compatibility.
What Makes iSeeker Stand Out
100.000+
Downloads
It has the ability to recover more than 18 different types of files.

It can recover any lost data on iOS devices without backup.

It works well on a wide variety of iOS models and iOS versions, including the iOS 16 Beta.

It provides you with a preview so that you are sure of your initial selection.

It ensures the privacy of your data. The recovery process will not expose your files to unwanted sources and you can rest assured of their safety.
You can recover your videos disappeared from iPhone using WooTechy iSeeker with these steps:
Step 1. Get WooTechy iSeeker on your computer and launch the app. From the main screen, choose the Recover from iOS Device option. Then, plug your iPhone into your PC using a USB cable. Click the Next button to continue.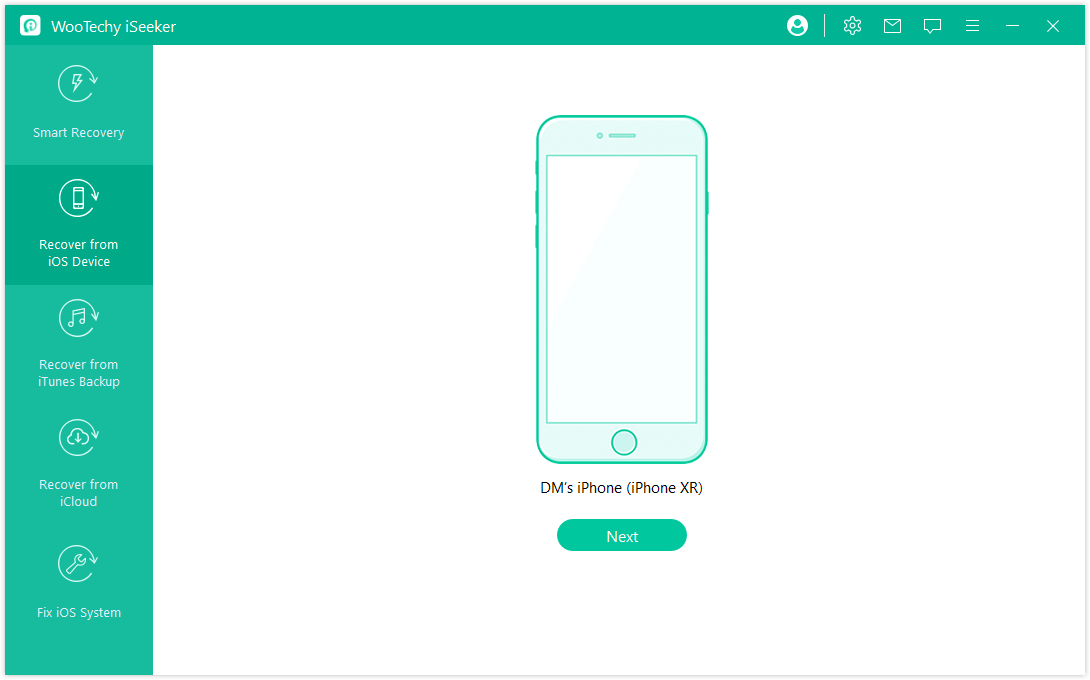 Step 2. The next screen shows you all the available file types you can retrieve. Select the Videos and Photos and click the Scan button.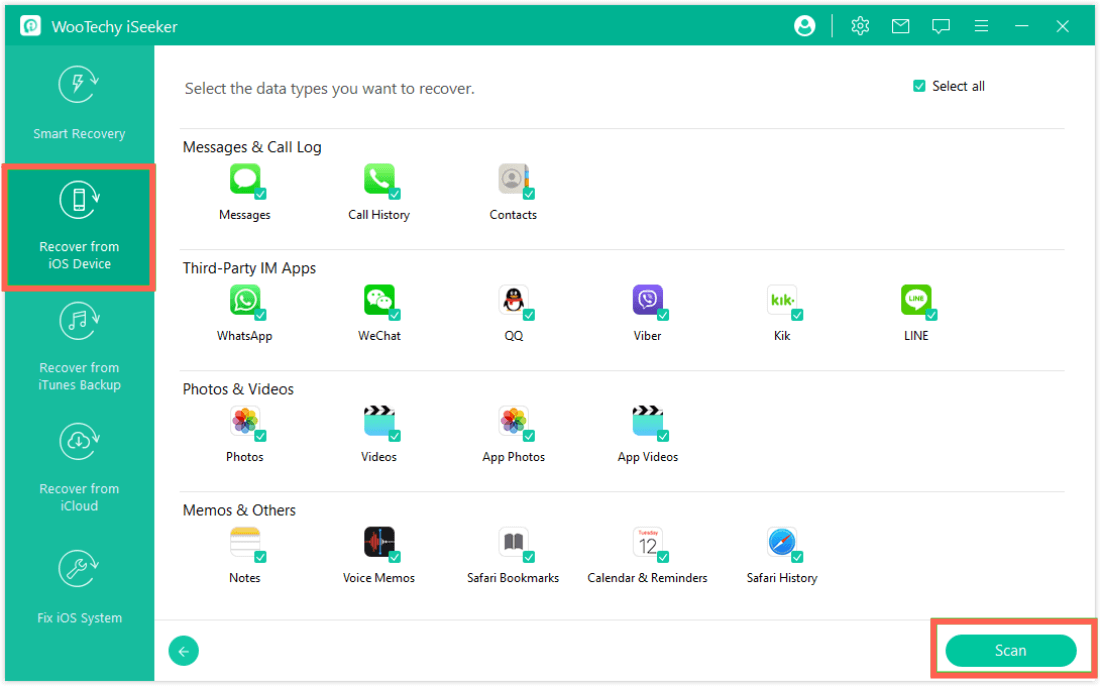 Step 3. It will take a few seconds to scan your device. After this process, you will preview recoverable files. Choose the ones that have been missing from your iOS device and click the Recover button. Specify the location where you want them saved, and wait until they get downloaded.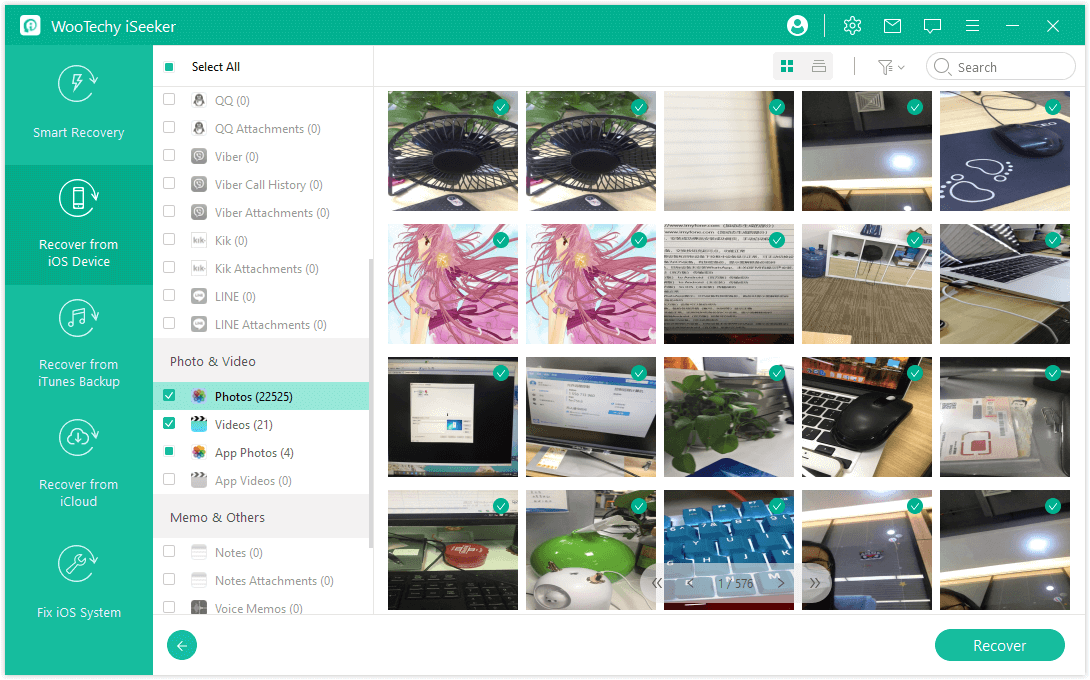 5. Recover Missing Videos/Photos from iPhone Backup
The last method is to use a backup of your data. However, it is important to note that you can only do this method if you have previously kept a backup of your iPhone on iCloud or iTunes.  And using this method will need erase all existing content first. So, remember to make a full backup to avoid any unexpected data loss.
To restore your iPhone using an iCloud backup, you must follow this process:
Go to Settings > General and tap the Reset button to begin the process. When you do that, you must tap the Erase All Content and Settings button.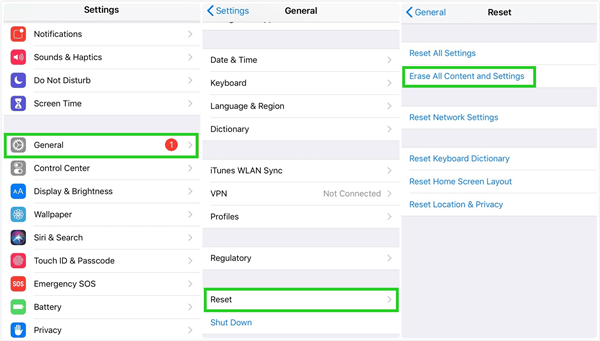 Then, your phone will restart and you will be asked to set it up. Follow the on-screen instructions to do so. In the Apps & Data section, select the Restore from iCloud Backup option.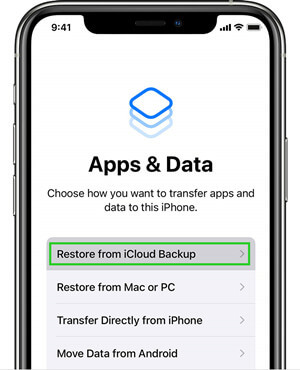 Log in to your iCloud account using your credentials. Then, locate the backup you want to use and install it.
To restore your iPhone using an iTunes backup, you must follow this process:
Launch iTunes and connect your device to your PC with a USB cable. From the sidebar, select the device you have just plugged in.
Click Summary, locate and click the Restore Backup button.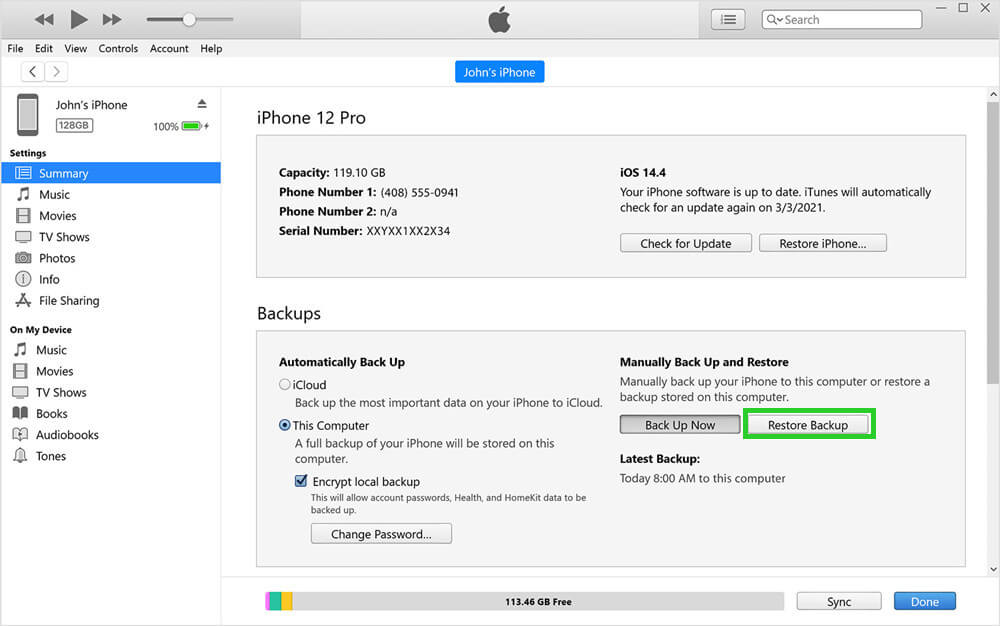 Browse the available backups and select the one closer to the date that interests you. Click the Restore button and wait for the process to be completed.
Conclusion
All of these methods will bring you any lost video on iPhone. Some of these are simpler than the rest, even though they might not be as effective.
However, from all of them, WooTechy iSeeker is the most dependable one as it will bring you the best results every single time. Download it to your computer to take advantage of its specialized services that make it an essential tool for data recovery.