Never want to use one of those dumb text to speech reader that sound like a robot again? But there are so many TTS tool on the market with mixed quality, how can you find the best one?
You are in the right place! We tested some popular text to speech software on the market and selected the top 3 best text to speech generator, and also summarized their detailed pros and cons! Want to generate ultra-realistic synthesized speech from text? Check them out now!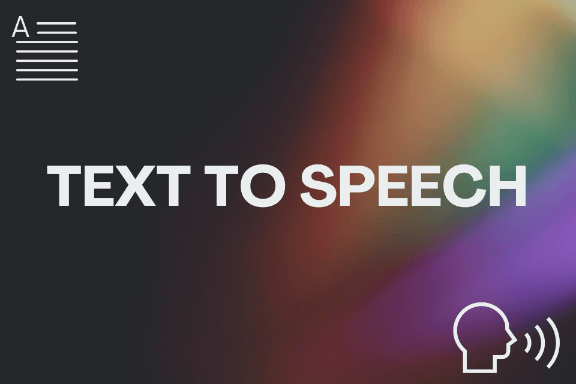 [No.1] VoxBox Text to Speech
You can't talk about voice generator without mentioning VoxBox, one of the best AI voice generators available today.
VoxBox is far ahead with its advanced AI text to speech and AI voice cloning features, which allow you to quickly generate ultra-realistic human voices. With tons of users from all over the world, it is now arguably the most popular AI voice generator out there.
VoxBox has a huge voice library with over 3,000 AI voices, including celebrities, singers, and cartoon characters from around the globe. Whether you want to have your words spoken through the voices of Trump and Biden, or have your voice dubbed by Beyoncé even SpongeBob, VoxBox makes it happen effortlessly.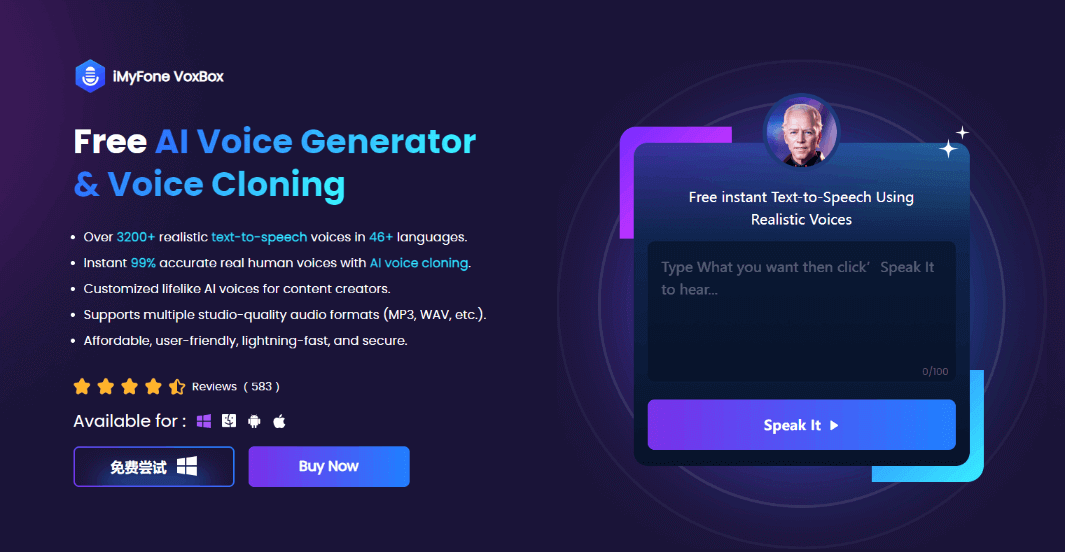 Pros of VoxBox
Huge Voice Library: 3,000+ text-to-speech AI voices are available, including celebrities, presidents, singers, YouTubers, cartoon characters, and more.
Multi-Language Support: About 50 global languages are supported, including English, Spanish, French, Japanese, etc. Over 100 accents to choose from, such as British and Hindi.
All-in-One Voice Toolkit: Provide a variety of built-in features including text-to-speech, speech-to-text, AI voice cloning, voice recording, video conversion and audio editing.
Adjust Voice Settings: Allow customization of various voice parameter settings such as speed, pitch, volume, pause, emphasis and other fine-tuning options.
Multiple Output Formats: Allow downloading and exporting to different audio file formats, including MP3, WAV, AAC, OGG and more.
Easy to Use: Convert text to speech in a few simple steps, no specialized skills required, friendly for novices.
Fast Speed: Process voices very fast, quickly generate any voice you want in minutes.
30-Day Money Back Guarantee: Request instant refund within 30 days if you are unsatisfied.
Cons of VoxBox
Need to download and install the software, online text-to-speech is not supported.
Free trial version has limited functionality.
How to Convert Text to Speech with VoxBox?
Step 1. Go to VoxBox official site, download and install VoxBox on your computer.
Step 2. Launch VoxBox, click "Change Speaker" and select your favorite character's AI voice.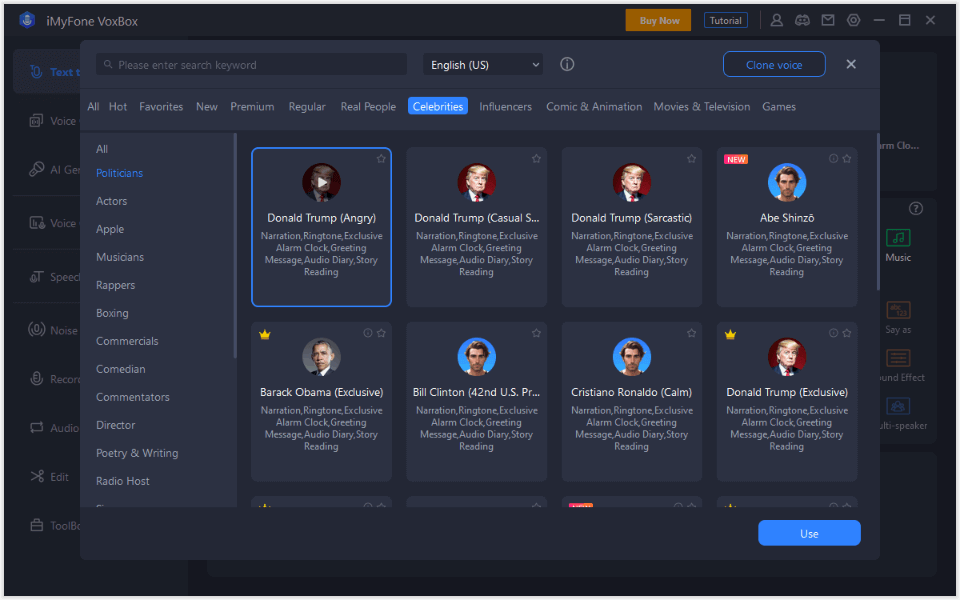 Step 3. Enter your text in the text box or import your text directly, then click "Convert" to convert text to speech.
Step 4. Adjust the voice settings according to your preferences, and export in the desired audio file format.
[No.2] Speechify Text to Speech
When it comes to text to speech AI voice generators, Speechify is usually the first choice for many users.
Speechify utilizes cutting-edge AI technology and advanced speech synthesis to convert text into speech. It also provides text to celebrity voice, which allows you to convert text into the voice of Gwyneth Paltrow or Morgan Freeman in minutes.
Speechify offers powerful text-to-speech support, whether it's for podcasts, course videos, or audiobooks, it does it all with ease and it even grants perpetual ownership and commercial rights to the output audio. It's no wonder that Speechify is a favorite among many users looking for the best AI text to speech generator.
Pros of Speechify
Available for Chrome, iOS, Android, and Mac, and the Speechify's text to speech Chrome extension allows you to experience TTS feature for free with up to 1500 characters.
Supports fine-tuning of pronunciation, pauses, pitch, and other granularity.
Allows speeding up or slowing down of speech.
Supports online use of text-to-speech without downloading and installing software.
Cons of Speechify
Not very friendly to non-English speakers, only a few other languages are supported.
Only 60+ voices available for text-to-speech. Features and voices are even more limited for free users.
Not suitable for real-time use.
[No.3] ElevenLabs Text to Speech
After extensive testing of many AI voice generators, there is no denying that ElevenLabs is one of the best TTS tool.
As a full-featured AI text to speech voice generator, ElevenLabs provides high-quality voice synthesis. It utilizes AI to create custom AI voices from text, using advanced deep-learning algorithms to generate lifelike voices that can realistically mimic human speech patterns, emotions, and accents.
What's more, ElevenLabs supports AI voice cloning. Its advanced artificial intelligence voice cloning technology allows you to clone your voice online or synthesize a brand new one. In just a few minutes, you can easily create digital voices that sound like real people.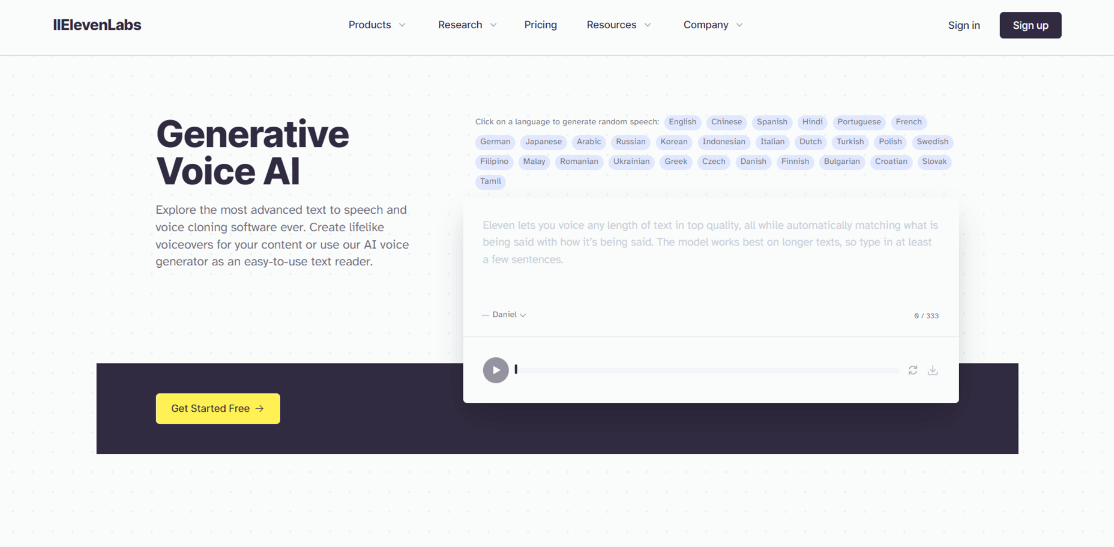 Pros of ElevenLabs
Provides large user community support for speech model sharing, allowing you to access a large number of AI-generated voices in the user community voice library.
Friendly user interface and intuitive user experience, easy for novices to get started without having to learn, effortlessly convert text into spoken words.
Supports multilingual speech synthesis.
Generated speech audio or video can be downloaded.
Cons of ElevenLabs
Occasionally the interface stutters or the program exits erratically when text-to-speech exceeds 2,000 characters.
Cannot pronounce numbers and symbols in some languages with complete accuracy.
Conclusion
Well, these are the 3 most popular text to speech generator and their pros & cons compared. All of them are the top in the text to speech field and can help you generate realistic and amazing AI voice with ease!
Undeniably, VoxBox is indeed the best text to speech AI voice generator among them all. If you too want to convert text into a lively and engaging voiceover, just try VoxBox now!