It's no secret that smartphones are privy to personal information. Our phones hold any sensitive data from contact lists to pictures and videos. A password is a feature that will protect devices from unwanted access. But what if you forget your password and want to get in without losing your data? This article will do the trick and guide you on how to hack a phone password in simple steps. Keep reading.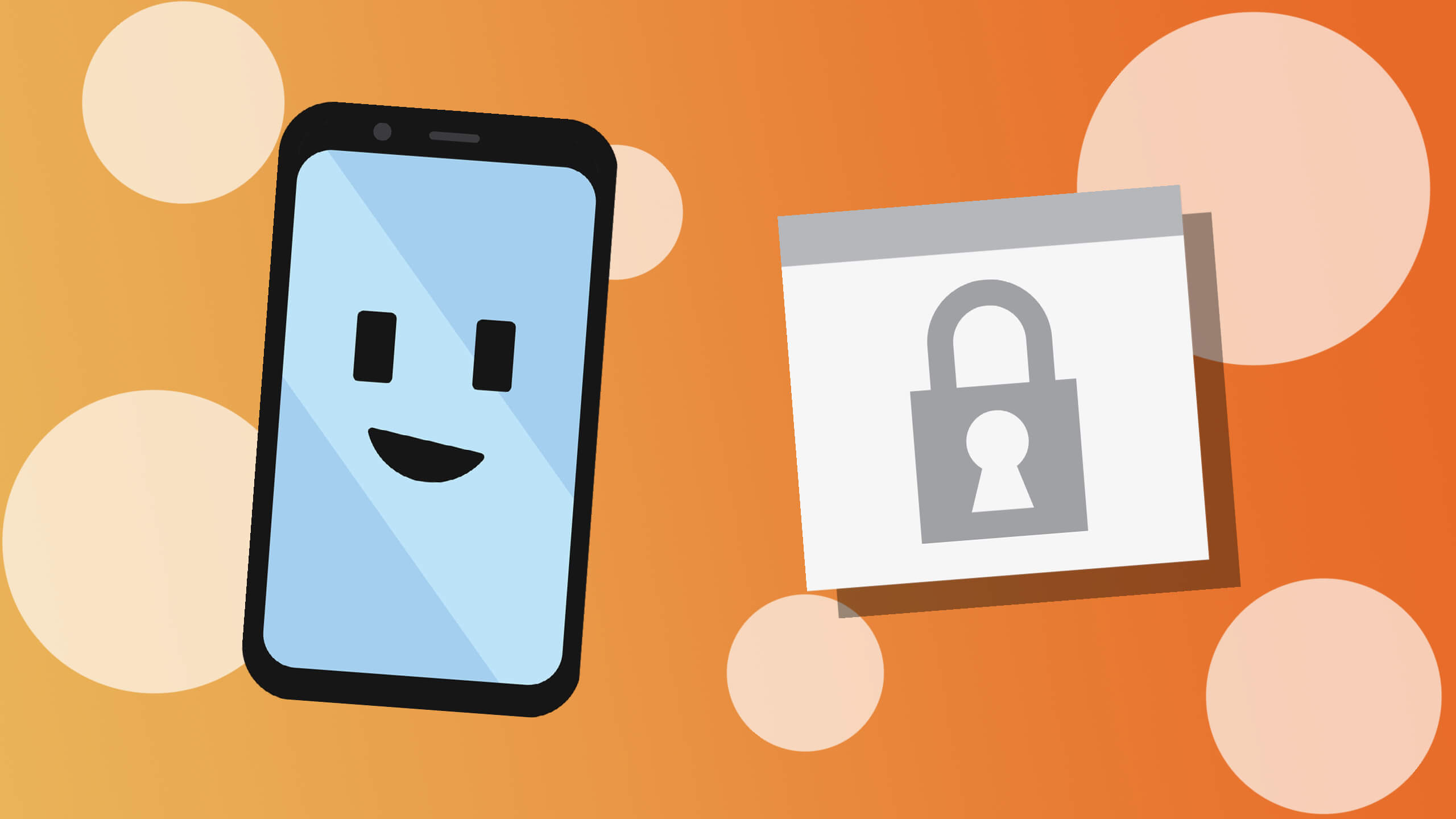 Is It Possible to Hack Phone Password Without Erasing Data?
Yes, it's possible. There are a couple of fixes to try to hack or bypass a phone password. You can hack the phone password by resetting the device or using a professional unlocking tool. The former process may be faster but manually getting all your data requires more time and effort. So obviously, the latter is a better solution. Of course, you can also hack phone password without software. Read the article and you will get the answer you want.
How to Hack Phone Password [with Software]
1

The Best Software to Hack Phone Password Without Erasing Data - WooTechy iDelock (Android)

The first and easiest solution to hack a phone password without erasing data is by using WooTechy iDelock for Android. This professional passcode bypass tool can not only help you hack the screen lock on an Android phone but also enables you to remove the Google lock. The whole process is straightforward. Even beginners can do it.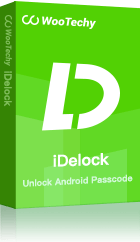 Pros
With an easy-to-follow guide, you can hack the phone password on your own.

It won't lose any of the data for Samsung users during the unlocking process.

This software supports thousands of Android devices, from Android 2.3 to Android 11.

The security of the toll is guaranteed. There is no risk of virus intrusion.

It can hack your phone password effectively and the success rate is high.

iDelock (Android) offers a 30-day refund service to users. Get a free trial now!
Steps to hack phone password with iDelock (Android):
Download the software from the official website and choose option 1 Remove without Data Loss.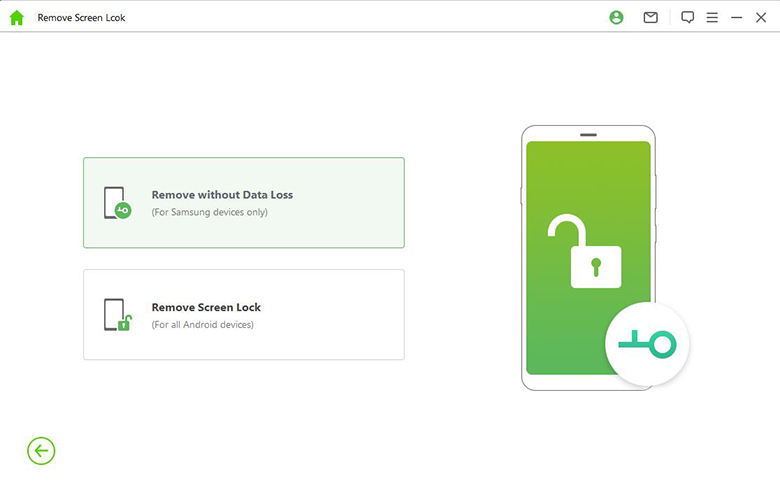 Select the device information from the screen. Then download the data package and extract it.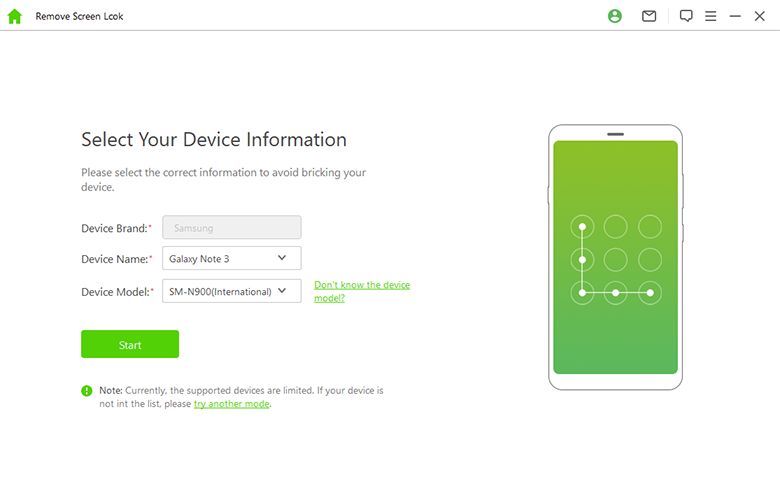 Next, connect your locked Android phone to the computer via a USB cable. The program will automatically detect your device.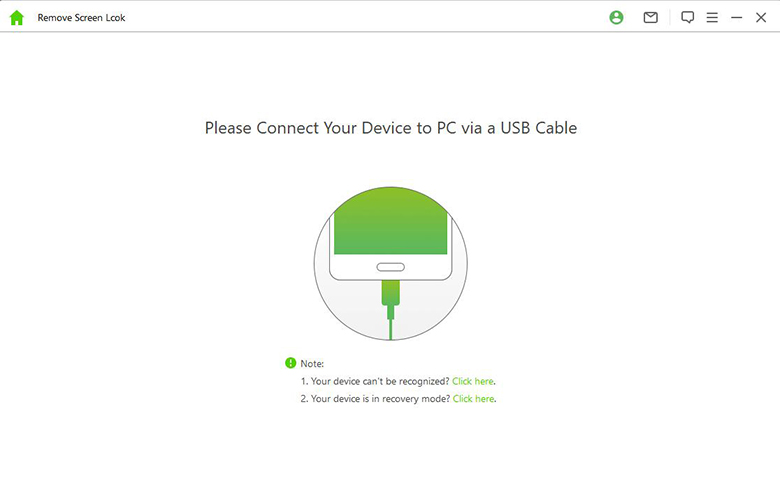 Follow the on-screen instructions to put your device into Downloading Mode. After that, click Start to Unlock to proceed.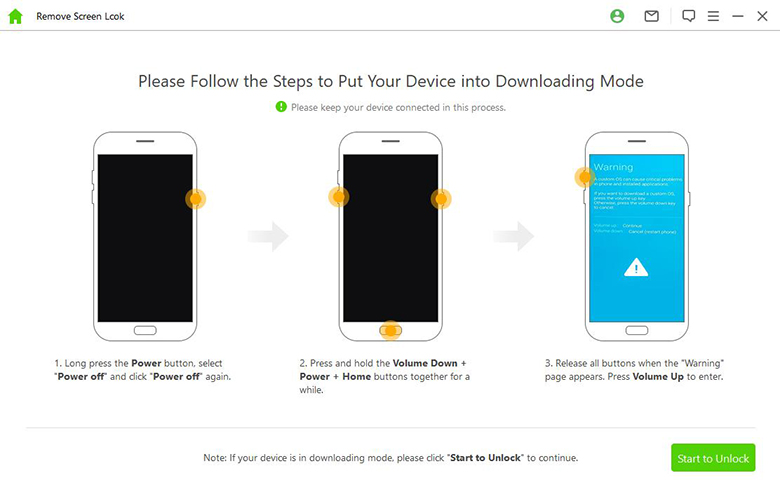 Now iDelock (Android) will start to hack your phone password. Just wait for a while and it will be done. None of your data gets lost.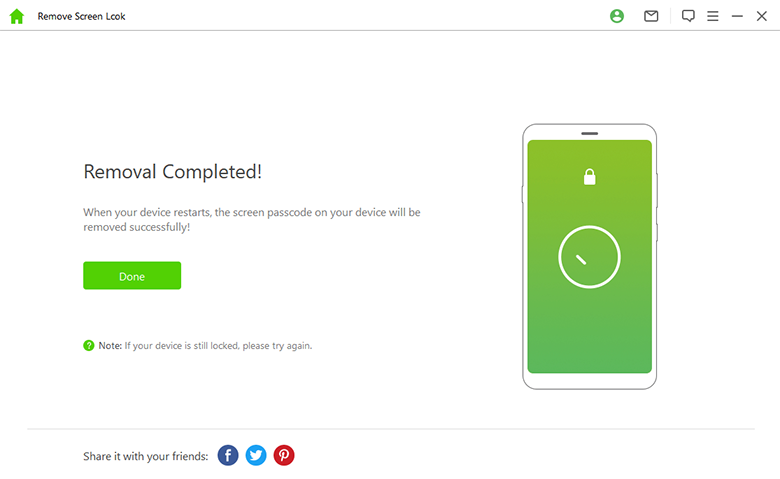 2

Use ADB to Hack A Phone Lock Code

ADB (Android Debug Bridge) is a versatile command-line tool that lets you communicate with a device. It can be used to execute commands, install and uninstall apps, run shell commands, etc. By using ADB, you can bypass the lock screen on your Android phone by sending commands to your PC. Here's the guide on how to hack phone passwords using ADB:

Step 1: Download the Android installer and extract the toolkit into your computer.

Step 2: Connect your Android phone to the computer via USB cable. Open the folder's address bar and type in CMD, hit Enter to launch a command prompt.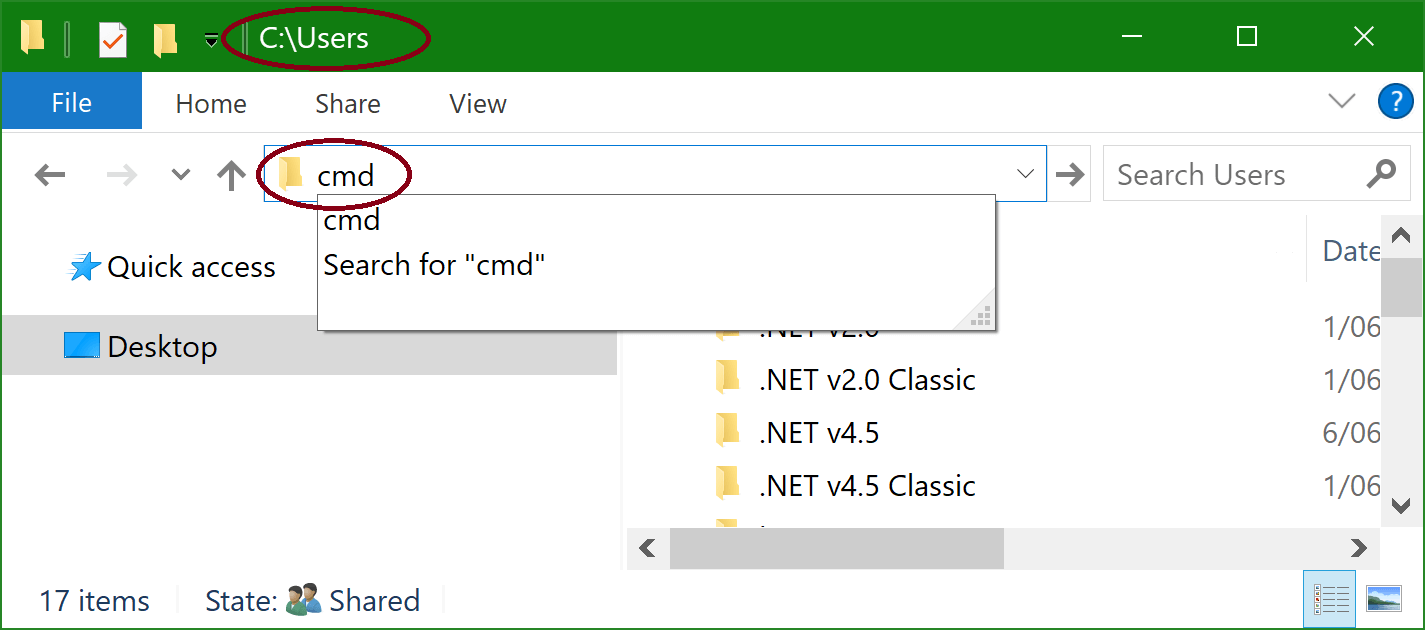 Step 3: Input the below command to verify the ADB connection:
adb devices
Step 4: If you get the device ID, it means the connection stands established. Then input the below command after the device name to open the shell environment:
adb shell
Step 5: After that, execute the below command to wake up the device:
input keyevent 26
Step 6: Next, execute the below command to unlock your device. 9999 will be your new password.
input text 9999
Step 7: If you are asked to tap on OK after entering the password, then execute the below command:
input keyevent 66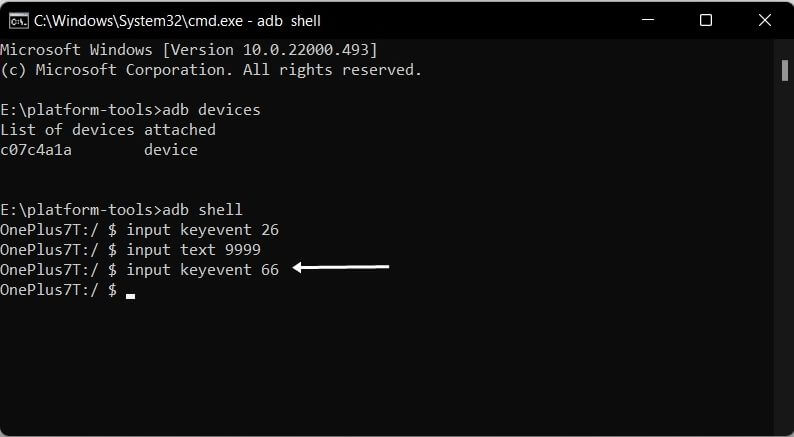 Now you are all done. The password of your device is already removed.
Cons
It requires technical knowledge to complete the unlocking process. It is too complex and difficult.

It may generate uncommon or unexplainable errors, so you'll have to use it at your own risk.

There's no 100% guarantee that this fix will work. The success rate is lower than expected.
How to Hack Phone Password [Without Software]
#1 Use Google Account to Hack A Phone Lock Code
If you don't want to download any software to hack your phone password, then using a Google account is a good choice to solve this problem. This method is much easier than ADB. Below are the steps to use a Google account to hack phone password:
Enter a wrong password on your locked device until it prompts Forgot Pattern. Click on it.
Then sign in with the Google account connected to the locked phone.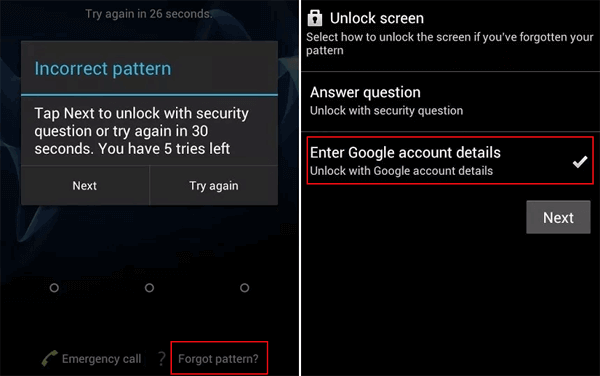 Now your phone is unlocked, and you can access your device.
Cons
It cannot use if you don't remember your Google account.

This method only works on Android 4.4 and below.
#2 Use Find My Mobile to Hack A Phone Lock Code
Find My Mobile is a feature that can be used to locate, lock, or erase data on the device. The good news is that it can also be used to bypass the lock screen. Here's how you can use Find My Mobile to hack phone password: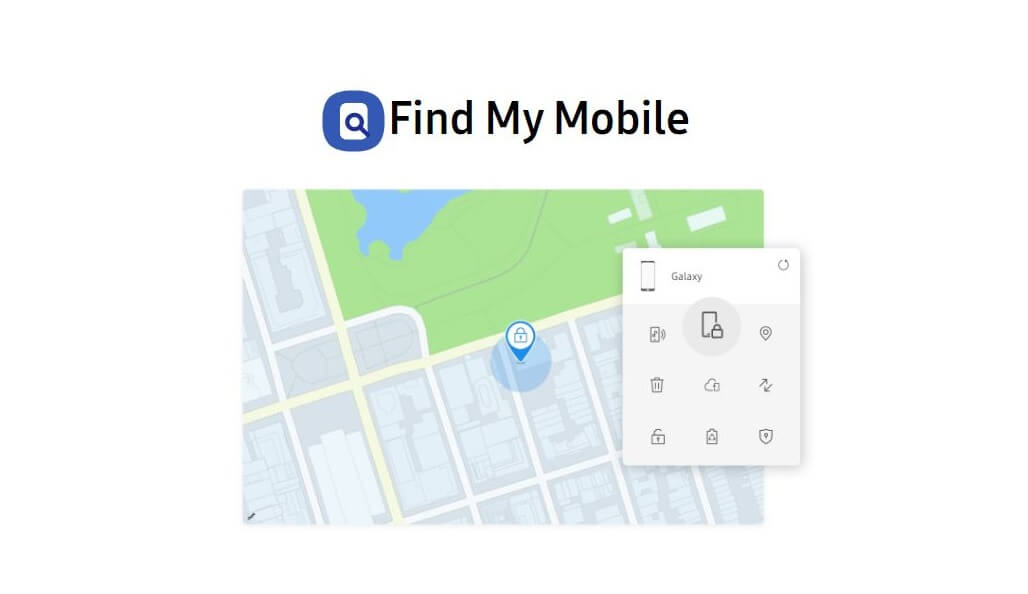 Go to Find My Mobile website and log in with your Samsung account credentials.
Select the device you want to unlock from the drop-down menu.
Click Unlock from the list. Next enter your Samsung password again.
Then will appear a confirmation pop-up. Confirm it and you will receive a notification that the screen lock has been removed. You can now access your device without having to enter a password.
Cons
This method only works with Samsung devices, and you can access your Samsung account.

Before using this method, ensure the Find My Mobile feature is activated.
Conclusion
All the methods we've provided are ways to hack phone password. However, they all come with risks and requirements. Suppose you're unsure about your technical abilities or don't have the required tools. In that case, we recommend you use a more reliable solution like WooTechy iDelock (Android), a professional tool with higher compatibility and success rate. It has a 30-day money-back guarantee which means you can always get a refund if it doesn't work on your device. Try downloading it now, so you never worry about being locked out of your device again.