What is a ZIP? How to Password Protect a ZIP File? How to Crack a ZIP File Password? Your search ends here!
This ultimate guide to ZIP will go into detail about what a ZIP file is and what you probably want to know the most - password protect ZIP file. Even better, just in case you forget the password that encrypts your ZIP file, here is also a simple and useful tip to crack ZIP password! Read on!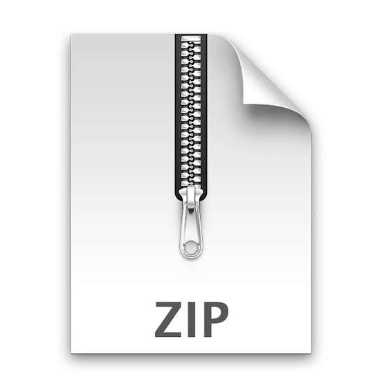 Part 1: What is a ZIP?
ZIP is a common file format used to compress one or more files into a single file. A Zip file can contain a single file or multiple files and folders with a .zip file extension.
ZIP is especially useful for larger files. It shrinks large files and saves related files together, reducing the amount of storage space they take up on a computer and making them easier to store and transfer; it also makes downloading files faster, and is therefore widely used for sending and transferring files via e-mail, where the recipient can unzip or extract the ZIP file and open them in their original format.
In more concrete terms, ZIP is essentially like one of those space-saving vacuum bags: you put a large quilt in the bag and suck all the air out of the bag so that it can easily fit in a small closet. It's still a large quilt when sealed, but it takes up much less space. When you need to use it, take the quilt out of the bag and the quilt is still the same quilt.
Part 2: How to Password Protect a ZIP File?
Encryption is also a key feature of ZIP files, which allows you to encrypt the file using password protection.
Many people will protect their ZIP files with a password to ensure that only authorized people can unzip and access the contents of the file. This is especially handy when sharing sensitive data and can protect your privacy when sending files over the Internet.
Here are 2 common and simple ways to password protect a ZIP file:
Way 1. Password Protect ZIP File by Creating a ZIP File with Password
Directly creating a ZIP folder with password is a quick way to password protect ZIP files. This method can provide basic data encryption or protection. It requires only simple steps and does not require complex technical or specialized knowledge.
Step 1: Right-click on the files you want to zip and protect with a password.
Step 2: Select "Send to", then click "Zip folder (compressed)" to compress the files into a new zip folder.
Step 3: Double-click on the zipped folder, then select "File" > "Add Password".
Step 4: Enter the password you want to use, then close the menu to apply.
Way 2. Password Protect ZIP File by Using the Encrypting File System
The Encrypting File System (EFS) encrypts your zipped data and provides a decryption key for opening it. This decryption key works as a password for your folder, and you can set it on any computer with an EFS.
Step 1: Right-click on the .zip file which you want to encrypt, then select "Properties" from the menu.
Step 2: Click on the "Advanced" button.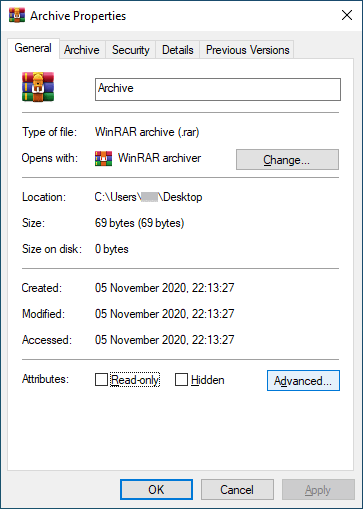 Step 3: Choose the "Encrypt contents to secure data" option and click OK.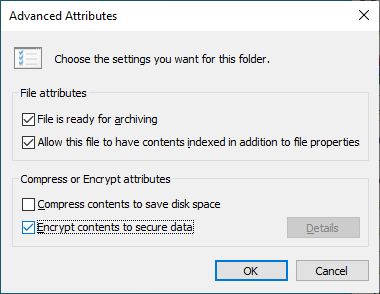 Step 4: Choose either "Encrypt the file and its parent folder (recommended) " or "Encrypt the file only", then click OK.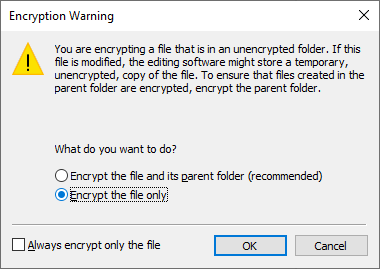 Step 5: Click "Apply" to apply the setting changes.
Part 3: How to Crack a ZIP File Password?
What if you forgot the password for your encrypted ZIP file? How to unlock ZIP files? When it comes to cracking ZIP file password, you have to mention WooTechy iCrowbar.
As the most popular ZIP password cracker, WooTechy iCrowbar can quickly and securely crack ZIP passwords regardless of the password strength, and guarantees that never affect or lose any data or content. Most importantly, it's very easy to use, just a few simple steps, anyone can easily crack ZIP password without any effort.
WooTechy iCrowbar - Best ZIP Password Cracker
8,000,000+
Downloads
Unlock Passwords: Quickly recover passwords for various file types, including ZIP, RAR, PDF, Excel, Word, PowerPoint, etc.

Remove Restrictions: 1-click to remove editing and formatting restrictions on PDF/Excel/Word/PowerPoint so you can copy, edit and print

4 Attack Modes: Provide 4 powerful password attack modes with the highest decoding success rate in its class

10 Times Faster: Use advanced algorithm and GPU acceleration, decoding speed is 10 times faster than similar products

Easy To Use: Unlock files in just a few simple steps, no expertise required, friendly to non-technical people

After-Sales Guarantee: 30-day money back policy to ensure successful unlocking, instant refund if unsuccessful
How to Crack ZIP File Password?
Step 1: Download and install WooTechy iCrowbar on computer. Launch it and select the ZIP option.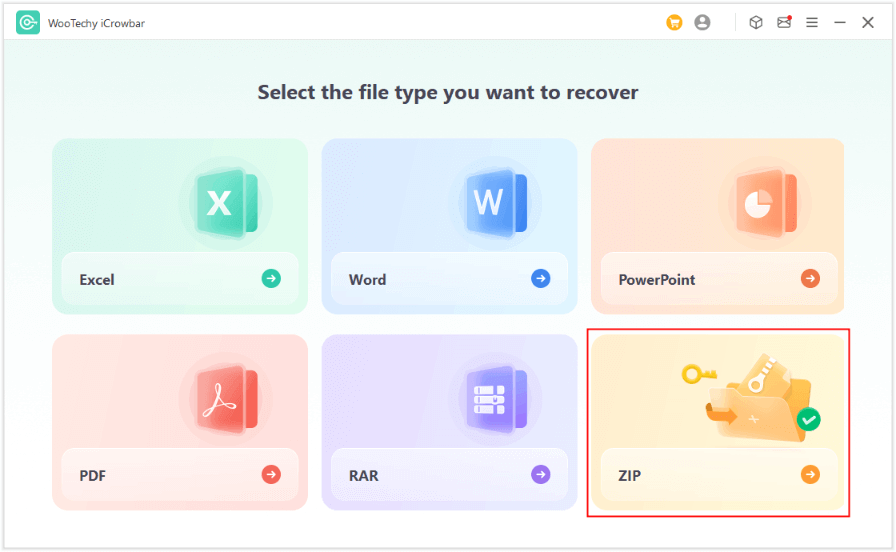 Step 2: Upload the password protected ZIP file. Select an attack type according to your situation and click Recover to start the password recovery.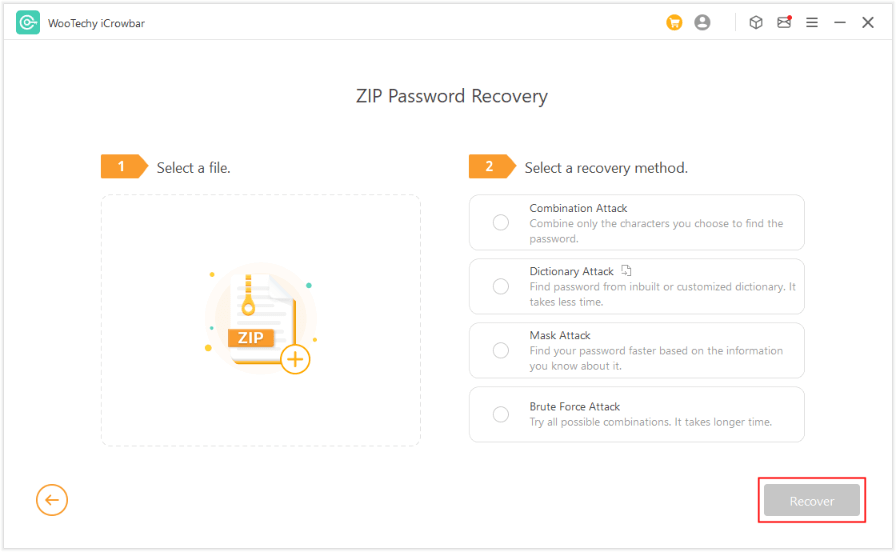 Step 3: Once the password is recovered, it will be displayed on the interface, click Copy to directly copy and paste the password to access the ZIP file.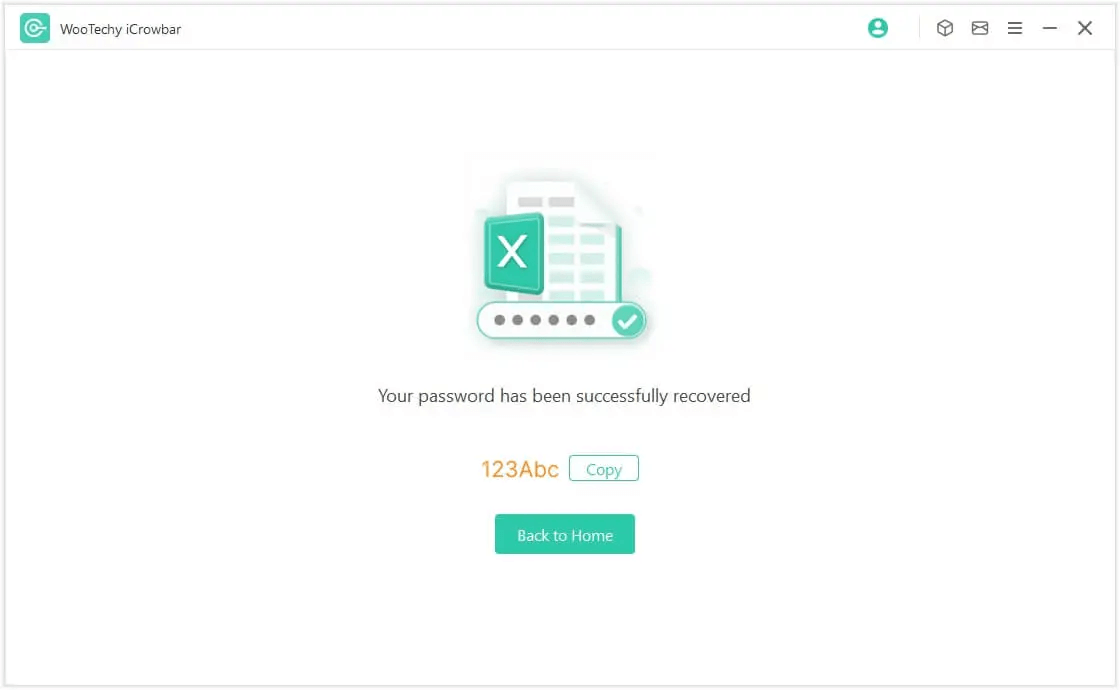 Tips
The steps to unlock other common files such as RAR, PDF, Excel, Word and PowerPoint are the same and easy too.
Conclusion
Well, now you know what ZIP is and how to password protect a ZIP file. If you need to crack ZIP file password, then you can't miss this great helper - WooTechy iCrowbar.
As a new ZIP password cracker in 2023, it has been released less than a year ago, but it has already become popular in the market with its powerful unlocking ability and super high success rate. It can not only unlock ZIP, but also unlock other common files such as RAR, PDF, Excel, etc., which makes it a must-have software for many office workers. If you want to crack ZIP files effortlessly, try WooTechy iCrowbar!