Are you struggling to know how to unlock a password protected RAR file? Are you facing an encrypted RAR file protected with a complex password and trying to find a simple yet good RAR password unlocker? With so many options available in the market, what is the best RAR password cracker available right now? The search ends here!
We tested the most popular RAR password unlocking tools today and compared them, including their price, success rate, unlocking speed and so on, and finally summarized the 3 best RAR password unlocker, just choose the one that suits you best! Get started now!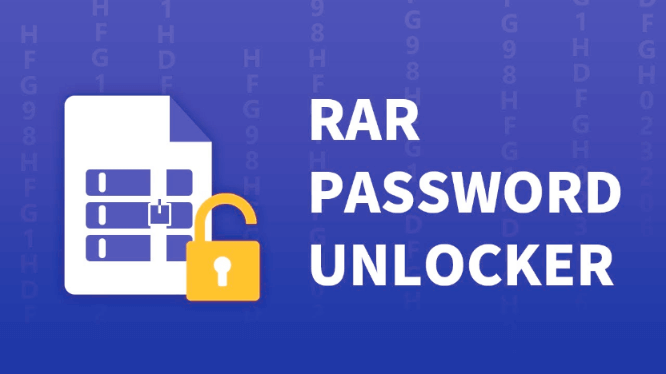 Top 3 Best RAR Password Unlocker [2023]:
[No. 1] RAR Password Unlocker - WooTechy iCrowbar
When it comes to the best RAR password unlocker, the first one to recommend is WooTechy iCrowbar. In our tests, this RAR password unlocker excelled in every aspect, whether it's security, ease of use, success rate or speed.
It utilizes advanced CPU+GPU acceleration technology for extremely fast decoding speeds, checking more than 10,000 passwords per second. In addition, it offers up to 4 password recovery modes, allowing users to quickly recover RAR passwords and open password-protected RAR files regardless of the password strength. Most importantly, its interface and steps are so simple that anynoe can easily unlock RAR passwords without much effort.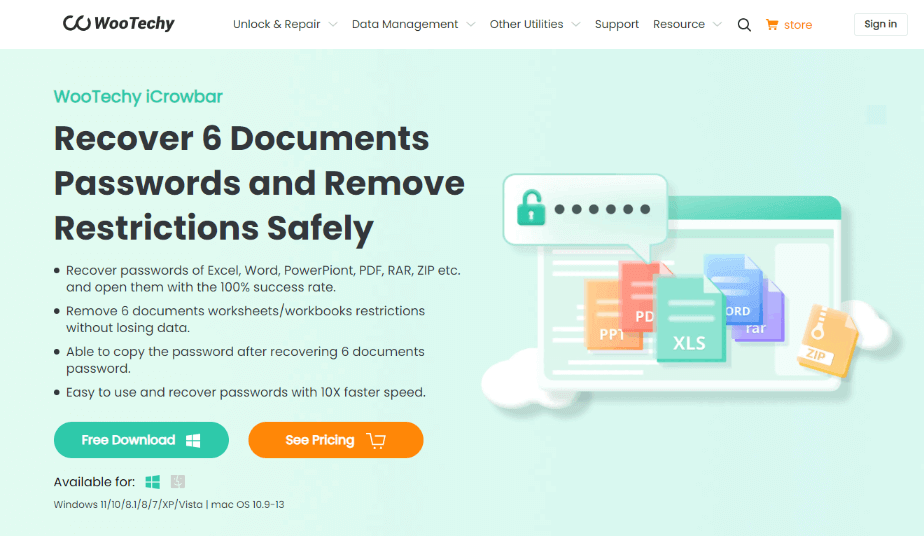 Official Website
https://www.wootechy.com/password-recovery/
Price
iCrowbar for RAR
1-Month: $19.99
1-Year: $29.99
Lifetime: $49.99

iCrowbar Pro (Support RAR, ZIP, PDF, Excel, Word, PowerPoint)
1-Month: $59.99
1-Year: $69.99
Lifetime: $89.99

Pros
Quickly unlock passwords for files without affecting any data, not only RAR but also ZIP, PDF, Excel, Word and PowerPoint.
Remove editing restrictions and formatting limitations on PDF/Excel/Word/PowerPoint with 1-click, allowing you to copy, edit and print.
A free trial is available as well as a 30-day money back policy to guarantee a successful unlock.
Easy to use, unlock files in just a few simple steps without any specialized knowledge.
Cons
Requires you to download and install software (although standalone desktop software that runs locally without an Internet connection does help with security).
How to Unlock RAR Password via WooTechy iCrowbar?
Step 1: Download and install WooTechy iCrowbar software on computer. Launch it and choose the RAR option.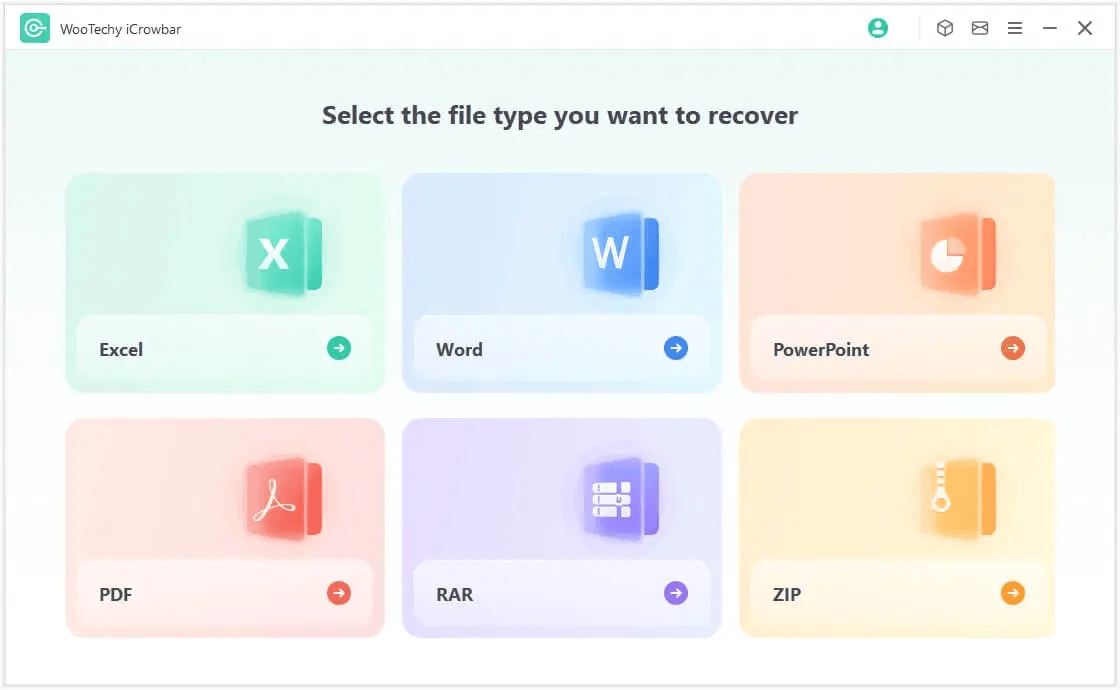 Step 2: Select the Recover Password mode, then click Add to upload the password protected file into the software.
Step 3: Choose an attack type according to your situation and click Recover. After the password is recovered, it will be displayed on the interface, click Copy to directly copy and paste the password to access the RAR file.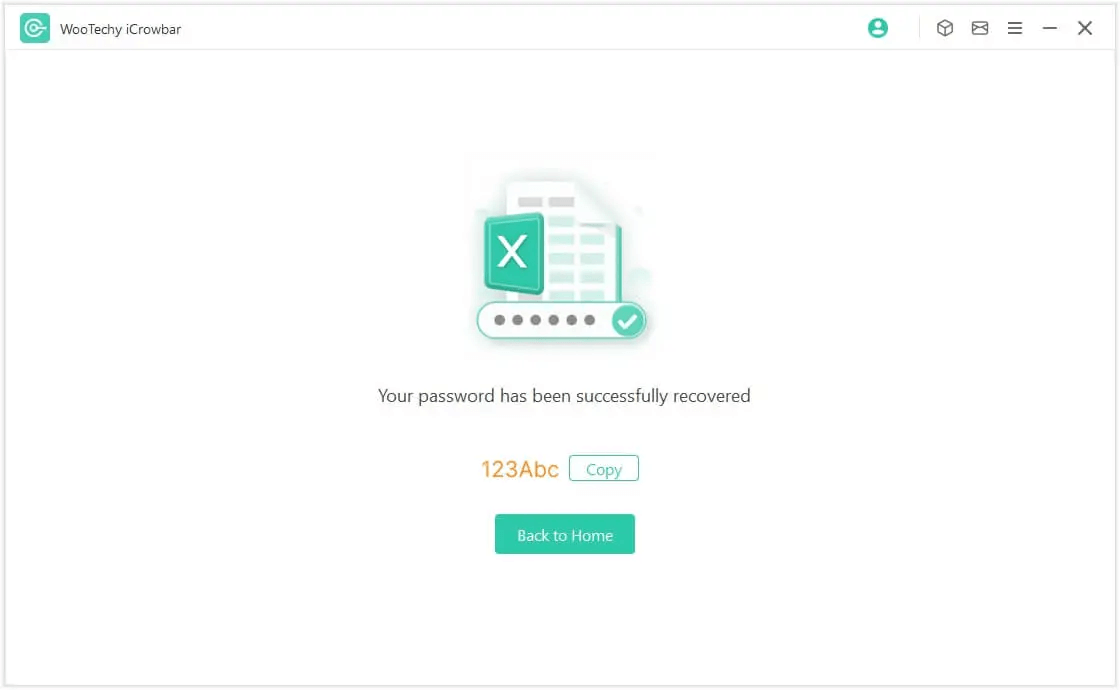 Tips
The steps to unlock other common files such as ZIP, PDF, Excel, Word and PowerPoint are the same and easy too.
[No. 2] RAR Password Unlocker - LostMyPass
LostMyPass is an easy-to-use RAR unlocking online service to unlock password protected RAR files online. All you need to do is import the encrypted RAR file and this online tool will do the rest for you.
After you upload the password protected RAR file to its server, it will automatically recognize and start the RAR unlocking process, you just need to wait for the unlocking process to finish without much action, makeing users unlock RARs in an easy way.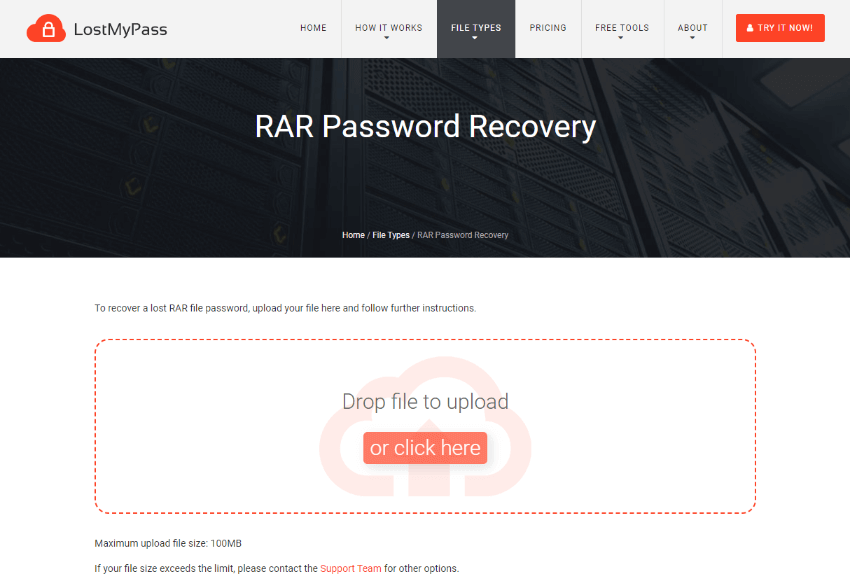 Official Website
https://www.lostmypass.com/file-types/rar/
Price
It offers a free version and a professional version:

The free version can only support weak password recovery.

The pro version is priced differently, starting at $40 and supports strong password recovery.
Pros
Unlock RAR password online, no need to install any third-party software.
The steps are very simple, the only thing you need to do is upload the file.
Recover weak passwords of RAR file for free (but with less than 30% chance of success.)
Cons
The starting price of the paid version may be expensive for some users.
Online unlocking services carry certain security risks, especially when uploading confidential or sensitive documents that may lead to leakage of important data.
There is a limit to the file size, you can only upload a maximum of 100MB files.
How to Unlock RAR Password Online?
Step 1: Go to LostMyPass official website.
Step 2: Select "RAR" from the "File Types" drop-down menu.
Step 3: Upload the password-protected RAR file.
Step 4: The online tool will run automatically to unlock the password of your RAR file.
[No. 3] RAR Password Unlocker - Passper
Passper for RAR is a popular and professional RAR password unlocker that quickly recovers passwords for any RAR archive created by RAR and WinRAR. As a big name RAR unlocker, it also has a large number of loyal users.
It uses advanced decoding technology with very high password recovery rate and data security. It gives users full access to password protected RAR files by efficiently and securely unprotecting them from passwords.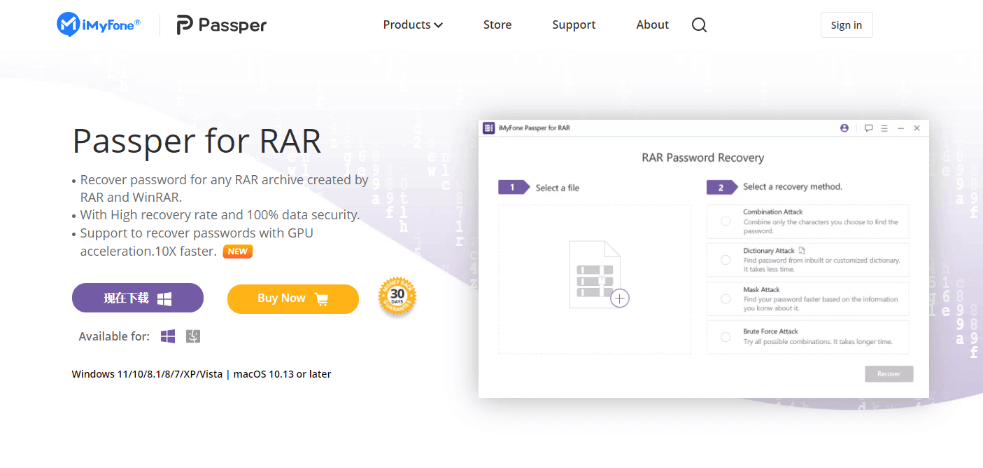 Official Website
https://passper.imyfone.com/rar-password-unlocker/
Price
The price varies depending on license options, and the standard plan with all features starts at $19.99 per month.
Pros
No matter during or after the password recovery process, the data will not be affected, let alone lose any data.
Unlimited number of tasks. Your files can be unlocked without restriction.
You can stop the operation anytime you want. It will save the progress for you to resume it next time.
No internet connection is required for decryption.
Cons
It can only process one file at a time and does not support batch processing of files.
The interface may not be very user-friendly and new users may find it a bit difficult to get started.
The trial version may have limitations on recovery speed and password length.
Conclusion
Unlocking RAR passwords may sound like a complicated task, but with the help of some RAR password unlocking tools, it can actually be very simple! Well, now you know the 3 best RAR password unlocker along with their pros and cons and prices, any of them can help you crack RAR password safely and quickly. And here's a table comparing them in different dimensions:
| Tool | iCrowbar | Passper | LostMyPass |
| --- | --- | --- | --- |
| Cost | $19.99 | $19.99 | $40 |
| Success Rate | >95% | 80% | 70% |
| Ease of use | Very Easy | Medium | Easy |
| Recovery Speed | Fast | Medium | Slow |
| Data Security | No Leakage | No Leakage | Possible Leakage |
| File Size | No Limit | No Limit | <100MB |
However, it must be said that WooTechy iCrowbar is indeed the best RAR password unlocker. As a new RAR password unlocking tool in 2023, although it was released less than a year ago, it has already made a name for itself with its high success rate and fast decryption speed in unlocking RARs, which has been highly rated by a large number of users, and its performance is also the best among all these popular RAR password crackers. Try it now to unlock your RAR!
WooTechy iCrowbar - The Best RAR Password Unlocker
8,000,000+
Downloads
Unlock Passwords: Quickly recover passwords for various file types, including Excel, Word, PowerPoint, PDF, RAR, ZIP, etc.

Remove Restrictions: 1-click to remove editing and formatting restrictions on Excel/Word/PowerPoint/PDF so you can copy, edit and print

4 Attack Modes: Provide 4 powerful password attack modes with the highest decoding success rate in its class

10 Times Faster: Use advanced algorithm and GPU acceleration, decoding speed is 10 times faster than similar products

Easy To Use: Unlock files in just a few simple steps, no expertise required, friendly to non-technical people