Notes are essential for some people who have a habit of writing and keeping it on their phones to remember important work or information. Apple allows you to lock the notes for privacy; only you can access them. You must remember the login credentials of locked notes, but if you haven't, then don't worry; this article will guide you to unlock the notes using different methods when you forgot notes password on iPhone. You will get a step-by-step guide that helps you to unlock the notes in no time.
Part 1. How to Unlock a Note on iPhone with Face ID or Touch ID
You can use a Face ID or Touch ID to unlock your notes, depending on your iOS version. When you apply the security on your notes, it will automatically put a face or touch ID as a security option that you have previously set on your phone. Follow the steps and unlock your notes.
Step 1. Open Notes from the home screen of your iPhone.
Step 2. Open the locked note that you want to view.
Step 3. Tap View Note, or tap the Lock icon on the top right corner of the screen.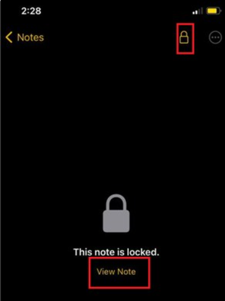 Step 4. It will display a prompt. You must use the fingerprint for older iPhones, but if you have an iPhone X or older, it will automatically use the face ID to access it.
Part 2. How to Unlock Locked Notes Without Password with Apple ID
It is mandatory to remember your password, but if you have forgotten it, then don't worry; we will guide you to reset it. To reset the notes password, you must remember your Apple ID password. Follow the steps and recover your important notes.
Step 1. Open Settings from the application menu and tap Notes.
Step 2. Tap the password and hit Reset Password at the bottom of the menu.
Step 3. It will display a prompt where your Apple ID is written by default. You have to enter your Apple ID Password and hit OK.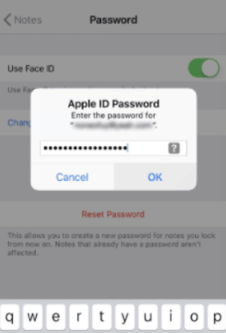 Step 4. Tap Reset Password again and enter your new password and hint. Now, you can check by accessing the notes with your new password.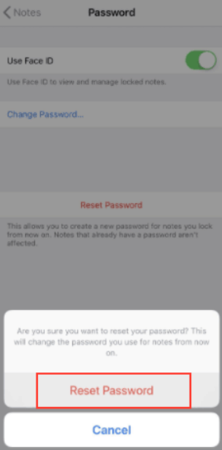 Part 3. How to Unlock Apple ID When Resetting Locked Notes Password
Sometimes you forget your Apple ID and password, so you cannot reset the notes password without it. It is difficult to recover your Apple ID password, but don't worry; you can make it possible through a professional tool, WooTechy iDelock. It is one of the most advanced tools that help save your phone in critical situations. It removes the device lock from your idevices, including Apple ID, screen lock, and screen time & restrictions. It is compatible with all your iOS models and versions. If your phone got MDM lock, it could recover it within three clicks.
iDelock removes your existing Apple Id without the password and fixes the "Your Apple ID has been disabled" issue. The MDM lock is removed without alerting the administrator and requires no name or password. You can remove the screen time passcode without data loss. It is 100% secure to use and has positive customer reviews. Let's start the steps to unlock your Apple ID.
Step 1. Download WooTechy iDelock on your PC and install it. Launch it on your PC and click Unlock Apple ID from the menu.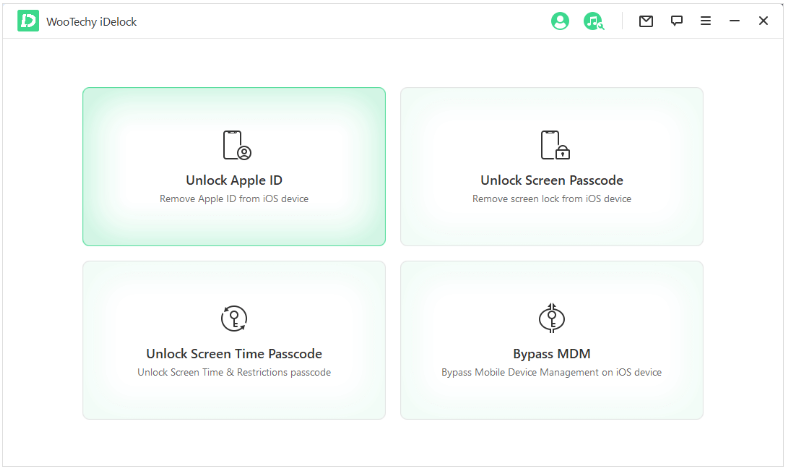 Step 2. Connect your device via lightning cable to your PC, and make sure that you have unlocked your device. Tap Trust from your iPhone to establish the connection.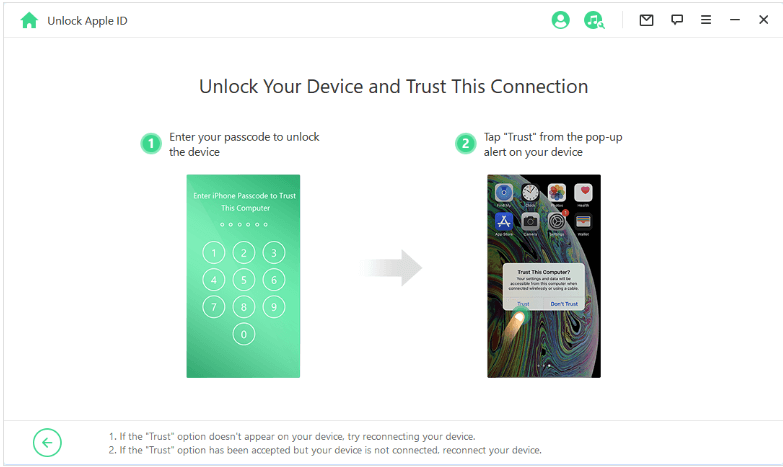 Step 3. Click the Start button to remove the Apple ID currently linked to your iPhone.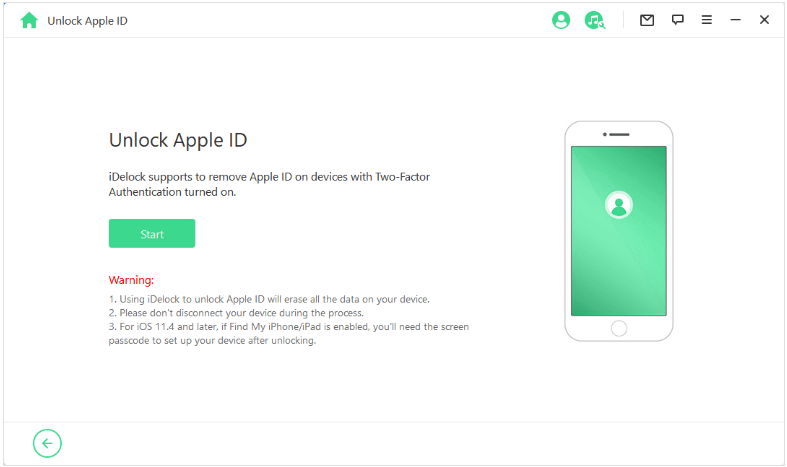 Step 4. It will take a few minutes to unlock your Apple ID. After that, check whether the password is removed for the Apple ID. If this does not work, try using it in different scenarios.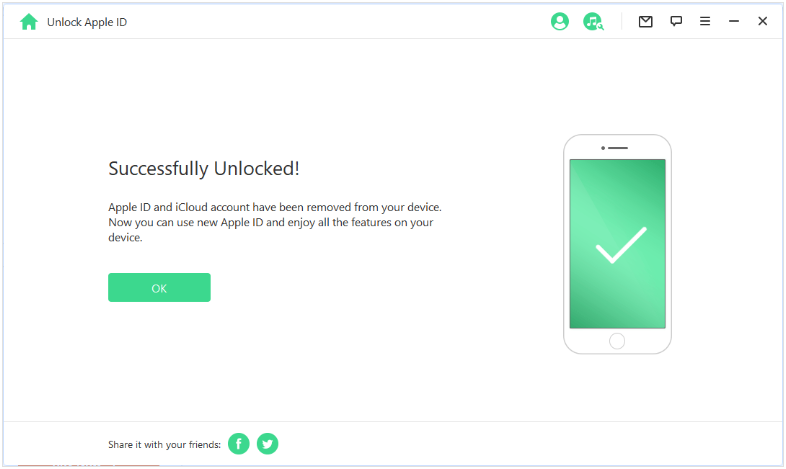 Bonus Tip: How to Lock Notes on iPhone or iPad
Sometimes you are planning for a surprise for your close ones, or you have some banking information on your notes, so you must lock it with a passcode or biometric verifications. The older iOS versions work with a passcode, while iPhone X and above will work with the Face ID and passcode. It has very straightforward steps to lock notes on your iPhone.
The preferable way is to use a unique password instead of a previous one or an Apple ID password so that nobody can crack it. Let's learn all the steps to lock your iPhone.
Step 1. Open Notes from your device menu and tap the note you want to apply the lock.
Step 2. Tap the hamburger menu from the top corner and hit lock from the drop-down menu.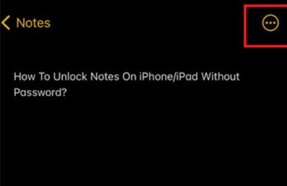 Step 3. Please enter the password in the blank box and re-enter it in the Verify box. Try to use alphanumeric passwords for unbreakable security. You can also set a hint for later recovery options. If you want to apply Face ID, drag the slider on the right side to apply it. Tap Done on the top right corner to lock your notes.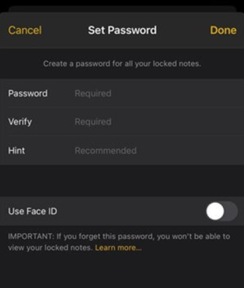 Conclusion
This article represents all the top fixes to unlock or reset the notes password on iPhone when needed. It would help if you remember the passwords, but if you forget, then WooTechy iDelock is here to recover it in different situations. It can unlock your iPhone without any prerequisites and hassles.