No doubt, there are a lot of fascinating features and productivity tools present in your iPhone or iPad. The screen time feature is one of them where you keep track of the amount of time spent in various applications. It can keep cumulative data of days that have passed and the history of the total screen time spent on a device.
If you intend to delete the screen time data in your devices, perhaps you have overshot the time limit you set for yourself and want to begin on a new slate, or you do not want any one snooping in your phone to know your time usage on certain apps. No matter what the reason is, you can always delete the screen time data with various methods in this article. Stay tuned.
Can I Delete the Screen Time Data for a Certain App?
Unfortunately, the answer is No. In reality, it is not possible to delete a screen time history for a single app. People can only delete all the screen time data with the methods that will be explained below.
How to Delete Screen Time Data/History (Screen Time Passcode Required)
Turning off Screen Time feature and turn it back on is probably the easiest method to delete Screen Time data or history. However, you must know that this method requires the screen time passcode. Delete screen time data with these few steps:
Step 1 On your iPhone/iPad, navigate to the Settings app. Scroll down and tap on the Screen Time feature.
Step 2 Navigate to the bottom of the page and select Turn Off Screen Time. Input your passcode when prompted to confirm the action.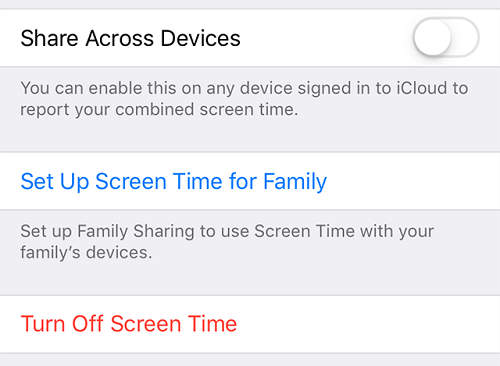 Step 3 After you have successfully done this, follow the same steps to turn on the Screen Time. When you turn it on, no history data will be left and you'll only see a blank sheet.
How to Delete Screen Time Data if You Don't Know the Screen Time Passcode
If you desire to delete your screen time history and feel discouraged because you have no passcode, there are many alternatives you can employ to achieve the goal. And this section outlines them in details.
1. Use Apple ID to Delete Screen Time Data (Apple ID Password Required)
With your Apple ID and password, you can turn off your Screen Time even if you have forgotten the passcode. By this means, you can successfully delete your Screen Time history by following these steps.
Step 1 On your device, Go to Settings > Screen Time.
Step 2 Select Change Screen Time Passcode, and click it again to confirm.
Step 3 When asked for the passcode, choose the Forgot Passcode option. Type in the Apple ID and password.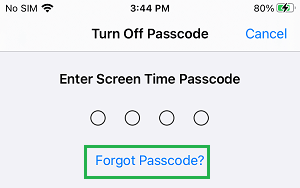 Step 4 After that, you can set up a new Screen Time passcode. This new passcode can be used to turn off the screen time passcode and thus delete the screen time history.
2. Use Professional Tool to Delete Screen Time History (No Password Required)
If you intend to delete Screen Time data without having to provide any password, either for the Apple ID or the screen time passcode itself, WooTechy iDelock is your go-to option. WooTechy iDelock is a multifunctional and all-encompassing unlocking tool for all Apple devices.
This software can be employed to eliminate all forms of lock on your device including Screen Time passcode without data loss. No matter how the Screen Time is set up, through Settings or Family Sharing, WooTechy iDelock can unlock it easily. To use this tool, you don't need to be tech-savvy, its friendly interface will guide you throughout the process. Besides, it is compatible with all iPhone/iPad models and iOS/iPadOS versions including the latest iPhone 13 and iOS 15!
How to turn off Screen Time passcode with WooTechy iDelock:
Step 1 Launch the WooTechy iDelock software. Opt for the Unlock Screen Time Passcode mode.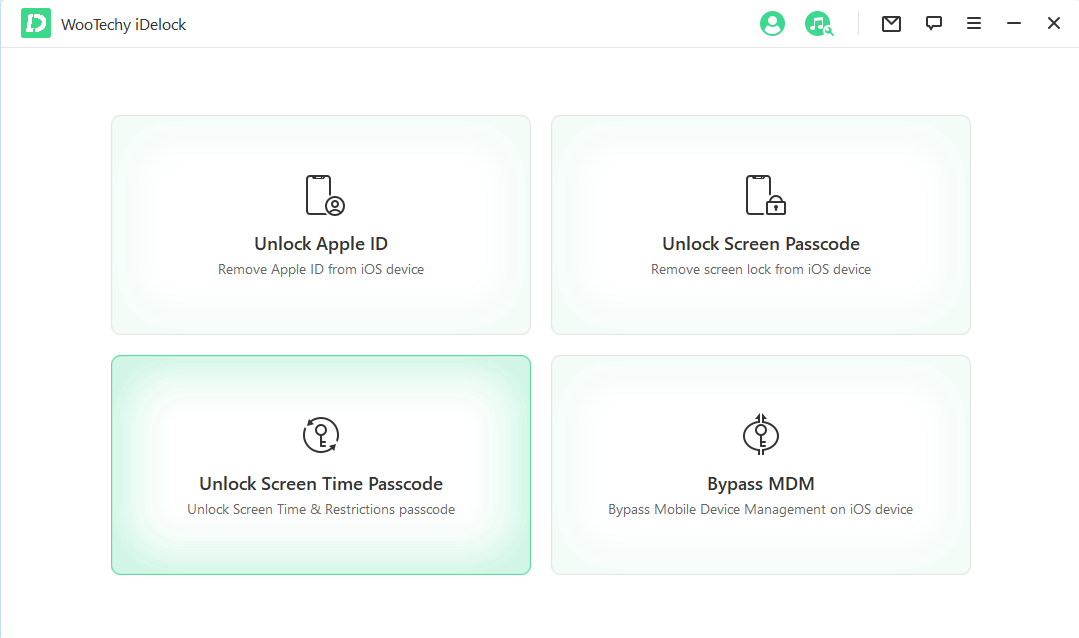 Step 2 Connect your device to your computer with a USB cable. If your device fails to be recognized, choose Your iDevice can't be recognized? and follow the onscreen guide to resolve it.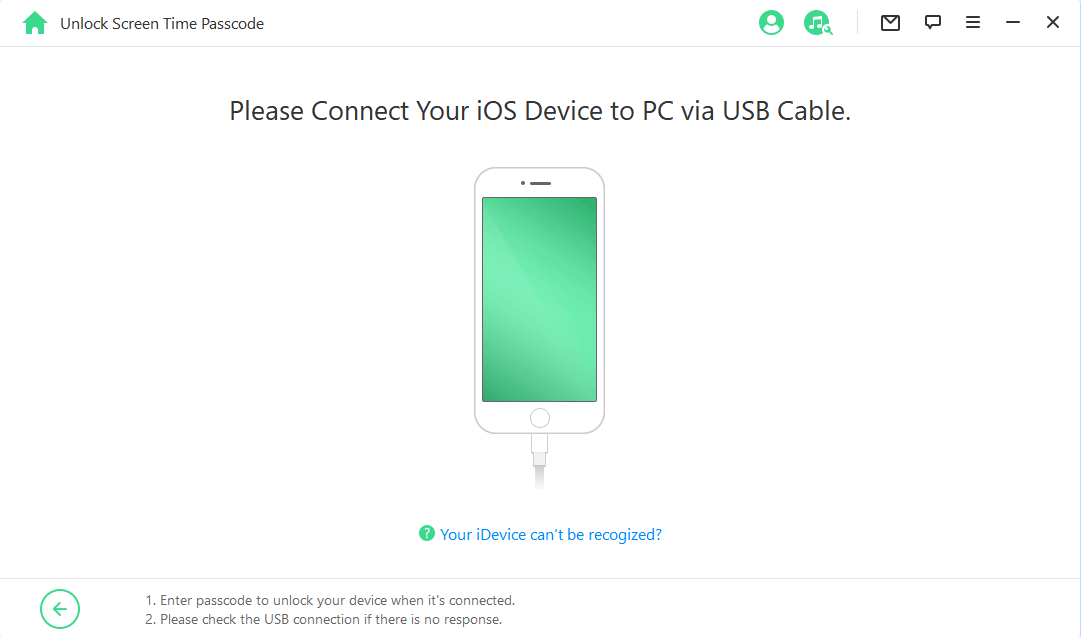 Step 3
There will be 2 cases in this step, and you should choose a option based on your situation.
If the Screen Time on your device is set directly on iPhone, then choose the first option.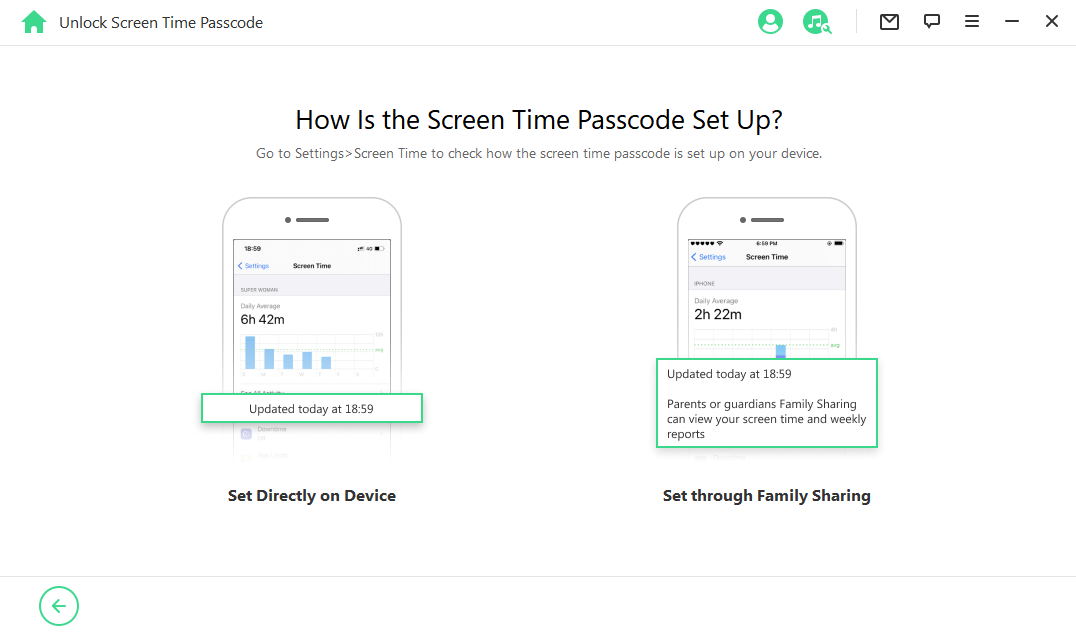 Click Start and iDelock will begin removing the Screen Time passcode on your device.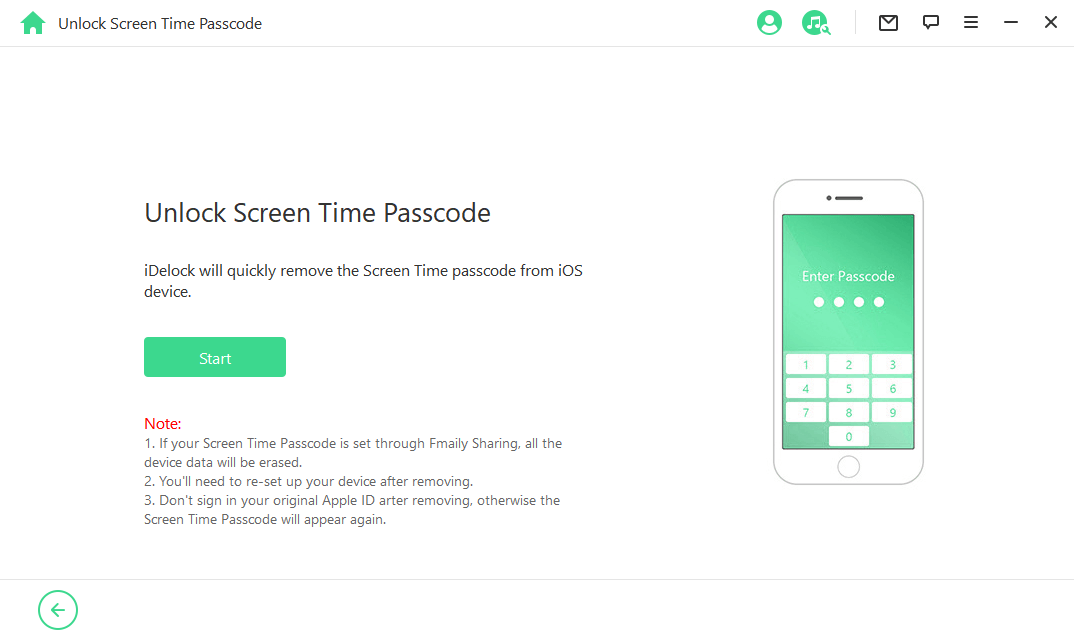 Within a few minutes, you can see the successful message on the screen. Remember to choose Don't Transfer Apps & Data and Set Up Later in Settings when prompted.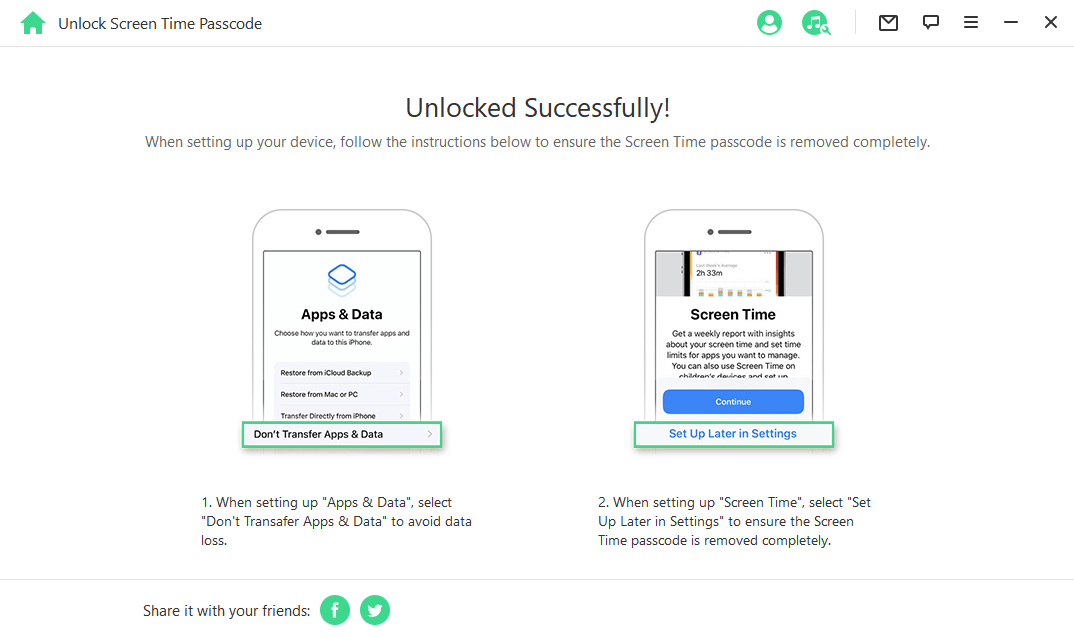 Choose Set through Family Sharing if this is your case.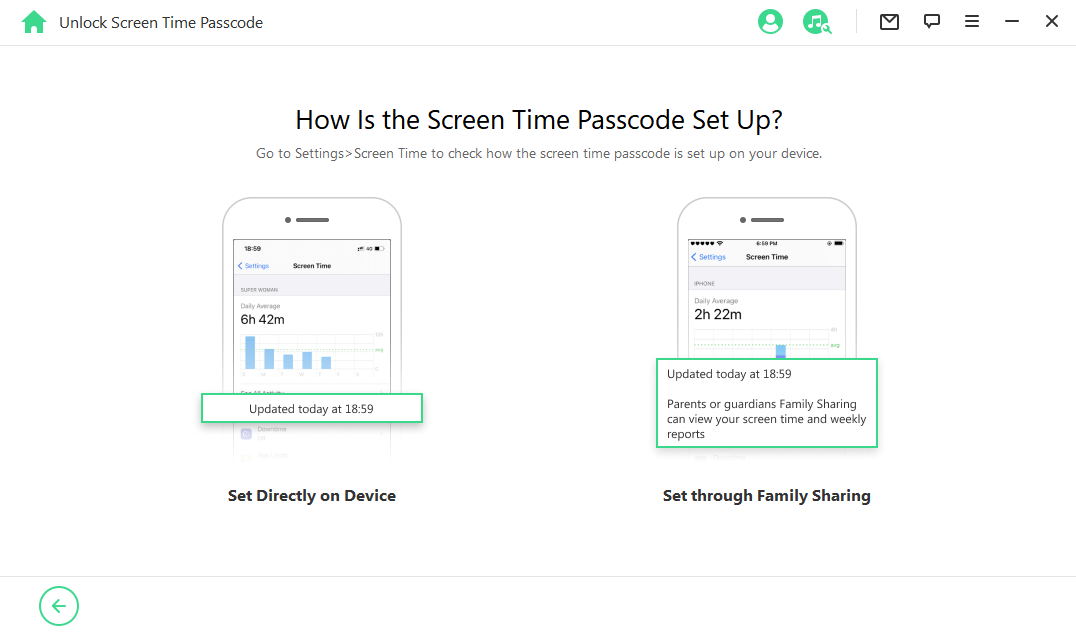 If the Find My iPhone is disabled on your device, iDelock will begin removing immediately. If the Two-Factor Authentication is enabled, then you need to check and confirm your device status. Click on Next if everything is done.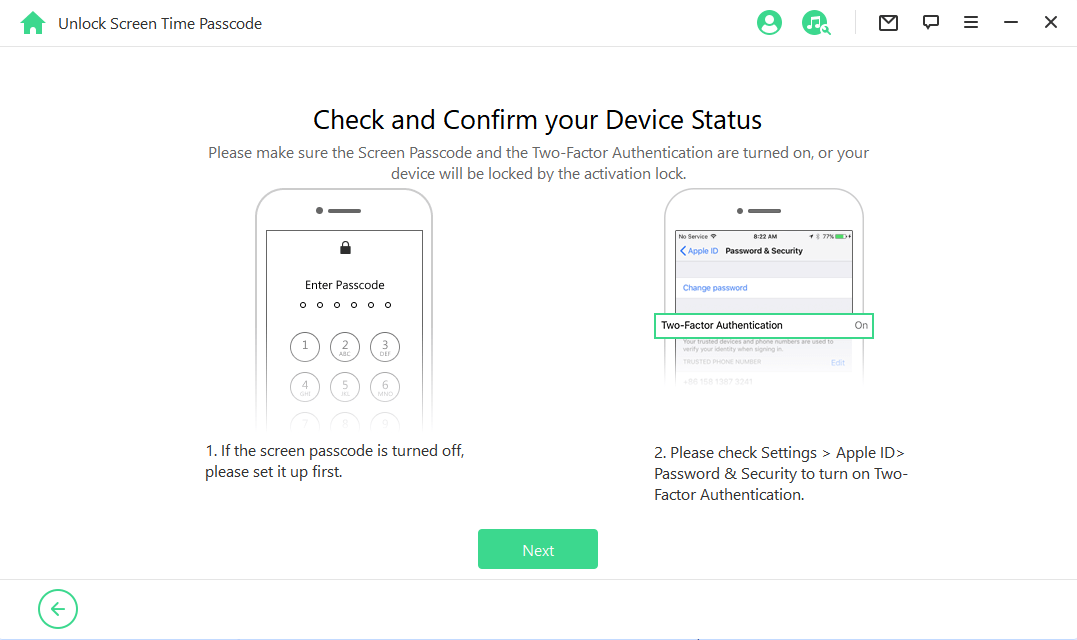 A window will pop up and you need to input 000000 and choose Unlock to begin the removing process.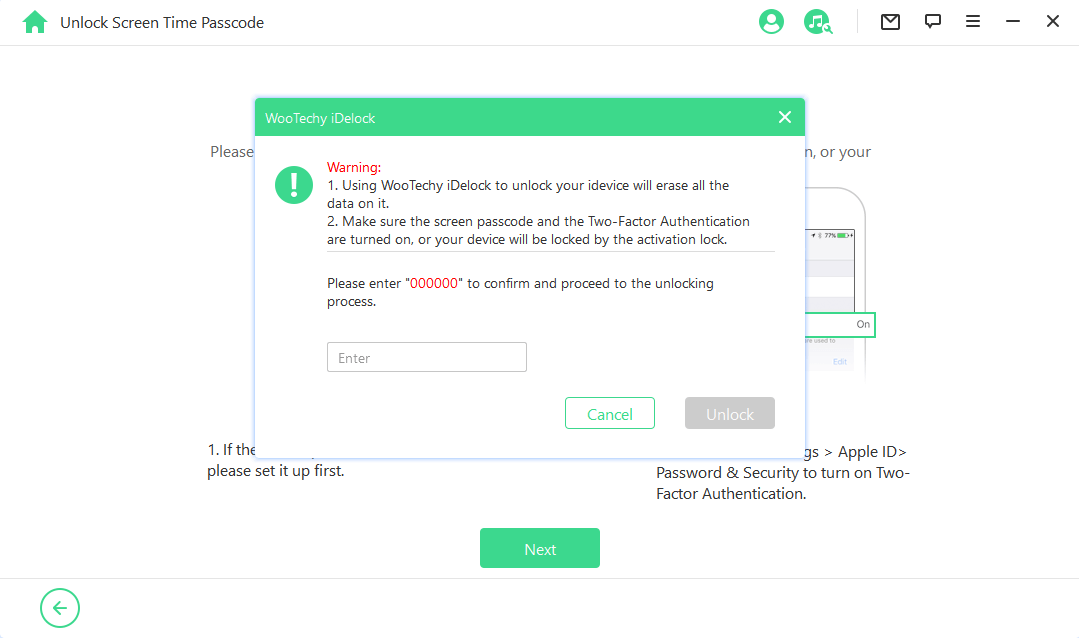 After a few minutes, the Screen Time passcode and its history will be removed from the device.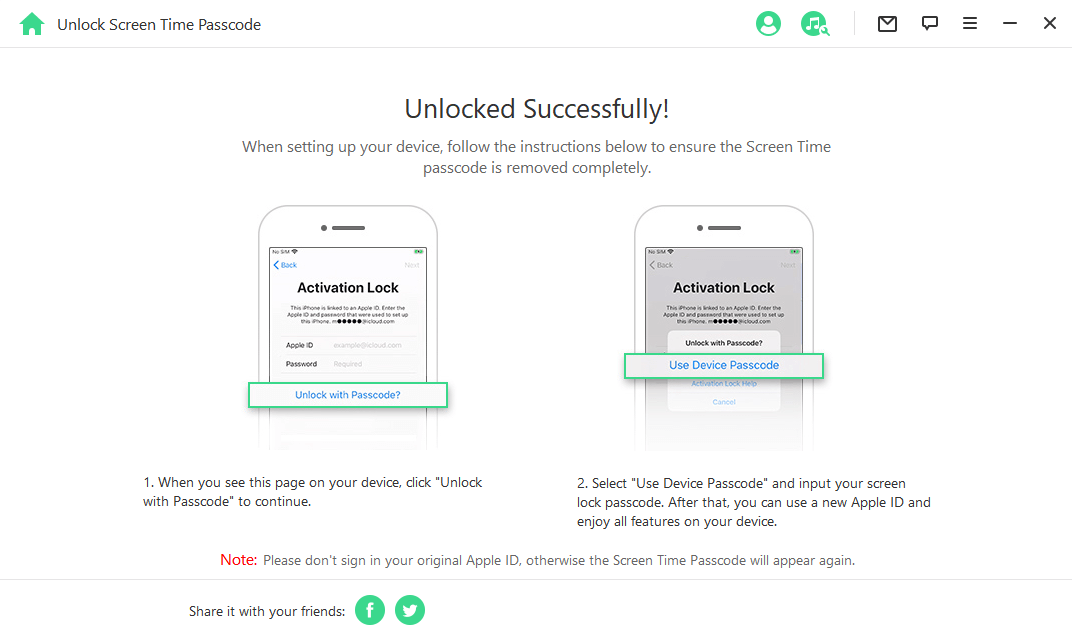 Conclusion
If you are an iPhone/iPad user who want to know how to delete the Screen Time history, this article should be helpful for you. With any of the methods described above, you can easily delete your Screen Time data. When you can no longer remember the Screen Time passcode, be rest assured that WooTechy iDelock can get you past this stumbling block in no time and at a fair cost. Just download and give it a try!