If you recently purchased an iPhone and are experiencing software problems, you may want to do a factory reset. You can also think about factory resetting your iPhone without a passcode when you forget your iPhone's passcode. Whatever the case, start learning everything you can about iPhone factory reset.
In this article, we will comprehensively guide you on how to factory reset an iPhone without a passcode. Moreover, we will also discuss frequently asked questions and various ways of proceeding with factory resetting your iPhone without a password and solving the problems with your iPhone. Keep reading.
How to Reset iPhone to Factory Settings
If you wish to effortlessly restore your iPhone to default settings through the settings menu, you often need a passcode. All you have to do is adhere to the instructions below.
Click Settings > General. Search for Transfer or Reset iPhone at the bottom.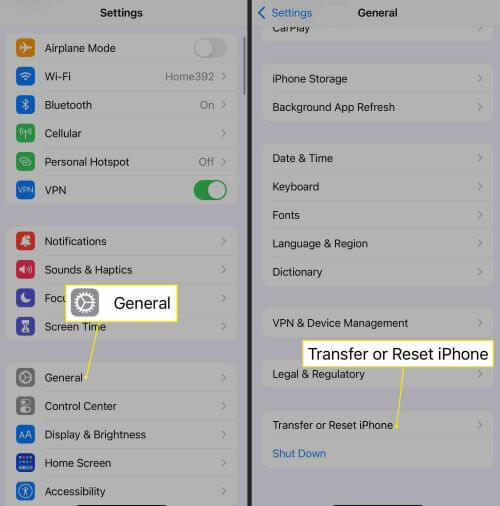 To proceed, select Erase All Contents and Settings. Then, to finish the transaction, enter your screen passcode.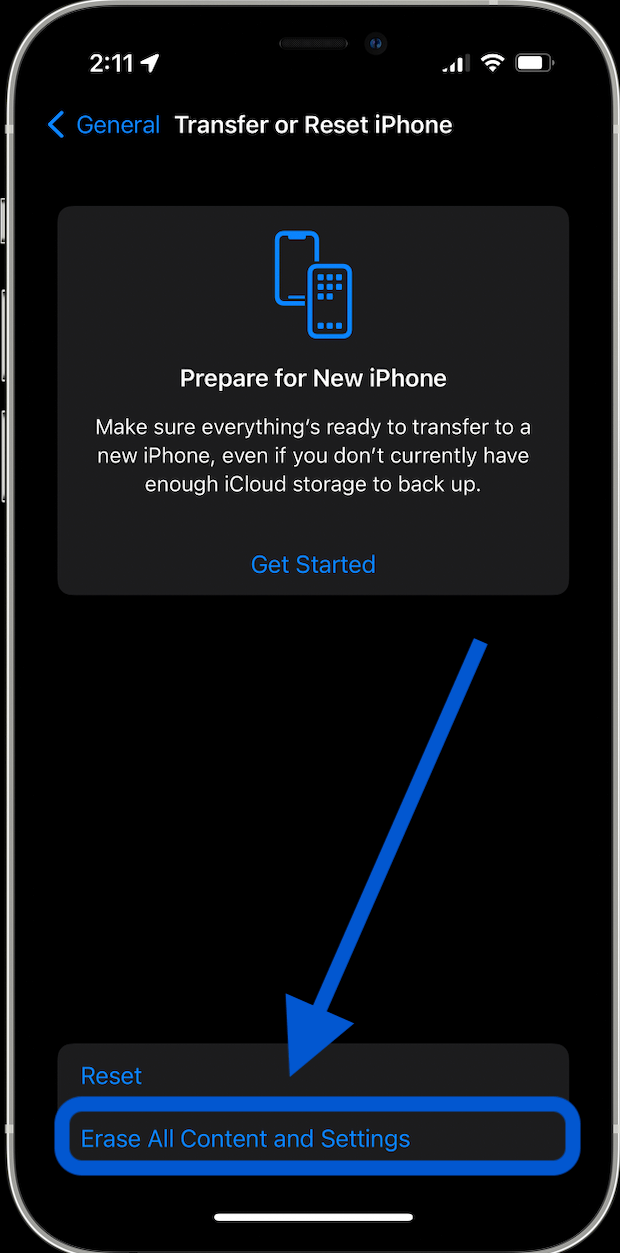 How to Factory Reset iPhone Without Password
Here are some of the most common and easiest ways to factory reset an iPhone without a passcode. Wootechy iDelock is the most convenient method that does not require technical expertise and is beginner-friendly. Let's start with the most wonderful solution.
1

Use A Professional Tool - Wootechy iDelock

It is possible to remove different iDevice locks such as Apple ID, screen lock, screen time, and restrictions with Wootechy iDelock. Additionally, it enables you to bypass MDM (Mobile Device Management) with just 3 clicks. All iPhone, iPad, and iPod Touch devices as well as iOS and iPadOS versions are accessible with this utility.

By doing this, you can erase the existing Apple ID when you lose the password and switch off Find My iPhone/iPad after removing the Apple ID. It can also resolve the problem of "Your Apple ID has been disabled."

Step-by-step guide to using Wootechy iDelock

Step 1 Activate WooTechy iDelock

Select Unlock Screen Passcode mode when WooTechy iDelock is launched. To start the procedure, click Start.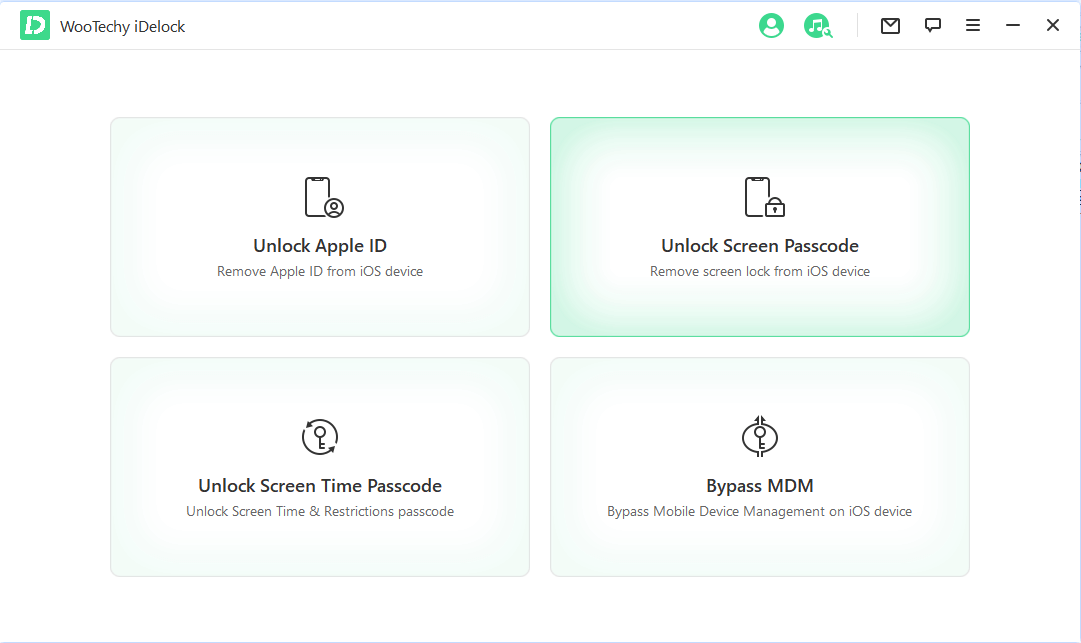 Use a USB cable to connect your iOS device to your PC. The information about your device will then begin to load after you click Next.
You can manually enter DFU or recovery mode on your device to make it detectable if it cannot be identified.
Step 2 Download and Unzip the Firmware Package
The software will recognise your device model automatically. Click Download after selecting the firmware version from the list. You can click Copy to download the firmware package in a new tab if the download is unsuccessful.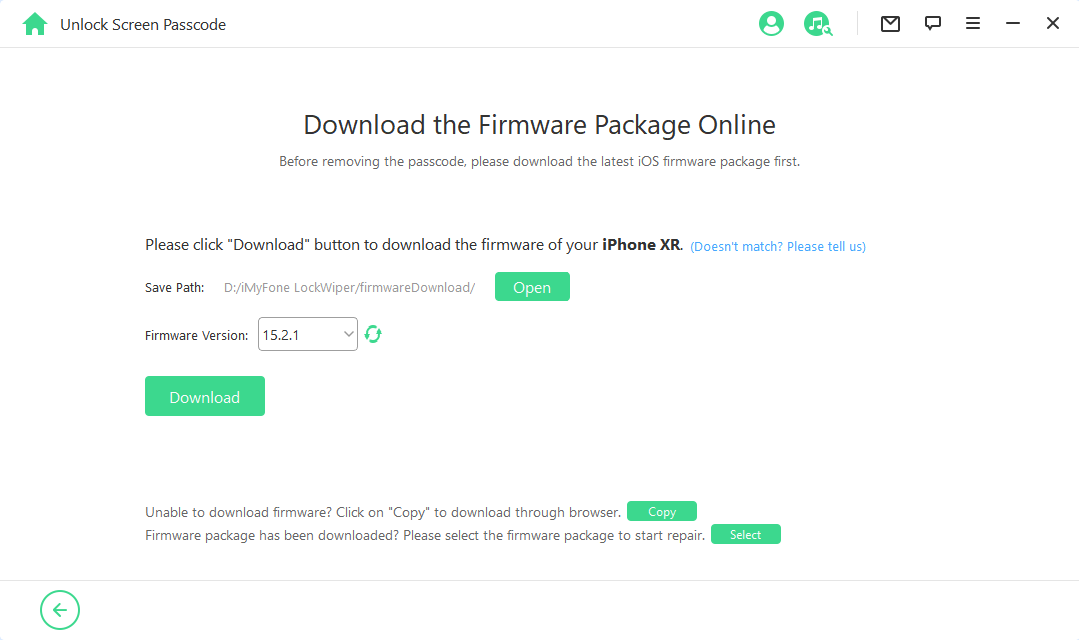 Wait patiently as it downloads and validates the firmware package.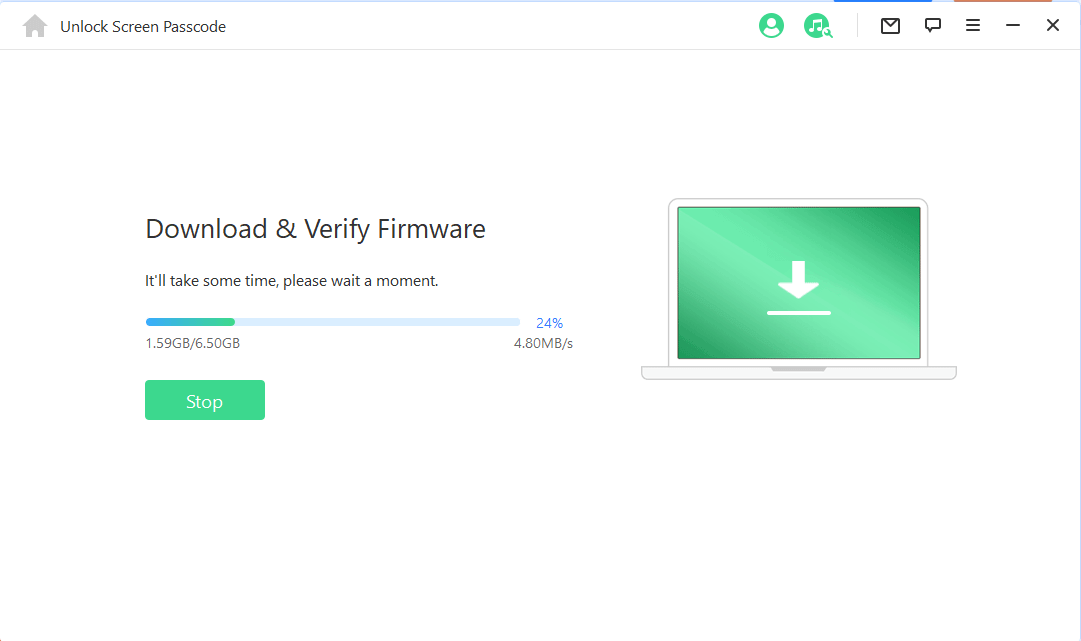 Step 3 Enter Screen Passcode to Unlock
Be sure to read the warning before clicking Unlock. After entering 000000 to confirm that you want to unlock your device, please. Your device will immediately enter recovery mode.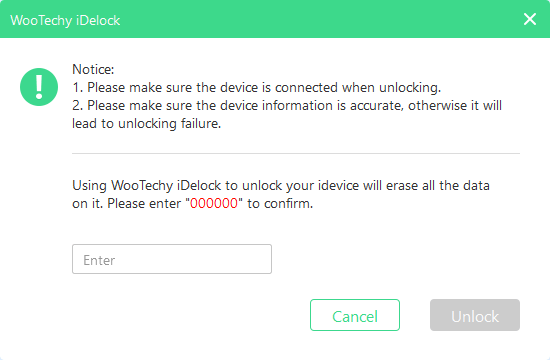 The lock on your device will be lifted in only a few minutes.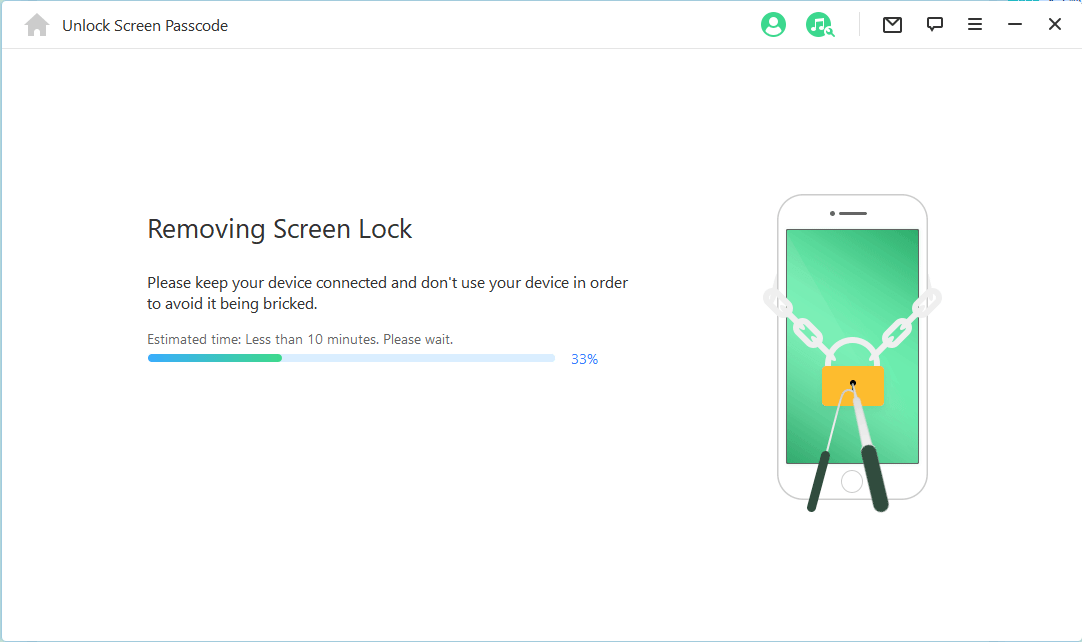 About Put your device in recovery mode or DFU mode.
You must manually enter DFU/Recovery mode if your device cannot be recognised automatically during the loading of device information or unlocking stage:
On the top bar, select the model of your device from "Other iDevice," "iPhone 7/7 Plus," or "iPhone 8 or Later." then follow the directions for entering DFU mode on your device.
Please attempt Recovery Mode by clicking "put your device into Recovery Mode" at the bottom if your device is unable to enter DFU mode:
Then select "Other iDevice," "iPhone 7/7 Plus," or "iPhone 8 or Later" from the top bar to view the instructions for your specific device model.
2

Reset iPhone to Factory settings by iTunes

The Apple-recommended method for factory reseting an iPhone is to restore the device using iTunes. A laptop, the most recent version of iTunes, and a connection to attach your iPhone to the computer are all that is required.

Link your iPhone to your computer and launch iTunes.

You will now notice a message on iTunes on your computer informing you that there is a problem. Tap on "Restore."

Allow your iPhone to boot up on its own after the process is finished.

Enter recovery mode on your iPhone if iTunes doesn't recognise it:

Press the volume up button quickly, followed by the volume down button, for iPhone (including iPhone 8 or later). After that, hold down the power button until the recovery mode screen appears.

Press the home and power keys at the same time on an iPhone (or an iPhone 6 or earlier) until the recovery mode symbol appears.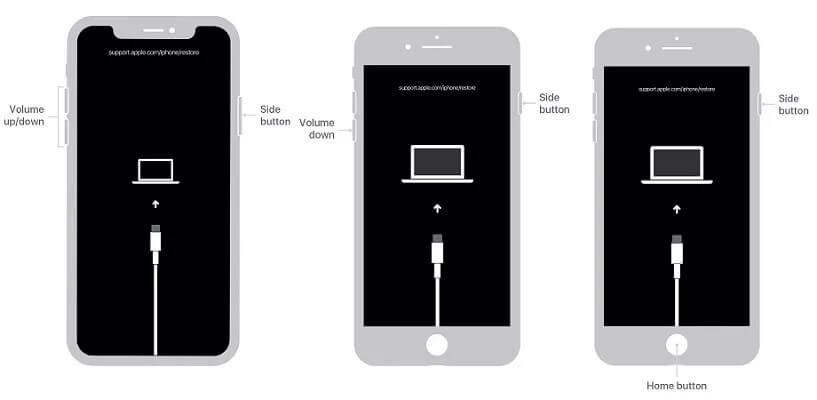 3

Factory Reset iPhone via iCloud Find My Phone

Using iCloud Find My iPhone to factory reset your iPhone SE is a fantastic alternative if you've misplaced or damaged your iPhone. And you need to erase all of its data.

Visit iCloud and log in.

On the main window, choose Erase iPhone after selecting the iPhone.

If you haven't activated Find My on your iPhone and linked it to the network, you won't have access to this.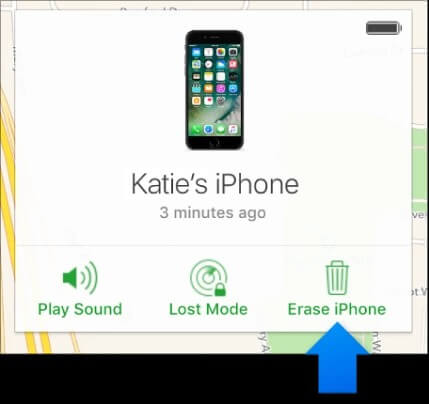 Begin the erase procedure. When it's finished, iCloud will notify you.
FAQs Related to Factory Reset iPhone Without Passcode
Q1. What should I do if I forget to back up my iPhone before wiping it clean or factory resetting?
If you're concerned that your iPhone or iPad hasn't been backed up, don't worry. There's a strong possibility you're missing out on a backup.
Navigate to Settings > Tap on your name > iCloud > Manage Storage to see if you're backing up to iCloud. You should see a Backups item here, with the amount of data it uses listed to the right of the name. When you tap here, you'll get a list of all of your iOS/iPadOS backups. (You could even find one for an outdated iPhone that you can remove if you need extra room.)
Go to Settings and press your ID card at the top of the main screen (it will include your name and/or a photo of your face) to see when your iPhone was last backed up. Now go to iCloud > iCloud Backup and check the latest backup's date and time. When you last connected your iPhone to a charger and had Wi-Fi connectivity, it should have automatically updated.
Q2. How do I wake up my phone without the power button after factory reset?
If you want to wake up your phone without pressing the power button, there are several options.
Press the power button.
Press and hold the home button.
Tap the screen twice.
Wave your hand in front of the proximity sensor.
Make use of a third-party app.
Q3. How do I reset my iPhone
The method for entering recovery mode on an iPhone SE is the same. However, there is no requirement to connect the device to a computer or iTunes.
Q4. What are the tips for a soft reset of an iPhone?
Solution: Resetting an iPhone softly refers to a single iPhone restart. The side/top button while holding it down. Swipe the slider once it displays. Hold the power button down until it turns back on after it has shut off.
Final Words
The most inspiring part of the iPhone is its security. This includes other problems that arise from the need to perform a factory reset. However, if you have to factory reset your iPhone for any reason, you can do it by heading to settings. You can do this by utilizing iCloud's Find My iPhone, iTunes, or, if you can't remember your passcode, by using Wootechy iDelock and successfully resetting your iPhone. Woodtechy iDelock is undoubtedly the most effective solution that will solve all of your problems.
Key Features of WooTechy iDelock
Remove screen lock, Apple ID lock, MDM lock and Screen Time lock without passcode.

The highest success rate among competitors.

Compatible with all iPhone models and iOS versions including iPhone 14 and iOS 16.

Super user-friendly interfaces enable everyone to use this tool seamlessly.