We all know that Apple ID is the key to all the Apple services; hence, we always guard our Apple account with a complicated password and set an email for recovery. However, there are always people asking, "I forgot my Apple ID password and email, what can I do next?"
First we'll like to let you know that all hope is not lost! No doubt, failure to remember your Apple ID password and email that you already connected to your Apple account can be frustrating. This happens to most people, especially when they last used their login details a long time ago.
Luckily, we've got 8 effective methods for you in this step-by-step guide! Just keep reading!
What to Do If You Forgot Apple ID Password and Email
1

Use the Professional Tool iDelock to Unlock Apple ID Without Password and Email

If you forgot your Apple ID password but still remember the email, then you can retrieve it on the Apple ID page. However, if you forgot the email as well, it is impossible for you to use the official method.

Fortunately, WooTechy iDelock removes different kinds of locks including Apple ID, screen lock, MDM, Screen Time lock, etc, all within minutes. Most Apple users prefer this versatile Apple ID password and email bypassing tool because it requires no technical knowledge.

Besides, iDelock is compatible with all Apple devices and iOS/iPadOS versions even the latest iOS 15, and it comes with a 30-day money back guarantee. See! How helpful the software is!
Here is how to use WooTechy iDelock to remove Apple ID password and email:
Install Wootechy iDelock on your PC and launch it. Among the options displayed on the screen, select unlock Apple ID.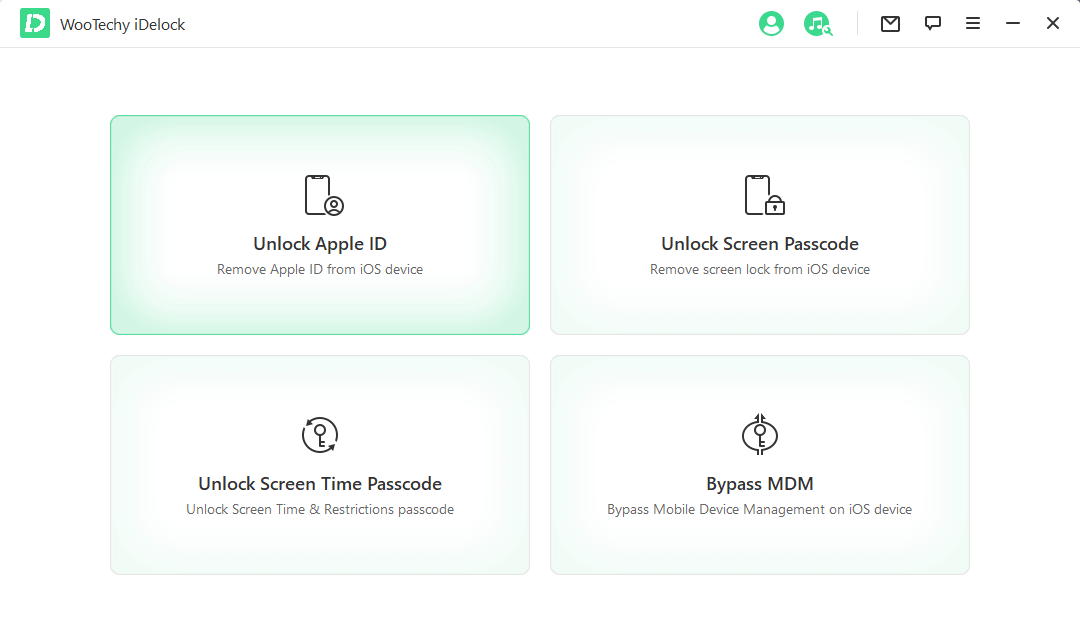 Next, connect your Apple device to your PC, unlock the iOS device screen and trust the computer.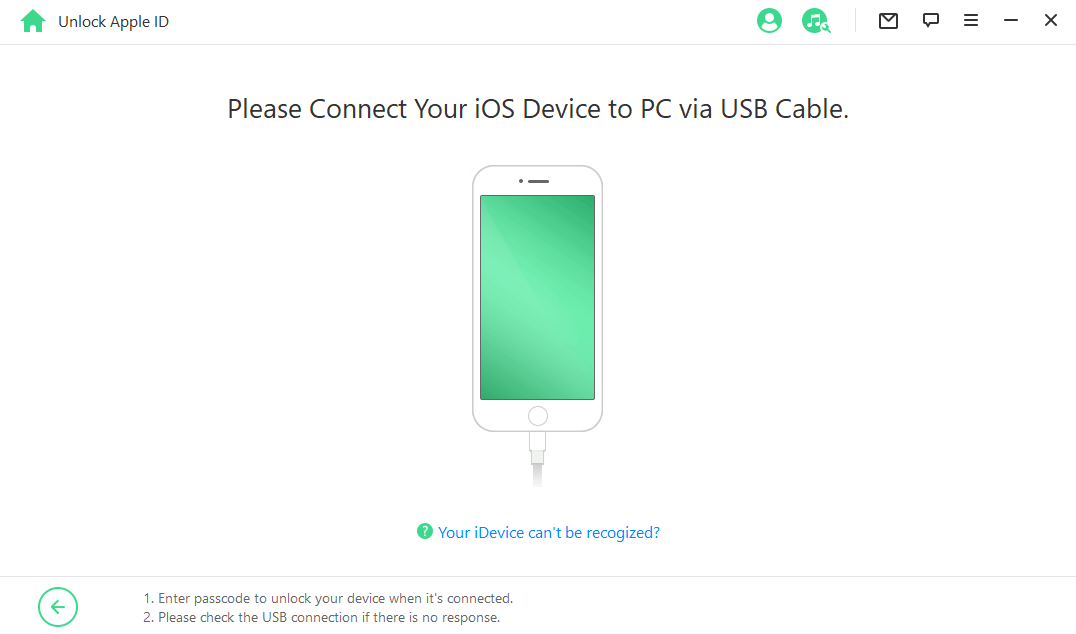 Click Start, it'll initiate the process of removing the Apple ID that's related with your iOS device if the Find My iPhone feature is disabled.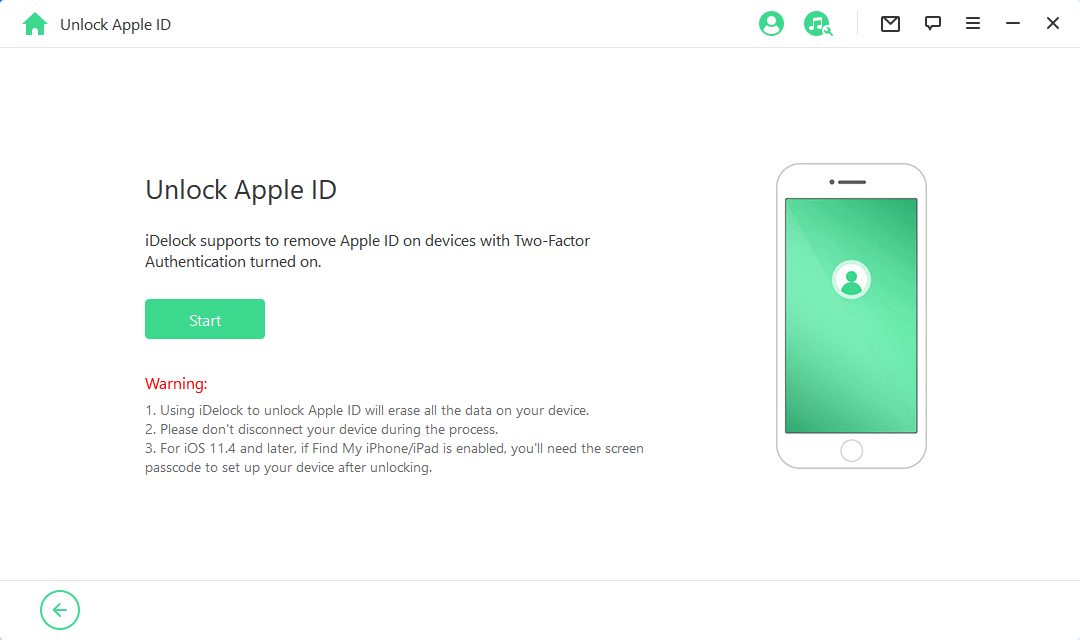 And if you have enabled Two-Factor Authentication, click Next when you see a prompt for checking device status. Ensure that you've already set up the screen lock passcode as well.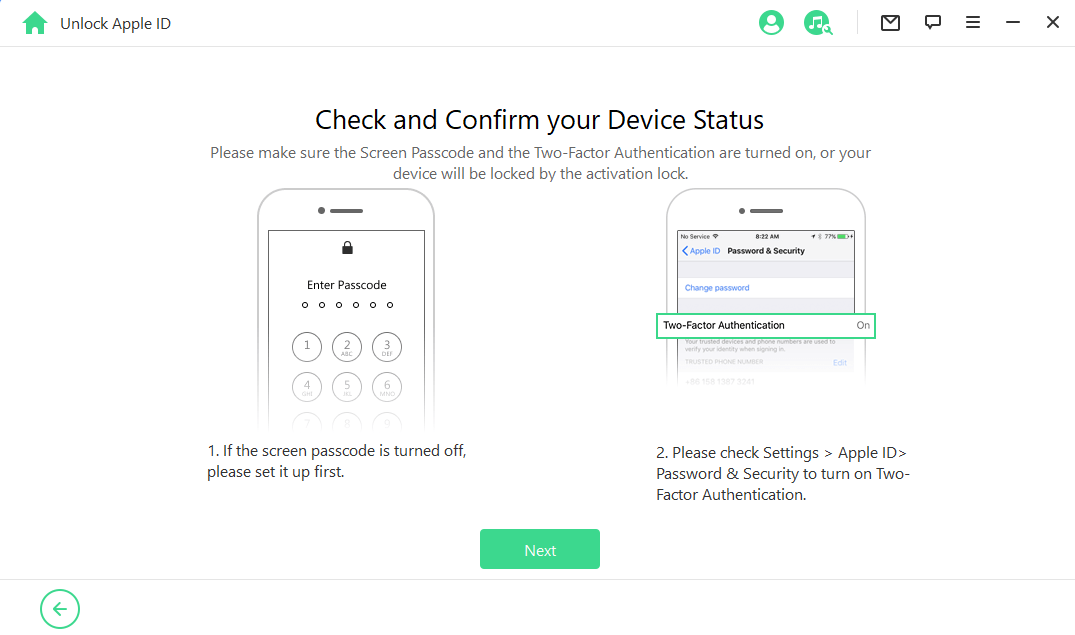 Then a pop-up window will ask you to enter 000000 for confirmation. Click Unlock and iDelock will do the rest for you.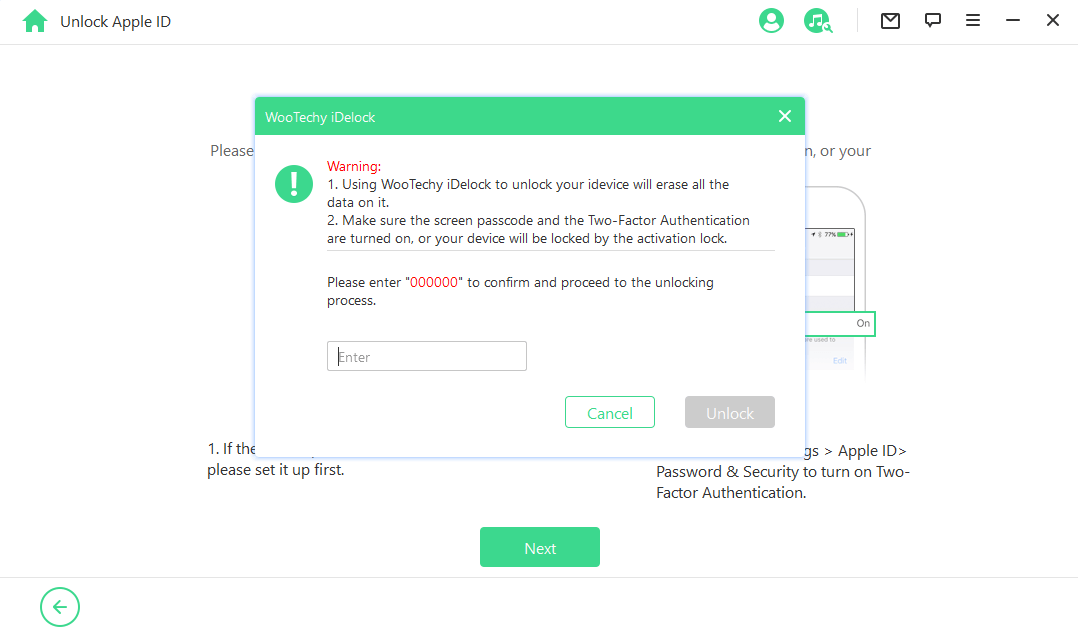 Wait for a few minutes and the Apple ID will be removed from your device after you see the successful message on the screen.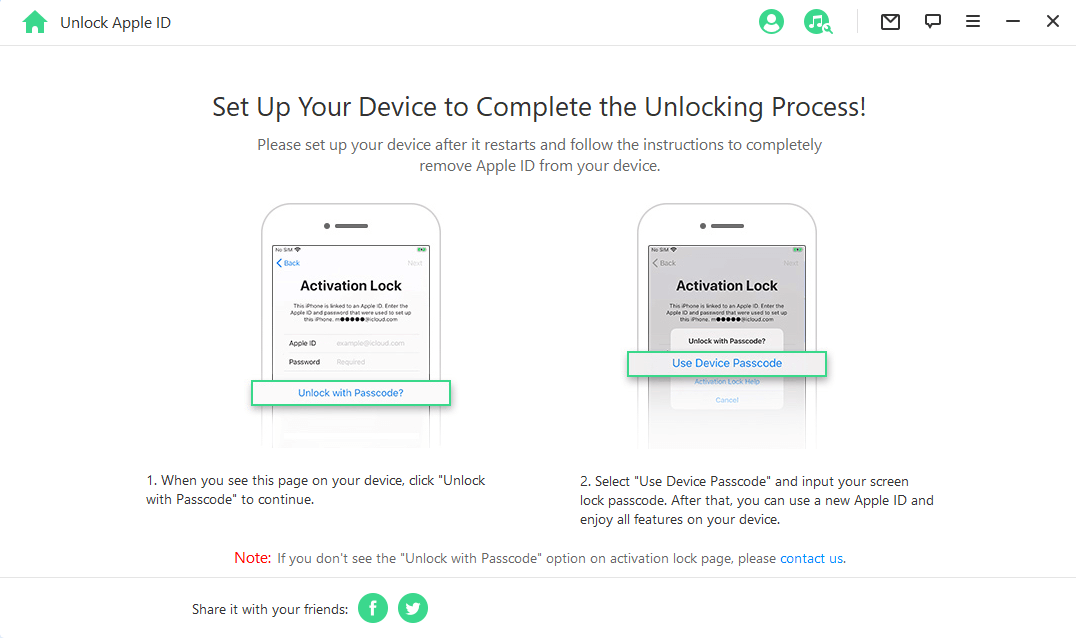 Now you are all done! Your device is now disconnected with the previous Apple ID and email, and you can create a new account to use on the device!
2

Recover Apple ID By Reaching Recovery Contact

If you have set up a Recovery Contact, you can ask them to recover your account if you forgot your Apple ID password and email. Your recovery contact will have to do the following:

Using an iPad or iPhone running most recent iOS/iPadOS version, visit the Settings app and click on his/her name.

Choose Password and Security > Account Recovery.

Select your name in this case and choose Get Recovery Code.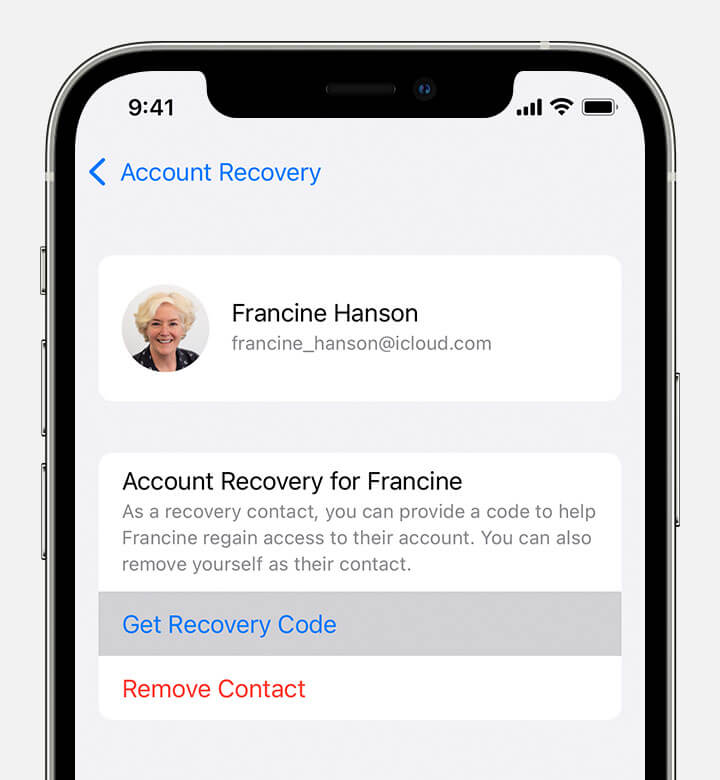 Ask your friend for the recovery code showed on their device. Then input the code on your device. In this way, you can reset the Apple ID password.
3

Reset Apple ID Password Using Screen Password

In case you already signed into your Apple account via your iOS device and you remember the screen password, you can reset Apple ID password in Settings easily. However, it's only applicable for devices running iOS 10 or later.

Turn on your iOS device and open the Settings. Click your name on the upper section.

Select Password and Security > Change Password. Enter your screen passcode to confirm your action.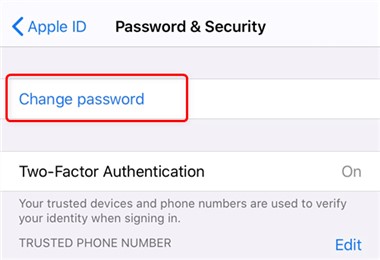 Type in a new Apple ID password and re-enter the password to finish the reset-up. Remember that it at least needs to be a minimum of 8 characters long with uppercase, lowercase and a number.
Sign into your Apple account and type in this new password. And you can save the password as a memo, note, contact or any way you like to avoid the problem again.
4

Recover Apple ID Password By Checking Logged iTunes

If you have logged the Apple ID on iTunes, then it's possible to find the login details on it. This can be a easy way to help you out if you forgot Apple ID password and email. Just launch iTunes on your computer, then go to Account to check if there are any details about your Apple ID password.
5

Reset Apple ID Password Using Two-Factor Authentication

Thankfully, this is a working method if you forgot your Apple ID password and email. To reset the Apple ID password using two-factor authentication, you need to make sure this feature is enabled on your device, and you also need a trusted device.

Keep in mind that the term "trusted device" refers to an iPhone, iPad, etc that you already signed into via 2FA. If you don't fit into these requirements, this method will not be of much help to you.

Visit Apple ID account page.

Click Sign in and choose the option Forgot Apple ID or password.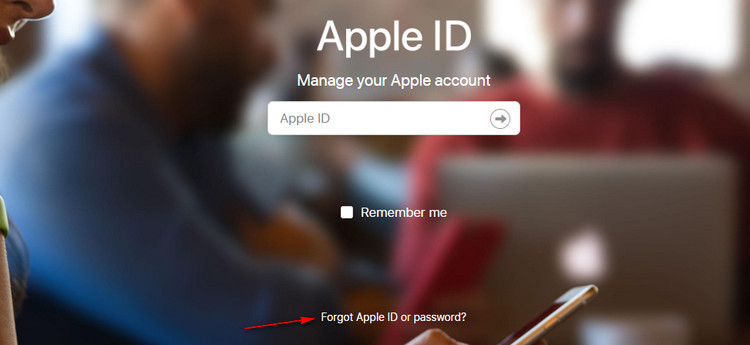 Type in your Apple ID to proceed. You'll see a notification on your trusted device.
Click Allow to reset the password of your Apple ID.
6

Reset Apple ID Password Using Two-step Authentication

If you use iOS 8, or earlier, you can not use the two-factor authentication but the 2-step verification to reset your Apple ID password if you forgot.

Previously, Apple offered 2-step verification (this was ever before 2FA). This old system of verification meant that Apple needed to send a short numeric code through a text message to other trusted devices. This method required a 14-character long recovery key for account recovery when necessary.

Visit Apple's iForgot website .

Type in your Apple ID and select Continue. Choose the Reset Password option and again click Continue.

Enter your recovery key to proceed. Choose a trusted device and type in the confirmation code.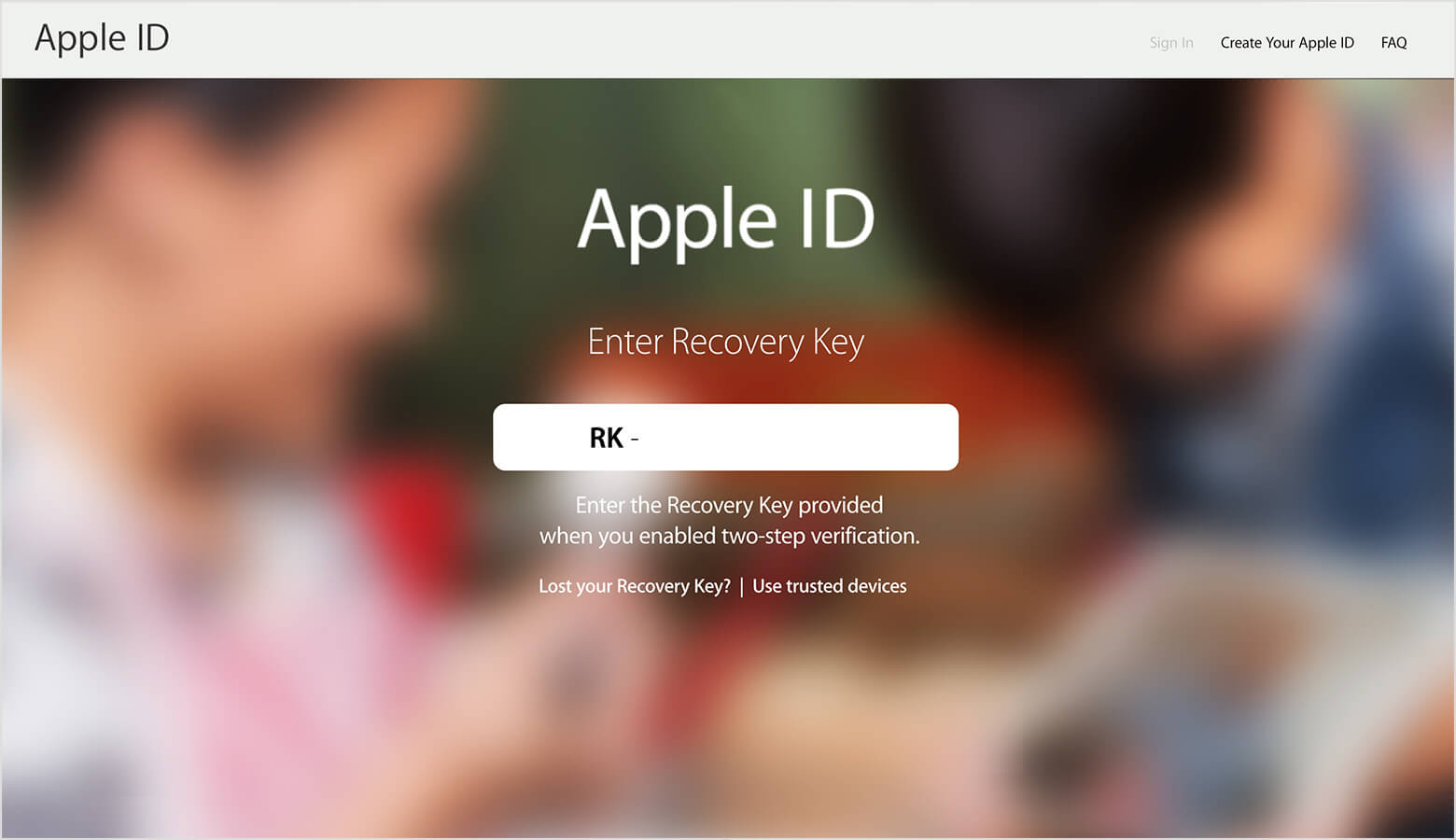 Finally you can create a new password on the next screen.
7

Reset Apple ID Password Using Apple Support App (Trusted Phone Number Required)

This method works best for Apple users who forgot their Apple ID password as well as email and cannot access any of their devices. In this way, you can use other people's device to reset the Apple ID password via Apple support app.

However, for iOS 9 to iOS 12 versions, Apple Support App is not available.

Ask one of your friends or families to download the Apple Support app. Click Passwords and Security under the Topic section.

Select Reset Apple ID Password > Get Started > A Different Apple ID.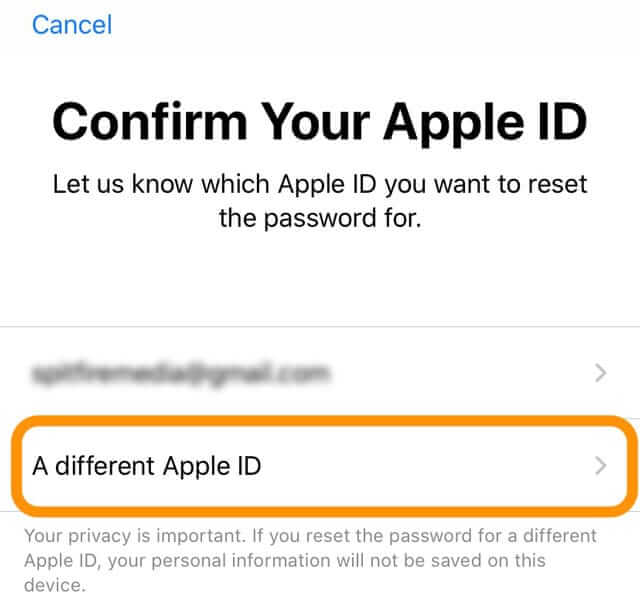 Type in the Apple ID that you're trying to reset password for and click Next.
Type in your trusted phone number for authentication. Then follow the next on-screen instructions till the process completes.
8

Contact Apple Account Support

Apple account support is there to help you regain access to your Apple ID, so you can get in touch with them to discuss your concerns and challenges.

Once you are able to get across to an Apple tech, you'll be asked various questions as regards your account and you'll need to answer them correctly to enable them to confirm your identity. Only then will they be able to verify your details and probably give you the information you require to recover your Apple ID.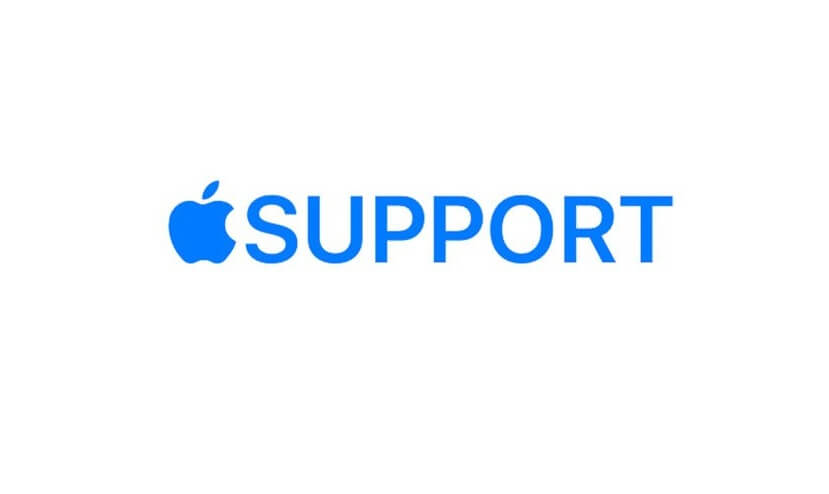 Conclusion
After reading this post, you'll have lots of options when you forgot Apple ID password and email. While some of these methods are effective, they have their limitations like we already discussed above. That's why we recommend WooTechy iDelock. This Apple ID removing tool is versatile and can help you without any password. It has a high success rate and a 30-day money back guarantee, making it the best option you'll ever find. Give it a try today!