Apple places high regard for the security of the data present in users' devices and, to that effect, has various forms of locks on the iPhone. Occasionally, legal reasons may require you to bypass these locks; this is usually necessary when you have just purchased a second-hand phone, have a transfer of ownership, or you have simply forgotten the passcode of your phone. Usually, there are numerous ways to rectify this matter, but most often, you require the third-party software to aid you in bypassing the locks.
There is much software available for use in bypassing these locks. But do they always work? In this piece, we give a review of the popular PassFab iPhone Unlocker. Besides, a better alternative will also be introduced. Keep reading.
Full Review of PassFab iPhone Unlocker
1. What Is PassFab iPhone Unlocker
The PassFab iPhone Unlocker is the software developed to help iPhone users gain access to their devices by bypassing screen passcode and MDM, unlocking Apple ID as well as removing Screen Time passcode.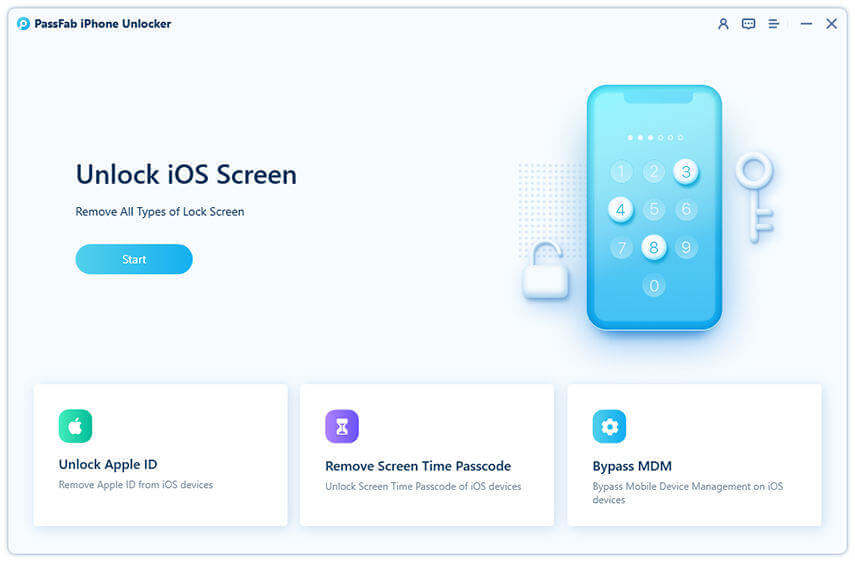 2. Does PassFab Really Unlock iPhone
Yes, the PassFab unlocks the iPhone successfully, as reported by many users. PassFab is a really popular tool amongst users for unlocking passcodes. However, several failures have been experienced by users using certain versions of iOS devices.
3. How to Use a PassFab iPhone Unlocker
As there are several modes of PassFab iPhone Unlocker, we'll only show how to unlock the Apple ID password with this tool.
Step 1 Download the PassFab software on your computer and choose Unlock Apple ID.
Step 2 Connect your iPhone to your computer using a suitable USB cable.
Step 3 If your iPhone has the Two-Factor authentication feature on, then you need to set up a screen passcode in advance. Then, download the adequate firmware that is provided on screen.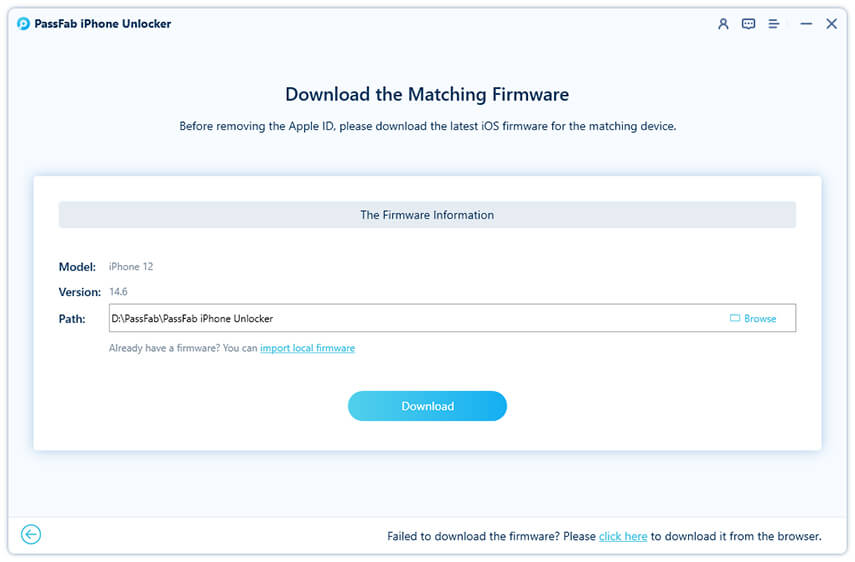 Step 4 After the download has been completed. Follow the on-screen prompt to unlock the device.
4. Why or Why Not Choose PassFab iPhone Unlocker
Below is an outline of a few pros and cons of using the PassFab iPhone Unlocker. This should help you make a choice on whether to use it or not.
Pros
Unlock several kinds of locks and gain access to any iOS device.

Easy to use and the unlocking can be completed in a few steps.

Compatible with all iPhone models and iOS versions.
Cons
You might need to install an extra antivirus to prevent malware infiltration.

No full money-back guarantee as you are most likely to get only an 80% refund.

The custom service can not reply in time and your problem can not get solved at the golden time.
The Best Alternative to PassFab iPhone Unlocker - WooTechy iDelock
Although the PassFab iPhone Unlocker is a fair choice for an unlocking tool, there is no point in settling for less when you can opt for better. The inadequacies and shortfalls of the PassFab iPhone Unlocker can be effectively compensated for by an excellent alternative, WooTechy iDelock.
WooTechy iDelock is a renowned all-in-one unlocking tool for all forms of locks on any iPhone/iPad/iPod Touch. iDelock boasts of a nearly 100% success rate in unlocking iOS devices with no complications.
Why Choose iDelock
A safe and secure unlocking tool for your device.

No risk of malware infiltration on your device.

Easy to use with no technical knowledge required.

Your data is secure in the unlocking process, and there will be no risk of privacy violation.

Effective and swift customer support. And you can definitely get a full refund if you are not satisfied with the final result.
How to unlock Apple ID password using WooTechy iDelock
Step 1
Launch WooTechy iDelock and select
Unlock Apple ID
to begin the process.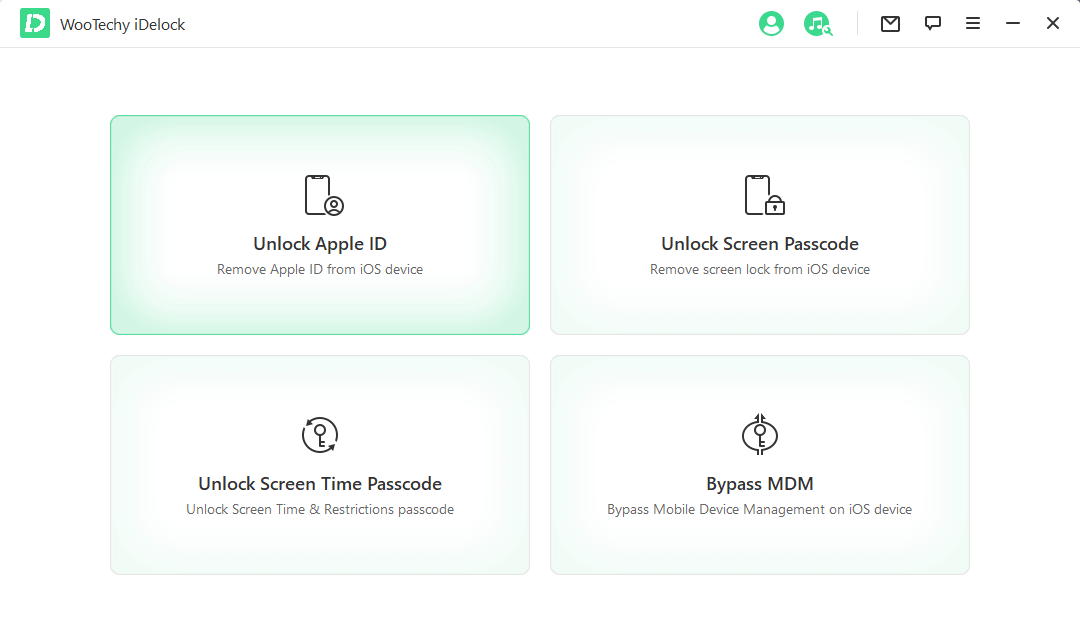 Connect your iOS device to your computer via a suitable USB cable. Ensure that your device remains connected to your device all the time.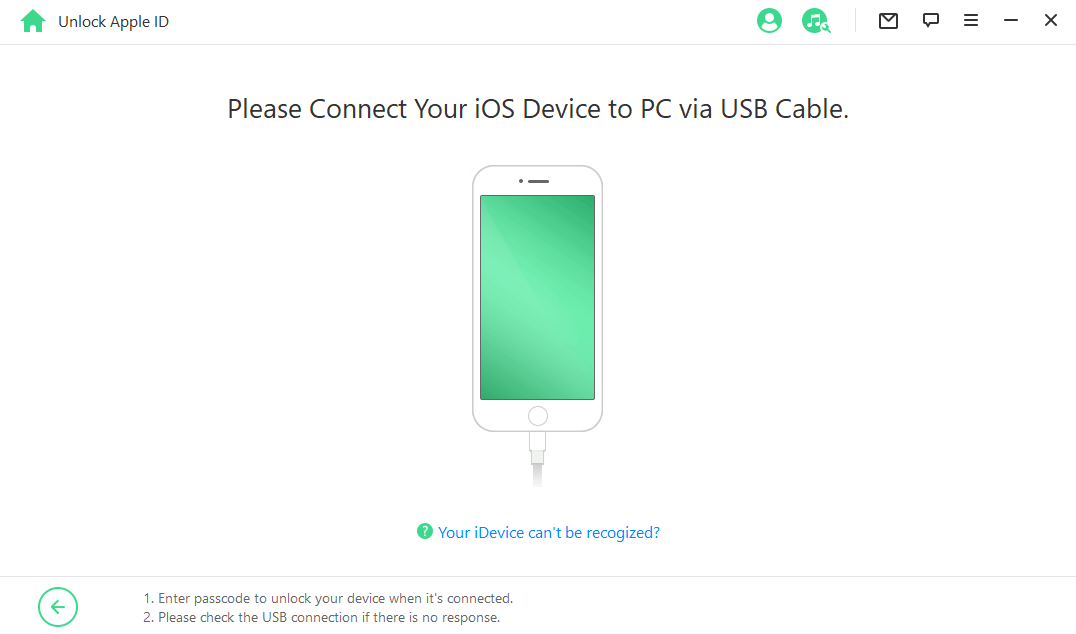 Step 2
The software will automatically detect your device model. You need to make sure the Two-Factor Authentication is turned on your device and you have set up the screen passcode. Then, click
Next
to continue.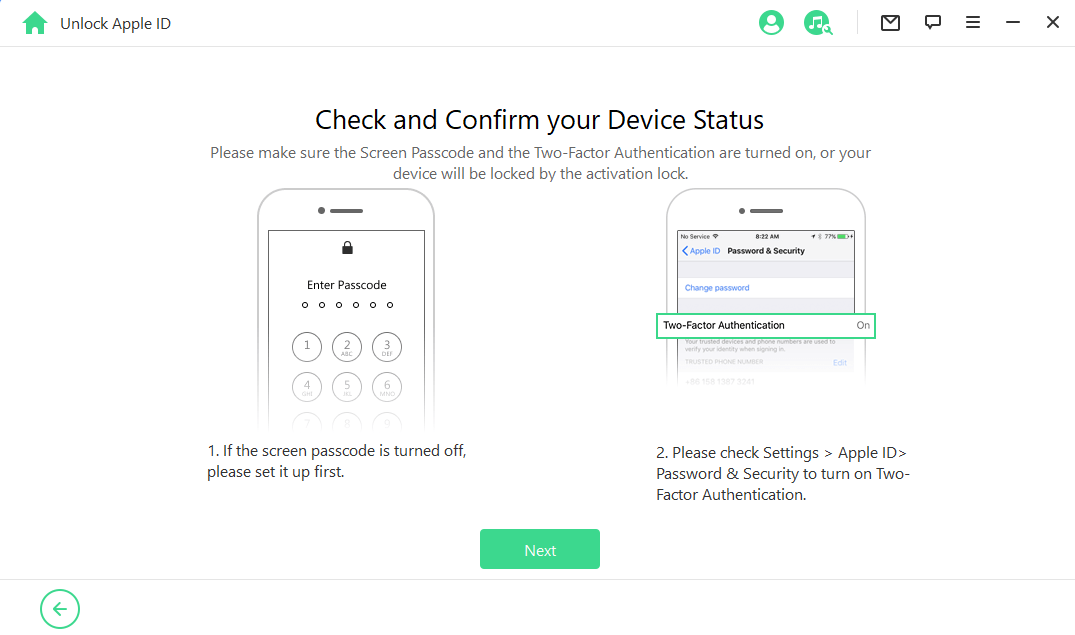 Step 3 After that, a pop-up window will require you to enter 000000 to begin unlocking. Ensure your device remains connected.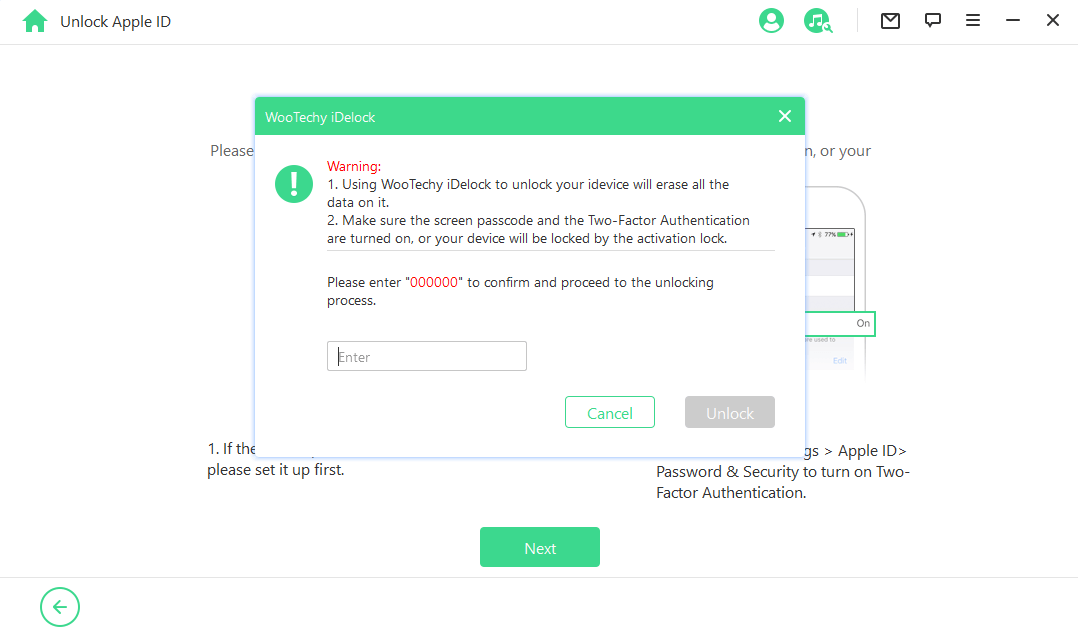 It will take a few minutes. Please wait patiently. And you should notice that iDelock won't require you to download any firmware, which is really time-consuming and may get your device stuck on the Apple logo during installing. That's to say, iDelock is quicker, safer and easier than PassFab iPhone Unlocker to use!
Conclusion
Unlocking iPhone/iPad/iPod Touch can be tricky if you have no handy tool. This is why you want a full review of PassFab iPhone Unlocker. However, after reading this post, you can find WooTechy iDelock proves to be the best choice for unlocking Apple ID, screen passcode, Screen Time passcode and MDM. So why not join hundreds of other users to use the best all-in-one unlocking tool today!