There is nothing more frustrating than getting the message "Your Apple ID has been disabled". Apple is a company known for its high standards in security, which is usually considered a great advantage. However, in some cases, you might find yourself in the unfortunate position of having your account disabled for security reasons.
WooTechy iDelock is a computer application that promises to bring you solutions you need for unlocking your device. In this article, you will find a thorough WooTechy iDelock review to determine whether this app is worth your time and memory space on your computer.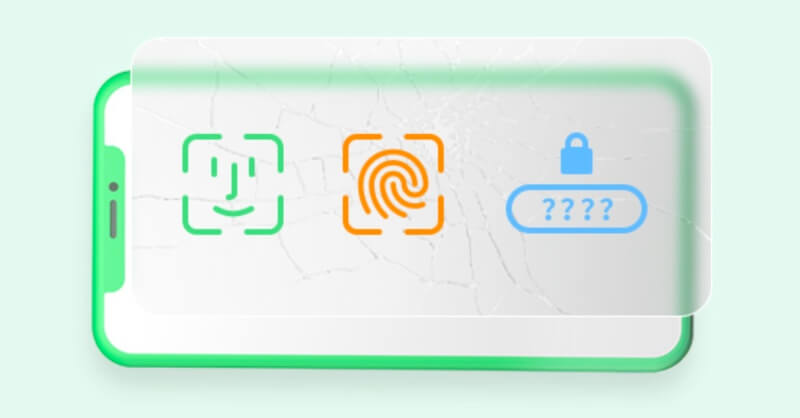 Part 1. Full Review of WooTechy iDelock
1. What Is WooTechy iDelock
This WooTechy iDelock review cannot begin without mentioning what this software is all about. In essence, this computer software is an all-in-one unlocking tool that can remove numerous locks from your Apple device. This comes in handy in various situations, where you don't have access to all the features of your device. In particular, the main features of WooTechy iDelock are the following:
Remove an Apple ID, screen passcode, MDM and even able to hack Screen Time from the iDevice.

Work well with all iDevices and all iOS/iPadOS versions, even the latest iOS/iPadOS 16.

Promise the highest success rate in unlocking your iPhone with unresponsive screen without data loss.

The Support Team is available at anytime you have questions.

Free to get your money back in 30-day after the purchase.
No matter what feature you are interested in, you can easily access it through an extremely user-friendly interface. Even if you are not tech-savvy, WooTechy iDelock will guide you with step-by-step instructions, so that you can complete each task quickly and easily. All of these things, make this software very attractive for Apple users.
2. Is WooTechy iDelock Safe
Is iDelock safe? Many wonders. Users tend to worry a lot before purhcase. It's totally understandable. No one wants to buy a product that can do to harm their own interests, such as undermining data security.
By reading this WooTechy iDelock review, you'll understand that this software is completely safe. WooTechy iDelock is developed by a team that digs deep into the iDevice unlocking field for many years. And it has accepted the strict terms and conditions for security sake.
iDelock has been positively received by users who have personally used it for legitimate purposes. Customer service reviews on platforms like Trustpilot for WooTechy reflect it's efforts to provide reliable and trustworthy solutions.
After all, it is a tool designated for unlocking iDevices, whose company owns the highest security standard around the world. So you don't need to worry about the safety of this tool. If it is risky to use it, you won't see this tool that owns great reputation in the market.
3. Is WooTechy iDelock Free
To guarantee the high quality of its services and the promised high success rate, WooTechy iDelock needs a subscription to enjoy full features. The tool is being tested constantly to improve the user experience and increase the success rate, which needs a huge amount of capital.
However, you don't need to worry that your money will go down the drain as there is a 30-day money-back guarantee if you are not satisfied with the results.
At the moment, WooTechy iDelock comes in three available plans:
1-month plan: $35.95/month. The plan includes 1 iOS device.

1-year plan: $49.95/year. The plan includes 1 iOS device.

Lifetime plan: $69.95 for 5 iOS devices.
Please be noted that this one product offers 4 different unlocking solutions for iOS device. There are Unlock Apple ID, Unlock Screen Passcode, Unlock Screen Time Passcode, Bypass MDM, which means you can get 1 to get 4! While some other products on the market would charge mode for mode, and it may cost you a lot.
All of these 3 plans promise the auto-renewal. And you can cancel the subscription at any time.
4. Pros and Cons of Wootechy iDelock
To bring this WooTechy iDelock review to an end, we will take look at its pros and cons.
Pros
A multifunctional application that can remove various iDevice locks.

The highest success rate and compatibility in the market.

Very user-friendly and intuitive interface that is suitable for even the green hand.

It is a affordable tool with a 30-day money-back guarantee.

24/7 technical customer service for you to use this tool seamlessly.
Cons
It needs to be paid if you want to try its all features.
5. Under What Conditions Can iDelock be Used
You can use WooTechy iDelock in various situations to regain access to your iPhone or iPad:
Apple ID Lock Removal: When you're locked out of your device due to an Apple ID issue, iDelock can help remove the lock, especially if the "Find My iPhone" feature is disabled.

Passcode Removal: If you forget iPhone passcode or iPhone is disabled, iDelock provides a solution to remove the passcode and regain access. It can remove screen locks like 4-digit and 6-digit passcode, Touch ID and Face ID.

Remote Management Bypass: In cases where your device is under remote management (MDM), such as in a corporate environment, iDelock can help bypass and remove remote management restrictions.

Second-Hand Devices: If you purchase a second-hand iPhone or iPad that's locked with the previous owner's Apple ID or passcode, iDelock can assist in unlocking the device.

Screen Time Restrictions: If your device is disabled due to multiple incorrect Screen Time passcode attempts, iDelock can help you remove Screen Time passcode and restore normal functionality without losing data.
6. What Devices Does iDelock Support
iPhones:

iPhone 14 series, iPhone 13 series, iPhone 12, iPhone 12 Mini, iPhone 12 Pro, iPhone 12 Pro Max, iPhone 11 Pro Max, iPhone 11 Pro, iPhone 11, iPhone XR, iPhone XS (Max), iPhone XS, iPhone X, iPhone 8 Plus, iPhone 8, iPhone 7 Plus, iPhone 7, iPhone SE, iPhone 6s Plus, iPhone 6s, iPhone 5



iPads:

All models of iPad Air, iPad mini, iPad Pro and iPad



iPod Touches:

iPod Touch 7, iPod Touch 6, iPod Touch 5, iPod Touch 4, iPod Touch 3, iPod Touch 2, iPod Touch 1
Part 2. How to Unlock Apple ID Using WooTechy iDelock
One of the biggest features of WooTechy iDelock is the removal of an Apple ID. Thus, we will show you a step-by-step guide on how to complete this task in the following part. You can refer to its user guide if you care for other mode.
Step 1: Download WooTechy iDelock on your computer. After you have installed it, launch the app and select the Unlock Apple ID option from the home screen.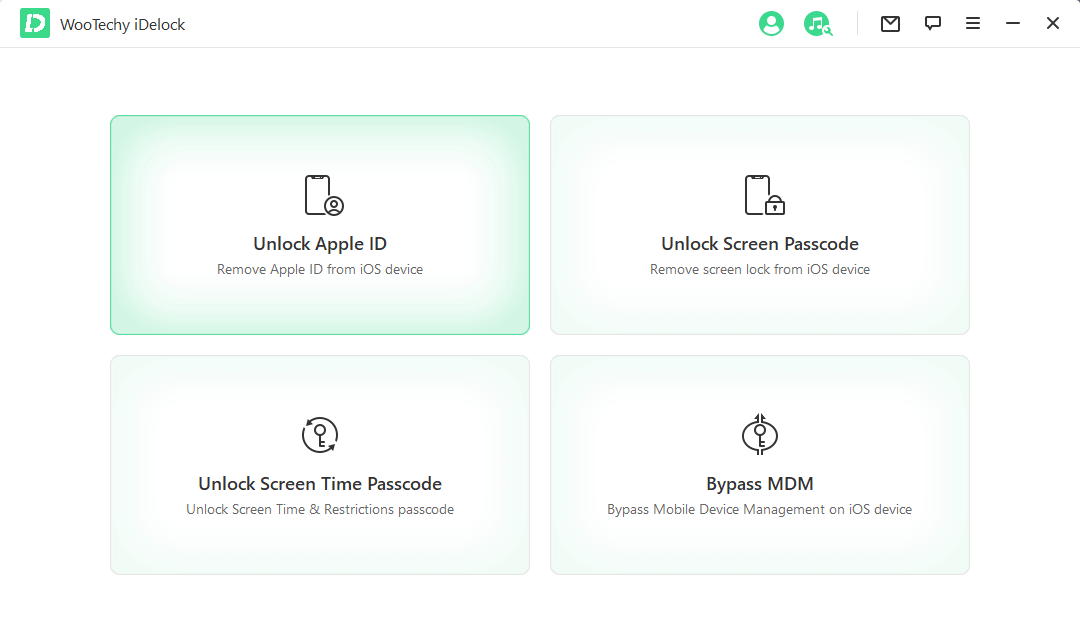 Step 2: Connect your device to your computer with a USB cable and trust the PC.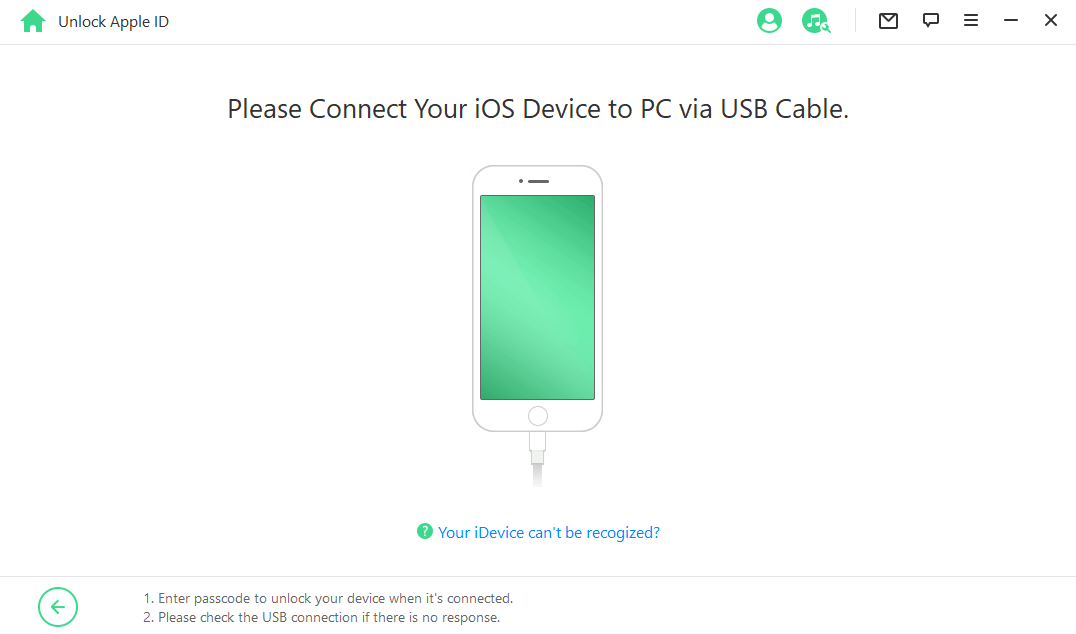 Step 3: You can now unlock the Apple ID on your device. There are 3 possible cases that you might encounter during this step:
Case 1: If "Find My iPhone" is Disabled (For All iOS Versions). In this case, click Start and WooTechy iDelock will automatically begin the process to unlock your iOS device. Wait for a few seconds, until the app has completed the task.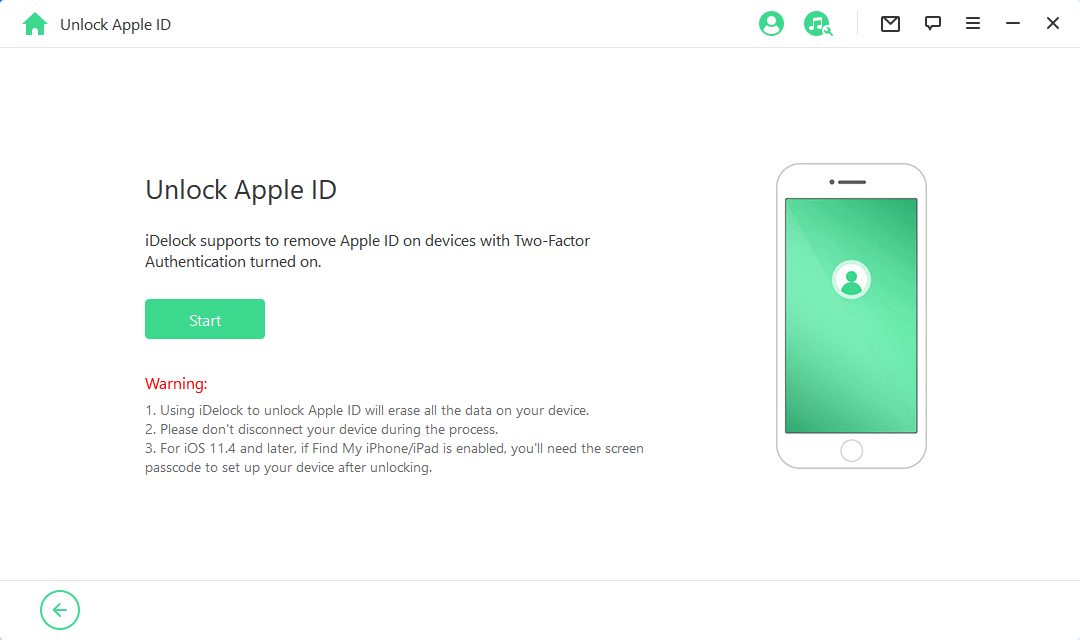 Case 2: If "Find My iPhone" is Enabled (For iOS Versions Below 11.4 ). In this case, you must reset all settings on your device. To do that you have to go to Settings > General > Reset All Settings. After that, choose Start and iDelock will begin the process. Wait for a few minutes before you can set up your iOS device with another Apple ID.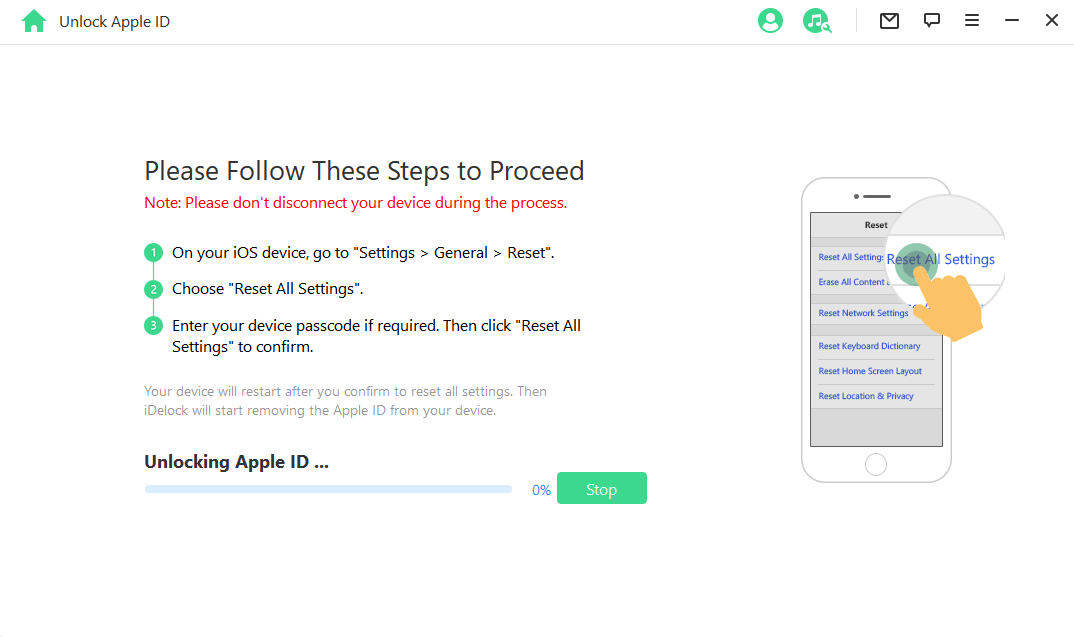 Case 3: If Two-Factor Authentication is Enabled (For iOS 11.4 and Above). In this case, you need to take a few more steps. First of all, you need to manually confirm that the Two-Factor Authentication is on by checking Settings > Apple ID > Password & Security. Then, click Next to continue. Before you start the process, make sure that you have also set up the screen lock passcode.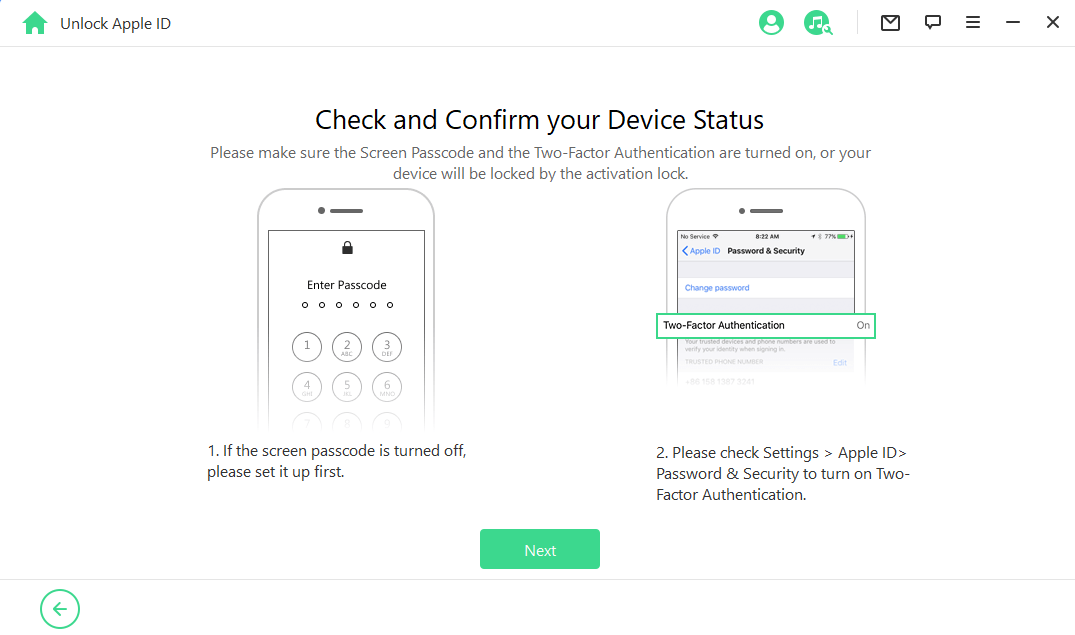 Then a window will pop up. Read the notice carefully and enter 000000 to confirm your action. iDelock will begin unlocking your device, please wait for a few minutes.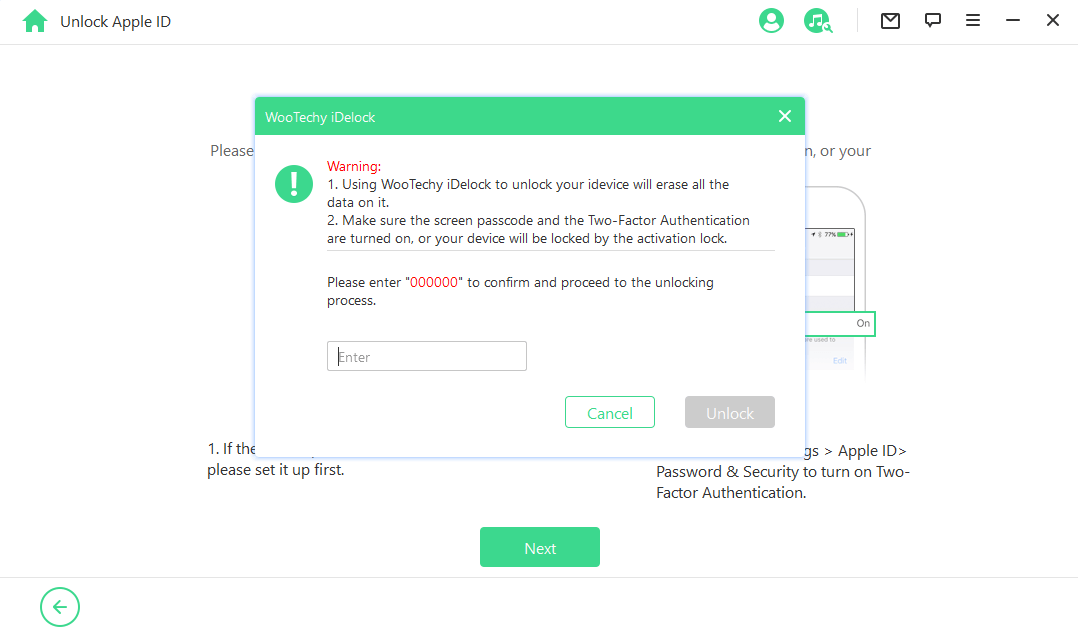 After the unlocking, your device will restart. When setting up the device, tap the Unlock with Password button, and then choose the Use Device Passcode option. Type your screen passcode. Then you can use the device as usual.
Misunderstanding for WooTechy iDelock
At the end of this review, we would like to clear some misunderstanding sent from our competitors. What they write about iDelock is not what it actually is.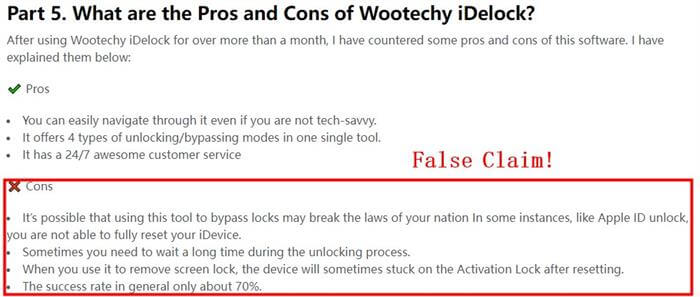 Once again, we cannot stress enough that this product is 100% safe to use and comply with laws and regulations, which has been recommended by a lot of tech experts and trustful media.
We offer step-by-step instructions and iDelock has user-friendly interface which you can easily unlock your device with a few clicks.
We believe we offer the highest success rate in the markert. However, if you find the product fail to meet your demands, you can always ask for a refund, which we offer 30-day money policy to ensure customer's satisfaction.
Conclusion
This WooTechy iDelock review has highlighted the great features of this application. As you can see, it is an essential tool for every iOS user that wants to enjoy the full potential of the device if you are locked out of the device because of the Apple ID or other locks. Anyway, if you are interested in this tool, just download and give it a try!