If you need to limit access to specific apps and features on your iOS device, you need to set a restrictions and screen time passcode. However, many users seem to forget the passcode they have set because it is not something they need in everyday lives. Moreover, many people have purchased secondhand devices and they don't have a way to learn what the restrictions and screen time passcode is. In these cases, you can use some specialized apps, like Pinfinder, that can easily unlock the screen time passcode.
In this article, you will learn everything about Pinfinder and know whether it is a trustworthy app. Moreover, you will discover the best alternative that will make your day-to-day life easier. Stay tuned.
Part 1. The Full Review of Pinfinder
1. What Is Pinfinder
Pinfinder is an open-source computer application that can remove the iOS restrictions and screen time passcode of your device. For example, you can use it to remove the parental controls from your device when you forgot the passcode. This app works perfectly on any device you might own, such as your iPhone, iPad, or iPod.
You can easily download and install the tool on any operating system, like Windows, Mac, and Linux. The great advantage of the app is that it is extremely lightweight, which means that it will not take up much space in your computer's hard drive.
However, this tool is only developed to perform this specific task. This means that you cannot use it for other types of unlocking you might need, such as to bypass your device's screen lock.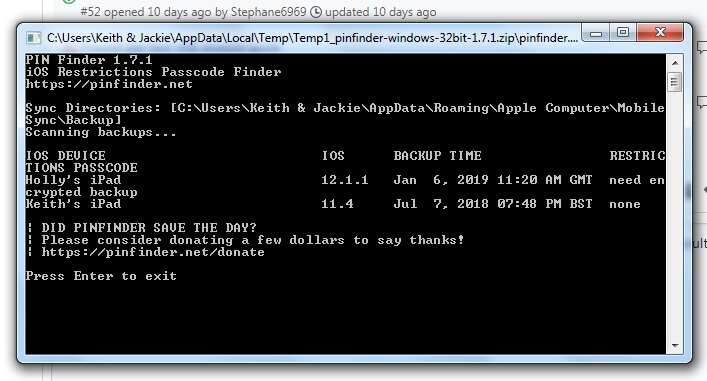 2. Is Pinfinder Safe
Not really. When it comes to unlocking your iOS device, there is always a reason to worry about the security of the applications you are using. Pinfinder is an open-source tool whose source code is readily available to learn how it works, and potentially make changes to it. For some users, this ensures the safety of the app as they can find out what it will actually do to their devices. However, some users find it concerning since anyone can make changes to the source code.
3. Is Pinfinder Free
Being an open-source program, Pathfinder is completely free. This means that you can simply visit the website to download it. If you want to support the developer, you can donate the amount of money you wish.
Moreover, you can find the app's source code readily available on GitHub. If you have coding experience, you can read the source code and make all the changes you need to satisfy your needs. However, if you don't have any technical knowledge, you have to use the program as it is.
4. Pros and Cons of Pinfinder
This application has been widely used for removing the iOS restrictions and screen time passcode. A great motive for many users is that they can get it for free. Nevertheless, before you decide whether you need to download it or not, you have to take a look at both its advantages and disadvantages.
Pros
You don't have to spend any money to use it as it is totally free.

The source code is available for download.

It has a high success rate.

It works on all computer systems including Windows, macOS and Linux.
Cons
It is only compatible with up to iOS 12.4.

As an open-source program, there are concerns about its safety.

Before unlocking, you will need to backup your device with encryption enabled and remember the passcode.

There is no technical support to help you and the command-line interface is difficult for beginners.
5. How to Use Pinfinder to Remove Parental Controls
Now that you understand the benefits and drawbacks of this app, it's time to discover how you can use it. The process to unlock screen time passcode with this tool is the following:
Step 1 Connect your iOS device to your computer with a USB cable.
Step 2 Launch iTunes and click the Back Up Now option to make a backup of your data. If your device is iOS 12 or later, you will have to check the option Encrypt iPhone backup and set a backup passcode.
Step 3 After complete the backup, launch Pinfinder on your computer. The app will ask for your backup passcode. Type it and hit Enter to continue.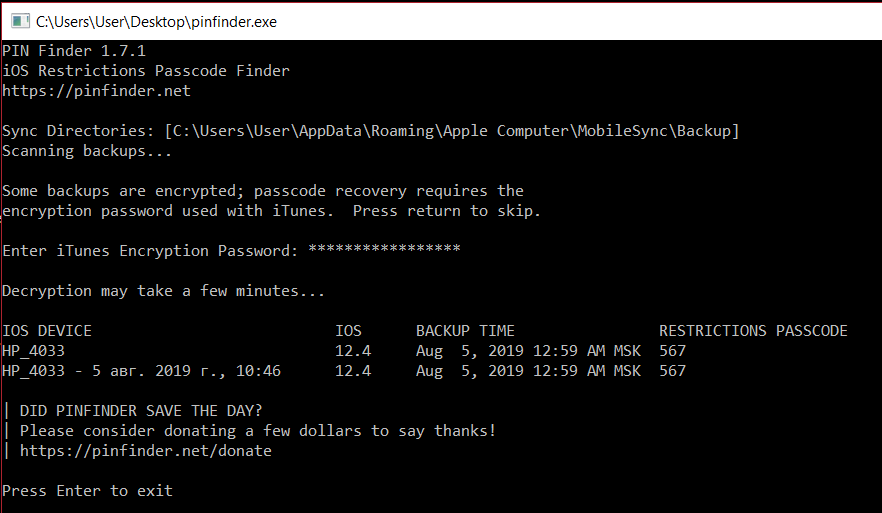 Step 4
After a few minutes, the app will bring you the screen time/restrictions passcode, which you can use on your device.
Part 2. What's the Best Alternative to Pinfinder
If you are skeptical about using an open-source program, you can download and use another application coming from a trusted source. When it comes to unlocking Screen Time passcode, there is no better computer application than WooTechy iDelock. This computer tool is extremely user-friendly and you can use it with ease even when you don't have any technical knowledge.
In addition to unlocking Screen Time passcode, this app can also be used to unlock your device's screen passcode, Apple ID lock and even bypass MDM. This means that it will become an important tool in your everyday life if you always forget the passcode.
To use WooTechy iDelock to unlock the Screen Time passcode, you have to follow these steps:
Step 1: Get the installer and launch WooTechy iDelock on your computer. From the home screen, select Unlock Screen Time Passcode.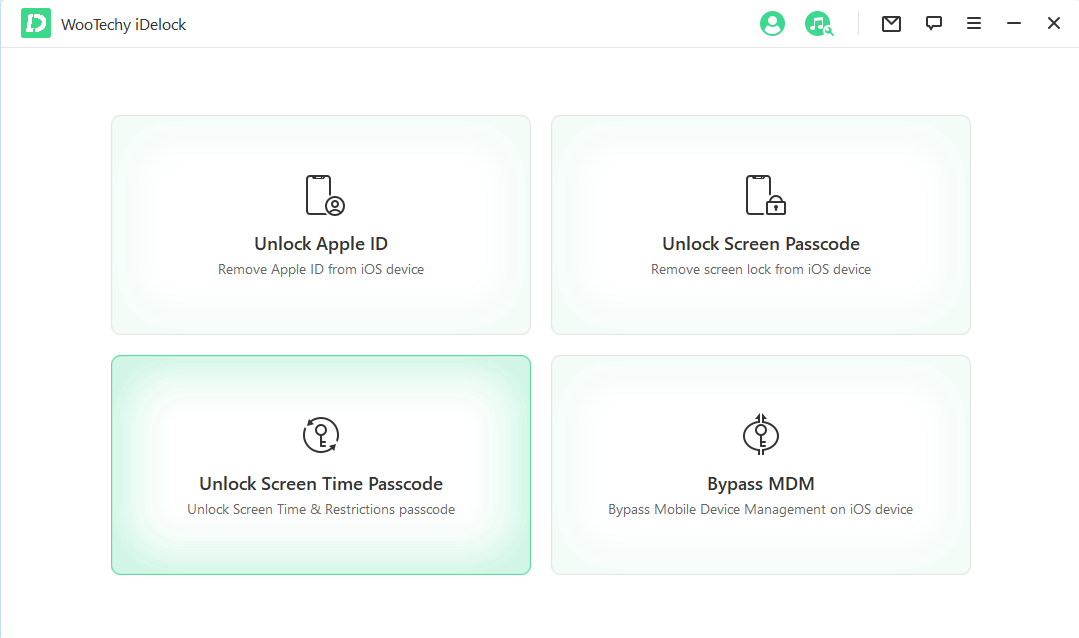 Step 2: Connect your device to your computer using a USB cable. If the app doesn't automatically detect it, click the Your iDevice can't be recognized? Moreover, if this is the first time using that computer, unlock your device and tap Trust on the popup window.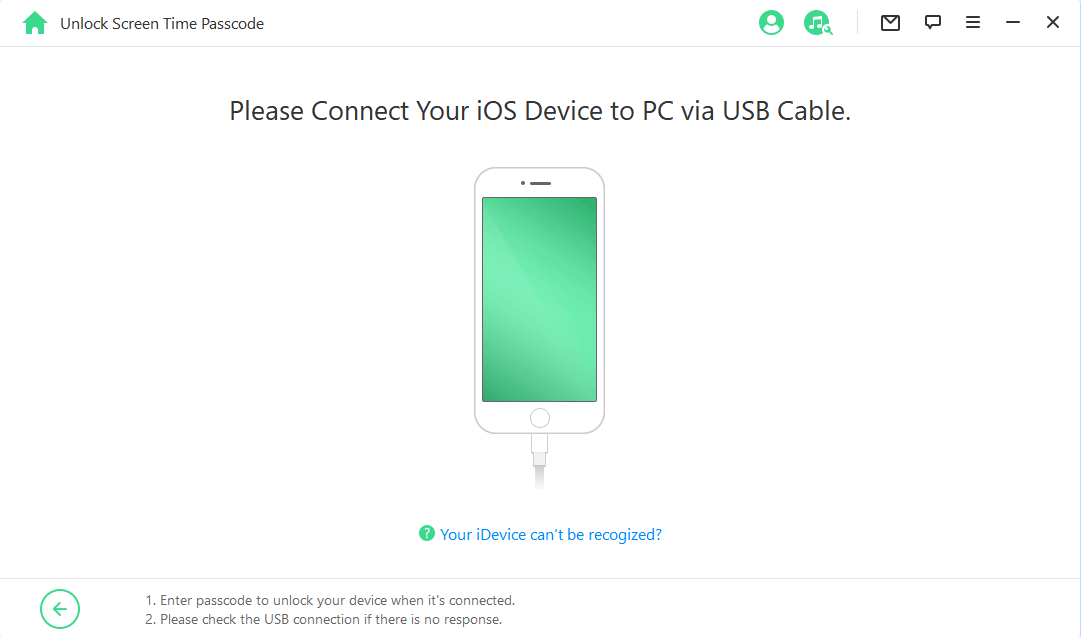 Step 3: Depending on your device, you will either see Unlock Screen Time Passcode (on iOS 12 or later) or Recover Restrictions Passcode (on iOS 11 or earlier).
On iOS 12 or later, click Start. Then choose a suitable option and go through the confirmation. Then you can wait for iDelock to remove the Screen Time passcode. After the process, re-set up your device to use it.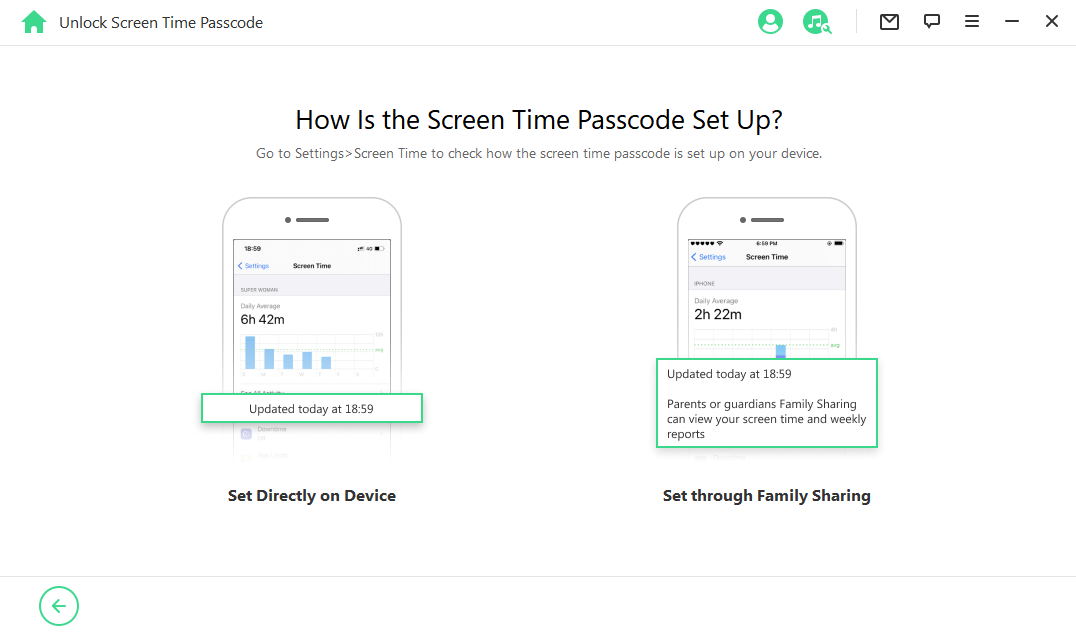 On iOS 11 or earlier, click Start. iDelock will then start to load your data. Wait for a few seconds so that the app loads the data and recovers the restrictions passcode.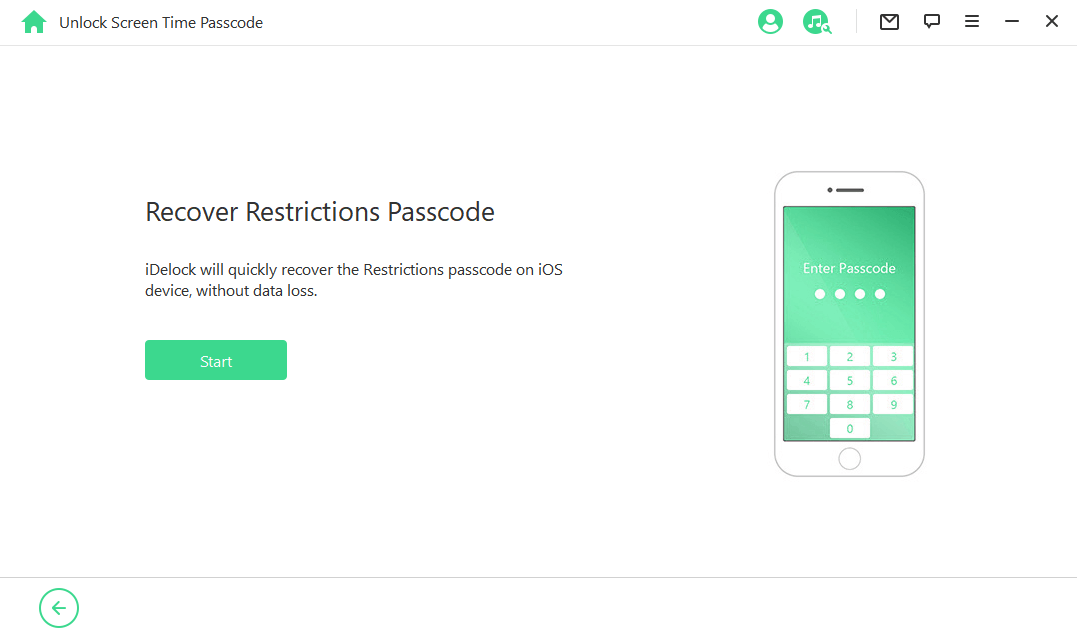 After this process, iDelock will display the restrictions passcode. Use it to unlock the restrictions on your phone, or change it by going to Settings > General > Restrictions.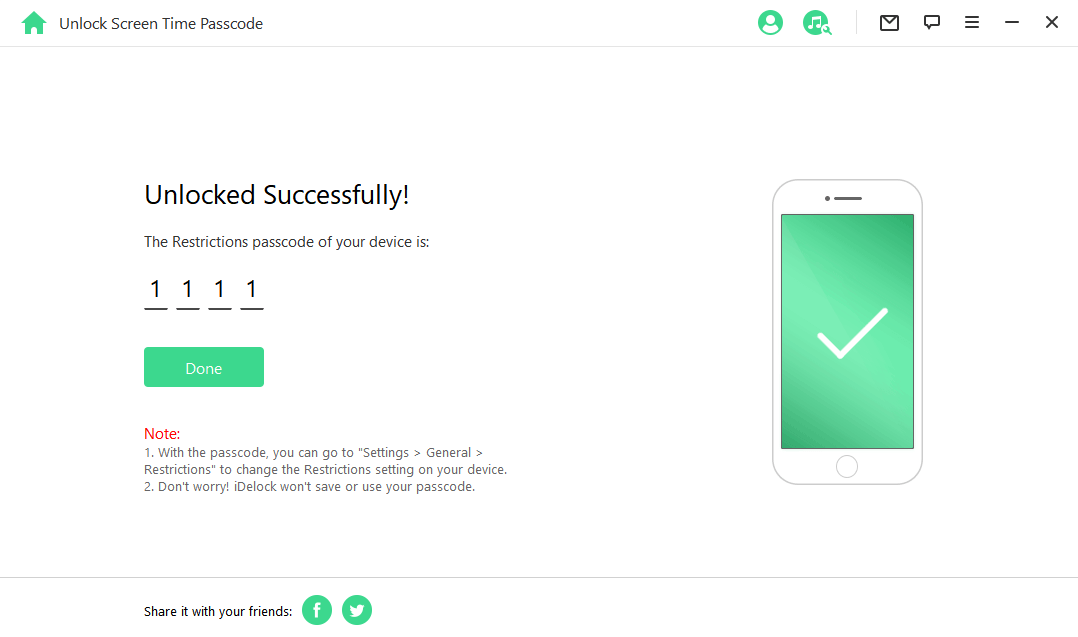 Conclusion
Forgetting your screen time passcode can get rather frustrating when the restrictions or screen time feature is activated on your iOS device. However, with Pinfinder or WooTechy iDelock, you can unlock the screen time passcode in no time. And if you want this process to be more safe and easy, opt for WooTechy iDelock!