Google Meet has transformed communication in the modern age by allowing users to participate in meetings and conferences in a safe and secure environment. But what if you want to add a bit of fun to the mix? Voice changers can help you do just that.
Voice changers are a great way to add excitement to your Google Meet sessions and liven up the conversations. From robotic voices to animal noises, these tools can give you the ability to express yourself in a variety of ways. In this article, we'll take a look at some of the best voice changer for Google Meet.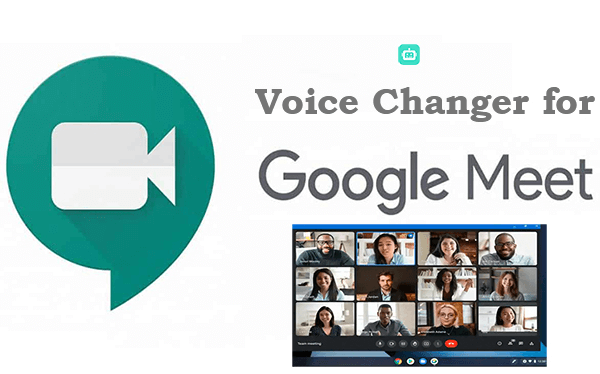 Part 1. Top Voice Changers for Google Meet
There are lots of voice changer apps that you can use to add a twist to your Google Meetings. But not all of them measure equally. Here are five voice changers for Google Meet:
1. WooTechy SoundBot
The WooTechy SoundBot is an innovative Google Meet voice changer. It's a great way to add life to a meeting, show off your creative side, or just have fun with friends.
The WooTechy SoundBot is easy to install and can be done in just a few minutes. All you have to do is download the app, register, and you're ready to go. The app has over 125 different voice effects, allowing you to change the sound of your voice with just a few simple clicks.
The voice changer can be used with Google Meet, Skype, Zoom, and other popular video conferencing platforms. WooTechy SoundBot is like no other voice changer on the market, with an impressive range of voice options and flexibility in usage.
The app is incredibly easy to use. WooTechy SoundBot has a huge collection of sound options to choose from. It has a wide range of customization options. Using WooTechy SoundBot, You can create recordings that sound like they are coming from outer space or your favorite cartoon character. The app also makes it easy to add background music or sound effects to your recordings.
SoundBot – The Best Voice Changer for Google Meet
75.000.000+
Downloads
A Plethora of Voice Effects: A wide range of voice effects includes 125+ voice filters, more than 400 sound effects and around 150 voice memes to use in real time. These effects include ghosts, demons, and popular characters like iron man, Darth Vader, Santa Claus, and so on.

Can Change Prerecorded Voice: You don't have to directly speak into the mic to add effects to your voice. WooTechy SoundBot supports prerecorded voice clips and audio files. You can upload them to add any voice change effect you like.

Compatible with Various Scenarios: You can use SoundBot under various situations such as entertaining prank, gang up in games, live chat, live video/streams, real-time communication, online education, voiceover, etc.

Impressive Trial Version: The trial version offers 5 voices for free which is a great feature, to say the least. The free voice effects change every 24 hours so you have a lot to choose from.
How to Use WooTechy SoundBot to Change Voice in Google Meet:
Step 1 Download and install WooTechy SoundBot. From the pop-up, select your microphone as the default audio input device while your headphone as the output device.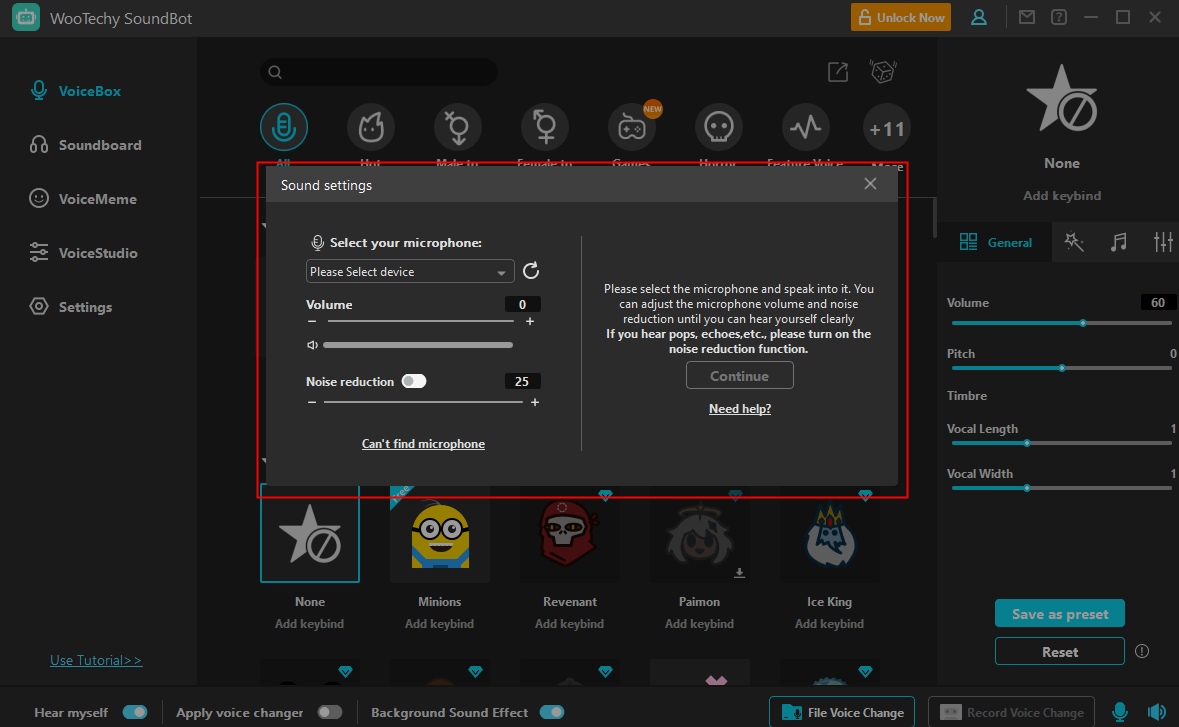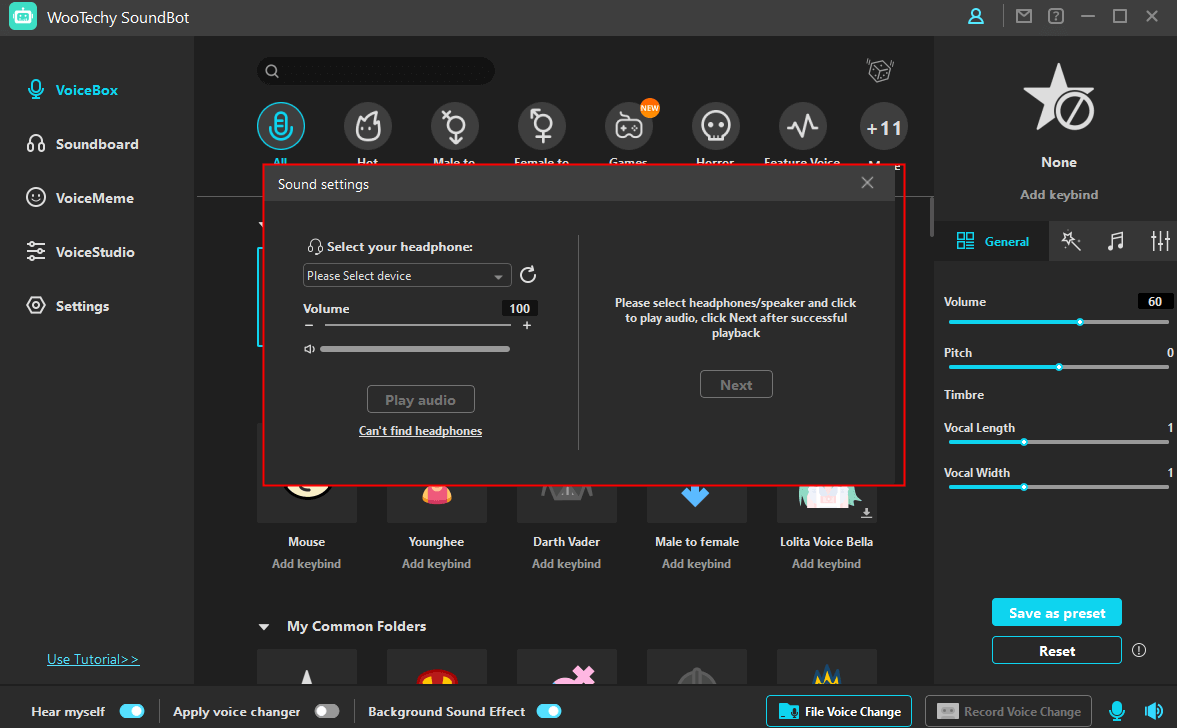 Step 2 Launch Google Meet and sign in to your account. Go to Google Meet Settings, click Audio > Microphone and choose Voice Changer Virtual Audio Device as your audio input.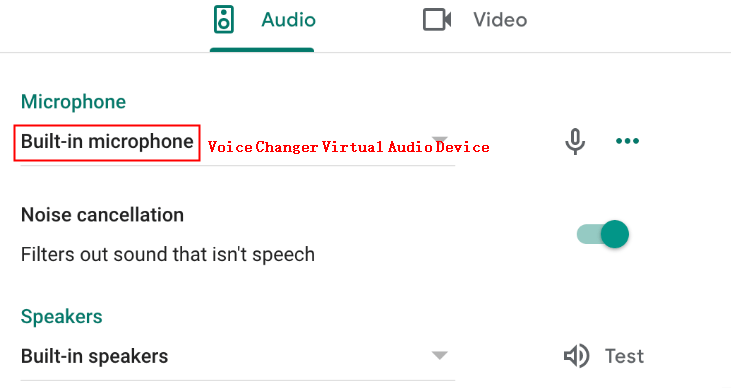 Step 3 Go back to SoundBot and select a voice filter of your choice. You can assign keybind to it for a quick use later. Then speak into your microphone and enjoy the interesting online meetings.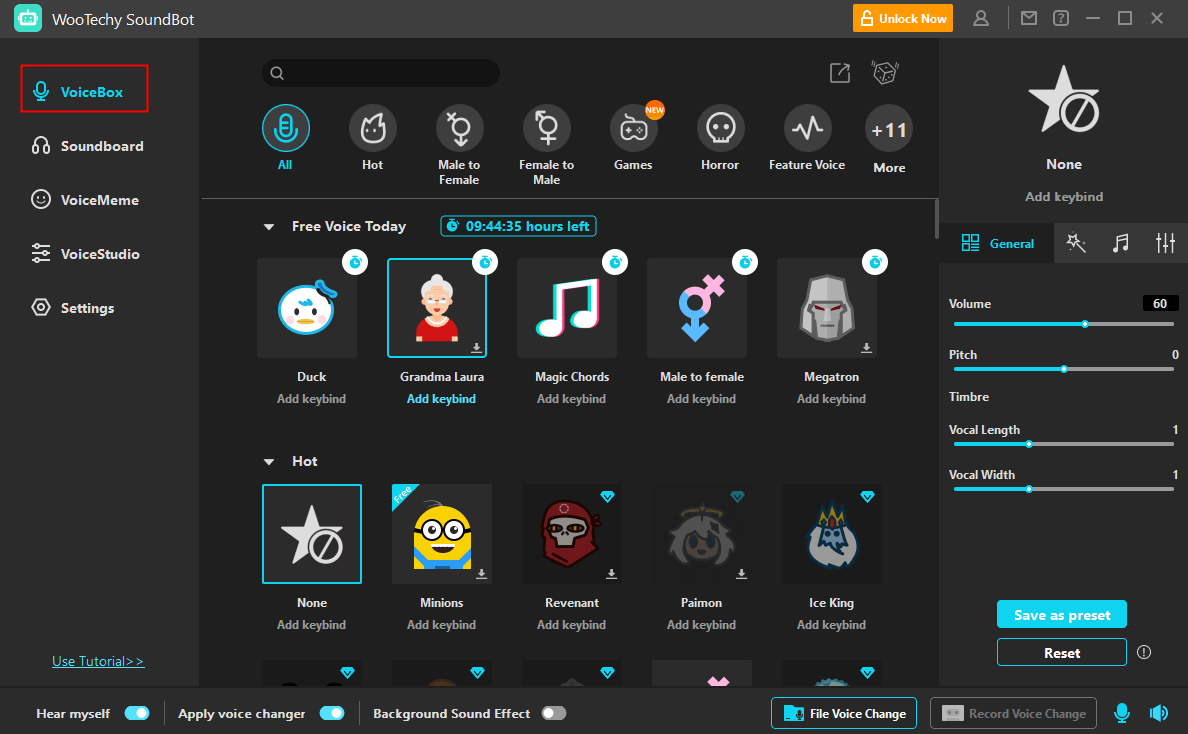 2. Voicemod
Voicemod is an innovative voice-changing and sound-altering technology that has revolutionized the way we communicate and interact with the world around us.
The advanced technology behind Voicemod allows users to modify their voices in a variety of ways, from altering the pitch and tone to adding effects and sound effects.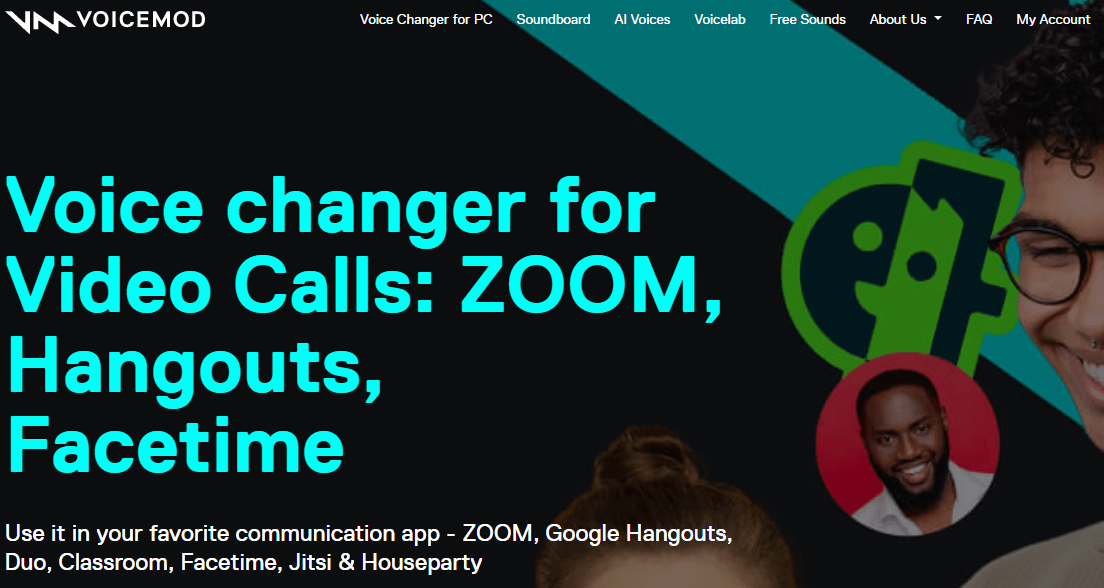 Features:
Voicemod lets you change your voice to other things, be that a ghost, demon, or a different gender.
You can use custom keybinds with the built-in soundboard. This will allow you to add sound effects to your favorite games.
In the voice lab, you can create your voice by adding various effects.
How to Use Voicemod in Google Meet:
Install the Voicemod voice changer app.
Open System Audio Settings and set Microphone as the default microphone, save and apply your changes and start a video call.
Open Google Meet and speak.
Cons
It has only 110+ voices, fewer than SoundBot.

The Voicemod server often crashes, causing disturbance for Google Meet during the process.

It takes a much longer time to install the software.
3. Voicemeeter
Voicemeeter is a voice-changing app that allows users to alter and manipulate their voices to create unique audio effects. This powerful app can be used for a variety of applications, from making prank calls to broadcasting virtual radio shows.
It supports a variety of different audio formats, including WAV, MP3, and FLAC. These formats can then be manipulated to create a wide range of voice-changing effects, including pitch shifting, reverb, chorus, and more.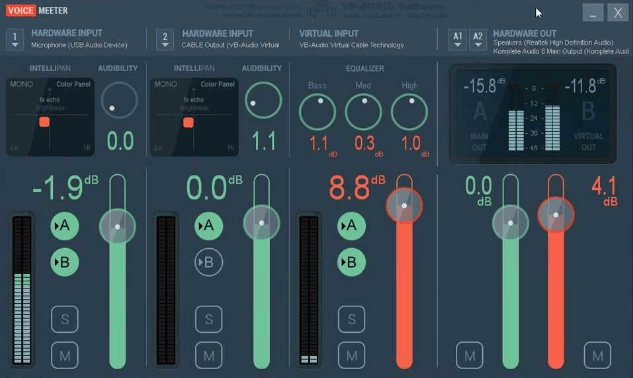 Features:
Voicemeeter allows you to combine audio from various sources like a USB microphone or PC applications, such as a video player.
You can mix and process multiple audios in real time using equalizers, compressors, and noise gates.
Voicemeeter Standard features a physical and virtual output. You can send the changed voice clips to physical or virtual playback devices.
How to Use Voicemeeter in Google Meet:
Set Voicemeeter as your default microphone from the sound control panel
Setup all of your hardware like a microphone, headset, and other audio devices.
Log on to Google Meet and start a Meeting or conversation.
Route your inputs to the Google Meet bus.
Cons
Incredibly difficult to use and not user-friendly for beginners.

Not fun like traditional voice-changing apps.
4. Voxal
Voxal is a powerful tool for creating unique and interesting sounds. You can easily alter your voice with built-in effects and filters such as pitch, speed, and reverb.
You can also record your altered voice and save it for later use. With Voxal, you can make your voice sound like a robot, a celebrity, or even a cartoon character.
Features:
You can apply voice-changing effects in existing audio files as well as in real-time using a microphone.
The audio effects library contains robots, girls, boys, aliens, and many more effects.
Voxal is not power-hungry meaning you can use other applications along with Voxal with ease.
How to Use Voxal in Google Meet
Download and install Voxal. Change the default input device to Voxal from the settings.
Select the voice effect of your choice and apply it in Google Meet calls.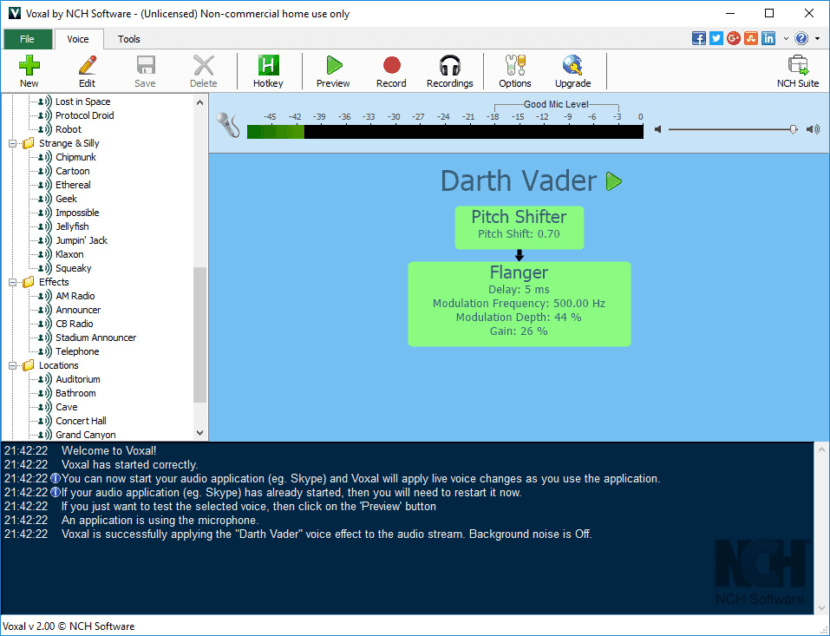 Cons
Limited features on the free version.

Often requires a restart.

The interface is too old and not friendly for users.
5. Clownfish Voice Changer for Google Meet Extension
Clownfish Voice Changer for Google Meet Extension is also great for large group video calls, as it can be used to make everyone sound the same.
This is great for when you're having a Meeting or class and you want everyone to sound the same. Or if you're having a game night and all you want is to have everyone sound like the same character.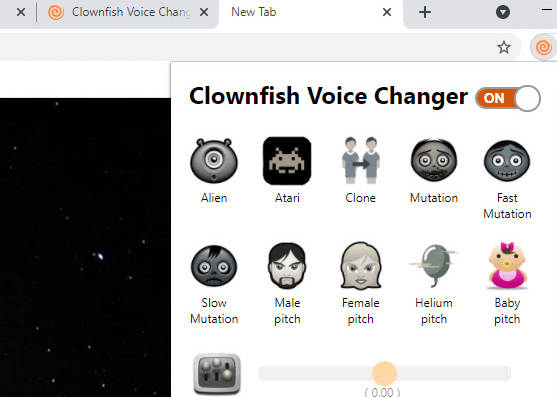 Features:
Besides Google Meet, it's also available on various apps like skype, Microsoft teams, etc.
Very easy to use
Clownfish voice changer is completely free.
How to Use Clownfish Voice Changer in Google Meet
Go to Google Meet and sign in to your account.
Select your microphone as your primary audio input device.
Choose a voice effect and that's it!
Cons
Not many voice effects are available.

You cannot preview to hear your voice.
Part 2. Pro Tips to Better Use Google Meet
To make the most of your Google Meet experience, we've compiled five simple tips to help you master the service.
Whether you're just getting started or looking to improve your virtual Meetings, these tips will help you get the most out of Google Meet.
1. Blur Your Background
One of the most useful features Google Meet has to offer is the ability to blur your background. This is great if you want to hide a messy room or if you simply want to put the focus on you and your discussion.
To blur your background, simply go to the Settings and select Blur My Background.
2. Pin the Important Speaker
To ensure that everyone can hear and see the most important speaker, you can use Google Meet's "Pin" feature.
This allows you to pin the video of the speaker that you want to be the focus of the Meeting. To pin the video, simply click on the video and select Pin.
3. Mute Participants
To help ensure that everyone can hear each other clearly, you can use Google Meet's Mute Participants feature.
This allows you to easily mute anyone who isn't actively participating in the discussion. Thus you can focus more on what's important.
4. Change the Layout
With Google Meet, you can easily customize the layout of your virtual Meeting. By default, it is set to auto. You can change the layout to tiled, spotlight, or sidebar, depending on your preference.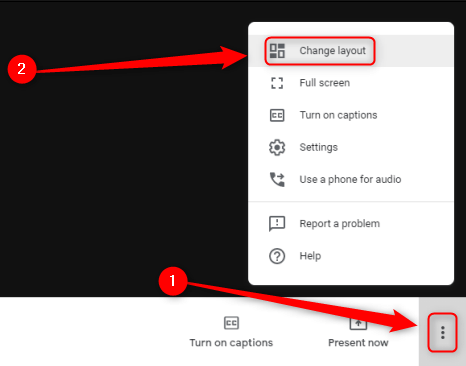 The correct Layouts help you to focus on the Meeting and it works differently for different people. Choose the one that works for you.
5. Turn On Captions
To make sure that everyone can follow along, you can turn on captions in Google Meet. This feature allows you to easily read what others are saying, even if you can't hear them. To turn on captions, simply go to the Settings and select Turn on Captions.
Conclusion
There are many voice changers for Google Meet, but WooTechy SoundBot takes the spotlight with its powerful and easy-to-use features. Also, other features like the fully compatibility with different programs make WooTechy SoundBot a very unique voice changer for Google Meet.