WhatsApp has turned out to be an important part of our daily life, and the more we use this app, the more we become dependent on it. If you have uninstalled this messaging app to free up some space or just looking to switch your phone, you might be wondering how to restore WhatsApp messages after reinstall.
Luckily, it's certainly possible and we will teach you how to restore WhatsApp messages after reinstall on iOS & Android devices and ensure that you never lose any of your messages and attachments.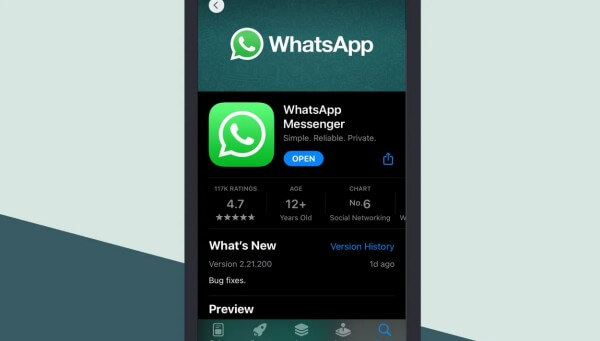 Part 1. Can We Restore Messages After Uninstalling WhatsApp?
When you remove or uninstall WhatsApp, there are no major changes to your messages. You will just not be able to view them, and when you reinstall WhatsApp, you can restore the messages using a backup. If you are using an Android phone, you can restore WhatsApp messages from the Google Drive backup and use iCloud backup files for iOS devices. You can also restore it from the backup in the SD card or internal storage of your Android device.
Recovering WhatsApp messages is a bit drastic if you don't have a backup, but it is still possible if you have the right tool in hand. For this purpose, you will need to use an effective WhatsApp data recovery software that we are going to unveil in the next part of this article.
Part 2. Restore WhatsApp Messages After Reinstall with iSeeker for WhatsApp
If you haven't made any backup of your WhatsApp data or just don't want to get involved in the technicalities, then WooTechy iSeeker for WhatsApp provides you with the most powerful yet straightforward solution to recover your deleted WhatsApp messages.
This professional tool comes with a wide range of features to perform different WhatsApp data recovery tasks and can be installed on both Mac and Windows PCs. It's interactive and user-friendly interface enables users to use the software without any previous experience or technical knowledge. You can recover any type of WhatsApp data with a 1-click operation. In short, this program is a one-stop solution to recover WhatsApp data because of its unmatched convenience, smooth operation, and privacy security.
Key features of WooTechy iSeeker for Android
75.000.000+
Downloads
Selectively restore WhatsApp chats, call history, media files, attachments, etc.

Supports both iOS and Android devices, including iOS 16 and Android 13

Allows preview before recovery and offers selective recovery.

Restore WhatsApp from device storage, iTunes backup, Google Drive backup and history records.

Can recover WhatsApp data to PC or directly to your phones.

Free scan and preview is offered to every user.
How to Recover Messages with WooTechy iSeeker for WhatsApp?
Now, coming up next is a tutorial to help you on how to restore WhatsApp chat after reinstall using iSeeker for WhatsApp. First, download and install the software to your computer and then follow these simple steps to do it:
Step 1. Download and install iSeeker WhatsApp Recovery on your computer. Select Recover WhatsApp Data from Device Storage.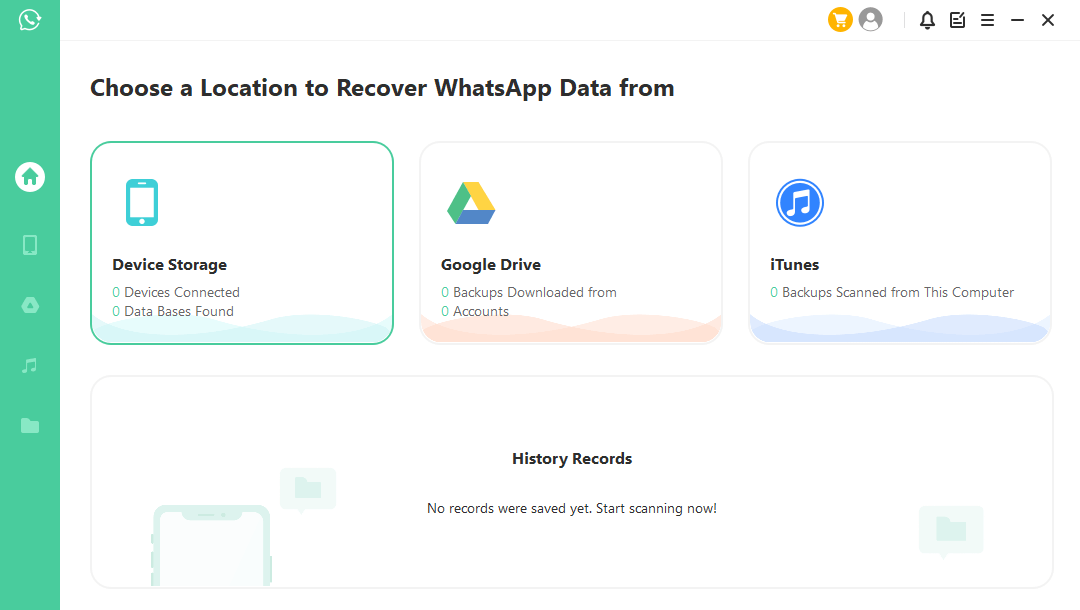 Step 2. Connect your phone to the computer. Allow USB debugging on your Android or tap Trust this computer on your iOS device. Choose a place to store restored data and click on Start.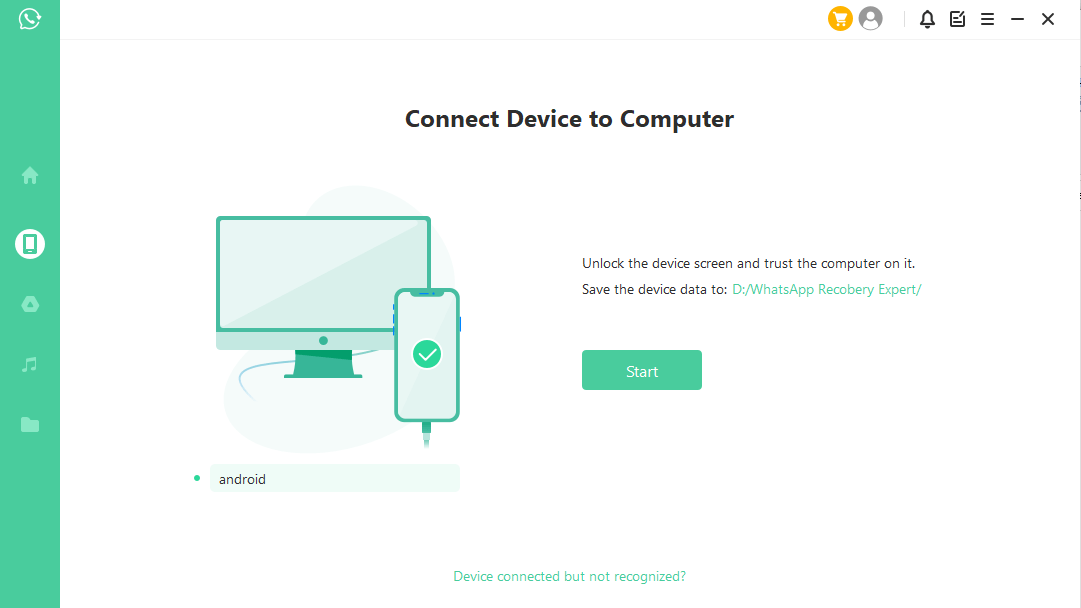 Step 3. iSeeker will then scan your device for the WhatsApp data. After scanning is completed, click Next to continue.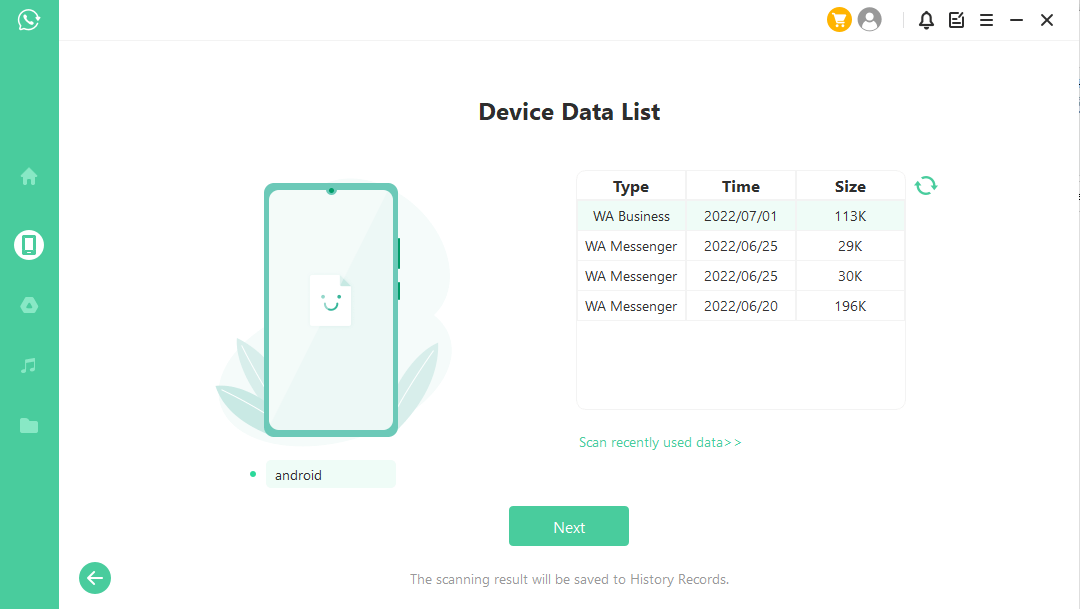 Step 4. Enter your phone number and veritify your account accroding to the prompt on the screen. Then iSeeker will display all the chats on the screen, preview and choose the chats you want to restore and then click Recover to Device or Recover to PC.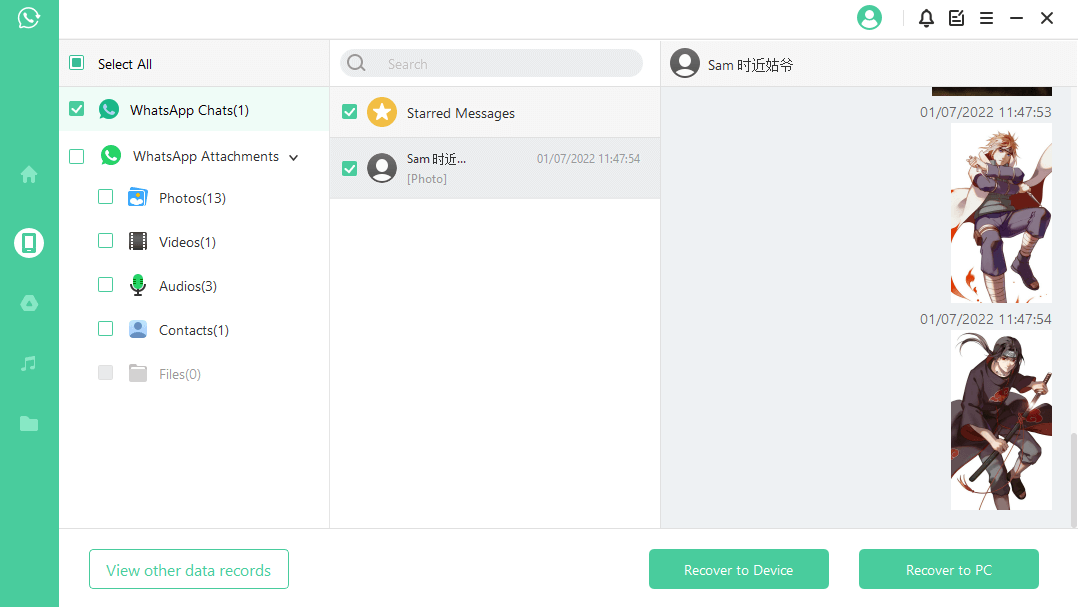 Part 3. How to Restore WhatsApp Messages After Uninstall from Cloud Backup
We have shared the easiest and fastest way to recover WhatsApp messages without backup. However, it is always recommended to back up WhatsApp chat data to cloud storage so that it can be retrieved anytime. If you have already backed up your WhatsApp chats to your cloud storage, then it's simply a few minutes procedure to get your WhatsApp messages back after reinstall.
On iOS devices, WhatsApp backup will be made on iCloud by default, whereas, Google Drive is used for this purpose on Android phones.
1. Recover WhatsApp from iCloud Backup
As we all know, iCloud is a cloud-based storage service from Apple that keeps a backup of all the important data on our devices. Likewise, WhatsApp also uses iCloud to store its backup for iOS users. For this recovery method, you need to first make sure that you have a backup available. To do that, you can go to the Settings section of your WhatsApp and tap on the Chats and Chat Backup options respectively. Here, you will see all the relevant details related to the last backup.
If you want to know how to restore WhatsApp messages after reinstall, then the following are the steps that will help you restore chats from iCloud.
Step 1. In the first step, you will need to reinstall WhatsApp on your iPhone. After that, launch the app; log in to your account by entering your number and press Done.  
Step 2. Then, select Restore chat history option. Then wait for the restoration to be finished.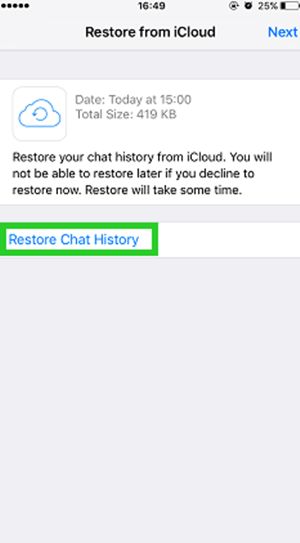 2. Recover WhatsApp from Google Drive
If you are an Android user, you can also try to restore WhatsApp from Google Drive. However, there are some problems associated with this recovery option. First, you will need to use the same phone number and Google account that you used to create the backup. Also, you wouldn't be able to restore WhatsApp from Google Drive backup if there's not enough memory on your Android device.
Here's how to recoverWhatsApp messages after reinstall using Google Drive backup:
Step 1. Reinstall WhatsApp on your Android phone.   
Step 2. Open WhatsApp and enter the details to verify your number.
Step 3. The app will then search for the latest backup available. When prompted, press the Restore button to initiate the restoration process.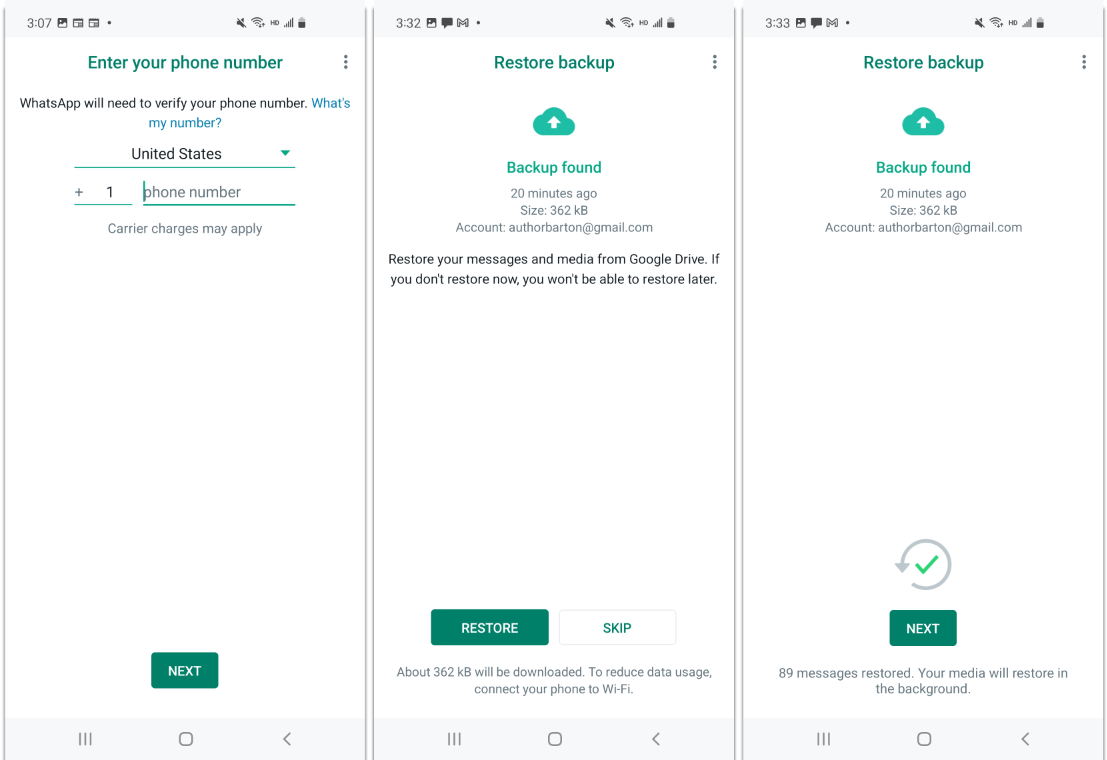 Part 4. How to Restore WhatsApp Messages After Uninstall from Local Backup (Android Only)
Another useful feature of WhatsApp is that it automatically makes a backup of your data every day at 2 PM (according to your time zone). So, when you reinstall WhatsApp on your Android device, it will detect the data in your internal memory or the SD card. You can simply hit Restore to recover the data from your local backup file.
In addition to the most recent one, WhatsApp stores several days of chat backup files on your device's local storage. If you are looking to recover WhatsApp chats from an older backup, then you can always do that in the following steps:
Step 1. Download and open the file manager app on your device.  
Step 2. In the next step, go to your local storage or SD card, and then, WhatsApp and Databases options respectively. In case your data is not saved on the SD card, it might store on your phone internal storage or main storage.
Step 3. Now, you will need to rename the particular backup file that you want to restore from msgstore-YYYY-MM-DD.1.db.crypt12 to msgstore.db.crypt12. Please make sure to not change the number of the crypt extension, as it might be possible that an earlier backup is on an earlier protocol.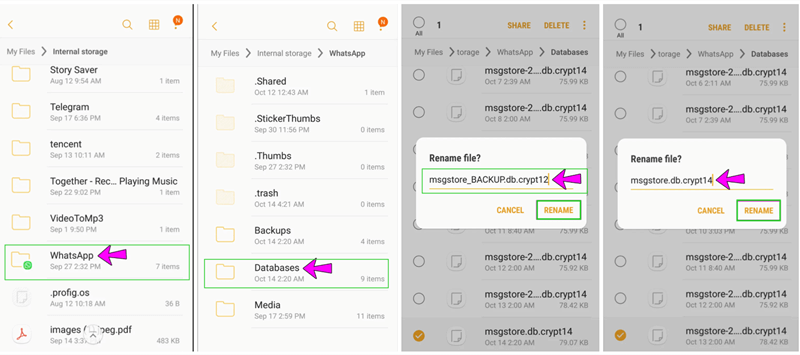 Step 4. In the last, reinstall WhatsApp and tap Restore from the backup file when it prompts you. 
In Summary
We just had a look at how to restore WhatsApp messages after reinstall on Android or iOS devices. You can easily restore your old WhatsApp chats using the methods that are described in detail here above.
If you are looking for the ultimate solution, then WooTechy iSeeker for WhatsApp is our recommended choice to get out of this conundrum. It is an incredible tool to help you scan your device for deleted WhatsApp messages and recover them securely within a few minutes. Download and try it for free now!