With so much communication between friends, family, and coworkers happening on the robust WhatsApp mobile application, it only makes sense users would want a way to download this data.
Luckily, there are WhatsApp chat download solutions available online from many different companies and software developers. We have gathered some of the best in this list so you can safely and accurately download WhatsApp content to save for later use.
For many users, that means creating PDF files with a long record of WhatsApp messages. This way, you can share the PDF across any platform, including email.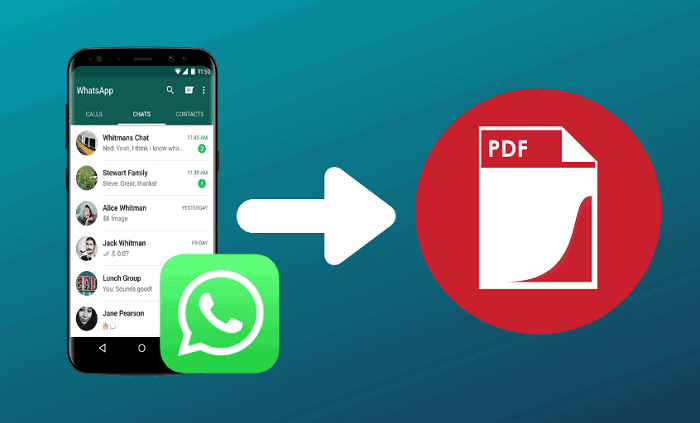 Can I Download WhatsApp Chat as PDF?
Not only can you download WhatsApp messages to PC as a PDF, most security experts highly recommend it. This is because WhatsApp can crash or a number of other issues that could corrupt or delete your essential messages. You wouldn't want that crucial message from your boss about finishing a project suddenly to be lost when you are in the final hours of work.
There is a built-in official method to export chats that only lets you work with text files. Or, you can use a third-party software solution like WhatsApp iSeeker to export all of the photos, videos, chats, contacts, and other critical data into a PDF on your system. While both are reliable, the third-party option gives you more data for storing and referencing.
Try WhatsApp Chat Download in a Few Clicks
If you would prefer to get all of the valuable information in your WhatsApp messages, you should try a third-party application like the powerful solution iSeeker (Android) from the expert developers at Wootechy. This option removes any of the limitations other methods have and allows you to successfully download and manage WhatsApp data and attachments by exporting them into easy-to-read PDF, HTML, Excel, or CSV documents. 
Key Features of iSeeker Android
75.000.000+
Downloads
Excellent flexibility for saving file types as many optional formats (PDF, etc.).

Works with deleted and lost files directly from your device or backups.

Extremely high success rate with active preview panel.

It can be used with both iOS and Android devices.
How to Use iSeeker (Android):
Launch iSeeker (Android) and select Recover Phone Data option from the menu.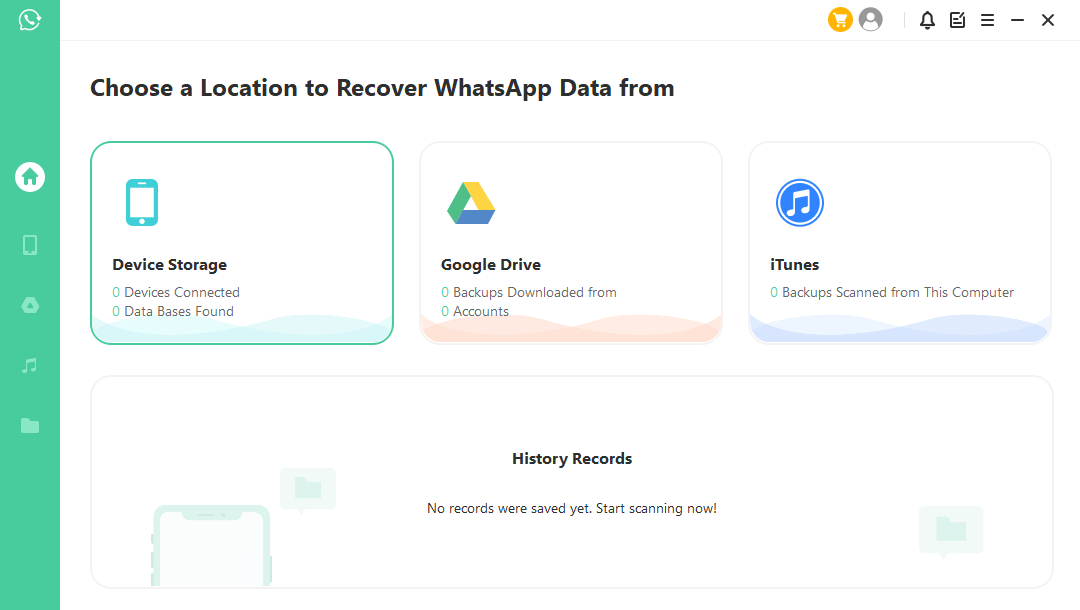 Connect your device to your computer via a USB cable. Then scan your device for the missing WhatsApp data you want to recover.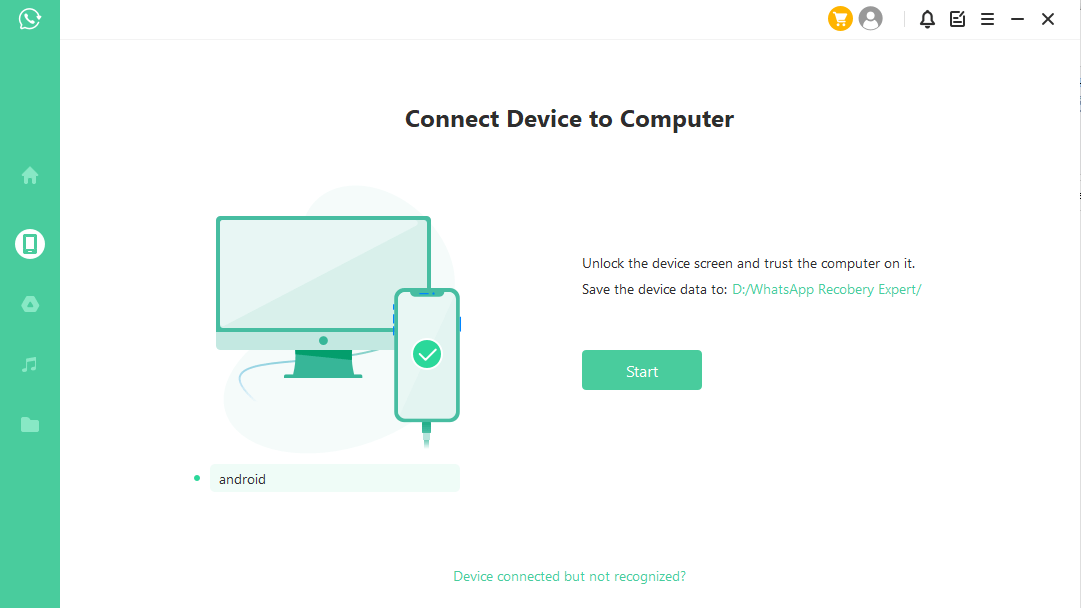 Preview all of the data and select anything you wish to save. Afterward, choose the location and type of data you want to be retrieved, including if you want a PDF.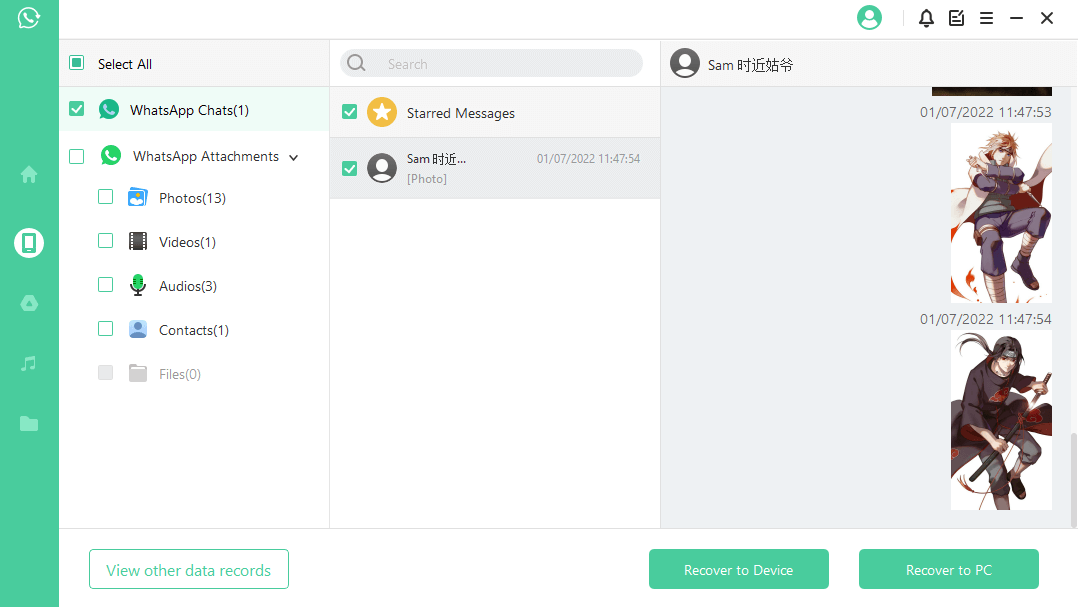 Download WhatsApp Messages to PC by "Export Chat" Option
WhatsApp chat download inside the native application is pretty straightforward. The developer did an excellent job of including this option for users, even if it is only the text information and not all of the supported video, photo, and other file data. Once you have exported all of the WhatsApp data you wish to save, you can export it in a PDF format for use later on. 
Launch WhatsApp on your device.
Go to the conversation you wish to export.
Tap on the three-dot icon to select the Export Chat option.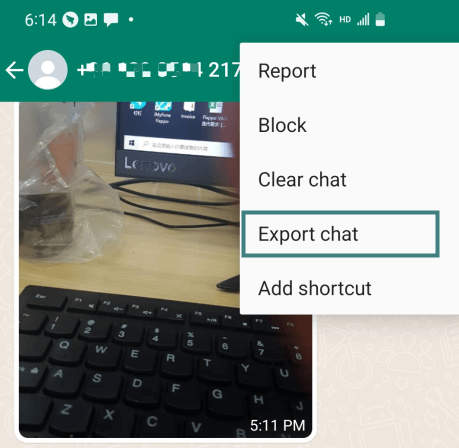 Set the preferred mode to save the TXT file or upload it to Google Drive for easy sharing.
You can then use a program like MS Word to save the TXT file as a PDF file instead.
The downside of this method is that you cannot export attachments like videos, photos, or other important information. That removes the context from many of the conversations you have on WhatsApp, which is why we suggest iSeeker as a better option. 
Download WhatsApp Messages to PC by Email
Using email to download WhatsApp backup from iCloud to Windows PC is an effective method for getting around many of the formatting issues between devices. This process is pretty much the same on both iOS and Android devices. You will also get the option to attach documents in your email, though this can make the exported information too large for many mail services like Gmail to work. You'll need to pay close attention to the file size or not include video attachments. 
On iPhone:
Launch WhatsApp and select a chat.
Go to More Options > Export Chat.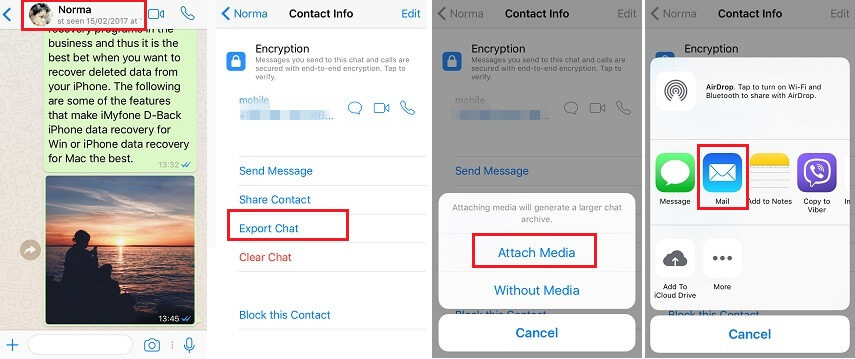 Decide whether or not to include videos in the zipped chat file being emailed.
The email application will launch automatically to send the info to yourself or someone else.
On Android:
Open WhatsApp and go to the conversation you wish to export.
Tap on the three-dot icon and select More > Export Chat feature.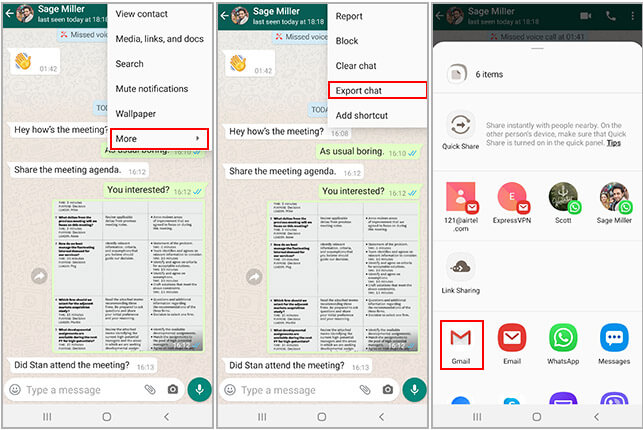 Select your preferred email from the list, and the corresponding app will automatically open.
The problem with this method is that you may or may not be able to attach videos, photos, and other relevant information. Or, if you can, the file size may be too large to effectively email based on the type of mail service you are using.
Tip: Where are WhatsApp Messages Stored?
In most cases, to download WhatsApp messages to PC, you will need to access the stored data. This can be stored on your device in the internal memory, on an SD card, USB drive, or in cloud storage like iCloud or Google Drive. If you are using an iOS device, your iTunes backup will also store WhatsApp message data.
If you have a third-party app that runs automatic backups of your WhatsApp data, that is where you can find it on your device as well. Most likely, it will also use internal, external, or cloud storage like the native application.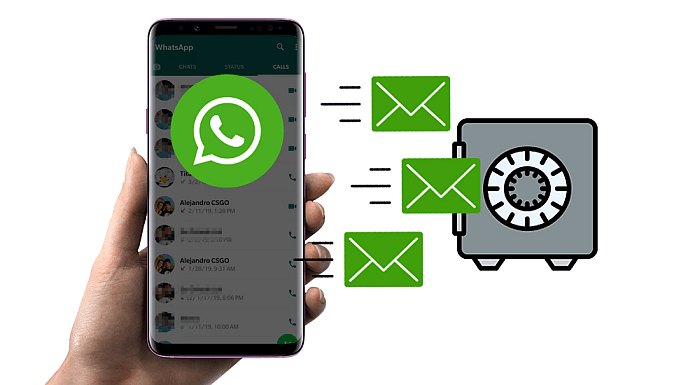 Final Thoughts
Being able to export your important WhatsApp chat downloads so that you can reference them or send them to friends, family, and coworkers later is a crucial activity. We have so much of our communication happening through WhatsApp, that you need a safe way to save and export this information. While there are native methods for saving your information, the most reliable method that will include attachments like videos and photos is to download and install iSeeker (Android) from Wootechy. You can try the software out for free and experience the bespoke features for yourself before committing to the premium version.