User Guide of WhatsMover
Are you switching to an iPhone from an Android device, or vice versa, and want to transfer WhatsApp chats to your new phone? WhatsMover can do that for you. What's more, it's able to back up WhatsApp data on your phone to a computer, restore the backup files to your Android/iPhone, and export WhatsApp backup files to different formats.
Follow this guide to start using WhatsMover.
Mode 1. Transfer WhatsApp Between Devices
Transfer WhatsApp/WhatsApp Business from Android to iPhone, iPhone to Android, iPhone to iPhone, or Android to Android in a few clicks.
Step 1:

Connect Your Devices to Computer

Launch the WhatsMover application, and choose Transfer WhatsApp between Devices from the left panel. Connect both your Android and iPhone to the computer, making sure the Source and Destination devices are correct.

Note: Please allow USB debugging for Android phones and trust the computer for iPhones, so the data is accessible.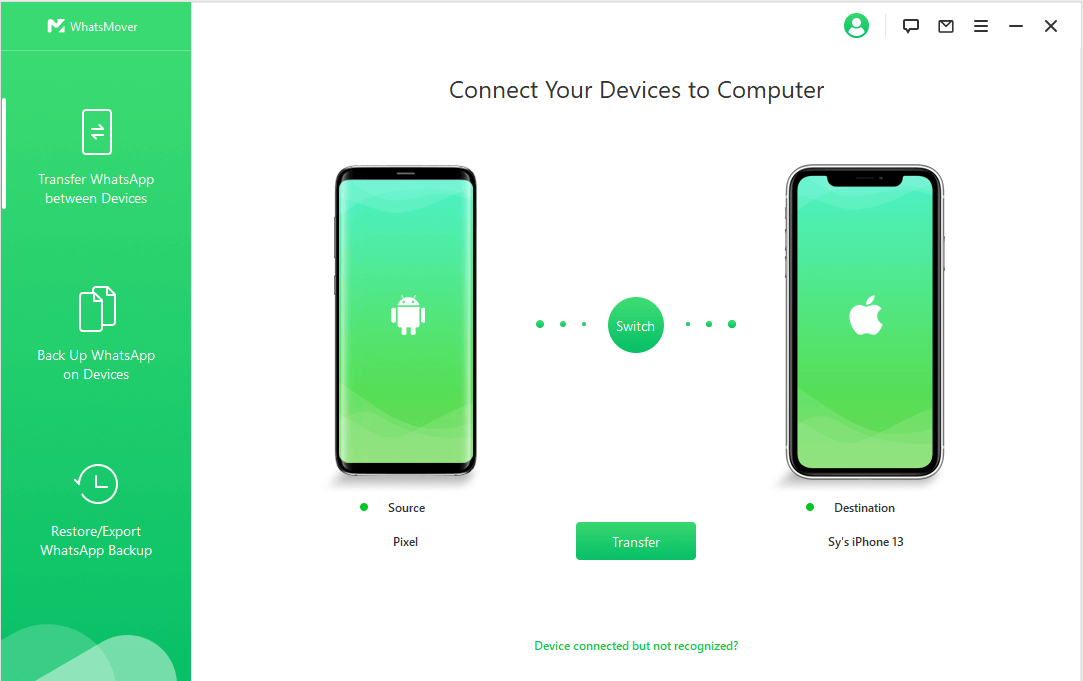 Step 2:

Choose a WhatsApp Type and Start Transfer

When both devices are recognized, click Transfer. You will be prompted to confirm the type of your WhatsApp - either WhatsApp Messenger or Whatsapp Business. Choose your type and the transfer process will start.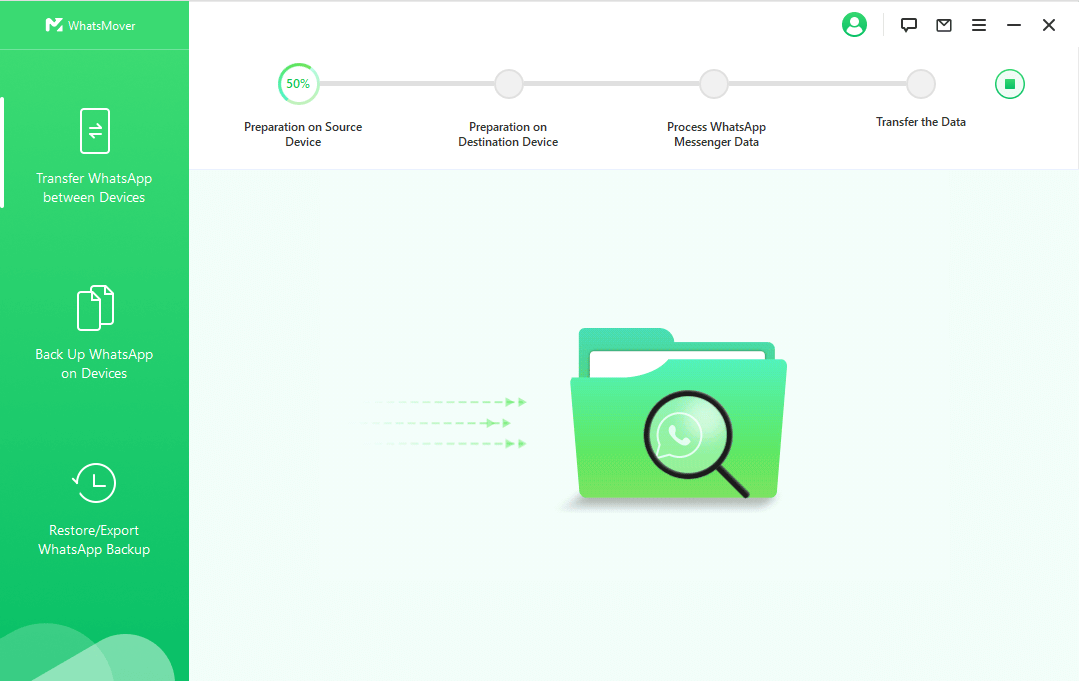 Note:
If the destination device is an iPhone, you must turn off Find My iPhone and install WhatsApp.
WhatsMover will install a customized WhatsApp on the Android device regardless of whether it's the source or destination device. Don't worry, the customized WhatsApp is 100% safe. Its only purpose is to access data on your WhatsApp in order to complete the transfer them because this is not supported on the official version.
The original WhatsApp data on the destination device (if there is any) will be replaced with the new data, so it's highly recommended to back up WhatsApp first.
Step 3:

WhatsApp Transfer Completed

Just wait for the transfer process to complete. The overall time depends on how much data you need to transfer. Once finished, all WhatsApp data, including messages, photos, videos, etc. will appear on the destination phone.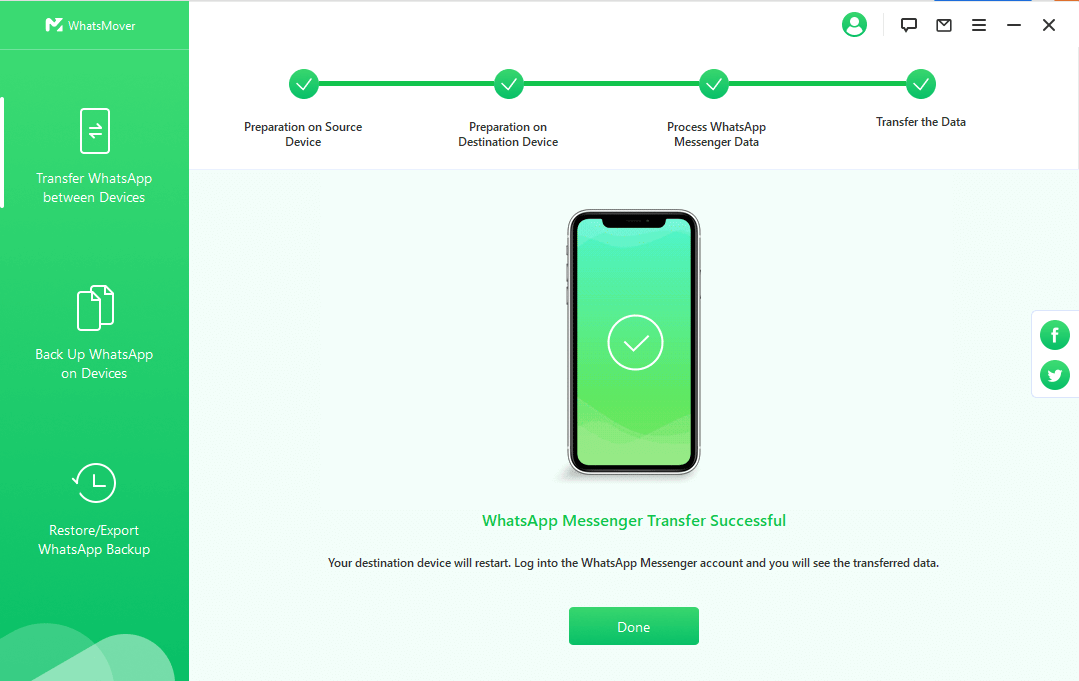 Mode 2. Back Up WhatsApp from Phones to Computer
Step 1:

Connect Your Device to the Computer

Open the WhatsMover program and choose the Back Up WhatsApp on Devices option, then connect your mobile device to computer.

* Allow USB debugging for Android phones, and trust the computer for iPhones, so the data is accessible. You can skip this if you have done it before.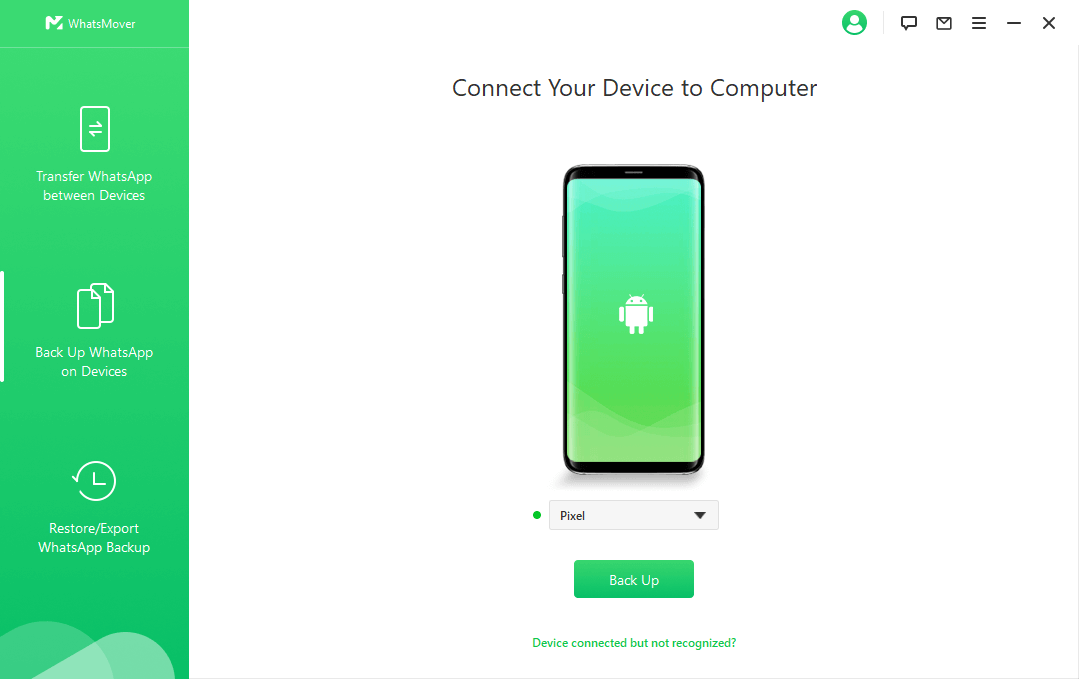 Step 2:

Start Backing Up WhatsApp Data

Once your phone is recognized, click Back Up, then choose to back up WhatsApp or WhatsApp Business data.

For iPhones, the program starts backing up data immediately. For Android devices, the program will install a customized WhatsApp application on your phone to access the WhatsApp data. Just follow the on-screen instructions.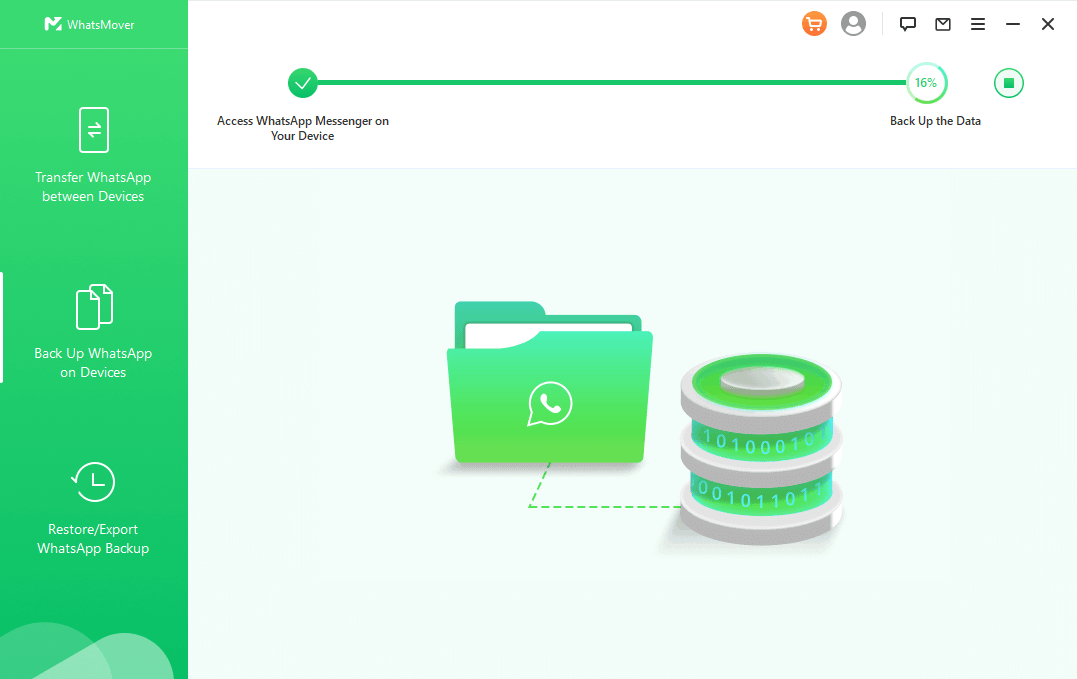 Step 3:

WhatsApp Backup Completed

It won't take long to back up the data and you will get a notification when it is complete.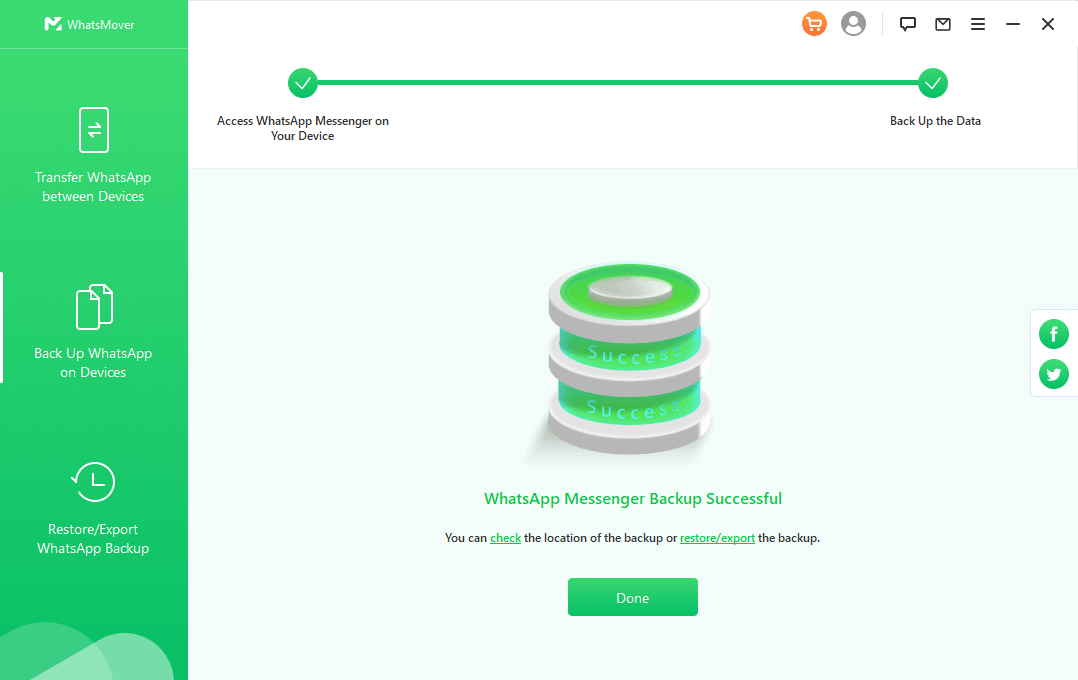 Mode 3. Restore WhatsApp Backup to Andorid or iPhone
After securing a complete backup of WhatsApp data to your computer with WhatsMover, you are able to restore the WhatsApp backup to your Android/iPhone when there is such a need.
Step 1:

Choose a WhatsApp Backup

Launch WhatsMover and choose Restore/Export WhatsApp Backup. It will display all the available backups on the screen. Choose a backup from the list and click on the Restore to Device button.

* If you want to restore WhatsApp from a Google Drive backup to iPhone, first download the backup files from Google Drive to your computer using WhatsMover.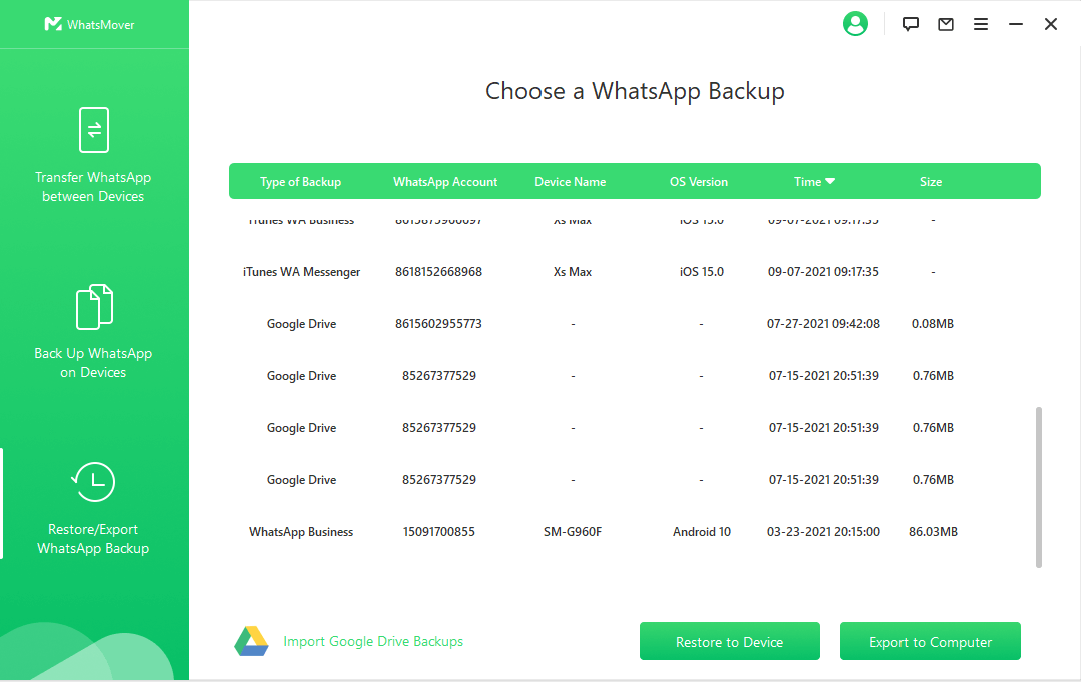 Step 2:

Connect Your Device

Connect your iPhone or Andrid device to the computer with the original USB cable, then click Restore and start. You may also preview these files before this.

* For iPhones, unlock your device and trust the computer. For Android devices, ensure USB debugging is switched on.
Note:
The previous WhatsApp data on your phone will be erased, so please back it up before the restore.
To restore to an Android device, it is necessary to install a customized WhatsApp application, which is used to access and manage data.
To restore to an iPhone, please turn off Find My iPhone first.
Step 3:

WhatsApp Restore Completed

You have nothing to do during this process. Just wait for it to complete, which usually takes less than half an hour. After that, you can check the WhatsApp messages on your device.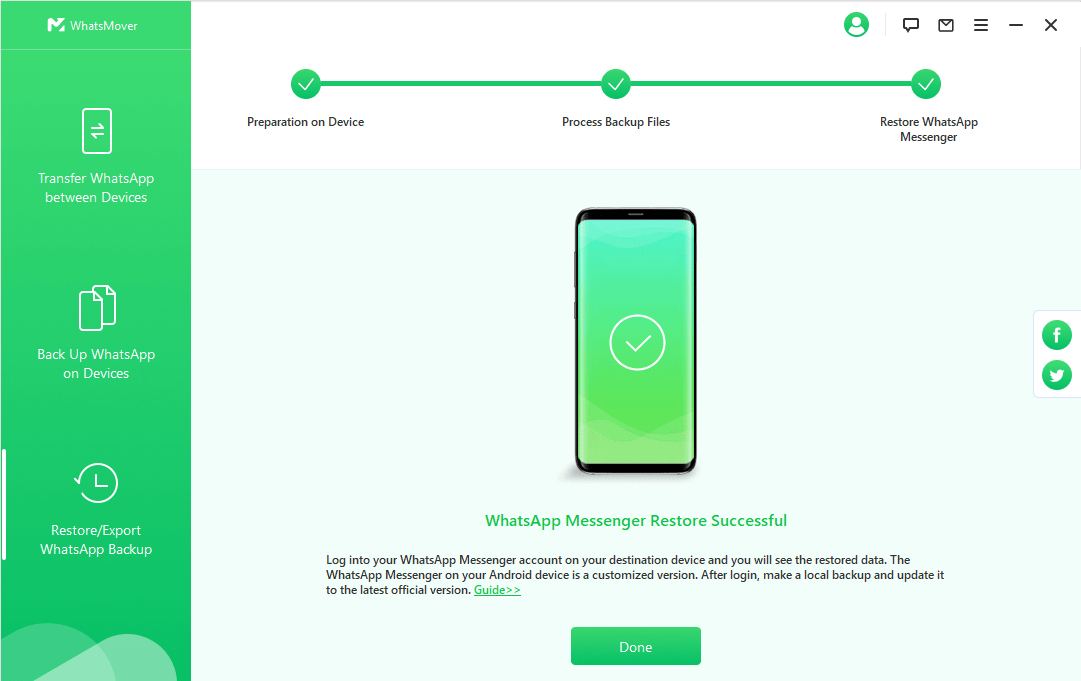 Mode 4. Export WhatsApp Backup from Computer
You can selectively export WhatsApp messages, documents, photos, contacts, etc. from the backup made by WhatsMover to view or print them.
Step 1:

Choose a WhatsApp Backup

Launch WhatsMover and choose the Export WhatsApp Backup option. All available backups will be displayed. Select the backup you need and click Export to Computer, the software will start scanning the data in it.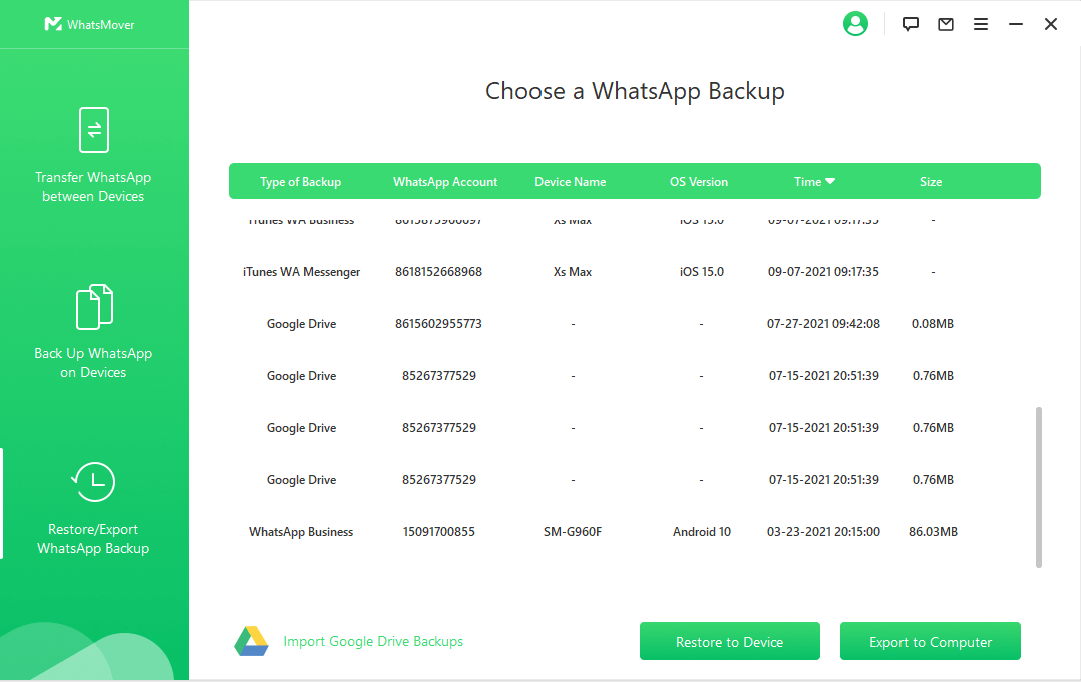 Step 2:

Preview and Select the Files You Need

Once the scan is finished, all the WhatsApp messages and attachments in the backup will be presented on the screen. You may search for and preview the files, then select all files you need.

By exporting to HTML formats, you can read WhatsApp chats as they appear on your phone. By exporting to the CSV/XLS formats, you can view the data as a log file.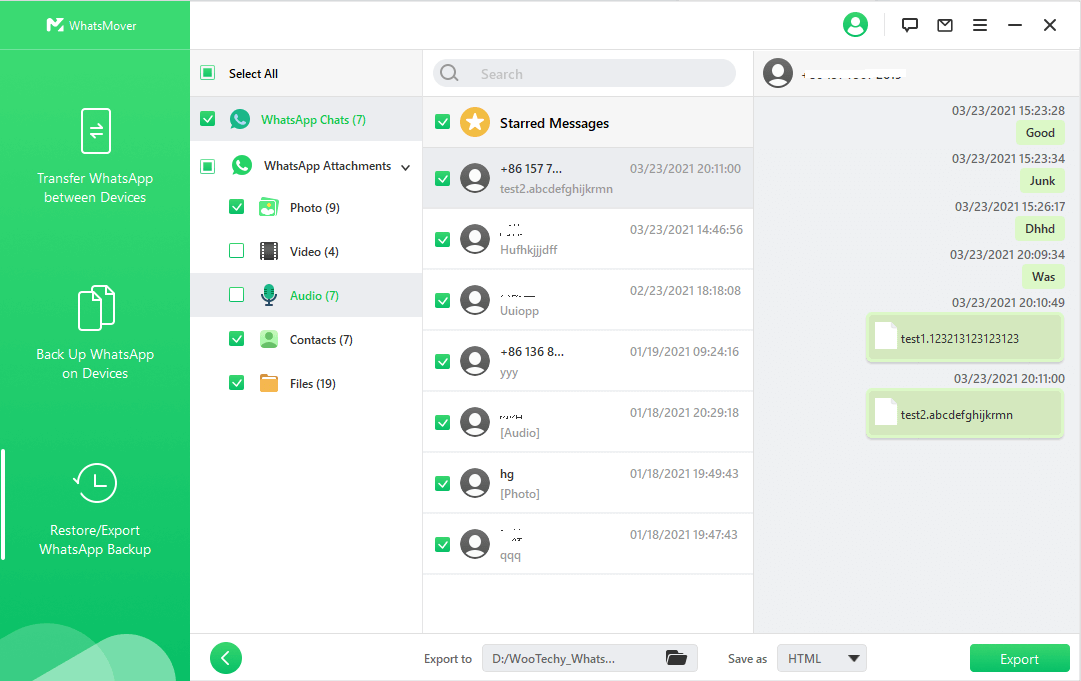 Step 3:

WhatsApp Export Completed

Choose a location you want to save the exported data, then click the Export button and it will start instantly. The exported data will automatically open once completed.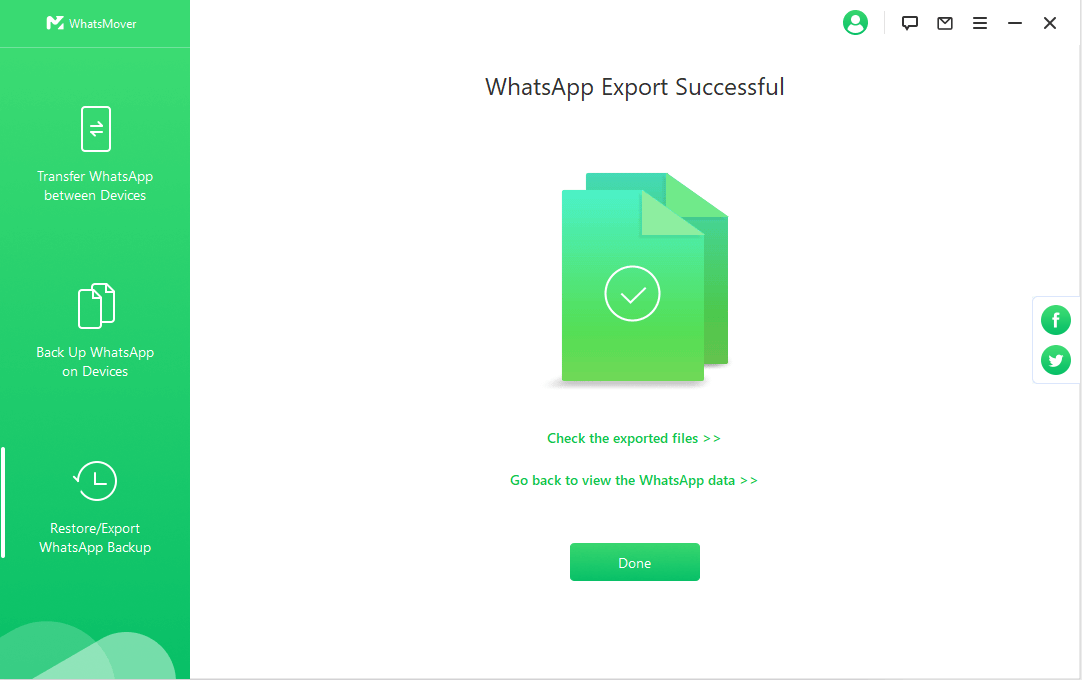 Mode 5. Download & Restore Google Drive Backup
Want to download the WhatsApp data you have backed up to Google Drive? Let WhatsMover help you — It can download Google Drive WhatsApp backup to PC as well as restore or export the backup file.
Step 1:

Download WhatsApp Backups from Google Drive

Once you have opened the WhatsMover application, click the Restore/Export WhatsApp Backup option on the left pane, then choose Import Google Drive Backups on the left bottom corner and log into your Google account.
A list of WhatsApp backups in the Google Drive will be shown. Choose the backup you need and click the Download icon besides it.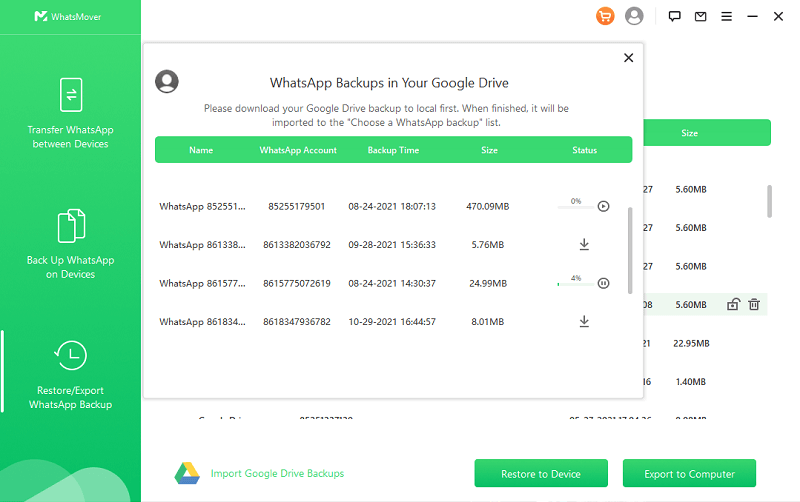 Once the download process is finished, you can now select the backup and choose to restore the backup to your device or export it to your computer.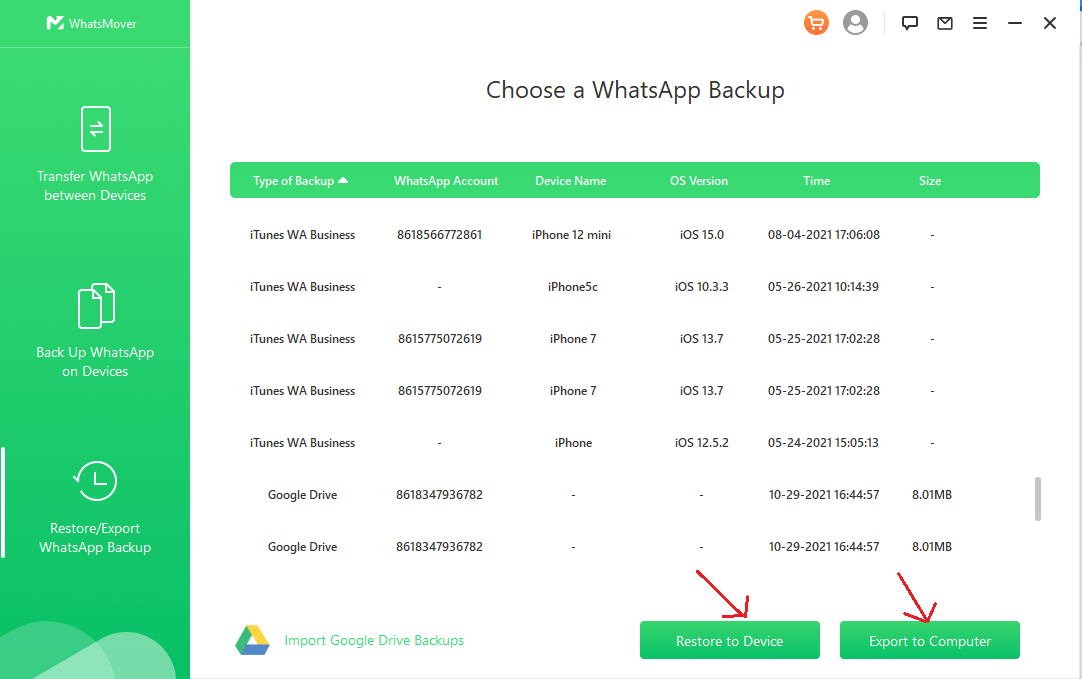 Step 2:

Analyze the Downloaded WhatsApp Backup

It should be noted that the downloaded WhatsApp backup cannot be accessed directly due to Google Drive's encryption mechanism for data safety. Therefore, the backup file should be analyzed first.

According to your needs, click Restore to Device or Export to Computer on the interface. An analysis will begin and go through four stages.

1. Preparation on Computer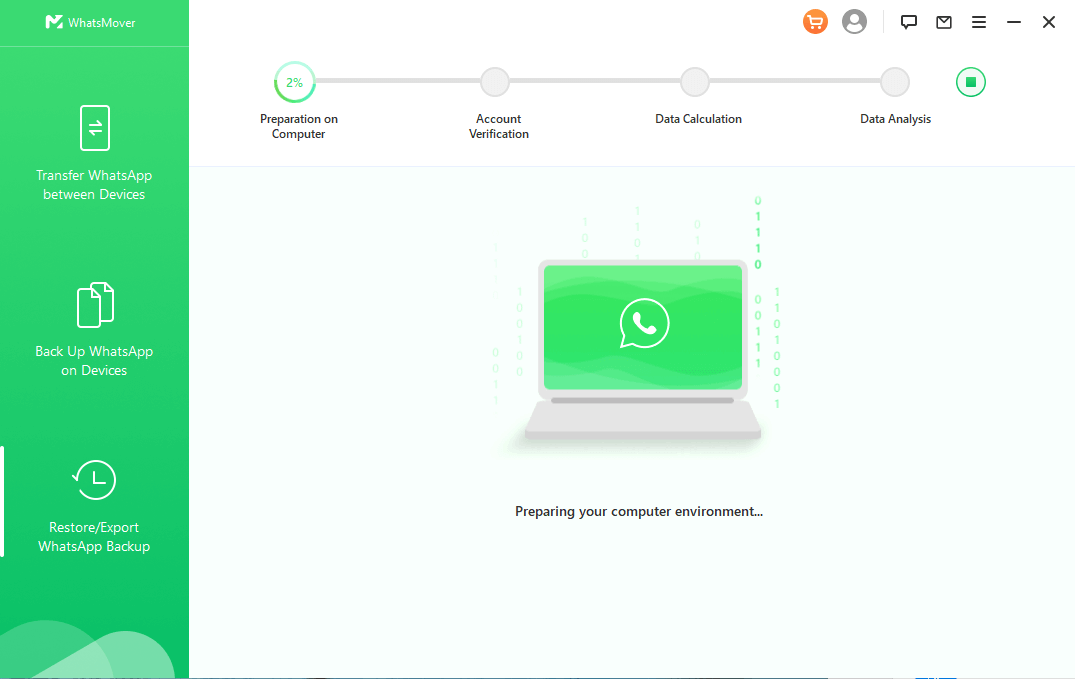 2. Account Vertification
WhatsApp will send you an SMS message to verify your account. Ensure you are using the same phone number that you have used to create the WhatsApp backup and enter the verification code.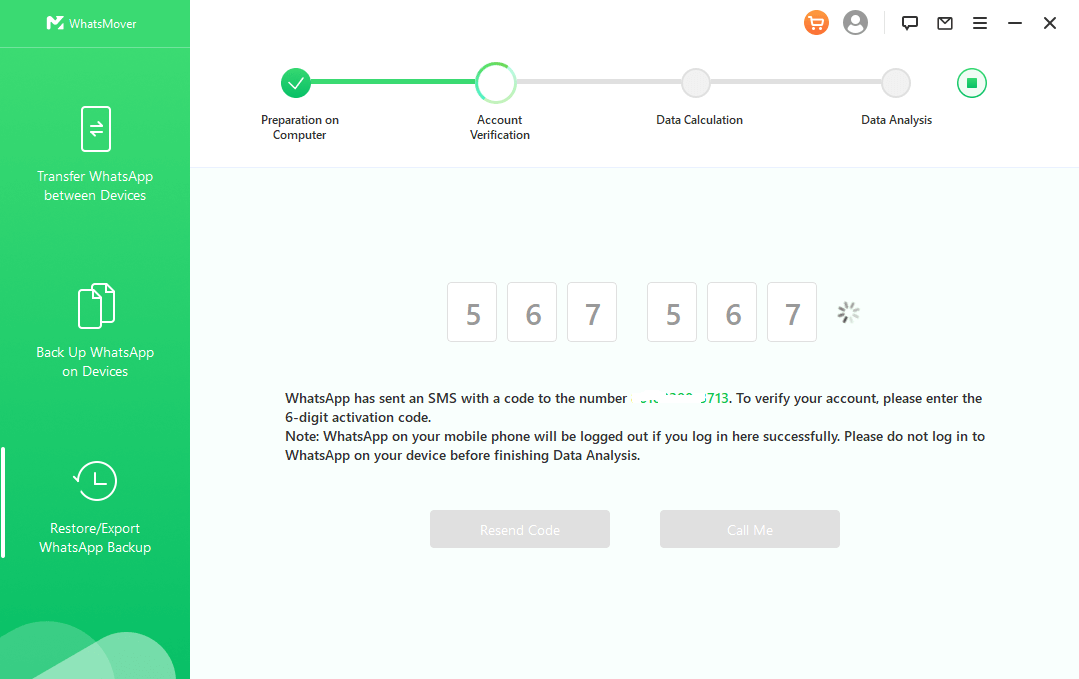 3. Data Calculation
4. Data Analysis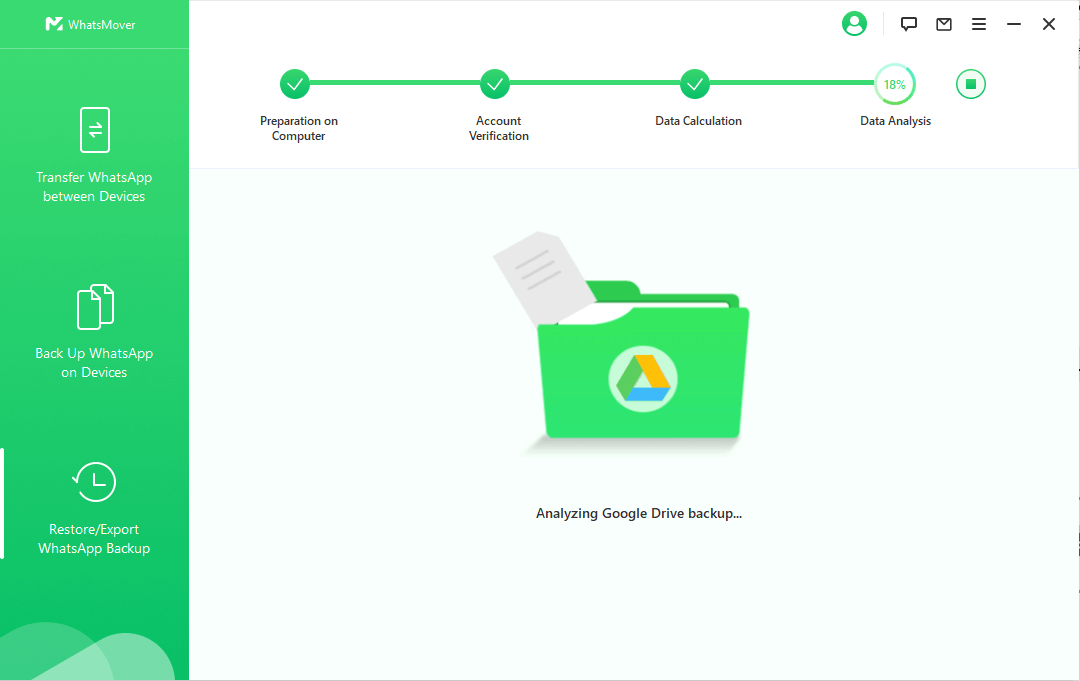 Step 3:

Restore or Export Google Drive Backup

After the data analysis is complete, you can now choose to restore the WhatsApp backup to any phone or export it to computer for futher reading.

To restore WhatsApp backup to your mobile device, please refer to Mode 3.

To export WhatsApp data, please refer to Mode 4 for detailed steps.