User Problem
I bought a second-hand iPhone 14 linked to previous owner's Apple ID but I have no way to contact the previous owner. I try to bypass iCloud lock but the bypass tool requires my iPhone to be jailbroken. Should I jailbreak my iPhone? What happens if I jailbreak iCloud locked iPhone? How to jailbreak locked iPhone?
If you are also facing some issues on iPhone jailbreak, you are at the right place! This complete guide will answer all your questions about jailbreak locked iPhone! What's more, it will also show you the top 2 best ways on how to jailbreak a locked iPhone! Let's get started!
Part 1: What is iPhone Jailbreak?
Before we get into it, let us understand what is the iOS jailbreak.
iOS Jailbreaking is the process where you will get privileged access to the root of your iOS file system. By default, Apple enforces limitations on all its devices, limiting the users from installing certain apps that are not available on the App store. It also restricts certain iPhones from receiving some updates.
Jailbreaking iOS device will remove all these restrictions, allowing you to have complete control over your iOS device.
There are 4 different types of iPhone jailbreak:
Untethered jailbreak: This is the most tested form of jailbreak. In this form of jailbreak, the iPhone does not require any computer to load a custom kernel on every bootup.
Tethered jailbreak: In this form of jailbreak, the phone requires a computer during every single boot up. Without this, the phone will not be able to start.
Semi-Tethered jailbreak: This is the kind of jailbreak where a computer is needed to reboot the iPhone with root privileges. However, the device would still be able to restart on its own without any jailbroken privileges.
Semi-Untethered jailbreak: This is the kind of jailbreak wherein the phone does not require the assistance of a computer to boot with root privileges. However, it makes use of software installed on the phone to provide access.
Part 2: Can You Jailbreak iCloud Locked iPhone?
The answer is Yes, of course you can.
The question most people have about iPhone jailbreaking is - what happens if I jailbreak my iPhone? And some people even worry will jailbreaking turn iPhone into a brick?
Actually, when you jailbreak your iPhone, you will get root access to the filesystem of your iPhone. And you will be able to install apps that were previously restricted by Apple.
The only downside to jailbreaking your device is that you will no longer receive any official iOS updates from Apple.
Part 3: How to Jailbreak a Locked iPhone?
Now that you've learned the basics about iPhone jailbreaking, let's see how to jailbreak an iCloud locked iPhone.
Way 1. Jailbreak iCloud Locked iPhone with Checkra1n
One of the easiest ways to jailbreak an iPhone is to make use of jailbreak tools such like Checkra1n, Unc0ver that are designed to do this. Let's use Checkra1n as an example.
Checkra1n team released a jailbreaking tool that is based on the checkm8 boot rom exploit. This tool is capable of jailbreaking devices from the iPhone 5s to iPhone X. Some of the prerequisites that you need to follow before running this tool are:
This tool is only available to Mac and Linux PC.
You must ensure that your device flaunts an A5-A11 chipset and runs on iOS 12.3 or later.
This tool makes use of a semi-tethered jailbreak technique. This means that you will need to use your computer to reboot your phone.
[Video Tutorial] How to Jailbreak Locked iPhone with Checkra1n?
How to Jailbreak iCloud Locked iPhone with Checkra1n?
Step 1: Download Checkra1n jailbreaking tool and install it on your Mac or Linux system. Then connect your iPhone to your PC. Here we will show the jailbreak process using Checkra1n on Mac.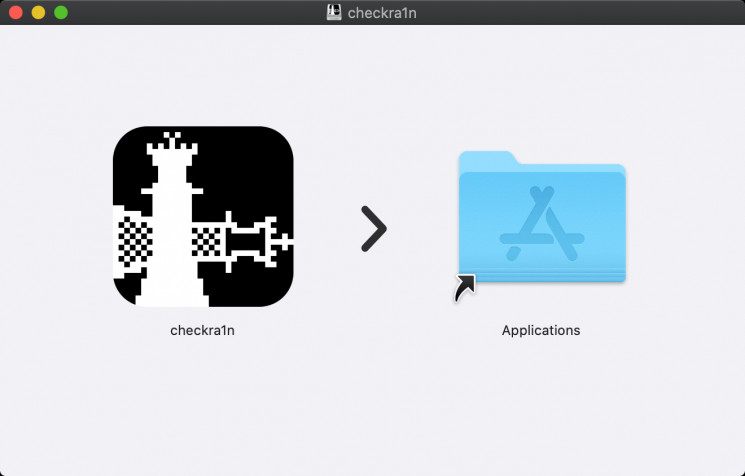 Step 2: Once you run the Checkra1n tool, it will automatically detect your iPhone and put it into recovery mode first.
Step 3: Simply follow the onscreen instructions until the screen asks you to put your phone into DFU mode.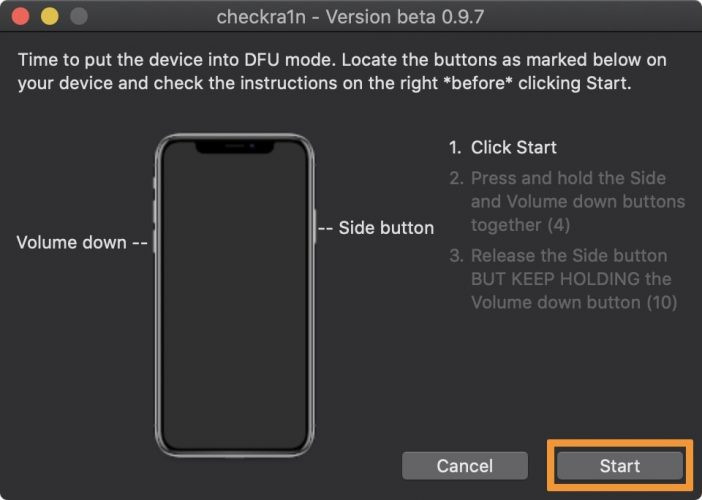 Step 4: Once you put your device in DFU mode, the jailbreaking process will begin automatically. Once complete, your phone will reboot automatically and you will see the Checkra1n loader screen.

Note
Since there is no jailbreak tool for the Windows system, you can create a Linux environment and then jailbreak your iOS device on a Windows computer. Of course if you have a Mac, jailbreaking iOS on Mac is strongly recommended.
Way 2. Bypass iPhone Activation Lock with WooTechy iSalvor
Even though you have successfully jailbroken your iPhone, the iCloud lock adds additional restrictions to your device. Your device still needs to be activated. However, since the device's IMEI number is already connected to the previous iCloud account, you would need to bypass activation lock on your device. To go ahead with bypassing activation lock you need to first have a jailbroken iDevice.
Luckily, iCloud activation lock removal WooTechy iSalvor can do this for you. Before the activation lock bypass process is started, WooTechy iSalvor will check if your device is already jailbroken. If not, this tool will download the respective package needed to jailbreak iPhone. What's more, once jailbreaking, it will also help you to bypass iCloud activation lock on iPhone/iPad without Apple ID and password.
WooTechy iSalvor - Best Tool to Bypass iPhone Activation Lock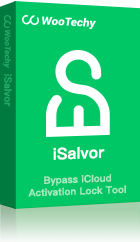 75,000,000+
Downloads
Bypass iOS Lock: Quickly remove iCloud activation lock, screen lock and SIM lock on iPhone/iPad without Apple ID or password

Unrestricted Use of iPhone: Login new Apple ID after automatically jailbreaking locked iPhone/iPad, won't be erased or tracked by previous iCloud account

Easy To Use: Simple steps, no expertise required, friendly to non-technical users

High Success Rate: With advanced iDevice unlocking technology, the success rate is the highest among similar products

Good Compatibility: Works with almost all iOS versions. Supports most iPhone, iPad, iPod Touch devices

After-Sales Guarantee: 30-day money back policy with instant refund if unsuccessful
How to Bypass iPhone Activation Lock?
Step 1: Download and install WooTechy iSalvor on your PC. Choose Bypass iCloud Activation Lock Screen option and click on Start. Then connect your iPhone to the PC with a USB cable.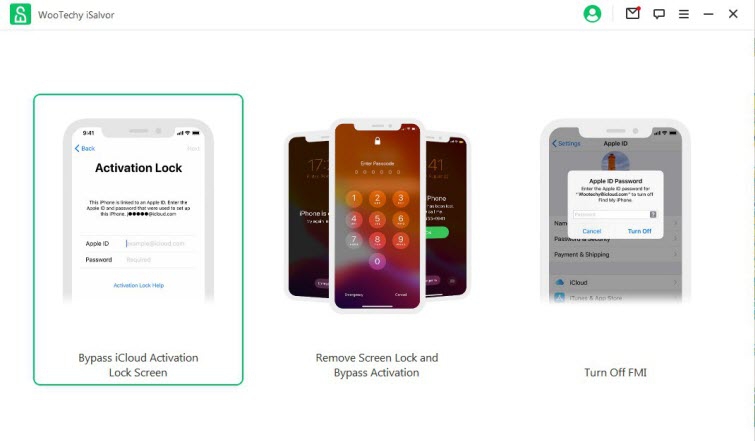 Step 2: If you are using Mac , the software will help jailbreak your device automatically. If you are using Windows, refer to the jailbreak tutorial and follow the instructions.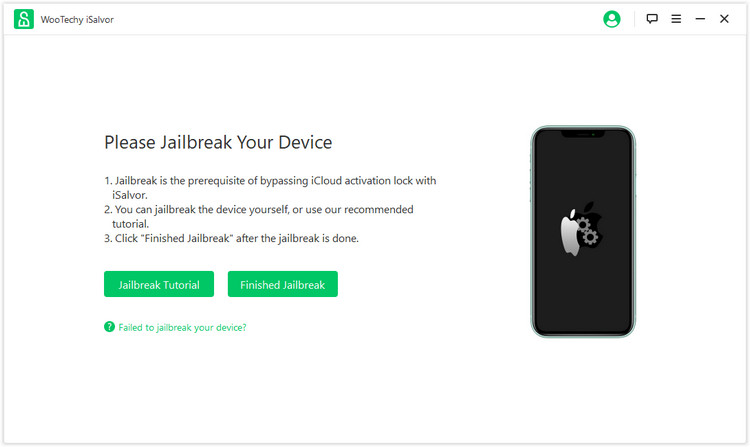 Step 3: Confirm device information and click Start Bypass to start bypassing the activation lock.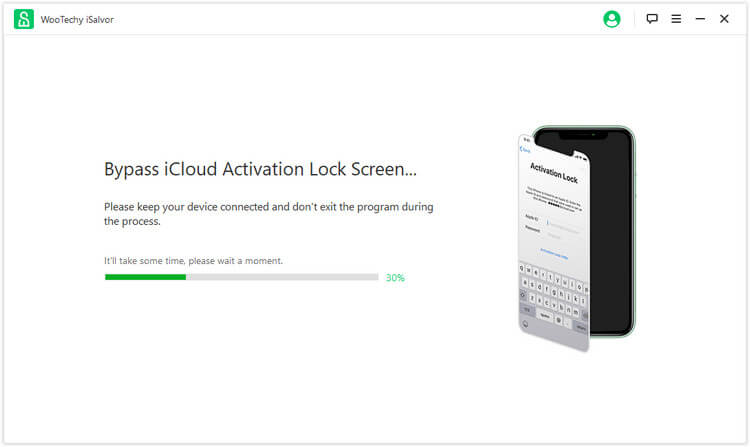 Step 4: Once the process is completed, click Done. You can link a new Apple ID to your device now!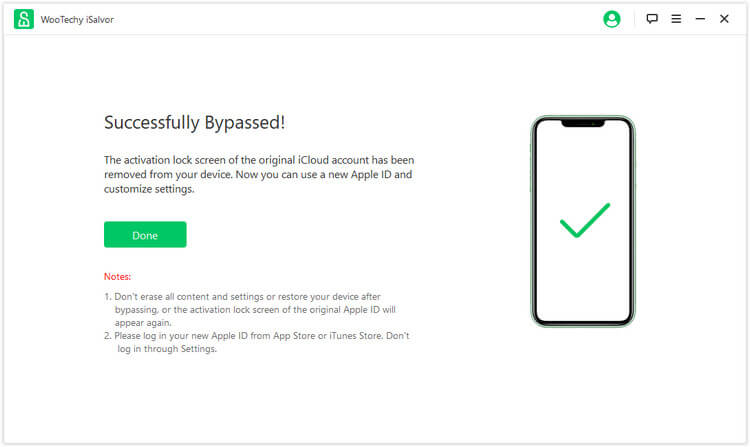 [Video Tutorial] How to Jailbreak and Bypass iPhone Activation Lock?
Part 4: FAQs about Jailbreak Locked iPhone
Q1. Is it legal to jailbreak iPhone or jailbreak iPad?
Even though Apple frowns upon iOS jailbreaks, it is still entirely legal for you to do it.
However, using a jailbroken iPhone/iPad to download a pirated torrent file is not legal.
Q2. Is iPhone jailbreak the same as iPhone unlock?
No, iPhone jailbreaking and iPhone unlocking are not the same.
Jailbreaking iPhone allows you to install and use apps that are not present in the App Store.
Unlocking iPhone usually refers to the following occasions:
iCloud unlock: remove or bypass the step that requires previously used Apple ID and password.
Screen unlock: remove the screen passcode (Face ID, Touch ID, password) to enter a locked iPhone.
SIM unlock: allow you to use your device with other mobile carriers.
Q3. What is Cydia?
To make it easy to understand, you can regard Cydia as the App Store for jailbroken iPhone/iPad/iPod touch. So far the most commonly installed application for jailbroken devices.
With the largest number of jailbreakers gathering on Cydia, it is the most recommended place to download apps and modifications. The infographic below illustrates Cydia in detail.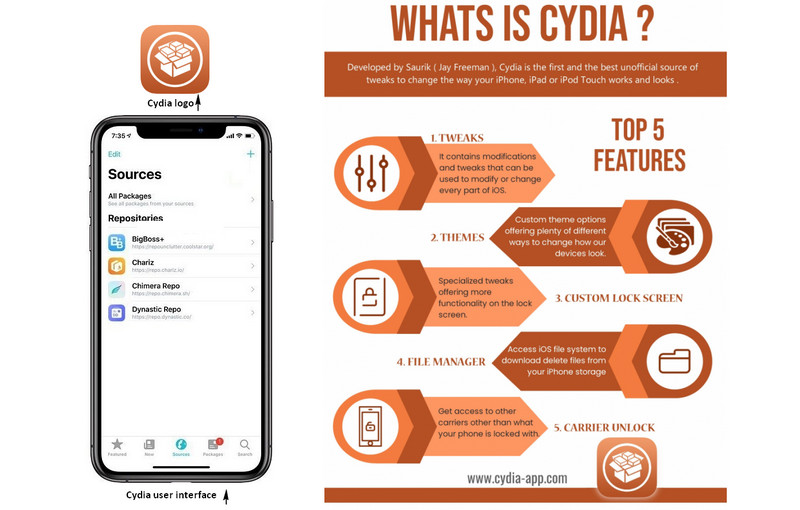 Conclusion
Jailbreaking iPhone in the right way enables you to access and use it more fully, which is why more and more people prefer to jailbreak iPhone. It's worth mentioning again that as a popular activation lock bypass tool, WooTechy iSalvor can help you quickly jailbreak iCloud locked iPhone and bypass iCloud activation lock in a few simple steps. Whether you want to jailbreak locked iPhone or jailbreak locked iPad, this tool can do it easily! Try it now!