User Problem
Last weekend, I bought a used iPhone X Max from BestBuy online store for $440 with the mindset that the device is fully unlocked. When it was delivered to me, I noticed that the device is requesting the previous owner's Apple ID password. I wouldn't want to return the device because I got it at a cheap price and it's in great condition.
Please, I would appreciate any advice, help, or tips on how to bypass the Apple Activation Lock screen.
In this article, we'll explain what Apple Activation Lock means, how it works, the possibilities of bypassing Apple Activation Lock, and answers to possible questions you may have on Activation Lock. In the end, you will find all you need to deactivate, turn off or bypass it freely.
What Is Apple Activation Lock and How Does It Work?
Activation Lock is a feature of Find My [Device] – an iCloud based service that's designed to prevent anyone else from accessing or using your Apple device (iPhone, iPad, iPod touch) if you misplace the device or it got stolen from you. Apple Activation Lock turns on automatically once you turn on Find My [Device] and it keeps working to keep your device secure.
Therefore, if you think that your device is in the wrong hands, there is every tendency that Apple Activation Lock will help you to recover it.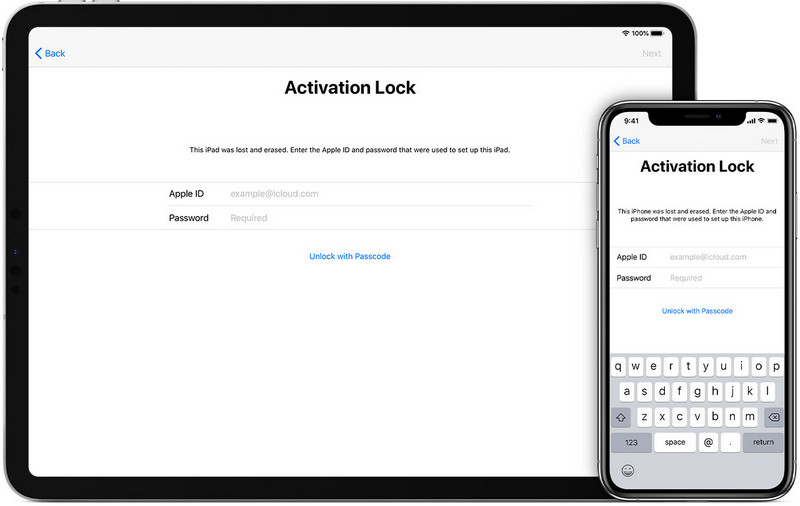 How Does Apple Activation Lock Work?
Apple Activation Lock makes it hard for anyone who finds or steals your device to use it, and you can use Lost Mode to display on the screen that the phone still belongs to you and can't be reactivated without your password. However, without activating Find My app on the device, you won't be able to use this service.
Here is how Activation Lock works:
1. Launch your Find My [Device] app.

2. Click the "Device" tab and choose your device from the list.

3. Click the "Activation" tab under "Mark As Lost" and follow the steps.
Now, I would like to believe that we all have a clear view of the relations between iCloud Activation Lock and Find My [Device]. iCloud activation lock is a feature of Find My [Device] and only works if the latter is activated.
When Will the Apple Activation Lock Screen Appear?
Numerous occasions result in Activations Lock screen appearing on your iOS device, and for some, you may not know the reason why. Here, we define possible reasons why you're seeing an Activation Lock screen on your device.
You may have purchased a second hand (used) iPhone, do a system reset on the device but don't know the Activation Lock password.

When you can't remember the iCloud username and password needed to unlock the device.

You forgot to deactivate "Find My" before resetting your iPhone whence the password is required after restoring.

When Apple ID is hacked by malware or someone activated Lost Mode on the device.

If your device is in any of the situations above, you'll need to find out the correct Apple ID and password used before or bypass the activation lock screen with a professional tool.
How to Turn Off Apple Activation Lock?
Would you like to learn how to turn off the Apple Activation Lock so that you can easily set up your device? If your answer is "yes" then the following tips will help you turn off Activation Lock .
1. Turn off Activation Lock on the iOS Device
You already know that Activation Lock is integrated with Find My iPhone on every iOS device, and this makes it easy to turn off Find My [Device] on your phone.
Step 1. Launch your Settings app.
Step 2. Click your [Name] > iCloud and keep scrolling.
Step 3. Select "Find My iPhone" and turn off the switch.
Step 4. Enter your Apple ID password.
Step 5. Click the "Turn Off" tab to complete the process.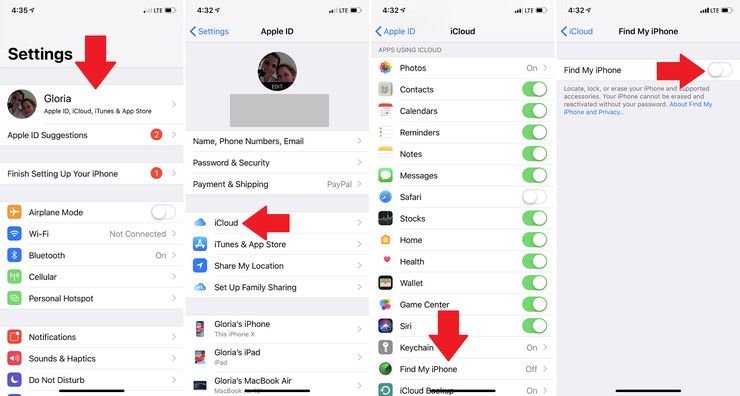 2. Turn off Activation Lock through iCloud
If you can get a message across to the previous owner of your device, then tell him/her to follow the steps below to deactivate the Activation Lock from the device via his iCloud account.
Step 1. Go to iCloud homepage with your Apple ID.
Step 2. Select Find My iPhone.
Step 3. Click "All Devices" and select your device.
Step 4. Click "Erase [device]' and follow the prompts until your device is erased.
Step 5. Click "Remove from Account".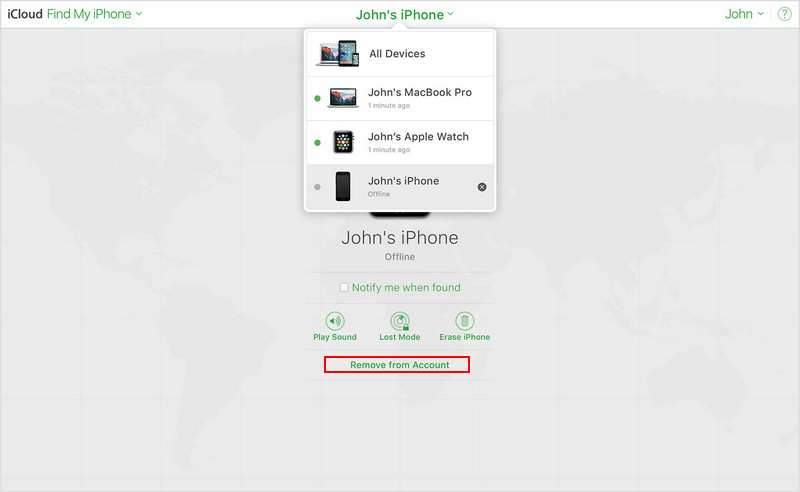 Once the above steps are complete, you can now restart your device and start the setup process.
An Effective Way to Bypass Apple Activaiton Lock
Activation Lock can't be removed from your iPhone or via iCloud until you provide the correct Apple ID password. However, this shouldn't discourage you to do it because there is a third-party software that can help you bypass the Activation lock easily.
WooTechy iSalvor is a hassle-free, powerful, and effective Apple Activation Lock bypass tool for iPhone, iPad, and iPod touch. What makes it outstanding is that this software can help you bypass Activation Lock in a few steps without any technical knowledge required.
Bypass Apple Activation Lock with iSalvor:
Efficiently bypasses Apple activation lock in few simple steps.

Create or use any existing Apple ID on the bypassed device.

The previous owner can't trace or track your device using his/her iCloud account.

Your device won't be erased or blocked using the previous iCloud account.

Support iPhone 5S to iPhone X running iOS 12.0 to iOS 14.8.
Watch a Video Turtoial to learn how to bypass iCloud locked iPhone/iPad easily if you have a Mac.
Here, you will find the simple steps to bypass Apple Activation Lock on iPhone, iPad, or iPod touch.
Step 1. Download, install, and run iSalvor on your computer. Once the software is open, click the "Start" button.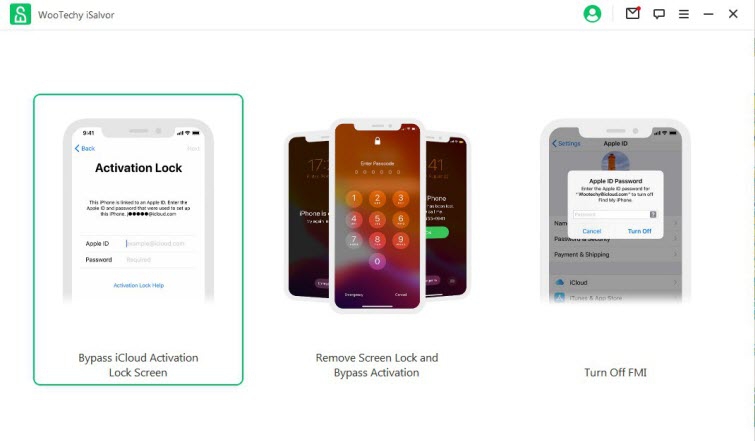 Step 2. Connect your iOS device to your computer with a USB cable. Then you'll need to jailbreak your iOS device before you continue with the bypass process. Click the link for an iOS jailbreak tutorial on Windows computer.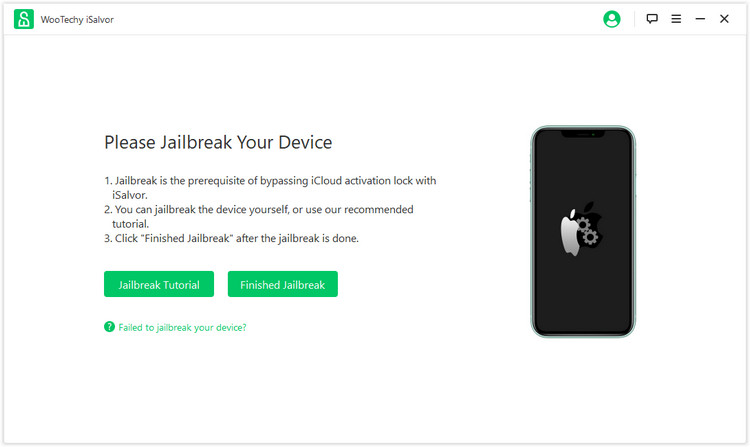 Step 3. Now bypass Activation Lock screen by checking your device model, iOS version, IMEI, serial number, and UDID before starting the process.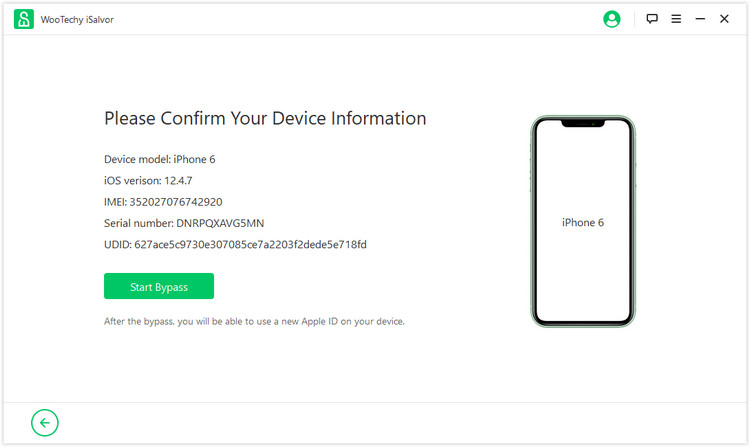 Once you click the "Start Bypass" button, iSalvor will start bypassing the Apple activation lock on your device.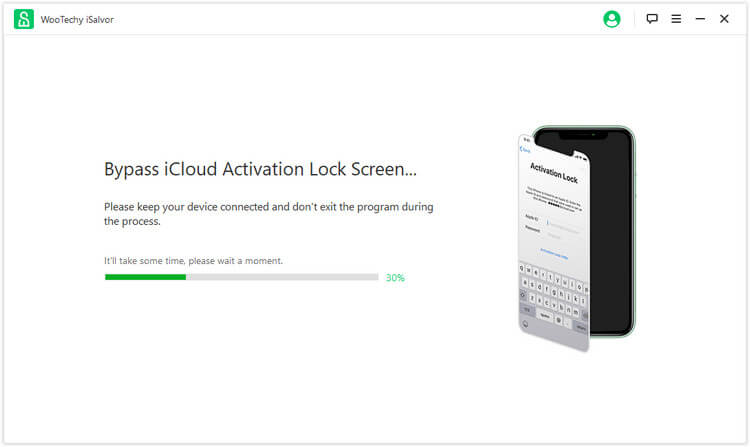 Step 4. Once done, "Successfully Bypassed" will appear on your screen. Click "Done" to leave the page. Now you can enter the device without any passcodes and sign in with a new Apple ID.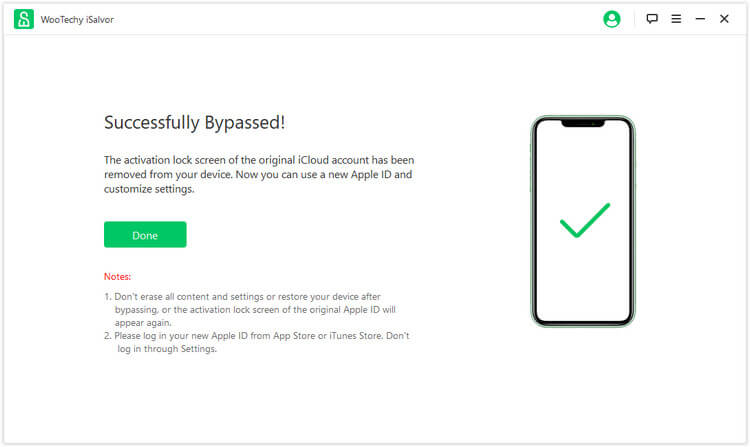 Apple Activation Lock Help: Answer You Want to Know!
In this section of the article, you'll find helpful tips, tricks, and answers on how to Activation lock.
Q1: What Indications Show That Activation Lock Is On?
If "Find My" is enabled in the iOS 13 device, then Activation Lock is automatically enabled. To find out, go to "Settings > [Name] > Find My > Find My [Device]". If the switch is showing green, then the activation lock is enabled.
For an iOS device that has set off the iCloud activation lock, when connected to iTunes, you'll see the following: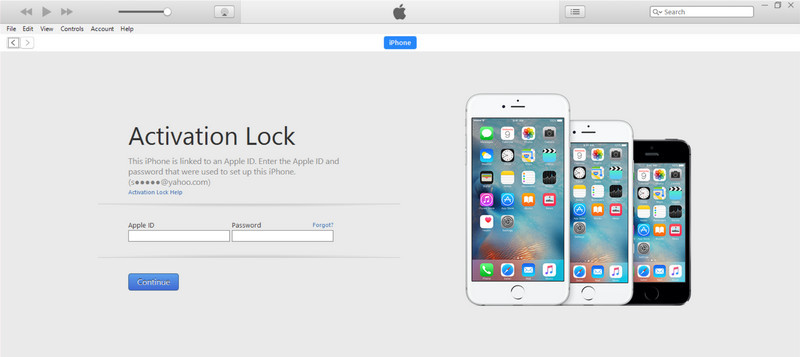 Q2: How Do I Regain My Apple ID for Activation Lock?
If you forgot your Apple ID, go to this site to recover your Apple ID. For the security, you will be required to answer a few questions to verify that that you are the owner of the account.
Q3: Is Apple ID Lock the Same as Activation Lock?
That depends on the real situation and information that your iOS device displays.
If you or someone else enters your password, security questions, or other account information incorrectly too many times, your Apple ID automatically locks to protect your security and you can't sign in to any Apple services.
If your Apple ID is locked for security reasons, you might see one of these alerts:
"This Apple ID has been disabled for security reasons"

"You can't sign in because your account was disabled for security reasons"

"This Apple ID has been locked for security reasons"

Conclusion
This page offers comprehensive knowledge about Apple Activation Lock. If you are stuck at iCloud Activation Lock, you are recommended to use the WooTechy iSalvor to bypass the Apple Activation Lock. Let's download it and give it a try!