When you need to remove the Activation Lock on your Apple devices, there seems to be a lot of services, tools and software that you can choose from. However, not all of them work as expected. Some of them are scams/unreliable, and you won't get the desired results. So before you start using an activation lock removal service, it's best that you do some research on it and prevent yourself from getting scammed.
Today, we will have a look at one of the quite popular activation lock removal services DoctorUnlock. See what it is, how it works, and most importantly, does it really remove activation lock.
Full Review of DoctorUnlock
What Is DoctorUnlock?
DoctorUnlock is an IMEI based unlock service with many names. Formerly called iphoneimei.net, and now the service seems also goes by the name IMEIDoctor.net. If you see one of these names, you should know that they are actually the same one service.
The service provider claims to bypass the iCloud activation lock. It is for all devices, including iPhone, iPad, iPod, and Apple Watch. They claim to remove the iCloud activation lock permanently, and you don't need to do anything.

The service is provided for a wide range of devices. It is claimed to support iPhone 11 to iPhone 4. Once the lock is removed, you will be able to use your device, and you can associate the device with your own iCloud account.
How Does DoctorUnlock (IMEIDoctor/iPhoneIMEI) Work?
According to the service provider, it's very easy to use the service. You need to provide only the IMEI number of your device, nothing more. You can visit the website and provide the IMEI number and iPhone/iPad model. After providing the information, you can click on "Unlock Now" to bypass the activation lock.

Then, you will have to complete the Payment. You will get a confirmation email after payment. After that, you will have to wait. DoctorUnlock will send you a confirmation email about the unlock, if it's successful, you can start your phone.
Is DoctorUnlock Reliable?
It's a frequently asked question regarding DoctorUnlock. Although it seems easy to unlock your phone using it, and many people are attracted due to the claims made by the service provider, according to actual user reviews, it is not quite Reliable. You will not likely to get the desired results, and there are many problems associated with the service; let's see each of them.
Success Rate. There is a really rare chance that you can bypass the activation lock only with the IMEI number since the activation lock is attached to your hardware, not a number or an ID.
Unlock Efficiency. The provider says that it will take a few days, but according to many reviewers, it takes even months without any results.
Upfront Payment. Once you pay, you can only wait. Moreover, the company charges you more if the unlock is successful. Otherwise, you are throwing your money in the trash.
Customer Review. DoctorUnlock is in many review sites, and for many reasons each one of them has a poor rating for the service. Though there are many good reviews on the Internet. Many websites claim that DoctorUnlock is paying out fake users to post a good review. So be careful with the reviews. In fact, the DoctorUnlock, including IMEIDoctor and iPhoneIMEI is not legit.

An Alternative to DoctorUnlock - Activation Lock Bypass Software
If you are not sure about the service and looking for a reliable activation lock bypassing solution, it's more recommended that you go with a legitimate activation lock bypassing program like WooTechy iSalvor, and do it yourself.
iSalvor is a desktop application to bypass the iCloud activation lock. It's quick and simple. The best thing about it is that you can check the compatibility of your device with the tool using the free trial version. If you are looking for a reliable tool/software, then iSlavor is the best option to go with.Within several simple steps, you can unlock your device without any hassles.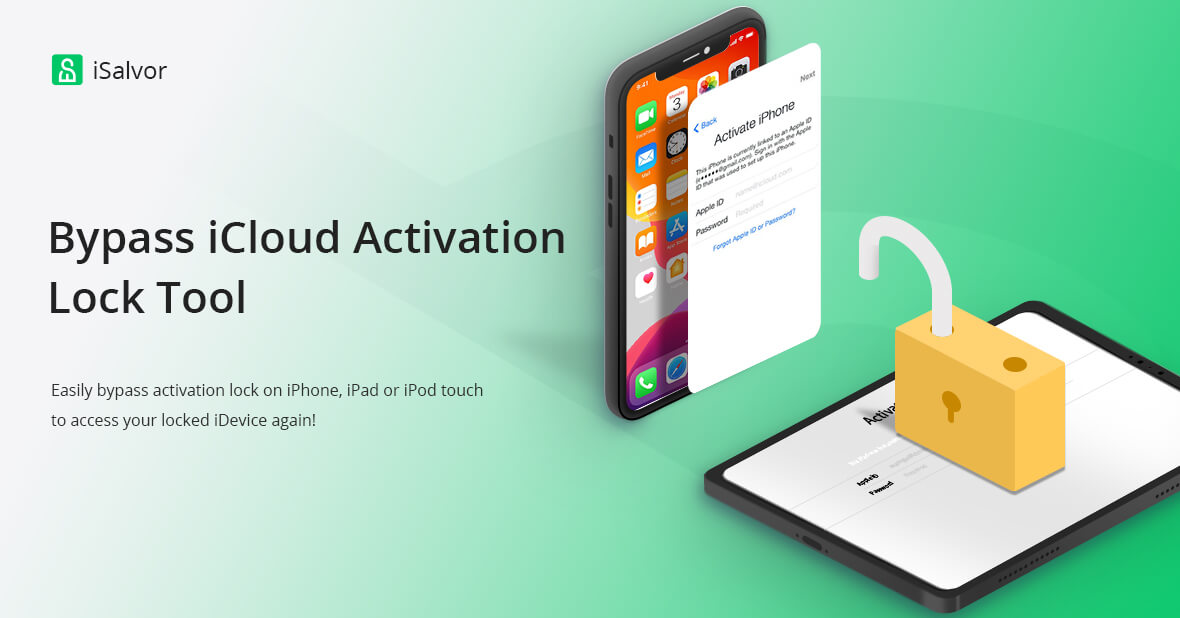 Here are the steps to bypass activation lock with iSalvor:
Step 1: Download WooTechy iSalvor and install it on your computer.
Step 2: After lauching the program, click "Start", and then connect your device with activation lock to your computer.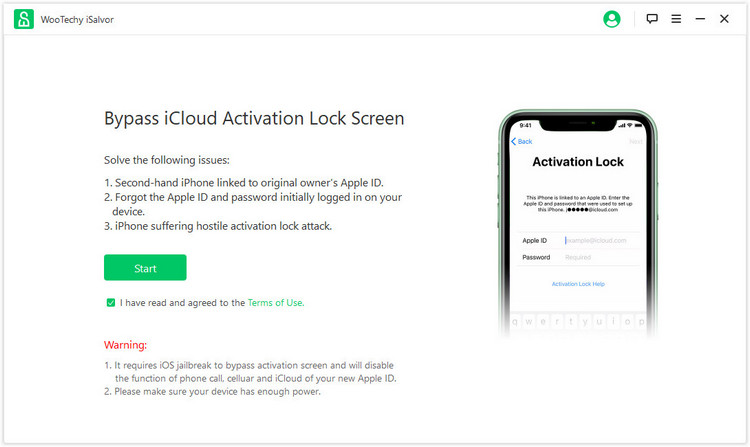 Step 3: Then you need to jailbreak your device. And iSalvor will guide you through the entire process. Once it's completed, verify your device information and click "Start Bypass". Here is the Jailbreak Tutorial if you are using a Window.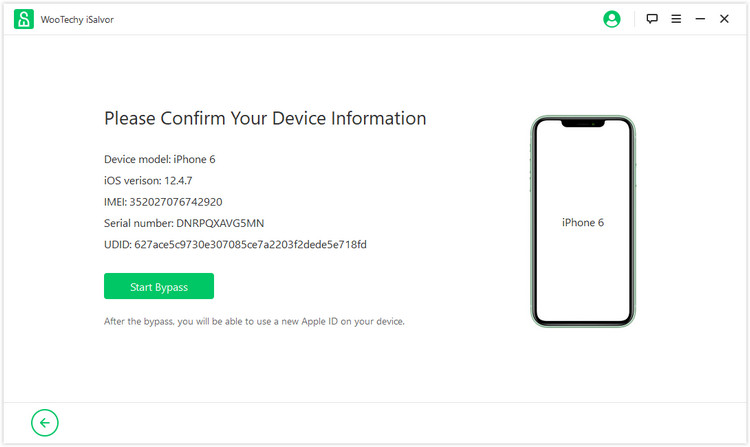 Step 4: After a few minutes, you will have the activation lock removed and regain access to your device.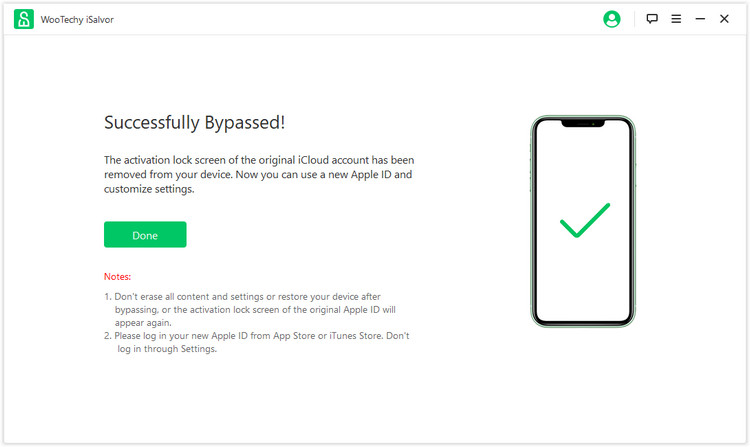 Now Check the Video to Bypass Activation Lock on Mac Quickly
Must-Know Tips About Activation Lock
So today we had a general review on the activation lock bypassing service DoctorUnlock, and we have also provided an alternative approach to bypass activation lock. Before we wrap up, here are still a few tips about activation lock that we want to remind you so you don't be bothered by similar problems again in the future.
1

Remember Your Apple ID and Password
Always remember your Apple ID and password. For your ease, you can write it down in a notebook or store it a file in any iCloud storage. Once you forget your ID or password, it's difficult to get it back.
2

Seek for Official Help
If you have forgotten the ID or password, then get the official help first. This is the most reliable method. You can go to Apple's official help page to learn how to deal with accidental activation lock, or go to certified Apple Store if you can prove that the device belongs to you.
3

Ask Previous Owner for Help
When buying a used Apple device, always remind the original owner to log off the Apple ID and turn off the "Find My" feature. This way, you won't see the activation lock when reseting the device.
4

Make Sure the Compatibility
If you decide to bypass activation lock yourself, make sure it's compatible with your device before you buy any tool, software, or service . Otherwise, you will not be able to unlock your phone. iSalvor has a free version that allows you to test the compatibility so you can see if it works for you without any cost.
Closing Thoughts
DoctorUnlock is an Apple device unlocking service that claims to unlock your iCloud activation lock, but it's not recommended due to various reasons mentioned in this article. The best DoctorUnlock alternative would be iSalvor; it's reliable and easy to use. You can unlock your device on your own using iSalvor. What's important, it is compatible with most iOS versions. So, if you are stuck on the iCloud activation lock, you can get rid of it easily, and you have full control over the entire process. So let's give it a try!