If your iDevice ever goes missing, you can locate it using the Find My feature. It supports Apple Watch, MacBooks, Airpods, iPad, iPhone, and iPod Touch.
Users can also erase the device remotely or display a custom message on the lock screen. But if you no longer need it, here's how to turn off Find My iPhone on iPhone 6/7/8/X/11/12/13.
How to Turn Off Find My iPhone on iPhone 6/7/8/X/11/12/13
Are you looking for a way to turn off Find My iPhone? See some situations where users may want to turn off this feature. Discover why you need a password and steps to disable FMI with it. Also, find out what will happen after turning it off.
Cases That Users Want to Turn Off Find My iPhone
There are several situations where you may need to turn off this feature:
Gifting - When giving away your phone to someone close, you need to unlink it from your iCloud account.

Selling - Many second-hand buyers have found themselves with a locked phone because the previous owner did not disable the security feature.

Recycling - When recycling through an official Apple reselling partner, you are required to erase and unlink your device.

Upgrading or Trading in - It happens when you return your current iPhone to Apple for an upgrade to the latest model.



Steps to Disable FMI on iPhone XR/XS/11/11 Pro/12/13 with Password and Apple ID
Do you have the original credentials used to set up the iCloud account on the current phone? Then it's quite easy to turn off FM. Just follow the steps.
Step 1. Access the Settings > [Your Name] > Find My Settings.
Step 2. Turn off Find My iPhone.
Step 3. Provide the required credentials (Apple ID + Password). And press Turn Off.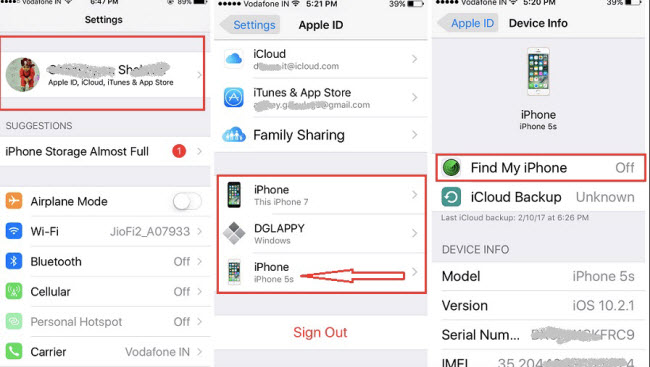 You can also turn off Find My remotely by logging into your iCloud account on iCloud.com. Check more informations about how to use iCloud to remove Find My iPhone activation lock.
What Will Happen If You Turn Off FMI
Effectively turning off FMI means that you can't use this feature to locate a lost or stolen device. The location of the device will not be displayed on a map as usual.
If you misplace the device around your home, you can't play a sound to notify you as to its whereabouts. If it falls into the hands of someone else, they can continue using it after erasing your settings.
Making Sure the Activation Lock Is Turned Off When Buying A Second-hand iPhone
Are you considering purchasing a second-hand iPhone? It's essential to find out if the phone's activation lock is turned off. Otherwise, you might end up with a useless device.
When purchasing an iPod Touch, iPad, or iPhone, just turn it on and check if the following screens appear:
Activation Lock Screen: The screen will display a message telling you that the iPhone is already linked to an Apple ID and that you must enter the credentials used to set up the phone.

Enter Passcode Screen: It may mean that the device is not erased.

Lock Screen with A Custom Message: You may also encounter the Lost iPhone screen that displays a custom message with the contact information of the person who has lost their device.
More Information About Turning Off Find My iPhone
Activation Lock is one of the security features of the Find My app. It prevents anyone from using a locked device without entering the original Apple ID and password.
Once users enter the required credentials, they can access the device features. For Apple Watch, the activation lock prevents anyone from unpairing the watch from the linked iPhone or pairing it to a new phone.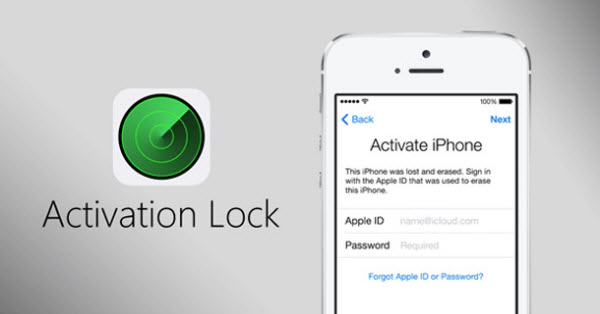 How to Disable Find My iPhone Activation Lock with Password (Remotely)
When the previous owner is close to you, it's much easier to take the device to them and ask them to turn off Find My. It's also important for them to erase all content and settings or back up their information.
But it's not always possible that the previous owner will be with you. That's why Apple allows users to remove the activation lock remotely. Just request them to follow the following steps: (During this procedure, make sure that the iDevice is connected to a Wi-Fi network to interface the settings).
Access your account settings: Go to icloud.com and sign-in with the Apple ID ( email address) and password. Once logged in, select Find My iPhone.
Locate the device: Select All Devices > [Choose the device to be erased].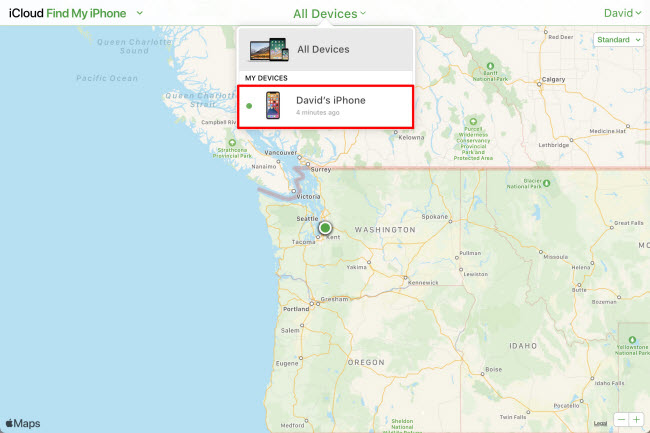 Erase: Erasing or factory resetting the iPhone is important to remove all settings and personal data. Select Erase [Device name]. Click Next and confirm the command.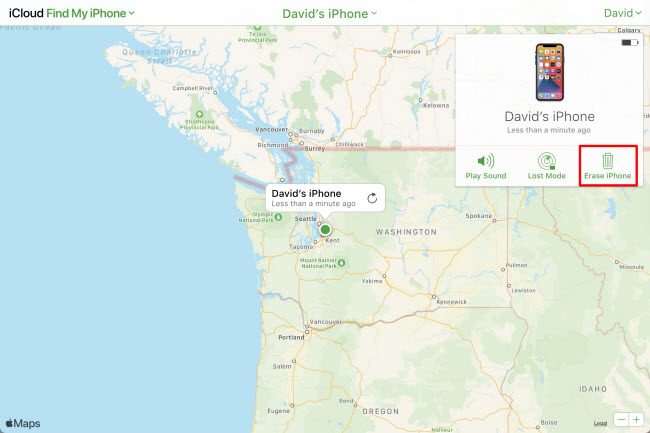 Remove: To remove and disable the activation lock and Find My, select Remove from Account.
After the previous owner has finished these steps, you should turn off the device and turn it on again. Go through the initial setup guide to create a new user account.
How to Remove Find My iPhone without Password
Is there a solution on how to turn off Find My iPhone without a password? Yes, because there are many situations where you can't engage with the previous owner to turn off the activation lock. Now, here are some most credible ways to remove activation lock without a password:
1# Use An iCloud Bypass Tool
WooTechy iSalvor is an easy-to-use iCloud bypass tool that can help you easily turn off Find My iPhone and access your phone's features. The software is brought to you by a team of highly dedicated research engineers and programmers. Anyone without any technical skills can turn off Find My iPhone by clicking a few buttons.
Top Features of WooTechy iSalvor
Instantly turn off Find My iPhone without Apple ID or password.

Support the iOS 12.0 to iOS 14.8.

Use your device as brand new after disabling Find My iPhone.

Prevent tracking or remote erasing from the previous owner.

Bypass Find My iPhone activation lock with no password.
How to use WooTechy iSalvor to turn off Find My iPhone - no password needed
Step 1. Install and launch iSalvor on your computer. Select the mode of Turn Off FMI.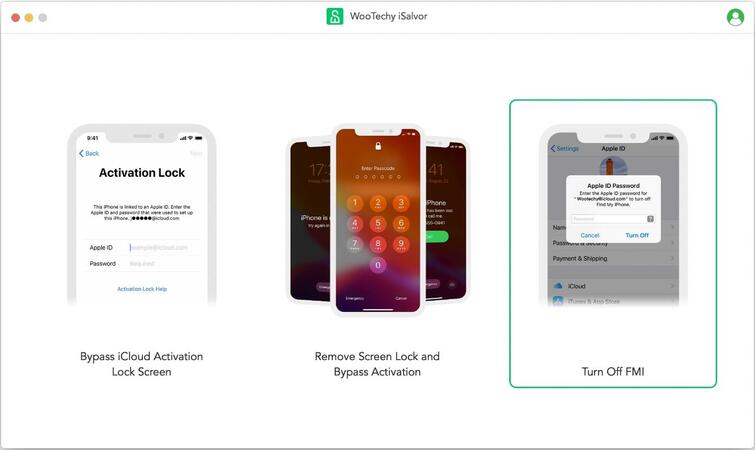 Step 2. Connect your iOS device to your computer with a USB cable.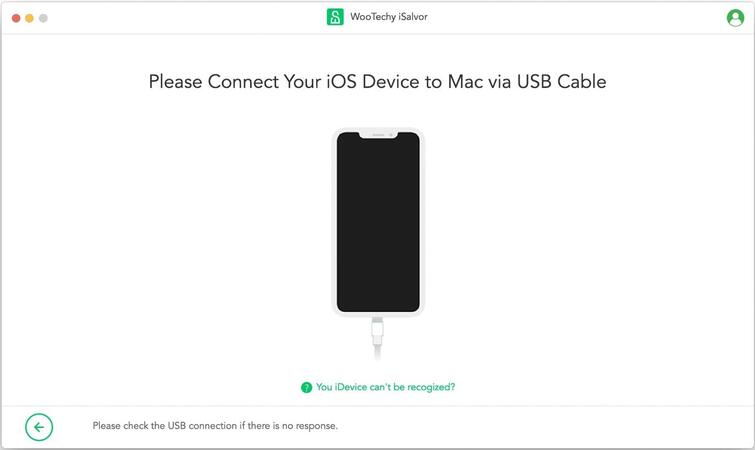 Step 3. Next, click jailbreak Tutorial start to jailbreak your iOS device. If your iPhone is 6-X, follow the instrcutions onscreen. If your iPhone is XR-11 Pro Max, check the jailbreak tutorial for more information.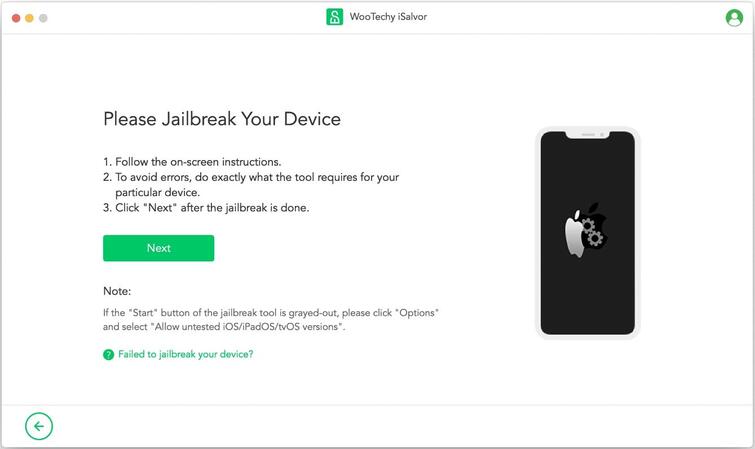 Step 4. iSalvor will start to turn off Find My iPhone on your iPhone after jailbreaking. Then tap Confirm after vertifying the FMI status.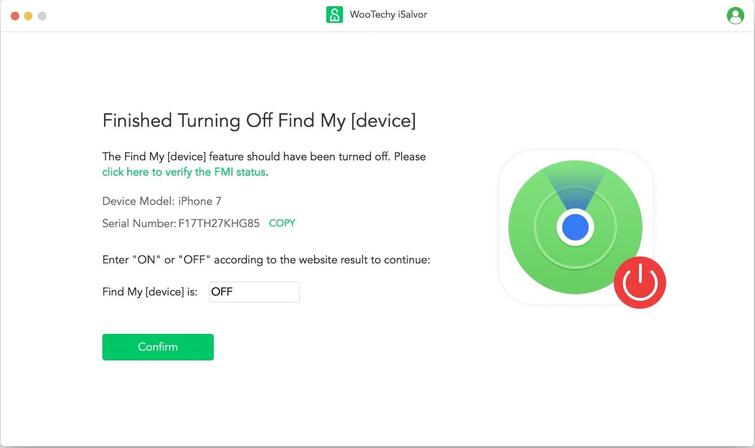 Wait seconds, the previous Apple ID will be removed completely. After that, you can reset your iPhone to get a brand new device. You don't have to worry about turning off Find My iPhone.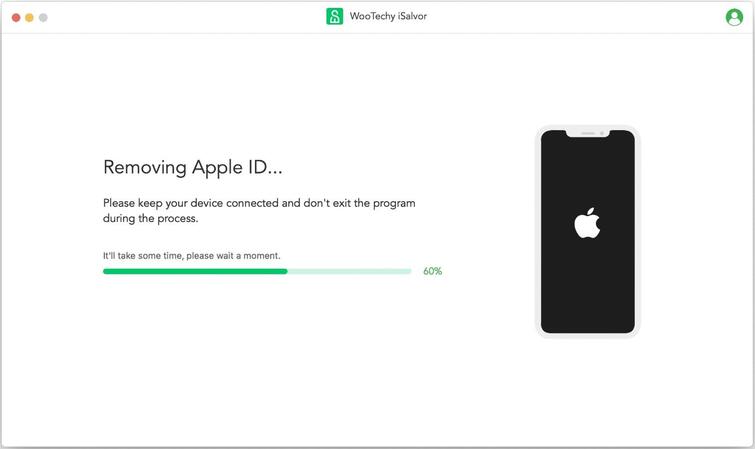 Watch the video tutorial to turn off Find My iPhone in seconds.
2# IMEIdoctor and Other IMEI-based Unlocking Services
IMEIdoctor.com Is an online service that provides IMEI checking and unlocking. The service works by whitelisting your IMEI, and they claim to support all iPhone models. They also assure customers that their activation lock is completely legal and gives users access to all features.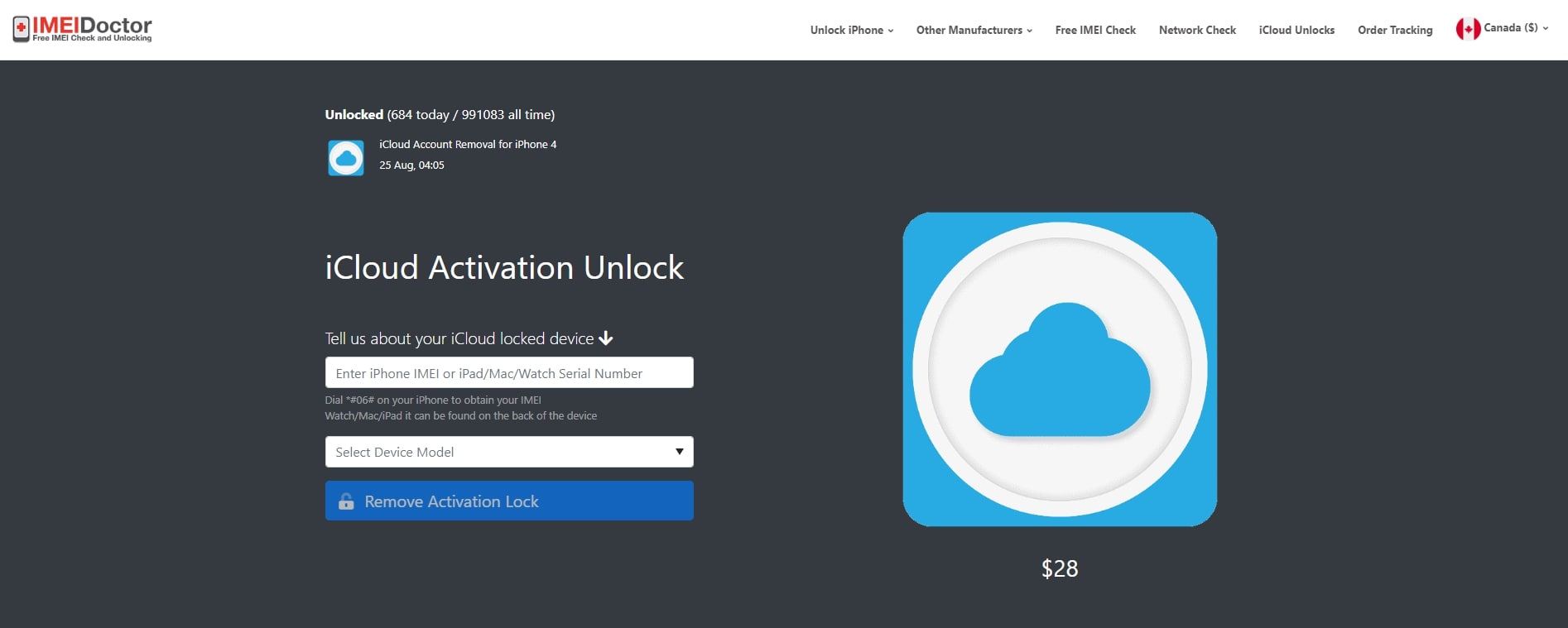 Something to note about IMEI unlock services
Unfortunately, most IMEI unlock services have received negative reviews in the past.

Users are required to pay for services before they are rendered.

There is no downloadable software. You just have to trust that the team will perform the unlock for you.

Customers are required to wait for at least 24 hours, and sometimes for 72 hours to confirm that the unlock was successful.

There is no official way to remove the activation lock but through Apple Support.
3# Contact Apple Support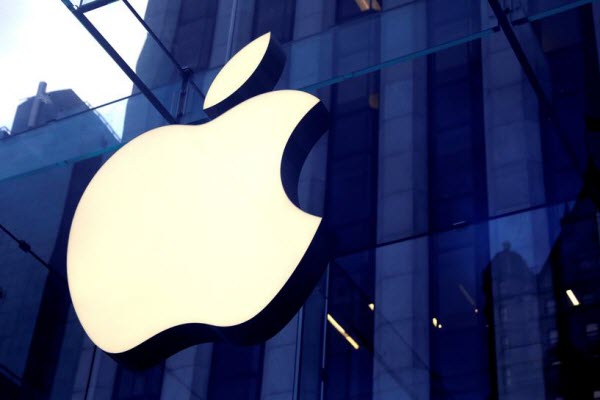 It's also possible to have Apple unlock the device if you can't remember the Apple ID and password used to set it up. You will need to visit an Apple Store, preferably the place you bought the device.
They will need you to supply sufficient proof, such as a past invoice to confirm your purchase. Ultimately, the manager will have the final say on whether to remove the activation lock for you.
Frequently Asked Questions about Turning Off Find My iPhone
1. Does turning off "Find My iPhone" turn off activation lock?
Yes. To turn off Find My iPhone, you will need to unpair the device from your iCloud account.
2. Does Find My iPhone turn off when factory reset?
The Find My iPhone feature will not turn off if you factory reset the phone.
3. How do I turn off Find My iPhone activation lock without the previous owner?
You will need to use a credible and effective tool. We don't recommend using IMEI services. Instead, try using a tool such as WooTechy iSalvor.
4. How do I stop my kids from turning off Find My iPhone?
There are parent control features on your child's iPhone or iPad. But you don't need to engage them when stopping kids from turning off Find My iPhone.
Just ensure that they don't have access to your Apple ID and password. Also, enable two-factor authentication so that the device asks for a passcode when they want to change the password. You can also use another app, such as Find My Friends, to keep tabs on them.
Conclusion
You now have the requisite knowledge on how to turn off Find My iPhone. In case you are stuck with a device that still has the activation lock in place, you can benefit from the powerful capabilities of WooTechy iSalvor .
It's easy to use, affordable, and you are assured of receiving your money back in case the software fails to work. Just download and give it a try!