In 2013, Apple introduced a new feature aimed at reducing the number of smartphone thefts per year. The iCloud activation lock would permit someone to lock any device tied with their iCloud account remotely. So, if a thief took your phone, you could lock it down and prevent anyone from using it, and avoid anyone from accessing your data.
In theory, this sounds great, except that there are legitimate reasons why you'd want to remove the iCloud activation lock without the password. Imagine you buy a used iPhone off eBay, and it comes locked so you can't use it. Or what if someone hacks your iCloud account and remotely locks your device?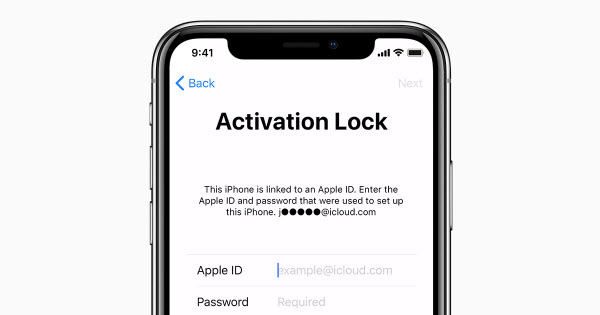 There are lots of reasons why you may want to remove iCloud activation lock without password. Fortunately, there are tools and methods out there that will get you back into your iPhone or iPad!
Use Tools to Remove iCloud Activation Lock without Password
There are three tools, in particular, that you can use to remove the iCloud activation lock without a password. This post will take a look at WooTechy iSalvor, DoulCi Activator, and the iCloud Bypass Activation Tool. While each application has its pros and cons, most people will have the best luck with WooTechy's solution. Let's see why!
| | | | |
| --- | --- | --- | --- |
| Features | Wootechy iSalvor | DoulCi Activator | iCloud Activation Bypass Tool |
| Ease of Use | Very easy & straightforward | Difficult | Challenging and may not even work |
| Compatibility | iOS 12 and later on iPhone 5S to iPhone X | Most devices and iOS verions | Most devices and iOS versions |
| Platforms | Windows and Mac | Windows and Mac | Windows |
| Time | 10 Minutes (on Mac) | Over 45 Minutes | Over 1 Hour |
1

WooTechy iSalvor
The best solution for removing the iCloud activation lock without a password is to use WooTechy iSalvor. This program can bypass the lock and get you back into your device with minimal effort. It's also available for both Mac and Windows computers, so WooTechy has a solution for you no matter what you have.
Bypass activation lock with WooTechy iSalvor like a breeze
Support multiple devices and iOS versions including the iOS12 and later.

Fast to remove activation lock in a matter of minutes, not hours.

Have an intuitive, accessible interface that makes anyone simple to follow.

High success rate (over 98%) to bypass activation lock.

offer a trial version to test your device supported or not.
How easy is WooTechy iSalvor to use? It's incredibly straightforward and intuitive, as you can see by the steps below.
Step 1. Download, install, and run WooTechy iSalvor. When you see the initial screen load, click on "Start".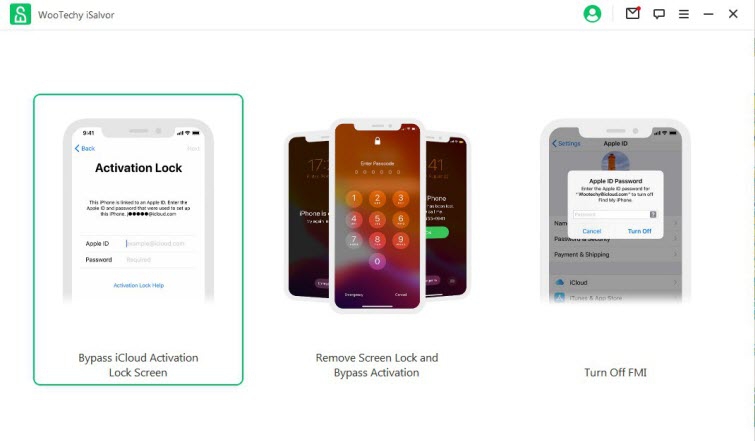 Step 2. When prompted, connect your iPad or iPhone to the computer.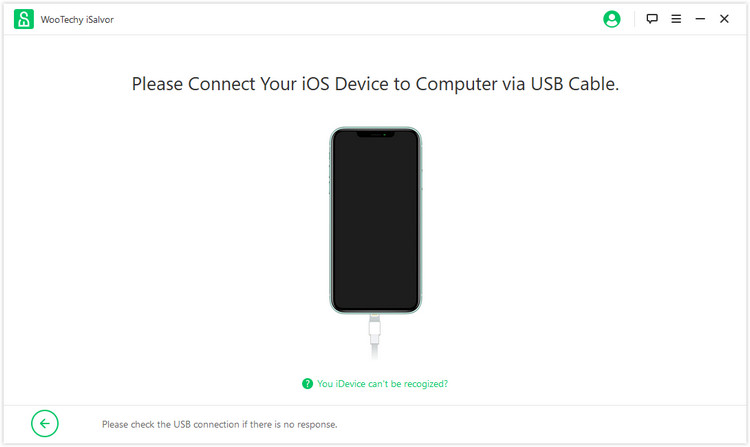 Step 3. You'll see some onscreen instructions to jailbreak your device. On the Mac OS version, iSalvor will do the jailbreak for you. On the Windows version, you'll receive some guidance on what to do.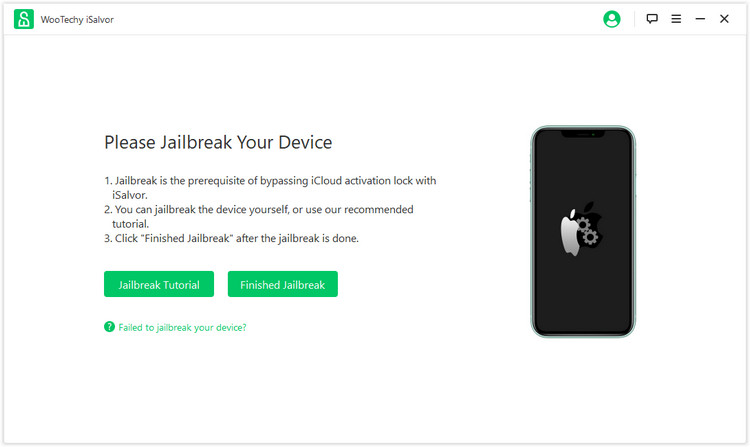 Step 4. After you jailbreak your device, you'll see a screen asking you to confirm your phone information. If it all looks correct, click on "Start Bypass".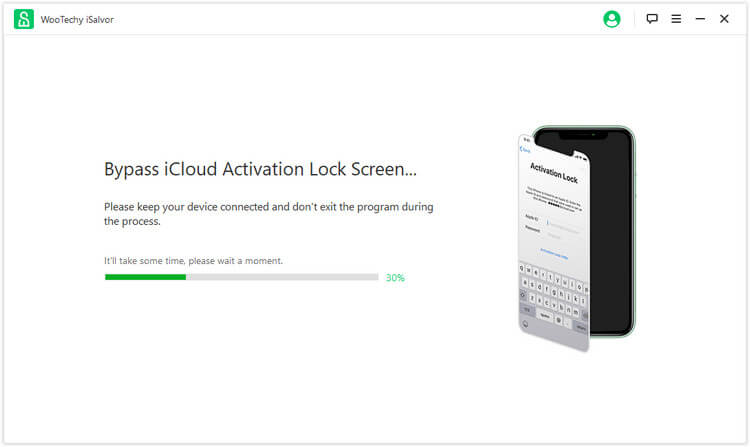 WooTechy iSalvor will remove the iCloud activation lock without a password. Once it completes, you can use your device without having it locked!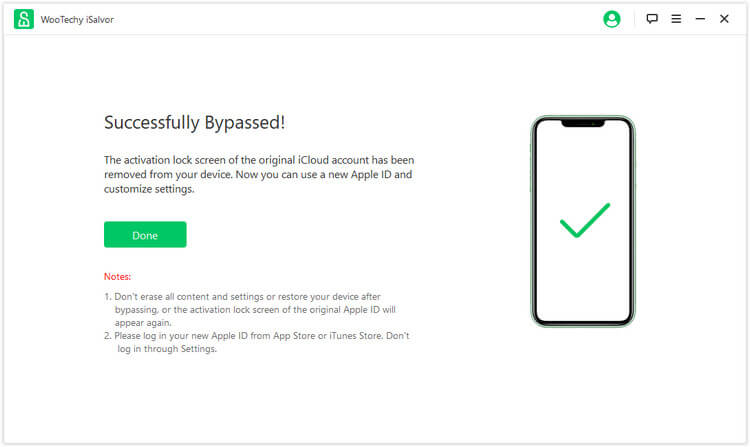 iSalvor works for iOS 12.3 or later (excluding 12.4.5 and 12.4.6), and iPhones 5S through iPhone X. If your device falls into that range, you're in luck. WooTechy will work for you!
Watch the video to easily bypass iCloud activation lock. And don't forget to use the coupon code in this video to receive a discount on this incredible product!
2

DoulCi Activator
Another program that can potentially remove the iCloud activation lock without a password is DoulCi Activator. Available for Mac and Windows, this barebones application works by tricking your iPhone or iPad into thinking that it is communicating with Apple's iCloud servers. Since the iPhone thinks it's receiving Apple's unlock information, it proceeds to let you use the phone. It's a smart method, that's, unfortunately, prone to some complications.
To use DoulCi Activator, follow these steps.
Step 1. Download the DoulCi activator tool.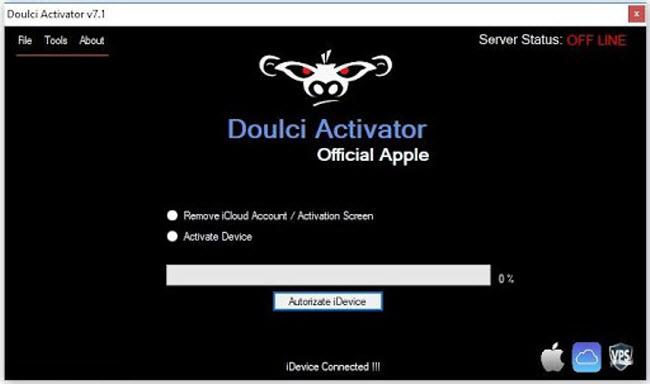 Step 2. Once downloaded, unzip the file and install the script on a local webserver. The scope of setting up the webserver is beyond this post, but many sites will tell you how to do this.
Step 3. Connect your iPad or iPhone via USB.
Step 4. Select your iPhone model and iOS version.
Step 5. Put in one of the activator codes (more on this later), and click "Authorize this Device".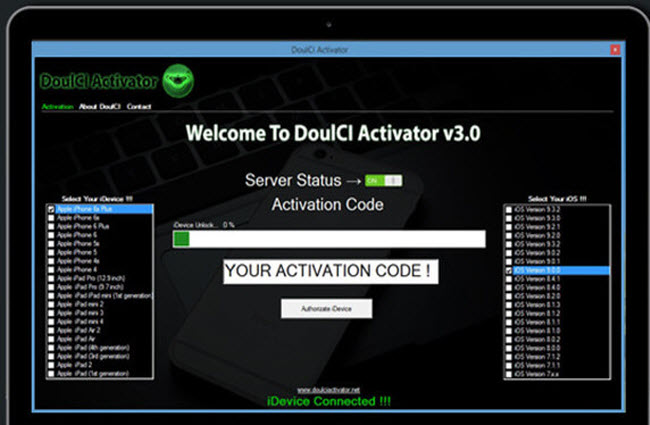 Please wait a little bit for DoulCi to do its thing and unlock the phone. Once done, you can use it like you usually would.
DoulCi requires activator codes to work successfully. Many of these codes are floating around the internet, so you would have to look for them before using this tool.

Note that DoulCi is not intuitive at all. Unlike WooTechy iSalvor, the interface is clumsy, it's hard to get working right, and there isn't one good place to download the app. There are lots of spyware and malware versions floating around the internet. The reported success rate of 95% is also lower than that of iSalvor. Learn more information about
DoulCi Tool
.
3

iCloud Activation Bypass Tool Version 1.4
Another option for bypassing the activation lock is to use the "iCloud Activation Bypass Tool" and, yes, that is its official name. Written for Windows only, this tool works on the same premise as DoulCi in that it creates a fake Apple server and makes the iPhone or iPad think that it is talking with Apple and receiving the unlock information from there. Ultimately, the unlock instructions are merely coming from your computer!
iCloud Activation Bypass Tool is relatively straightforward to use.
Step 1. Download, install, and run the tool.
Step 2. Open your iPhone or iPad and begin the setup process.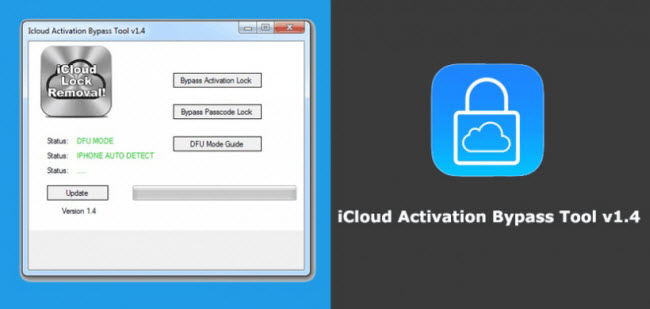 Step 3. Once you hit the wifi page, select your network, and tap the "i" symbol beside it.
Step 4. Go to Configure Proxy. Enable manual and enter your PC's IP as the server and port 1082.
Step 5. Save the details and connect your phone to your PC.
Step 6. Once you reach the activation lock page on your iPhone, go back to the Activation Bypass Tool and check all the options on the window's left side.
Step 7. Click "Connect iCloud Erasing Server".
Step 8. When prompted, click "Upload Activation File", and choose the right file.
Step 9. Once done, tap "Next" on your iPhone or iPad.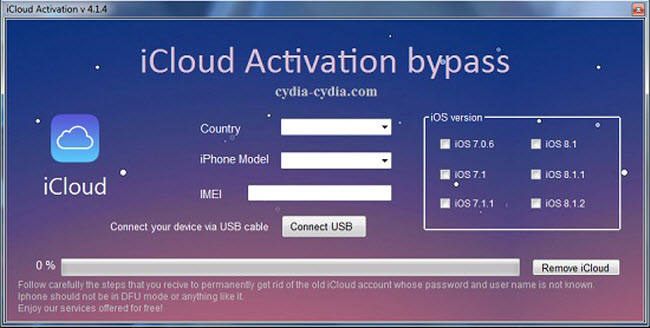 That's it! Assuming you followed those steps correctly, your iOS device should be free, and the activation lock should be gone!

However, that's all theory. The reality is that many people are questioning if this tool even works any more. There have been quite a few reports that this doesn't work or is too difficult to use. You need to know quite a bit about your PC to get it to run. It's one possible method to get iCloud activation lock removal for free, so it's on this list, but don't be surprised if it doesn't work for you!
Use Official Ways to Remove iCloud Activation Lock without Password Free
The above methods are software ways of bypassing the activation lock. Although the methods above may or may not work (well, iSalvor always works), they are not Apple's official methods for bypassing this lock. Unfortunately, Apple's formal removal processes won't work for all users all the time.
1

Ask the Previous Owner to Remove Activation Lock
The first and most obvious way to remove the iCloud activation lock without a password for free is to ask the previous owner to do it for you. This method only works, of course, when you have access to the previous owner and can communicate with them.
Many times, when you buy a used device off a website, the seller will disappear and be very hard to track down to get them to answer questions. But, if you happen to be in a fortunate situation where you can get a hold of the seller, this is one of the quickest and easiest ways to bypass the activation lock.
If the owner is close to you and can physically access the phone, have them do the following.
Step 1. Unlock the device.
Step 2. Go to "Settings -> General -> Reset -> Erase all content and settings".
Step 3. Enter their Apple ID and password to confirm.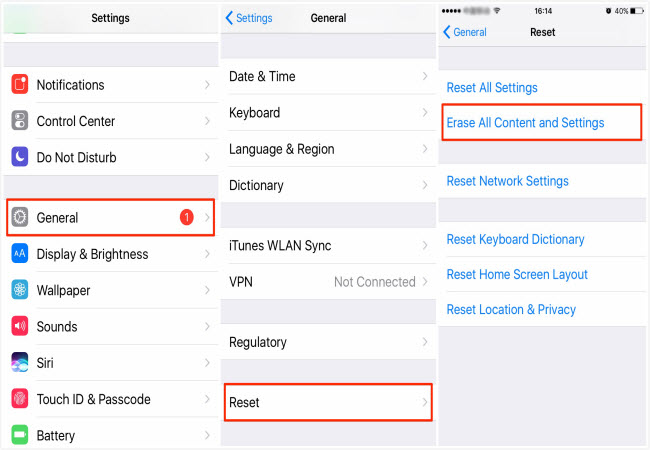 Once the erasure completes, another person can set up the phone as their own.
If the original owner is far away and does not have physical access to the device, have them do the following.
Step 1. Go to iCloud.com and sign in. And go to "Find My iPhone".
Step 2. Click "All Devices" (they should be able to find this at the top of their screen).
Step 3. Select the device to remove.
Step 4. Click "Erase" and confirm by clicking "Next".
Step 5. Click "Remove from account".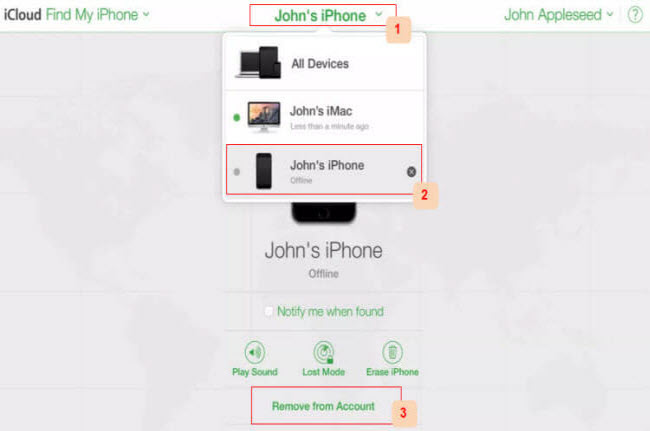 Once the previous owner completes these steps, you should be able to use the device!
2

Contact Apple to Remove iCloud Activation Lock
If the old owner is MIA, you're not out of luck. Given that Apple manufactures these phones, they can unlock them for you. However, as you might imagine, Apple can be reluctant to go ahead and unlock these devices since the original intention of this feature was to prevent theft. If you walk in with a locked device, Apple would have no way of telling if you legitimately bought it or if you stole it.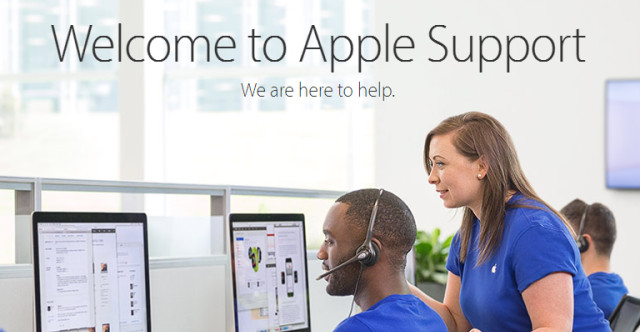 As such, Apple has devised a policy that all retail employees follow. If you're looking to get Apple to remove the iCloud activation lock without a password for free, you're going to need the following information.
Proof that you are the device's legal owner (a receipt is the best proof of this as it will show that you bought it legally).

Identification that correlates with the evidence showing that you are the legal owner.
Once you have those two things, you can ask Apple to unlock the device. In general, they'll comply, but you don't know until you ask. Unfortunately, if you bought the phone informally (e.g., through a friend of a friend), this method won't work because you probably won't have a transaction receipt.
Use Third-Party Service Online to Remove Activation Lock
Many third-party sites offer to remove activation locks for a fee. These sites usually have a form in which you can enter your device's IMEI number, and, for some price, they'll unlock your device for you in as little as 24 hours.
Usually, the price is pretty low - around $25 per unlock. That's a fee that many people would gladly pay if it meant they could use their multi-hundred dollar device properly!

While each site is different, the general premise is.
Step 1. Go to the unlock site.
Step 2. Enter your phone's information and your contact information.
Step 3. Make the payment.
Step 4. Wait for the unlocker to unlock your device.

While this sounds straightforward in theory, the reality is anything but simple. The problem is that most of these sites are scams. What happens is that they will take your contact and phone information, pretend to be doing something, and then send you a message. That message will say that your phone is a unique case, and it's taking them more time to unlock. They might ask you for another $100 to process your phone.

If you pay, they'll again pretend to be doing something and then declare your phone too challenging to bypass. Once that happens, they'll give you credit (not a refund) towards a future unlock. Of course, even if you happen to use the money you have on file, they'll say the same things about your next phone.

In essence, for most of these sites, you'll give them money and still have a locked phone!
How to Disable Activation Lock Before Selling Your Old iPhone/iPad
If you're selling your device, please make sure you remember to disable the activation lock before putting it on the market. This small, simple act will save your prospective buyer a significant amount of aggravation, time, and stress.
To make sure that you remove the activation lock before selling your device, please follow these steps:
Step 1. In Settings, tap your name. Tap "iCloud".
Step 2. Tap "Find My iPhone".
Step 3. Toggle Find My iPhone off. Your device will prompt you for the password. Please enter it.

Next, you need to reset your device. To do so, follow these steps:
Step 1. Go to "Settings -> General -> Reset".
Step 2. Tap "Erase All Content and Settings".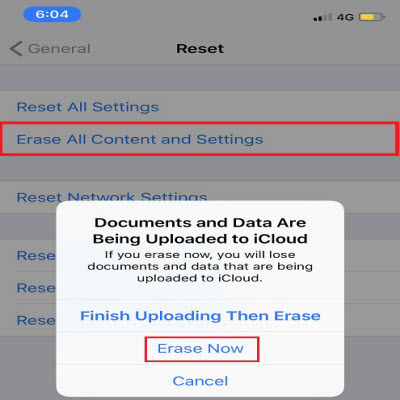 Step 3. Confirm your choice and then wait for it to complete.
Once you see the "Hello" screen, your device is ready to go to its new owner!
Summary
As we saw, it is possible to remove the iCloud activation lock without a password. The best solution overall is WooTechy iSalvor. It's quick, easy, and won't have the headaches that many other methods have. The best part is that it works on a wide variety of devices, so it will almost certainly work for yours!