Question
Image this: the old owner will sometimes forget to deactivate "Find My iPhone" before selling the device to you. You, the recipient, open this package anxiously, only to discover that you can't use the phone due to the lock. Of course, this leaves you wondering how to turn off Find My iPhone.
"Can I turn off find my iPhone with the serial number? "
"Or, how to turn off find my iPhone with the IMEI number?"
Let's explore the answers to these questions so you can get up and running with your iPhone!
What Is Serial Number, IMEI Number & Find My iPhone?
Before looking at how to turn off "Find My iPhone", let's first look at what these two numbers are.
What is Serial Number
The Serial Number is a unique identifier that Apple gives your device. Every single electronic that Apple manufactures has one, from the Watch to the iPad to your iPhone. Typically, you can find this number on the packaging. It should be on the outside of the box. Only Apple knows about this number, and only Apple can map the device characteristics themselves to the serial.
Getting back to the original question, "can I turn off find my iPhone with the serial number?" NO, You Cannot.
Apple uses the serial number for a few distinct reasons. Most notably, Apple uses the serial to track repairs, warranty claims, and trade-ins. Find My iPhone does not know about or care about the serial number of the device.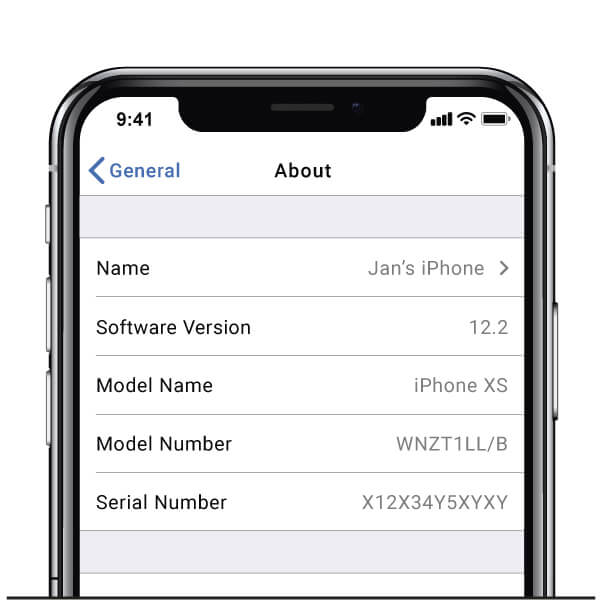 What is IMEI Number
The second identifier that we discussed was the IMEI Number. IMEI stands for International Mobile Equipment Identity. According to Verizon, "think of it as your phone's fingerprint - it's a 15-digit number unique to each device." Moreover, Verizon states that phone carriers use this number to track "smartphones that may be stolen or compromised."
Given that the primary intent of Find My iPhone is to prevent a stolen device from falling into the wrong hands and having them see your data, it should come as no surprise that there is a way for how to turn off find my iPhone with the IMEI number.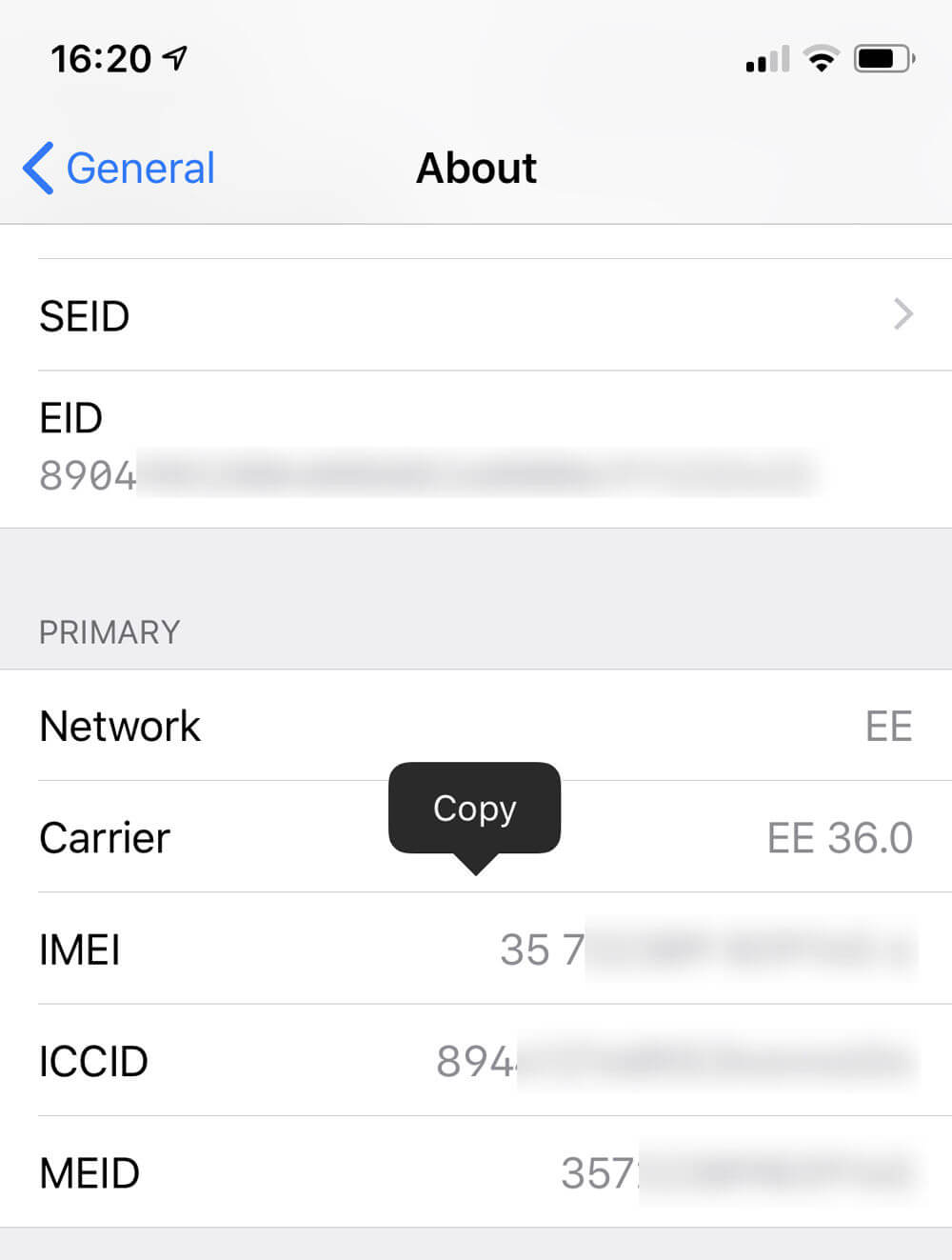 What is Find My iPhone
Finally, Find My iPhone is a technology introduced by Apple in 2010 to make it less worthwhile for thieves to steal phones. While Apple can't prevent someone from taking your phone, they can prevent someone from using it once they've taken it. So Find My iPhone locks new users out of the device, rendering it useless to the thief. It's been mostly successful, but sometimes it also causes innocent people to be unable to use their Watches, iPhones, iPads, or Macs.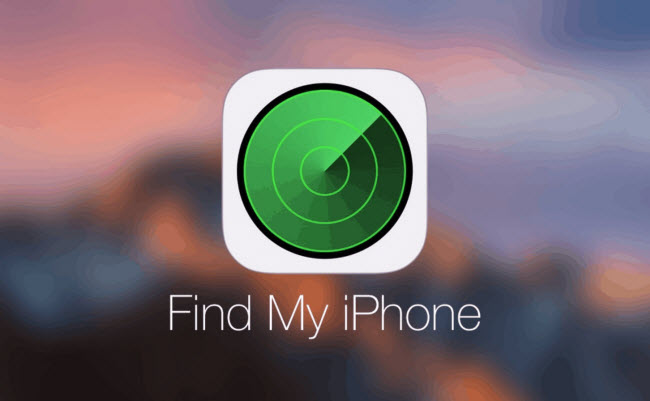 How to Find Your iPhone Serial Number/IMEI Number
Fortunately, if you want to find your iPhone's serial number or IMEI number, it's trivial to do if you can get into your device.
Step 1. Go to Settings > General > About.
Step 2. You should see the serial number and IMEI number on the screen.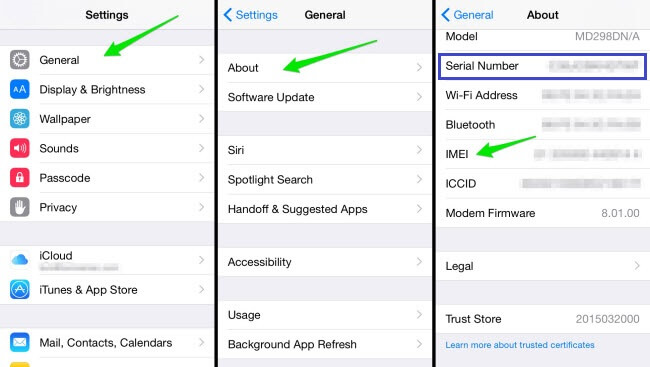 Now, if you cannot access your device (because, for example, the activation lock is on), you can find your serial number on the back of iPhones 5 through 6 Plus.

For iPhone 6s and above, the serial number is nowhere on the device. The serial number is always on the back of an iPad.

For the IMEI, you'll find that on all iPhone models engraved in the SIM tray. Take that out and look for it towards the front of the tray. For iPads, the IMEI is also on the back.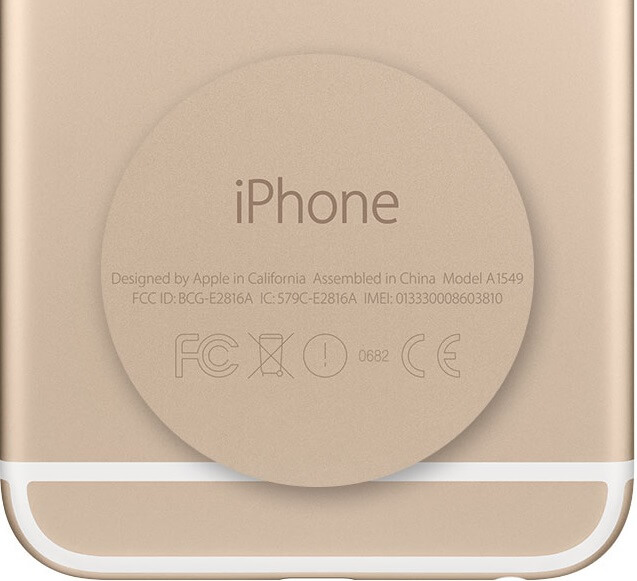 How to Turn Off Find My iPhone (with IMEI Number)
Let's assume that you can successfully locate your device's IMEI number (remember that you cannot turn off Find My iPhone with a serial number). How do you turn off Find My iPhone with an IMEI Number?
There are a few sites that claim to be able to do this. DoctorUnlock is one of them. They will take your IMEI number and work to get it removed from Apple's databases.
DoctorUnlock claims that they can unlock any device, including everything from the latest iPhone 12 to the earliest iPhone. Included in this list are all iPads, Watches, and iPods.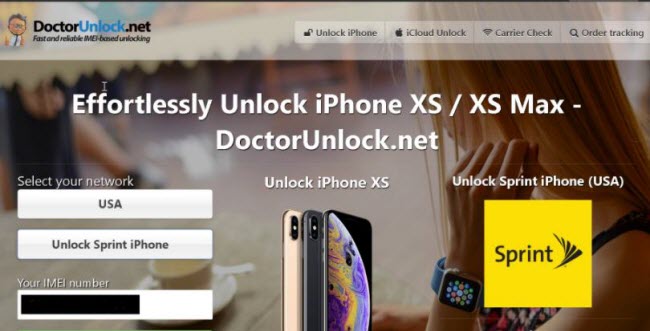 To unlock your device using DoctorUnlock, you'll need to do the following steps.
Step 1. Visit the DoctorUnlock website.
Step 2. Select the model of phone, iPad, or iPod you have. And enter your IMEI number.
Step 3. Make your payment ($18.95 at the time of this writing).
Step 4. Please wait for the company to unlock your device (they claim it can take up to two weeks).

Most of the reviews of DoctorUnlock are positive. However, it is worth noting that these sites can sometimes be scams (they'll take the money but never do the unlock). There are some privacy concerns. You'll have to give over some of your personal information, plus they'll know the exact phone that you have!
How to Turn Off Find My iPhone (without IMEI Number)
If you'd prefer something a little quicker and more straightforward (not taking up to 14 days!), you'll have to consider alternatives. One of the best ways to turn off Find My iPhone without the IMEI number is to use WooTechy iSalvor.
WooTechy iSalvor is an expertly-developed software package that can remove activation lock and Find My iPhone from your device. It features a simple, intuitive interface tha t can let you use your phone or iPad in a matter of minutes, not days.
People love iSalvor for a few key reasons:
It turns off Find My iPhone without Apple ID painlessly. Plus, it's fast. From the moment you download the program to the time your phone is unlocked will be a matter of minutes or hours, not days.

You can get a brand new device after turining off Find My iPhone.

iSalvor works with both Windows and Mac OS.

You can download a trial version to see if it is compatible with your device. Unlike the method for how to turn off Find My iPhone with an IMEI number, you'll know whether or not it will work before you put out any money!
Here is the video tutorial to learn how to easily turn off Find My iPhone without IMEI number.
To turn off Find My from your device, please follow these steps.
Step 1. Download, install, and run WooTechy iSalvor. On the intro screen, select "Turn Off FMI".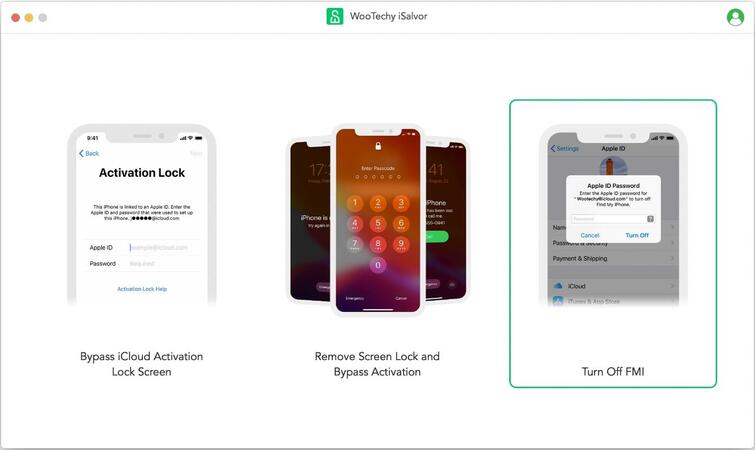 Step 2. Connect your device to your computer.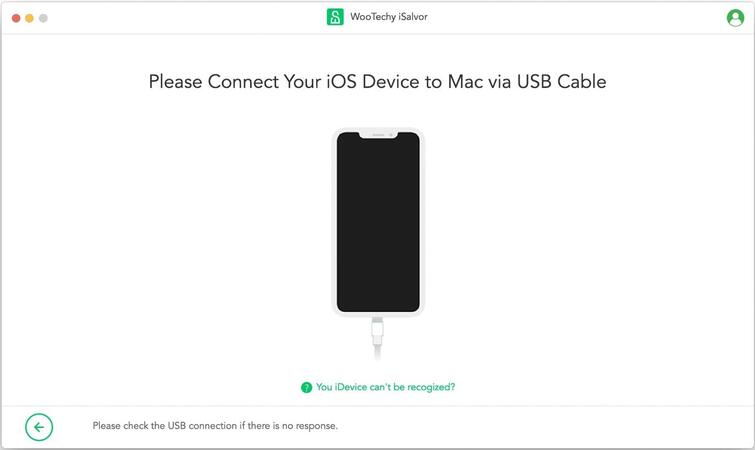 Step 3. Next, you'll see a guide to jailbreaking your device. The steps change between Windows and Mac, so just let iSalvor guide you through the process. Click "Next" to cintinue.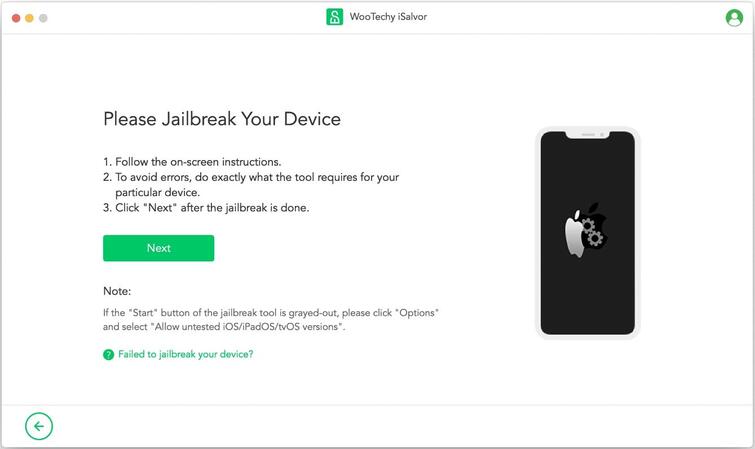 Step 4. Once iSalvor completes the jailbreak, it will turn off Find My iPhone.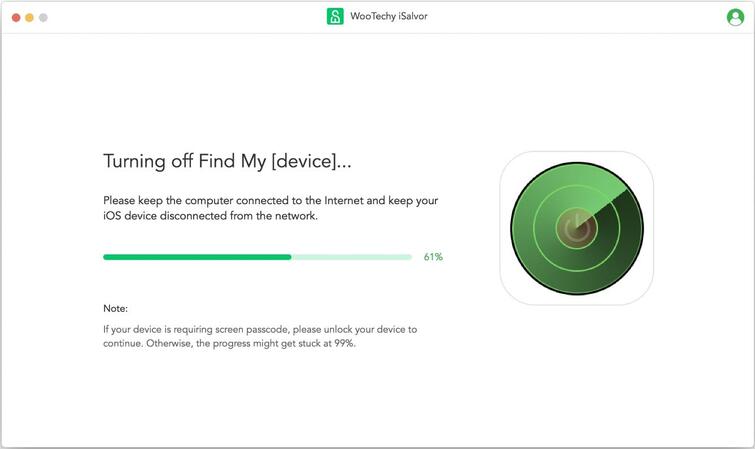 Step 5. Next, you'll see a confirmation screen that Find My [device] is, indeed, off. Click "Confirm".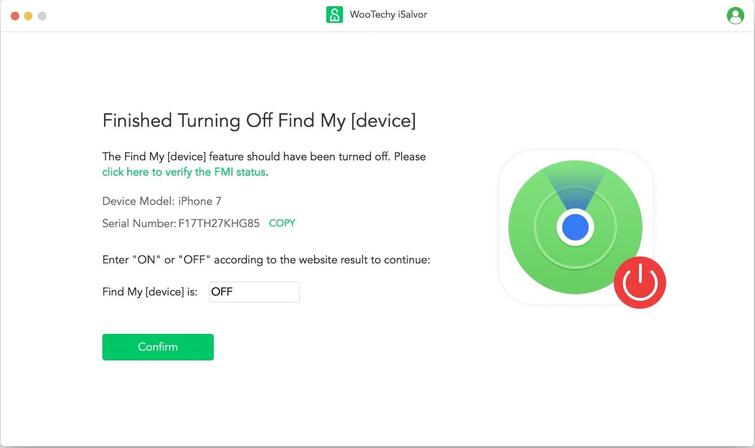 iSalvor will then wipe out the previous Apple ID. Erase All Content and Settings on your iPhone, and you'll be able to use it like new!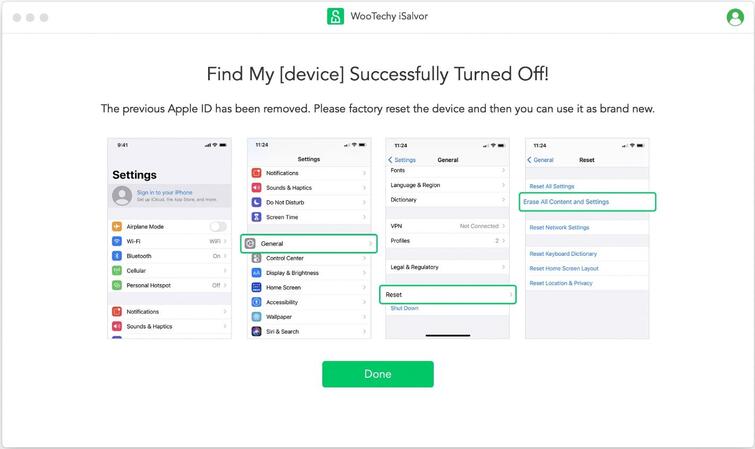 iSalvor has plenty of positive reviews, with numerous users saying how this package has helped them use their phones again. It can help you, as well!
Conclusion
No matter why you want to turn off Find My iPhone, WooTechy iSalvor is the best way to do it. It doesn't require a serial number or an IMEI number. It's simple and easy, so you can start enjoying your phone as quickly as possible!