Either you have forgotten the iCloud ID credentials after a reset, or have bought a second-hand iPhone already locked by iCloud activation lock, you have to remove activation lock to gain access to your iPhone. Gone are the days when you couldn't bypass iCloud activation lock by yourself and had to go to a repairing shop and considerable dollars to fix the issue. Now, you can remove this lock by using various software or tools. But not all of them are reliable. Today let's have a look at one of the relatively popular tool: iCloud activation bypass tool version 1.4. See how it works, whether it's trustworthy or not, and an alterbative software to iCloud activation bypass tool version 1.4.
Part 1: What is iCloud activation bypass tool version 1.4?
As a third-party activation lock removal tool, iCloud activation bypass tool version 1.4 claims to help users to bypass the iCloud lock of any iPhone model for "Free". It doesn't cause any data loss and you can access all the files, be it videos, photos, notes, etc., after the process.
If you have any knowledge about activation lock, you should know that removing the lock without causing data loss is absolutely impossible. Apple's privacy and security department spends millions of dollars every year just to make sure of that. However, this software still has been downloaded by almost 280,000 people because of its high popularity and demand.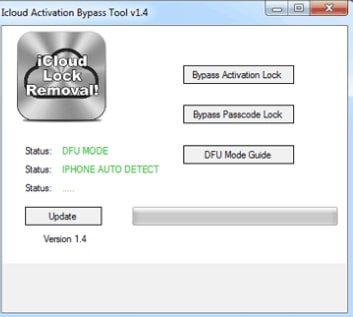 Currently, there is no official site where you can safely download it, and many websites claim to have its free download link contain virus or malware. You can only use the website you trust to download this software on your computer.
Part 2: How to use iCloud activation bypass tool version 1.4?
Now we have some basic knowledges about this program, let's see how it works. According to the research we have done, the following is how you are supposed to remove the activation lock with iCloud activation bypass tool version 1.4.
Step 1: Download iCloud activation bypass tool version 1.4 from a reputable site on your computer, extract the ZIP file and double-click on the exe file to install it.
Step 2: After that, turn on your iPhone and start the setup until you go to the Wi-Fi page. On the page, tap on the 'i' next to your Wi-Fi network name and navigate to "Configure Proxy". Now, enable Manual and fill in the information and save:
Server: 10.117.220.87
Port: 1082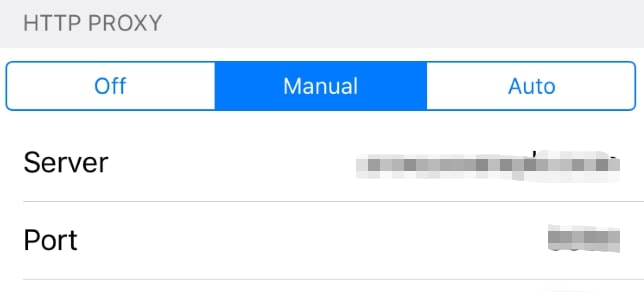 Step 3: Connect your iPhone to the computer. When you reach the Activation Lock on iPhone, launch the iCloud activation bypass tool version 1.4 and click on the "Connect iCloud Erasing Server" option, then click "Bypass Activation Lock".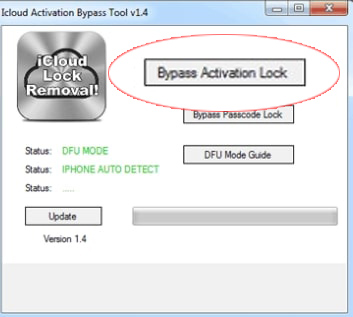 Part 3: Should You Use iCloud activation bypass tool version 1.4?
For the record, when we tried this program, we did NOT bypass the activation lock successfully. But we were not surprised. The advertising of this program is way too exaggerating, and the program hasn't been updated for years.
Besides that, there are also other negative feedbacks and about this activation lock bypass tool.
Low success rate. No real case of successful bypass has been reported so far.
No official website. It's next to impossible to get the original download link of iCloud activation bypass tool version 1.4. You can only download it from various software download sites. Also, no official website means no customer support.
Poor compatibility. This tool is only available on Windows. If you are using a Mac computer, you can't even download a properly functioning version of this tool.
Security risks. Caused by the last factor, a lot of users end up downloading pirated or fake version of this tool and infect their computers with viruses and other malware.
So, considering all these disadvantages, this software can't be termed neither reliable nor recommended to use.
Part 4: An Alternative for iCloud activation bypass tool version 1.4
So if you are considering to bypass activation lock on your device, and you are not sure about the iCloud activation bypass tool version 1.4, we would like to recommend our software as the alternative: WooTechy iSalvor.
This remarkable tool helps to bypass iCloud lock on iPhone, iPad, iPod, without using Apple ID and password. When compared to iCloud activation bypass tool version 1.4, WooTechy iSalvor stands apart in every aspect:

Security. You can download a virus-free set up of this software from the original website, and there is a 24-hour customer support.

Success Rate. It has a higher success rate and everyone can test the program for free before actually using it.

Ease of Use. It has user-friendly and intuitive interface and people with the minimum knowledge of using software can use it easily.

Great Compatibility. It works well on almost all iOS versions.
This comparison speaks for itself why should you be using iSalvor Woo techy to remove iCloud lock from your device. Now let's see how to use WooTechy iSalvor to remove iCloud lock:
1

Download The Software
Download the right version of WooTechy iSalvor from the iSalvor official site, or with the download links above.
2

Launch The Program And Start
Launch the program and connect your iOS device to the computer via original cable. Then verify your device information and click "Start Bypass".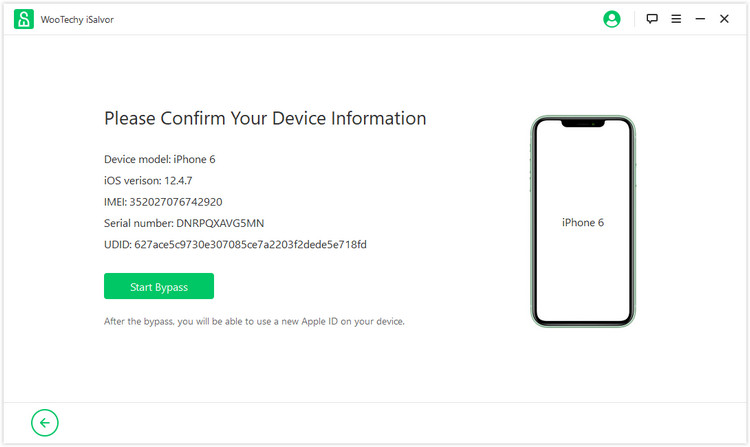 3

Jailbreak Your Device
This software jailbreaks your device, so you need to follow the on-screen instruction to complete the jailbreaking process. The jailbreaking process may be a bit different for the Mac version and the Windows version.
For MacOS users:
The software will automatically download the correct jailbreak package corresponding to your device. Click "Next" to start downloading jailbreak package.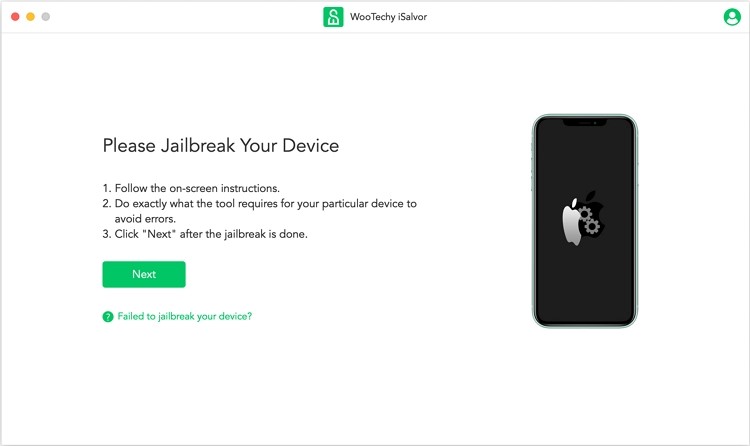 After that, Click "Start Jailbreak" and follow the onscreen guide to finish the jailbreaking process in the program.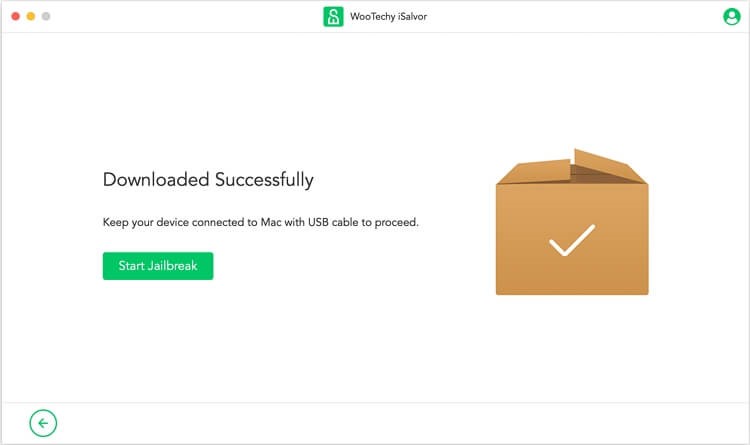 You can also watch the video to learn Bypass Activation Lock on Mac.
For Windows users:
Click on the "Jailbreak Tutorial" option to jailbreak your iOS device. Or check out this video to see how to jailbreak your iPhone. Once the process is completed, hit on "Finished Jailbreak" to continue the bypassing process.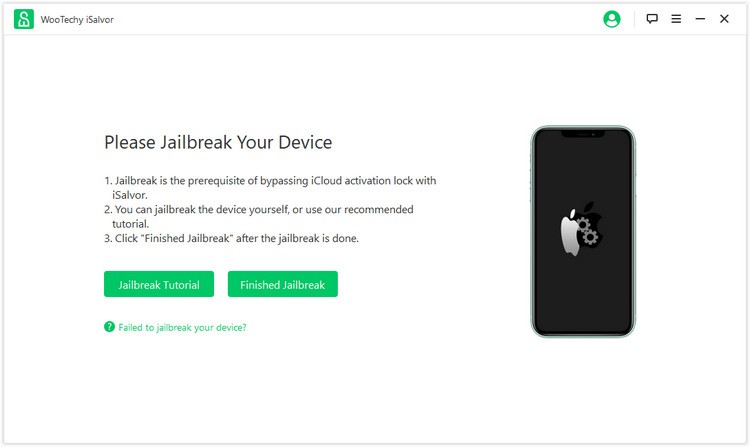 You can also watch the video to learn Bypass Activation Lock on Windows.
4

Wait for The Bypass to Finish
After jailbreaking, the software will start removing the iCloud lock. The process will take only a few seconds to complete. Make sure you don't disconnect your device during this time.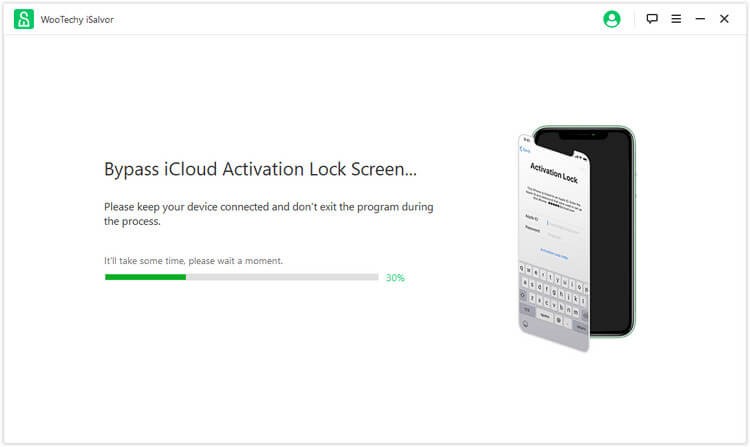 Conclusion
So today we have talked about various aspects of iCloud activation bypass tool version 1.4 and has provided detailed and impartial analysis why it is not recommended that you use this software to bypass activation lock. If you need to bypass activation lock with a solid tool, WooTechy iSalvor is definitely more recommended. If you have any problem during using WooTechy iSalvor, we will always be here to help.