User Problem
"I forgot the Apple ID password linked to my iPhone pro. I thought that resetting the iPhone will let me use my device. After resetting, I got stuck on iCloud Lock screen which keeps asking me to enter Apple ID and the password. I tried but couldn't remember what the password was."
In this informative article, you will learn what is iCloud Lock, how it works, and how to unlock iCloud locked iPhone. Keep reading!
Part 1. What Is iCloud Lock?
Activation lock is a security feature to prevent people from resetting or activating a device without iCloud account information. iCloud Lock mechanically appears when you enable Find My Device on you iDevices because it securely stores your linked device to Apple's activation servers. Whenever you reset your device, you will see an activation window appear on iDevices.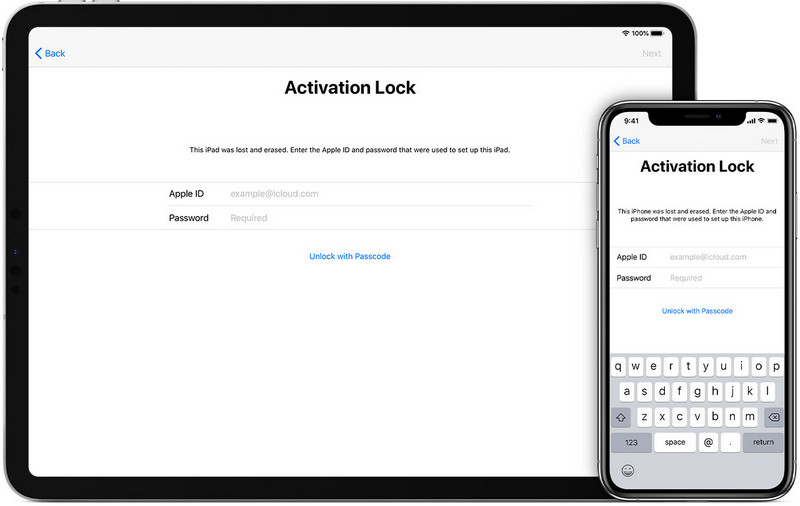 Pros of Turning on iCloud Lock
If your device is covered by AppleCare+ Theft & Loss package, you're required to have to Find My Device enabled on your iPhone, iPhone, or iPod touch at the time it was lost or stolen.

You can be able to track the physical location of your device, make the device play a sound or activate Lost Mode via Find My Phone.

You can reset your iPhone password via iCloud if the iCloud Lock is turned on.
Part 2. Why Would You Need to Unlock iCloud Locked iPhone
Numerous occasions result in Activations lock screen appearing on your iOS device, and for some, you may not know the reason why. Here, we define possible reasons why you're seeing an iCloud Lock screen on your device.
You may have purchased a second hand (used) iPhone, do a system reset on the device but don't know the iCloud Lock password.

When you can't remember the iCloud username and password needed to unlock the device.

You forgot to deactivate "Find My" before resetting your iPhone whence the password is required after restoring.

When Apple ID is hacked by malware or someone activated Lost Mode on the device.

If your device is in any of the situations above, you'll need to find out the correct Apple ID and password used before or bypass the iCloud Lock screen with a professional tool.
Part 3. How to Unlock iCloud Locked iPhone
3.1 Remove iCloud Lock with iSalvor
iCloud Lock can't be removed from your iPhone or via iCloud.com until you provide the correct Apple ID password. However, that shouldn't discourage you because there is third-party software that can easily bypass the iCloud Lock without a password.
WooTechy iSalvor is a hassle-free, powerful, and effective iCloud Lock bypass tool for iPhone, iPhone, and iPod touch. With our beautiful software, you don't need to start contacting the previous owner of the device or start returning an iCloud Locked iPhone to eBay or BestBuy, just run the software and you're already enjoying your Apple device.
Remove iCloud Lock with iSalvor:
Efficiently bypasses Apple iCloud Lock in few simple steps.

Create or use any existing Apple ID on the bypassed device.

The previous owner can't trace or track your device.

Your device won't be erased using the previous iCloud account.

Support iPhone 5S to iPhone X running iOS 12.3 to iOS 14.8.
Steps to Remove iCloud Lock with iSalvor
Here, you will find the simple steps to bypass Apple iCloud Lock on iPhone, iPhone, or iPod touch.
Step 1. Download, install, and run WooTechy iSalvor software on your Windows PC or Mac computer. Once the software is open, click the Start button.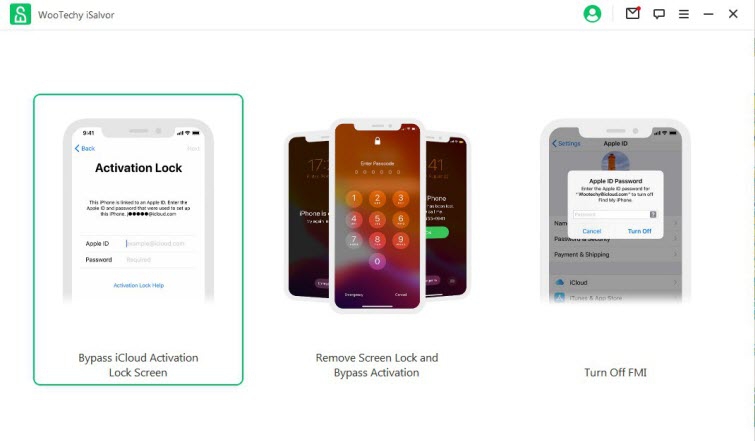 Step 2. Connect your iOS device to the computer via an original cable. Then jailbreak your iOS device. Here is an iOS jailbreak tutorial on Windows computer.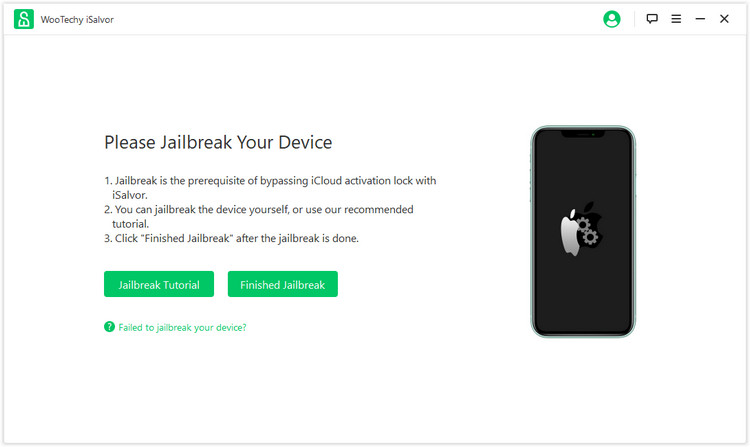 Step 3. Now bypass iCloud Lock screen by checking your device information. Click on Start Bypass button. The app will start bypassing the Apple iCloud Lock on your device.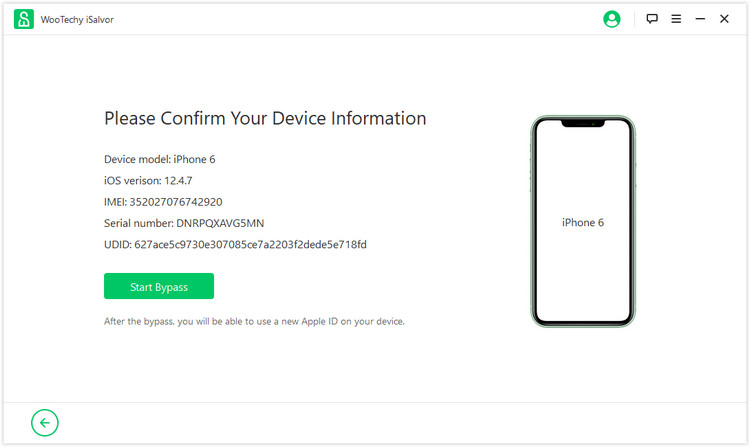 Step 4. Once done, Successfully Bypassed will appear on your screen. Click Done to leave the page. Now you can enter the device without any passcodes and sign in with a new Apple ID.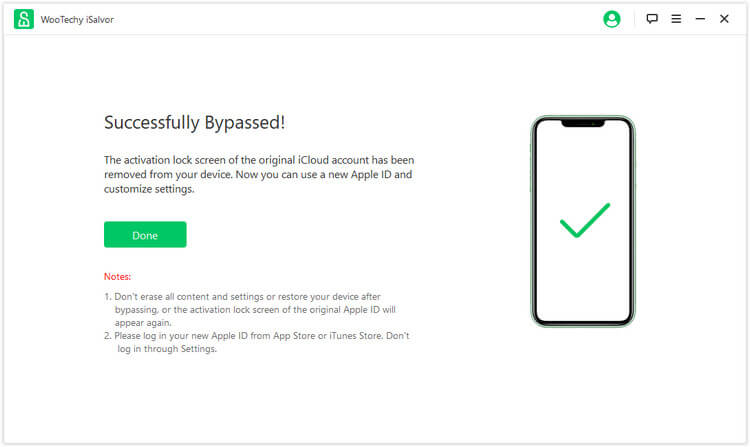 3.2 Ask Apple Support for Help
If you don't want to use a third-party software to unlock iCloud locked iPhone. You can ask the Apple Support for help. Before you beginning, you need to prepare the purchase proof from the Apple official and the original receipt. Without the proof of ownership, the Apple employees won't help you to process.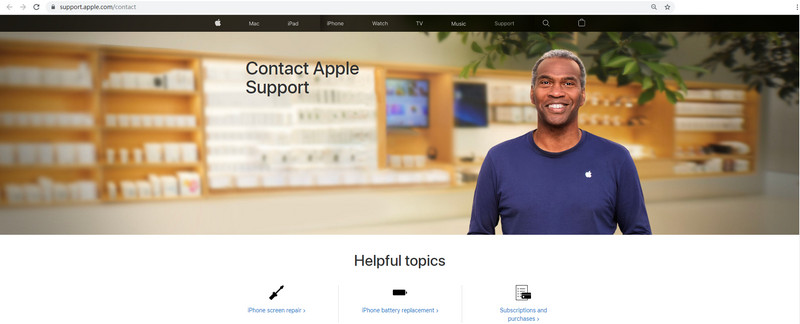 3.3 Use DNS to Unlock iCloud Locked iPhone
DNS means Domain Name System. It can convert readable names (domains) into numerical IP addresses. You can bypass iCloud lock by manipulating the DNS server. Below are the steps to do it:
Step 1. Go to Settings on your device, choose Wi-Fi and forget it.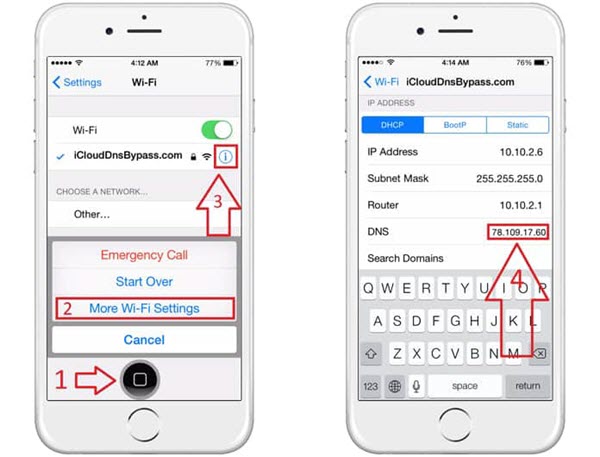 Step 2. Next, click on DNS and change it to the follow values based on your region:
USA: 104.154.51.7
South America: 35.199.88.219
Europe: 104.155.28.90
Asia: 104.155.220.58
Australia and Oceania: 35.189.47.23
Other continents: 78.100.17.60
Step 3. Then you will receive a message shows that you have successfully connected to the new server. And you already unlock iCloud locked iPhone.
Conclusion
This page offers comprehensive knowledge about Apple iCloud Lock. If you are stuck at iCloud Lock, you are recommended to free download and install the WooTechy iSalvor iCloud Lock bypass tool which can bypass the iCloud Lock without Apple ID and passwords. Hope this article helps!