User Problem
Do you guys have any idea about the DNS method of unlocking the iPhone? I sold my iPhone 8 Plus over 13 months ago to an online vendor, and the buyer just contacted me that my iCloud account is still linked to the device. I no longer use Apple devices and have forgotten my iCloud username/password. I have contacted apple support but they kept asking questions I no longer have answers to. I have also provided the payment receipt for the device but they are yet to attend to my request. Please, I need genuine and recent (the year 2021) information on which iCloud DNS bypass to use.
To fairly address the inquiry above, we shall be discussing what iCloud DNS bypass is and how it works on different iOS versions of the iPhone and iPad. We shall also be recommending some trusted tools for unlocking the iCloud activation lock.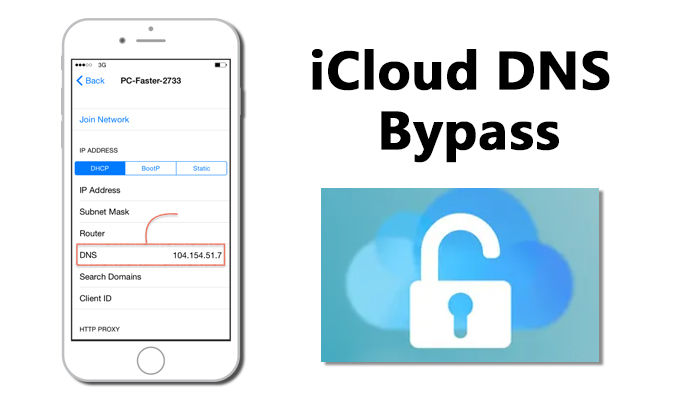 Part 1. What Is iCloud DNS Bypass?
Do you know that before you can set up your iPhone after restoring or resetting it, the device will send an activation request to the Apple server? Once Apple processes the request and sees that the device is "Find My" activated, then the iCloud activation lock will pop-up requesting for your iCloud account details.
iCloud DNS bypass comes in handy when you can't remember your iCloud username or password. It's also efficient in unlocking a secondhand iPhone even when you have no clue about the previous owner.
The acronym "DNS" simply means Domain Name System and it's a service that converts readable names into numerical IP addresses. In a simple tongue, DNS diverts the activation path of your iPhone from Apple servers to iCloud bypass DNS servers for authentication. Once your device is authenticated, you can now set up your device and use it at ease.
Pros of iCloud DNS Bypass:
You can manually change the DNS address from your manual WIFI settings.

The technique is not as hard as you may be thinking.

If it works, there is every chance you can use and enjoy almost all the features and apps on your iOS device.
Cons of iCloud DNS Bypass:
There is no guarantee that the service will unlock your device.

You may not be able to access all the features of your iPhone after unlocking your device.

It doesn't work for all versions of iOS especially the recent ones.
Part 2. How to Bypass iCloud Activation Lock with DNS?
Watch the Video to learn more about DNS server bypass.
2.1 Steps to Bypass iCloud Activation Lock with DNS
The steps in DNS Bypass iCloud Activation are quite simple; here are the steps.
Step 1. Once you switch on your device, choose your LANGUAGE and COUNTRY from the menu.
Step 2. Click "Proceed" to enter the Wi-Fi settings page. If asked to connect to Wi-Fi, look for the "I" symbol closed to the Wi-Fi tab.
Step 3. Now, disconnect the Wi-Fi network, go to "Connection Settings" and click "Forget this Network".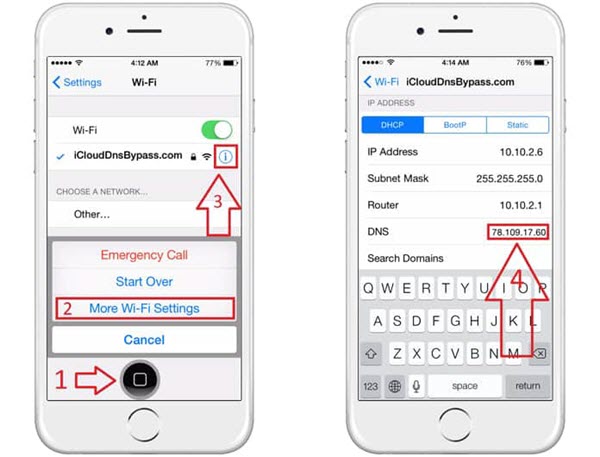 Step 4. Now, click the "I" and enter a DNS server IP address to bypass the iCloud activation lock. You can choose from the list below according to your location:
USA: 104.154.51.7

South America: 35.199.88.219

Europe: 104.155.28.90

Asia: 104.155.220.58

Australia and Oceania: 35.189.47.23

Other continents: 78.100.17.60
Step 5. Now, click the "Back" option at the left side of your screen, turn on Wi-Fi, select the right network from the list, and enter your passcode.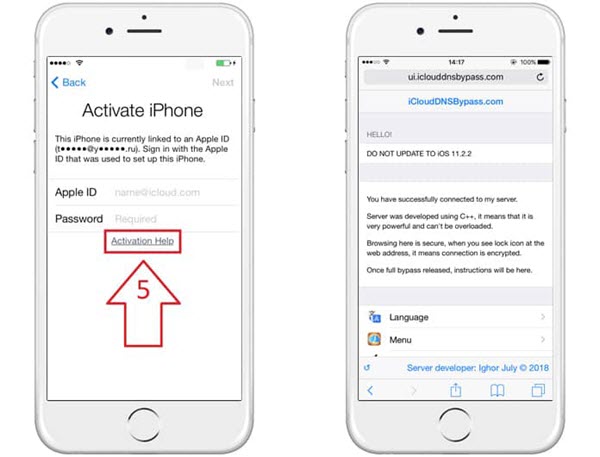 Step 6. Click "Next Page" and click "Back" to enter the iCloud bypass screen.
Step 7. You now set up your apps and use your device as you like.
2.2 How to Use iCloud DNS Bypass Crash
The steps above allow you to use some features and functions of your iPhone but not all. Hence, these advanced tips (crash) will help you use your device as normal again.
Step 1. After using the first method above, click "Menu > Applications".
Step 2. Search and click "Crash" to restart your phone automatically.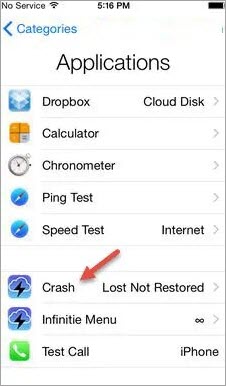 Step 3. Wait for your device to restart, then select "Language and country".
Step 4. Click "Choose a Wi-Fi Network > Home Button > More Wi-Fi Settings".
Step 5. Click the "i" tab next to your Wi-Fi and click "Menu > HTTP Proxy".
Clean the existing HTTP address and list of emoji icons to the "Server" zone.

Type "8888" over the "Port" zone.
Step 6. Click the "Back > Next" and you'll see the unlock screen. Press the home button to unlock.
Step 7. Hit the language option until the Home screen shows up. You will be able to use more functions of your device.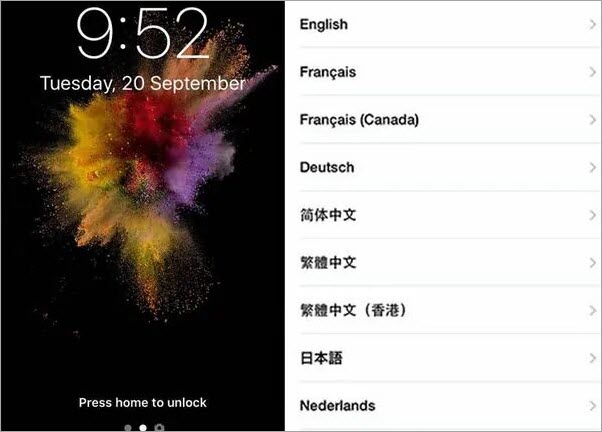 These steps allow you to use the device but when you reboot the device, it will automatically go back to the iCloud activation lock screen.
Part 3. Powerful Alternative to DNS Method – iCloud DNS Bypass Tool Download (iOS 15 Included)
iCloud DNS Bypass code is not the most efficient way to unlock an iPhone because it takes you back to the iCloud activation screen every time you restart your device. We do not deny that it comes with its advantage, but the pros can't be compared to that of professional software that's designed to unlock/bypass iCloud lock.
WooTechy iSalvor iCloud activation lock bypass software is designed for iPhone, iPad, and iPod touch. It works efficiently to remove iCloud lock from iPhone when you don't know or have forgotten your iCloud username or password. Hence, it's an excellent solution and the quickest way to activate a locked iPhone within a few minutes. This software supports iPhone 5s to X running on latest versions, like iOS 15.
Bypass Apple Activation Lock with iSalvor:
Excellent alternative to iCoud DNS bypass remove iCloud activation lock screen.

After bypassing, you can sign in a different Apple ID to dowload applications.

The previous owner can't trace or track your device using his/her iCloud account.

The old Apple ID can't be used to track your Apple device.

Compatible with iPhone 5S to iPhone X running iOS 12.0 to iOS 15 (12.4.5 and 12.4.6 excluded).
How to Bypass Activation Lock without Using DNS
Different from the DNS method which does not support recent device models and iOS versions, using professional iCloud activation lock bypass tool ensures higher success rate and support service. Here are the steps to bypass activation lock with iSalvor:
Step 1. Download, install, and launch WooTechy iSalvor software on your computer. Click "Start" to get started.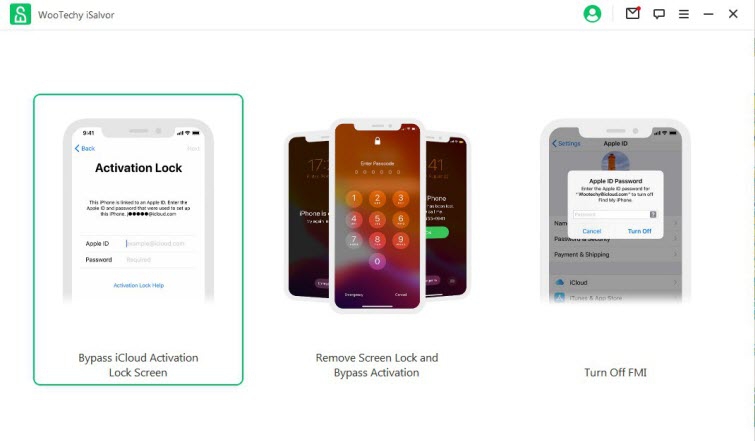 Step 2. Link your iOS device to the computer with a USB cable.
Step 3. Jailbreaking is the prerequisite of bypassing iCloud activation lock. If you are using Mac version, iSalvor will help you. If you are using Windows version, please refer to the iOS jailbreak tutorial on Windows.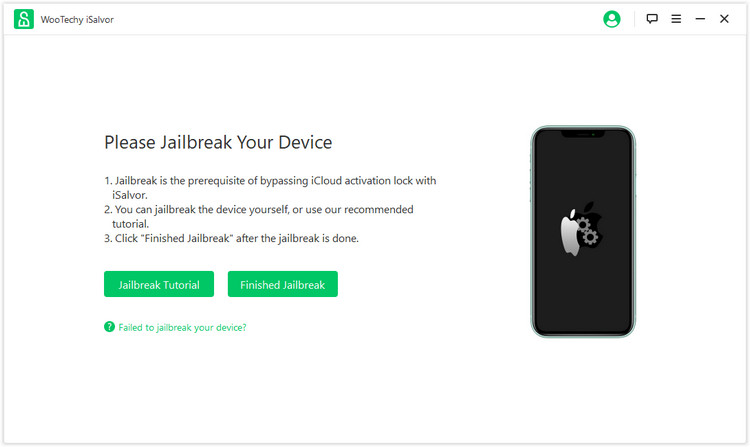 Step 4. Confirm your device information, including device model, iOS version, IMEI, serial number, and UDID. Click "Start Bypass" to proceed.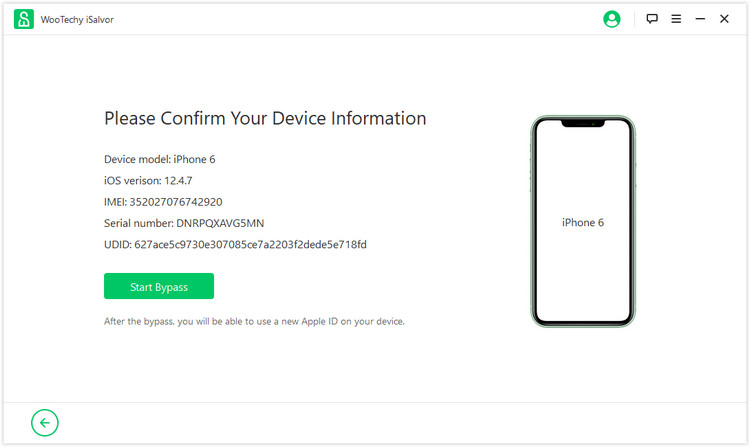 The software will start bypassing the iCloud activation lock on your device. The process won't take long. Once the bypassing completed, you can access the device without any passcodes and sign in a different Apple ID.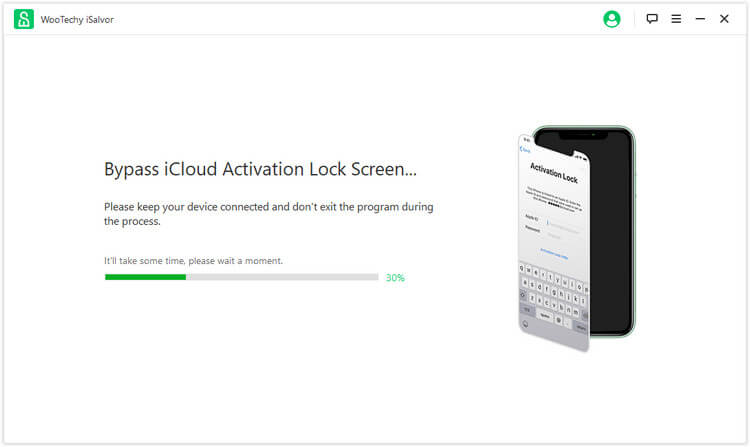 Watch a Video Turtoial to learn how to bypass iCloud locked iPhone/iPad easily.
Part 4. Answers to Salient Questions on iCloud DNS Bypass
Q1: What are the requirements for using the iCloud DNS bypass method?
For an iOS device that has set off the iCloud activation lock, when connected to iTunes, you'll see the following:
You need to know the status of your iOS device; you can do this via a reliable iCloud status checker.

If your device is blacklisted (reported as lost or stolen), iCloud DNS may not be able to unlock it.

You must be able to get device information and data.
Q2: Does the DNS bypass remove the iCloud activation lock?
NO. The DNS bypass method only creates a path for you to access some of the features of your iOS device. If you mistakenly restart the device, it goes back to the iCloud activation screen lock.
Q3: Can I use DNS server bypass on Apple Watch to remove activation lock?
NO. DNS server bypass method can be only used on iPhone and iPad. You may find other solutions to unlock Apple Watch iCloud activation.
Q4: Which one is better: DNS bypass or iCloud activation lock bypass tool?
DNS bypass is a temporary solution for accessing some of the functionalities and features of an iCloud locked iOS device, while the iSalvor activation lock bypass tool offers you unlimited and permanent access to your iOS device.
Q5: Except iCloud DNS server bypass, can I trust the online activation lock removal services?
There are many online iCloud removal services that claim to remove iPhone activation lock. But be careful with those online services as most of them are scams. Usually, you can't contact them at all after you finish payment. So be alert to those scams if you want to choose the online removal service.
Conclusion
Now, I would like to believe that you understand the capacity at which DNS bypass can unlock your device, and you know that the iSalvor activation lock bypass tool is a better alternative to this method. Therefore, if the DNS bypass method isn't working for you, I recommend you download WooTechy iSalvor trial version to bypass the iCloud activation lock immediately.