User Problem
A friend from Africa sent me a link to help him secure and purchase an iPhone from eBay without knowing the status of the device. When it was delivered to me, I noticed that the device is iCloud Activation locked and there is no way to contact the previous owner. Please, I need help on how to remove Activation Lock from the iPhone without the previous owner's consent.
In this article, we will discuss how to remove activation lock without previous owner of the device. We'll also explain other ways to remove activation lock and answer all your question on activation lock removal.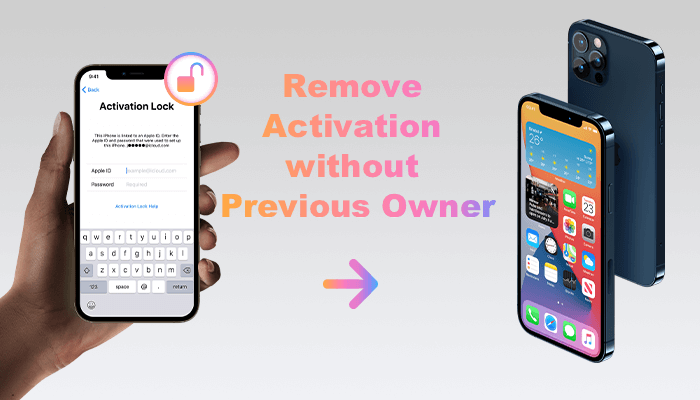 Part 1. What is Activation Lock? A Simple Look
Activation Lock is a single feature of Apple Find My [device] while "Find My [device]" has other features. Activation lock turns on automatically whenever Find My [device] is activated. Hence, activation locks ensure that your device information and data are kept safe at all times, and stops anyone who stole your phone from reactivating it even after erasing it. Activation Lock is a single feature of Find My while "Find My" has other features. If an iPhone is erased without entering correct Apple ID and password, the activation lock screen will appear as below: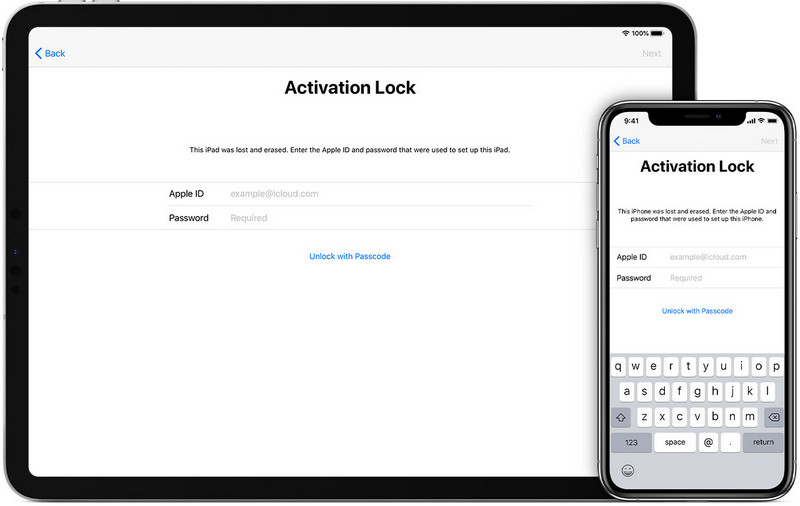 Pros of Turning on Activation Lock
If your device is covered by AppleCare+ Theft & Loss package, you're required to have to Find My Device enabled on your iPhone, iPad, or iPod touch at the time it was lost or stolen.

You can be able to track the physical location of your device, make the device play a sound or activate Lost Mode via Find My iPhone.

You can reset your iPhone password via iCloud if the activation lock is turned on.
Part 2. How to Remove Activation Lock without Previous Owner?
If your device is activation locked, it simply means that you or someone else's iCloud account is still linked to the factory erased iPhone, iPad, or iPod touch. The official way to remove this barrier is by providing the password to the linked iCloud account without which no one can be able to access the device.
Fortunately, we'll be showing you un-official ways to bypass Find My iPhone activation lock screen without previous owners password.
Method 1: Professional iPhone Activation Lock Removal Software (iOS 15 Included)
An iCloud activation lock bypass tool - WooTechy iSalvor can remove the activation lock screen on iPhone, iPad, and iPod touch without a password. If you bought an iCloud locked iPhone, an easy way to reactivate the device should be by using the iSalvor bypass tool. This tool allows you to reactivate a locked iPhone without entering the iCloud username or password.
Great Features of iSalvor Bypass Tool:
Remove activation lock screen without previous owner's passwords in seconds.

Easily access your iOS device using any Apple ID after unlocking.

Eliminate the chances of the previous owner tracking your device.

Your device won't be erased or blocked by the previous owner's iCloud account.

Support iPhone 5S to iPhone X running iOS 12.3 and later versions, including iOS 15.
Watch a Video Turtoial to Learn How to Remove Activation Lock without Previous Owner's Password First.
Here are also the simple teps to remove iPhone activation lock on iOS devices.
Step 1. Get, install, and launch iSalvor software on your computer. Click the "Start" button to get started.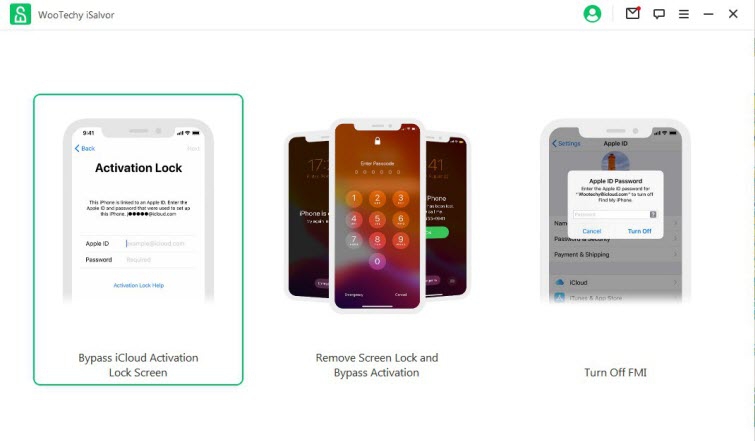 Step 2. Connect your iPhone computer system using a lightning cable.
Step 3. Now, you need to jailbreak your iOS device to continue. Click the link for a jailbreak solution for the Windows version. Follow the onscreen instructions to jailbreak your device if you are using a Mac.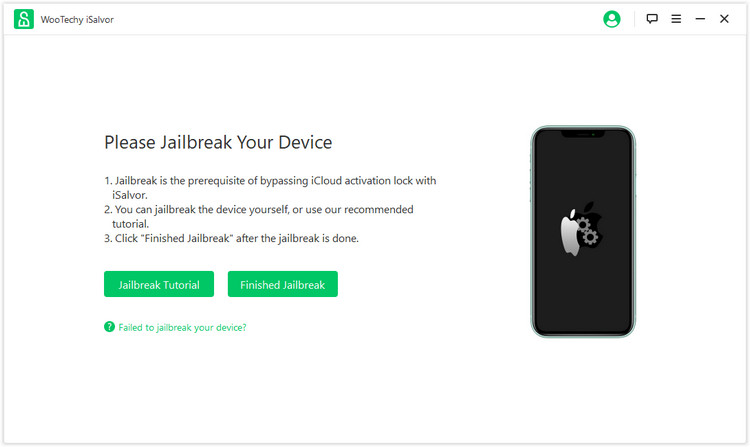 Step 4. Confirm the on-screen information and lick "Start Bypass" to start removing activation lock screen without previous owner on your device.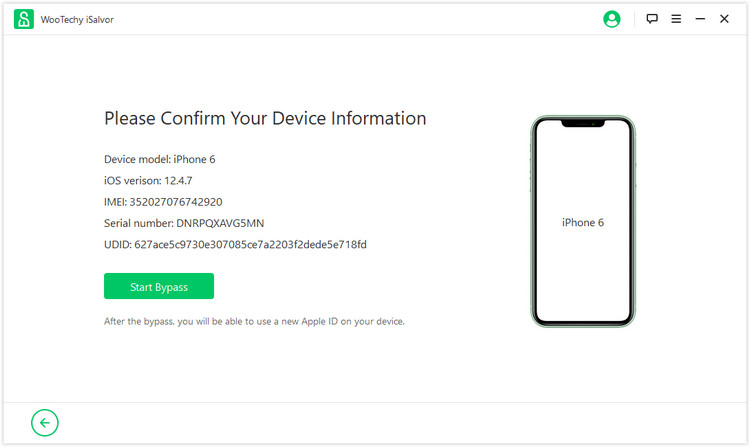 Once you click the "Start Bypass" button, iSalvor will start bypassing the Apple activation lock on your device.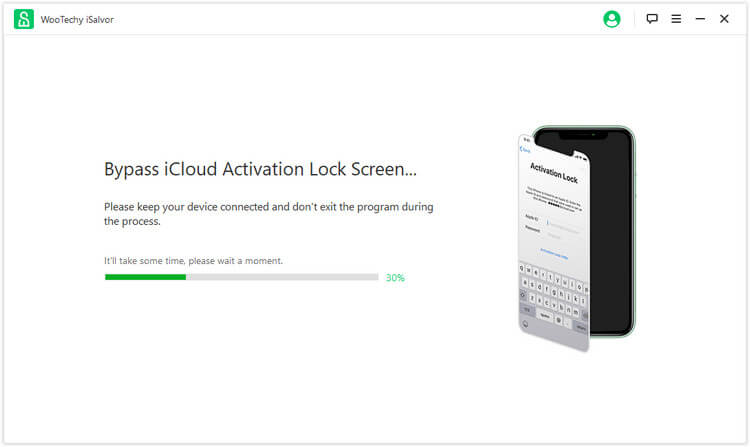 Step 5. In the end, the software will display "Successfully Bypassed". Then, click "Done" to exit the page.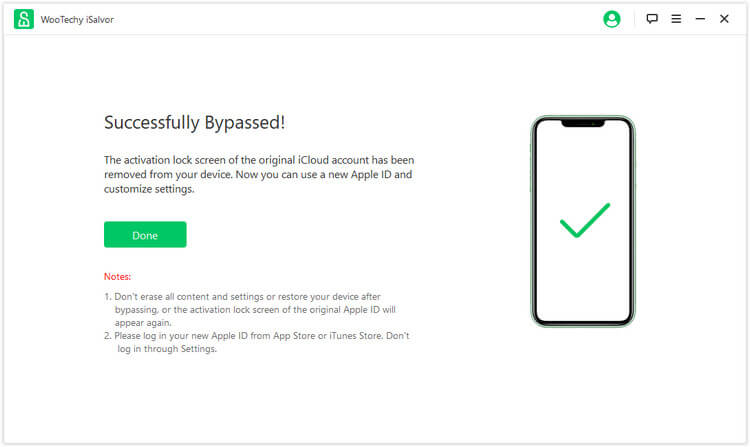 Method 2: Online Activation Lock Removal Services
Some online services claim to remove activation lock such as iCloudin, Bypass iCloud Activation DNS, Appleiphoneunlock.uk Unlocker… abut a few you will see online today. Let's now discuss some of these online services and a few cons and pros of using them. Let's take the online service IMEIUnlockSIM for an example.
This is an online service that offers iCloud unlocking services for an $18.95 fee. The iCloud unlock delivery time is 5 to 10 days, and the service has some good reviews online.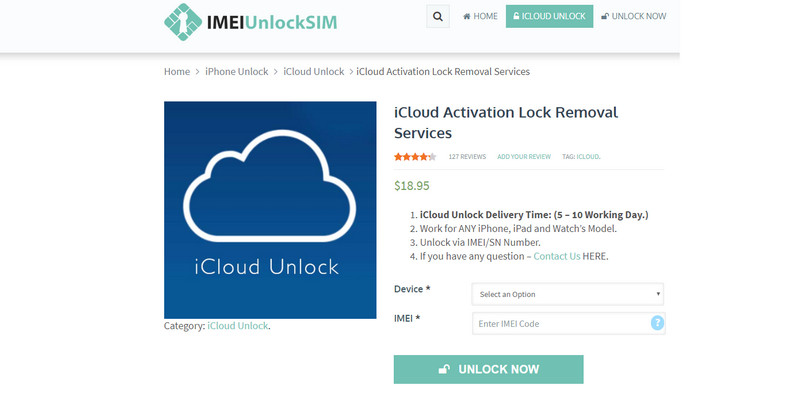 Pros:
It works on iPhone activation lock removal.

It has some good reviews online.
Cons:
It delivers as a promise but doesn't work on recent iPhones and iPads.

It takes a very long time to unlock iCloud, usually 5-10 days.
Method 3: A Loophole: DNS Bypass
iCloud DNS Bypass is another good method for unlocking activation locked iPhone or iPad. This solution is more of a manual process as you'll be the one doing everything by yourself but the technique is not hard for a tech guru.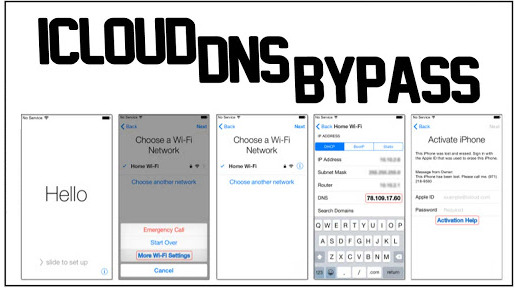 Pros:
iCloud DNS Bypass can be manually operated from your Wi-Fi settings.

It offers you good features and functions of your iPhone.
Cons:
The service may not unlock your iOS device.

It's hard for non-technical clients to operate.

The method is not a permanent unlock. The activation lock will reappear after restarting.
Method 4: The Official Approach - Apple Support
You can contact Apple Support to turn off Activation Lock without previous owner from your iPhone or iPad if you have proof of ownership of the device.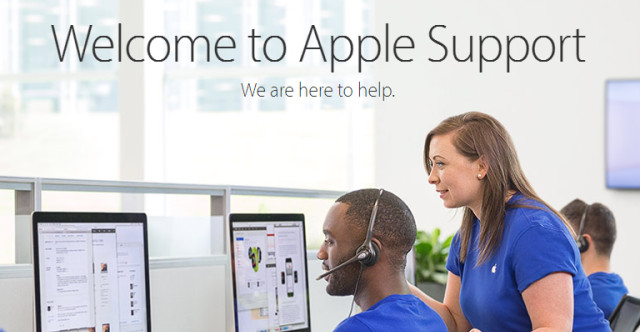 You can call Apple support by phone and provide the following details.
Apple AppleCare agreement number.

Your device serial number.

Your phone receipt.
Pros:
It's an easy and costless help.

If you have the details they want, your device activation lock will be removed without any function limitations.
Cons:
Apple Support doesn't cover iPhone purchased from secondhand vendors.

Even if you provide every detail, it is still subject to Apple Support's discretion to unlock your device.
Part 3. Remove Activation: If You Can Get in Touch with The Previous Owner
If your device is still linked to some else's iCloud account and you can contact them by anyway, then if the person is willing to help, tell him/her to follow any of the steps outlined below:
#1. Remove Activation Lock with Screen Passcode
If the previous owner is close to you physically, you can easily walk up to him/her and ask the person to enter his/her screen password to unlock the device amd then exit his Apple ID.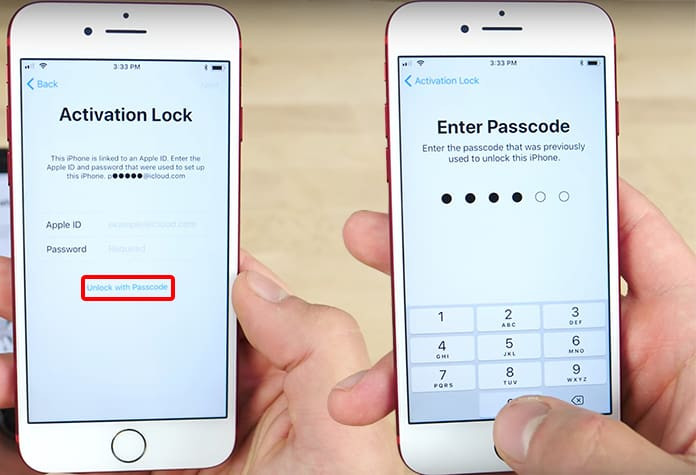 #2. Remotely Remove Activation Lock through iCloud.com
If the previous owner is not physically reachable and wouldn't agree to give you his/her iCloud account details, then ask him/her to follow these steps:
Step 1. The previous owner signs in www.iCloud.com.
Step 2. Go to "Find My iPhone > All Devices" and select the device to remove/unlock.
Step 3. Click "Erase [device]" and after erasing, click "Remove from Account".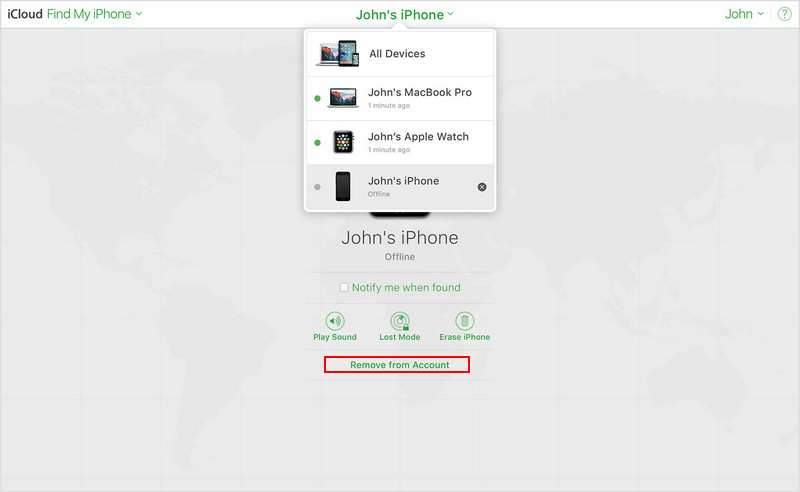 Once the above steps are complete, the activation lock will be removed and you can use your own Apple ID.
Part 4. How to Get in Contact with the Previous Owner?
It's possible to get the previous owner's contact details if the device wasn't properly wiped. Here are two ways to find the previous owner of the device:
#1. Find iPhone IMEI Number and Contact Carrier
Find the IMEI number of the iPhone: you can get it from the SIM tray, back of the iPhone, or activation screen. You can use an accurate IMEI checker to know which carrier the phone belongs to. Now, give the carrier a call and explain your predicaments. If they buy your explanation, they will give you the previous owner's contact.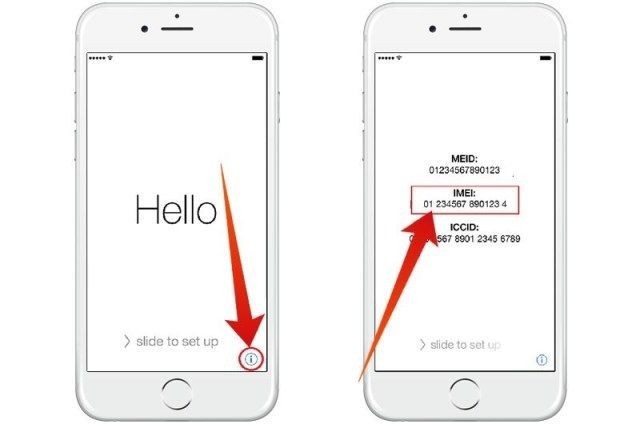 #2. Check iCloud Lost Mode for Info
If the device is in lost mode, there will be a message on the screen showing that the iPhone is lost and a number to call. You can contact the owner for help.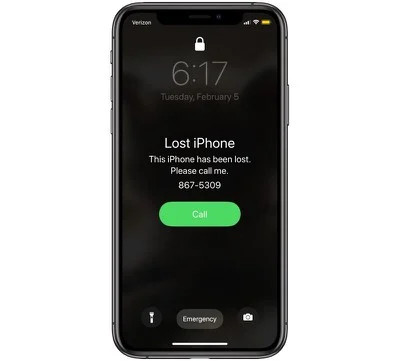 Part 5. Common Questions on How to Remove Activation Lock without Previous Owner
Q1

Can you bypass Apple Activation Lock?

Yes, Apple Activation Lock can be bypassed if you use the right tool or services.
Q2

How do I remove the previous owner from Apple ID?

You can remove the previous owner by clicking "Settings > General > Reset > Erase All Content and Settings". Then, enter the Apple ID and password, and remove the previous owner.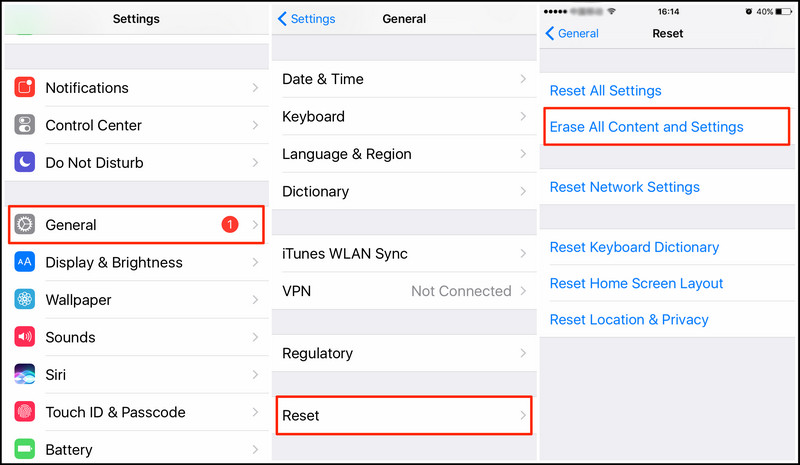 Q3

Is there any way to remove Apple ID without a password?

Officially, Apple ID is linked to the hardware on your iPhone through Apple Server and it can only be removed only when entering the correct Apple ID and password. However, according to our research, there are some tools that can turn off Find My [device] and then erase the device to remove Apple ID without a password. If you need such a tool, you can search for this on Google and give it a try.
Q4

Does Turning Off "Find My iPhone" Disable Activation Lock?

Yes, if "Find My [device]" is turned off on an iOS device, iCloud activation lock will be disabled. In fact, turning off Find My iPhone is the only promising way to disable activation lock without the original password of the iCloud account, and that's also how most activation lock removal applications like iSalvor work.
Q5

Is There a Free Way to Remove iPhone Activation Lock?

Because of the complicity of the activation lock system, there is hardly any way you can remove activation lock for free without a professional application. But you can download iSalvor for free and see if it works on your specific device with the links below.
Conclusion
Reading through this page, you might have come to the full knowledge on how to remove the activation lock without the previous owner's password. If you unluckily bought a second-hand iPhone/iPad/iPod touch with activatioon lock, I would like to leave us with one tip: get a trial version of activation lock bypass tool to remove activation lock screen without the help of the previous owner. Moreover, compatibility should not be the source of worry as this tool now supports iOS 15! Just download and give it a try!