"Can I bypass activation lock by jailbreaking iPhone 7?" , the question is being asked over and over again in community like Reddit. To be honest, the answer is no, jailbreaking alone cannot bypass the activation lock. All a jailbreak does is tweak the iPhone's settings to remove the software restrictions imposed by iOS. But jailbreaking does not remove activation lock.
However, almost all activation lock removal tools require you to jailbreak your device before bypassing the activation lock, and any tool claiming otherwise is a scam. Simply put, you need to jailbreak your device before you can move on to the next step of removing the activation lock.
What has to be emphasized at this point is that using unreliable ways to jailbreak iOS device can result in it being bricked. Luckily, this post will cover 3 proven jailbreak methods that can help you jailbreak iPhone 5s/6/6S/7/8/8 Plus/X to bypass activation lock. Read on!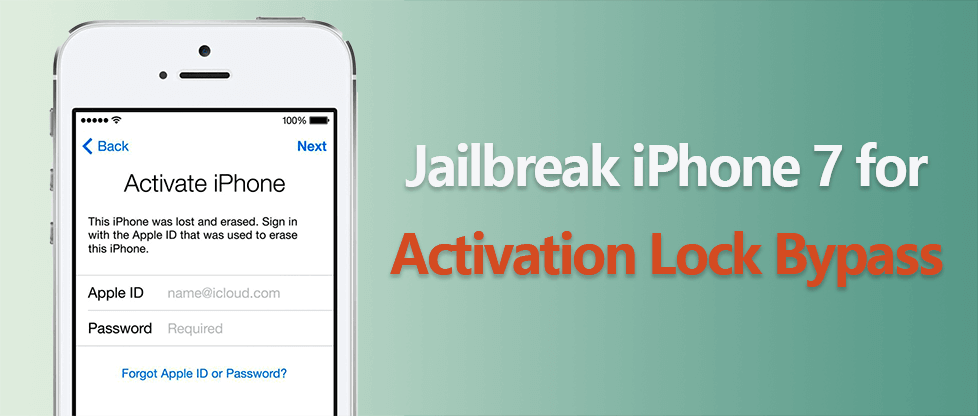 Part 1. How to Jailbreak iPhone 7 to Bypass Activation Lock?
Way 1: Jailbreak iPhone 7 & Bypass Activation Lock via WooTechy iSalvor
WooTechy iSalvor is the most sough-after tool to help users jailbreak iPhone 7 and bypass activation lock. It's among the very few software that allow users to both jailbreak their iOS device and remove its activation lock without any technical complications.
But what makes it the #1 activation lock removal tool is its intuitive and user-friendly interface, universal compatibility, and 100% success rate in bypassing the activation lock.
WooTechy iSalvor - Best Tool to Bypass Activation Lock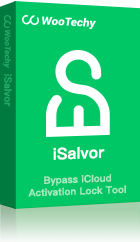 75,000,000+
Downloads
Bypass iOS Lock: Quickly remove iCloud activation lock, screen lock and SIM lock on iPhone/iPad without Apple ID or password

Unrestricted Use: Sign in new Apple ID after automatically jailbreaking locked iPhone/iPad, won't be erased or tracked by previous owner

High Success Rate: With advanced iDevice unlocking technology, the success rate is the highest among similar products

Easy to Use: Simple steps, no expertise required, friendly to non-technical users

Good Compatibility: Works with most iOS versions. Supports most iPhone, iPad and iPod Touch devices

After-Sales Guarantee: 30-day refund policy with instant refund if unsuccessful
How to Jailbreak iPhone 7 to Bypass Activation Lock via WooTechy iSalvor?
Step 1. Download and install WooTechy iSalvor on computer. Choose Bypass iCloud Activation Lock Screen option and click Start. Then connect your device to computer with USB cable.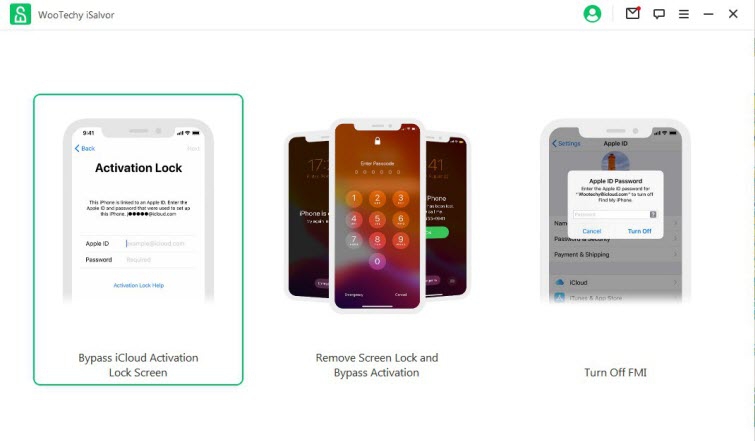 Step 2. If you are using Mac, the software will help jailbreak your device automatically. If you are using Windows, refer to the jailbreak tutorial and follow the instructions.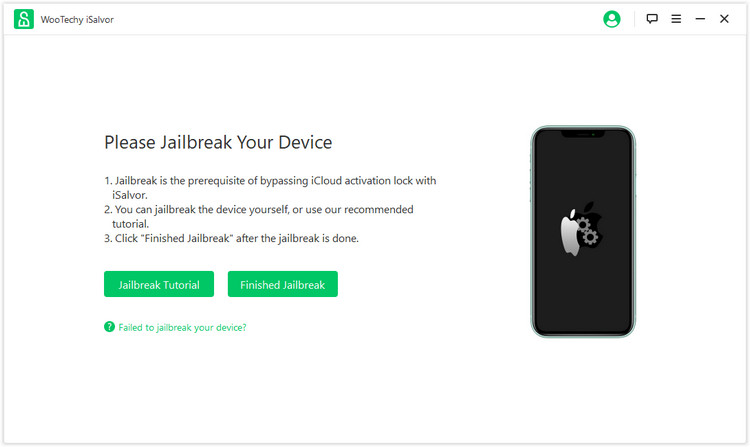 Step 3. Confirm device information and click Start Bypass to bypass activation lock.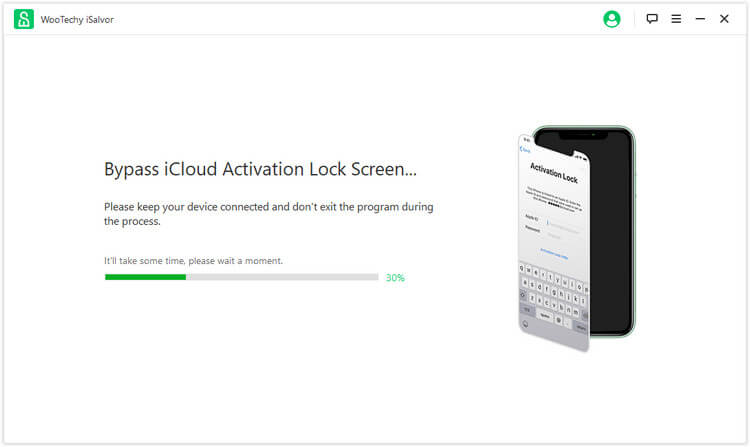 Step 4. Once the process is completed, click Done. Now the activation lock has been bypassed successfully and you can link a new Apple ID to your device!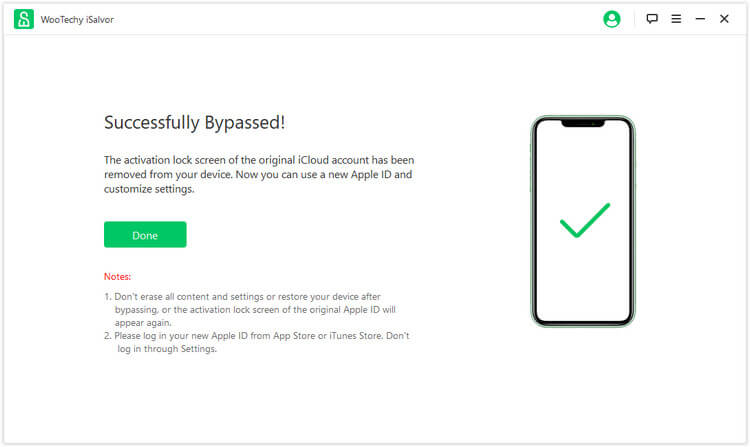 [Video Tutorial] How to Bypass Activation Lock?
Way 2: Jailbreak iPhone 7 & Bypass Activation Lock via DNS
Another proven method of bypassing activation lock is using DNS Bypass.
It should be noted that this method only works on older iOS versions, so the success rate is relatively low. However, since this method is free and easy and only takes a few minutes, it's still worth a try.
How to Jailbreak iPhone 7 & Bypass Activation Lock via DNS?
Step 1: Restart your iPhone and go through the "setup as a new device" process until you reach the Wi-Fi settings page.
Here, tap the "i" icon in front of your Wi-Fi name.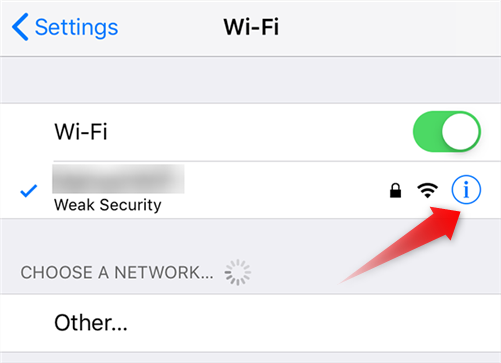 Step 2: Now, tap "Configure DNS" and then select "Manual" from the drop-down list and tap Add Server.
After that, enter one of the below IP addresses depending on your geographical location:
North America – 104.154.51.7
South America – 35.199.88.219
Europe – 104.155.28.90
Asia – 104.155.220.58
Australia and Oceania – 35.189.47.23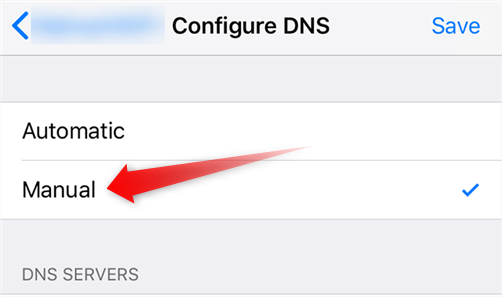 Step 3: Finally, tap "Back" and then tap "Activation Help."
Hopefully, it will remove the activation lock and you will receive a message on the screen that reads, "You have successfully connected to the Server."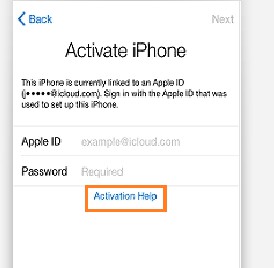 Way 3: Jailbreak iPhone 7 & Bypass Activation Lock via iFile
Another popular way to jailbreak iPhone 7 to bypass the activation lock is using iFile.
However, it should be noted that this method has more steps and is more complicated to operate. So, not very suitable for newbies.
How to Jailbreak iPhone 7 & Bypass Activation Lock via iFile?
Step 1: Using the Yalu Jailbreak tools, you need to jailbreak your locked iPhone.
Step 2: After jailbreaking it using the instructions provided on the page, download "iFile", "iCleaner and iFirewall" apps from the Cydia App Store. Each of these three apps has specific functions.
1. Using iFile, go to var/keychains/ and delete the database keychain-2.db. It would remove any stored password on your iOS device. After that, long press the power button and restart your iPhone.
2. When it restarts use iFirewall to navigate to Settings > Add new rule > "Deny All Connections." Then add another rule for the website domain 'com.apple.com' which will block all incoming and outgoing actions coming to and from your iOS device.
3. Finally, use iCleaner to go to the main page and disable "iCloud Daemon".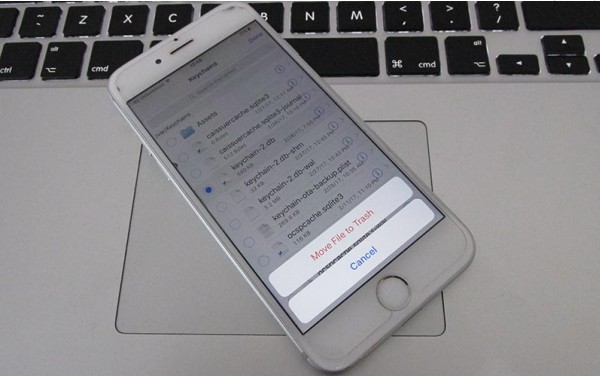 Step 3: Now, restart your iPhone again and navigate to Settings > iCloud > Find My iPhone > (Delete iCloud account).
Step 4: After that, use "iCleaner" to enable "iCloud Daemon", then uninstall "iFirewall" through Cydia and restart your device again.
Step 5: When it restarts, go to Settings > (set up a new account) and keep trying it until you're signed in. Then, activate "Find My iPhone" for the new account using the official methods.
Step 6: Then, head to iCloud.com and localize your new device. You should play a sound on your iPhone from the iCloud window to verify the new connection. Then, hit on "Erase iPhone" under "All Devices" option.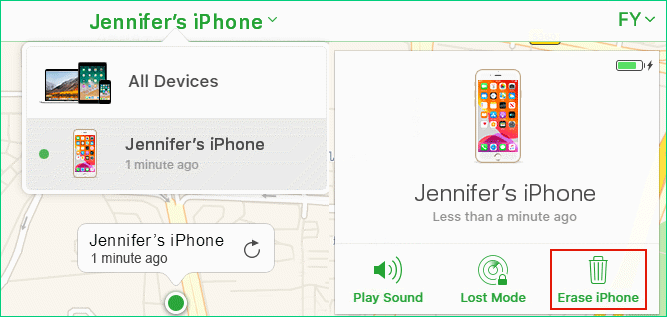 Step 7: Finally, use iTunes to initiate DFU and restore your device and once it restarts, you are good to go to use it as usual.

Part 2. FAQs About iPhone 7 Jailbreak & Activation Lock Bypass
Q1. Can I jailbreak an iCloud locked iPhone?
Most jailbreak methods require an iPhone to be activated or unlocked to jailbreak it. However, professional tools like WooTechy iSalvor can help you jailbreak an locked iPhone without any technical hassle.
Q2. Can I Bypass Activation Lock for Free?
Bypassing the activation lock is not a straightforward process since Apple has put stringent security protocols in place. For this reason, we recommend users not to use free methods or tools as you can fell victim to any malware or fake product disguised as free activation removal tool – and it can compromise your data and device. But rest assured, you can use WooTechy iSalvor to bypass activation lock safely.
Q3. Is there Any Official Ways to Bypass Activation Lock?
Yes, Apple allows user to contact the customer service and request them for activation lock removal. If you manage to convince them, they can officially remove the activation lock. However, you need to prove your ownership of the device. While contacting the, you should have:
1. Purchasing receipt
2. Original box of the iPhone
3. Dead certificate of the previous owner if they are dead
Secondly, you can contact the original owner and request them to remove the activation lock using iCloud.com.
Q4. Will I Lose Data after Bypassing the Activation Lock?
There's no way, official or not, for bypassing the activation lock without losing data. Any tool or method claiming otherwise must be a scam. (No wonder why Apple devices are tagged as the most secure when it comes to user privacy and data protection.)
Conclusion
To wrap it up, jailbreaking is a prerequisite for bypassing the activation lock and one can't remove the activation lock without jailbreaking their iOS device first. This post has shed light on the 3 best methods and their step-by-step guide to jailbreak iPhone 7. Regardless of the method you use, jailbreaking is as easy as it can get as long as you're carefully following the steps.
Below is a description table comparing various features of these 3 methods to help you make better understand which method you can prefer for iPhone 7 jailbreak and activation lock bypass.
| | | | |
| --- | --- | --- | --- |
| Feature | iSalvor | DNS | iFile |
| Success Rate | Very High | Very low | Low |
| Time | Almost half an hour | 5-10 minutes | Couple of hours or more |
| Safety | 100% Safe | Generally safe | Safe |
| Ease of Use | Extremely user-friendly even for novice users | A bit complicated | Very complicated for non-tech savvy users |
As you can see, there is no doubt that WooTechy iSalvor is the best way to jailbreak iPhone to bypass activation lock. As a professional activation lock removal, WooTechy iSalvor is great in every way, which can help you to jailbreak iPhone 5s/6/6S/7/8/8 Plus/X to bypass activation lock safely and quickly. Give it a try now!