Removing iCloud account can be essential if you have forgotten your iCloud account password. After removing iCloud account from your iPhone, you can start the setup process with a new apple account or use a second hand iPhone as a brand new one.
Let's have a look at the article for removing iCloud account from iPhone without password.
Things You Should Do before Removing iCloud Account
Before you get started in the process of removing iCloud account you will need to first create data backups for your iPhone. If there's any information that you don't want to lose from the phone, use iTunes to do a complete data backup before removing iCloud account.
Follow 3 steps below, you will back up all data you want:
Step 1. Connect your iPhone to the computer and oppen iTunes application.
Step 2. Select File > Device > Backup > Summary.
Step 3. Click the " Back Up Now " button from Summary, then iTunes will create a backup and you will just need to wait.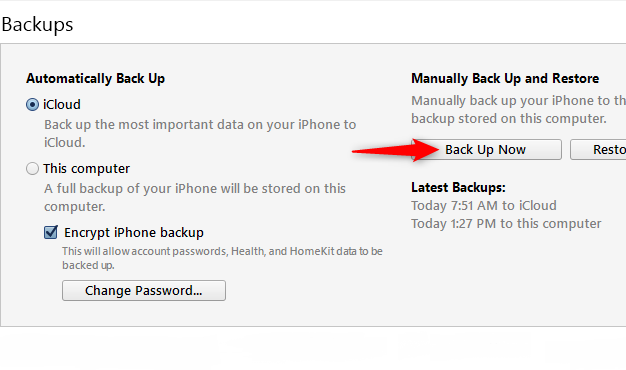 How to Remove iCloud from iPhone without Password
If you don't have the password to your iCloud account, you can still remove the iCloud account from the iPhone so that you can set it up again.
There's a variety of software that can be used to access the iCloud account on the iPhone and clear the data from the phone so that you can start the setup process all over again.
1. Remove iCloud from iPhone Without Password - WooTechy iSalvor
In such case, WooTechy iSalvor will offer a fast and easy bypass solution that will have your iPhone working again in no time. The software was developed to go into the back end of the Apple software and remove the iCloud account. Additionally, unlike any other third-party software, your iPhone won't be stuck on the activation lock screen once you have bypassed the screen lock using iSalvor.
Top Features of WooTechy iSalvor
You can bypass iCloud account without Apple ID or password.

Highly convenient to use even by computer illiterate as the process and steps are simple and straightforward.

Access the device using a new Apple ID.

Prevent the device from being tracked by the old iCloud credentials.
Check the video here to learn quickly on how to delete iCloud account without password:
Follow the below steps to remove iCloud account:
Step 1. After installing the software, launch it on your computer. Choose the " Remove Screen Lock and Bypass Activation " option from the main interface. Connect the iPhone that is disabled through usb cable.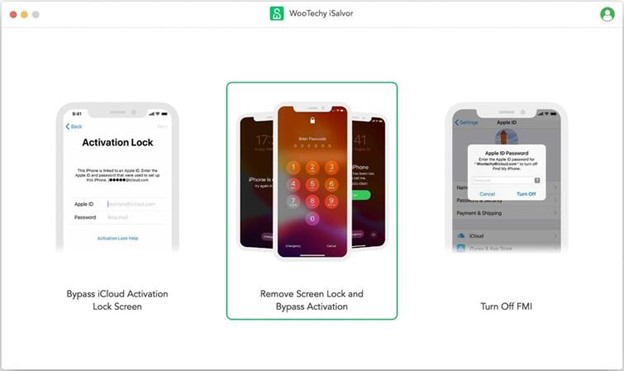 Step 2. Put your iPhone into recovery mode through on screen instructions. Pick the FMI status of your iPhone in the software and hit " Next ".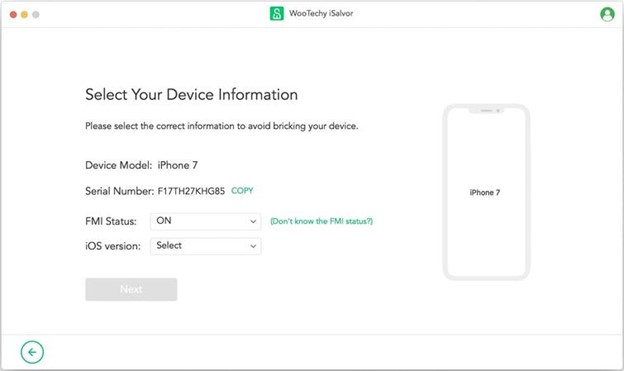 Step 3. Pick jailbreak for the device, iSalvor will download the jailbreak package for your iPhone model. Click on " Start Jailbreak " and follow the steps on screen until the jailbreak completes.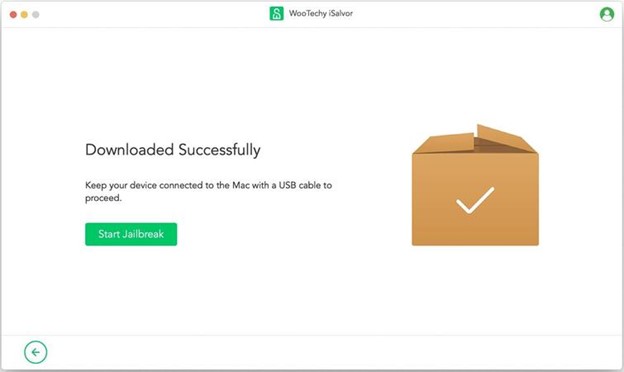 Step 4. Follow on screen instructions and bypass the lock screen. iSalvor will download the required files based on your compatable OS. When the bypass completes, hit " Done ".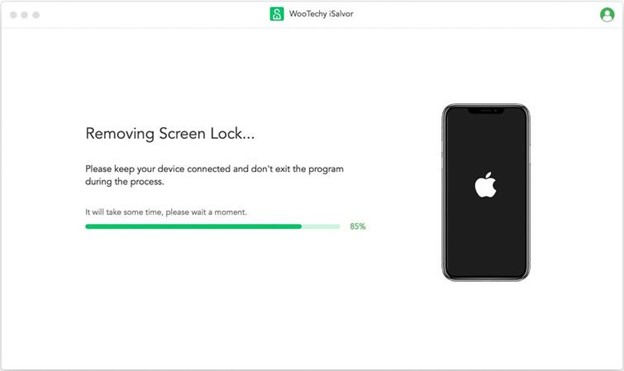 Compatibility:
The Software is compatible with iOS and Windows-based operating systems and it is a fantastic way to reset your phone or clear access when it is required.

Support devices from iPhone 5S to iPhone X.

Support iOS versions: iOS 12.0 - iOS 14.8
2. Remove iCloud from iPhone Without Password - DoctorUnlock
A Second type of wizard tech is the DoctorUnlock. If you've ever faced a frustrating situation where you can't unlock your iPhone, this is the place that will use the IMEI number to unlock your phone.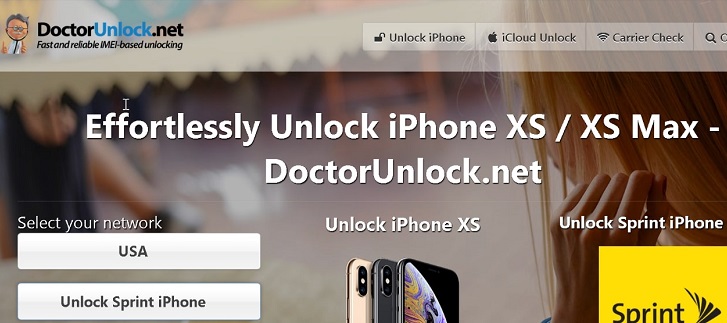 If you're looking for a convenient way to do this, using DoctorUnlock should be a good way. According to the service provider, it's very easy to use the service. Read the steps below:
Step 1. Get your IMEI number.
If your iPhone is not actived: From the activation screen, hit the " i " icon button on the screen and you will get your IMEI number.

If your iPhone is actived: You can dial " *#06#" to get your IMEI or go to Settings -> General -> About -> Scroll down to see your IMEI.
Step 2. Input IMEI number on their website, select your model and hit " Un lock Now ".
Step 3. Then, you will have to complete the payment. You will get a confirmation email after payment. After that, you will have to wait. DoctorUnlock will send you a confirmation email about the unlock, if it's successful, you can start your iPhone.
Pros:
The service is provided for a wide range of devices. It is claimed to support iPhone 11 to iPhone 4. Once the lock is removed, you will be able to use your device, and you can associate the device with your own iCloud account.
Cons:
Although it seems easy to unlock your phone using it, accoding to user reviews, it's not quite reliable. After you pay for it, you can only wait. It takes weeks and even months to unlock your phone. Sometimes it just cannot unlock your phone.
3. Remove iCloud from iPhone Without Password - iPhone Setting
Using the settings in your iPhone you'll be able to remove your iCloud account. If you can still get access to the phone, you might be able to remove iCloud account from iPhone without password. Here are the steps:
Step 1. Access your settings page, go to the iCloud option and then begin randomly inputting digits to activate the second prompt.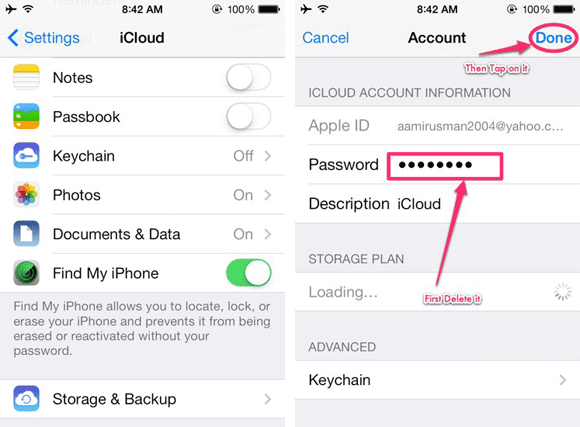 Step 2. When you see the pop-up window showing that the password is incorrect, tap " OK " and go to the account section to remove the description. Tap the button " Done ".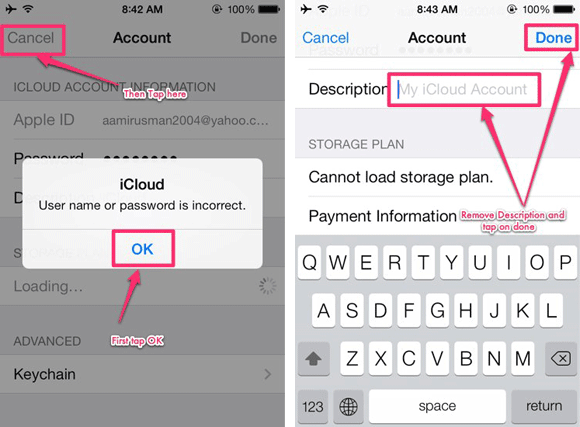 Step 3. After you've completed these steps go to the final iPhone interface, scroll to the bottom and you'll see that the delete option will be available. By deleting the find my phone option you'll also be able to delete the iCloud access that is on your iPhone.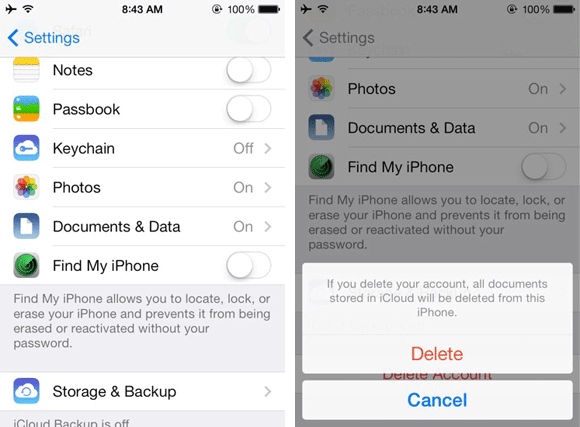 This solution doesn't always work flawlessly but it is a great way that you could clear the error without having to download any software. This method will only work if you know the passcode to the phone as well so it might not be a good option if you have been using an iPhone that you bought secondhand.
FAQs about Removing iCloud Account
In this section, we'll discuss some FAQs of readers pertaining to removing iCloud.
1. How to Remove a Previous Owner from Apple ID without Password?
The most definitive way that you can remove an iCloud account from iPhones without passwords is by using reliable software. Go to WooTechy and look up the WooTechy iSalvor software. After you've installed the software, plug in your iPhone and go through the process of resetting your iCloud without a password. The software will take you through each of the steps that are required to get access to the phone. After you've completed each of the steps, you should have a cleared phone, so you can start again with a fresh account.
2. What Will I Lose If A Factory Reset My iPhone?
If you factory reset your iPhone, all information including apps, photos, videos, contacts, messages, calendar, or music etc. will be lost. So if you have to factory reset your phone, back up your data first.
3. Why Does The Old Apple ID Keep Popping Up?
If you keep seeing the old Apple ID there's a chance that your old username and password has not been effectively removed with the software or with the method that you've used. If you continue to see your old ID, you may need to reset the phone again.
4. Why Does My iPhone Ask for Someone Else's ID?
If your iPhone keeps asking you for somebody else's ID is a chance that they have signed into their iCloud account or your phone has been hacked. Learning how to remove iCloud account from an iPhone without a password will make sure that even if your phone is stolen or hacked, you will still be able to recover the data.
Conclusion
If you have been seeking a solution on how to remove iCloud accounts from iPhone without a password, you should consider the use of the WooTechy iSalvor system. Using these tools will make sure that you can very quickly clear off your phone and get rid of previous data that could have been on it from another user. Why not download and give it a try?