Question
I have been trying to unlock my iPhone which gets stuck on the iCloud activation lock. WooTechy iSalvor came to my search rusts page and I found this software has multifunctions. Is there any free serial key, discount or coupon code I can use?
WooTechy iSalvor is a powerful tool for bypassing iCloud activation lock, removing screen lock and turning off Find My [device]. Read on to learn about the WooTechy iSalvor registration code and find the official coupon in the end.
Part 1. Why You Need WooTechy iSalvor
WooTechy iSalvor is a hassle-free, powerful, and effective tool to bypass iCloud activation lock and turn off FMI for iPhone, iPad, and iPod touch. With this powerful software, you don't need to the previous owner's Apple ID or password to get into a locked iOS device.
The reasons you need WooTechy iSalvor include the following:
To bypass iCloud activation lock on iPhone, iPad or iPod touch without the Apple ID or the password.

To remove different screen locks without getting stuck in activation lock.

To turn off Find My [device] without password in seconds.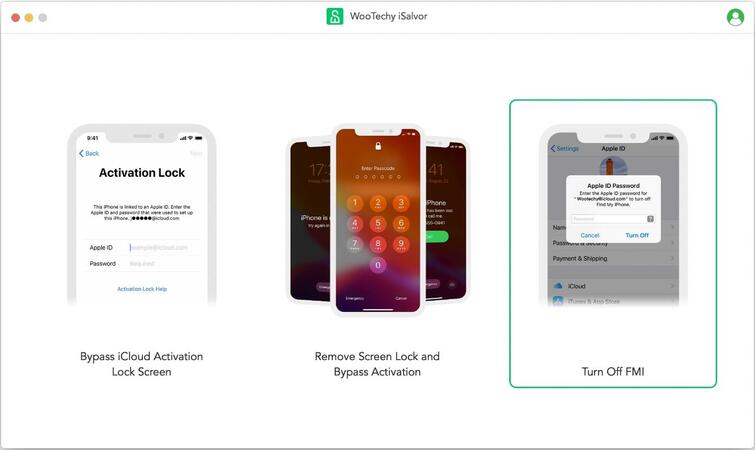 Features of WooTechy iSalvor:
Efficiently bypasses Apple activation lock in few simple steps.

Create or use any existing Apple ID on the bypassed device.

The previous owner can't trace or track your device using his/her iCloud account.

Your device won't be erased or blocked using the previous iCloud account.

Support iPhone 5S to iPhone X running iOS 12.0 to the latest iOS 14.
User Reviews of WooTechy iSalvor
As a professional program in unlocking iOS devices, WooTechy iSalvor has been taking a leading role in the iPhone unlocking market. Below are some comments on WooTechy iSalvor from Trustpilot: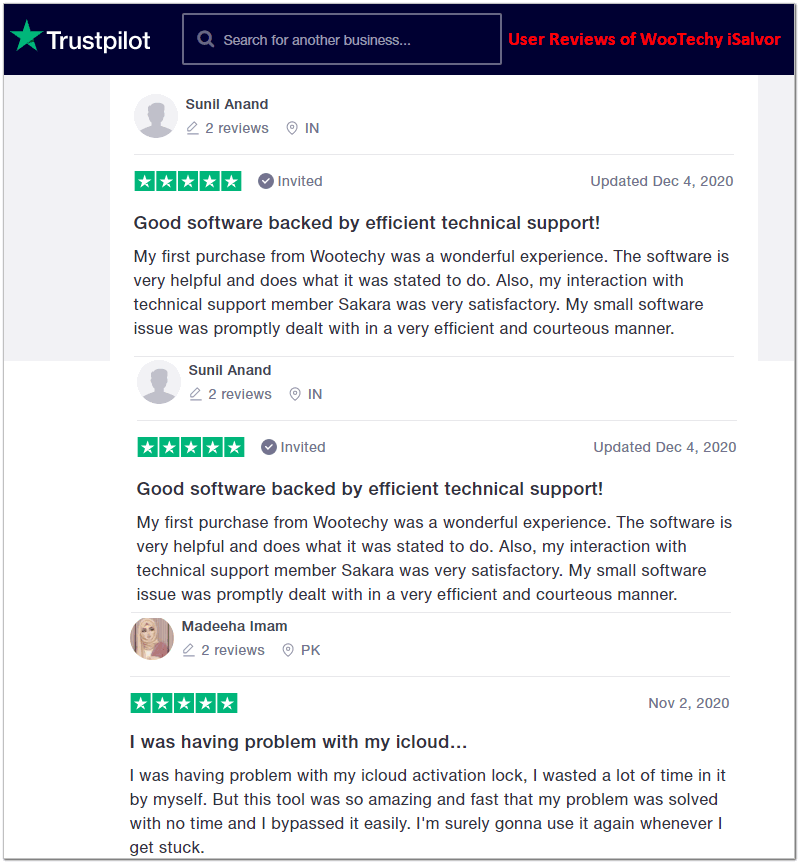 Part 2. Truth About WooTechy iSalvor Registration Code
WooTechy iSalvor being a robust software, offers three premium plans. These plans or licenses include:
1-Month Plan: This plan as the name implies supports only 1 device for 1 month, and it costs $39.95.

1-Year Plan: The 1-Year plan is a unique plan that allows 1 iOS device for 1 year. It costs $49.95 to activate this license.

Lifetime Plan: This plan is ideal for 5,10,15, 20 and unlimited iOS devices for a lifetime, and it comes with a lifetime offer. The price starts from $69.95.
Note: It is important to note that once you purchase any of these plans, your license will be given to you immediately.

Now the truth about free iTunes backup unlocking tools is that they are fake. Those sites that claim to offer free licenses just want to waste your time with no good results. So, it is advisable to get a premium and working license from
WooTechy iSalvor official website
at a discounted price.
Part 3. Benefits of Having Your Own WooTechy iSalvor Registration Code
Why You Need a Serial Key to Use WooTechy iSalvor?
No genuine software company that works hard to get a software working will ever give out the software for free without the end-users paying for it. It is essential to know that iMyFone company does not offer free licenses because her team spent valuable time and resources to make sure the software works well. Again, funds are needed to keep the software updated with the latest improvements and features.
Like I have said before, any software that offers free licenses to end-users does not work. Some of this free software is designed to steal your personal information. So, you have to be careful when scouting for free online tools to unlock your iDevice.
Guaranteed Service for WooTechy iSalvor Customers
It is necessary as an iPhone user to get a personal KeyGenius serial key in case of emergency. You may forget your iTunes backup password someday and unlocking it with KeyGenius may be your only option. Some other reasons you need to get a serial key include:
Maximum cost-efficiency

Reliable 24/7/365 customer service

30-day money back guarantee

Free lifetime upgrades
Part 4. Official Coupon for WooTechy iSalvor Registration Code
WooTechy iSalvor offers 15% discount on any purchase made on their website. So, what are you waiting for? Grab this offer now while it lasts.
Your 15% OFF Coupon Code:
ISALVOR-15OFF
Copy the coupon code and follow the steps here to use it:
Step 1: Click here and get to WooTechy iSalvor purchase page: for Windows or for Mac.
Step 2: Click the blue "Proceed to Checkout" and you will be guided to the payment page.

Step 3: Find and check "Redeem Coupon Code".

Step 4: Paste the code ISALVOR-15OFF into the box and click "Update" to activate the discount.
Step 5: The price will be adjusted to be 15% off. Continue to fill in other purchase information and you will get the license.
WooTechy iSalvor is an excellent tool to unlock iTunes backup password and remove encryption password from your iPhone. If it is within your budget, ensure you get this software and watch work wonders.

Part 5. FAQs about WooTechy iSalvor Resistration Code and Coupon
In this section of the article, you'll find helpful tips, tricks, and answers on WooTechy iSalvor registration code and the coupon usage..
Q1: When will you have a discount?
In order to accelerate our WooTechy brand's growth, as well as increase online awareness and engagement. We host online promotions such as contests, giveaways and sweepstakes on holidays such as Easter, April Fools Day, Halloween, Thanksgiving, and Christmas.
Q2: Can I use the coupon along with other discounts?
For every order, you can only use one promotion, either the coupon or the discount price.
Conclusion
This page offers comprehensive knowledge about WooTechy iSalvor registration code. If you are stuck at iCloud activation lock, need to remove screen lock or turn off FMI on iOS devices, you are recommended to free download and install the WooTechy iSalvor activation lock bypass tool which can bypass the iCloud activation lock without Apple ID and passwords. Don't forget to use the coupon code ISALVOR-15OFF to enjoy 15% off!