What exactly is a Pokémon Go evolution calculator, and when might you find yourself in need of one? Regardless of how long you've been playing Pokémon Go, you'll have several Pokémon in your collection, all of which will be sitting with different CPs. However, even if this is the case, you still might not be familiar with what a Pokémon Go evolution calculator is.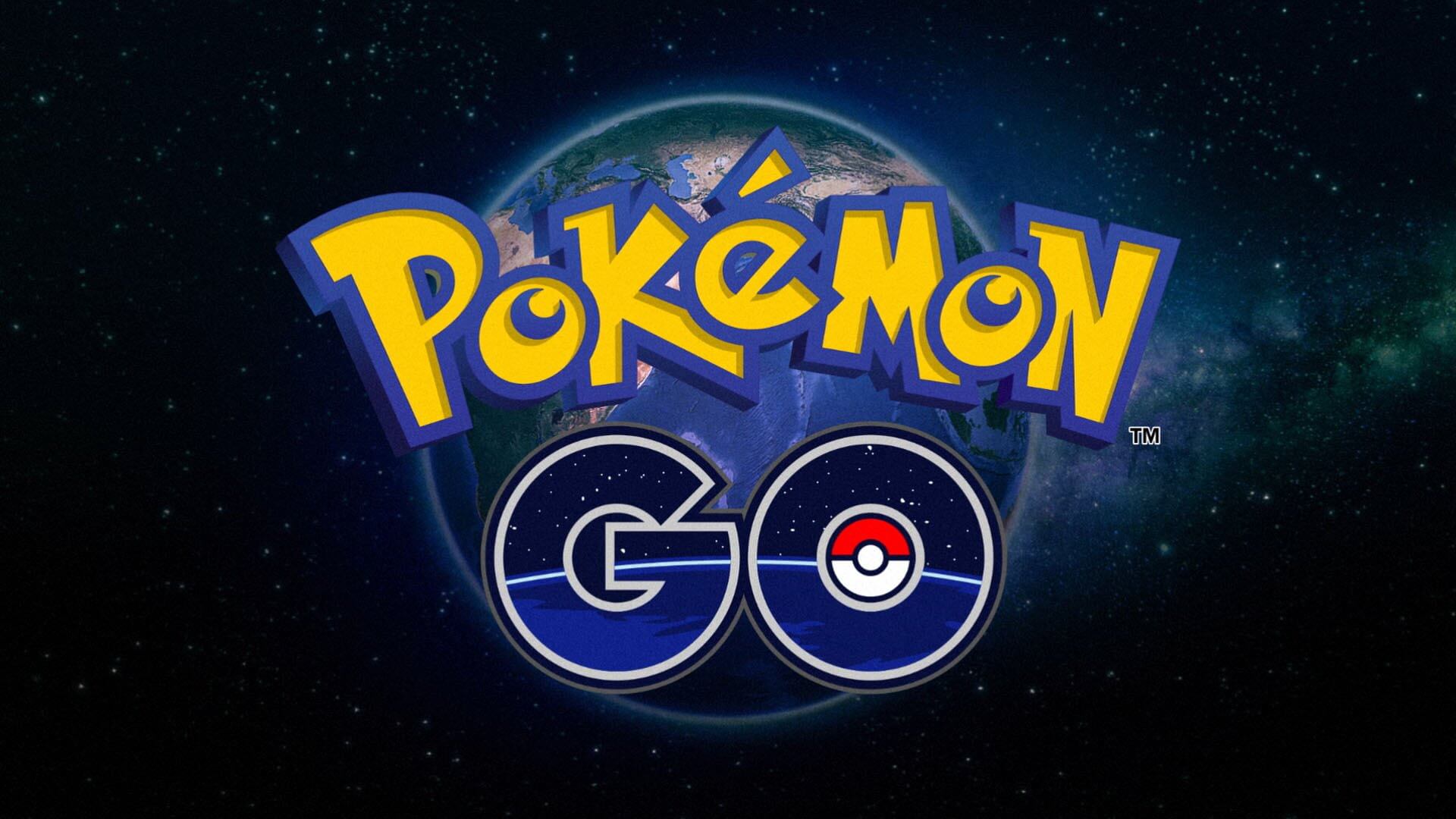 To tell you the truth, it's a convoluted method that involves a lot of guesswork and estimation. A CP calculator is used to determine, to a certain extent, how powerful your Pokémon will become once the player has evolved it. That is all the information you require to get started; however, we will elaborate on the specifics in the following paragraphs.
Each Pokemon you catch has a Combat Power (CP) value. We'll explain the Pokemon GO CP calculator, why you need it, and how to use it.
1

What is CP Calculator Pokemon Go

Pokemon CP calculator calculates the following stage's CP. Many helpful websites can do this. These calculators estimate your Pokemon's next CP.

The Pokemon go CP calculator is essential. This calculator has benefits:
For the battle league, evolve high-CP Pokemon

Quickly estimate your Pokemon's future CP

You can spend candies and stardust wisely to evolve Pokemon
Using the Pokemon Go CP Calculator
To check your Pokemon's current CP, simply open a web browser on your PC or mobile device.
Visit the Pokemon GO CP Calculator and select the Pokemon.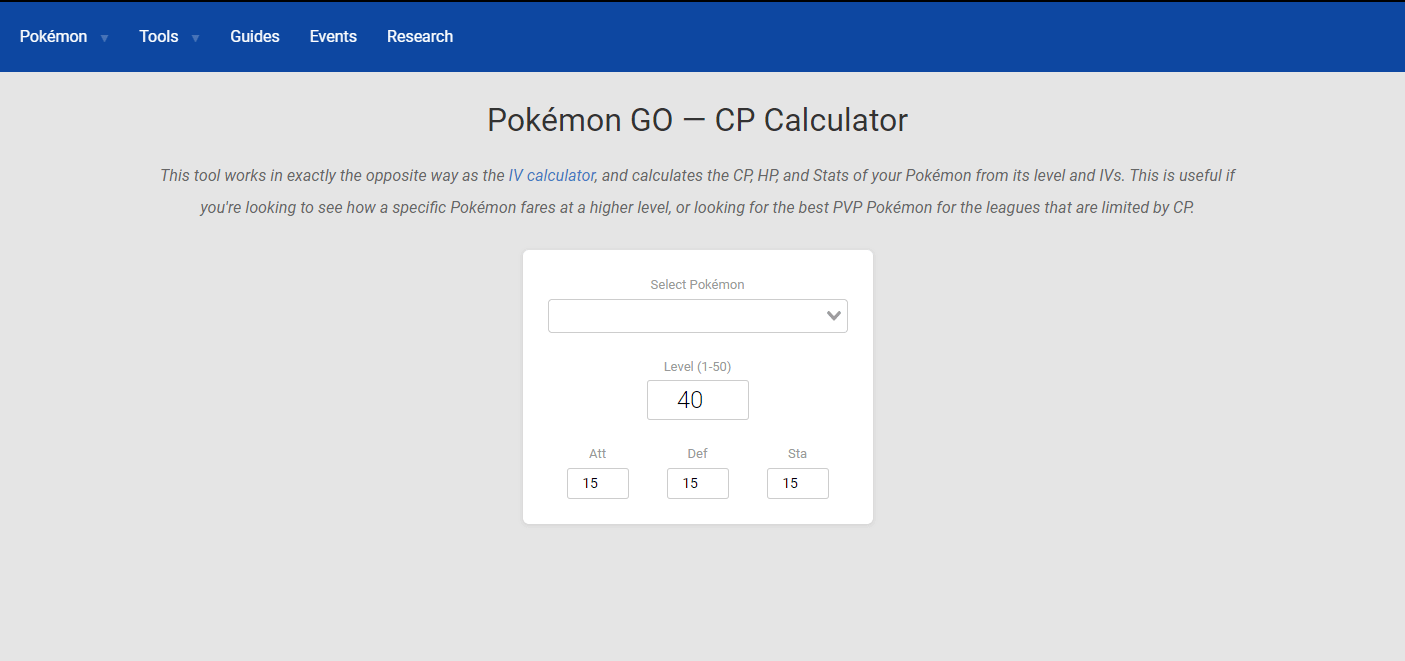 Select 1-40. Pokemon hatched from eggs have level 20 and rise by 0.5 per day to level 40.

Then you'll notice statistic bars. Check the boxes.

Then you'll notice statistic bars. Check the boxes.

Next, a CP pop-up will appear.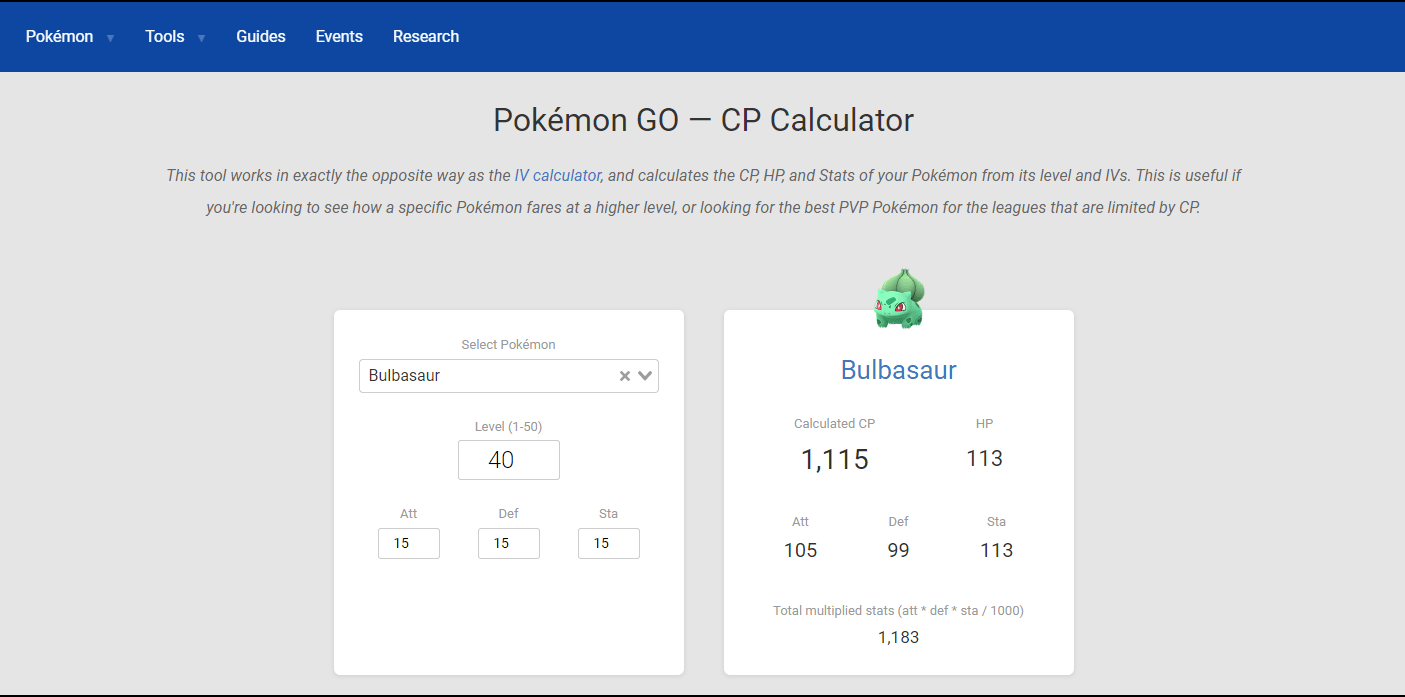 2

What is the Pokemon Go Evolution Calculator

The Pokemon Go evolution calculator will tell you how powerful your Pokemon will become after it has evolved. The potential power of your evolved Pokémon can be determined with the help of this tool. The CP of the evolved forms is determined by the status of the Pokémon in its most recent evolution. A Pokemon evolution calculator is a useful tool that can tell you how powerful your evolved Pokemon will be by analyzing its current combat power and comparing it to its potential CP. To use this tool, all you need is your current Pokemon and their combined base stats.

After these two pieces of information are entered, the Pokemon GO evolve calculator will determine the CP of the evolved Pokemon. Therefore, it tells you about the future status of your Pokemon based on the current status of your Pokemon. You are aware that acquiring candies in Pokemon Go is a really difficult task due to the rarity of these items, so investing them in the evolution of Pokemon is a smart move on your part. You can do the following with the help of the Pokemon Go evolution calculator:
Keep your resources, especially your candies, and avoid spending them on evolved Pokemon with a lower CP.

Make an informed choice between two Pokemon of comparable stature to evolve.

Develop your most useful Pokemon into more powerful versions through evolution.
Using Pokemon GO Evolution Calculator
The Pokemon Go evolution calculator is an extremely user-friendly and completely free platform. To make use of it, just carry out the procedure that is outlined below.
Visit the Pokemon Go Evolution Calculator.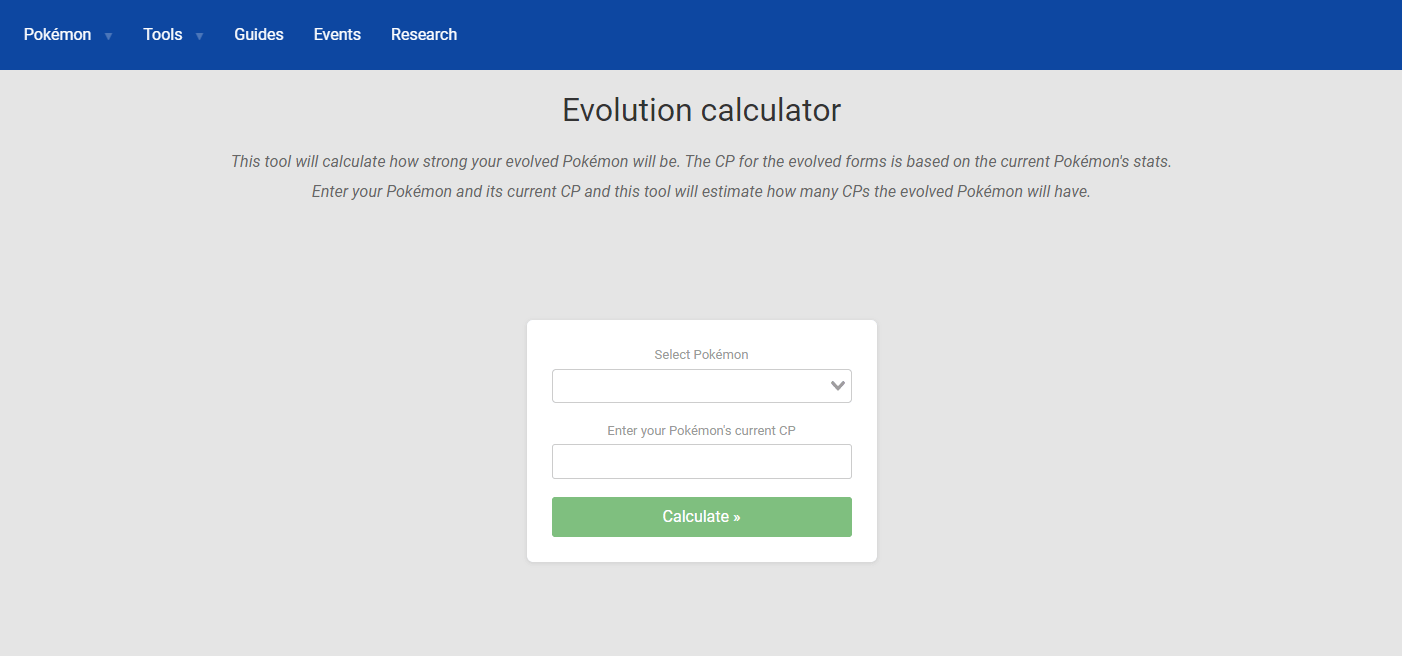 Choose the name of your Pokemon, then type in its current level in the appropriate box and hit "Calculate."

It will show the results of your selected Pokemon.

3

Play Pokemon GO Without leaving your Home

Playing Pokemon Go requires a significant amount of walking around; that much is unquestionably true. There is no doubt that the recent pandemic has had an impact on the Pokemon Go community. Because of the health-related restrictions, many players are curious about how they can play Pokemon GO without moving around.

It is possible to play Pokémon GO without actually moving around. You only need iMoveGo, an app that can manipulate your phone's location to give people the impression that you are moving even though you are not moving at all.

With WooTechy iMoveGo, you can spoof the official Pokémon GO app. Within a few clicks, you can have the software installed and have it spoof your GPS location on all location-based apps.

On top of that, it has a free trial that you can use to make sure the features are suited for all your purposes.
Draw customized routes for your Pokémon GO avatar along.

100% secure and would not get detected by Pokémon GO.

Instantly teleport you to any place in the world safely.

Compatible with iPhones and Androids (including the latest iOS 15)

A free trial is available for every user
Location Spoofer WooTechy iMoveGo is an excellent location changer for Pokemon GO that works equally best on all other applications. The platform will teleport you to anywhere around the world with its following features:
GPS teleportation works with a simulation where you can adjust the speed and the direction.

The trial period allows exclusive access to how the application works. It is a powerful platform with location-changing capabilities. Available on both android and iPhones.

No need to jailbreak or root your phone!

iMoveGo works well on all applications that require location access. You can use it on Pokémon Go, Tinder, and Bumble.

The application does not release your private information to third parties. The protocols are secure and do not facilitate hacking or exposing attempts.

In addition, you can keep a Favorite List of all the previous locations visited in the past. The applications maintain historic records too.

The application offers two-spot routes, multi-spot routes, and GPX route files.
Those of you who would rather play while remaining ensconced within the confines of your home will find this activity to be ideal for you. You will not only be more comfortable, but you will also be able to avoid potential risks, such as getting lost or even being mugged.
Using iMoveGo to Change Location of iOS
Step 1: Launch iMoveGo
Download and install iMoveGo into your computer and launch it.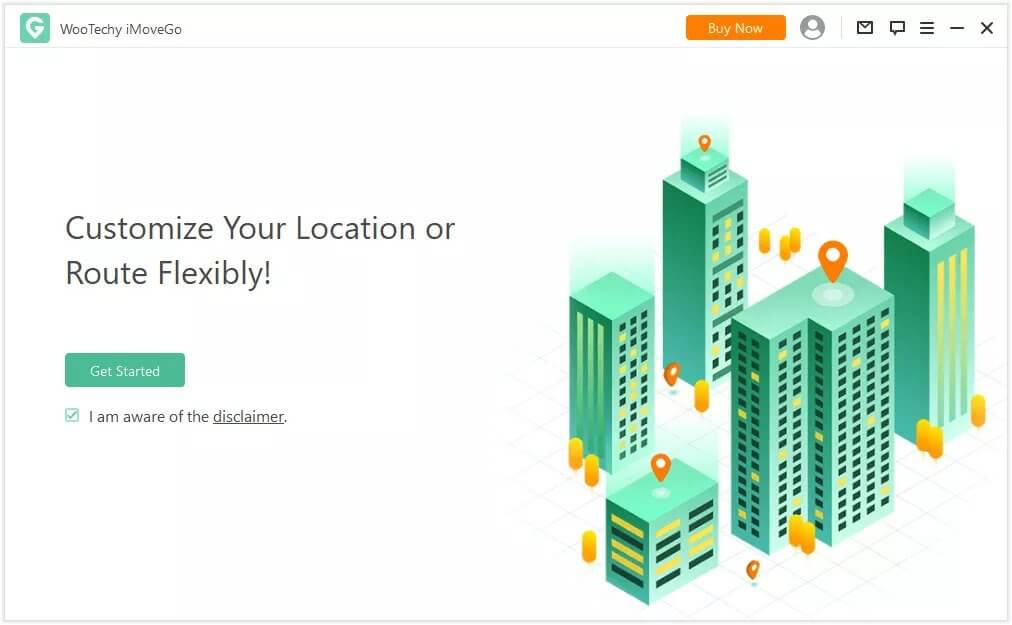 Step 2: Connect your iPhone
After launching iMoveGo, connect your device to the computer. There are two ways you can connect your device to a PC.
Option 1: Connect your iPhone/iPad through USB.
Once the device is connected via USB, you will be asked to unlock your device and tap on "Trust." In order to complete this process, you will be asked to enter your device's password.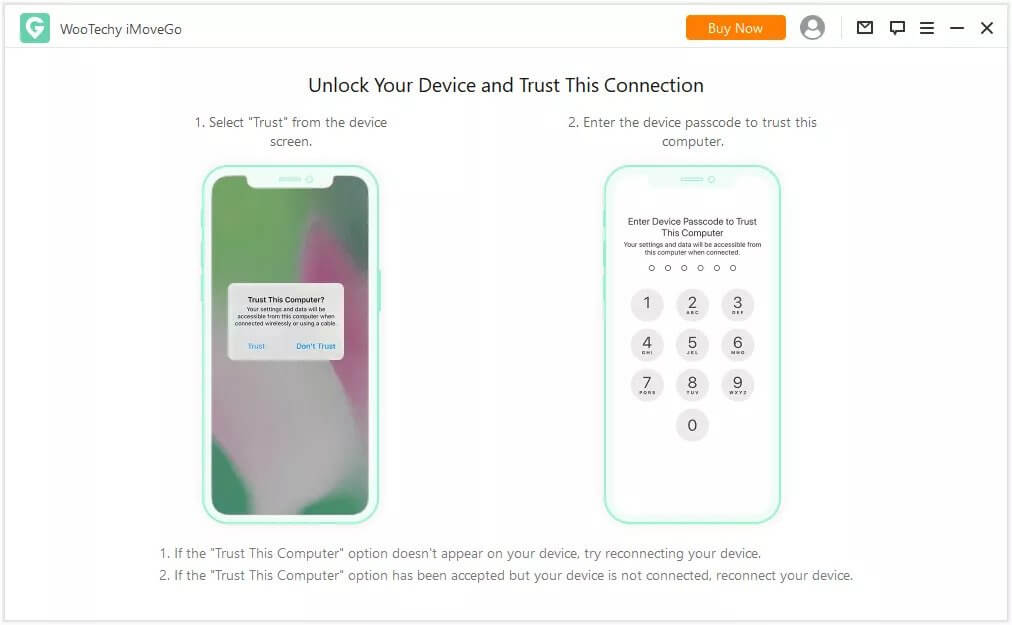 Option 2: Connect via Wifi
Once you have connected your device with your computer using a USB, you can use Wi-Fi to connect both devices afterward. It is important that both devices are connected to the same Wifi.
Step 3: Select Teleport Mode
After your device is successfully connected to your computer, it will take some time to load the map. Once the map is loaded, select the Teleport Mode from the upper right corner of the screen.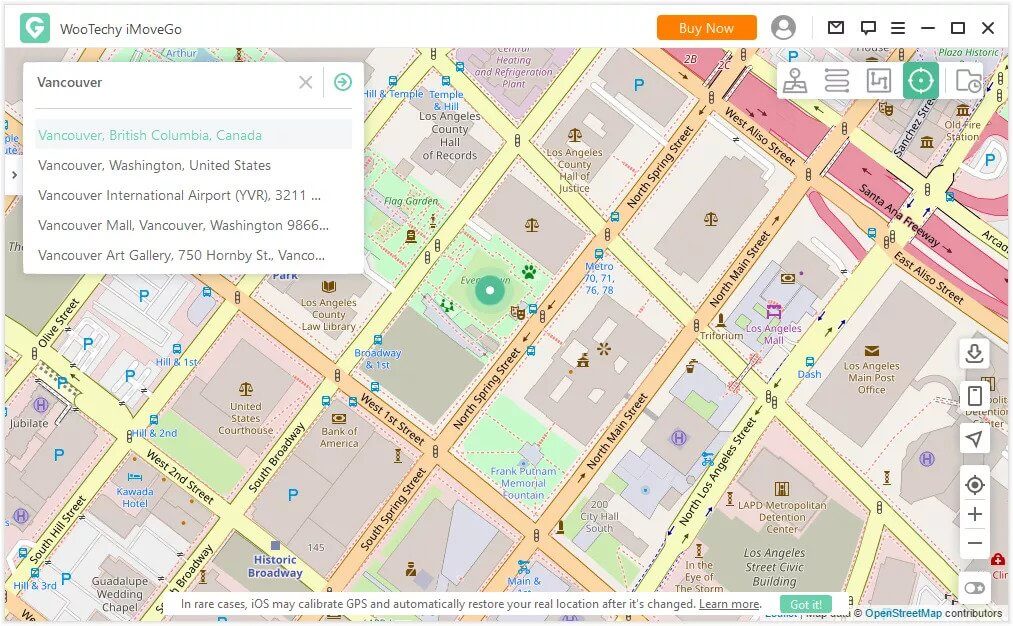 Step 4: Select Location
After that, you can select any location that you want from the map and click on "Move" to change your location. You can select the location either by choosing it manually or searching it in the search bar.
Key Features of iMoveGo
75.000.000+
Downloads
Change your location to anywhere in the world.

Simulate GPS movement with a customized speed.

Works well on all location-based apps, such as Snapchat, Find My and even Pokémon GO.

Spoof location on up to 10 devices at one time.

Compatible with both iOS and Android devices. (Including iPod/iPad)

Free trial is available for every user.
Using iMoveGo to Change the Location of Android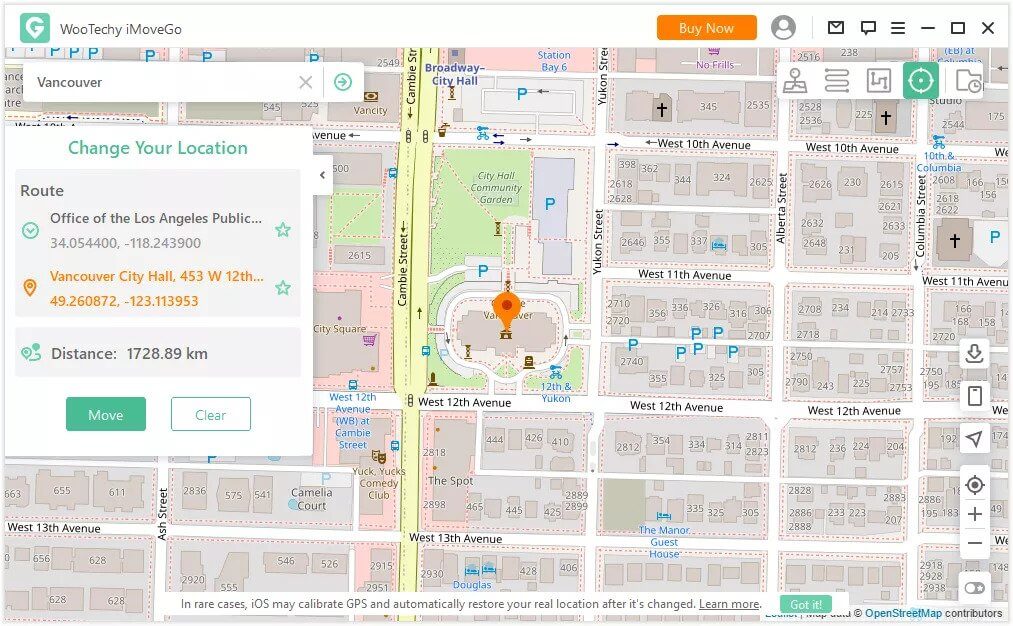 Step 1: Connect to Android
Launch iMoveGo and Connect your Android phone to your PC through USB.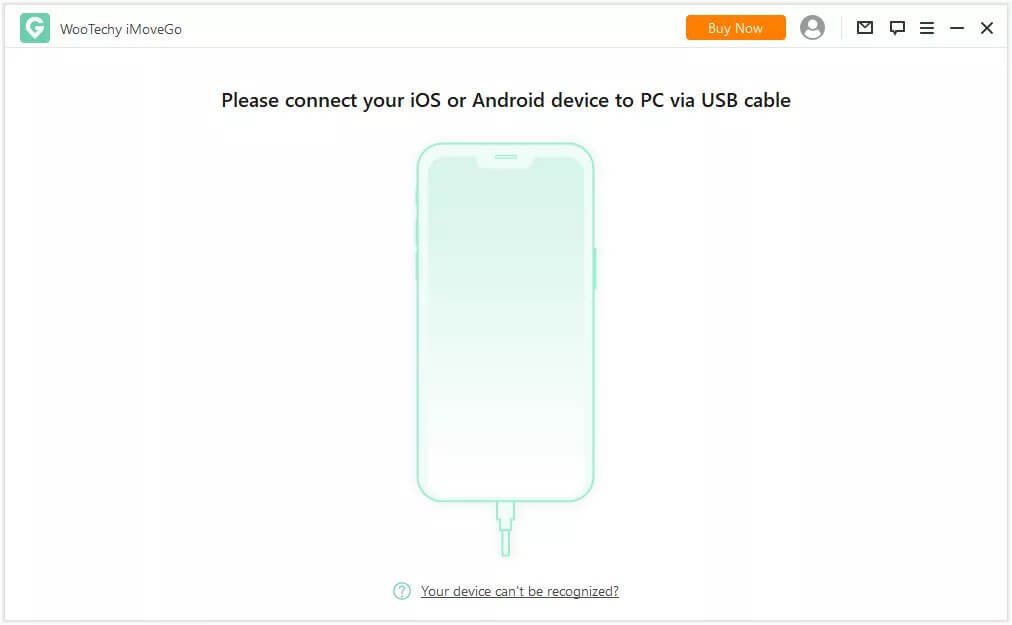 Step2: Identify your Device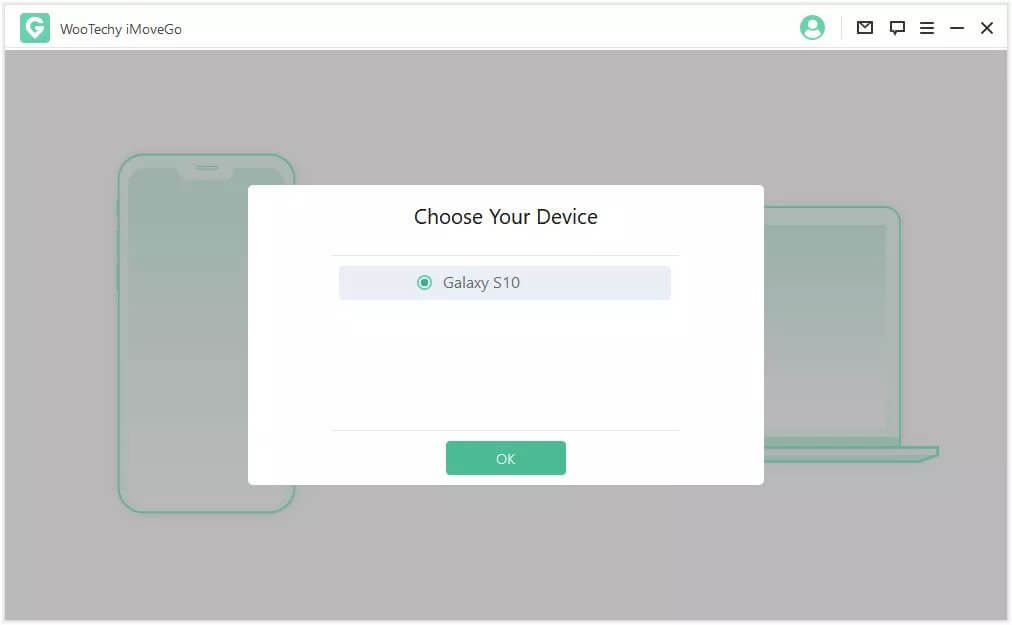 Step 3: Choose USB Mode on your Android Device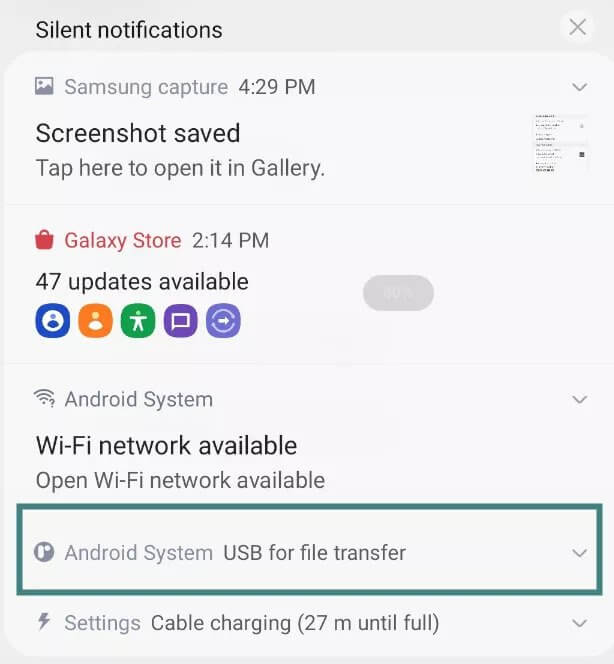 Step4: Enable USB Debugging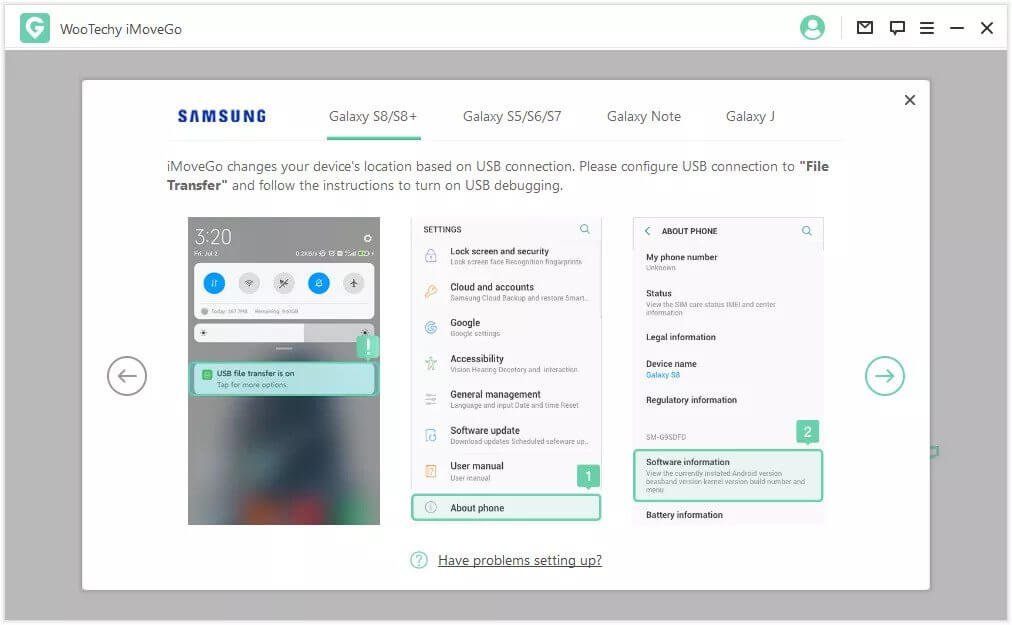 Step5: Choose a mode (Gaming Mode or Social Mode)
Since we want to change the location for Pokemon Go, we will choose the Gaming Mode here.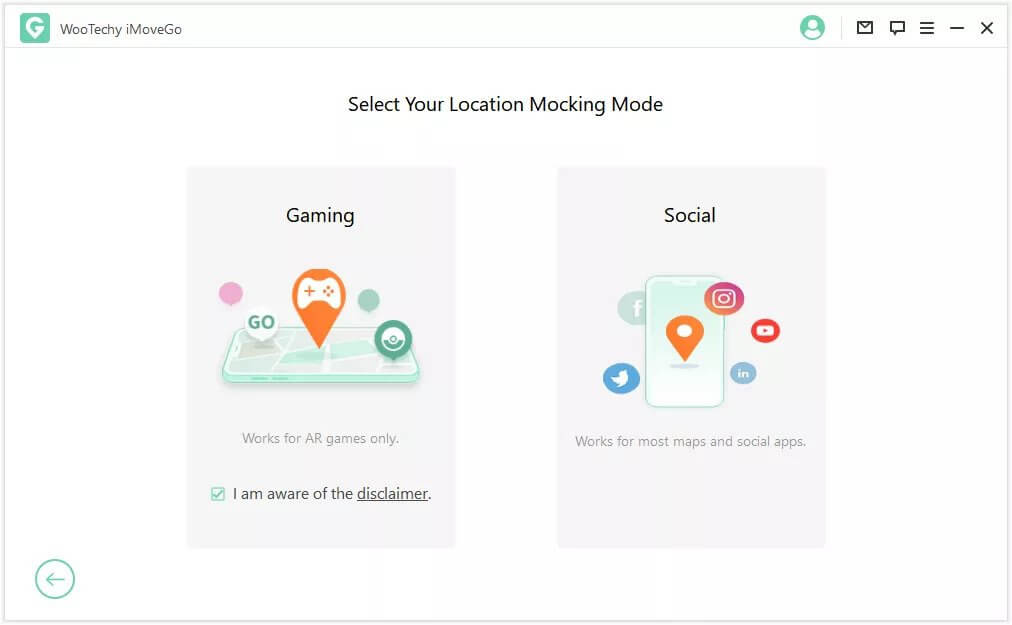 4

Other Benefits of Changing your Location via WooTechy iMoveGo
Get into apps that have been banned
Changing your location will enable you to avoid seeing adverts that are targeted to certain regions. The geo-blocks will take away the sense of defeat and tiredness that you have been experiencing. The fact that people all around the globe may access the same information makes them an experience that is well worth having. Because of the location switcher, content copyrights will no longer be an issue.
You may view movies, participate in activities, and search for appealing people in your area all without having to worry about your whereabouts. You are free to look over the information whenever the mood strikes you.
Unlimited searching and browsing
Additionally, you will have unrestricted access to the internet with a location switcher. Many nations' governments do this for either political or religious reasons, and the practice is widespread. As a consequence of this, it impedes the unrestricted dissemination of information and enjoyment. If you are always going from place to place, the issue will upset you much more. A location changer will do rid of these kinds of constraints, allowing you to enjoy material while you're moving about. During your lunch break, you may find some leisure by viewing your preferred channel on YouTube or by perusing Twitter.
Security
Alternates in the geographical location are another kind of preventive action. Once the location has been altered, it prevents the device and the apps from being able to see what it is that you are doing. Take, for instance:
You can no longer expect the web browser to preserve a record of the websites and web pages that you visit.

The communications are kept encrypted, which prevents any important information from being sent.

Both the searcher's intentions and the results of their queries are concealed.

In order to protect users' privacy, the downloaded files are kept in a separate location.
User confidentiality
Advertisers and websites are always analyzing the browsing and shopping habits of users. According to the opinions of several experts, this is a severe breach of privacy that may be remedied by moving to a new area. Because of this program, neither your IP address nor the cookies on your computer will be disclosed. Your digital traces will be concealed, and the security of the online traffic will be maintained.
Changing your location often is one of the most effective ways to maintain your privacy. They provide you the peace of mind that comes from knowing that any harmful parties cannot access the content of your online conversations. There are situations when selecting the anonymous browsing mode is not enough. The location changer will conceal the files and webpages, making it impossible for nosy onlookers to access the concealed information.
Conclusion
There are instances when moving about just for a game is impractical, especially for casual gamers. However, in Pokémon GO, you need to go those distances to hatch eggs, discover new Pokemon, and essentially just enjoy the game.
Depending on the operating system you're using, there are a variety of external applications that you can use instead of going outside. To trick websites into thinking you're somewhere else online, you'll need iMoveGo, which is compatible with both iOS and Android.
FAQ's
After the evolution, how much more CP will there be?
Variable CP increases may be attributed to evolving species.
Many are close to the 2x multiplier, which means that their CP will soon double. When Magikarp develops into Gyarados, its base Combat Power (CP) will grow by an average of 11 times. However, there are those who vehemently disagree with this viewpoint.
When should I develop my Pokémon, and at what CP should I do so?
Someone who is a hero on Reddit has utilized a site known as Pokémon Go Toolkit to determine the minimum amount of CP a Pokémon needs to have in order to guarantee that its ultimate evolutionary form would have more than 1,000 CP.
Is it best to level up Pokémon before trying to evolve them?
First, you should power up, then you should evolve. It is tempting to power up first since the feeling of satisfaction is immediate, but in the long term, it will cost you less Stardust to develop your Pokémon first and then deliberately power up just your best or preferred Pokémon.
What level does my Dragonite correspond to?
A CP greater than 1,000 is often regarded to be in the strong range. On the other hand, the maximum possible Combat Power for a Dragonite is 3,500, making it the Pokémon with the most available CP.