"My Tinder is not working. I'm really frustrated because I was hoping to use Tinder to meet new people. Can you help me figure out what's wrong?"
Are you having trouble with Tinder? Is your Tinder not working, Tinder crashing, not loading, or not showing any profiles? Don't worry, you're not alone! In this article, we'll walk you through some of the most common solutions for fixing Tinder not working. We'll also cover some tips for preventing the problem from happening in the future.
Part 1: How to Fix Tinder Not Logging In
Sometimes Tinder can be frustrating when it won't let you log in. There are a few reasons why this might happen, but there are also a few things you can do to fix the problem. Follow the below guides on how to fix Tinder not logging in.
Make sure you're entering the correct username and password for your account.
Confirm if your account has been banned.
Use the latest version of the Tinder App. (Usually, the updating can fix a lot of issues.)
Make sure to have a strong network signal.
Disable the VPN if you use it.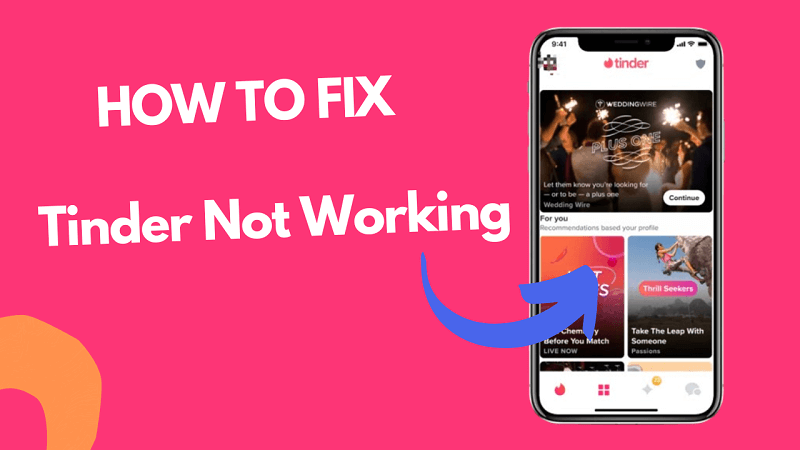 Part 2: How to Fix Tinder Location Not Working
As a popular dating app, Tinder uses your location to show you profiles of people who are nearby. However, Tinder's location can be inaccurate or not work at all. In this case, you may not be able to see profiles of people who are actually in your area. Besides, sometimes, you may want to change your Tinder location to meet more people without the location limitation. To do this, iMoveGo is the perfect solution.
iMoveGo is a location faker that allows you to change your GPS location on your phone. This can be useful for gaming, geo-locking, and dating apps. For example, if you want to appear to be in a different city on Tinder and meet more friends who are not in your neighbourhood, you can use iMoveGo to change your location. Besides, if your Tinder location is not working or not updating, you can manually set the Tinder GPS location.
iMoveGo is easy to use, and it is compatible with Android and iOS devices, including the iPhone, iPad, and iPod. It also has a variety of features, such as the ability to set a custom location, create multiple fake locations, and teleport to a specific location.
iMoveGo:The Best Tinder location changer

75.000.000+

Download

Fake Tinder location to any spot in the world with high accuracy.

Meet more people without moving.

Support simulating GPS movement with customized speed.

Fully comparable with all location-based apps such as Grinder, Facebook dating, or Find My.

Change locations on up to 10 devices simultaneously.

Free trial for every user.
iMoveGo is easy to use. Follow the comprehensive guide on how to change or fake a location on Tinder.
STEP 1: Download and install iMoveGo on your computer. Windows and Mac are both available. Click Get Started after launching.
STEP 2: Connect your Android/iPhone/iPad to your computer using a USB cable. After initially connecting the device via a USB cable, the WiFi connection under the same Wi-Fi network is supported next time.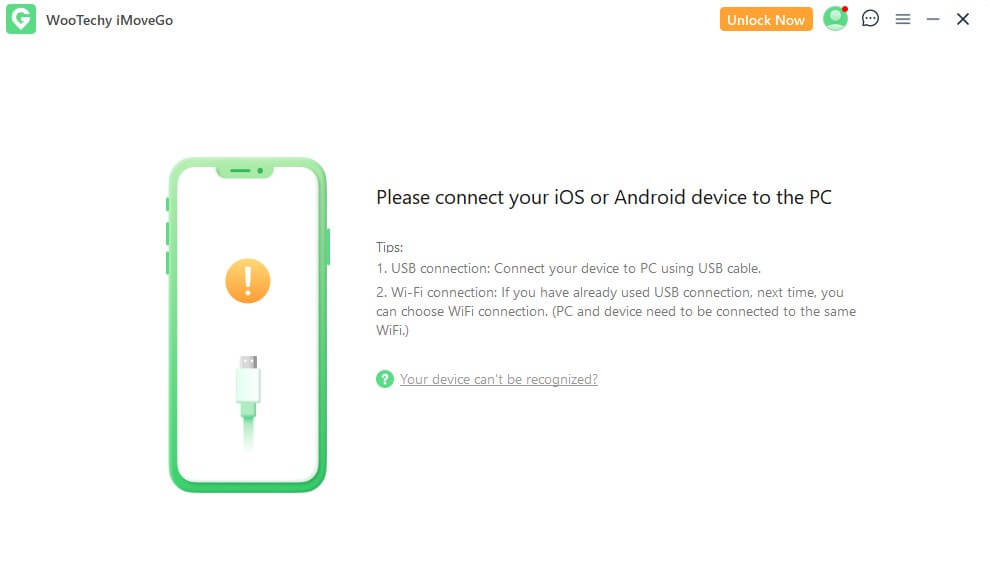 STEP 3: Click on the "Teleport Mode" option located in the upper right corner of the screen. Enter the new location you want to move your device to in the search bar. You can type in the city, state, or country, or use the map view to select a location. Click the Move button, and your Tinder location will be changed instantly.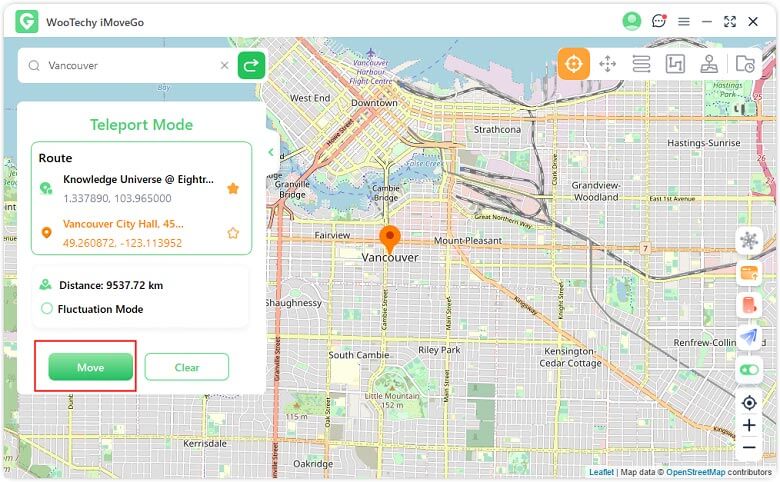 That's it! With these steps, you can have a free trial and you should be able to fake your Tinder location anywhere using iMoveGo.
Part 3: How to Fix Tinder Crash
Many users reported that Tinder crashed on their devices today. The dating app was reportedly down for several hours, causing frustration for users who were trying to swipe right or left. In the meantime, there are a few things you can do if Tinder is crashing on your device.
Force quit Tinder
To do this, open the App Switcher (double-tap the Home button on iPhone or swipe up from the bottom of the screen on Android) and then swipe up on Tinder to close it.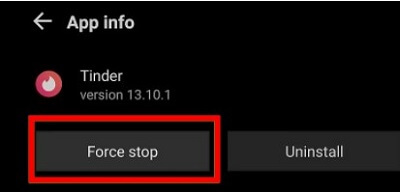 Clear Tinder's cache and data
To do this, go to Settings > Apps > Tinder > Storage, and then tap Clear Cache and Clear Data.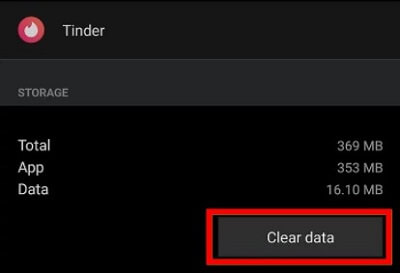 Reinstall Tinder
If all else fails, you can try reinstalling Tinder. This will delete all of your data, so make sure you back it up first.
Check Tinder's Servers
Tinder App crashes can sometimes be caused by faulty servers. If the issue is related to Tinder's servers, wait for the official Tinder team to fix it.
Use Tinder.com Instead
Sometimes, there may be a technical glitch in the app. If the Tinder official still can not fix it, you can try accessing Tinder through the website, Tinder.com.
Conclusion
If Tinder is not working for you, you can try to use the above troubleshooting guide to fix it. First, make sure that you have a strong internet connection. If you are still having trouble, try restarting your device. If that doesn't work, you can try clearing Tinder's cache and data. If you have tried all of these things and Tinder is still not working, you can try reinstalling the app or using tinder.com instead.
In some cases, you may need to change your location to find more matches on Tinder. You can do this by using iMoveGo. It offers the freedom to manipulate your location and works well with location-dependent applications like Tinder and Pokemon GO.
FAQs about Tinder Not Working
1. Why is My Tinder Not Working on WiFi?
First, make sure you are 18+. Tinder is a dating app, and there may be an adult block on your router. Then, check your WiFi speed, if your WiFi is down, or slower than 2/3 kbps, Tinder may not be working on WiFi.
2. Why did My Matches Disappear on Tinder?
This is the most likely reason if you only have one or two matches that disappeared. When someone unmatches you, they are immediately removed from your match list. There is another possibility that the other user deletes their account, they are also removed from your match list.
3. Why does "404 Error: Love Not Found" appear on Tinder?
The "404 Error: Love Not Found" message on Tinder appears when Tinder is unable to find any matches for you. This can happen for a few reasons, such as:
The Tinder settings are too restrictive to match people. Try to broaden your settings, such as age, location, or interests.
There are no matches in your area. You can try to change your Tinder location with iMoveGo and find other potential matches.
4. Can unmatched matches be rematched?
Unfortunately, no. Once a match is unmatched, it's unlikely you'll be able to reconnect. Keep the focus on new matches and exciting possibilities!
5. Can I recover matches after reinstalling Tinder?
No. Uninstalling and reinstalling Tinder will reset your account, and you'll lose your matches and other data.