How to track someone's location? Phone tracking applications are the logical answers to knowing where friends and family are. These applications will scare off malicious individuals and keeps the devices safe.
Tracking someone's location is not illegal. However, the intention to use the application may result in penalization. With that being said, we mention reliable phone tracking apps with their unique features to assist your needs.
Why do you need a mobile tracking application?
Losing your phone
Did you lose your phone again? You can use certain applications that are third-party providers based on GPS. These use global satellites to precisely locate your device in many networks. How to track someone's location is extremely important when they have misplaced their phone. The internet keeps everything connected, so the application retrieves information easily.
Furthermore, the applications will also track the direction of the misplaced device if you think the phone has been stolen, remotely wipe everything. You can also lock or excessively ring it to scare off the intruder.
Corporate quality control
Are you observing a hike in business expenses against declining revenue? If the trend sustains, you are looking at closing the company. Therefore, you must start browsing the supply management details. We suggest how to track locations to curb the high spending.
Installing location trackers on employees' phones allows the supervisors to examine their locations. They can report driving fines, speeding limits, and other violations promptly. Furthermore, associating tracking with production saves costs. It will prevent the employees from misusing corporate resources.
Keep a check on your family
One of the obvious reasons you want to learn how to track mobile locations is because of your family. You want to know who they are with and what activities they engage in if they are minors. You can check on the children more expertly. Furthermore, you can also inquire if your child said he was going to a friend's house but is at another location.
You do not need to text the children excessively to learn where they are. The applications mentioned below will provide updated locations and roadside assistance if the user may require it immediately.
Company data
Is your operating core acting odd recently? You are noticing the trust in the workforce is declining fast. As a result, your operations and sales are adversely impacted too. In a world where everything is digital, a company's sensitive data is its most valuable asset. These can certainly aid the competitors in customer growth and gaining new patents.
Using an application to track corporate devices such as phones ensures no improper communication occurs. You can monitor the employee's movements. These applications will prevent data mishandling and provide evidence if an employee is selling company secrets.
International use
Are your friends planning an international time? It is natural to worry about their well-being, especially if they have never travelled out of the country before. Even though it is a memorable experience for the friends, you wonder about their location and safety. How to track someone's location using mobile applications means keeping a close eye on your beloved friends.
They will provide real-time location and actions so you can stay in constant contact. Furthermore, emergency buttons can alarm the contact list if the friends need assistance from authorities.
Top 5 mobile location trackers?
1 Life 360
Are you searching for a reliable application to monitor outdoor movement? How to track someone's location is easier than ever with Life 360. The application works on all iDevices perfectly. It is an excellent choice for monitoring individual's locations in your social circle. You can observe what your friends and family members are doing at any time by simply launching the app. Once satisfied with their activity, close the app and resume your day.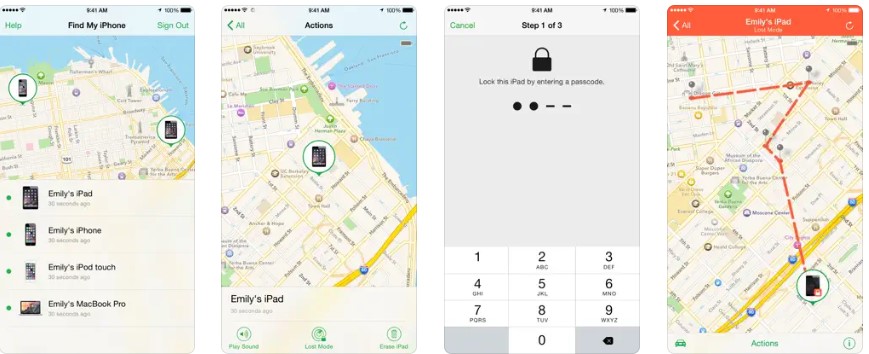 Life 360 uses a well-detailed map and GPS regarding how to track mobile locations. Its alerts are time-based and prompt. You do not need to wait for minutes for precise results. Moreover, you can also use Life 360 in emergencies. The user clicks the SOS button, which shares their location when they are in trouble.
It is vital when you are injured or part of a car accident. Life 360 is more than how to track someone's location. It will assist you while driving. Furthermore, the application will also maintain driving speed, distance, and miles details.
Life 360 is available on the App store with in-app purchases. The payment option is a letdown. However, it is still helpful when you do not know how to track mobile locations.
2 iSharing
iSharing will also help in learning how to track someone's location. Moreover, you can share your present activities with different people. The application will keep you notified with several features. iSharing is also a walkie-talkie. Therefore, you can use the application to send and receive messages. You can stay in touch with your friends and family for free.
Similar to Life 360, iSharing also has a panic button. The user can click the button on the screen. However, shaking the phone also works. It signals the user is in an emergency and requires immediate attention. Afterward, your location is instantly communicated to the contact list within seconds.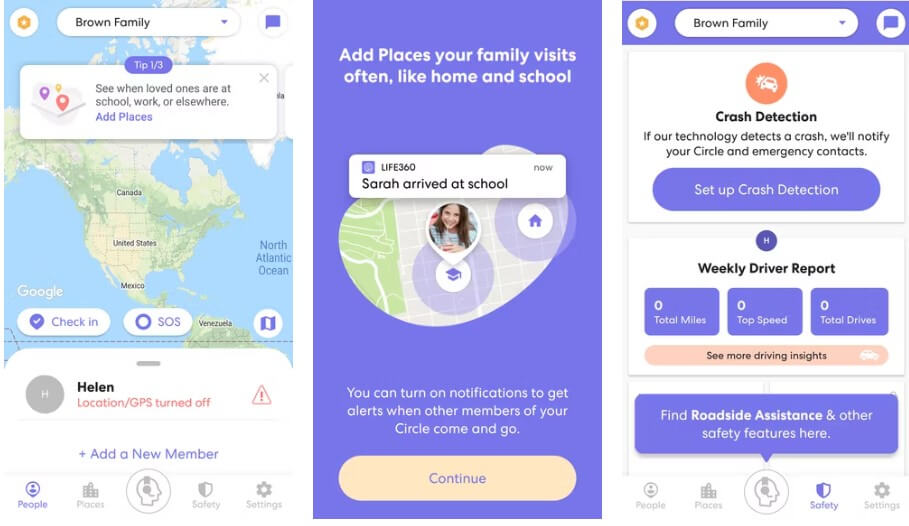 iSharing provides all the essential features for family location sharing. The user interface is straightforward and very easy to understand. In addition, the application also provides the necessary peace of mind that the children and minors are safe out of their homes. Some of the iSharing features are in-app purchases which you can buy after downloading the application. Other features include Place Alerts, Nearby Alerts, and Premium Service. You can also refer iSharing to friends via massager, WhatsApp, or internal links.
3 Find My
Did you forget where you put your phone after the busy morning meeting? Somedays are extremely busy at the office, where you forget the simplest things. The same happens outside of the office too. Since how to track someone's location is still not the most reliable, your mind wanders! Thankfully, we present Find My, which is exclusively made for iDevices for the same reason. The location-sharing software is available on iOS 13 or higher on Apple devices.
Find My uses GPS to track the location. Therefore, make sure it is active on all your devices. Otherwise, it will not work the best and provide spotty locations. Furthermore, the GPS map will not load either. When someone discovers your iPhone, you can set a unique sound or message to play using the Find My software.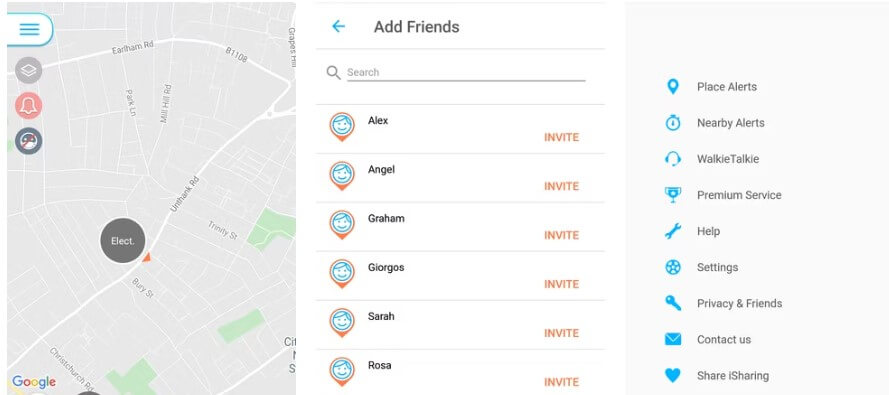 Find My lets you unlock the phone anywhere if it is stolen. It prevents malicious individuals from interacting with the phone and its content. However, you will not lose the information if you keep a backup regularly. Find My offers nice features too. Other than how to track someone's location, the application is visible on a close friend's radar. The software is completely free to download.
4 Glympse
Glympse is also a genius application if you are interested in how to track someone's location. The service provider aims to enhance the customer experience and satisfaction levels. Therefore, its services are extremely detailed. You can use the technology for personal or professional reasons.
Glympse has made it easier to make your location publicly. The application works closely with couriers to avoid missed deliveries. It is a very simple step that is part of the bigger picture regarding enabling location sharing for public use.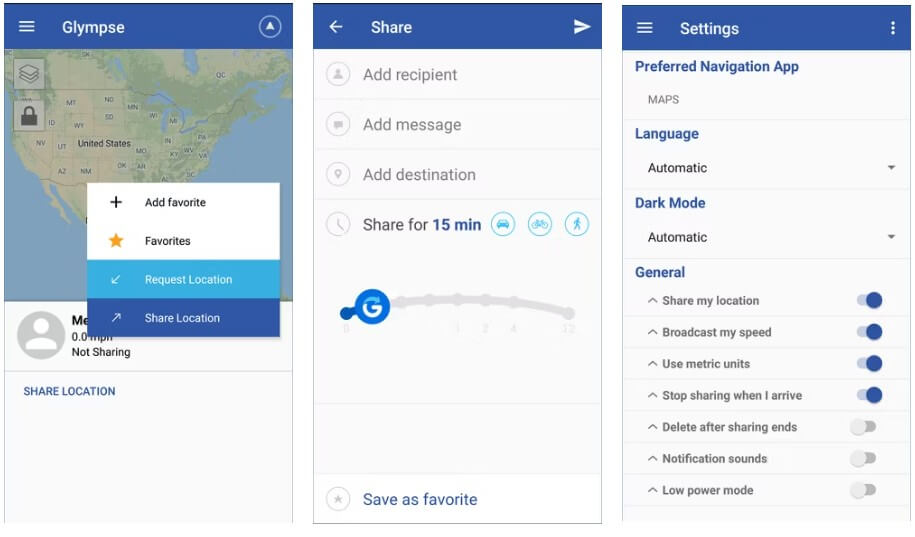 You can use Glympse to share your location with friends and family. Similarly, they will forward their location to you if everyone uses Glympse. Besides tracking mobile location, the application will allow you to message, note speed, use metric units, and specify how long your location is shared.
Glympse promises to prioritize location sharing as a measure of convenience. It's a reliable option. You will learn to use the application in just a few attempts. Its credibility is unquestionable since professionals also employ Glympse for the same purpose. The application is completely free and does not offer in-app purchases.
5 iMoveGo
How to track someone's location is also possible with iMoveGo from Wootechy. It will expertly safeguard your privacy with its online tracking and data mining. Furthermore, you can also use it to access blocked applications and other unavailable features in your area. In addition to so many options, you can also use Wootechy iMoveGo to play AR games without physically moving. Use iMoveGo to play games or date. It is all up to you.
Pros
1.Pause your location anytime to mimic stepping into the shop or admiring the view. No one will know except for you.

2.Set exact coordinates to save time from browsing the map and getting annoyed.

3.iMoveGo will keep previously visited locations in a well-maintained log for future input

4.Freely customize movement cycles without looking fake. You can be anywhere with just a few clicks.

5.The user can also create a favorite list. Select your favorite tourist location, shop, or outlet to establish a pattern.

6.Work on five devices at the same time.

6.Customize your directions with the 360-degree movement interface.

6.Monitor the GPS movements with the keyboard's W, A, S and D keys to move in different directions.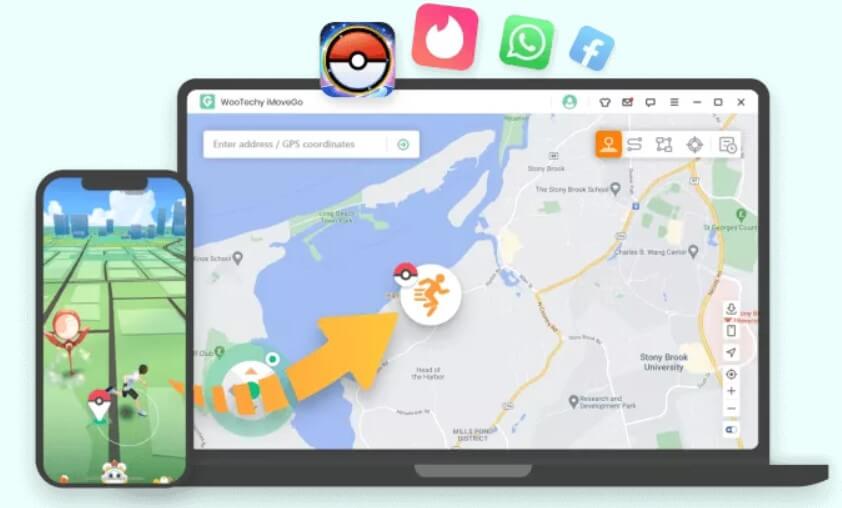 How to prevent someone from tracking your phone using Wootechy iMoveGo?
iMoveGo will allow users to change their location to avoid prying eyes. You can set a false location anywhere in the world by lounging in your living room or bedroom. iMoveGo uses the following modes to prevent location tracking:
Two spot mode has a start and end to the journey. You can interact with the two points freely.

Multi-spot routes allow the user to select numerous locations. It will expertly mimic a long trip to make everyone jealous in your social circle.

Lastly, you can also import and export route files. These are GPX format files that work accurately with the iMoveGo map.

iMoveGo FAQ

What to do when the iMoveGo map does not show up after launching the platform?

The user is requested to check their Wi-Fi and data connection. Observe the signals or run a ping test.

Also check for recently updated versions of the iMoveGo version.

Can I enter the exact location into Wootechy iMoveGo?

You can input the GPS coordinates for precise locations. As a result, you do not have to worry about physically pinpointing the map on the iMoveGo map.

What features does the complete iMoveGo version provide?

The complete version offers joystick, historical, and record modes. Furthermore, there is no limit to using the features too.

Can I pause virtual movements on iMove Go?

When you wish to stop your fake movement on the software, click "Pause."

When ready to resume the course, click on "Continue."

After you have completed the course, click on "Stop."
Does my location change when I disconnect the phone from the computer?
Your virtual location remains intact. It does not change. However, if you wish to resume using the actual location, you can click "Reset Location" on iMove Go. In addition, you can also restart the iDevice too.
What is the difference between iMoveGo modes?
The two-spot means the user can freely move between two locations. On the other hand, the multi-spot means the user will pass through different places pre-selected on the map. The individual can set up to 100 locations to mimic movement.
Conclusion
How to track mobile location is equally beneficial for adults and children. Thanks to GPS and cellular data, it keeps everyone updated with real-time information. You can browse the locations and keep a strict eye on if the user has been dishonest. Tracking applications bring everyone closer in today's digitized times.
iMoveGo is an expert and reliable solution for how to track someone's location.iMoveGo works on iPhone, iPad, macOS, and other iDevices. Wootechy offers 30-day money-back guarantee with secure transactions, so download it today.
Key Features of iMoveGo
75.000.000+
Downloads
Change your location to anywhere in the world.

Simulate GPS movement with a customized speed.

Works well on all location-based apps, such as Snapchat, Find My and even Pokémon GO.

Spoof location on up to 10 devices at one time.

Compatible with both iOS and Android devices. (Including iPod/iPad)

Free trial is available for every user.