We all love to check on our favorite friend group chats to remind ourselves of our next plans or perhaps give the family group chat a quick read to see what our mom might be needing. However, if you are an iPhone user, then you must know that iPhone not receiving group texts is a legitimate issue. And just like you, not many people are a fan of this inconvenience.
In this article, we have identified the problem of not receiving group texts on iPhone and have committed ourselves to finding ways to solve it. Hence, if you would like to find a solution to finally free yourself from this issue, then keep reading. Divert all your attention towards the numerous steps we will be provided as we will be showing you 11 methods to fix this problem!
Part 1. Why Are You Not Receiving Group Texts on Your iPhone?
This can happen for several reasons. We all know that to be able to receive a text from someone else over the phone, there are a few things that need to be considered. The device, the app, and the network are the three main components needed to send a text message. Usually, if one of these components is not functioning properly, it might get hard for you to receive group texts on your iPhone.
The most common problems that are faced can range from dysfunctionality in devices, lack of availability in-network, or even errors in the default messaging app.
Sometimes, even if all of the components are ok, you still may not receive any text messages if you do not activate group messages on your device. And just like that, many other similar problems like this exist, which is why we have taken our time to help you out!
Part 2. How Do You Receive Group Messages on Your iPhone?
Now that you are crystal clear about the cause of the problem and the overall gist of what could be causing it. Why don't you allow us to make it clear to you, how you can receive group messages on your iPhone. We are hoping you would stay vigilant throughout this whole guide to efficiently fix this problem with ease.
Method 1. Turn on Group Messaging on iPhone
This is the most common solution for people who fall victim to this issue. If you are a first-time iOS user or bought a new phone, then follow this method. The simple solution is to activate your group messages from the settings.
Tap on Settings and go to the Message tab.
On the bar labeled as SMS/MMS simply slide the Group Messaging option green.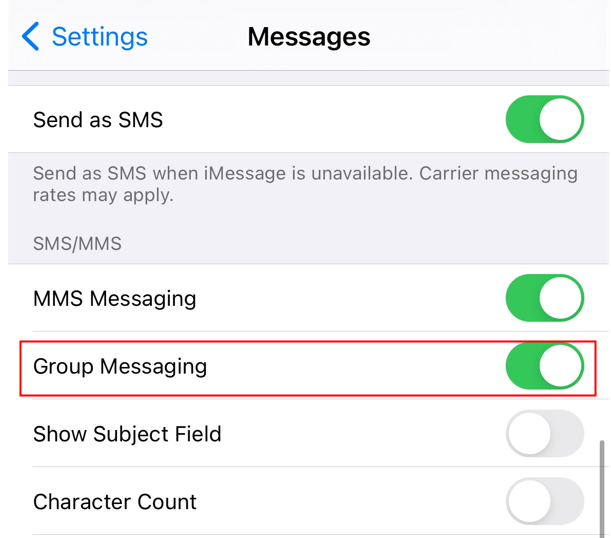 Method 2. Check If You Leave the Conversation
If you have previously left a group chat or have been removed from the group, then you will stop receiving messages. The best fix to this problem is to simply check whether you still are a member of the group you are not receiving messages from.
Go to your Messages and then proceed to group messages.
Click on your desired group and check if the You left the conversation appears or not.

If it shows that message, then simply ask someone from the group chat add you again.
Method 3. Check Group Message Notifications
Sometimes we all turn off group message notifications when we see a flood of group messages popping up on our screen from time to time. Hence, we all resort to turning off group message notifications. This can be a major cause behind why we might not be getting group messages on iPhone. To fix this problem, simply:
Tap on a group chat in Messages to open it > Simply tap on the Info button.
Disable the Hide Alerts function. A moon icon is shown next to the discussion if Hide Alerts is turned on.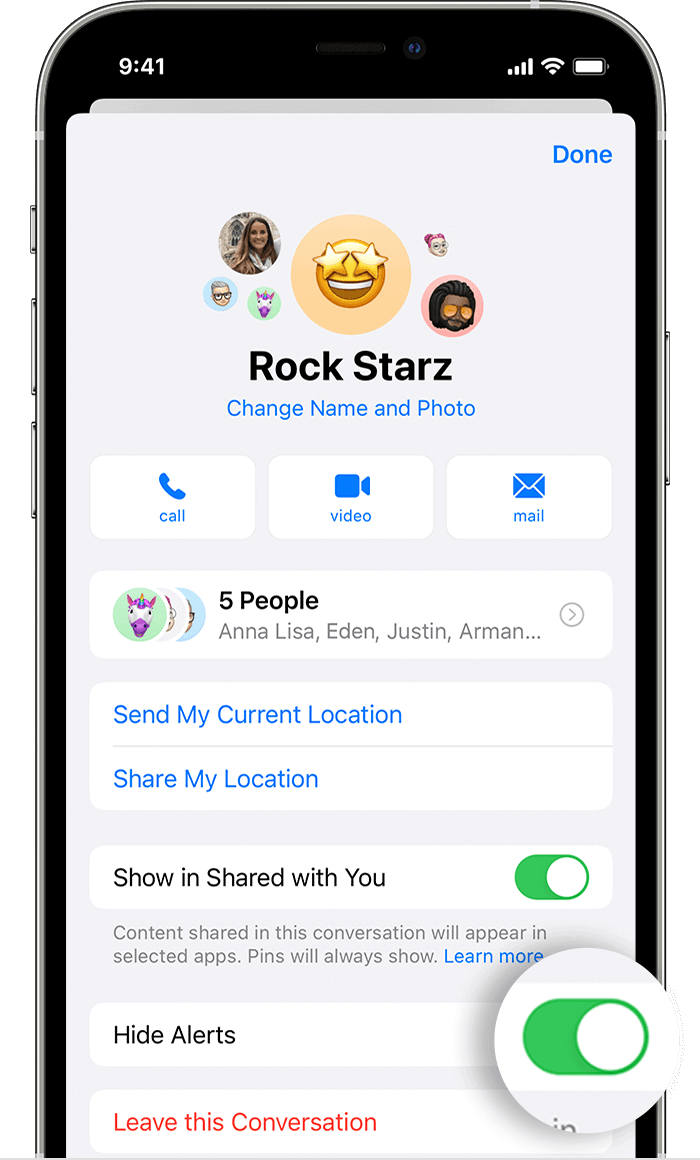 Method 4. Check Your Phone Number Linked to Apple ID
It is very vital to link your acquired phone number to your Apple ID to constantly receive group messages.
If your device receives messages only using the phone number, then you might miss out on texts you receive in your apple ID.
Select Messages from the Settings menu. Verify whether or not iMessage is now operational by tapping the Send & Receive button.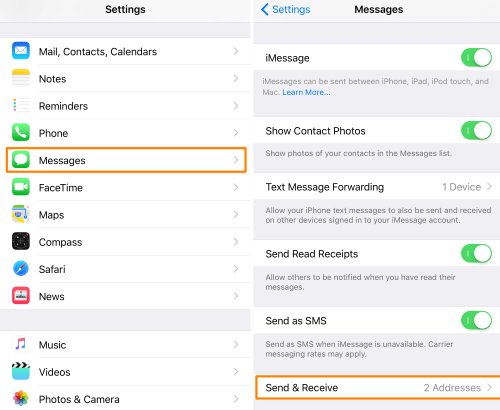 Select Use your Apple ID for iMessage from the drop-down list. Sign in with the Apple ID you have. In the, you can be reached tab, simply select both your phone number and Apple ID.
Method 5. Check Your iPhone's Space
Just like any other digital device, lack of space can always prove itself to be a bummer. Even your reliable Apple products can fall victim to low space and hinder your shot at receiving texts, images, and videos.
On your iOS device, go to Settings, select the General tab and then proceed to iPhone Storage.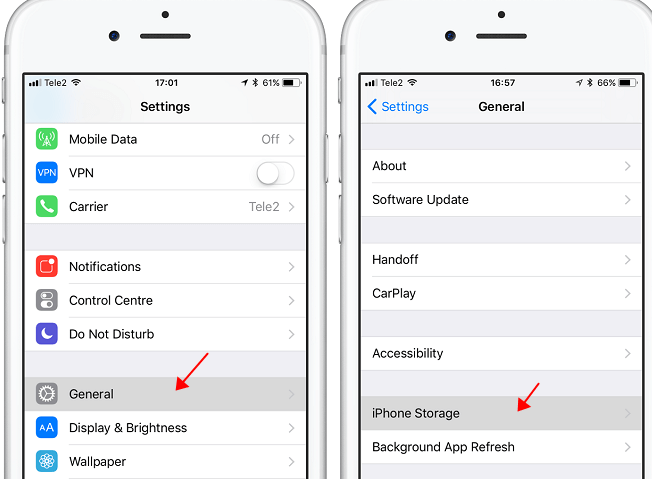 If you see the Storage Almost Full Alert then simply uninstall some apps or transfer unused images and videos to your iCloud.
Method 6. Check Network Connection
As mentioned previously, having troubles with your phone's network is also a primary reason why not getting group texts on iPhone.
This is why we suggest knowing how to check your network will surely help to receive group texts again when you find a fix to your network issues.
The easiest way to check your network connection is to look at the bars at the top of your screen if you are using a cellular signal. You can also check the Wi-Fi strength through the same method if you are using the iMessage option.
However, if none of the options seem to be viable enough to allow receiving of group texts then simply try resetting the network. Here's how you do it.
Go to Settings and proceed to select General.
Simply click on the Reset Network Settings option.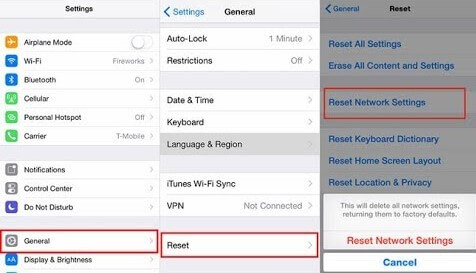 You will be requested to enter your passcode. Do that and voila! Network be reset!
Method 7. Check Carrier Service
It is crucial to check if your carrier service is up and running so that no problems relating to iPhone not getting group texts are seen. To do this, simply follow these steps:
Go to Settings, click on General and go to About.
Look at the version number next to the carrier. Contact your carrier support system or Google to see if you have the latest version or not.
If you do not have the latest carrier version, simply connect with Wi-Fi and repeat the first step. A tab asking you to update your carrier settings will pop up. Simply click Update to automatically update your carrier service.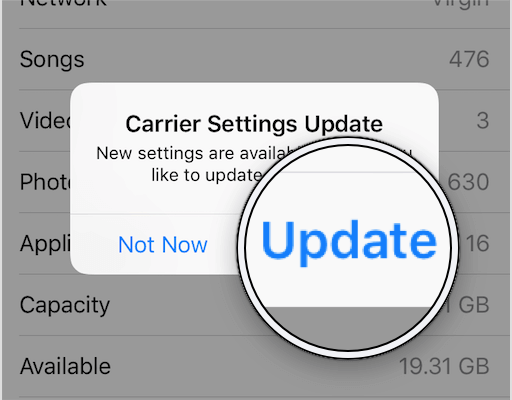 Method 8. Restart Group Messages
If you are not getting group texts on iPhone, you can try to restart your group messages. It is to delete the old group chat and open a new one with the same members as the old ones.
To delete a group message:
Go to messages and navigate to the group chat you want to delete.
Swipe to the left of the group chat. Simply delete the group chat.
To open a new group chat, do the following:
Go to the Messages tab. To create a new message, click the symbol in the top right-hand corner.
Enter the email addresses or phone numbers of the people you wish to add or press the + symbol to add already-existing contacts.
Write your message and then click the up arrow symbol to send it.
Method 9. Restart Your iPhone
Restarting the phone when you are unable to receive group SMS is another solution that is effective several times. You may restart your iPhone by pressing and holding the hardware buttons displayed below.
To Reboot your iPhone X or later version, consider the following guide:
Hold both the Side and Volume Down buttons.
Slide the slider to turn off the iPhone.
Hold down the Side button once more and wait for the Apple logo to display.
To Reboot your iPhone 8/7/7s/6 or older, follow this guide:
Hold the Side button until the slider appears.
To turn off the iPhone, move the slider.
Hold the Side button until the Apple logo appears.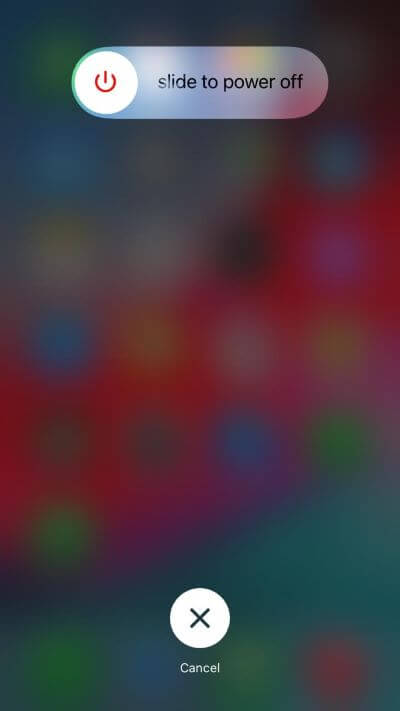 Method 10. Update iPhone Software
Sometimes, a faulty update can give rise to your iPhone not getting group texts. If a new software version of iOS is available, download and install it as indicated below:
Connect your iPhone to a power source or make sure it is fully charged.
Ensure your iPhone connected to a secure Wi-Fi network.
Go to the Settings menu. Choose General. Scroll down to Software Update.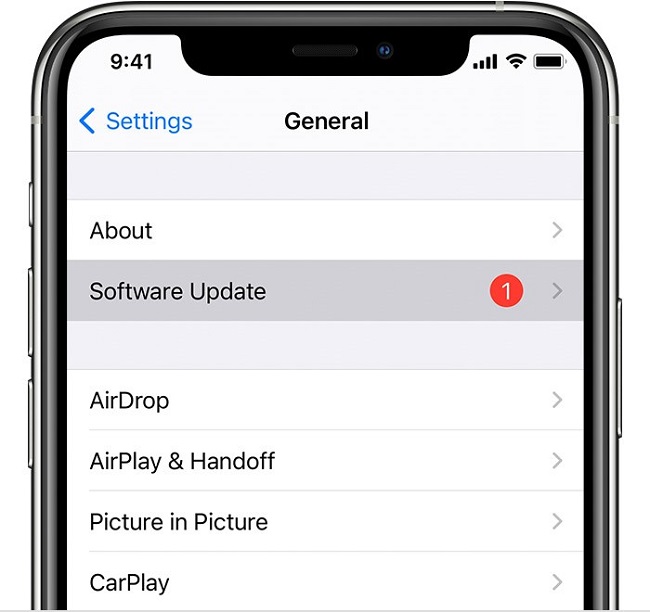 Click on the Download and Install option.
Method 11. Fix iPhone Not Receiving Group Texts with WooTechy iPhixer
The best fix to a problem is to let something else that does it better than us fix it. Why will we ask you to do all the hassle when there is an amazing software ready to do all the work for you? Which is why we are here to suggest you the perfect software there is. The WooTechy iPhixer!
It is professionally developed to solve all problems related to iPhone including iPhone not receiving group texts, no sound, iMessage needs to be enabled error and more. Above all, it's safe and simple to use, which will not invade your privacy and not cause data loss.
Other Features of iPhixer:
75.000.000+
Downloads
Let your iPhone receive group texts again through several clicks.

Support all iPhone models and iOS versions.

Has more functions than fixing iPhone like resetting iPhone with or without password and entering/exiting recovery mode with one click.

Available on Windows and Mac computers, it has been welcomed by millions of users.
Here is a basic tutorial of how you can use the standard repair option to get rid of the not receiving texts on iphone issue.
Download and Install the software from the website for free. Open the software and select Standard Mode on the opening tab. Then connect it to your iOS device with your device unlocked.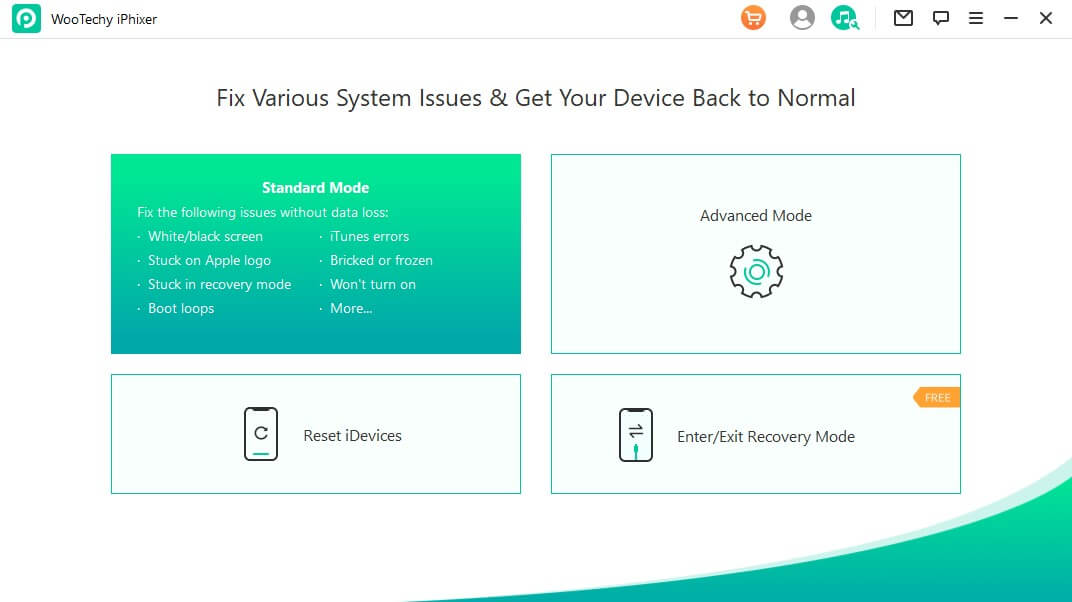 Proceed to click onto Next option. Simply download the recommended firmware that will be shown on screen. The firmware will be verified and will be installed and automatically fix the problem.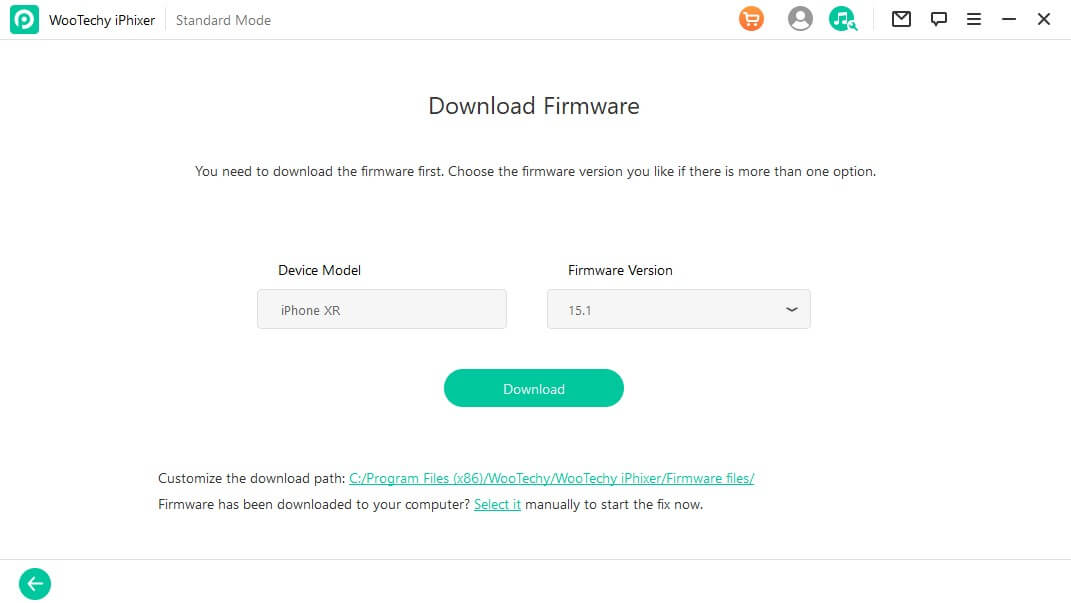 Simply click on the Start option to begin the recovery process. Do not disconnect your device while the process is going on. Once it is done, you can proceed as you would normally with your device.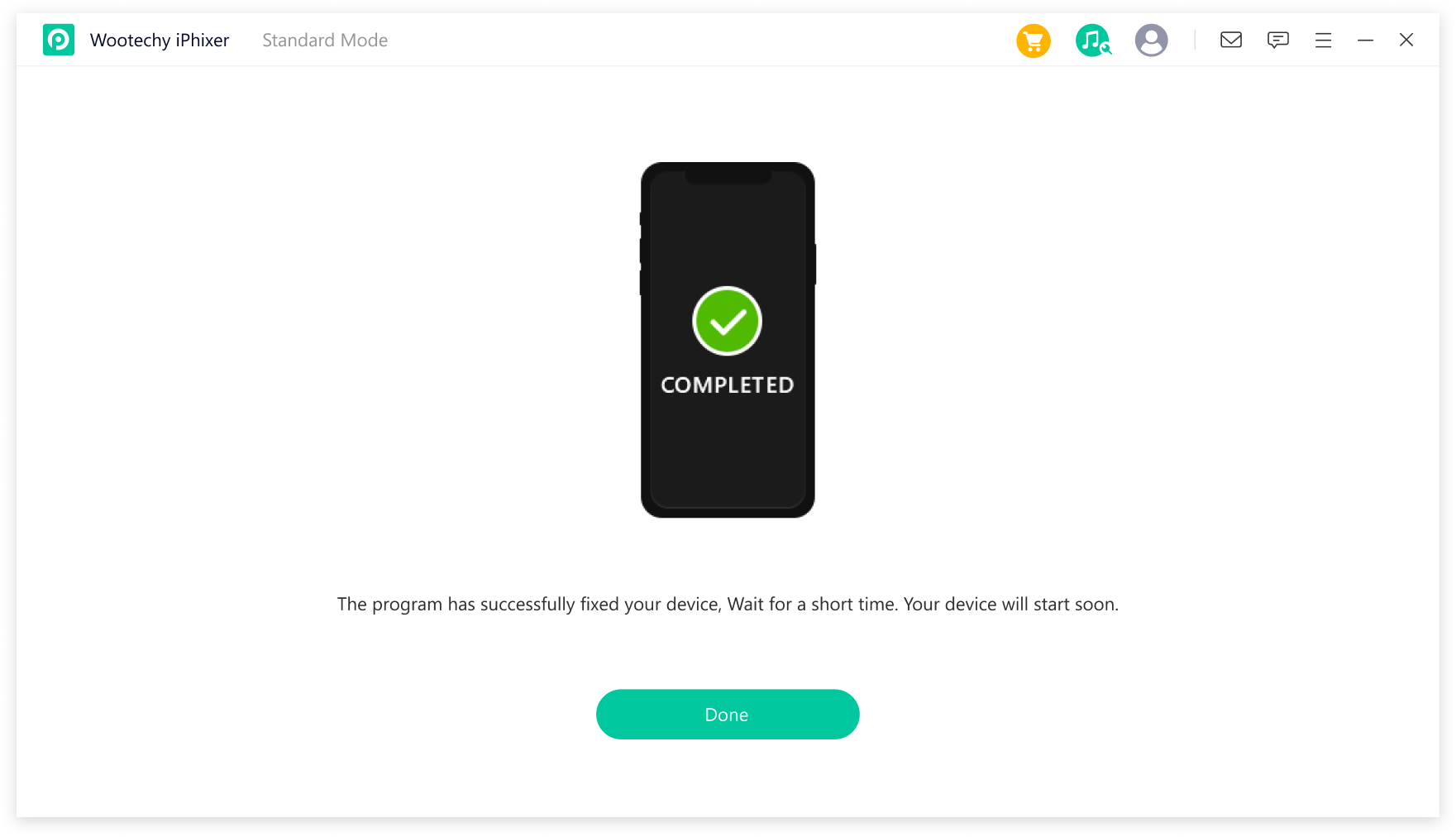 Part 3. Other Tips for iPhone Group Texts
We also have other similar tips regarding the iPhone group texts. We hope these additional tips also help you out in your ventures ahead.
Q1. How Do You Set up Groups on Your iPhone?
This is a crucial information that a lot of people might not know about. In this guide we will simply teach you how to open a group on your iPhone.
Begin a new message and then go to Messages and hit the New Message icon visible at the top rightmost corner.
Enter contact phone numbers or email addresses or press the + button to add members of your choice.
A group will be opened with the added participants.
Q2. How to Add People to a Group Text
This is similar to the above process. However, this guide is given on the context of adding new members to an existing group chat.
Tap the group message to which you wish to add someone.
At the top of the thread, tap the group icons.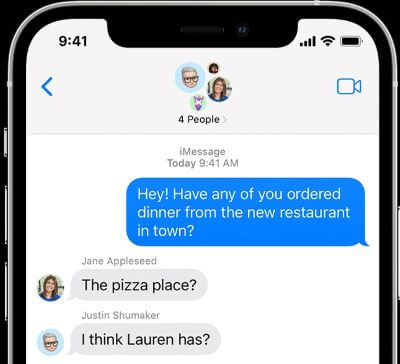 To the right of the contacts, press the grey arrow symbol, then Add Contact.
Enter the contact's information, then hit Done.
Q3. Can You Add People with Android Phones to a Group Text?
If you wish to add someone to a group text message but they don't have an Apple device, you need to create a new group MMS message. You can't add someone to a one-on-one SMS chat, especially if they are an android user. Nevertheless, if you use MMS correctly, you may send group messages to pals who use iPhones or other non-Android devices.
Simply explained, iMessage isn't compatible with Android since it uses an end-to-end encrypted system with its dedicated servers. As the messages are encrypted, thus, only devices that can decrypt them can access the messaging network.
Conclusion
And that pretty much covers all that we had to say about the iPhone not receiving group text issue. We hope you will have no further troubles regarding this issue in the future. If you do, then feel free to come back here and resort to our 11 diverse methods to solve your issue. Till then take care!