If you've ever seen an iPhone display a multi-colored screen of death or a "rainbow screen of death," then you know the fear and frustration it can cause—not being able to access data or even use your phone. Unfortunately, this is something that can happen from time to time.
Thankfully though, there are ways to both diagnose and resolve the issue if you find yourself in the same situation.
In this blog post, we'll explore what causes the iPhone rainbow screen as well as how to fix it once and for all so you can get back to using your device without any further issues.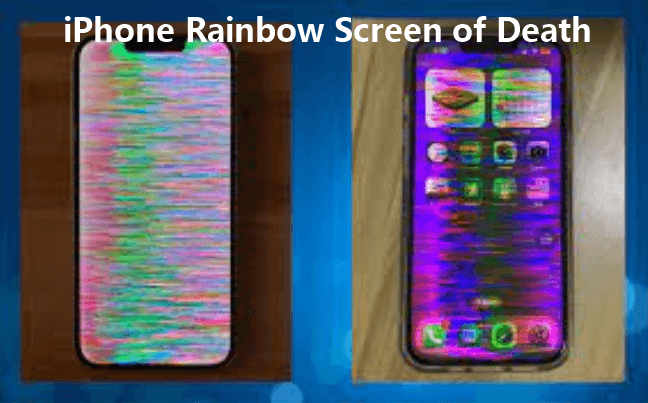 Part 1. What Is A Rainbow Screen of Death?
A Rainbow Screen of Death (RSOD) is an error message displayed by a computer system when it encounters a critical problem or crash. It usually appears as a multicolored screen with bright vertical or horizontal stripes in various colors, such as pink, blue, yellow, and green.
The RSOD is a common issue that iPhone users might experience. Although the RSOD is fairly harmless in and of itself, it does represent an underlying system issue that should be addressed before further use of the computer is attempted.
Part 2. Why Did My iPhone Go Rainbow?
Various reasons, including hardware faults, software bugs, and malware, can cause a rainbow on iPhone screen issue. It is important to determine the exact cause of the issue before attempting to fix it.
Hardware Faults: This could be due to faulty components, such as a bad battery or other malfunctioning parts.
Software Bugs: These are caused by new software updates or third-party apps that are not compatible with your device.
Malware: Viruses and malware can be installed on your device without your knowledge, causing the issue.
Part 3. How to Fix iPhone Rainbow Screen of Death Issue
Thankfully, this iPhone rainbow screen issue is relatively easy to be resolved. You can try the different methods below to see what works for you.
3.1 Advanced Method to Fix iPhone Rainbow Screen of Death Issue
 WooTechy iPhixer is a comprehensive and powerful iOS system recovery tool that can help get your iPhone back to its normal, functioning state. It can easily detect and diagnose any hardware or software issues with your iPhone, allowing you to quickly resolve the iPhone rainbow screen issue.
It is the best way to go about it since you don't have to worry about making any mistakes or causing further damage.
WooTechy iPhixer-- Fix iPhone Rainbow Screen Efficiently in No Time
75.000.000+
Downloads
Allow to fix all iPhone software issues, such as iPhone rainbow screen, iPhone flashing Apple logo, iPhone right side not working and so on.

With easy-to-use step-by-step instructions, any tech novice can quickly get their device back up and running correctly again.

Repair common iPhone/iTunes errors efficiently—including 4010/4013/4005 errors in just a few clicks.

Highly compatible with all iOS devices and versions, including the most up-to-date devices like the iPhone 14 and iOS 16.

It is backed by 100% security assurance—ensuring you peace of mind throughout the whole process.
How to use iPhixer to Fix iPhone Rainbow Screen of Death Issue?

Step 1 Install and open iPhixer tool on your computer and connect your iPhone to the PC.Choose Standard Mode. This mode can fix the iPhone rain screen issue without any data loss.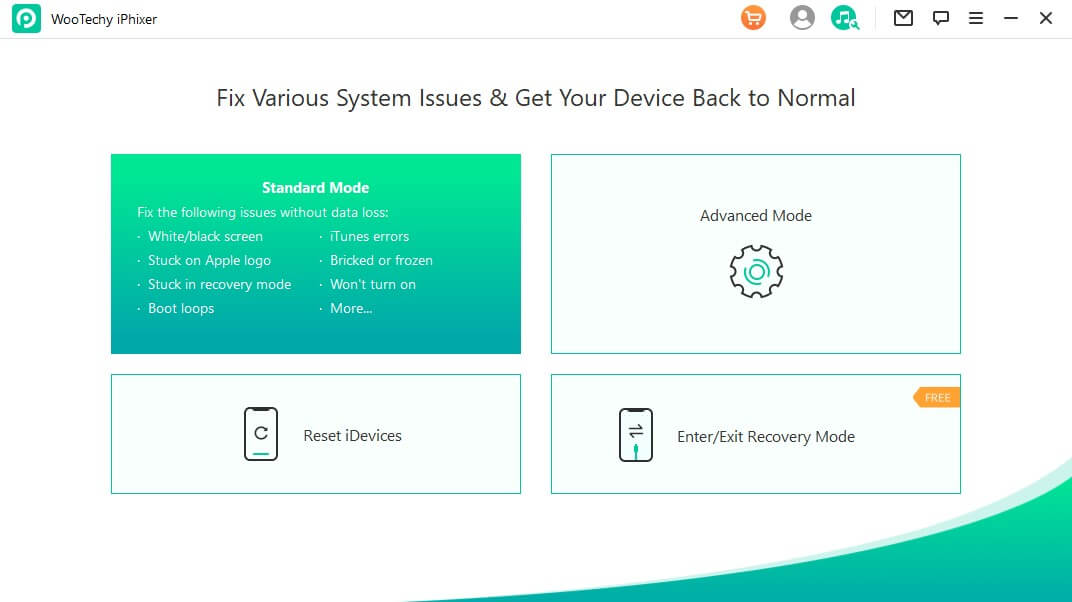 Step 2 Click Download button to download a new firmware to fix the iPhone issue.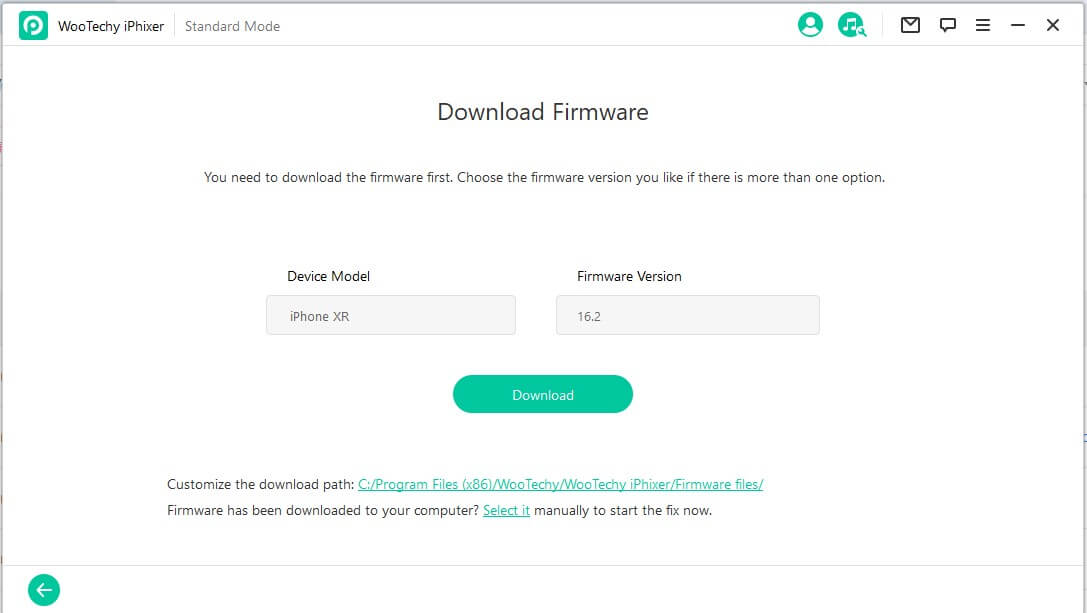 Step 3 Follow the instructions below to put your iPhone device into Recovery/DFU mode.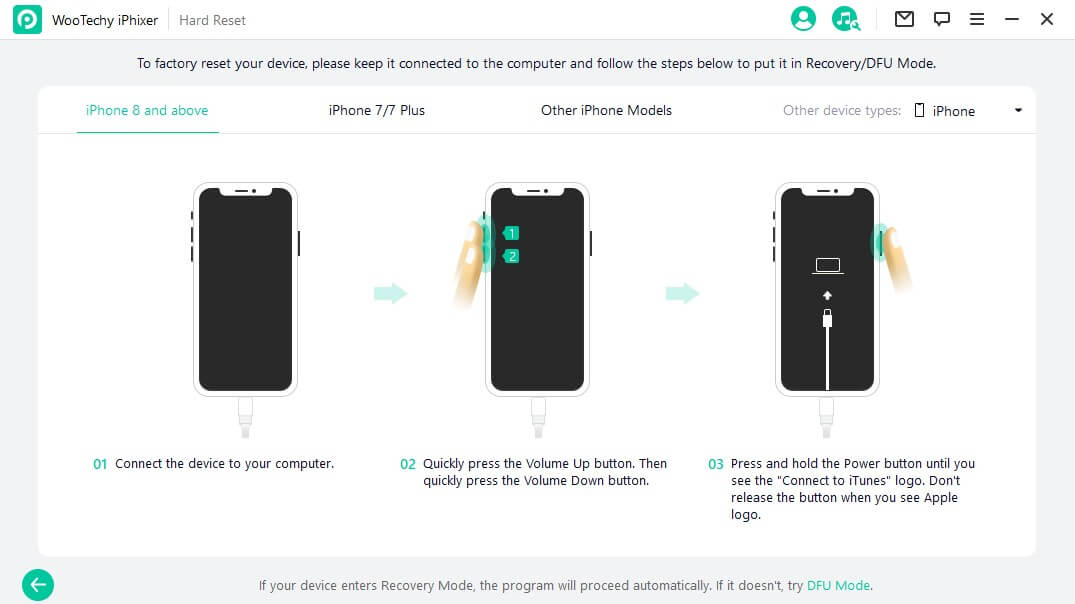 Step 4 Finally, your device should now be back up and running correctly again with the iPhone rainbow screen issue fixed.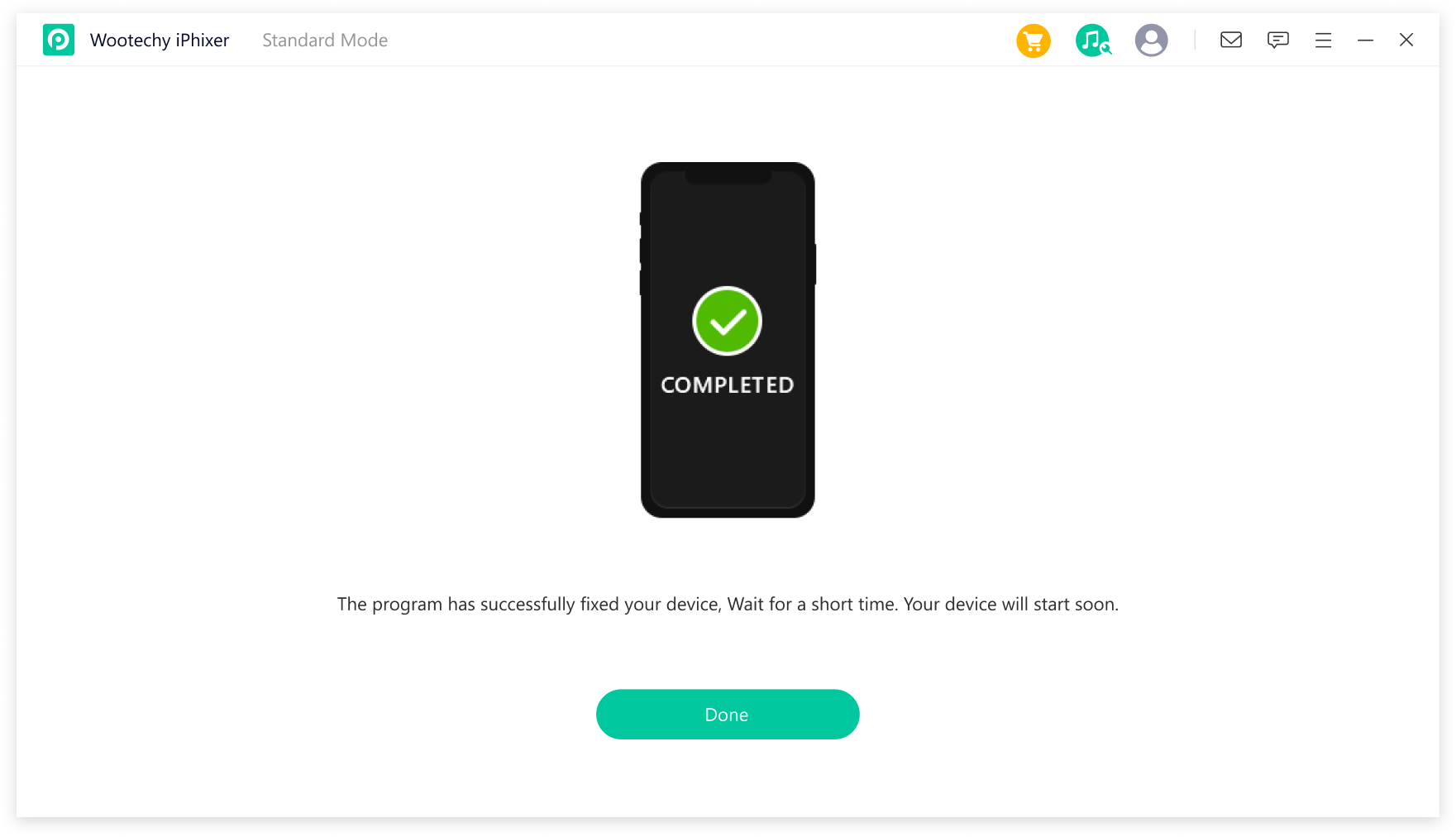 3.2 Go Back to Earlier iOS Versions on iPhone
If your iPhone device appears iPhone rainbow screen issue after you update your iPhone to the latest iOS 16 version, then your device may not be compatible with the iOS 16 version.
In this case, you should downgrade your iOS version of the device to the earlier version. Good news, using WooTechy iMaster, you can easily to do it:
To do so:
Step 1 Download, install and open iMaster tool on your computer. Use a working cable to connect your iPhone with the PC. Select Downgrade iOS mode from the 3 options. This mode can downgrade your iOS version without data loss.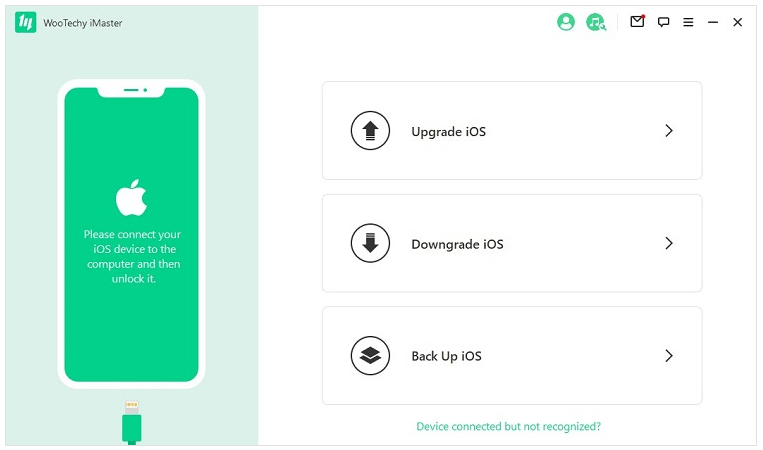 Step 2 You will be promoted to pick a firmware version you need. Then click Next button to download the firmware  to your PC. Please be patient until it to complete.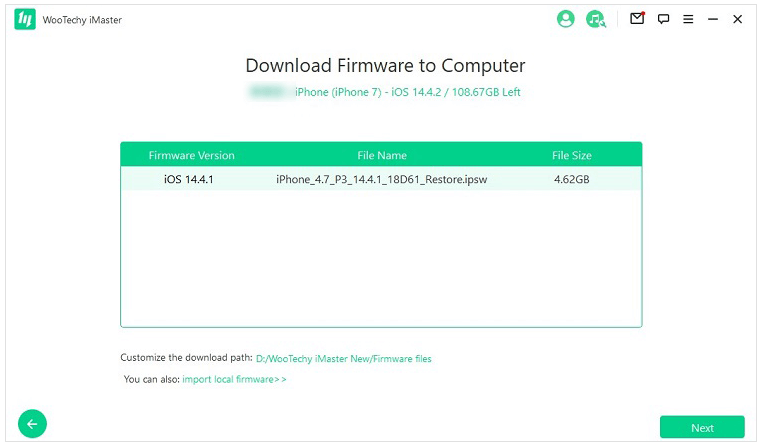 Step 3 Tap Start button then iMaster will downgrade your iPhone device instantly.
Step 4 When you see Done icon on the screen, it means you have finished downgrading your iPhone iOS system successfully.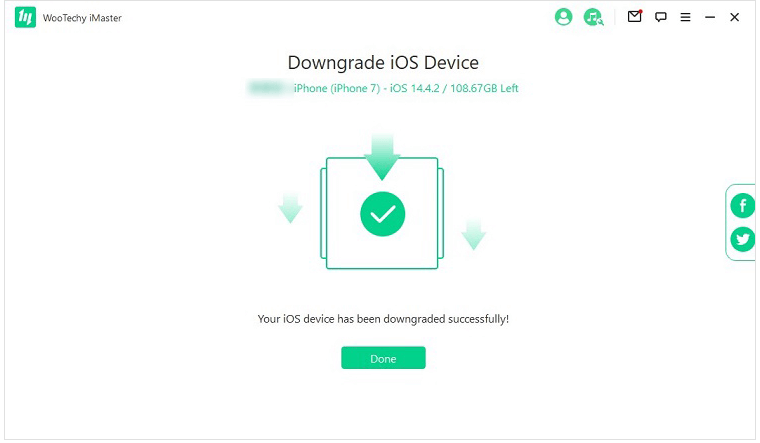 3.3 Contact Apple Support Center
If you still find yourself with an iPhone rainbow screen and won't turn on after trying backup methods, then your iPhone may has hardware issues. In this case, it's time to contact Apple Support for further assistance.
Apple experts will be able to help diagnose the issue and determine whether it can be fixed or not. Once they assess the situation, they will provide you with the best advice on what you should do next to fix your iPhone.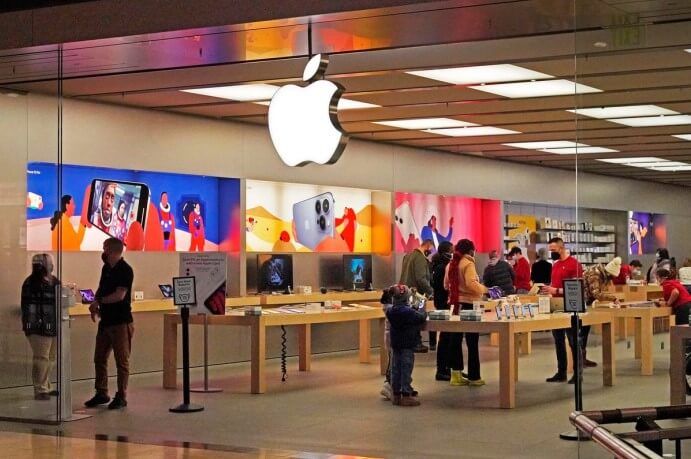 Conclusion
iPhone users may experience the rainbow screen of death that causes their devices to become unresponsive. While this can be an intimidating problem, it can be easily resolved with the right tools and methods.
 WooTechy iPhixer is the most effective solution for iPhone users as it is fast and reliable while also being easy to use. We hope this guide has helped point you in the right direction in case you encounter the iPhone rainbow screen of death issue.
If you need any additional information or assistance, please don't hesitate to contact us. We are always here to help. Happy iPhone troubleshooting!