If your iPhone won't turn off, it could be a genuine cause of concern. And that's completely normal. It's a very rare problem that you can run into if you happen to be an iPhone user.
Running out of storage, malicious softwares, corrupted apps, are some of the reasons that could lead to this issue. But don't worry. There are some solid fixes to your iPhone refusing to turn off. Keep reading to find out!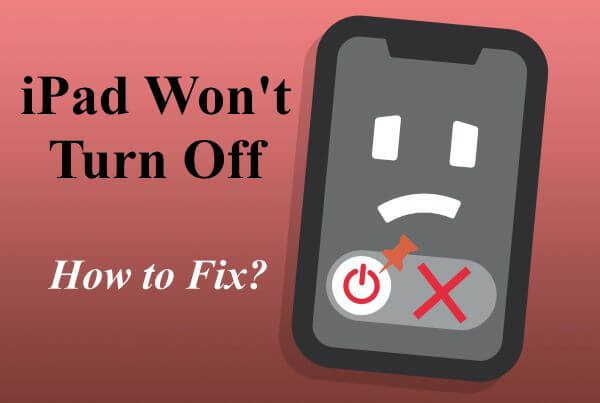 1

Part 1. Why Won't Your iPhone Turn Off?

There can be many reasons why your iPhone won't shut down. Knowing the reasons will give you a better understanding of the problem.

And that will also help you diagnose and fix it faster. The most common reason is just a weird software bug. Apple is known for its stability and top-notch reliability. But software is software. Things get a bit wonky from time to time. That's when you experience software glitches or bugs.

Software Issue: Other than hardware issues, a software glitch could be the reason why your phone won't shut off. This can happen due to many reasons like improper firmware installed or wrong iOS update.

Broken Buttons: If your buttons are broken, your phone won't recognize that you're trying to turn it off.

Unresponsive or Faulty Touch Screen: If your touchscreen is unresponsive or faulty it won't work. iPhone frozen and wont turn off is a pretty common issue as you cannot interact with the touchscreen.
1

Part 2. What To Do When iPhone Won't Turn Off?

Here's the good news. There are tons of troubleshooting steps you can take to fix any issues with your iPhone that's refusing to turn off.

And the best part is that you don't need to be any kind of Apple Genius either. If you want a sure-fire fix, you can even use effective and super helpful tools too!
1. Turn Off iPhone In Settings If Power Button Broken
The most obvious problem you would notice immediately is that your button is broken when your iPhone won't turn off. You can turn your phone off instead from the Settings app itself if it is this case.
You can do this by just opening the Settings app. Click on General and scroll all the way to the bottom. You'll see the Shut Down option here.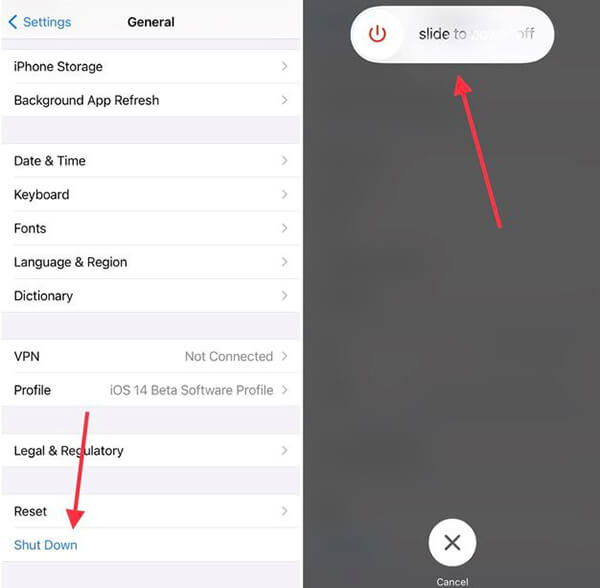 2. Turn Off iPhone Using the AssistiveTouch Function
Apple's assistive touch features are convenient for controlling all kinds of functions of your phone. You can use it to turn your iPhone off too!
Step 1: Go to Settings. Scroll down to Accessibility. Turn on Assistive touch.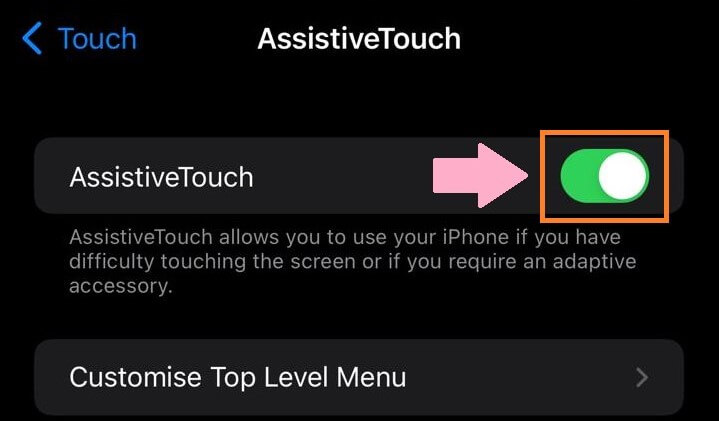 Step 2: This will make a gray bubble appear with all kinds of controls. Tap and hold the Device > More > Restart buttons to turn it off.
3. Force Restart Your iPhone
When your iPhone won't turn off, you can also try force restarting it. This is sort of a brute force method and there are different ways for different iPhone models.
iPhone 6S, 7, 7 Plus, and Earlier Models
Simply press and hold the Home button or Volume Down button (iPhone 7 series) along with the Power button till you see the Apple logo. Release the buttons and your iPhone should boot up normally to its home screen.
iPhone 8 and Newer
Press the Volume Up button and release. Immediately hold the Volume Down button and let go of it. Press and hold the Power button till you see the Apple logo appears.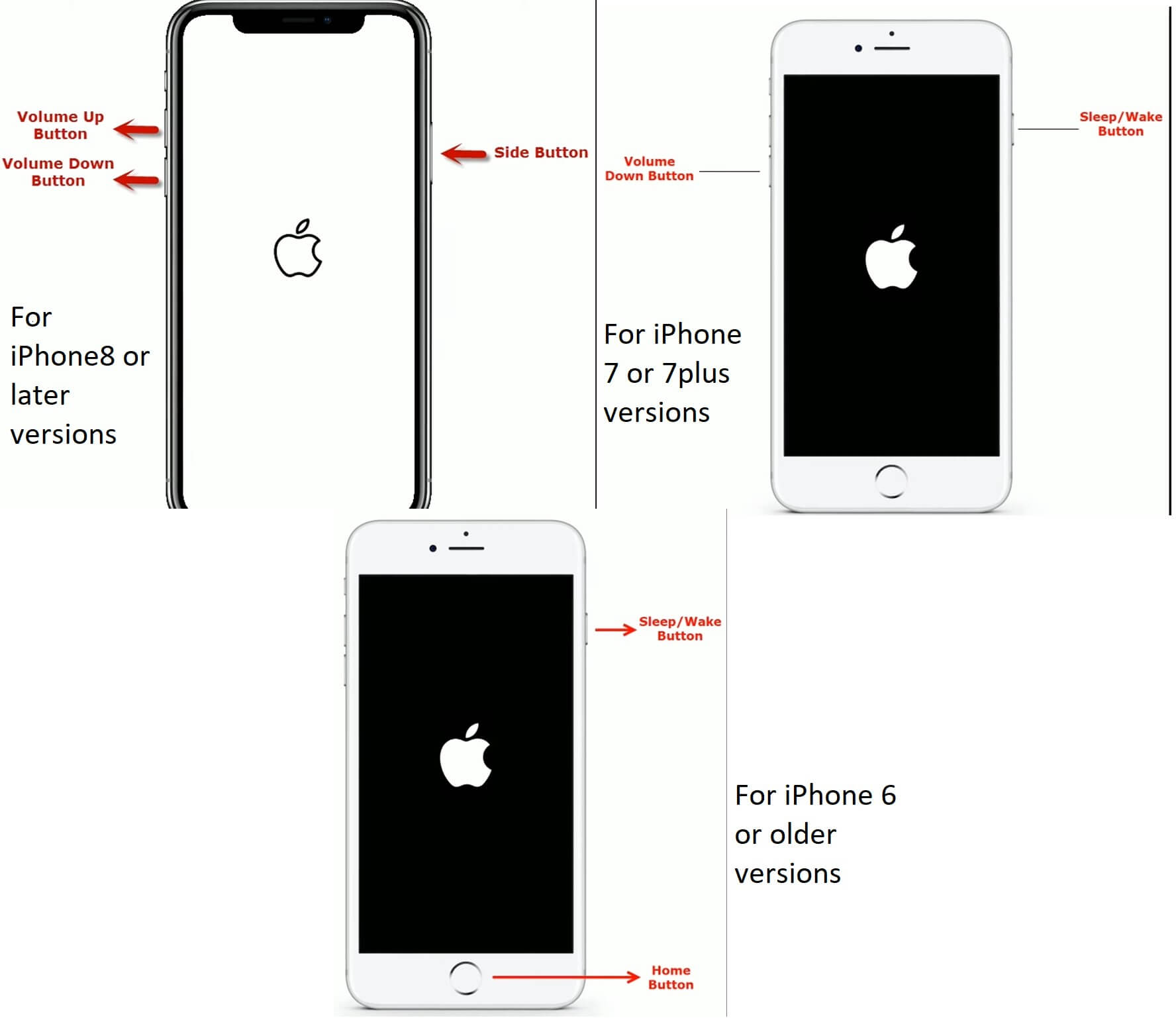 4. Reset All iPhone Settings
Resetting the settings can also fix the iPhone not turning off issue. Note that by doing this you won't wipe any data; it will just reset all settings preferences and passwords.
Step 1: Launch the Settings app. Tap on General. Scroll down to the bottom and choose Transfer or Reset iPhone.
Step 2: Go to Reset option and you'll see multiple options here. Choose Reset All Settings.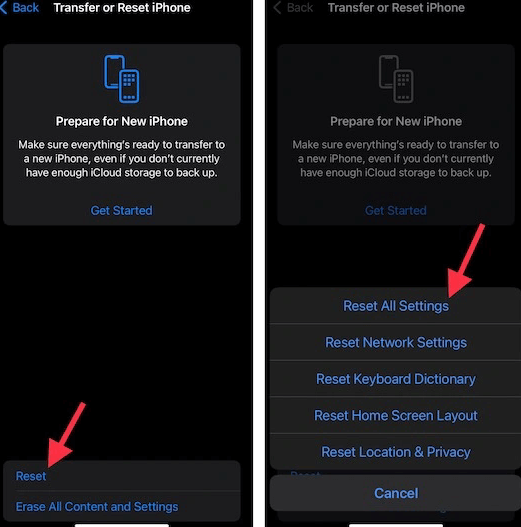 5. Fix Software Bugs Causing iPhone Not Turning Off
Don't want to fix the issue by trying out each method or doing the manual work? Then you can definitely take help from the professional iPhone repair software – WooTechy iPhixer. It can solve your iPhone not turning off problem through several clicks while not causing any data loss. Boasting high technology, it enjoys a high success rate and a fast speed.
iPhixer – The Best iPhone Fixer
75.000.000+
Downloads
Resolves all iPhone problems such as iPhone won't turn off, not turning on, boot loop, various stuck and update issues without any data loss.

Compatible with all iPhone models and iOS versions including the latest iOS 16, so you can use it to fix any your iPhone that won't turn off.

Unlike using iTunes to restore iPhone, it brings your iPhone back to normal without giving rise to unknown iTunes errors.

It can also update/downgrade your iPhone, reset and unlock iPhone with or without password, enter or exit recovery mode in 1 click without free of charge, etc.
Here are steps to fix your iPhone that won't turn off:
Step 1: Download WooTechy iPhixer software and install it on your Win or Mac computer. Launch it and click on the Standard Mode.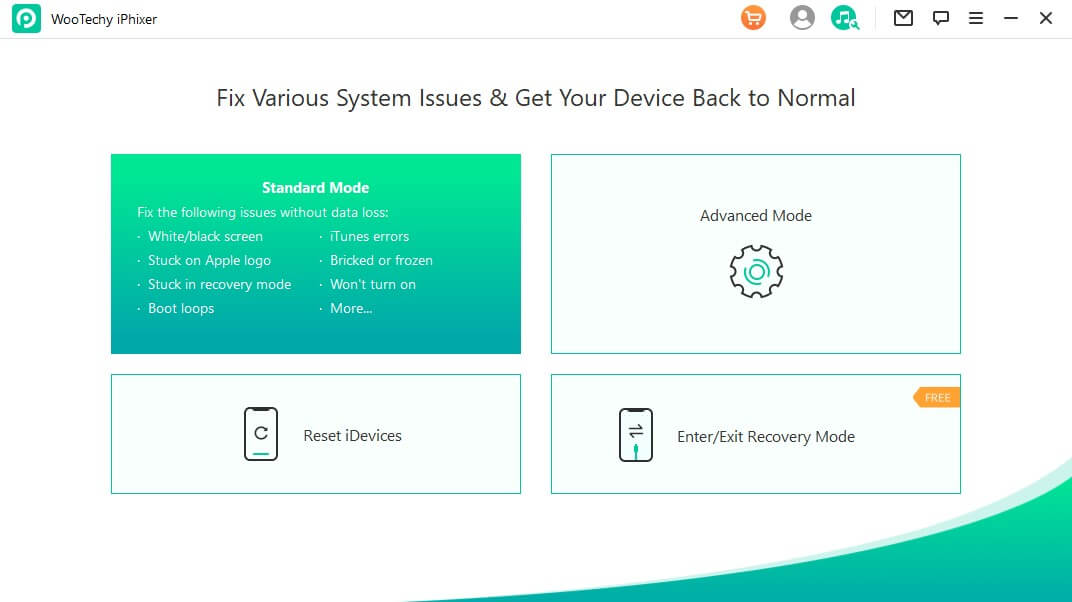 Step 2: Connect your iPhone to a trusted computer and click Next. Please unlock your phone to let the software recognize it. Otherwise, put your iPhone into recovery/DFU mode through the onscreen prompts.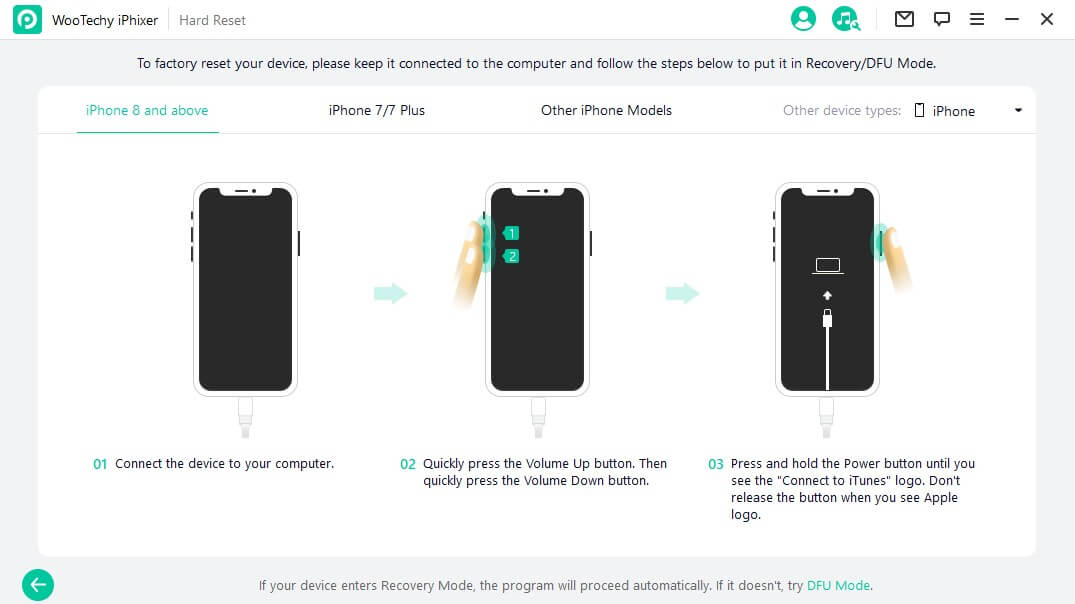 Step 3: Your iPhone model and the firmware version will be shown on the screen. Click the Download button to get it and reload the system of your device.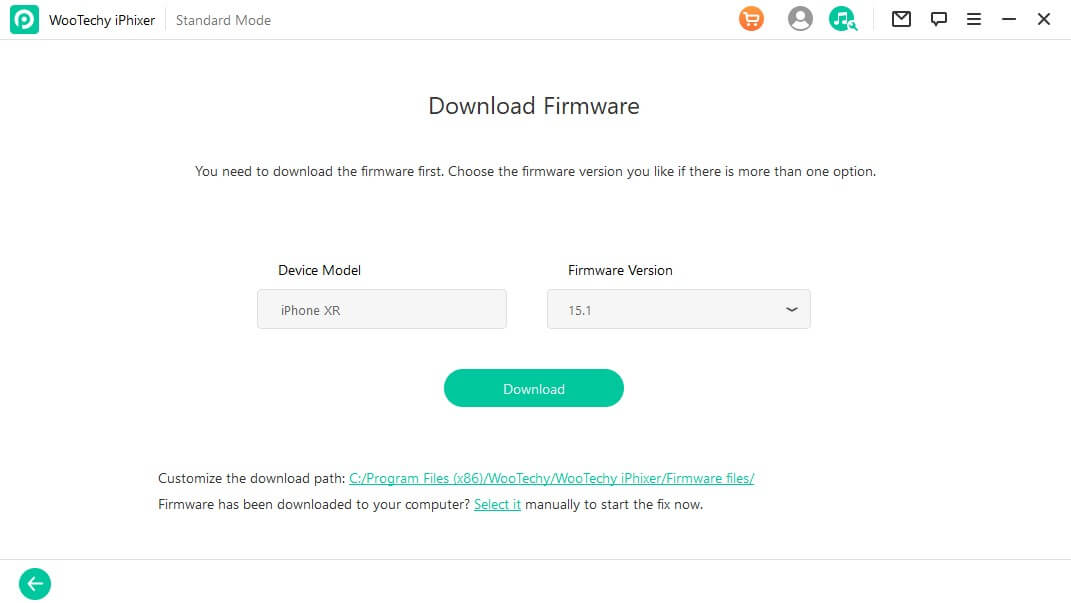 Step 4: Click on Start and wait the process finishes. When your iPhone restarts, there will no problems and you can turn it off normally now.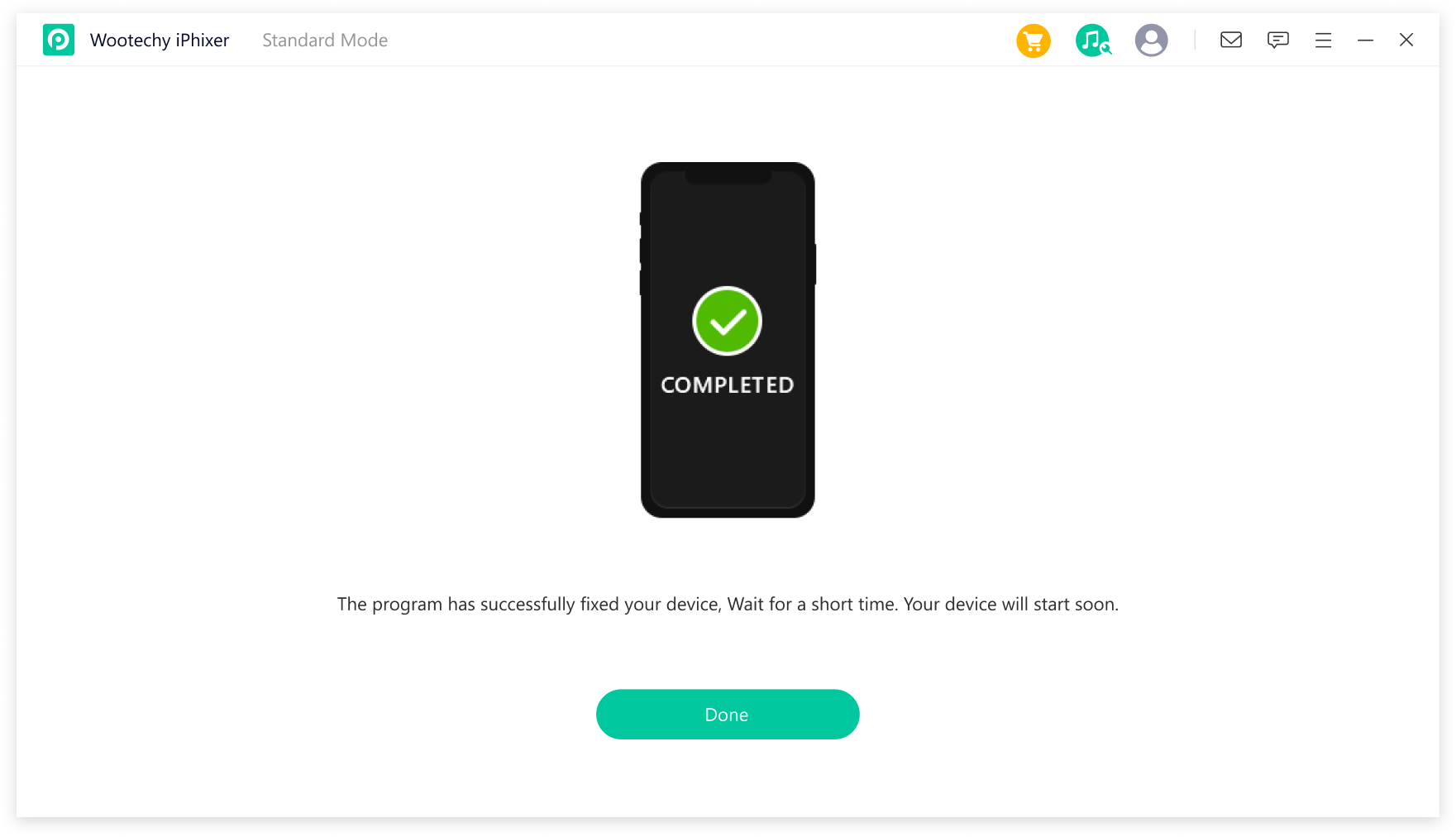 6. Restore iPhone from Backup
In some cases, restoring your iPhone from backup can help fix iPhone not shutting down issue. This work by restoring the previous backups that contain no corrupt files to your iPhone and thus remove the problems causing your iPhone not turning off. But this will ask you to factory reset your iPhone first and then restore it. If you'd like to try it, here's the related steps:
Step 1: Make sure you're connected to a stable network connection. Preferably a WiFi connection.
Step 2: Erase your iPhone by going to Settings > General > Transfer or Reset iPhone > Erase All Content and Settings.
Step 3: Then turn on your iPhone and choose the most relevant backup. Tap on the backup file to complete the process.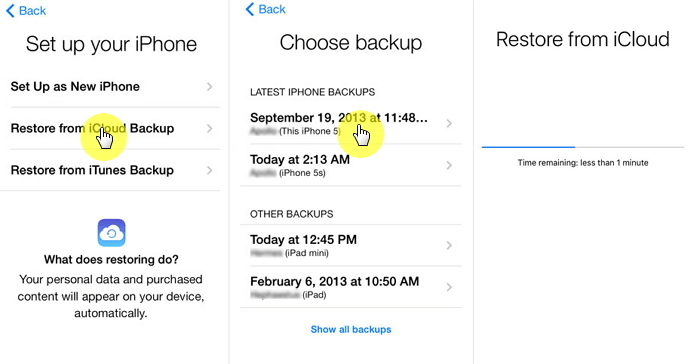 Note
In case you don't want to reset your iPhone, you can also use iTunes (Summary > Restore Backup) to do it if you back your device up with iTunes earlier.
Conclusion
There you have it. These steps will fix any problems if your iPhone won't turn off. Among them, WooTechy iPhixer is a very effective tool to fix any kind of iPhone software issue including iPhone not tuning off without data loss. It's easy to use and very powerful as well.