Does iOS 16 drain battery so quickly? Like many iPhone owners, are you concerned about iOS 16's effect on battery life? iOS updates often include amazing new features, which can sometimes create battery concerns.
This article explores whether iOS 16 negatively impacts battery life. Moreover, we will provide advice and solutions for resolving any battery-related issues you may find after updating to the most recent iOS version. Stay with us to explore several reasons and solutions to optimize your Apple iPhone iOS 16 battery drain.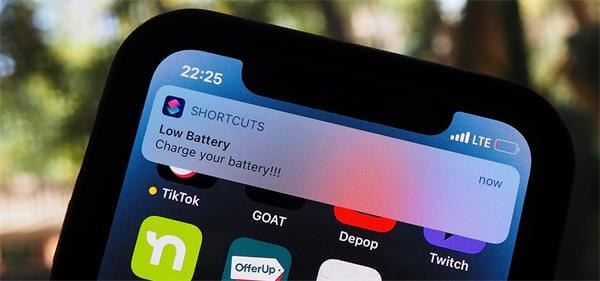 Part 1: Does iOS 16 Drain Your Battery?
The quick depletion of a device's battery is a common side effect of significant iOS 16 upgrades. Power consumption can increase rapidly due to the continual optimization and updating of apps and services in the background. The situation might remain unstable for up to two days.
If you've already installed iOS 16, it's rather difficult to downgrade iOS 16 to iOS 15. Immediately fix after some preparatory processing in the background. Is it common for your iPhone to die before the end of the day? Whether you're using iOS 16 or an earlier version, this article can help you preserve battery life on your iPhone in no time. If the problem persists, attempt the solutions we've advised in this guide to achieve Apple's renowned battery life.
Tips
If you are experiencing iOS system issues which cause battery drain fast because of iOS 16 update, then WooTechy iPhixer could help you erase all your worries!
Part 2: Why Does iOS 16 Drain Your Battery?
iOS 16 iPhone draining battery can be attributed to many factors like bus issues, background running apps, auto-updates or watching videos, etc. As a result, it's essential to take a step back and observe the situation appropriately. Some of the most prevalent errors are listed below.
1

Photo App

There are several new options, such as Duplicates, exist in the default Photos app. With iOS 16, searching through all your images for duplicates is possible. iOS might take many days, if not weeks, to finish mapping your whole library if you have a vast collection. Apple claims that the detection occurs when an iPhone is locked and plugged into a power source. Battery life may be prolonged by disabling these photo apps and other battery-draining features.

These Photo apps may make your screen seem stunning with animations that are captivating to the eye. It's important to remember that active wallpapers consume more battery than static wallpapers.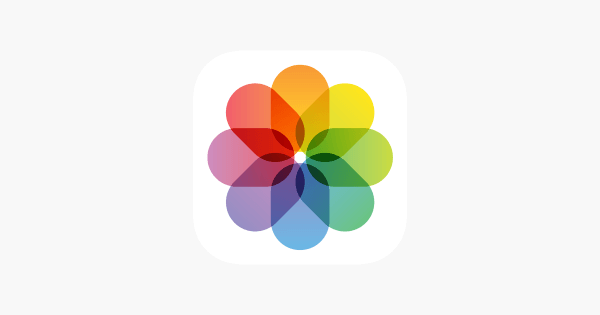 2

Spotlight Search Indexing

Spotlight search indexing issues are especially noticeable for iOS 16 users. Spotlight is continually monitoring your location and scanning any newly downloaded files. And it's probably the cause of your battery issues with iOS 16. You may disable this intelligent search feature and make your device more power efficient.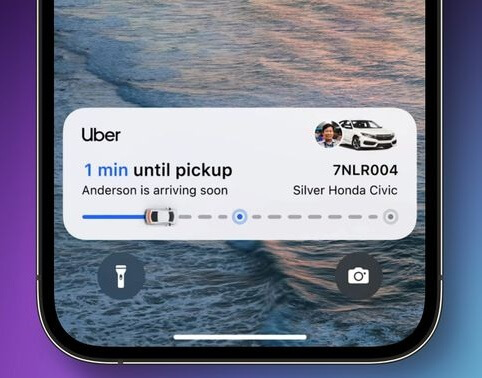 3

Apps that Needed an Update

iOS 16 facilitates a seamless experience by enabling the automatic installation of applications on devices sharing the same Apple ID. Apps can be automatically updated, so you don't have to worry about keeping them up to date. Despite their usefulness, turning off these functions will help your iPhone's battery last longer.
4

Unhealthy Battery Usage

Using an app for more extended periods will drain the battery faster. If you have been using your device for extended periods with the screen on, you may have noticed that your battery drains quickly.

However, if you're using your phone like before, the issue is likely not the device itself. The best action is to find out which app is draining your power without worrying about the probable causes.

Another bad habit while using your iPhone is to charge your iPhone when battery below 15%. This could cause battery damage thus leading to battery drain fast.
5

Too Many Background Apps

Background refresh makes it possible for applications to update themselves in the background so that they may continue to be proactive but doing so consumes a significant amount of battery power. Therefore, switch it off to prevent iOS 16 from draining your battery. Let's figure out how to fix the iOS device's battery from draining so quickly.
Part 3:  9 Fixes to iOS 16 Battery Drain
We have seen so many iPhone users complained that iPhone battery drain fast ever after they updated thier iPhone's OS to iOS 16. So how to slow down the battery drain before Apple fix this problem? Here are 9 tips that you can use to optimize battery usage.
1

Change Cellular Data to 4G/3G

You can save battery by switching off 5G, because 5G can take up more battery than you may think. Check the signal strength of your mobile network. If your cellular service seems to be intermittent, try resetting the network settings on your device. If the coverage on your 5G network is poor, you can still protect your iPhone's battery by switching to 4G/3G or a slower network and using it instead of 5G mode.

Your iPhone's battery will deplete more quickly if you always leave it connected to 5G. You must change the cellular mode to 4G/3G on your device to save the IOS battery draining. Follow the steps below to change your network from 5G to 4G/3G:

Go to Settings and find "Cellular".

Tap on Mobile Data Options  > Voice & Data.

Click on 4G instead of 5G On and 5G Auto.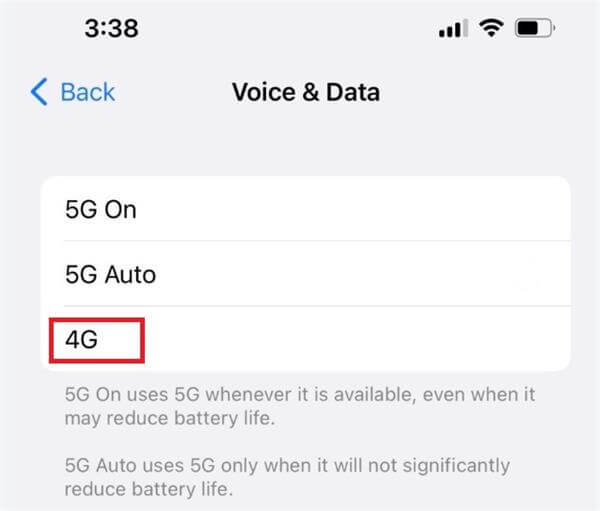 2

Turn on Optimized Battery Charging

If you care for your device, its battery health can stay stable. We often charge our phones overnight. iPhones, like other smartphones, have auto power-off. Optimized Battery Charging helps boost iPhone battery efficiency.

Optimized Battery Charging detects the charging procedure and cuts power when the battery reaches 80%.

To enable this function on your iPhone:

Click Settings, Select "Battery," and then "Battery Health." 

Activate "Optimized Battery Charging."
3

Turn off Background Apps

We recommend turning off the background apps constantly running in the background and Turning off background apps in your iPhone's Settings menu.

Go to Settings > Then choose "Background App Refresh."

Choose "Off" from the "Background App Refresh" menu.

This setting will prohibit most programs from doing background data refreshes, conserving battery life.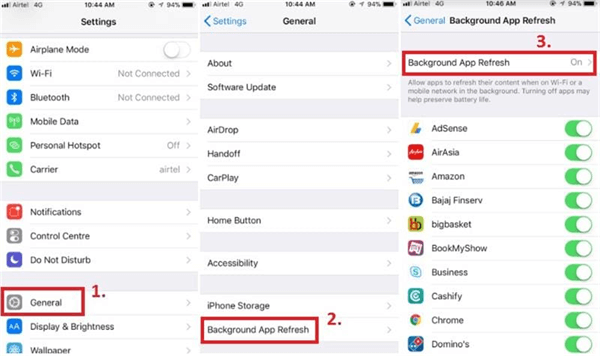 4

Enable Auto-Brightness Feature

Auto-Brightness can save up battery and it's always on by defult. However, if you have turned it off before, this is how you turn it back on:

From Control Center:

To open the iPhone's Control Center, swipe from the top right corner.

Reduce the light intensity by lowering the slider.

From Settings:

Follow the path General >> Accessibility >> Display & Text Size.

Set the "Auto Brightness" setting on.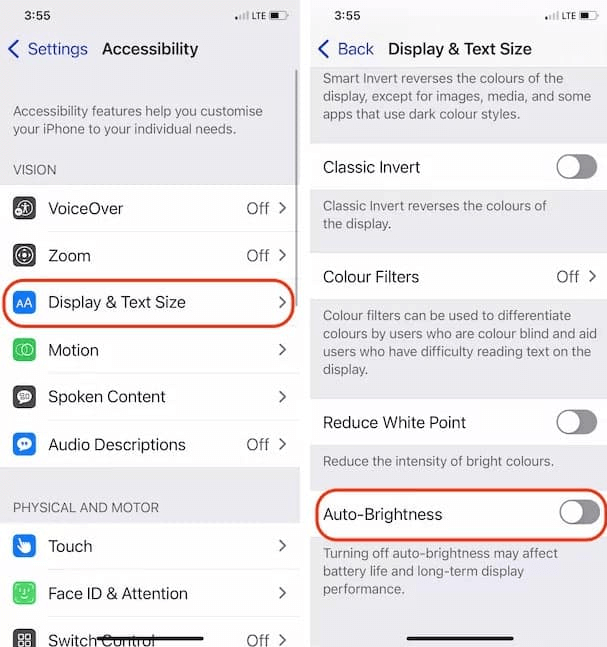 5

Limit Notification for Certain Apps

You can boost the battery life on your iPhone by turning off notifications. Even if you don't have any new updates, your phone will keep sending out notifications, which can quickly deplete the battery.

Go to Settings > Alerts & Privacy > Allowed Notifications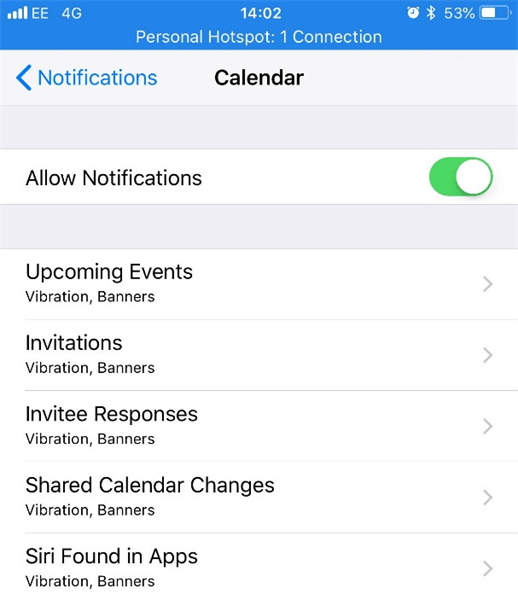 You can choose to disable alerts that you don't need.
In most cases, it's preferable to turn off alerts entirely in this manner. You may save battery life on your phone by turning off notifications from specific apps.
6

Turn off Automatic Downloads and App Updates

You can fix your iOS 16 battery drain by turning off the automatic downloads and apps.

To disable app downloads and updates:

1. Open Settings and select "General."

2. Select "Software Update"> Automatic Update.

3. Select and turn off "Download iOS updates."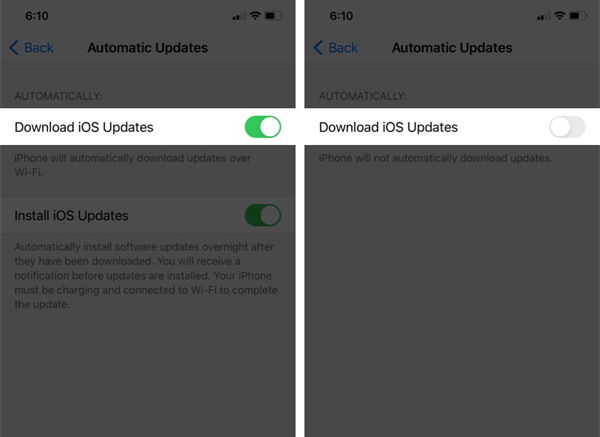 7

Limit Widgets Number

Quick view screen widgets constantly attempt to update information or facts in the background. This will make it easier to see the battery level, weather, message notifications, fast replies, news, and reminders. As a result, running in the background always drains a lot of battery life. You can also control the battery drain by reducing the active screen widgets.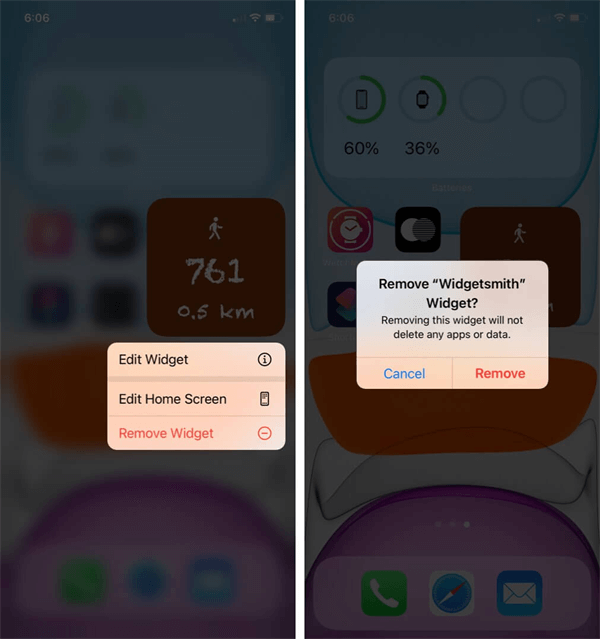 8

Limit Location Services App and Reduce Motion

GPS tacking is one of the biggest parts of battery consumption. You can turn off some unnecessary location-service Apps, which will improve your battery life a big time.

Reducing Motion on iPhone can also prolong iPhone life for the animation removal and lesser load on the processor. Below to check how to reduce Motion on iPhone:

Go to Settings > Accessibility.

Click on Motion, and toggle on Reduce Motion.

If you want to disable animation, toggle on  Prefer Cross-Fade Transition.

9

Enable Dark Mode

Your iPhone's rapid battery drain may be due to the screen's heavy battery usage. Battery life may be saved by switching to dark mode on the iPhone or iPad.

To activate Dark Mode:

Choose Settings > Focus.

Pick the Focus mode that you wish to use. For example, Wind Down.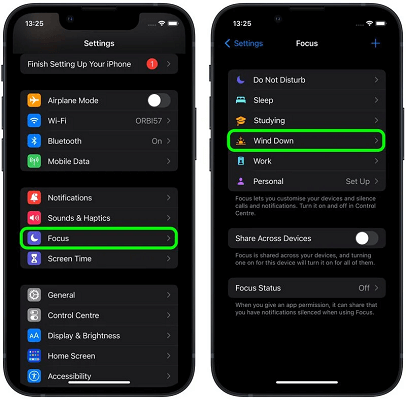 Part 4: [Bonus Tip] iOS System Issues Causing Battery Drain? - Meet WooTechy iPhixer!
Many iPhone and iPad users are concerned about whether iOS 16 Drain iPhone's battery. If you cannot fix iOS 16 battery draining excessively using the above mentioned solutions, use a third-party tool (WooTechy iPhixer).
WooTechy iPhixer
is a professional iOS device repair tool for iPhones, iPads, and iPods that can provide quick support when needed. Whether you are experiencing issues with your device's operating system, are
stuck in recovery mode
, or have problems with your device's firmware, iPhixer provides a reliable solution to get your device back up and running.
WooTechy iPhixer may be used by anybody with its simple interface and instructions. WooTechy iPhixer also allows device backup and data restoration to protect your data during repair. WooTechy iPhixer is vital for fixing iOS devices rapidly. Here are some of the prominent features of WooTechy iPhixer:
Key Features of WooTechy iPhixer: Fix iPhone iOS System Issues Causing Battery Drain:
75.000.000+
Downloads
Use one click to enter recovery mode without losing data for free.

Fix all issues related to iPhone/ iPad/iPad touch.

It has a simple and User-friendly interface.

It also contributes to reset iDevices with 24/7 customer support service.

Use one click to enter recovery mode without losing data for free.

It's the best replacement for iTunes and allows you to update/restore iDevices without iTunes.

You won't have to worry about losing your personal data in the process.

It is compatible with all iOS devices, including the most recent versions, including iOS 16.
Step 1: Download and launch WooTechy iPhixer. After installation,Select Standard mode and click Next.
Plug your iPad or iPhone into your computer using a USB cable. Before proceeding, unlock your iDevice.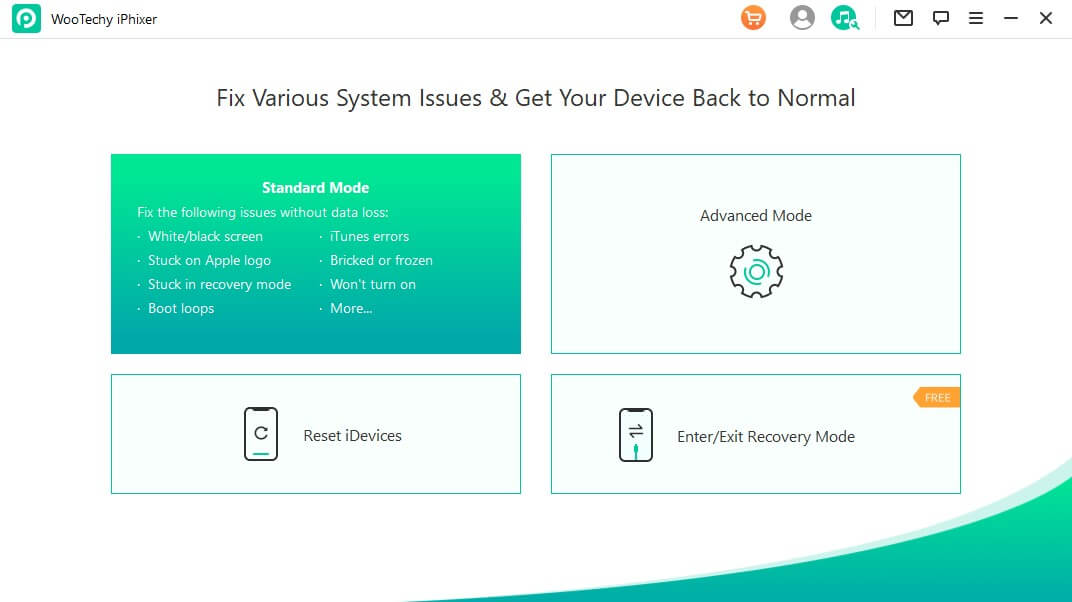 Step 2: Select Get to get iOS firmware. WooTechy iPhixer immediately shows your device's compatible firmware. Choose your version and click Download. After downloading the firmware, iPhixer will analyze and extract the software before correcting it.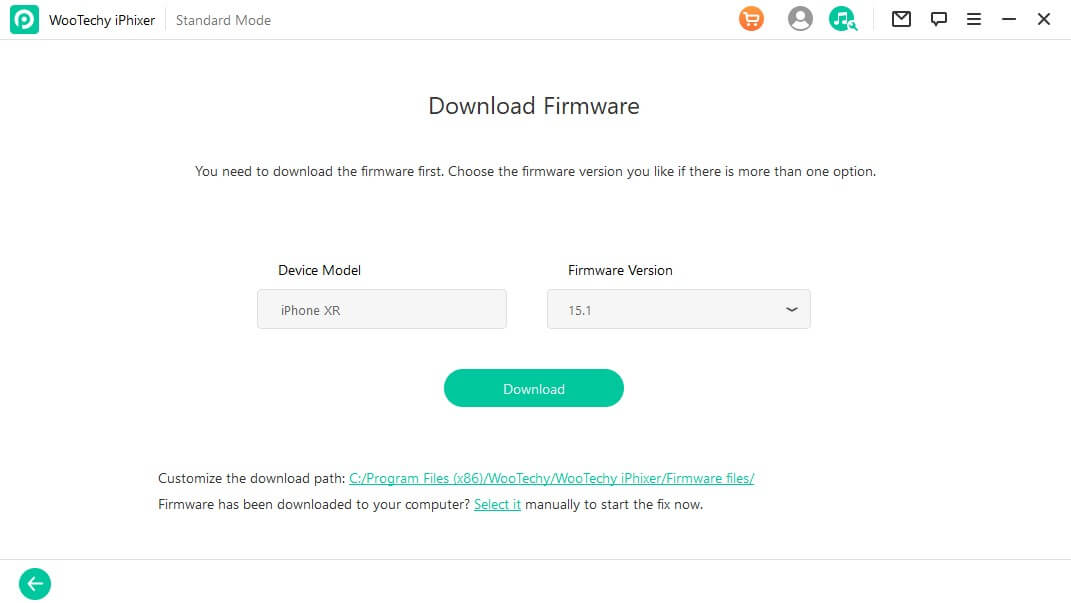 Step 3: Click Start to repair your iPad or iPhone. If you use or unplug the device, it will get stuck and stop working. After repair, restart and use your device usually.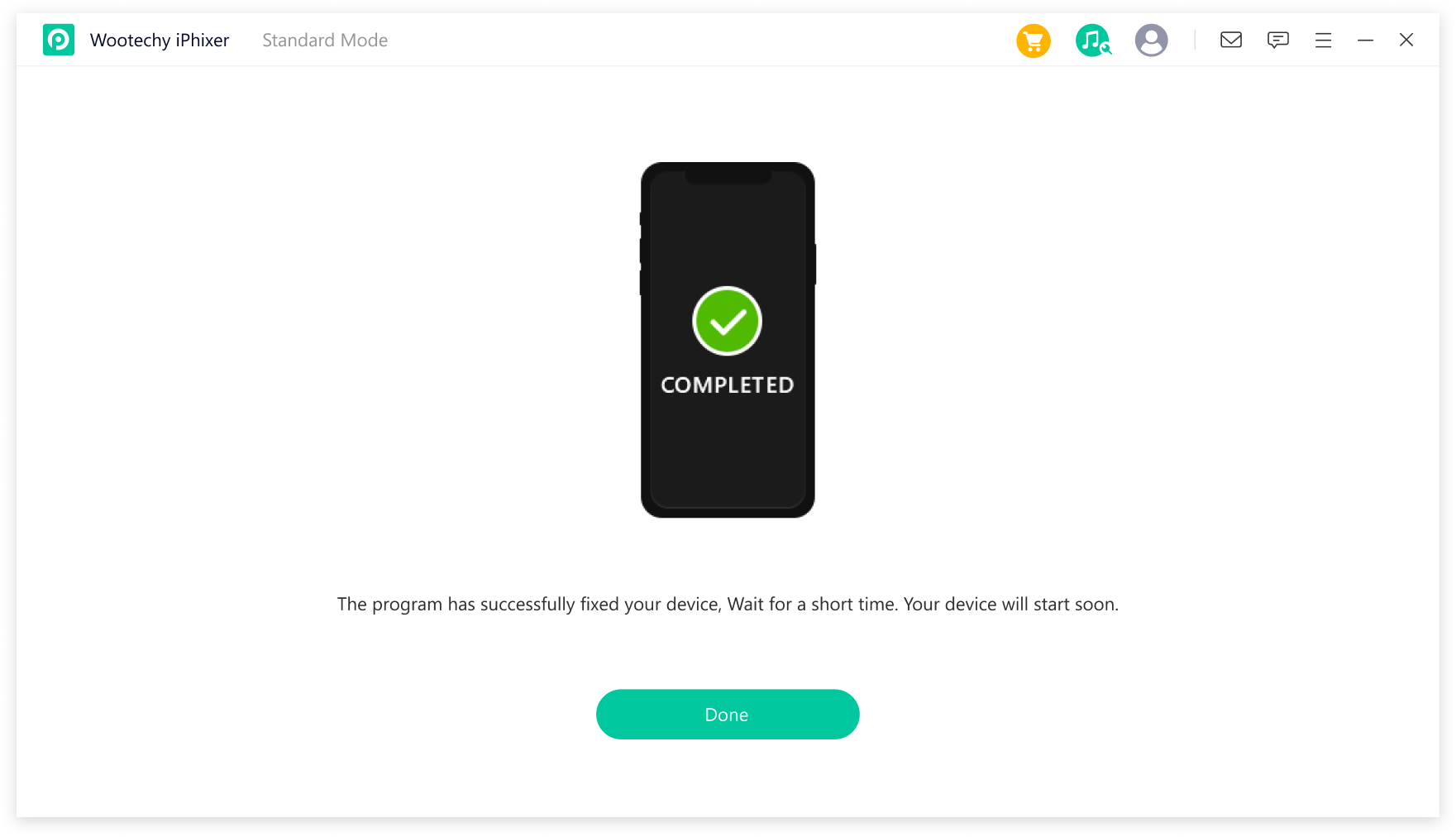 Part 5: Small Tips to Charge Your iPhone Properly
Finally, you learned why iOS uses so much battery and the most effective way to conserve it. The optimal way to charge your iPhone can extend its battery life. While charging your iPhone is essential, it is equally as essential to ensure that you are not doing anything else to damage the battery of your iPhone. Therefore, to protect the overall health of the battery in your iPhone, here are a few pointers:
1

Avoid Overnight iPhone Charging

If you don't want to charge your phone in the morning, wake up with a full battery. Therefore, you can charge your iPhone overnight. However, this is not a good practice, regardless of whether you have an Optimized Battery Charging set for your iPhone. Charging your phone overnight might damage the battery.
2

Stop Charging 100% Always

Avoid charging your iPhone to 100% and never below 25%. To protect your iPhone's battery, keep it between 30% and 80%. Always charge your iPhone to at most 80 percent rather than 100 percent.

Optimized charging can fully charge your phone by morning. It stops charging the phone at eight percent and restarts it before you unplug the charging wire.
3

Stay Cool

High temperatures can damage iPhone batteries. Avoid heavy iPhone duties like playing games or using the camera in hot weather, especially when charging.

If not, your iPhone may overheat, dimming the screen and limiting background tasks. Apple recommends 32°F to 95°F (0°C to 35°C) for the iPhone.

In addition, it's not good to use fast or wireless chargers that might cause your iPhone to overheat and harm the battery. Instead, charge your iPhone with the charger that comes with it or a third-party (WooTechy iPhixer) charger that Apple has approved.

If you follow these guidelines, your iPhone's battery life will be significantly prolonged, and you can stay connected everywhere you go.
Conclusion
Many iOS 16 users are frustrated with the rapid depletion of their device's battery and want Apple to implement a solution quickly. If you follow the advice provided above, you can prevent the quick drain of your iPhone's battery. However, if you need to resolve your issue quickly, WooTechy iPhixer is the ideal IOS repair solution that doesn't waste your time or cause any data loss. Its powerful fixing features are so effective that you can always rely on them.