The IPSW file is known as the latest software update from Apple. As an iOS or iPadOS user, you should know the importance of restoring the IPSW files. It helps to improve security patches on your iPhone/iPad. So, how can you use the IPSW restore tool?
You can restore the IPSW file with iTunes or other software like WooTechy iPhixer. You can download the desired IPSW file manually and launch iTunes to detect the file automatically. Then, choose your specific IPSW file and wait to begin the restoring. But with the WooTechy iPhixer, you only need several clicks.
You can both upgrade and downgrade your iOS versions by restoring IPSW files. However, a downgrade can't be possible with the original iOS version. In this article, we will talk about what IPSW is in a bit more detail. We will also cover its importance and why you should be using our own Wootechy iPhixer app. So, let's get right to it.
Part 1. What Is an IPSW File on iPhone?
Basically, IPSW is a file extension containing software from Apple. And it's for devices like iPhone, iPad, iPod touch, and Apple TV to install the systems. You can use an IPSW restore tool to achive that.
The DGM files and others like BBFWs, PLISTs, and IM4Ps are stored in this archive format. It can add new features and security improvements to your iOS devices. The IPSW also restores the device to its factory setting. It's also needed for iOS firmware installation.
You can upgrade and downgrade your iOS version with the help of IPSW. However, Apple has stopped giving updates below the iPhone 6 series. Therefore, devices before the iPhone 6s can't be upgraded to iOS 13 or higher versions. But the iPhone 7 and iPhone 8 still have a couple of iOS updates remaining.
Part 2. Why Do You Restore IPSW Manually?
There are many reasons why you may want to restore IPSW manually.
First of all, you might not like the latest update from Apple (the recent one is iOS 16). Therefore, you need to use an iOS downgrade tool for signed and unsigned IPSW to return to your previous iOS version.
Sometimes you may fail to restore your device after an update or fail to update at all. What to do then? Well, you can use the IPSW restoring tool to restore your iPhone. The same goes for other Apple devices.
But if something goes while downloading or restoring with IPSW files, some of your data may get deleted.
Part 3. The Best IPSW Restore Tools
You have known the usage of IPSW tools. How can you download and restore it on your iPhone, right? Well, lucky you because some free IPSW restore tools can help you upgrade or downgrade your iOS version and restore your devices. But the best ipsw install tools are iTunes and WooTechy iPhixer.
1. Use iTunes
iTunes can be used to restore IPSW files. However, you need to download the IPSW file manually and go for further processing. But first, check the version of iTunes because it should be upgraded to date.
As these methods are not authorized, you may face some errors, but you have to be patient and try.
How to download IPSW file manually?
Go to the website of IPSWs and select iPhone. Choose your iPhone model.
Remember that IPSW restore is not possible for downgrading from its original version. It means if your iPhone has iOS 14, you can't downgrade it to iOS 13 because iOS 14 has been installed with the phone.
Search for your iOS version from the list. You need to know that you can't upgrade to the latest iOS if Apple does not support upgrades till that version. Like you can't upgrade iOS 14 on lower models from iPhone 6 series.
Wait until the download is complete.
How do I restore my custom IPSW from iTunes?
First of all, connect your iDevice with your PC or Mac. Launch iTunes on your PC.
Connect the phone with its system. There's a device icon on iTunes. Tap on it.
Press the Option (Mac) or Shift (Win) and the Restore or Update option on the window.

Choose the recently downloaded IPSW file and tap on it. Permit to update or restore the system.
Pros
Don't need any third-party software to restore the IPSW.

Free method as you don't need to buy any software.
Cons
There are many possibilities of iTunes errors occurrence.

Time-consuming with complicated operating steps.

You have to download the IPSW files manually.

All of your device data will be removed after using iTunes to restore the IPSW.
2. WooTechy iPhixer
Is there an IPSW restore tool without using iTunes? Well, a number of software can be used as restoring tools to upgrade or downgrade the iOS versions. WooTechy iPhixer is one of the best and safest tools. Apart from restoring iPSW files to your devices without data loss, it can also fix all iOS issues.
It's super easy to use as you just need to click several buttons. What's more, it has been welcomed by many worldwide users because of it's high success rate and high efficiency. Here's what you do:
Download, install and launch the WooTechy iPhixer software on your Win or Mac computers. Select the Standard Mode from the main interface.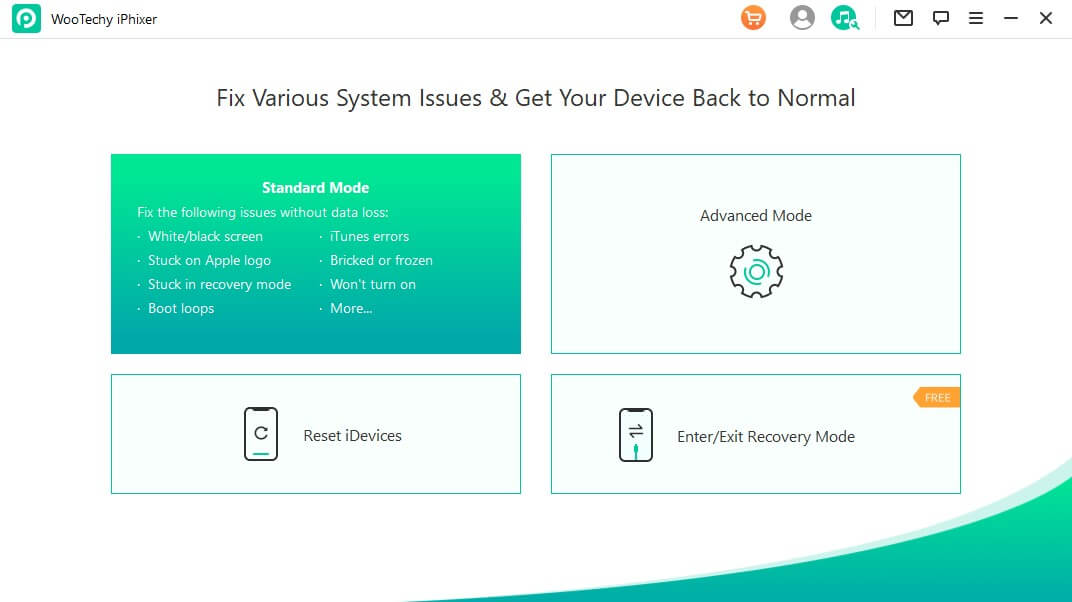 Connect your Apple device with your PC. On the next screen, click Download button to get the IPSW file for your device.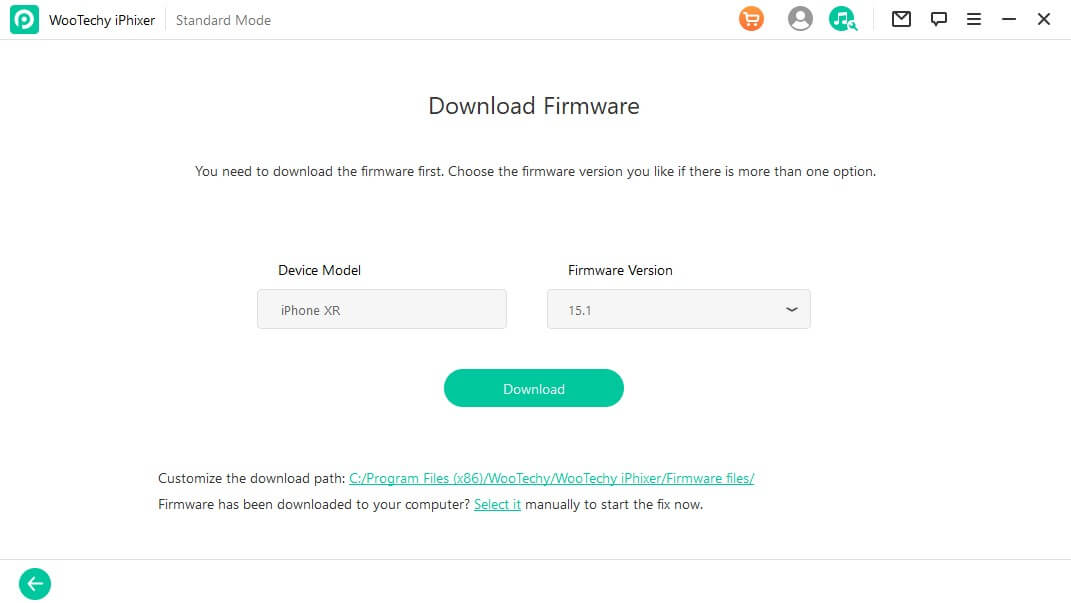 Click Start button to let iPhixer update or restore the IPSW file on your device. Eventually, your device will restart automatically.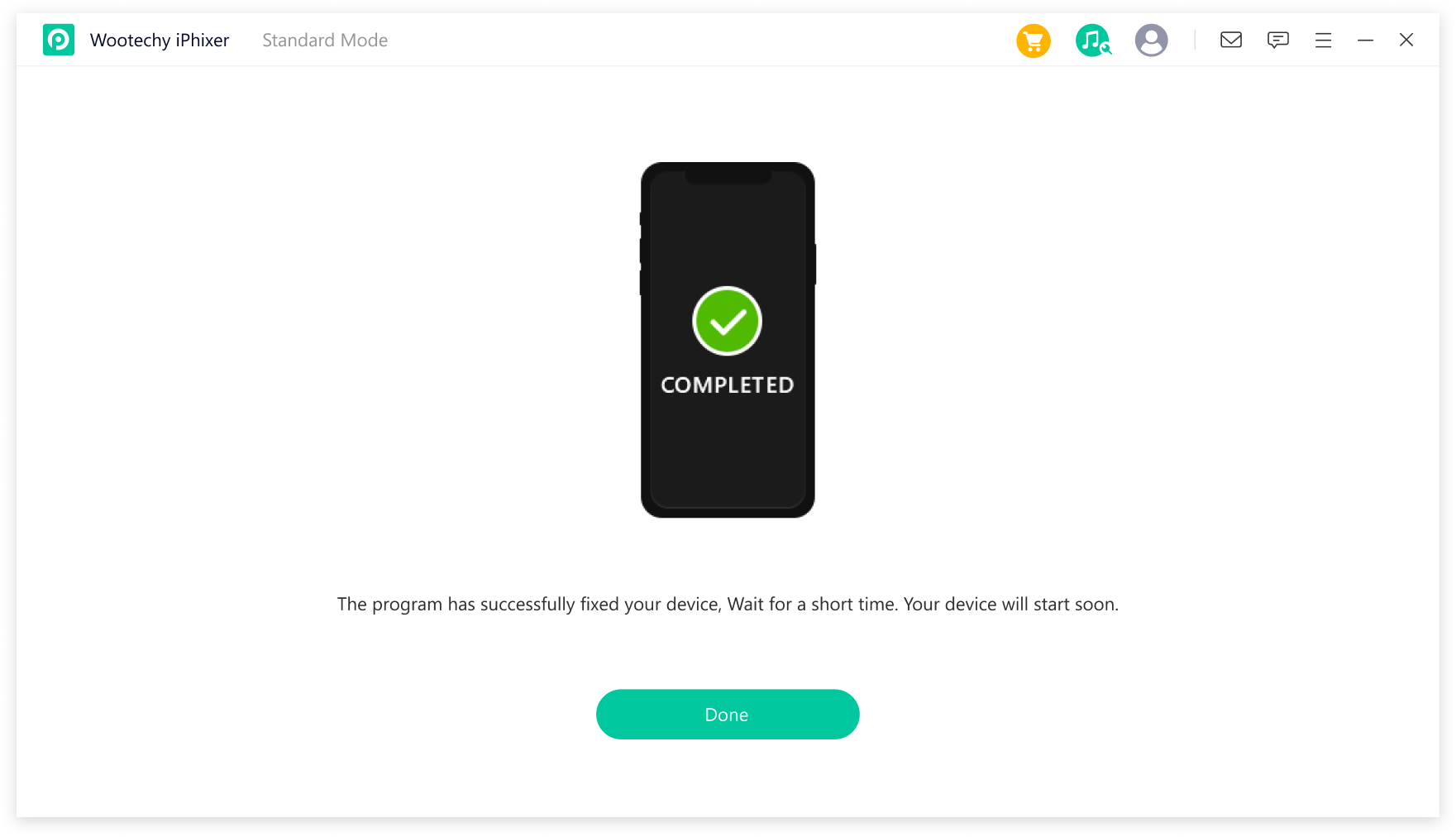 Pros
iPhixer automatically downloads and restore the IPSW files for your devices.

No data loss and no iTunes errors after updating or restoring the IPSW.

Has all iPSW files for all Apple devices including iPhone, iPad and iPod touch as well as the latest iOS 16/15 included.

Apart from restoring the IPSW file, it can also fix all issues on your device.

It can be used to update and downgrade iOS/iPadOS with iPSW files, even downgrading from iOS 16 to iOS 15.

It is a safe and professional tool, no data and privacy invaded.
Con
It's free function is only entering or exiting recovery mode.
Conclusion
Once you restore the IPSW file on your iPhone, it will efficiently run on your device. However, you may face error problems during the restoration process. Some of your data may get lost.
Hopefully, the IPSW restore tool discussion gave you enough information about the processes in detail and the risks and benefits. To update, downgrade or restore iPSW files to your device, use the best iPSW restore tool -- WooTechy iPhixer. It can do all of those without data loss.