Software utilities are essential for mobile phone users. If you use a classy mobile device like iPhone, iOS utilities would be one of your most sought-after packages. Mobile phone users benefit from these online utilities and services quickly to solve several issues. One popular issue that iPhone users have is upgrading and downgrading their iOS.
A system upgrade is expected to fix bugs noticed in the previous OS version. However, some updates, especially in the beta phase, have more bugs than previous versions. Now, online services are the best solution for downgrading your iPhone. In this article, we shall consider one of the most talked about software utilities for iOS repair - TinyUmbrella. Additionally, we will be looking at even more preferred TinyUmbrella alternatives.

Part 1. A Full Review of TinyUmbrella
TinyUmbrella is a software repair package that runs on iOS. It bypasses Apple servers to upgrade or downgrade the firmware of your phone. It works by backing up iOS firmware SHSH blobs to downgrade your iPhone firmware through iTunes. (SHSH blobs is a digital signature on IPSW files used by Apple to map iOS updates and restores.) TinyUmbrella works without jailbreaking your device. It is considered a software solution package for advanced and intermediate users.
1. What Is TinyUmbrella Used For?
There are various uses for this app. However, one of its functions ranks higher than the rest in popularity. Below are the uses of TinyUmbrella.
It is popularly used to downgrade to an older iOS version.
It can be used to upgrade an iOS version.
TinyUmbrella is used to bring devices out of recovery mode if the device is stuck.
You can use it to remove your iPhone stuck on a screen like the black, white, or Apple logo.
2. Is TinyUmbrella Free?
Yes, TinyUmbrella is entirely free. It is one of the reasons many users still prefer to use it. It has different free versions that work on modern computer operating systems. Hence, you can download and use it for free on any device.
3. Does TinyUmbrella Work?
Yes, TinyUmbrella sometimes works. Although it is argued to be a highly complex tool, and its effectiveness has been questioned, none of the arguments rules out that it can be installed and function correctly. Its latest version combines two of its earlier tools; TinyTSS and Umbrella. This version is available as a free download and can be installed on a laptop or desktop PC.
4. How to Use TinyUmbrella
TinyUmbrella has suffered criticism for its complicated framework. The same can be said for its UI/UX. The interface lacks the stealth and intuitive navigation common to the latest chic apps. Getting a good guide like this article is advised before using the app. If not, you can cause more damage to your iPhone. The app is best rated for experts and not tech newbies. The steps below show how to use TinyUmbrella.
Start by backing up your iPhone to prevent data loss. Download SHSH for your iPhone on Cydia.
Visit their official website to download and install the latest version on your computer. Open the app and click Save SHSH at the top of the screen. All the saved SHSH on your iPhone will be copied to your screen.
Click on the Start TSS Server button at the top of your screen. Open iTunes on your computer.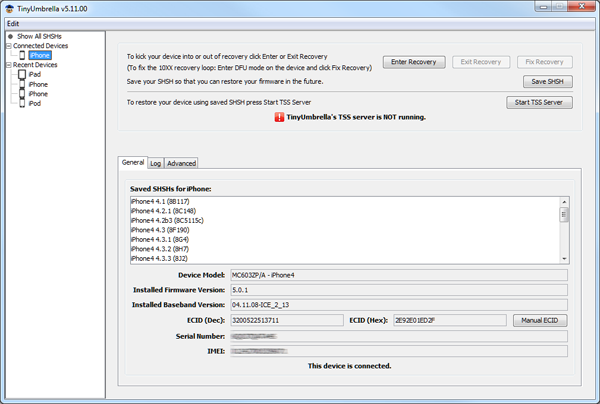 Restore your iPhone by clicking Restore, then Option. Select the firmware you want to downgrade to on your screen.
5. Pros and Cons of TinyUmbrella
There are some positives and downsides to using TinyUmbrella. This section will consider the pros and cons of using TinyUmbrella.
Pros
Removes the risk of jailbreaking your iPhone.

If the Apple server is down, you can still restore your iOS with TinyUmbrella on iTunes.
Cons
Users have complained of TinyUmbrella startup error.

You may suffer data loss.

Users cannot access the SHSH blobs.

The app has a short usage span.

The interface is unattractive and does not suggest user intuition.

There are times TinyUmbrella is not working.
Part 2. Best TinyUmbrela Alternatives
There seems to be a lot wrong with the TinyUmbrella app. These downsides have prompted tech savvies to design TinyUmbrella alternatives. In this section, we will be showing you two effective TinyUmbrella alternatives.
1

WooTechy iPhixer

WooTechy iPhixer is a prominent software utility for fixing iPhone or iOS devices. Hence, if your iPhone is stuck in recovery mode when using TinyUmbrella, you can use iPhixer to resolve the issue. It has a swift and straightforward way of repairing system bugs and glitches.

iPhixer prioritizes the privacy and data security of its users. You can use iPhixer on your Mac and Windows computers and expect a success rate. With our Advanced Mode, you can downgrade your iOS 16 beta to iOS 15. Here are the steps to use iPhixer.

Note

The Advanced Mode will remove all data on your device, so you are suggested to back your device up to iCloud or iTunes.

Step 1 Download and install the app. Launch the application on your computer. Connect your iPhone to the PC with the proper cable.

Step 2 Pick the Advanced Mode on your screen. Select the Next button on your screen for it to recognize your device.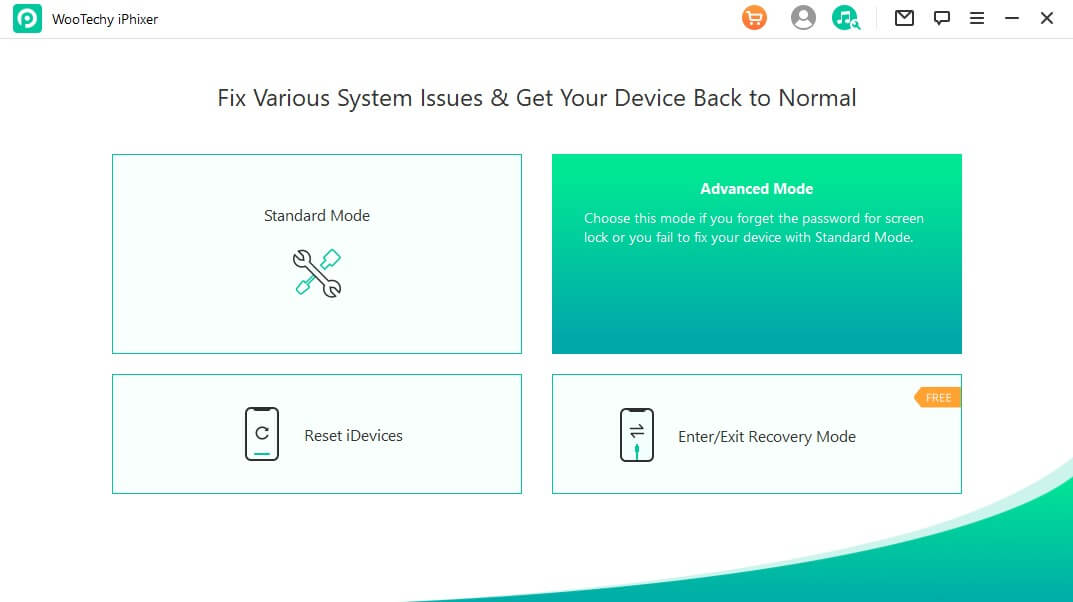 Step 3 Click Download to get the iOS 15 firmware that is going to be installed on your device.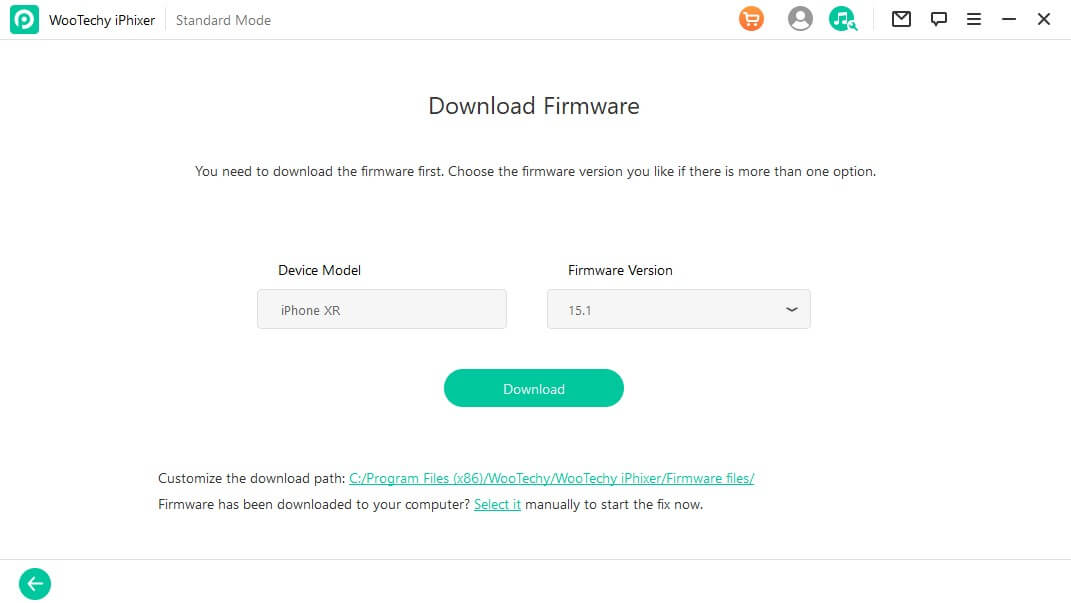 Step 4 Once the download is finished, click the Start button to complete the process. When the process is complete, your iPhone will reboot automatically and be downgraded successfully.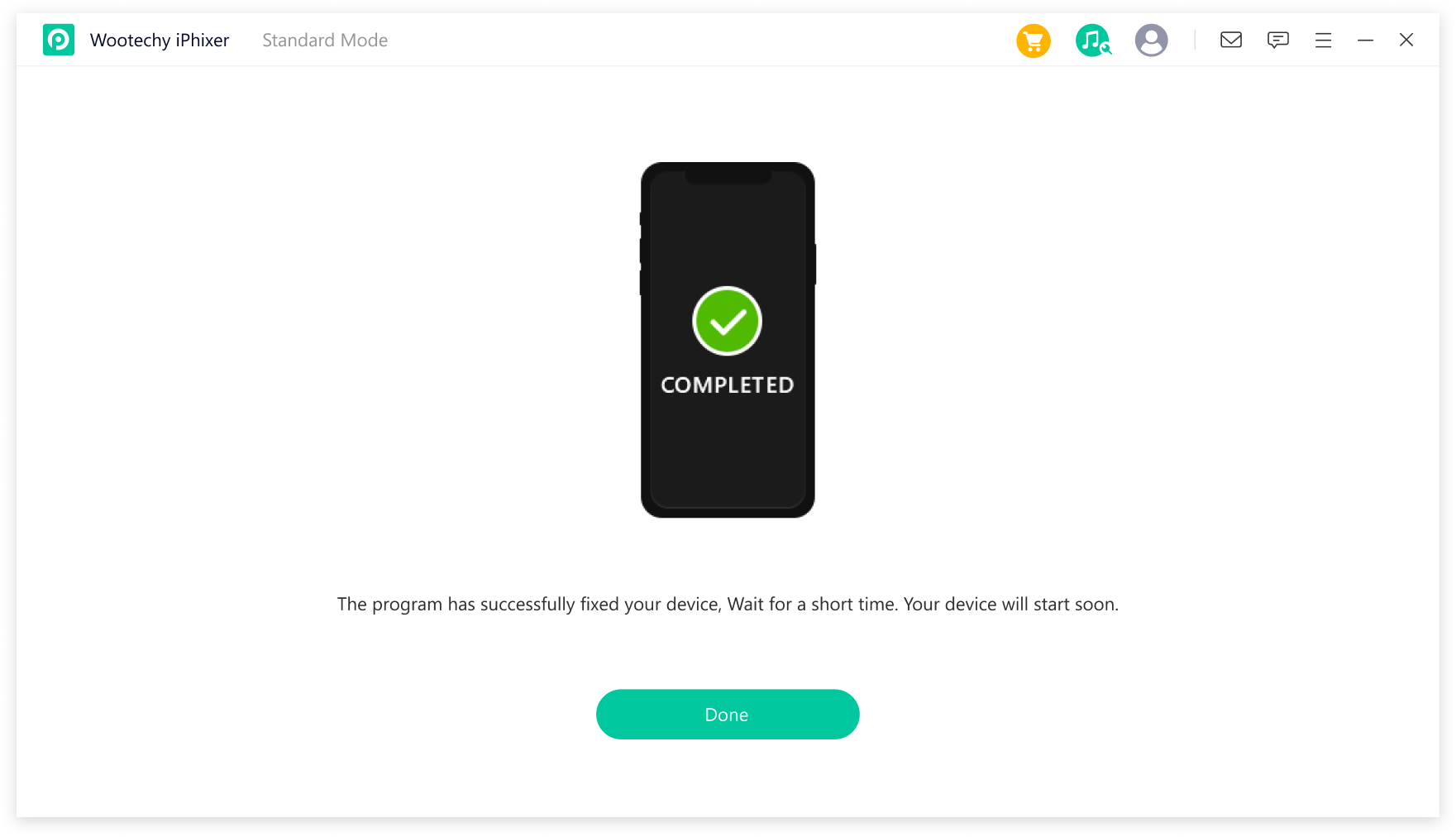 Other features of iPhixer:
75.000.000+
Downloads
Apart from downgrading iOS 16 to iOS 15, iPhixer can also update your device with easy-to-use steps.

It can fix all iPhone/iPad/iPod touch issues like boot loop, update issues, iTunes errors, stuck on Apple logo, won't restore and more with its Standard Mode feature without any data loss.

Provide other functions such as resetting iPhone/iPad/iPod touch with or without password, freely entering or exiting recovery mode in one click, etc.

Compatible with all models of all Apple devices and Apple system versions including the latest iOS 16.
2

WooTechy iMaster

Another TinyUmbrella alternative software service is WooTechy iMaster. It is a very reliable solution specially for upgrading and downgrading from one iOS version to another. Additionally, this solution is the fastest means of backing data up for free.

It is a program that does not jailbreak your iPhone. Also, you have a guarantee on the downgrading service that this tool provides. Follow these steps to use iMaster.

Download and install the iMaster app on your computer. Connect your iOS device to the computer with the appropriate connection cable. Choose the action you want to perform: Downgrade iOS.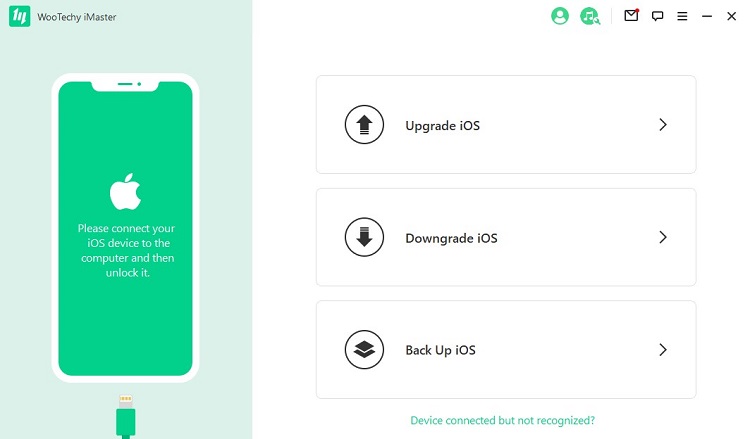 Pick the firmware version to downgrade your phone. You can also choose where the firmware will be saved on your computer.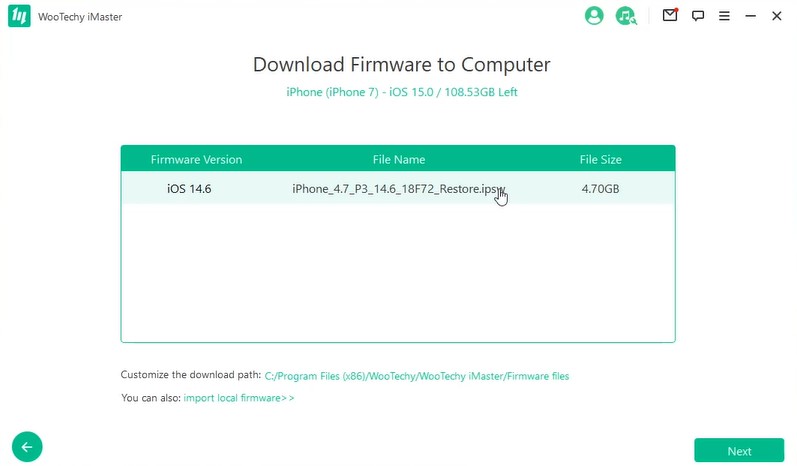 Click Next to start downloading the firmware. Click Start to start downgrading your iPhone.
Your iOS will be downgraded in a short time; click on Done to complete the process.
Conclusion
TinyUmbrella is a household tool for downgrading your iPhone and removing it from a stuck screen. Although it is free, its makeup is very advanced, and its interface is not very user-friendly. These are some details about TinyUmbrella considered in the full review of this utility service.
Also, this article considered two highly rated TinyUmbrella alternatives. For example, with the WooTechy iPhixer, you can resolve all your iPhone and iOS issues like iOS downgrade and iPhone stuck on the recovery screen.