Voice control on the iPhone is a handy feature that allows iPhone users to navigate and use their device with just their voice. For people with mobility issues and disabilities, this is an invaluable tool. But Many user have complaint about the voice control on iPhone not working suddenly.

I really use my Siri function in my daily life, such as asking her about weather, news or switching music. But I cannnot control my Siri recently. I don't know why the Siri voice command not working on iPhone. Does anyone can help me?
That's true that voice control on iPhone not working can be an annoying problem. Thus in this article, we'll go over full-guide 9 ways to solve your voice control not working iPhone issues with high success rate. This way you can fix your voice control and keep using your iPhone how you want to!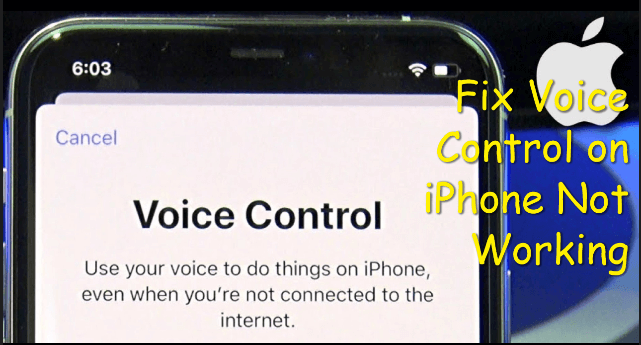 Part 1. Why Is My Voice Control Not Working on My iPhone?
Your voice control might not respond to voice commands for a few different reasons. Most commonly, this is an issue with your internet connection or cellular data. Incorrect phone settings or outdated iOS software can also cause voice control to malfunction.
In addition, while English is supported for iPhone voice control, some languages might not be compatible with this feature yet. In other situations, your phone might simply glitch due to software bugs, then your iPhone system will be easy get corrupt, which urges you take measures to fix voice cotrol on iPhone not working issue in time.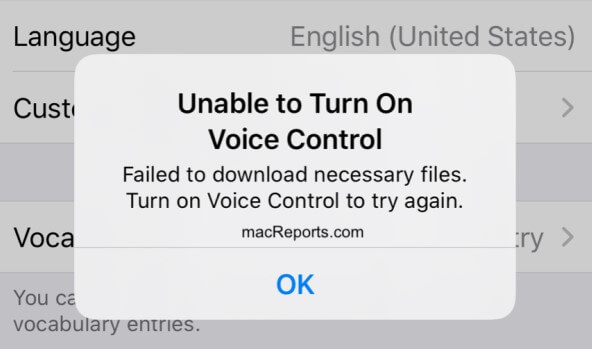 Part 2. How to Fix Voice Control Not Working?
If you are wondering how to fix voice control that isn't working on your iPhone, keep reading through this section. We'll talk about nine solutions to this iPhone issue.
1

Check the iOS Version

iOS should be updated to a compatible version, this way voice control and other iPhone features run smoothly. Check on this first before trying the other fixes listed here.

Go to Settings > General > About first.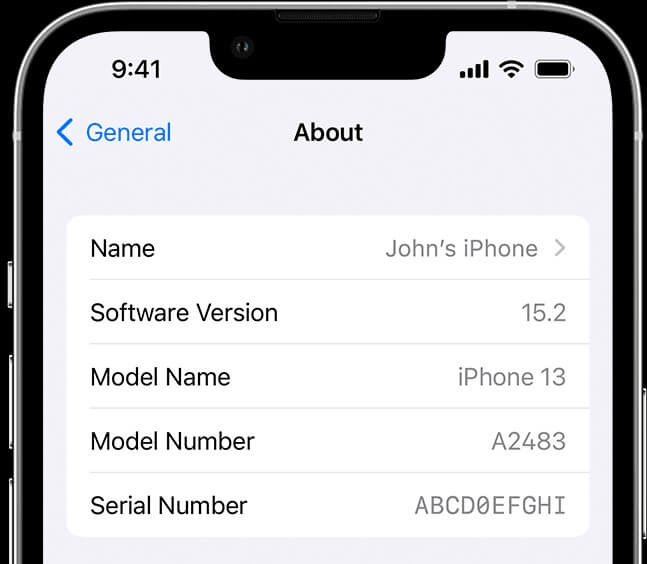 In the About section scroll down so you can see what iOS version you have installed.
Make sure that you have iOS 13 or higher so that voice control will work.
If you don't have the correct version of iOS, update your iPhone. We've outlined the steps for this in the following fix.
2

Update iPhone to the Latest Version

Your iPhone needs to be updated to the latest version. If you checked your iOS and noticed that you didn't have the right software, update your phone with these steps.

Go to your Settings > General > Software Update. On the Software Update page, you should be able to see if you need to update iOS.

If your iOS system is not the latest, you will see Upgrade to iOS 16 on the bottom of iPhone screen, just click it.

Click Download and Install options to initiate the process. Once iOS is updated you can see if the iPhone voice control is working.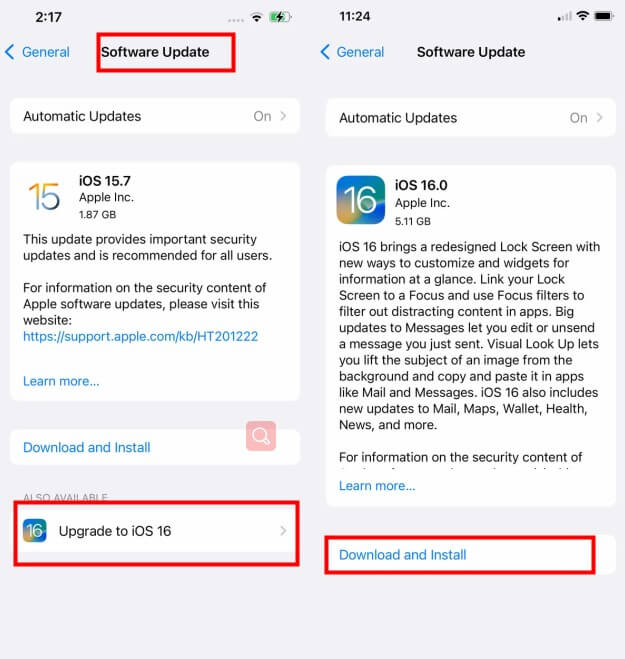 3

Check Voice Control Limit

Voice control is still being rolled out around the world, but some languages aren't fully supported yet. Check the limits of your voice control if you are using a language other than English. Do a quick Google search and type in which languages are supported by voice control for the iPhone.
4

Check Network Connection

Without an internet connection or cellular data, voice control won't work. Go into your settings to see the status of your network connection.

Enter your Settings > WiFi. Look to see if you are connected to the right network.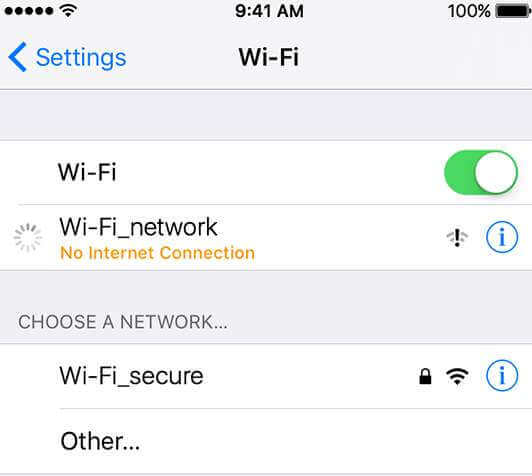 Make sure your network is connected to the internet. A blue checkmark should be next to your WiFi network.
If you are using cellular data, look at the cellular bar near the top right-hand corner of your phone to see if you have cellular service.
5

Reset Voice Control

Resetting voice control can also fix voice command not working on iPhone problem for you. This is a simple fix that shouldn't take more than a minute to complete.

Click on Settings > Accessibility > Voice Control.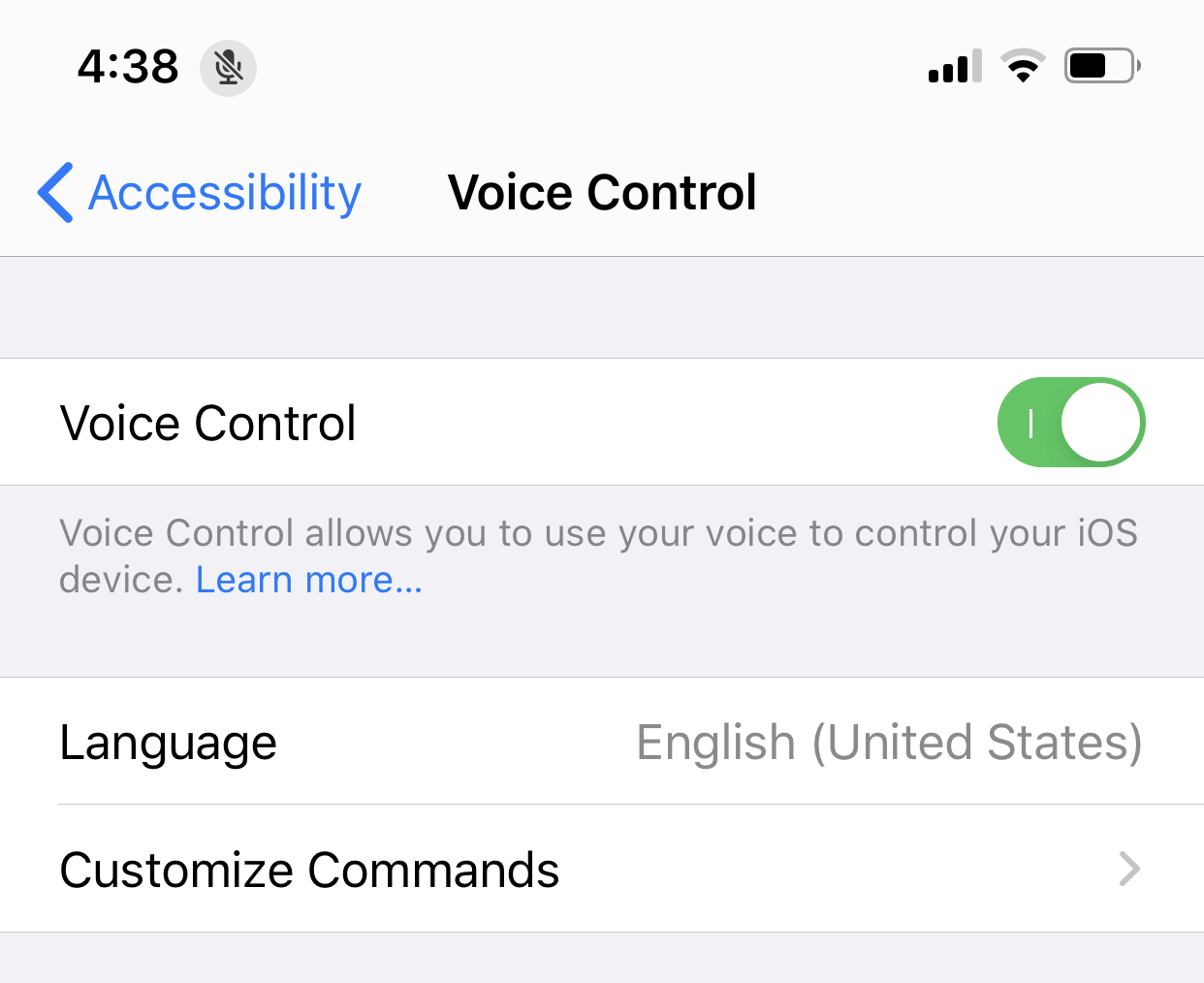 To reset voice control, turn it off then turn it on again.
Check if your voice control is operational after resetting it.
6

Restart Your iPhone

Try a quick reset of your iPhone to get rid of any software bugs or glitches preventing from voice control working.

Newer iPhones:

If your iPhone has Face ID, press one of your Volume buttons and your Side button.

A power slider will appear on your screen and slide the power off.

Press your Side button again to turn your phone back on.

Older iPhones:

For old iPhones just press the Side button or your Top button.

Slide off the power when the slider appears.

Wait 30 seconds then turn the phone back on with the same button.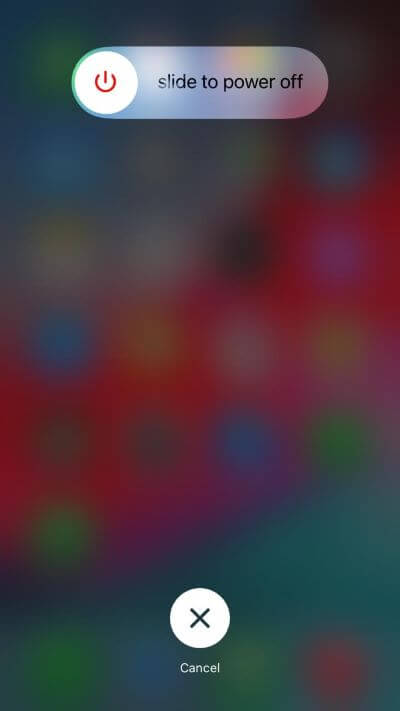 7

Manage Siri and Voice Control Settings

iPhone users can also manage their voice control and Siri settings to correct this issue. Make sure that your settings are set up right so you can use voice control to navigate every aspect of your device.

Go to Settings > Accessibility > Voice Control. Click on Customize Commands.

From here you can scroll through settings and select which features will be controlled by voice control. This includes opening Siri, going to your home screen, and opening apps.

To manage your Siri Settings, go to Settings > Siri & Search. Siri should be turned on so voice control will work.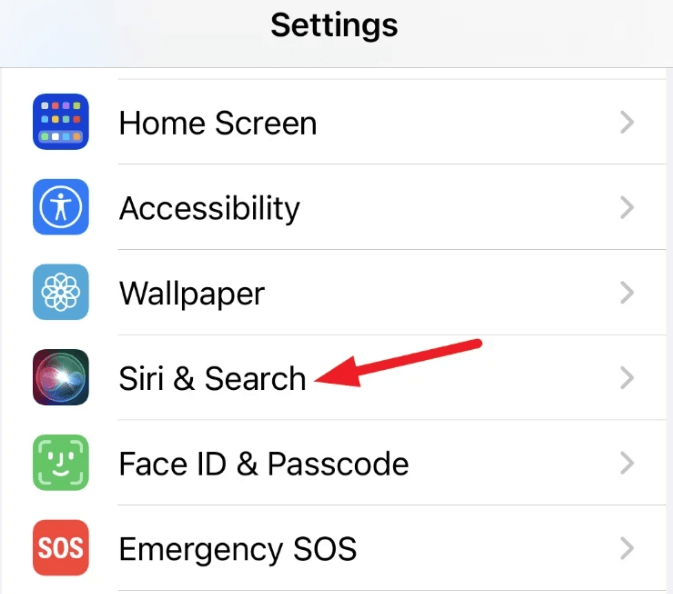 Also, change any settings such as language and voice response on the Siri & Search settings page.
8

Use Screen Recording to Re-enable Voice Control

Another simple way you can get voice control working again is set up with your control center and screen recording. Some users on Apple forums reported this worked.

First, make sure voice control is on in Settings > Accessibility > Voice Control.

Add screen recording to your control center by going to Settings > Control Center > tap Screen Recording.

Swipe down on your iPhone screen so your Control Center appears.

Press Screen Recording and wait for a microphone to appear.

Hold down the microphone and do the screen record for a few seconds.

Afterward, check if your voice control is working.

9

Fix iPhone Voice Control Not Working with WooTechy iPhixer

Finally, if the above ways failed and don't get your voice control working. Then you may need professional iPhone repair software to fix serious system issues leading to voice control on iPhone not working.

WooTechy iPhixer can solve all iPhone problems such as iPhone keyboard not working, iPhone screen not responding to touch and more. Above all, it won't cause you any data loss.
Briliant Features of WooTechy iPhixer: Fix Voice Control on iPhone Not Working
75.000.000+
Downloads
Here are the steps of using WooTechy iPhixer to fix voice control not working on iPhone without data loss:
Step 1 Download our iPhixer repair software onto your computer. Open the software and click Standard Mode. Click the Next button and plug in your iPhone to your computer.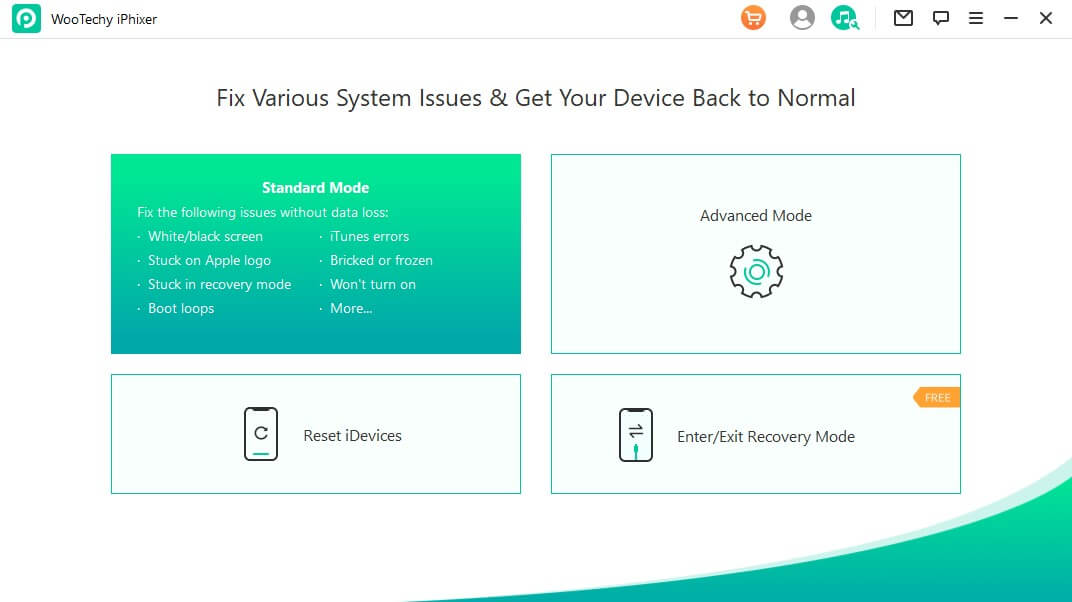 Step 2 Your iPhone model and system version will be displayed. Download the secure and official repair firmware for your iPhone.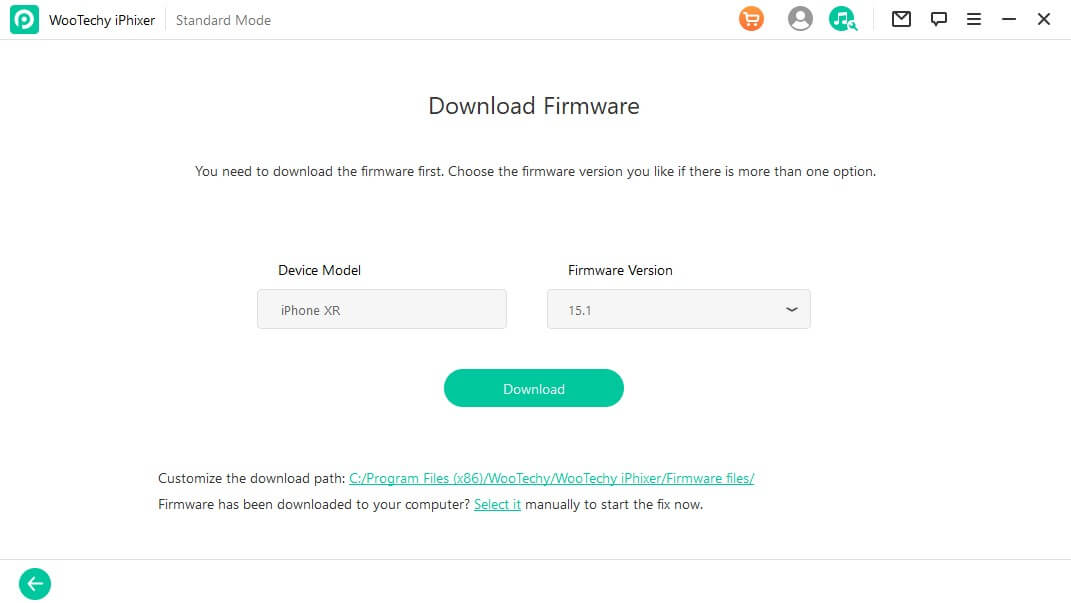 Step 3 When it finishes downloading, press Start on your computer, then your voice control will be fixed soon.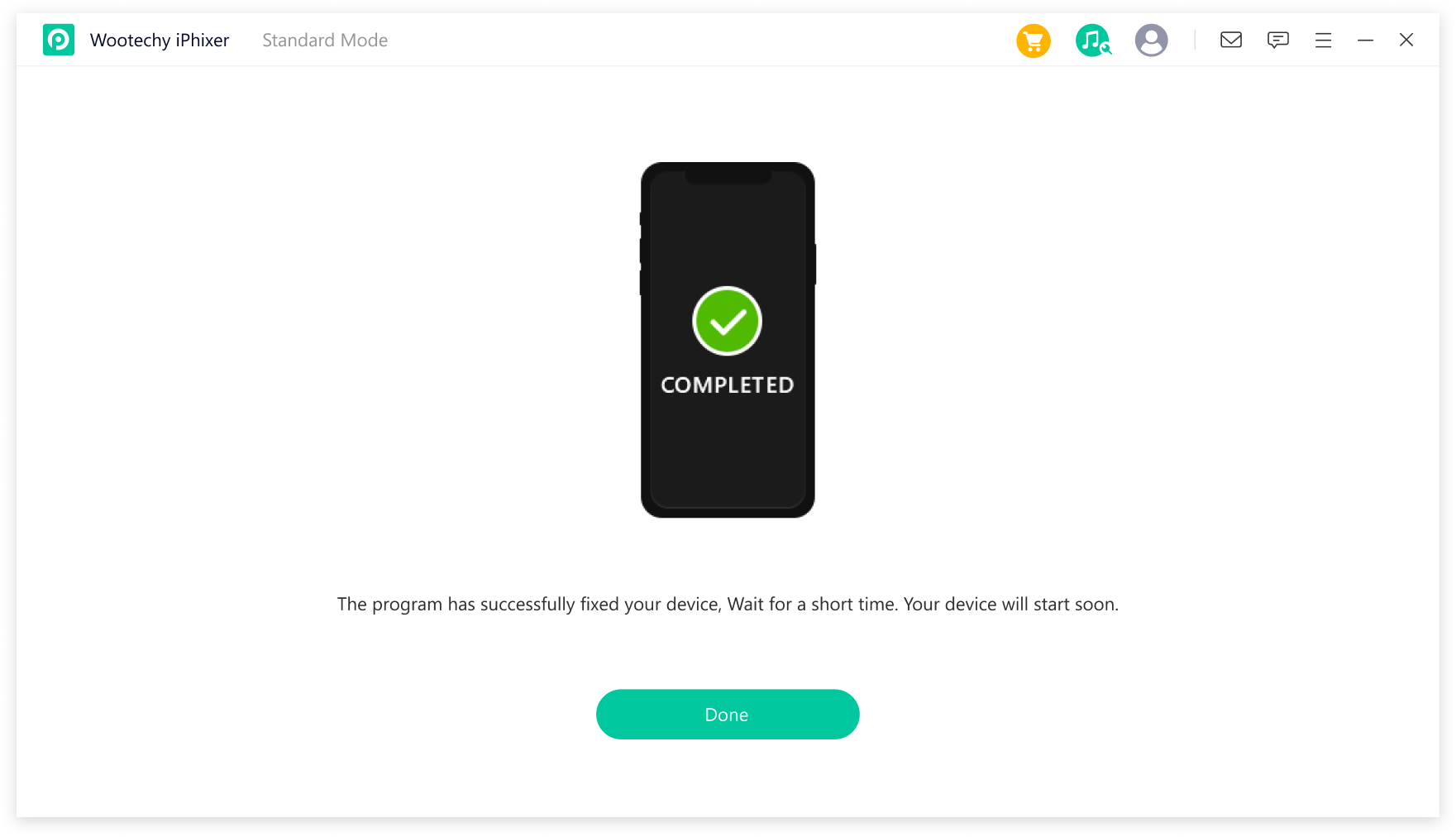 Conclusion
Voice control on iPhone not working is a common tech issue that has an easy solution to fix. In this post, we showed you exactly how to combat this issue. It shouldn't be too hard to get voice control on an iPhone working with the steps we outlined here.
If you want to fix it with the 100% success rate, using WooTechy iPhixer iPhone repair program is your best choice.