Caller ID iPhone not working after upgrading iOS 16? No matter how do you try to solve this problem, it doesn't work. Is it similar to the situation you are facing with? Take a breath, here brings you best correct solutions to get this done.
iPhone caller ID not working is something many Apple users have faced from time to time. It can become a pretty irritating issue for some people. Many of us like to know who is calling us before answering the call. So, looking for a solution to fix this issue is a must.
Note
iPhone shows your caller ID not working, there may be something wrong in your iPhone, then you had better find out the right methods to fix this done. Since this iPhone caller ID not working will affect your normal iPhone use.
So, this full guide shows top 10 useful methods to hold your hand through the process of fixing the caller ID not working on iPhone issue. Keep reading, you can find out the most suitable method to fix your iPhone problem.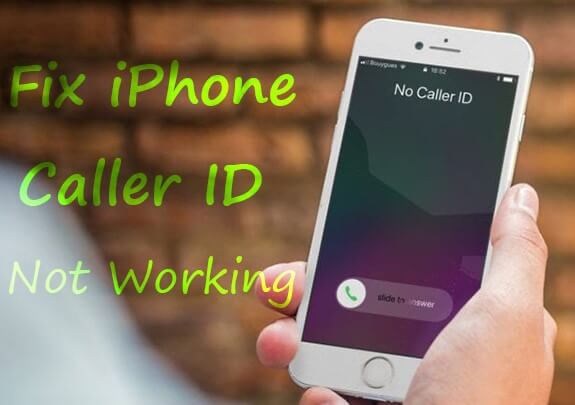 Part 1. Why Is My ID Caller Not Working?
If your iPhone has problem on iPhone caller ID not working, that may be due to some internal issues within the phone or some external issues regarding the caller's phone, your network carrier, or Apple's system.
User's mistake: Your iPhone may not be showing the caller ID because of some mistake you made yourself. You may miss it when you added the caller to your contacts. Also, you may be using calling apps or network settings that contribute to the problem.

Caller problems: If the caller has some preference for not showing his or her ID to the people they call, the iPhone will value it and you will not see their name when they call.

Syncing problems: Sometimes the syncing process of your phone's contact information with the cloud might be disrupted. This will also result in the iPhone caller ID not loading.

Software glitches: Some minor software glitches are common now and you experience iPhone not working or caller ID not loading.

Problematic carrier: There might be some technical difficulties with network carrier. In such cases, your caller and you will experience caller ID on iPhone not working.
Part 2. How Do You Fix iPhone Caller ID Not Working?
We have seen that various reasons contribute to your iPhone caller ID not working. Therefore, quite a number of ways exist to fix this issue. Sometimes, tapping a few things in the Settings option might solve your problem. Meanwhile, some cases will require you to take the help of an iPhone fixing tool.
1

Check If the Person Calling Disabled "Show My Caller ID"

If your caller ID on iPhone is not working, then it just could be that you've blocked it or someone is blocking it. Some people have a specific preference regarding their Caller ID. They might not want their ID to show up on other people's mobile screens.

This is why it is not uncommon for some callers to have their Show My Caller ID disabled on their phones. In that case, their ID will fail to appear on your iPhone when they call you. So, before anything else, ask your caller if they had disabled Show My Caller ID. If they had done it on purpose, you have nothing more to do.

However, if they accidentally disabled it, you can tell them to turn it on.

Simply go to Settings and Phone options, scroll down to find the Show My Caller ID and turn it on.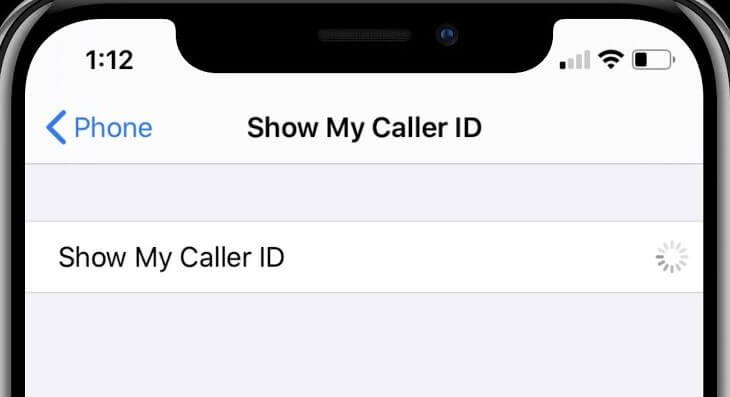 2

Check the Caller's Profile in Contacts

This is the next thing to do if you confirm that the caller hasn't disabled his "show my caller ID is not working on iPhone" option. In that case, there might be a problem with the information saved in the caller's profile on your iPhone.

To clear the doubt, go to your Contacts. Search for the name by which you saved it. if you find the name, check for any mistake in the number. Sometimes, you might find that you have not even saved the number you thought you had. This often happens when you are in a rush at work and try to quickly save someone's contact info.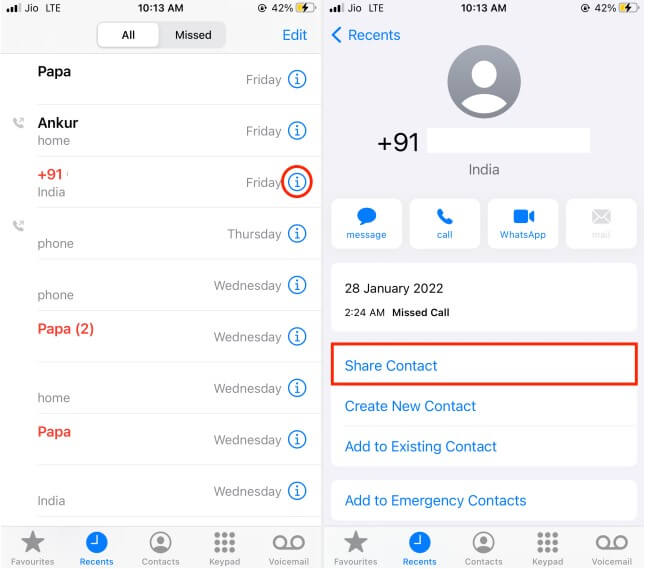 3

Remove Other Caller Apps

Sometimes another calling app might prevent the default "Phone app" on your iPhone from functioning properly. So, if you confirm the first two issues mentioned above, then this is something you should consider. To solve your problem, you have to remove the invading app. Usually, apps outside the Apps Store are the culprit.
To remove your target calling app, first go to the Home screen.

Touch on the target app and hold on to it. tap Delete App and it will be gone from your iPhone.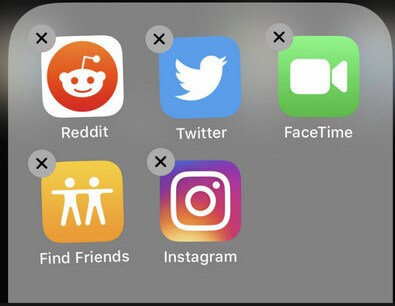 4

Turn Contacts on iCloud off and on

Backing your contacts up in iCloud is very important to preserve your information. Your phone syncs your contact with the iCloud and the information automatically keeps getting backed up. Yet sometimes, a problem occurs anywhere in this process for any kind of reason. As a result, you experience the show my caller ID not loading issue.
To solve this issue first go to your iPhone's Settings. Choose the Name. Then tap on iCloud.

The list of your iCloud features will appear. Scroll the list to find Contacts.

Touch and pull the small slider beside to make it white. Contacts are now off on iCloud. Pull the slider back to turn it on.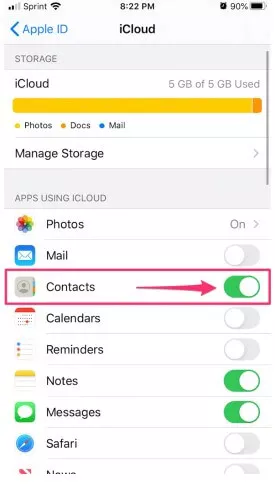 5

Adjust Date & Time Settings

Problems with the date and time settings can give rise to several issues on your phone like caller ID on iPhone not working. So better make sure this is okay. Sometimes it might be a mistake AM or PM, which is very common. Or you might have forgotten to update the settings when you changed time zones.
To fix an issue with your time and date on your iPhone, go to Settings. Tap on General.

From there, choose Date & Time. You will find an option to Set Automatically. Enable this one.

Your iPhone will then automatically correct or update its date and time based on when and where you are.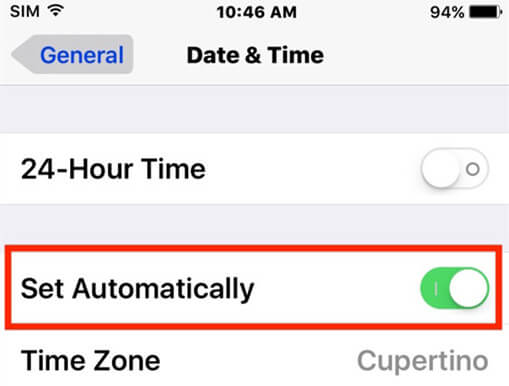 6

Restart iPhone

Restarting your phone is the oldest technique in the book to deal with seemingly unsolvable issues. And it works too. Your phone might sometimes underperform due to software glitches. Restarting your phone will cool everything down and open up the knots.
First, press and hold the Side/Top button until you see the power off slider on the screen. Drag the slider. Usually, your iPhone will take thirty seconds to completely shut down.

To turn it on, press and hold the same button in the same manner until the Apple logo appears.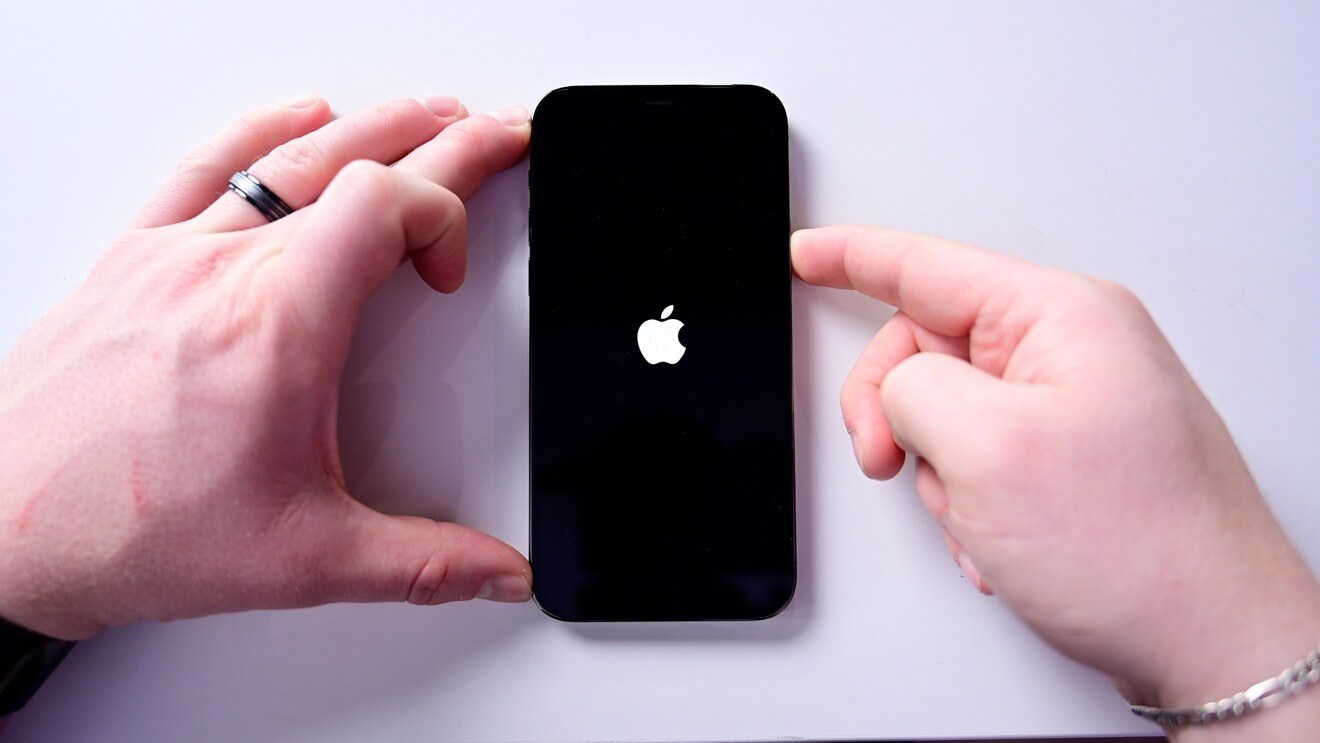 Note
For iPhone X/11/12/13/14, you have to press and
Volume Down
and the
Side
buttons at the same time.
7

Update Carrier Settings

Sometimes the Show Caller ID not loading dysfunction might be due to not-updated Carrier Settings. This can also give rise to other issues on your phone. So, if you find that these settings are falling behind, update them.
First, you need a stable internet connection. Then go to Settings and tap on General.

From there choose About. You will then see the carrier settings update details. Click on Update.

You will see a series of on-screen prompts. Follow them to complete the update process.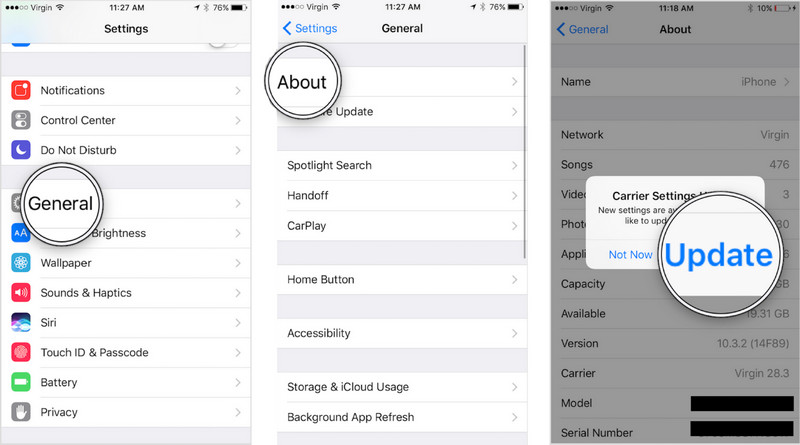 8

Reset Network Settings

Sometimes faulty customized network settings may result in caller ID not loading. Therefore, you can try resetting your iPhone's network settings to sort this problem out.
Go to Settings. Tap General and find Reset. From there tap Reset Network Settings.

Keep in mind that this will also reset the Wi-Fi networks and passwords, cellular settings, VPN, and APN settings on your phone. After that, restart your phone to get the effects of the reset.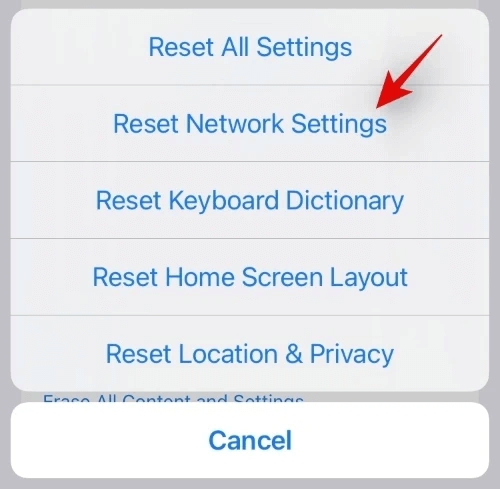 9

Fix iPhone Caller ID Not Working with 100% Success Rate

If everything else fails, and you urge to solve this iPhone problem, then take help from one of the greatest iPhone fixing softwares: WooTechy iPhixer. This tool can repair tough and seemingly unsolvable issues on your iPhone without any data loss.

No matter what kinds of iPhone software issues occur on your device, you can use this tool to help you fix them out, which can ensure you fix all the error with the 100% success rate and the fastest speed, especially, not causing any data loss.
Key Features of WooTechy iPhixer: The Best iPhone/iPad Repair Tool
75.000.000+
Downloads
Step 1 Open the program and select Standard Mode to fix your iPhone caller ID not working without data loss.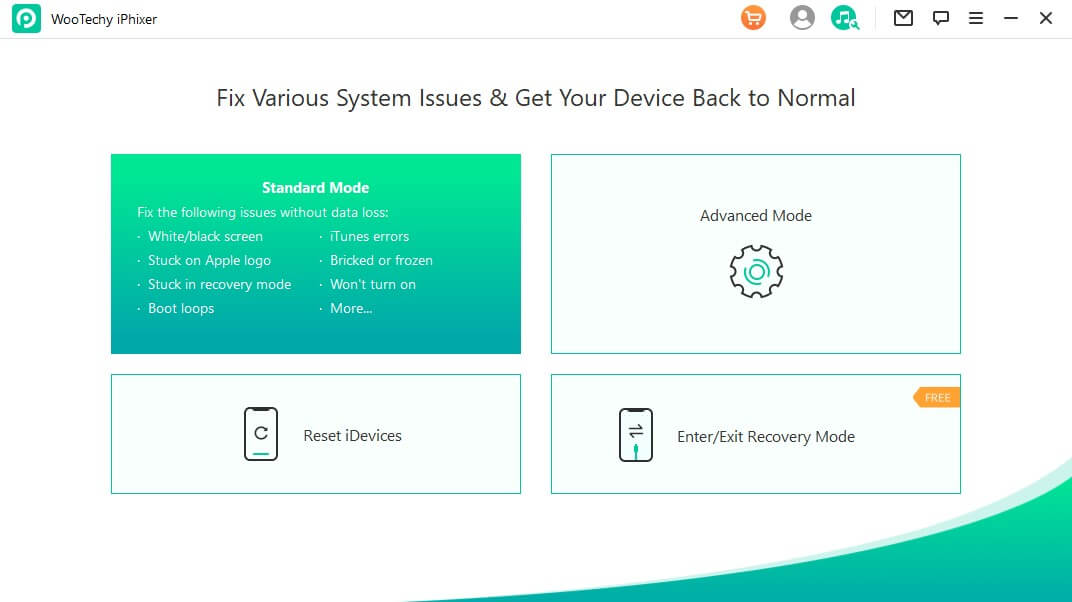 Step 2 Connect your iPhone and click Next. Or follow the prompts to enter Recovery/DFU mode.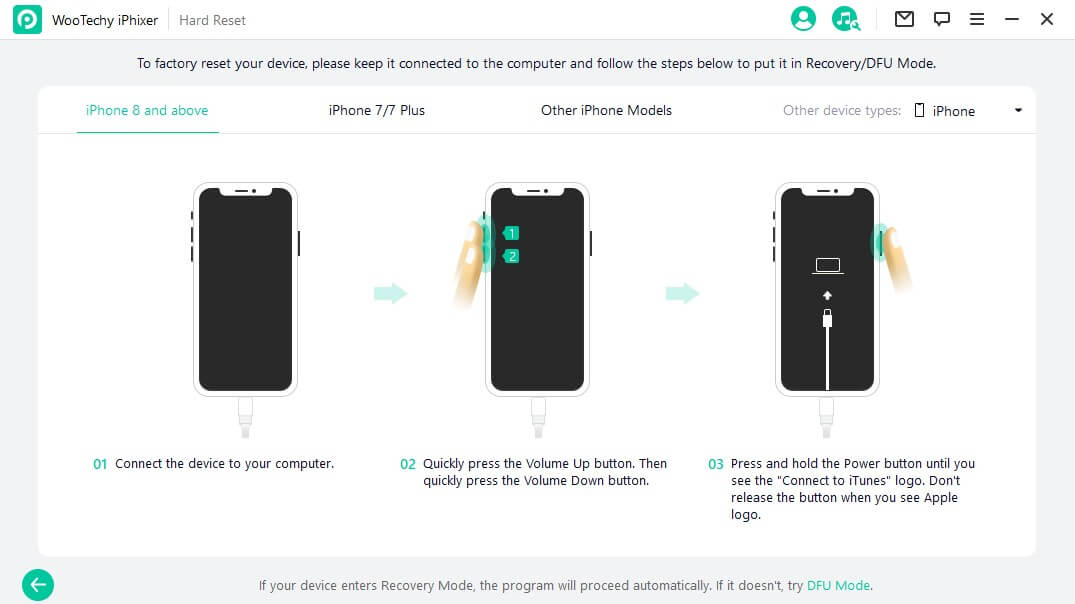 Step 3 Tap on Download button to get the firmware matched with your device.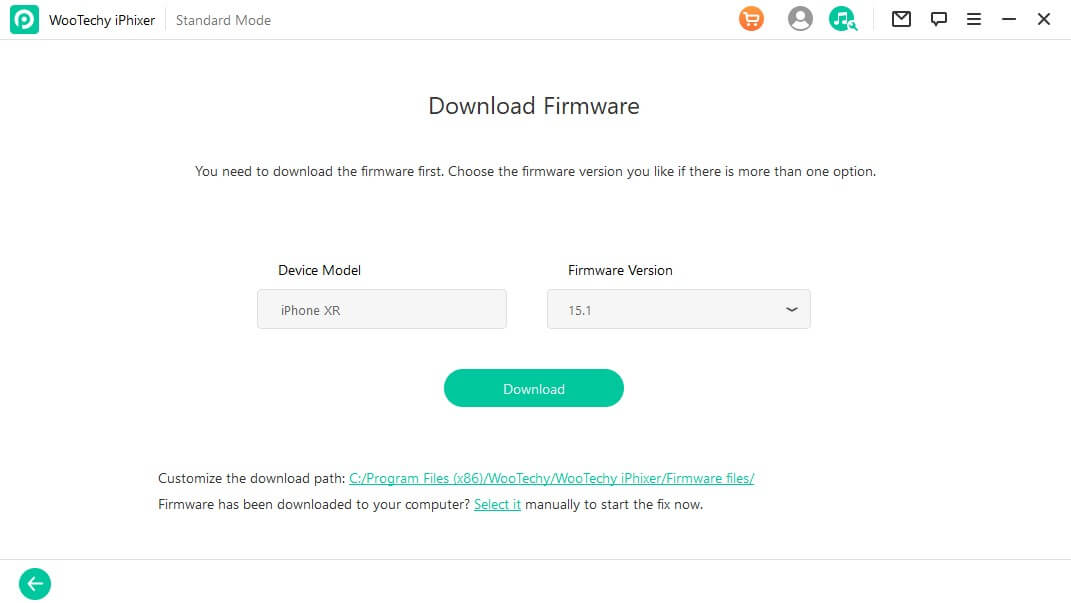 Step 4 Click Start button, and iPhixer will start fixing the issue on your iPhone. Finally, your iPhone will restart automatically and the caller ID is shown normally.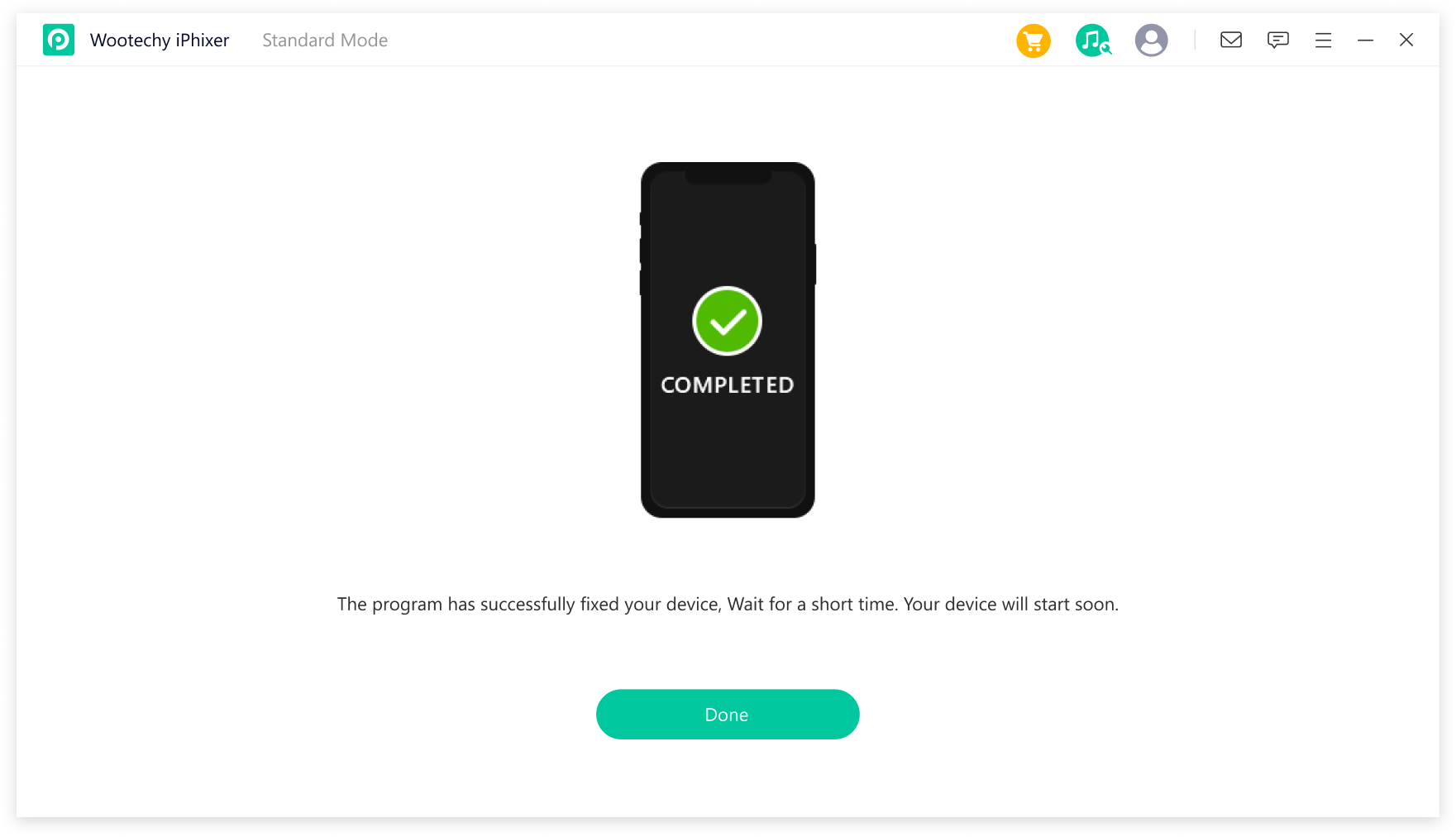 10

Call Your Carrier

iPhone caller ID not working is something you may experience when your network carrier itself is going through some technical difficulties, repairing, updating, or other work.

Therefore, call them to make sure that everything is okay. Also, the carrier's customer service can notify you if other users have been experiencing the same.
Conclusion
Your iPhone caller ID not working is an issue that you can easily fix if you take the correct approach. If you don't feel comfortable solving it on your own or can't, or worry that you might harm the delicate software, then feel free to take the help of a helpful tool like WooTechy iPhixer.
I hope this article was able to help get rid of your caller ID not working issue. Thanks for reading and good luck.