The Notes app on your iPhone is great for storing information, making a to-do list, and keeping your daily tasks organized all in one convenient place.
However, if you find yourself in a situation where you lose or accidentally delete some of the important notes from your iPhone or iPad, then it can be a very frustrating experience. That's why iCloud was created to help users back up their important data and avoid the hassle of losing notes.
But, if you're not sure how to recover notes from iCloud, don't panic. In this article, we'll walk you through three easy ways for getting your deleted notes back from iCloud without too much effort. So, let's begin!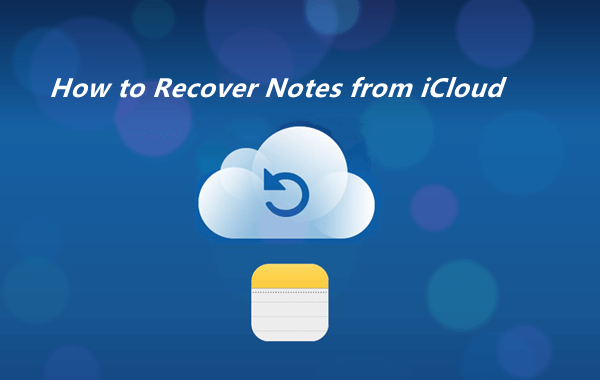 Method 1. Recover Notes from iCloud.com
The first option that you may try to restore notes from iCloud to iPhone is via iCloud.com. As we all know that iCloud is an Internet service available to all Apple devices that provides cloud storage. It keeps a copy of all your data and makes it available on any of your iDevices when you sign in with the same Apple ID.
So, if you have previously turned-on iCloud syncing for Notes, you can access them through iCloud and send them to your iPhone via Email. Moreover, if you deleted the notes on iPhone, it will stay in the Recently Deleted folder on iCloud.com for 40 days. You can also restore the deleted notes easily.
Here is how you can recover your notes from iCloud.com:
To access your iCloud account, go to http://www.iCloud.com and log in with your Apple ID credentials.
Once you have logged in successfully, you will see a Notes tab on the main interface, and you should select it.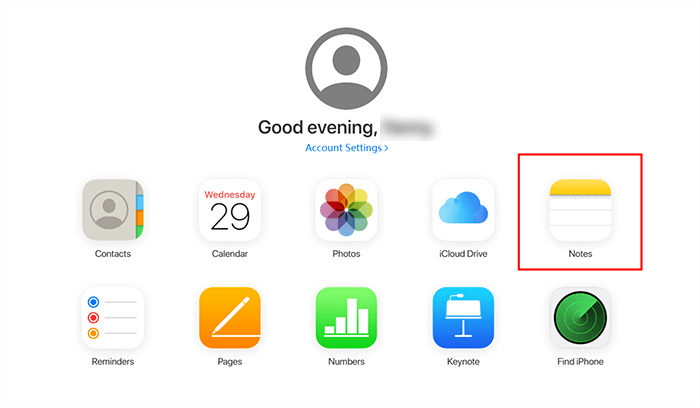 Open a folder and look for the note you need. Click the people icon in the toolbar, then choose Add People. Then choose the Email option and Send the note to yourself by email.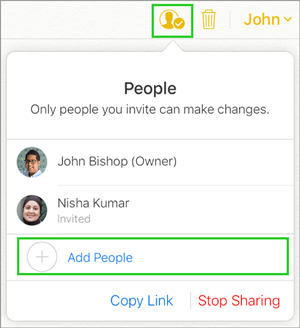 If you have deleted your notes, then click the Recently Deleted folder under your Notes, and you will be shown the notes you deleted over the previous 40 days.
To get your notes back, select them and then click Recover in the toolbar.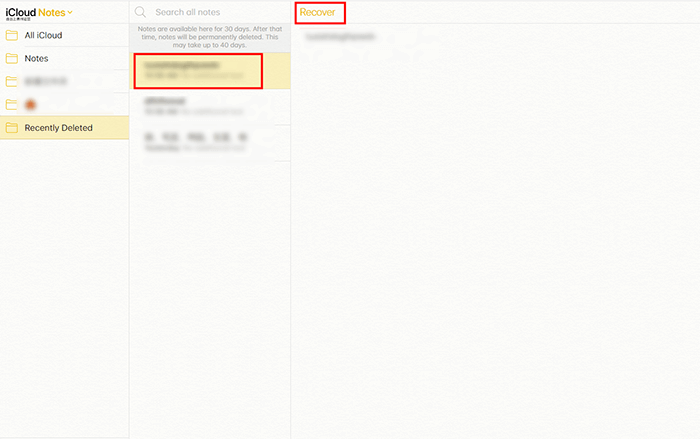 Method 2. Recover Notes from iCloud Backup
If you haven't synced your iOS device with your iCloud or if more than 40 days have passed since you deleted the notes, it may be impossible to recover notes from iCloud.com. So, the next option for getting them back is to recover notes from iCloud backup. If you back up your iPhone to iCloud regularly, you should be able to use this method to recover deleted notes.
However, it is important to remember that resetting your device before restoring your backup will delete all of the content and settings on it. We recommend you fully back up the data on your iPhone now. Furthermore, it also does not let you preview the data so you never know whether your notes will be there or not.
Follow these steps to recover notes from iCloud backup:
On your iPhone Settings app, tap General and then the Reset tab. Here you will see an option labeled Erase All Content and Settings; tap on this and a confirmation box will appear. Choose the option Erase Now.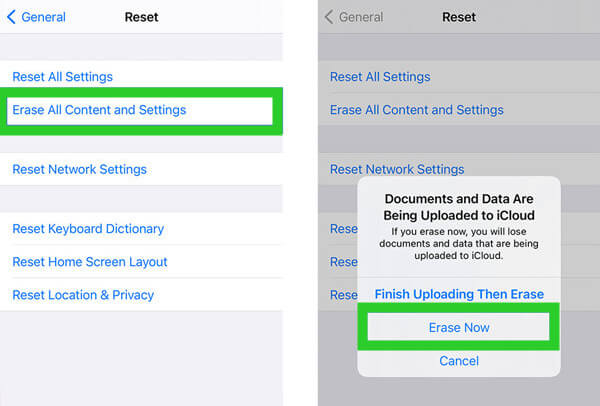 After that, you can choose to set up your iPhone as new or restore it from a backup file that you previously made and that contains your deleted notes. When you reached the Apps & Data page, tap on the Restore from iCloud Backup button to restore your device from the backup.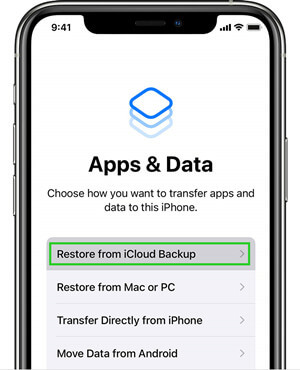 When you are asked to sign in to your iCloud account, use your Apple ID and password. Here you can find a list of recent backups. Please choose the backup that you are sure contains your deleted notes. After selecting, wait a moment while the transfer finishes.
Method 3. Recover Notes Only from iCloud Backup
If you don't want to factory reset your iPhone and want to extract notes only from the backup, the next option is to try a reliable third-party data recovery tool, WooTechy iSeeker. It is equipped with 3 recovery modes in one place to ensure the highest rate of iPhone data recovery.
Not only is the iSeeker data recovery tool simple, quick, and user-friendly, but it enables you to preview and select notes that you'd like to recover. Unlike restoring from iCloud backup, this powerful iOS data recovery program allows you to recover any type of data from your iPhone and iPad without affecting the existing content on your device. What's more, it can retrieve various kinds of data. Other than notes, this program can also recover photos, videos, contacts, WhatsApp messages and so more. In a word, it is the best way to recover notes from iCloud.
What Makes iSeeker Stand Out
100.000+
Downloads
It enables you to preview the notes in your backup, which will help you confirm whether the notes you need are there or not.

It allows you to select the notes you need to recover, rather than restoring the whole backup or all notes.

Other than recovering notes from iCloud, it can also recover deleted notes directly from iPhone without backup.

It supports various iPhone models and iOS versions, including iOS 16.

It provides a free trial to all users, with which you can scan and preview the notes in iCloud backup for free.
Option 1: Directly Recover from iCloud Account
Step 1. Launch the iSeeker tool, click Recover from iCloud from the main interface, and then choose Recover data from your iCloud account. You will be asked to sign in to iCloud using your Apple ID and password, which you do not need to hesitate about entering because iSeeker keeps your data completely safe and secure.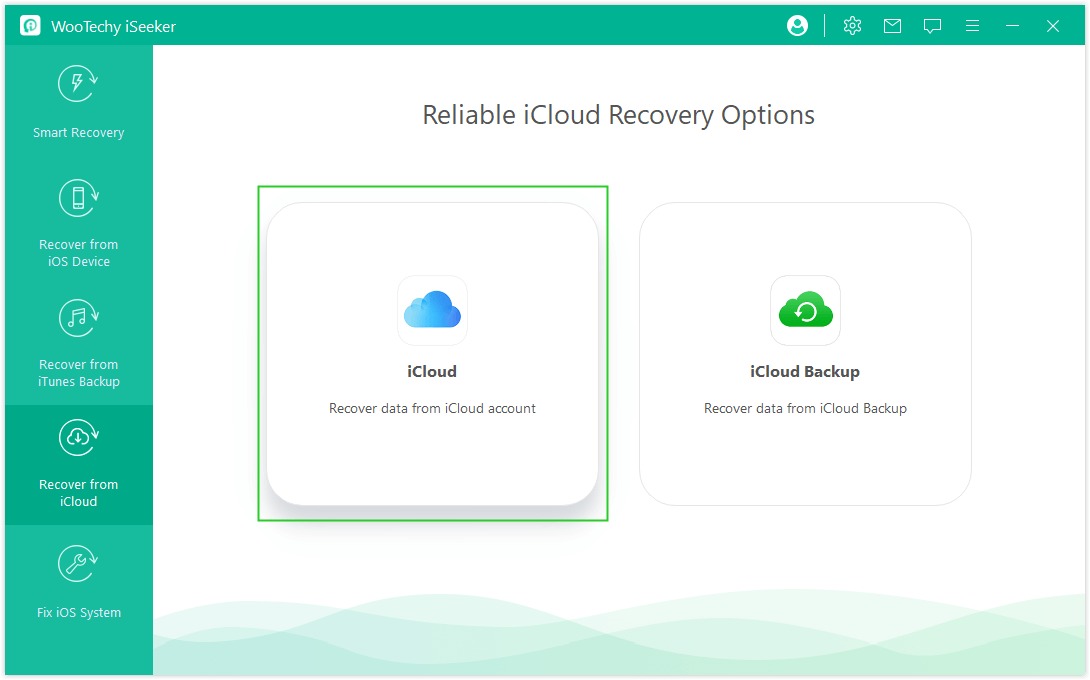 Step 2. On the next screen, you will see a list of all your data files. Choose Notes from the list and tap the Scan button.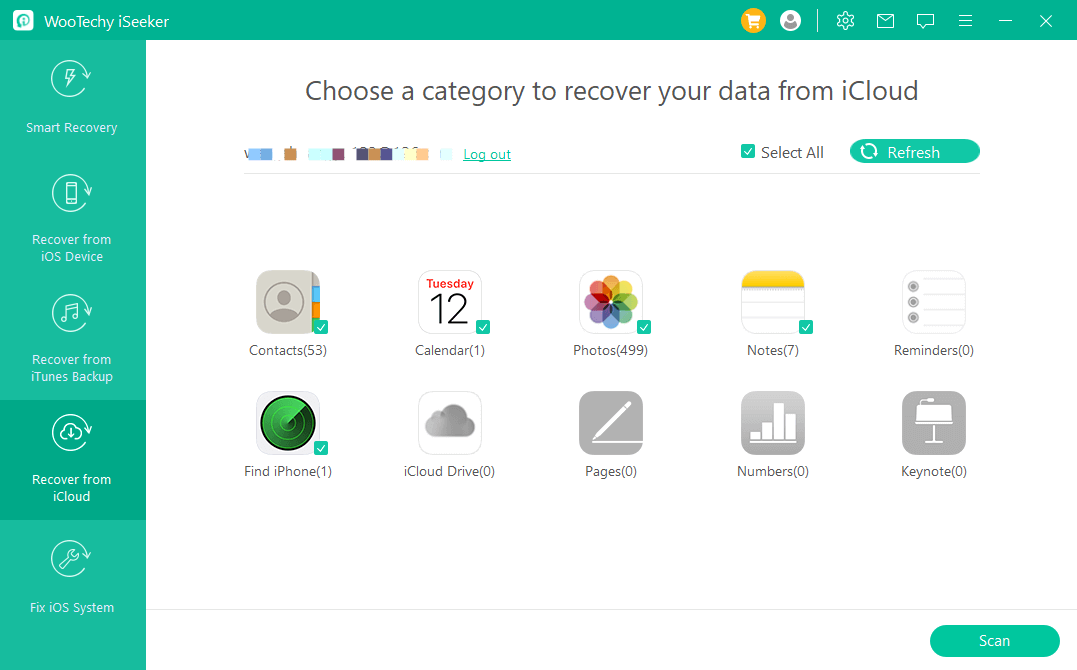 Step 3. After the scan is finished, you can preview your recovered notes and choose which ones to recover. Click Recover to save your notes.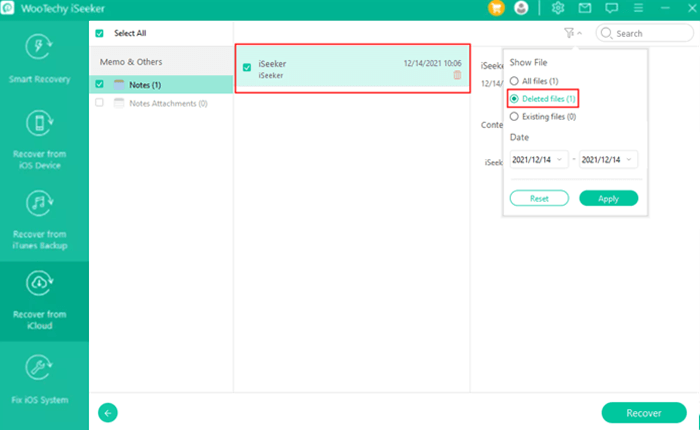 Option 2: Recover from iCloud Backup
Step 1. Now under the Recover from iCloud, choose the second option Recover data from the iCloud backup. You'll see instructions on your screen to restore your device from an iCloud backup.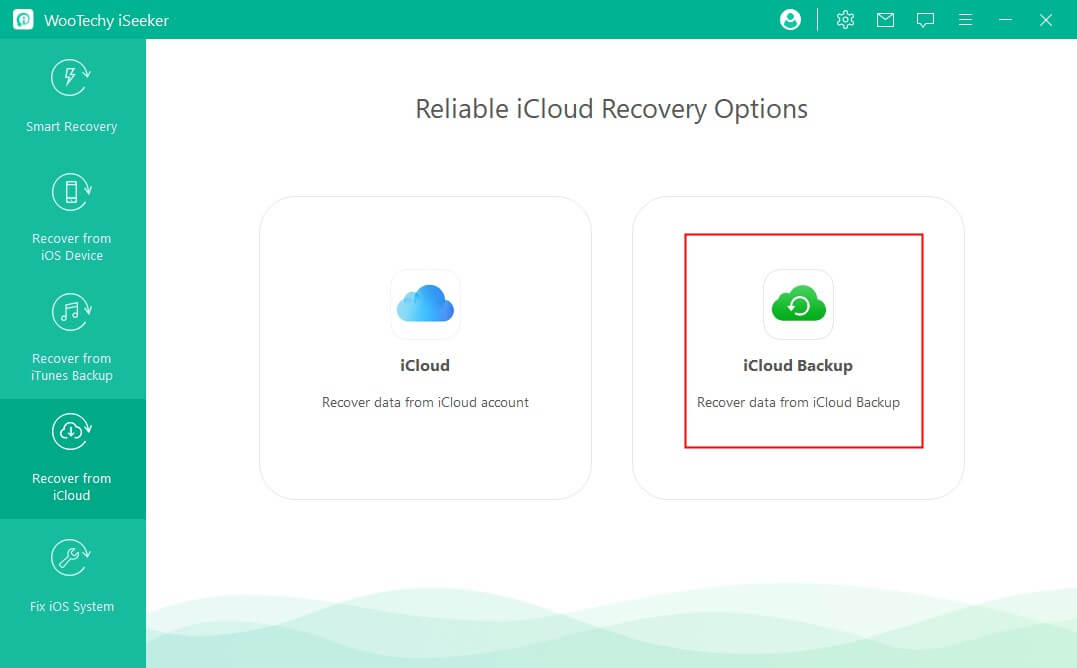 Step 2. When you complete the setup process and reach the Apps & Data screen, select Restore from iCloud Backup and sign in to iCloud.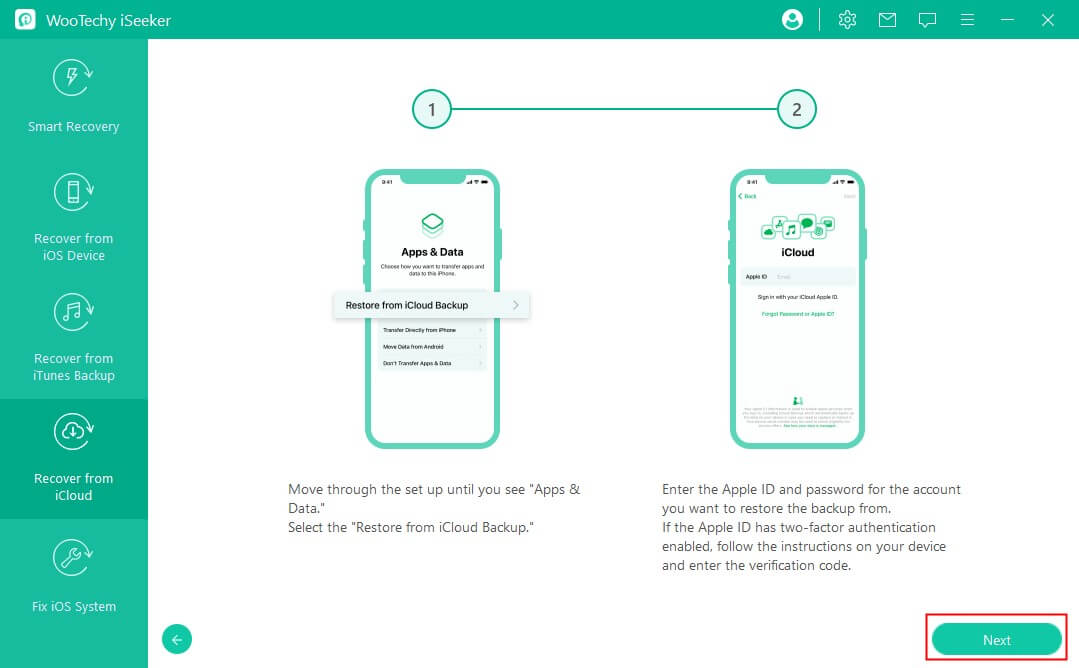 Step 3. From the available list of iCloud backups, select one whose date and size match your needs. When the backup is restored, your device will restart. After that, just connect your Apple device to iSeeker and import the restored iCloud backup data to your computer.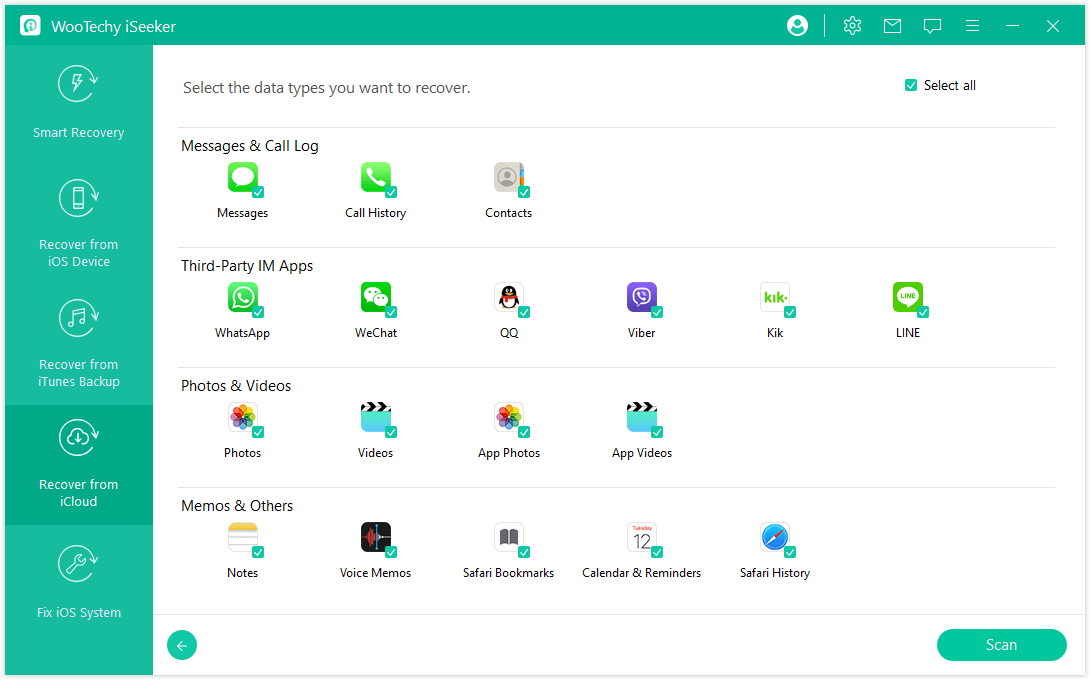 Conclusion
In this article, we have tried to shed light on all of the available methods to retrieve notes from iCloud. Although all of these methods present opportunities for success, WooTechy iSeeker is the most reliable and quickest approach.
It is pretty easy to use and doesn't require any prior technical knowledge. It's a great option for those who don't want to risk resetting their device and starting from scratch. You can almost instantly recover your lost notes, photos, videos, contacts, messages, and any other stuff that matters to you after downloading iSeeker. So, download iSeeker today!