My wife deleted a future dentist appointment from one of my iCal shared calendars. The event is already gone from my calendar and I don't remember when the appointment was scheduled. How can I restore deleted calendar events then?
Although the calendar app on iPhone is designed to help you keep track of all those important meetings, appointments, and other events on a daily basis, it can still sometimes let you down. Many iPhone users find themselves in a similar situation where they or their family have accidentally deleted an event they really needed.
Fortunately, there are a few quick and easy ways to restore deleted calendar events on your iPhone. In this article, we'll walk you through the steps to do it.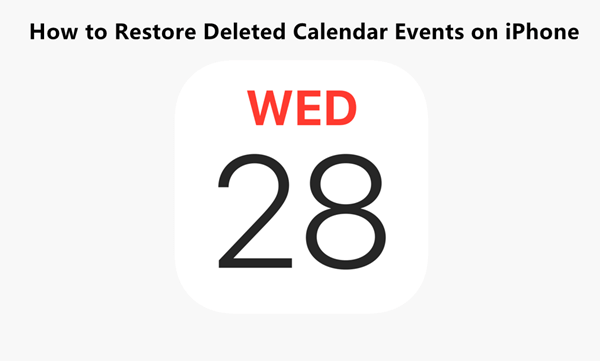 Part 1. Restore Deleted Calendar Events on iPhone from iCloud.com
iCloud is a fantastic way to keep your data backed up and synchronised across all of your Apple devices using the same Apple ID. So, if you have previously synced the Calendar to iCloud, then any recently deleted calendar events might still be available on iCloud.com for restoration.
This feature in the iPhone automatically archives a list of your Calendar events on the iCloud storage that you can restore to the iOS device later on. The only drawback is that you will not be able to selectively retrieve these calendar events and it will replace any existing calendars on all your devices.
If you're unsure if you've enabled Calendar syncing in iCloud, check it by following these steps:
Tap Settings app on your iPhone's home screen.
Scroll down and tap the iCloud tab, and then check to see if the Calendars option is set to On or Off.
If you have the option enabled, follow these steps to restore deleted Calendar events from iCloud.com:
Go online to iCloud.com and sign in with the username and password you use for your Apple ID.
Then click the Account Settings link listed below your picture and name at the top of the screen.
When you open the next window, scroll down to Advanced and choose Restore Calendars and Reminders.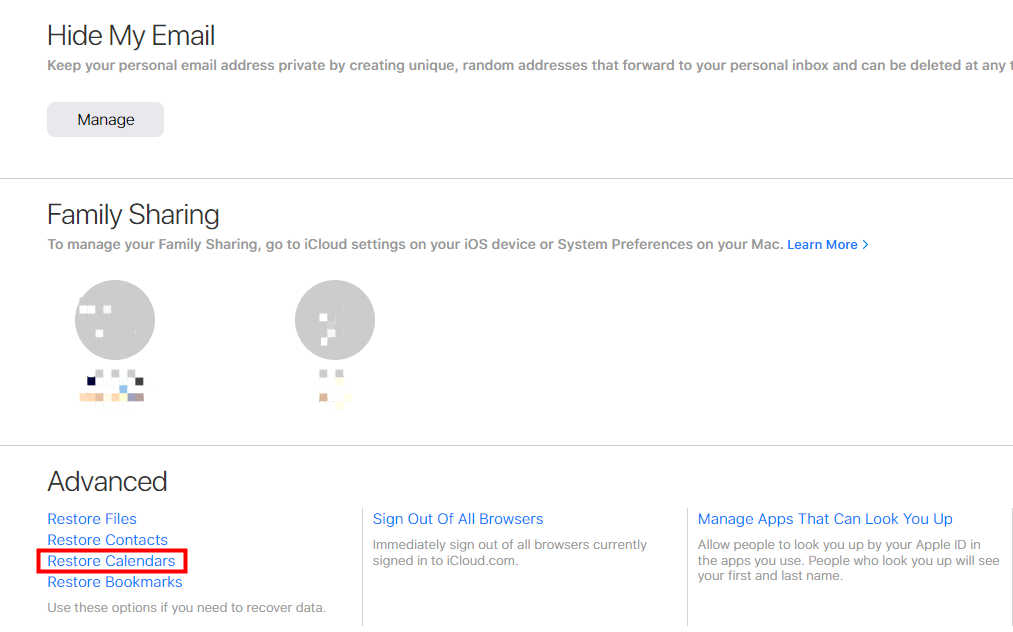 Now you'll have a list of all the archived versions of your Calendar. Choose the version that contains your events by clicking Restore next to the date.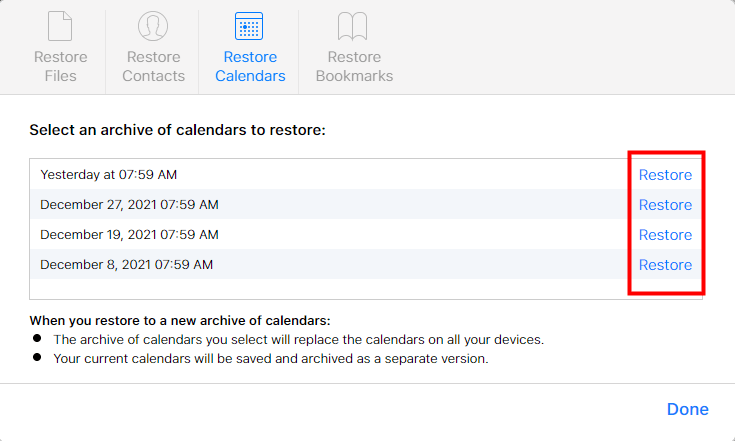 Part 2. Restore Deleted Calendar Events from iPhone Backup
If you have the Calendar synchronisation option turned off, you may still be able to recover the deleted events from one of your backups.
iTunes and iCloud both allow you to make a backup of your device. So, in case you need to restore the data on your iPhone or iPad, you'll have a copy at hand. These services also save your Calendar events, which means you can recover those appointments if you have ever lost or accidentally deleted them.
However, it is important to note that before trying either of these methods, you will need to perform a factory reset on your device. This means all of your existing data and settings will be replaced with the backup data and anything that was not backed up will be deleted.
If you want to avoid this situation and also want to recover the deleted Calendar events selectively, then jump to Part 3. Otherwise, follow these steps to restore your Calendar data from a backup.
Steps To Restore Deleted Calendar Event on iPhone from iCloud Backup
To erase your iPhone, go to the Settings app, select General and then Reset. Select Erase All Content and Settings.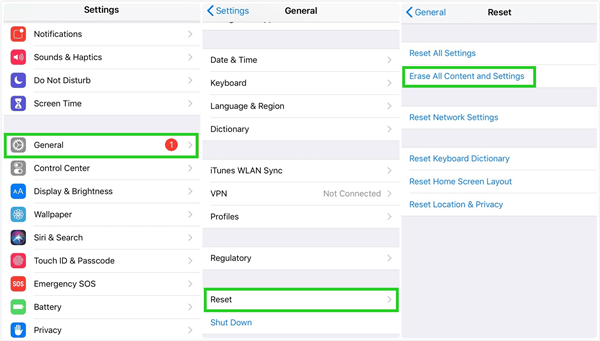 After you do that, your device will restart. Then you need to set it up by following the on-screen instructions until you get to the Apps & Data screen.
On the Apps & Data page, you need to tap on Restore from iCloud Backup, and then log in using your Apple ID. Choose a backup to restore.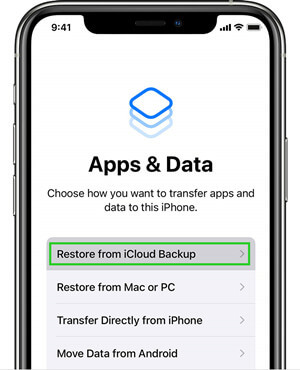 Steps To Restore Deleted Calendar Event on iPhone from iTunes Backup
First, install the latest version of iTunes on your computer, then connect your iPhone to it. iTunes will automatically detect your device.
On iTunes' main interface, you should click the phone icon in the top left panel, then select the Summary tab from the menu.
Click on the Restore Backup button and select a backup in which your deleted calendar event is included from the window. Then click Restore to begin the restoring process.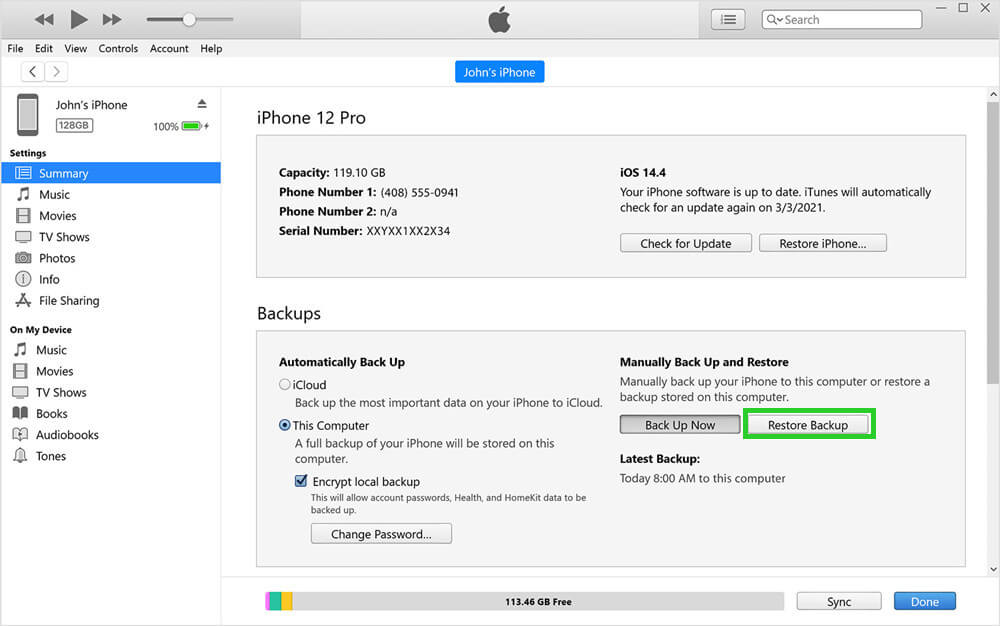 Part 3. Restore Deleted Calendar Events Without Backup
If you are not backing up your data or syncing it regularly, then any one of the above methods will not work. Because of this, we suggest using the recovery software, WooTechy iSeeker, to help you safely and selectively restore deleted calendar events from your iPhone.
This program allows you to recover calendar events deleted directly from your iPhone without the need for any backup and without erasing any data on your device. What makes it even more convenient is its ability to allow users to preview and selectively recover the data so that you can choose only what you want to restore.
What Makes iSeeker Stand Out
100.000+
Downloads
It has the highest data recovery rate and can recover more than 18 kinds of lost data on iOS devices for you.

It is able to recover lost data without backup.

It can selectively recover data from iOS device, iTunes backup and iCloud backup.

It works well on various series of iPhone, iPad and iPod, as well as most iOS versions (iOS 16 supported).

It offers a free trial for users to scan and preview lost data for free.
Here's how you can restore deleted calendar events without backup using the WooTechy iSeeker:
Step 1. Go to the official website of WooTechy and install the iSeeker on your computer. Once it is installed, launch it and go to the Recover from iOS Device option. Now you'll need to connect your iPhone to your computer with a USB cable and then click Next when the tool recognizes it.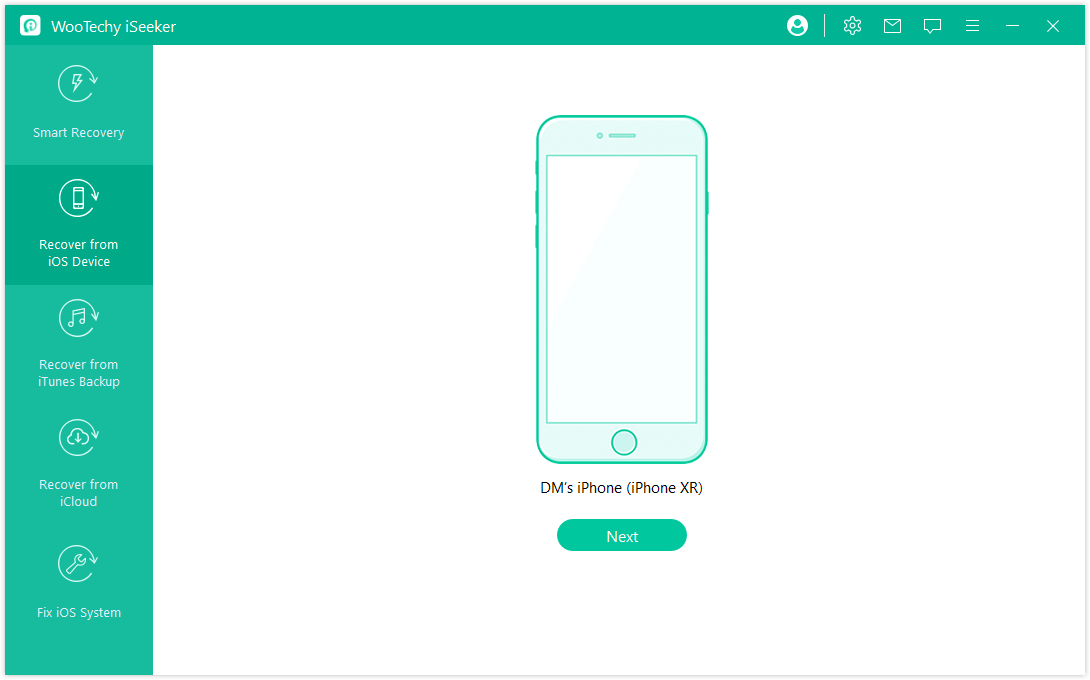 Step 2. Choose Calendar & Reminder from the list of data types and click Scan.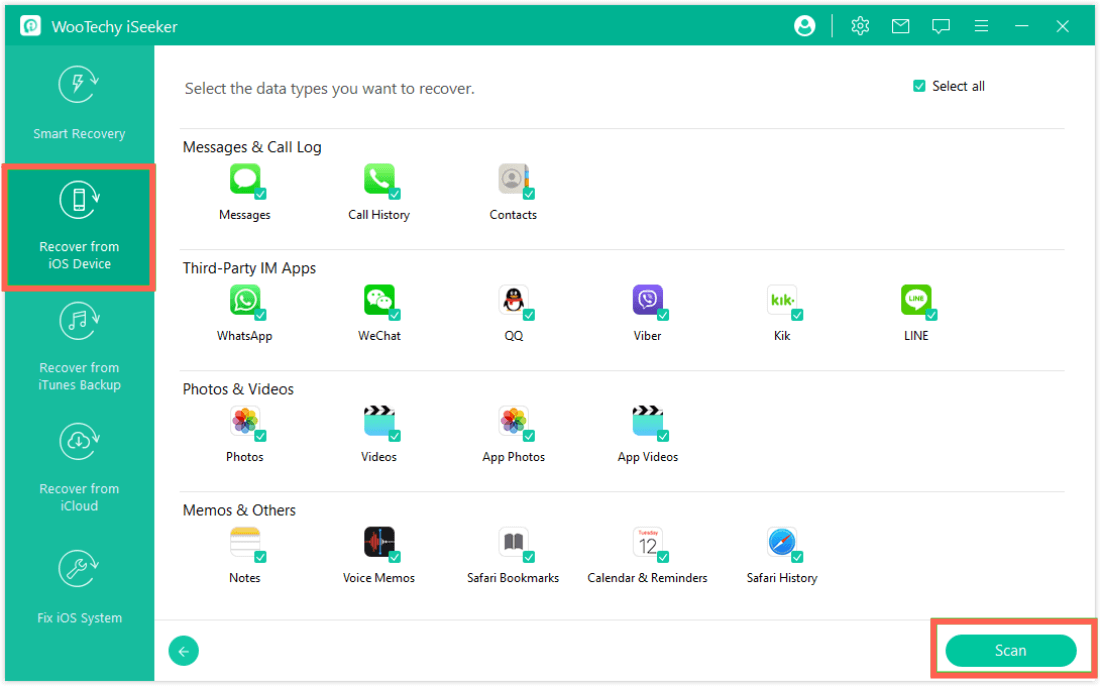 Step 3. When the scan is complete, select the calendar events you want to recover and click Recover.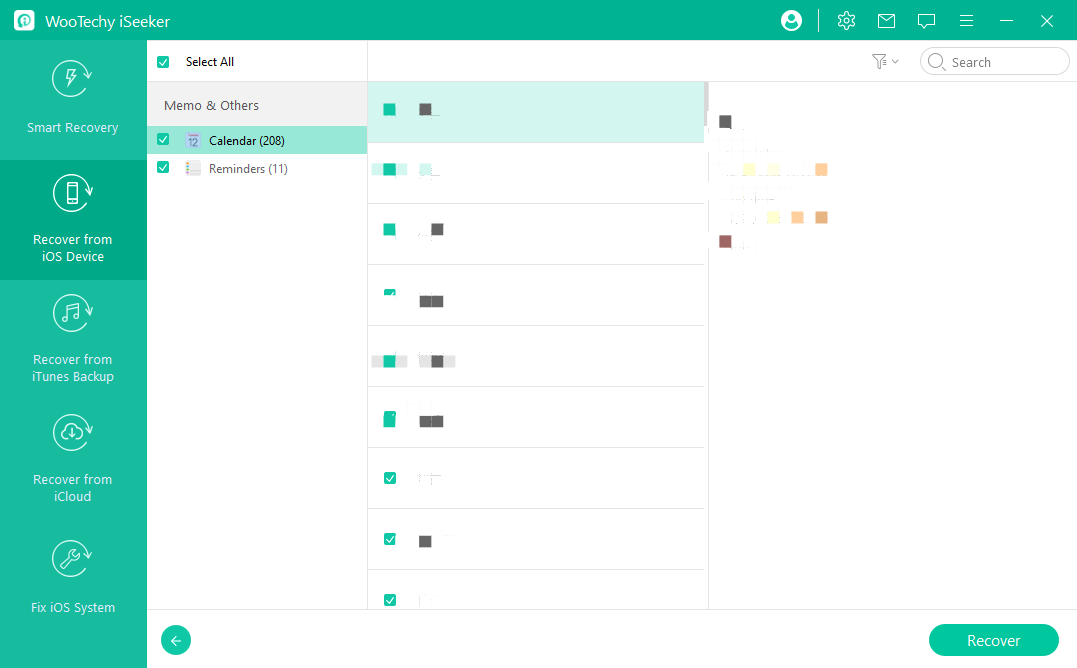 Conclusion
There you have it - the step-by-step process for recovering deleted calendar events on your iPhone. Now you know that if you accidentally delete a calendar event, it's not necessarily gone forever. With the methods above, you should be able to get them back without any issue.
However, if you have not previously synced the Calendar app to iCloud or backed up your device with either iCloud or iTunes, then WooTechy iSeeker is the best possible option for you to try. Not only does it provide a hassle-free recovery process, but it also offers a wide range of features and options that other methods simply can't match. So why wait? Get started with iSeeker today!