Your iPhone is an essential tool for you to keep in touch with your family, friends and colleagues. Therefore, if you happen to lose or accidentally delete any of your contacts, it might become a big problem for your everyday life.
Nevertheless, there are a few possible methods that will bring them back to your iPhone. Some methods need a previous backup and some need a computer. However, what happens when you don't have a backup or don't have access to a computer?
In this article, you will learn how to retrieve deleted contacts on iPhone even without backup.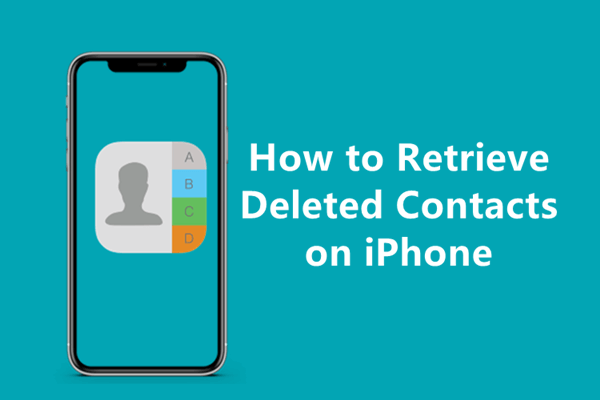 Recover Deleted Contacts on iPhone Without Backup
One of the most reliable ways to recover deleted contacts on iPhone when you don't have a backup is to use a third-party tool. WooTechy iSeeker is a powerful iOS data recovery tool that you can resort to in this situation.
It has the highest recovery rate. Therefore, it will bring back the phone number you lost on your iPhone for sure. Moreover, it can recover a wide range of data types on iOS devices except for contacts. Photos, videos, call history, WhatsApp chats data can all be recovered by this program. And the greatest thing about it is that the whole process only takes 3 simple steps. Everyone can easily perform the recovery operation.
More Spotlights of iSeeker
100.000+
Downloads
It allows you to preview the data before you recover them so that you don't waste time or memory space on your device.

It allows you to select the files you need to restore while ensuring that your existing data will not get overwritten.

Free scan and preview is provided to you to test compatibility and utility.

It has strong compatibility with almost all iOS models and iOS versions, including iOS 16.
Steps to retrieve deleted contacts on iPhone using WooTechy iSeeker:
Step 1. Download WooTechy iSeeker and load it on your computer. Select the Recover from iOS Device option and connect your iPhone to your computer with a USB cable. Once the app has detected your iPhone, click the Next button to go to the following step.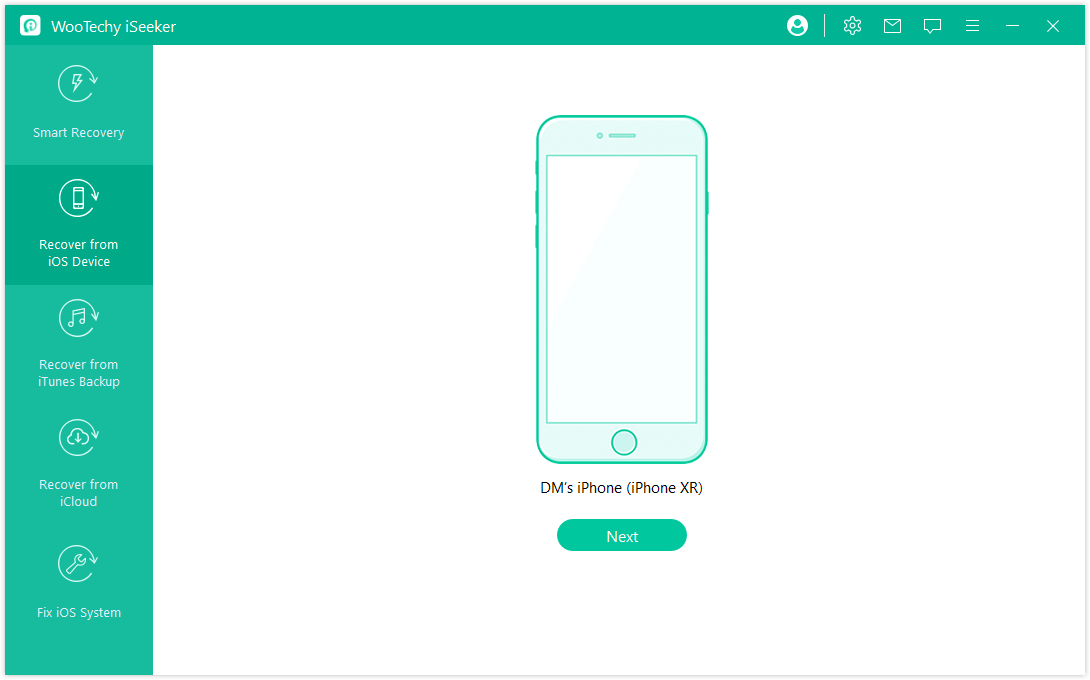 Step 2. On the next screen, select Contacts from the list of data categories displayed on the screen and click the Scan button.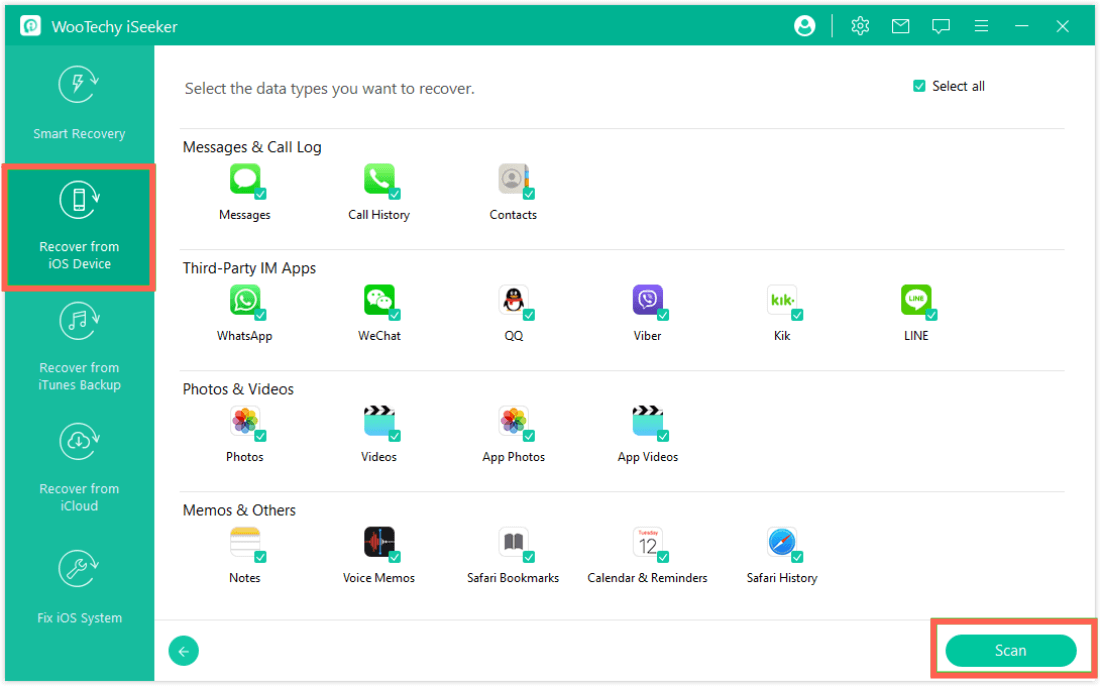 Step 3. After iSeeker has scanned your device, you will be able to preview all the contacts that can be recovered. Select all the contacts you want and then click the Recover button. Your files will be saved in the location that you have selected.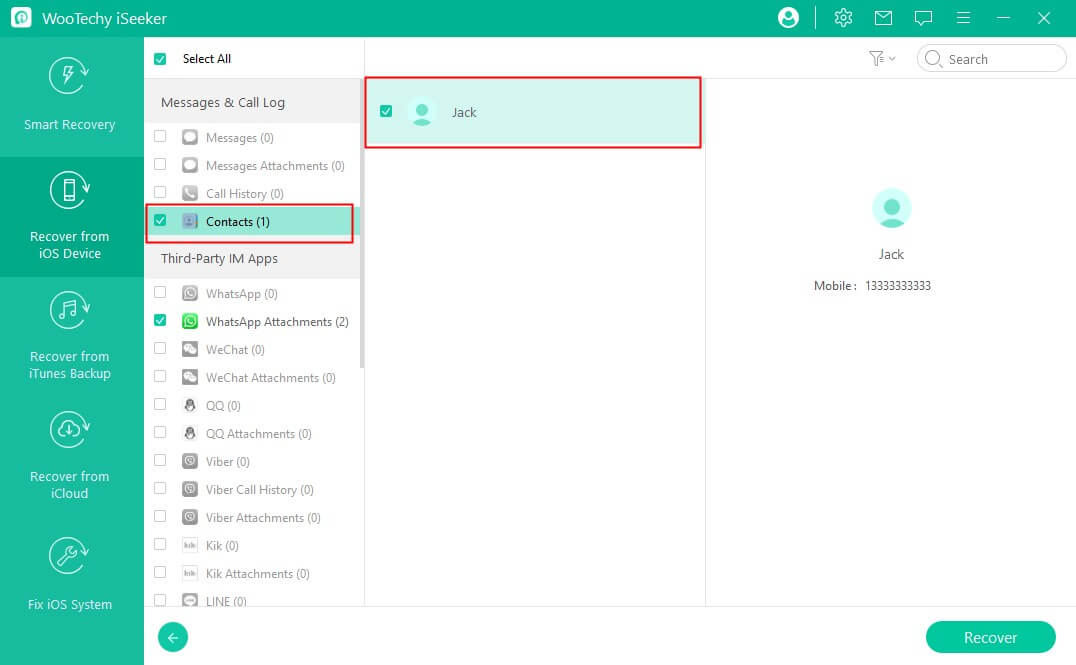 Retrieve Deleted Contacts from Gmail
Another method to retrieve deleted contacts without computer you can easily use is via Gmail. This method is possible only ff you have enabled the syncing of your contacts with Gmail before losing the contacts you want to retrieve.
Below are the steps for getting your deleted contacts back via Gmail:
On your iPhone, go to Settings and tap the Mail option, tap the Accounts option.
Select the Google account where you have synced your contacts. Tap the button next to the Contacts option to enable it. If it is on, then turn it off and turn it on after a while.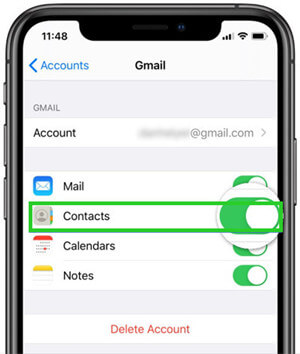 After this process, go to Contacts and refresh the contacts list to see if your deleted contacts are restored from Gmail.
Retrieve Deleted Contacts from iCloud.com
If you have previously enabled syncing to your iCloud account, then you can find and retrieve your deleted contacts from iCloud.com.
You will be able to restore an archive of your contacts from iCloud.com rather than one or two contacts. And the archive of contacts you choose to restore will replace the existing contacts on your iPhone. Luckily, iCloud creates a new archive of your current contacts so that you can reverse the backup if you need to. Moreover, for this method, you will need a computer.
The steps for getting your deleted contacts from iCloud.com are the following:
Go to iCloud.com and log in to your account.
Locate your name at the top of the screen and click the Account Settings option.
On the Advanced section, find and click the Restore Contacts button.
Find the date where you deleted the contact and click the Restore option next to the date before that. Confirm your selection by clicking the Restore button.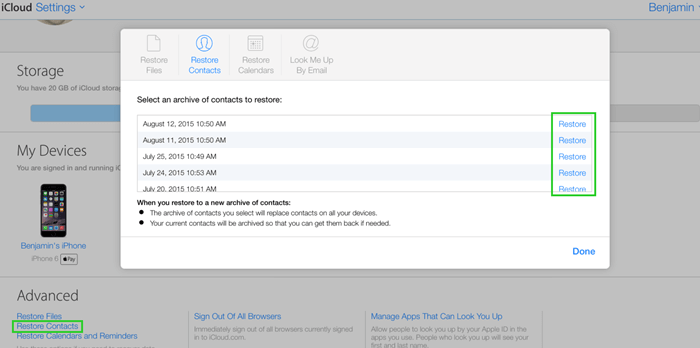 Retrieve Deleted Contacts from iCloud Backup
If you created a backup of your iPhone before deleting your contacts, then you can simply restore the backup via iCloud to recover your deleted contacts.
However, there are a few things that you need to remember before you use this method. First of all, you will not find your lost contacts if the backup was created after you deleted them. Moreover, you will lose the data you recently added to your iPhone that was not included in the backup. Therefore, you should make sure that you save everything that you want to keep before starting.
To retrieve deleted contacts from iCloud backup, you have to follow these steps:
On your iPhone, go to Settings > General and tap the Reset button at the bottom of the screen. Then, tap the Erase All Content and Settings button.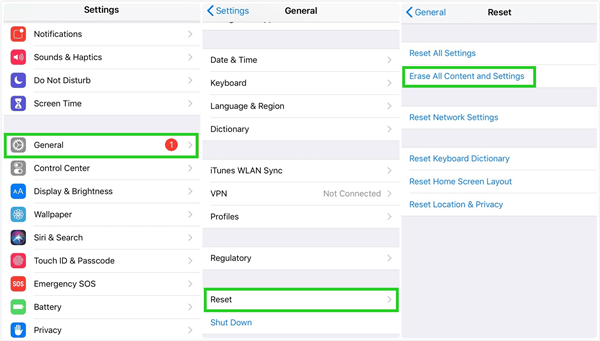 Do as the on-screen instructions ask you to. When you reach the Apps & Data section, choose the Restore from iCloud Backup option.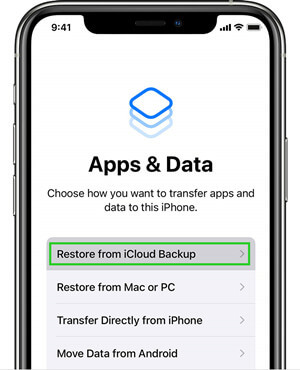 Type your iCloud credentials to log in, select the backup you want to restore and wait for a few minutes. Check if the contacts have been recovered.
Retrieve Deleted Contacts from iTunes Backup
If you have kept a backup of your contacts with iTunes before, then you can also recover deleted contacts on iPhone from this iTunes backup. Remember that the backup will replace all of your existing data, meaning that you run the risk of losing some of your most recent files. Therefore, before you try this method, save any files that you don't want to lose.
Below, you will learn how to find deleted contacts on iPhone via the iTunes backup:
Use a USB cable to plug your iPhone into your computer where your backup is stored. iTunes will load as soon as your iOS device is detected.
Click your device's icon. Then, locate the Summary option on the menu and click on it.
Then, click the Restore Backup button that is located under the Backups section.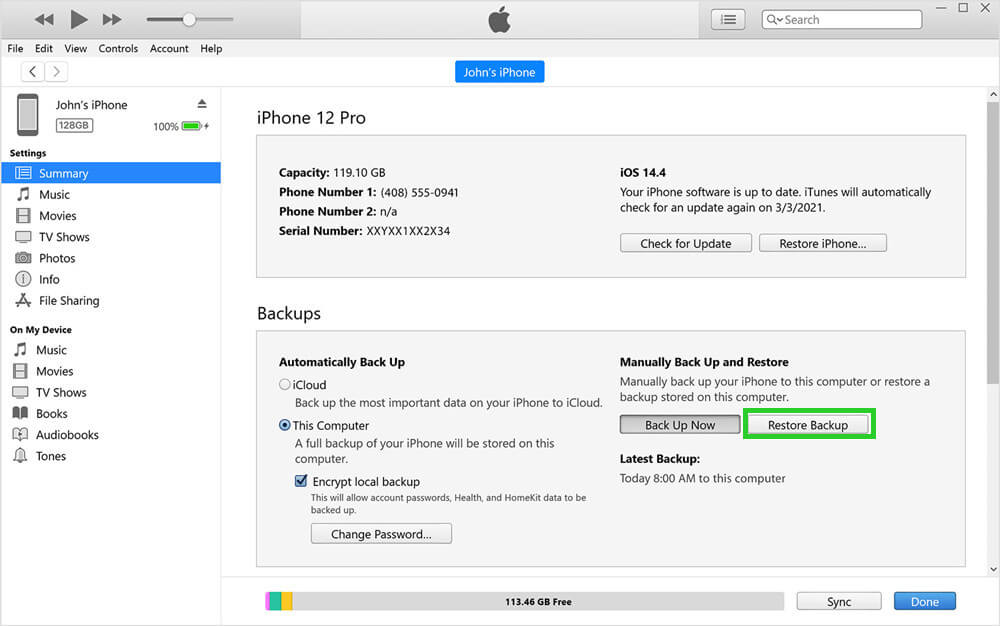 Choose a backup that is most likely to hold your deleted contacts and click Restore to begin the restoration.
Transfer Contacts from Other Devices
Another feasible method to get back deleted contacts on iPhone is to transfer the contacts from other devices. If the deleted contacts are still stored on your old iPhone or Android phone, you can view the contacts and save the contacts to your iPhone manually. The faster way to transfer contacts to your iPhone is to export the contacts on old phone as a file and send to your iPhone through email or IM apps. Then on your iPhone, import the contacts, you will have the deleted contacts then.
Conclusion
Losing some contacts from your device is rather frustrating. Luckily, there are ways to recover deleted contacts on iPhone, even when you don't have access to a computer or have kept a backup of your files.
WooTechy iSeeker is an essential application that allows you to retrieve your deleted contacts or any other type of content from your iPhone without a backup. And it's relatively easy to use. Download and get back your deleted contacts to iPhone right now.