The iPhone Call History feature lets you check out your call records and the various details associated with a particular call. It stores 100 of your most recent incoming, outgoing, and even missed calls, along with the date, time, duration, and the caller's name.
However, if you make many calls every week and you have a tendency to keep those calls, your call record history will run into the 100 limits soon. The situation gets even worse when you search for dialed numbers that you forgot to save earlier.
All of this will eventually lead you to figure out how to check the full call history on the iPhone to find the targeted numbers that have disappeared from the list. In today's post, you'll learn 5 easy and reliable ways to check call history on iPhone. So, let's begin.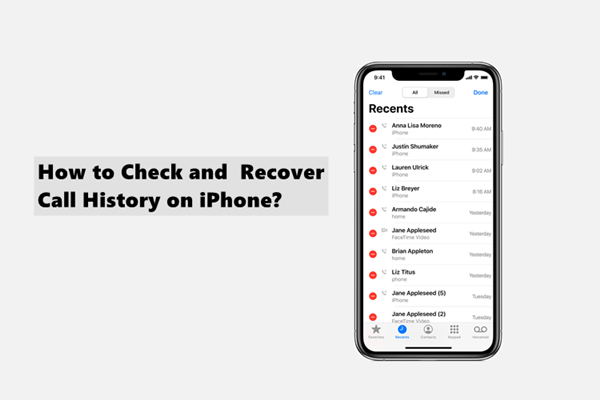 Method 1. Check Recent Call Logs on iPhone
The easiest way to check the last call logs you made or received on your iPhone recently is by going to the Phone app. This built-in app on your iPhone allows you to view and manage call log history. You could find your recent call history under the "Recents" tab.
Note
You will no longer be able to retrieve any of your call log entries if you previously removed them in the Phone app.
The app saves only the last 100 call records, and if you want to access older ones then you'll need to delete a recent call log.
The hidden secret behind overwriting recent logs with older ones is that Apple can save up to 1000 call records but only displays you the last 100 of that history.
Here are a few quick steps to view your iPhone call history right from the Phone application.
Tap the green Phone app icon, which should be located near the bottom of your screen.
Tap Recents at the bottom of the screen, and you'll see a list of all your most recent call entries (Up to 100).
To get more information about a specific call, tap on the (i) icon next to the number.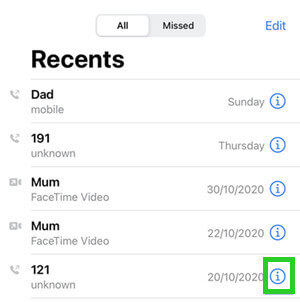 Method 2. Check Call History Via iCloud
When your iPhone is backed up to iCloud, it securely backs up all of your data such as the contacts list, calendar events, app data, reminders, notes, email content, photos and documents, etc. So, you could check your call history by restoring the backup to your iPhone.
However, despite its convenience, this method has some drawbacks. You need to delete existing iPhone data before restoring a backup onto the device, and you can't preview the call history prior to restoration. Additionally, if you have recently made or received some calls that were not included in the backup, they will also be lost. To avoid extra loss, we recommend saving your important files elsewhere before starting restoring the backup.
Here are the steps you can take to check your call log history via iCloud:
To erase all contents of your iPhone, first navigate to the Settings app on your iPhone. Then choose General and click on Reset. After that, scroll down to Erase all Contents and Settings.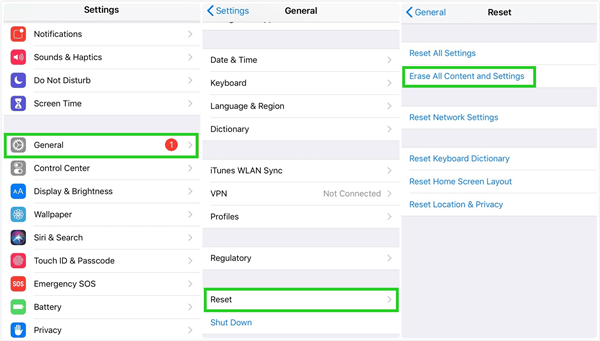 Set up the device by following the on-screen instructions. When you see the Apps & Data screen, choose Restore from iCloud Backup.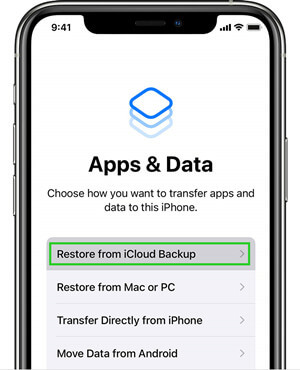 Use your Apple ID to sign in to iCloud. Then, select the backup file that you want to restore data from by looking at the date and size of each file. Select the most important file to restore from.
Method 3. Check Call History Via iTunes/Finder
iTunes and Finder let you safeguard your data by backing up your iOS device to your computer. The backup includes a complete copy of your device's settings and content.
If you have previously kept a backup of your iPhone on your Mac or Windows computer with iTunes or Finder, you can restore the data in that backup to view your call history on your iPhone. However, the current data on your iPhone will get overwritten and you won't be able to restore just call logs or preview them first. Remember to save your important files first.
Here are the steps to check call history on iPhone via iTunes/Finder:
Connect your iPhone to your PC or Mac via USB cable and then open the iTunes/Finder program.
You'll see an iPhone icon in the left sidebar, just click it and then click the Restore Backup button under the Summary tab.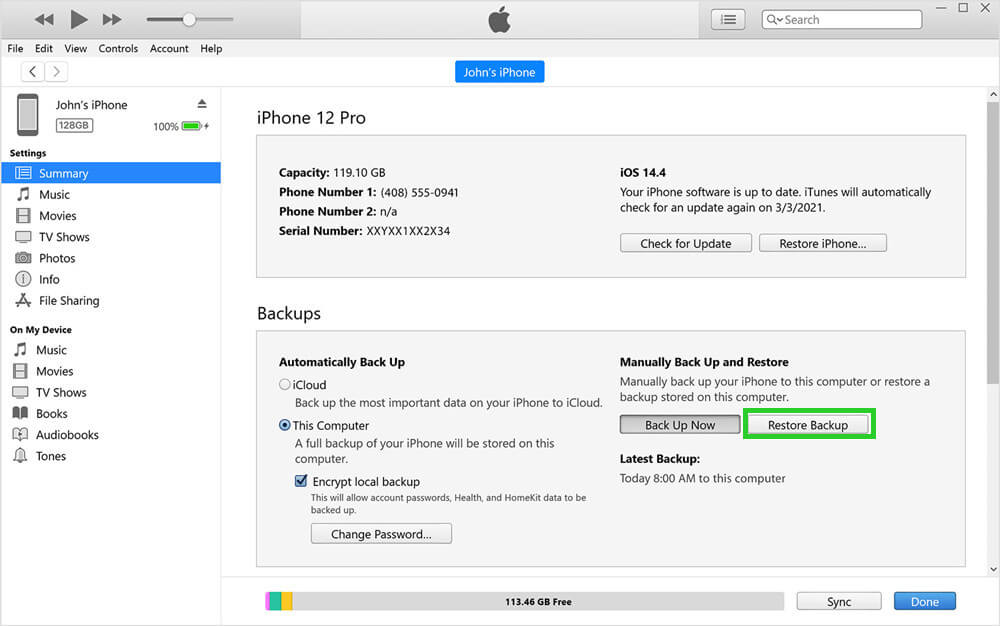 To restore, simply select a relevant backup file from the list and click Restore. During the process, do not disconnect your device from the computer and wait for the restoration to finish.
Method 4. Check Full Call History with A Data Recovery Tool
Above we have shared with you the three different ways on how to view call history on an iPhone, whether it's a month ago or a week. However, if you've noticed, some of these methods have limitations and, in some cases, you may have to reset your iPhone and erase data. Having a backup on hand is also essential.
So, you're probably wondering if there's an easy way to check your iPhone's full call history without having to reset your phone or having a backup.
Well, there's no need to worry. This is why WooTechy iSeeker was created - to help you view full call history from your iPhone, even the deleted ones. With iSeeker's simple data-recovery process, you can get your lost call history back, even if you don't have any backup and don't want to delete all the existing content on iPhone. With iSeeker, you will finish the recovery with only 3 simple steps.
Some of Other Useful Features of iSeeker:
100.000+
Downloads
Supports 18+ data types, such as photos, videos, WhatsApp data, etc.

Provides a free trial to users to scan and preview lost data.

Allows you to preview the files before extracting it.

Provides the highest rate of data recovery and surely get what you want back to your iPhone/iPad.

Supports almost all iOS versions, including iOS 16.
Here are the steps to use iSeeker to check and recover full call history on iPhone:
Step 1 Download the iSeeker recovery software on your PC or Mac and launch it. Then select the Recover from iOS Device mode and connect your iPhone to the computer. After iSeeker detects your iPhone, click Next to continue.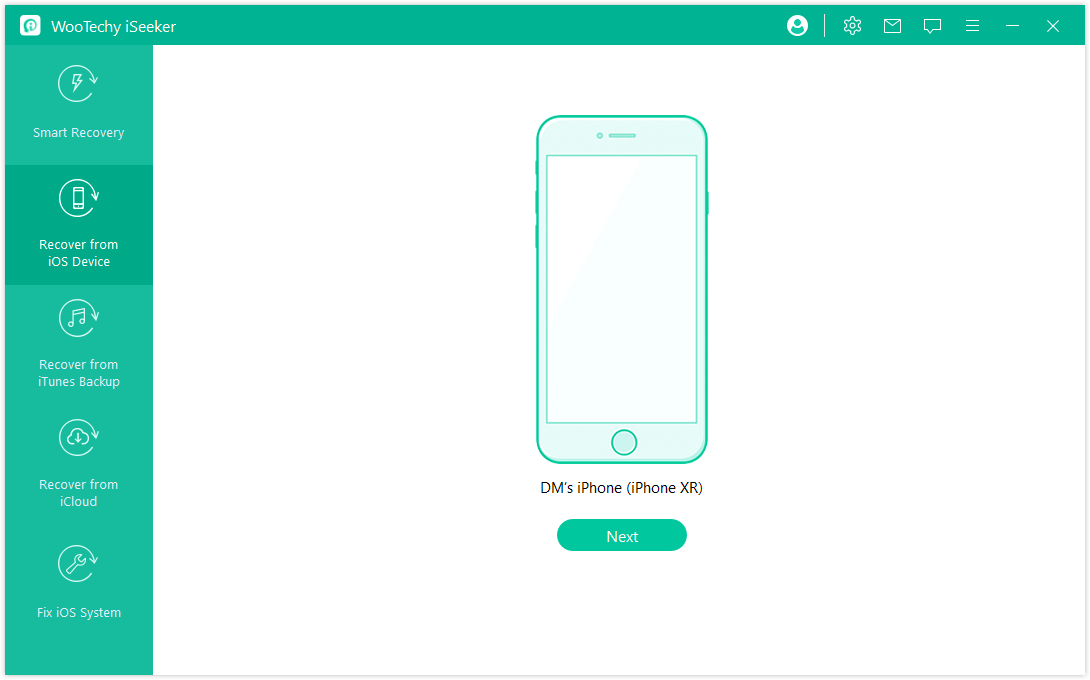 Step 2 Choose Call History from the list of data types on the screen, then click Scan.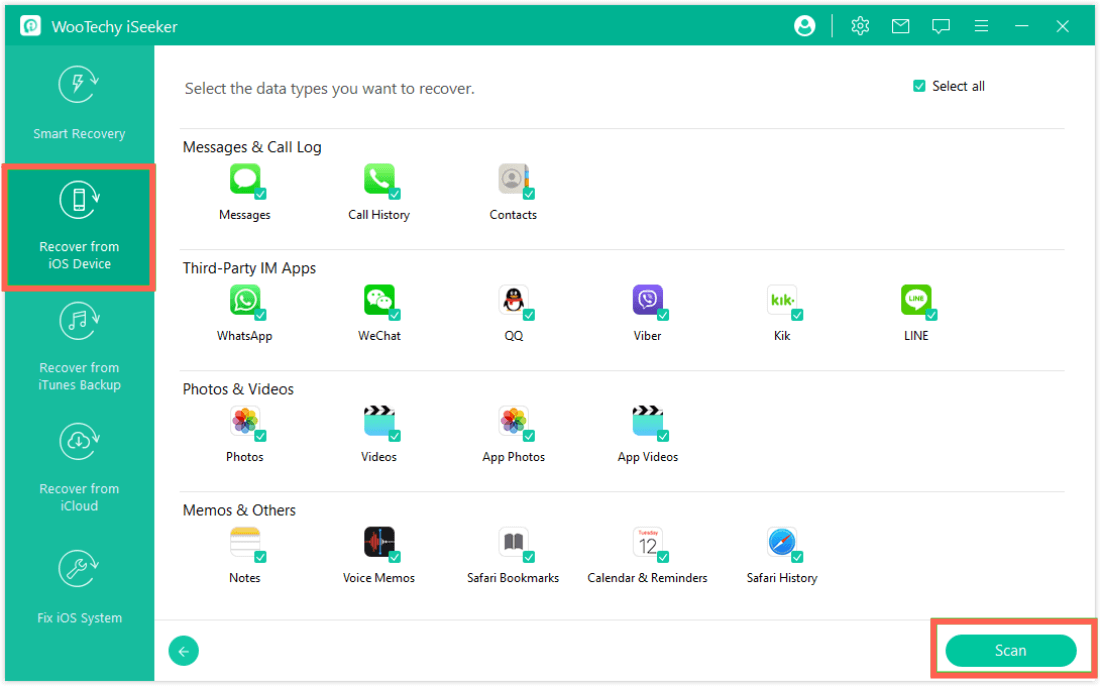 Step 3 When the scan is complete, all your data will be organized automatically for you. Simply click on one to preview it; once you've decided which ones to recover, just hit the Recover button at the bottom of the screen.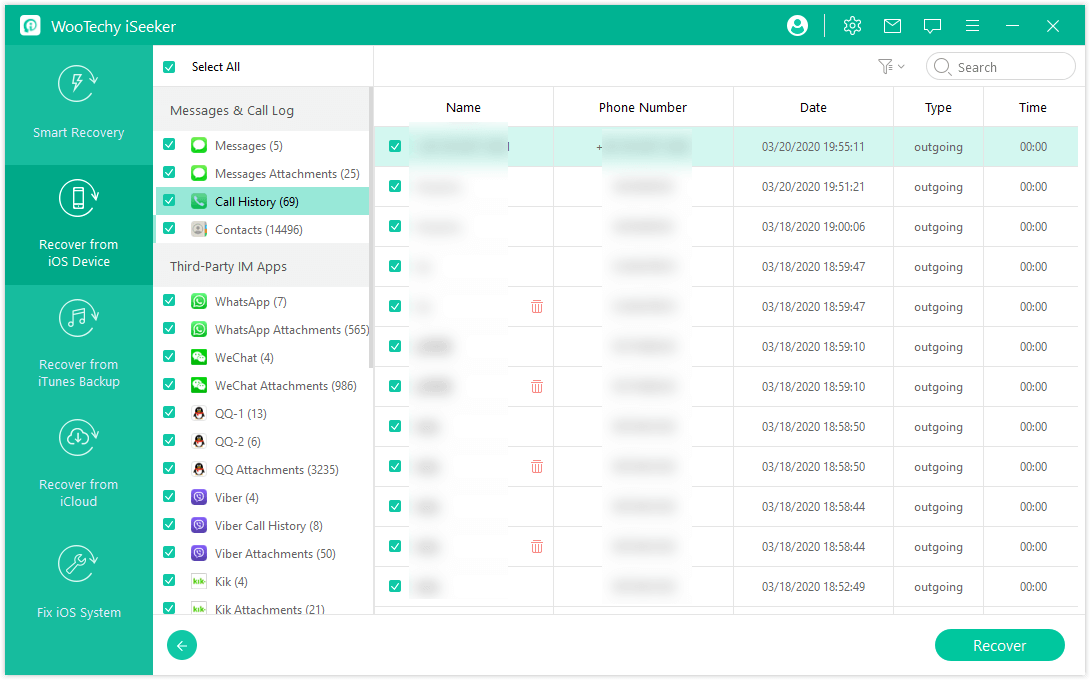 Method 5. Check Call History Via Cellular Provider
Finally, you can also go to your cellular carrier's official website or contact their customer service department to request a call history check.
Most cellular providers keep a record of your call history in their databases for at least 18 months - and some carriers store that information for as long as 6 years. However, obtaining a copy of your call history from your carrier is a time-consuming process that may require you to verify your identity with the company, go through a number of hurdles, and prove that you have a legitimate cause for requesting the information.
Conclusion
As you can see, accessing your iPhone's call history is pretty straightforward, and all you have to do is follow the instructions outlined above. Each of these methods listed in this guide is guaranteed to work, and you should use the one that best meets your situation.
However, if you need a quick and easy solution to check and retrieve deleted call history from iPhone, then we recommend trying iSeeker iOS data recovery software, which can help you find and recover full call log history even when your backup is unavailable. You may also preview the call logs before recovering, which none of the other methods offer.
So, what are you waiting for? Download and have a try today!