If you are an iPhone user, then maybe you always want to try the latest iOS update. However, in many cases, the upgrade comes with a lot of bugs, and this is exactly what happened with iOS 15. If you are one of the users that have upgraded the iPhone, you might need to find a way to complete the iOS 15 downgrade.
In essence, downgrading from iOS 15 is a challenging process as there is no official way for it. Moreover, when iOS 15 is officially released, Apple will close the verification path to the previous iOS versions. This practically means that you can only downgrade iOS 15 in a limited time. In this article, we will let you know the best two ways to achieve the iOS 15 downgrade so that you can do it as soon as possible.
FAQ About iOS 15 Downgrade
Q

Can you downgrade iOS?

Yes, you can. Actually, Apple doesn't offer an official way for downgrading your iOS or iPadOS. Luckily, there are a few methods that you can try so that you can roll back to a previous iOS version. For example, you can download and install an iOS downgrade tool that can complete the process without losing your data. Another possible solution is to download the firmware you want and install it via iTunes. However, this method will lead to data loss, and you should be very careful if you don't want to lose any files.
Q

Can I downgrade iOS 15 using iTunes?

Yes, there is a way to downgrade iOS 15 using iTunes or Finder. In more detail, you will need to find and download the firmware of the previous version and install it on your device via iTunes. We will explain how you can complete it with a step-by-step guide, later in this article. However, it is important to note that you only have a limited time to finish the iOS 15 downgrade. Just seize the chance!
How to Achieve the iOS 15 Downgrade
1. Download the Corresponding IPSW File and Install It
The first way to complete the iOS 15 downgrade is by downloading the IPSW file you want and installing it on your device. In essence, an IPSW is the firmware that your Apple device is running. Therefore, if you download the IPSW of the iOS version you want, you can easily downgrade your device from iOS 15. Another thing that you need to know about this method is that it can only be finished with iTunes or Finder.
The following method explains in more detail the steps for doing it.
Go to the IPSW file downloading website and find the IPSW file that you want. Download it on your computer.

Then, launch iTunes or Finder on your computer. Please make sure that it is the latest version.

Connect your Apple device to the computer with a USB cable. Once your device is detected, click on the device icon on iTunes or Locations on Finder.

Then, click Restore iPhone while pressing the Shift/Option button on your keyboard.

Select the IPSW file you have downloaded and wait for the iOS 15 downgraded to be completed.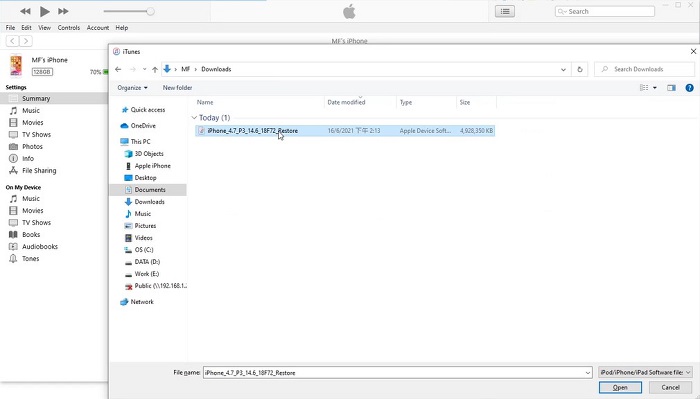 This process will erase all the data on your device, so you need to back up the device in advance. However, you can not restore the backup directly. You need to find the file and then change the version from 15 to 14. Then you can restore the backup without any issue.
2. Use iMaster to Downgrade iOS 15
The second way to downgrade iOS 15 is to use WooTechy iMaster. This is an easy-to-use iOS downgrade tool that makes the process easier than ever before. Check some of its great features below:
            Wonderful Features of Wootechy iMaster
Downgrade/upgrade your iOS to any version that Apple supports.

All your data will be safe during iOS downgrade/upgrade.

Downgrade or upgrade iOS again if you are not satisfied with the last operation.

The feature of upgrading the iOS and backing up the device are totally free.
Below, you will find a step-by-step guide on how to downgrade iOS 15 using WooTechy iMaster. And first of all, download iMaster on your computer. Once you have installed the tool, launch it.
Connect your iPhone to your computer. Wait for the tool to detect your device. If iMaster doesn't recognize it, you will see detailed instructions with the steps you must follow. Once your device is detected, select the Downgrade iOS mode.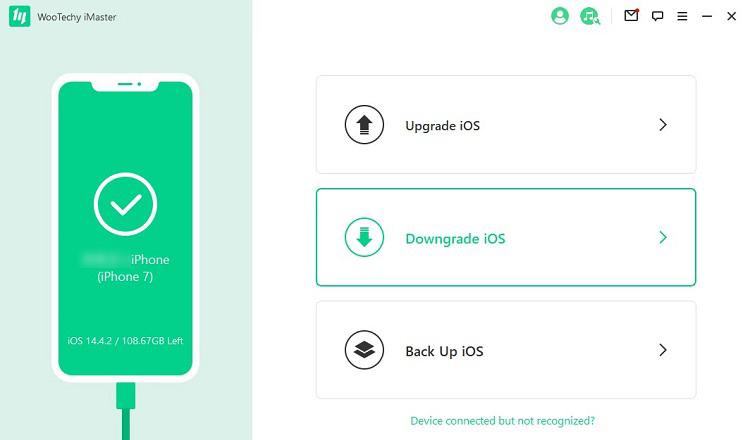 In the next step, you must choose the firmware you want and download it.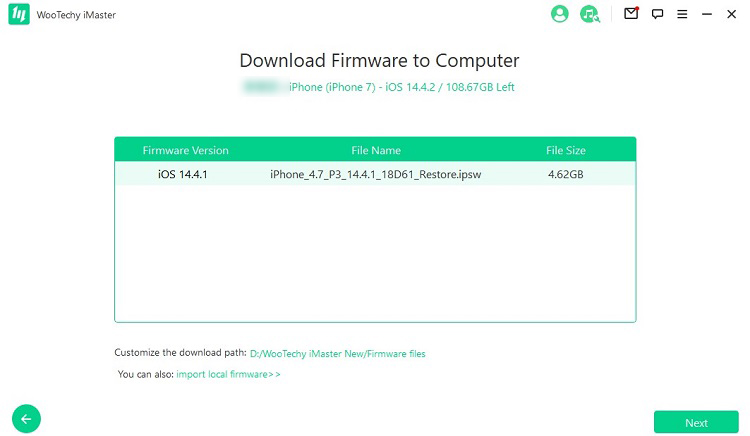 Finally, click the Start button to let iMaster downgrade your device. When you see the Downgraded successfully button, click Done to complete the process.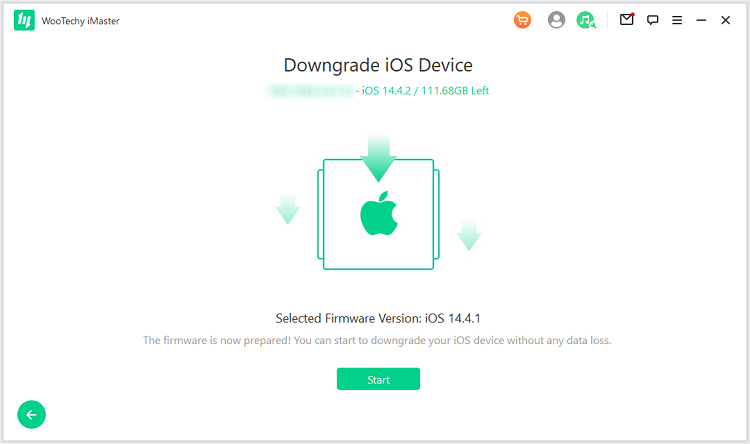 Conclusion
With these two methods, you can roll your Apple device back to a previous version from iOS 15. Make sure that you downgrade iOS 15 as soon as possible, before the path to the previous version is closed. Here we recommend the WooTechy iMaster for you to downgrade the device, as it will do it with ease and without data loss. Just download to give it a nice try!