A simple rule to keep your iPhone in working condition is to make sure that it is always updated to the latest iOS version. However, many areas may suffer from an unstable Internet connection, and you might find it hard to connect to WiFi. If you are worried about not being able to update your iOS in time, there are some ways on how to update iPhone without WiFi. All of the methods are very quick and easy, and if you learn how to do them, you will never have to worry ever again. Keep reading.
Can I Update My iPhone Using Mobile Data/Hotspot?
Yes. Even though Apple has restricted updating your device with your mobile data, there are still ways with which you can do it. Some of these methods allow you to take advantage of your mobile data and the hotspot feature so that you are connected to the Internet and update your device.
How to Update iPhone Without WiFi Data/Hotspot?
1. Update iPhone Using Cellular Data/Hotspot
As we have mentioned above, it is possible to update your iOS device with your cellular data. By following these steps, you will learn how to update iPhone without WiFi quickly and easily. However, before you proceed, make sure that you are in an area with a good network connection as you don't want to disrupt your device's update.
The process for setting up a hotspot and updating your iPhone is the following:
Take another device and go to Settings > Cellular Data > Personal Hotspot to enable it.

Once you have done this, take the device that needs updating, and go to Settings >WLAN. From there, connect to the hotspot that you have created.

Then, go to Settings > General > Software Update to get the latest update on your device.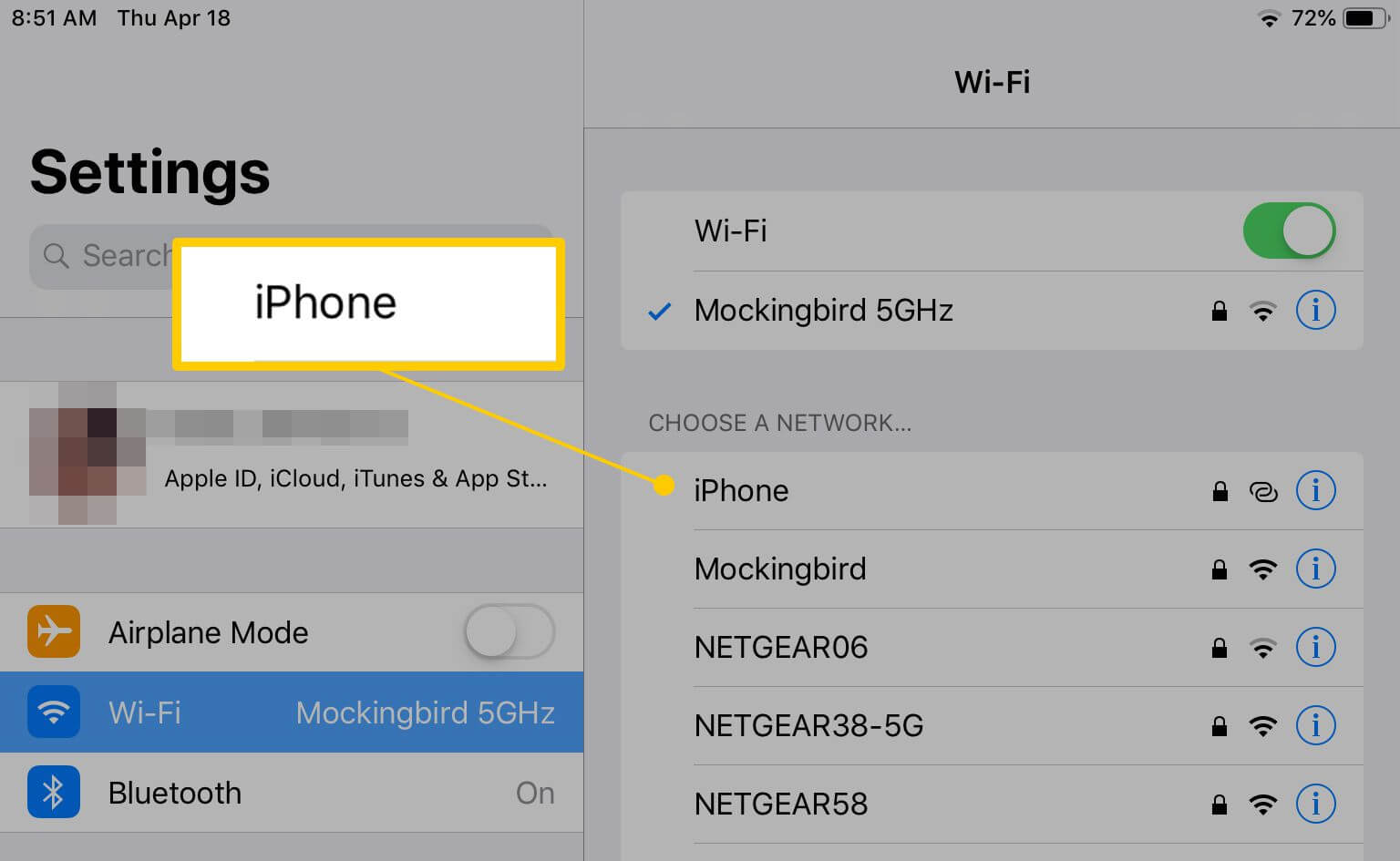 2. Update iPhone via iTunes/Finder
In addition, you can also update iPhone without WiFi using iTunes/Finder. The process for this is very simple, even though you need to make sure that you have installed the latest version of the application. Moreover, make sure that you keep a backup of your data so that you don't suffer any data loss during the process. Once you have done these two things, you can update your device on iTunes.
Below, you will find the steps to perform this task:
Plug your device into your computer with a USB cable.

Launch iTunes/Finder, which must be the latest version.

Wait until the app detects your phone and locate your device by clicking the device icon on iTunes or Locations on Finder.

Then, click the Check for Updates button and follow the prompt.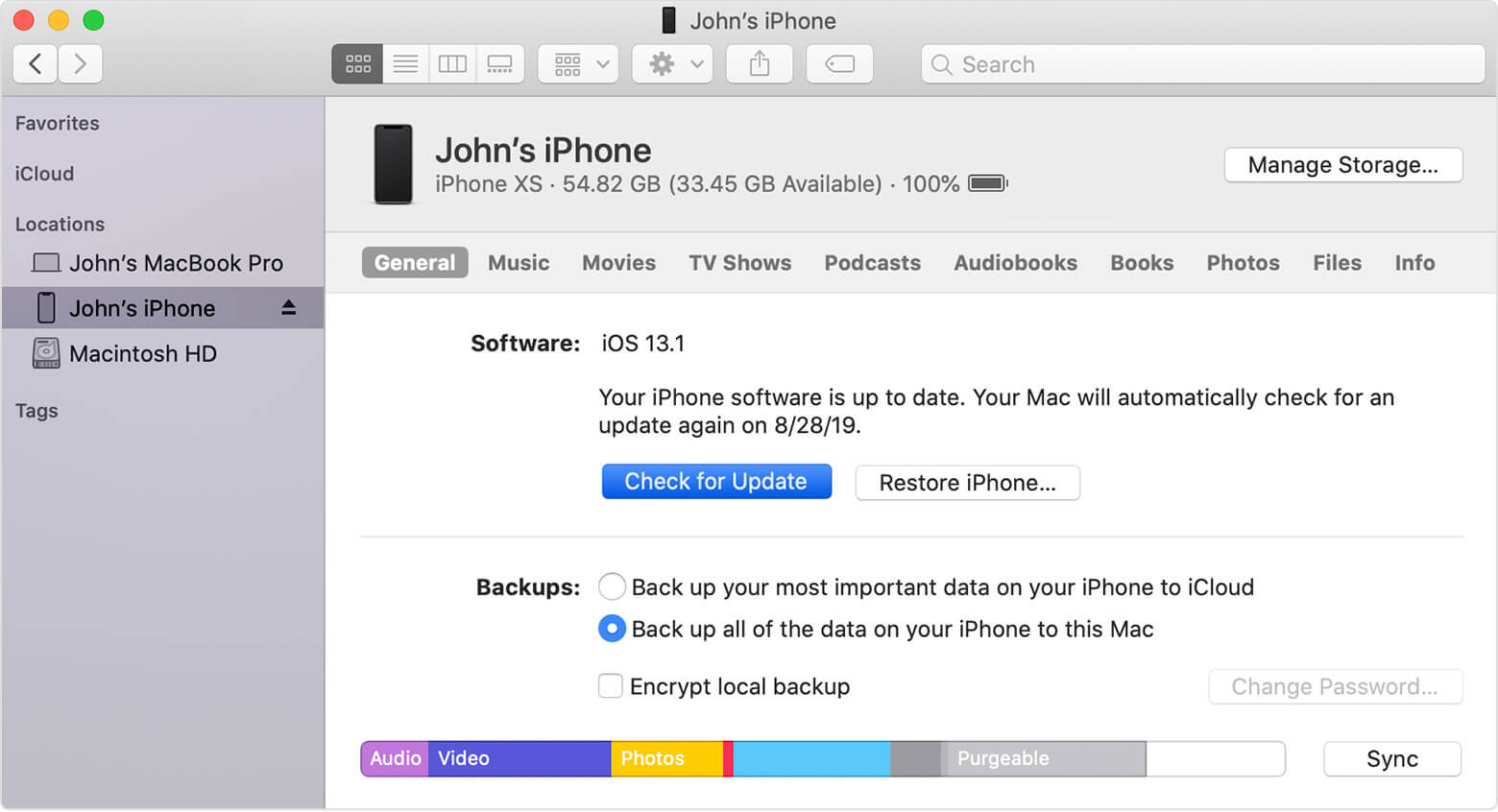 3. Update iPhone Using iMaster (Free)
If you want to learn how to update iOS without WiFi in a secure and reliable way, then you can't miss WooTechy iMaster. This iOS tool has a user-friendly interface that guides you through the process. In fact, you can start using it immediately without having to know any technical knowledge. iMaster allows you to take good control of your iPhone as it also permits the downgrade from iOS 15 if you don't like it. And if you are afraid of the data loss, you can back up your device in advance. It's also free. If you learn how to update iPhone without WiFi with iMaster, you won't need to learn any other method. In addition, if you are not satisfied with the newly installed iOS 15, you can also use this tool to downgrade it. Is it an all-in-one software for you?
To complete the process with iMaster, you need to do the follow these steps:
Install iMaster on your computer and launch it. Connect your device to the computer with a USB cable. iMaster will automatically detect it. Otherwise, you will see detailed instructions that explain what you need to do. Once connected, click on the Upgrade iOS button.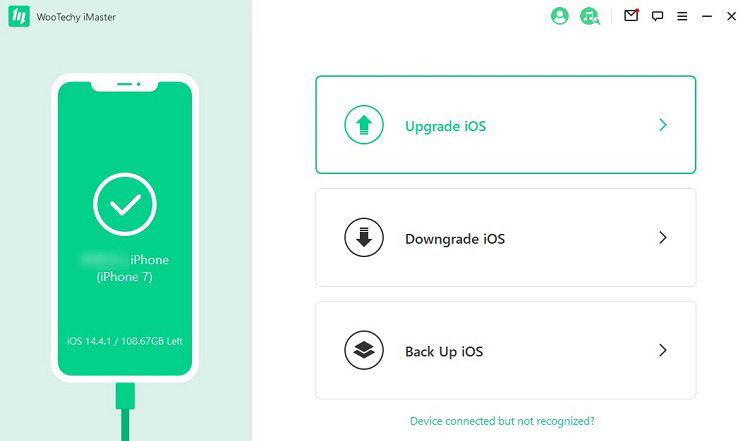 Then, choose the firmware you want to install. Click Next to start the downloading process.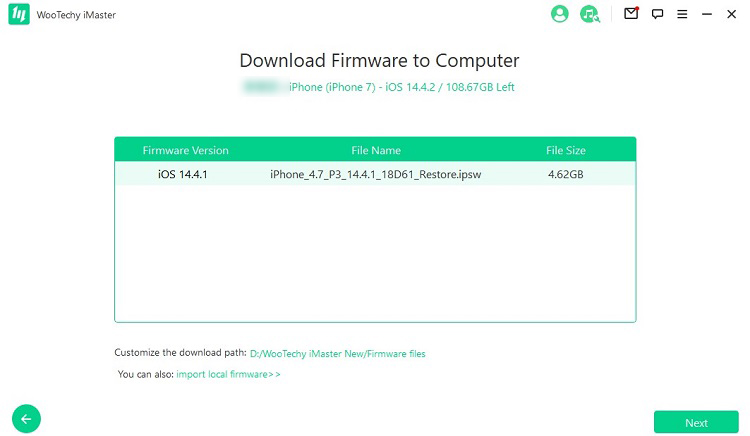 When the download is over, click the Start button. The process will take a few minutes, and at the end, you will see an Upgraded successfully message.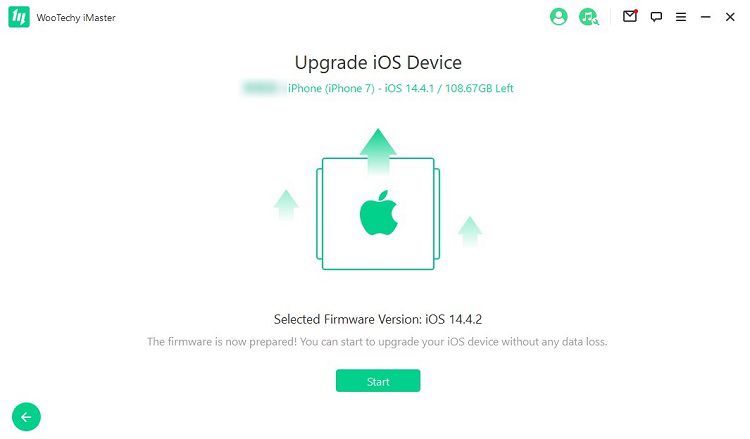 4. Update iPhone by Downloading IPSW File Online (Not Recommend)
If you have access to a computer with an Internet connection, you can learn how to update iOS without WiFi by downloading an IPSW file online and then install it. This is a very straightforward process, even though it is a little risky of compromising your data. Besides, the process can not be finished smoothly in many cases. For this reason, we don't recommend it.
To do this method, you need to follow these steps:
Visit the IPSW file downloading website to download the IPSW file suited to your device.

Connect your iPhone to your computer with a USB cable and launch iTunes or Finder.

Then, repeat the steps in method 2 to locate your device. After that, click on the Check for Updates button while pressing the Shift/Option button on your keyboard.

Select the ISPW file you have downloaded and wait for the installation to be completed.
Conclusion
Now, you know how to update iPhone without WiFi. You can choose any of the methods based on your situation. Here we recommend the WooTechy iMaster as it is such an easy-to-use and all-in-one tool for all Apple users. With it, you can update the device for totally free and downgrade it easily. Just download and give it a try!